By Lambert Strether of Corrente
Dear Readers,
I have received permission to run the Water Cooler fundraiser into a second day because we have not met our goal of 300 donors: We are 176 178 — thank you! — so I hope there are 300 – 178 = 122 of you who can see your way clear to throwing a tip into the jar foe all last year's Water Coolers, and encouraging me to keep going for the coming year (which is shaping up to be very, very busy). If I come down with the virus, heaven forfend, I promise to keep blogging right through it!
Here are some of the reasons contributers have for giving*:
"Contribution made, thanks for all the great work over the year." –PlutoniumKun

"Your work supports and strengthens us all." — EN

"Water Cooler is one of my must-read web destinations every day!" –MS

"One of the best ways to stay sane in these looney times!" –DB

"Thanks for the superb work!" –Mr. Dinosaur

"Thank you for your hard work!!" –JM

"Thank you so much for all that you do! It's much appreciated." –HN

"I've been reading Naked Capitalism for 12 years now and really appreciate the work you all do. And I'm proud that I'm veteran enough to remember when Water Cooler was added!" –AR

"Water Cooler has absolutely been *the* place to be during the primary season and accelerating slowpocalypse. Thanks for all your hard work!" –kramshaw

"I am deeply grateful to you, reminding myself frequently, for thinking and researching independently far outside of dominating narrative matrices." –DR

"Thank you so much for everything you do…. Your level of commitment is amazing. Water Cooler makes me laugh. And cry. It raises my blood pressure. It exercises my brain (or what's left of it." –Eclair

"Although I do not read Water Cooler that often, I do appreciate all you do for Naked Capitalism. Thank you!' –JT [lambert, preening, pauses]

"Thank you as always, as much for your commentary as your compilations, if not more so."–GG
Yesterday's reasons for donating still hold true:
1) You should support Water Cooler to protect us all against increased levels of ambient bullshit. If we had Bullshit Meter, in 2020 it would be pinned.

2) You should support Water Cooler to help us become even more knowledgeable citizens and voters. This includes all aspects of citizenship, from elections through sewing masks, if need be.

3) You should support Water Cooler for random, serendipitous reasons. Like lots of cryptic allusions, ancient reggae 45s, snowclones, and under-rated tweets. Also, although I do not wish to bring the really personal aspects of my life into the blog, I do have people who it is my pleasure and duty to support, and I really, really, really want to keep doing that for them, especially now. This is a new thing for me, and I'm quite nervous about it.
So, if you can't contemplate social distancing without the day's Water Cooler, please go to the Tip Jar and give what you can. If you can give a lot, give a lot. If you can give a little, give a little. Yellow waders don't come cheap! Thank you!
NOTE * It would be remiss of me not to mention all the plant images, links, and suggestions sent in by readers. The NC commentariat is truly the best commentariat, and Water Cooler would not be what it is without you.
* * *
2019's Water Cooler fundraiser went very well, and we would like 2020's to go just as well. Our goal is 300 donors. What Yves wrote in 2017 is true this year as well:
To be crass, Lambert is making well under a living wage for his work on Water Cooler and that is not right. We need you to live up to what we hope is one of the widely-held values in the commentariat, that people should be paid fairly for their work, especially work that has already been done! That means digging into your wallets, whether a little or for a lot, and chipping in for Water Cooler.
Readers, I couldn't write Water Cooler without independent funding from you; there's no mainstream market for calling out bullshit. You are paying me for work I have already done — unlike the Naked Capitalism fundraiser proper, which sets the budget for the following year — and so having played the fiddle, I am now passing my cap. Please click the Donate button below and contribute what you can. Even if you can only make a small contribution, we'd still appreciate that, because we also have readers who can make much bigger donations. Again, our target is 300 donors, and we'd like to return to our regularly scheduled programming as soon as possible. I really enjoy writing Water Cooler, and I hope you enjoy reading it. Thank you!
* * *
To make the business relationships clear, Yves writes:
Water Cooler is a separate store front within Naked Capitalism to pay for [Lambert's] considerable effort on it over and above all the work he already does on the site… Yes, Lambert also gets paid out of the annual fundraiser, but that is for the considerable amount of work he does besides Water Cooler, such as DJing the site, helping manage the comments section, managing a lot of the tech issues, and helping in tooth-gnashing over other "business of running the business" matters.
* * *
Here is the screen that will appear, which I have helpfully annotated.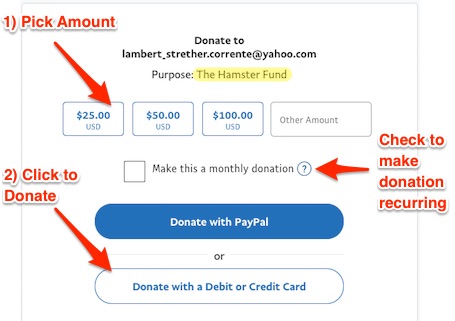 If you hate PayPal, you can email me at lambert [UNDERSCORE] strether [DOT] corrente [AT] yahoo [DOT] com, and I will give you directions on how to send a check. Thank you!
If you hate PayPal — even though you can use a credit card or debit card on PayPal — you can email me at lambert [UNDERSCORE] strether [DOT] corrente [AT] yahoo [DOT] com, and I will give you directions on how to send a check.
And if you have any technical difficulties, do feel free to send me a note at the address above.
NOTE: If you have PayPal One-Touch™ enabled — maybe from donating through ActBlue? — PayPal will take you directly to a PayPal screen, by-passing the credit card option. You can disable it from inside PayPal, although — do this at your own risk — I blew away all my cookies at one point and it went away.