By Lambert Strether of Corrente.
#COVID-19
At reader request, I've added this daily chart: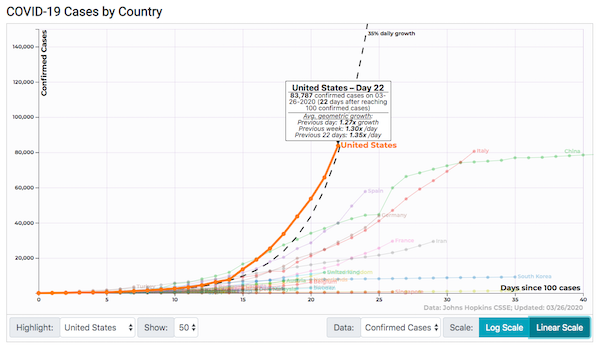 The data is the John Hopkins CSSE data. Here is the site. I am using a linear, not a logarithmic scale, because the linear scale conveys the alarming quality of the multiplication better (don't @ me, math nerds). I did not adjust for population, because it seems to me that the epidemics spread through a population in a fractal matter; within reasonable limits, the shape of the curve will be the same. Show me I'm wrong!
Politics
"But what is government itself, but the greatest of all reflections on human nature?" –James Madison, Federalist 51
"They had one weapon left and both knew it: treachery." –Frank Herbert, Dune
"They had learned nothing, and forgotten nothing." –Charles Maurice de Talleyrand-Périgord
Key dates coming fast now, so I added some counters:
Some of the next primaries. (I picked the major dates; here is a complete calendar.)
* * *
2020
We encourage readers to play around with the polling charts; they are dynamic, and there are a lot of settings, more than I can usefully show here. Here is a link to alert reader dk's project. You can also file bug reports or feature requests using the same contact process as for Plants, below. Thanks — but no promises!

We have, again, no new national or state polls today. (Indeed, one might question what polling in the midst of a pandemic really means. It would seem that those who are willing to pick of the phone would increase, yes?)

It does seem that the strategy of keeping Biden out of the public eye pays off. Earlier in the year, we often had occasion to comment on the mysterious strength of the Biden Juggernaut, on display here; but it's also true that Biden's ups and downs have been of much greater amplitude than other candidates. As today!

* * *

Biden (D)(1): "CNN to host town hall with Joe Biden on coronavirus" [CNN]. ""The Coronavirus Pandemic A CNN Democratic Presidential Town Hall with Joe Biden" will air at 8 p.m. ET and feature questions submitted by individuals living in some of the communities hit hardest by the coronavirus. CNN's Anderson Cooper will moderate the hourlong discussion on the impact to Americans' health, the repercussions for the nation's economy and the human toll to US society. Biden will join the town hall via satellite from his home studio in Delaware." • Oddly, the Biden campaign wants to control their own feed….

Biden (D)(2): "Inside Joe Biden's bizarre coronavirus bunker" [Politico]. "Sanders would be unofficially knocked out of the race has been upended by a series of canceled primaries. Biden had planned to use a predicted victory in Georgia on Tuesday to essentially end the race by declaring that he had achieved 'an insurmountable delegate lead.' Instead, the Georgia primary was moved to May and Biden retreated to a makeshift studio in his basement at home in Delaware to broadcast Zoom videos that have had to compete — poorly, so far — with briefings from elected officials like Trump and Gov. Andrew Cuomo, who are actually responsible for dealing with the crisis." • This was a moment for Sanders to seize — and if he has, it's in a medium I'm not tracking.

Biden (D)(3): "Joe Biden Faces Sexual Assault Allegations From A Former Staffer" [Yahoo News]. • Gradually percolating out.

Cuomo (D)(1): "Andrew Cuomo Overtakes Bernie Sanders In Odds To Be Democratic Candidate Amid New York Governor'S Pandemic Response" [Newsweek]. "An average of recent betting odds compiled by Real Clear Politics shows Cuomo with a 5.6 percent chance of becoming the Democratic presidential nominee, while Sanders trails with an average of 3.6 percent. Biden is far ahead however, with an average of 85.8 percent, while former 2016 Democratic presidential candidate Hillary Clinton, who is not seeking the party's nomination, places second with an average of 6.3 percent."

Sanders (D)(1): "Why Everyone Is Thanking Bernie Sanders Right Now — Even His Critics" [Refinery29]. • If anybody in the political class outside the Squad is praising Sanders, that's most likely wrong and bad.

Sanders (D)(2): "As Coronavirus Crisis Unfolds, Sanders Sees a Moment That Matches His Ideas" [New York Times]. • Ideas are not the point (even if the left does have the best ideas). The point is power.

Sanders (D)(3): "Why Can't Bernie Accept That Democratic Voters Didn't Want Him?" [Jonathan Chait, New York Magazine]. • Frankly, I'm still reeling from the Democrat Estabishment's endorsement giving Biden an instantaneous 30-point pop. When you think about it, if the leadership endorsed #MedicareForAll, that would get the same pop; Democrats voters would instantly be all for it. Stalin would be proud.

Trump (R)(1):

ABC News/WaPo poll: Trump job approval jumps twelve net points since last month to 48-46, the best poll of his entire presidency.

Trump has the approval of 17% of Democrats, 49% of independents, and 86% of Republicans.

51% approve of his handling of coronavirus, 45% do not. pic.twitter.com/px15EUL8VX

— Josh Jordan (@NumbersMuncher) March 27, 2020

Trump (R)(2): "What to Make of the Trump Approval Ratings Bump" [Amy Walter, Cook Political Report]. "Robert Blizzard, a partner at the GOP polling firm Public Opinion Strategies, argues there are just way too many unknowns at this point to be able to credibly predict where Trump's job approval ratings will be, even in the near term future. 'We could all argue until we're blue in the face about how long a rallying effect will stay in place, but there's simply no denying there's a rallying effect going on right now.' He goes on to tell me that 'virtually every survey I've seen over the last week — public or private — has shown a rallying effect taking place. In some places it's a few points, in others, it's a handful.'… "Do I believe that Trump will win 13% of the Democratic vote in November? No,' Blizzard told me. 'But, the key number to watch is independents, and Trump's approval IS climbing among that key bloc of voters.'"
Realignment and Legitimacy
I give you the Democrat Establishment (1):

Couldn't stand Bush, politically, but my god, it wasn't hard for him to be a decent human being. What happened to the Republican Party? https://t.co/rz1XC5pQLr

— Markos Moulitsas (@markos) March 26, 2020

The living relatives of the million or so faraway brown people Bush blew to pink mist might take issue with "decent human being," but you do you, Markos. You do you.

I give you the Democrat Establishment (2):

American elections should be decided by the American people, not by the Russian Government. Retweet if you agree!

— Nancy Pelosi (@SpeakerPelosi) January 14, 2020

As the spread of #COVID19 accelerated… Whatever Pelosi was doing over the last three years, it had nothing to do with Congressional oversight of pandemic preparedness. Sure, RussiaGate was great for building war fever, fund-raising, and crazing the base with fear, but it had a downside too!
Stats Watch
At reader request, I added some business stats back in. Please give Econintersect click-throughs; they're a good, old-school blog that covers more than stats. If anybody knows of other aggregators, please contact me at the email address below.
Consumer Sentiment: "Final March 2020 Michigan Consumer Sentiment Significantly Declined – Are Consumers In A Panic Due To Coronavirus?" [Econintersect]. Surveys of Consumers chief economist, Richard Curtin: "Are consumers in a panic? That's the top question that I have been repeatedly asked for the past week. The latest data from the University of Michigan's consumer sentiment surveys indicate that the coronavirus has reduced consumer optimism, and more importantly, it will continue to do so as the virus spreads in the weeks and months ahead. The panic atmosphere that has developed, however, is quite unlike anything that today's consumers have ever experienced. It is now primarily based on fears about personal health rather than personal finances. Panic reactions have ranged from the important to the trivial: from protecting the youngest and the oldest among us, to buying-in-advance an adequate supply of toilet paper needed for selfisolation at home. In stark comparison, there is little evidence that the panic is due to the escalating downturn in business activity and mounting job losses. To be sure, people's health and finances are intimately connected. Nonetheless, there has been widespread approval of the measures to protect health, even when it comes at a high economic cost. That initial pass on the economic consequences of health policies has been facilitated by very favorable economic conditions built by more than a decade of uninterrupted economic growth."
Personal Income: "February 2020 Headline Income Rate Of Growth Little Changed" [Econintersect]. "This month there was little change from the rate of growth seen last month. Most likely next month's report will show the coronavirus effects…. This month consumer income growth year-over-year is growing slower than the spending growth year-over-year. However, expenditure rate of growth month-over-month was growing at a faster rate than income."
* * *
Commodities: "Coronavirus threatens copper giant Peru's 21-years of growth" [Reuters]. " Peru may be on track to record its first annual economic contraction in over two decades as the world's second largest copper producer is hammered by the impact of a global coronavirus pandemic hurting commodities demand…. Economists and analysts said that this could drag the country's $220-billion economy into negative territory for the year, which would mark the first drop since 1998."
Retail: "U.S. auto sales in states with coronavirus lockdown orders to drop 80%: analysts" [Reuters]. "Vehicle sales in U.S. states that implemented lockdown orders to curb the spread of the coronavirus will drop 80% or more, analysts said on Wednesday. Auto retail sales through the week of March 22 declined 22% nationwide on a yearly basis and as much as 40% in some cities on the U.S. West Coast, according to an analysis by research firm J.D. Power, based on data from dealership stores around the country. Last week's data did not yet fully account for various U.S. states passing shelter-in-place orders at the end of last week."
Shipping: Ocean container volumes are about to fall off a cliff" [Freight Waves]. "The new market outlook of U.K.-based consultancy Maritime Strategies International (MSI) reads like a Stephen King novel geared toward container-line executives. It's not exactly feel-good reading for cargo shippers either. … "The near-term outlook for the container-ship industry has deteriorated rapidly following the spread of COVID-19 cases worldwide and subsequent efforts to limit the number of deaths and cases," warned MSI in its monthly outlook released Thursday. 'There seems little doubt that containerized trade will shrink in 2020, with near-term rates of decline potentially approximating — or even exceeding — those seen during the financial crisis,' it said."
Shipping: "Container shipping lines say they are moving from a supply shock in China to a demand shock as Western countries lock down their economies to slow the spread of the coronavirus" [Wall Street Journal]. "Ocean Network Express Chief Executive Jeremy Nixon [says] that the Japanese container line is bracing for a second wave of disruption, one that could strand containers on ships and ports as importers in Europe and the U.S. and Asia cancel orders and rattling operations at ports and inland logistics companies. Container-ship operators canceled more than half their sailings through China as coronavirus shutdowns hit the country last month."
Shipping: "Rail Week Ending 21 March 2020 – Rail Continues To Slow" [Econintersect]. "The big decline this week continues to be intermodal (trucks and containers on flatcars) which accounts for half of the rail traffic, Intermodal continues under 2013 levels. Whilst container exports from China are now recovering, container exports from the U.S. continues to slow…. When rail contracts, it suggests a slowing of the economy."
Employment: "There's no shortage of jobs in logistics even as big parts of the American economy go quiet. From cleaning products suppliers to food-delivery operators, companies are looking to add big numbers of workers in warehousing and distribution… in a sign of how the economy is transforming under the coronavirus cloud" [Wall Street Journal]. "The shift is being led by some of the biggest corporate names, with Amazon.com Inc. saying it plans to add 100,000 warehouse and delivery workers and Walmart Inc. looking to fill 100,000 jobs in stores and fulfillment centers. Smaller operators are joining in."
Supply Chain: "Suppliers of medical gases are racing to match their supply chains to the growing demand for the purified oxygen needed to treat the coronavirus. France-based Air Liquide SA and Air Products & Chemicals Inc. of Allentown, Pa., are exploring ways to ensure supplies remain sufficient as demand soars" [Wall Street Journal]. "Most of the anxiety over respiratory treatment during the pandemic has centered on a shortage of ventilators. But the devices rely on purified medical oxygen, and supplying the gas may prove complicated as demand grows in hard-hit areas." • If it's not one thing, it's another…
Supply Chain: "How Panic-Buying Revealed the Problem With the Modern World" [The Atlantic]. "Any student of economics will tell you that modern supply chains rely on just-in-time ordering…. Under normal circumstances, this just-in-time system is convenient. Yet it is also, as we have discovered in the past fortnight, fragile…. What happened at supermarkets [with toilet paper] is worth dwelling on, because it reveals a problem with one of the modern world's most hallowed concepts: efficiency. As businesses and governments chase ever-tighter margins—ever-greater efficiency—they have created systems that are finely tuned, but also delicate. … This is, however, a fundamentally inhuman philosophy. People aren't machines. We are inherently inefficient, with our elderly parents and sick children, our mental-health problems, our chronic diseases, and our need to sleep and eat. And, as the past few months have demonstrated, our susceptibility to novel viruses. We have been trained to see efficiency as a desirable goal. We often don't see, or don't acknowledge, the risk of catastrophic meltdown."
The Bezzle: "'Our QuarBNB': How short-term rentals are being used for self-quarantines during the coronavirus outbreak" [WaPo]. "But data out Monday showed that although revenue is down in dense urban centers like New York, Boston and Chicago, numbers are up in less-populated suburban and rural areas that can be easily reached from those cities. 'Vacation rentals are providing safe havens for an entirely new demographic,' AirDNA said in a blog post. 'Whether it's retirees looking for refuge in remote hideaways, professionals looking for an interim workspace, or stranded travelers in need of a quick plan B — vacation rentals are becoming an extremely reliable fallback plan. Ironically, 'vacation' rentals may have officially outgrown their original name and purpose." • Let me rephrase that: Vacation rentals are another vector, exactly as with the Hamptons, the Berkshires, Vail, etc.
Tech: "Unpatched iOS Bug Blocks VPNs From Encrypting All Traffic" [Bleeping Computer]. "A currently unpatched security vulnerability affecting iOS 13.3.1 or later prevents virtual private networks (VPNs) from encrypting all traffic and can lead to some Internet connections bypassing VPN encryption to expose users' data or leak their IP addresses. While connections made after connecting to a VPN on your iOS device are not affected by this bug, all previously established connections will remain outside the VPN's secure tunnel as ProtonVPN disclosed." • Yikes. You can work around this by turning on Airplane Mode, then turning it off. But come on, Apple!
Tech: "What happens when the maintainer of a JS library downloaded 26m times a week goes to prison for killing someone with a motorbike? Core-js just found out" [The Register]. "In November 2019, Denis Pushkarev, maintainer of the popular core-js library, lost an appeal to overturn an 18-month prison sentence imposed for driving his motorcycle into two pedestrians, killing one of them…. [core-js] gets downloaded more than 26 million times every week via the npm registry, and is widely used by major companies including Apple. Now its future is uncertain… [D]eveloper Nathan Dobrowolski asked, "If you are in prison, who will maintain [core-js] then?" Pushkarev offered no answer. Since his conviction last October, the need to resolve that question has become more than theoretical."
Honey for the Bears: "20 March 2020 ECRI's WLI Growth Rate Drops To Levels Not Seen Since The Great Recession" [Econintersect]. "ECRI's WLI Growth Index which forecasts economic growth six months forward declined significantly, moved deeper into contraction, and is now at a level not seen since April 2009….. Please note that the coronavirus is a black swan event and the decline likely is more immediate and not lagging off six months as one would expect. Most likely, the U.S. is already in a recession." • Hoo boy.
* * *
Today's Fear & Greed Index: 24 Extreme Fear (previous close: 22 Extreme Fear) [CNN]. One week ago: 8 (Extreme Fear). (0 is Extreme Fear; 100 is Extreme Greed). Last updated Mar 26 at 1:28pm. Stimulus! Last updated Mar 27 at 12:32pm.
The Biosphere
"Ancient warming threw this crucial Atlantic current into chaos. It could happen again" [Science]. "The Atlantic Ocean's 'conveyor belt,' a powerful current that drags warm water north before submerging it in the North Atlantic, has been humankind's constant companion. For 8000 years, it has held steady, nourishing Western Europe with tropical warmth. But a new study of the current's strength over the past half-million years suggests global warming may not shut down the current any time soon, as some scientists fear. Instead, it could trigger a replay of ancient events, when multiple bouts of warming caused rapid, centurylong swings in the current's strength, sowing climate chaos that may have alternately chilled and warmed Europe. 'A strong circulation can also be a highly variable one. [That] might be the most important lesson," says Ulysses Ninnemann, a paleoclimate scientist at the University of Bergen and a co-author on the new paper." • An excellent explanation of the Atlantic Conveyor, well worth a read. Also, 8000 years is an eyeblink.
"Pesticides as a cause of soil degradation" [John Kempf]. Quoting Michael McNeill, from the Regenerative Agriculture Podcast:
[MCNEILL:] The other day I was cleaning out a drawer in my desk, and I found some old pictures that I had taken back in 1972 or 1973 of crops that were growing. I had some close-ups and some overviews of the field. The thing that I noticed was how healthy the plants were. There were no disease lesions on them anywhere. The corn plants were just perfect. And the whole field was that way.

It's really hard to find a field today that is that way. I was looking at the weeds that were growing along the fence rows, and they were big and healthy and looked great. They don't look so good today, comparatively speaking. And you say, "Well, maybe that's a good thing!" No, it's not. The whole area that we're farming is unhealthy. It makes me ask the question—what's changed?

To me, the big difference from that era until today is that farmers have been drawn into big ag. You need to use herbicides. You don't want to use a cultivator. You have to farm more land. So you use herbicides, but herbicides are doing things to the soil, because they're all chelators. So now the plants become a little bit imbalanced in the nutrition that they're taking up, and you find more disease—you find more insect pressure. So you start using fungicides and insecticides—more chelators, more poisons being dumped onto the ground. And you're pretty impressed with how they work. The field is perfectly clean, and weed free—excellent. The diseases were dramatically reduced. The fungicides worked really well. The corn borers and some other of the insects that were issues went away. It was magic. The chemistry was totally magic—it looked beautiful.

But as time went on, the chemistry started poisoning the good things that were in the soil. And so, today, I'm called out to look at farms where the guy's production has dropped off dramatically and the soil is virtually dead.
Health Care
"U.S. home healthcare industry warns of possible 'collapse'" [Reuters]. ""It's a hair-on-fire crisis," said Roger Noyes, spokesman for New York's Home Care Association. As hospitals continue to handle an influx of coronavirus cases, patients who need care but are not critically ill are likely to be sent home. If home care providers can't stay afloat or decline to offer services, those patients will "face a rapid, immediately life-threatening deterioration" of their health, said Al Cardillo, president of the New York group. Compounding the industry's financial woes are bidding wars for essential medical equipment… For now, that can leave smaller home health companies at the back of the line, said Emma Dickison, board president of the Home Care Association of America."• Uh oh….
Failed State
Breaking a bottle of champagne over the bow of the new category:
The @annarbornews just reported on a bridge that collapsed on top of I-94 in Detroit. This is the picture attached to the article. Incredible stuff. #CollidinWithBiden pic.twitter.com/AXgzX188jA

— Aren R. LeBrun (@proustmalone) March 27, 2020
Groves of Academe
$40 billion endowment (1):
Doris, a @harvard custodian and labor activist, was made to clean student dorms immediately, without proper PPE, after Harvard mass-evicted students. She now has symptoms of COVID-19 and can't get tested.

President Bacow got tested the day after he presented symptoms. https://t.co/h8ZI1z8D8U

— Dr. Marena Lin (@AnotherDrLin) March 26, 2020
$40 billion endowment (2):
Harvard is laying off nearly all dining workers. While the univ. has agreed to provide 30 days' pay for the directly hired dining workers who work at the College, they are refusing to provide this pay for the subcontracted dining workers at @Harvard_Law https://t.co/7tlcyq7fIH

— Jared Odessky (@jaredodessky) March 20, 2020
$40 billion endowment (3):
the harvard president has corona virus. so does his wife. my immediate thought is that the tests be made available asap to the workers who clean his office and/or house. there should be no delays.

— plaintiff pookie (@jmddrake) March 24, 2020
"Even in a Pandemic, the University of Illinois Doesn't Care About Its Grad Workers" [Jacobin]. "In recent years, the University of Illinois system has been a major site of graduate student worker organizing. Unionized graduate workers at both the Urbana-Champaign and Chicago campuses launched weeks-long strikes in 2018 and 2019, respectively, to secure contracts that provided basic financial stability… On March 12, three days after Illinois governor J. B. Pritzker declared a statewide state of emergency, the UI Board of Trustees jacked up student health insurance premiums, hitting both grads and undergrads. At the Urbana-Champaign campus (UIUC), premiums will shoot up by a whopping 33 percent beginning this fall. The move came at the same time the board voted to spend $311.8 million on putting up new buildings, and two months after the UI president was awarded a $235,000 raise." • A strong university has big buildings and fat administrators! What's wrong with these people?
"An Open Letter to Tisch Dean Allyson Green: Please Stop" [NYU Local]. "We here at NYU Local would just like to say: what the fuck is this." • Read the whole thing. The video in question:
Dean of NYU'S Tisch School of the Arts Allyson Green's dance video message to students in response to their concerns over refunds of their tuition amidst the coronavirus pandemic.https://t.co/TGNg3h3uEh via @YouTube

— Rick Rivera (@RickRivera10) March 27, 2020
I should have a section called "College Administrators Behaving Badly." The only issue? Too much material.
Class Warfare
I remember this comic, maybe from a high-school history textbook:
This comic is older than most everyone who will read it. It's still true. And it's why we need #BernieSanders pic.twitter.com/nfa0bEtiET

— #MedicareForAll (@lotta_niko) March 27, 2020
I used to think it was a little over-the-top. Now, after two grotesquely large bailouts for the 1% in ten years, I don't think it's over-the-top at all. It's exactly on point.
News of the Wired
"Physicists brawl over new dark matter claim" [Science]. "For decades, astrophysicists have thought some sort of invisible dark matter must pervade the galaxies and hold them together, although its nature remains a mystery. Now, three physicists claim their observations of empty patches of sky rule out one possible explanation of the strange substance—that it is made out of unusual particles called sterile neutrinos. But others argue the data show no such thing. 'I think that for most of the people in the community this is the end of the story,' says study author Benjamin Safdi, an astroparticle physicist at the University of Michigan, Ann Arbor. But Kevork Abazajian, a theoretical physicist at the University of California, Irvine, says the new analysis is badly flawed. 'To be honest, this is one of the worst cases of cherry picking the data that I've seen,' he says. In unpublished work, another group looked at similar patches of sky and saw the very same sign of sterile neutrinos that eluded Safdi." • Brawling physicists!
* * *
Readers, feel free to contact me at lambert [UNDERSCORE] strether [DOT] corrente [AT] yahoo [DOT] com, with (a) links, and even better (b) sources I should curate regularly, (c) how to send me a check if you are allergic to PayPal, and (d) to find out how to send me images of plants. Vegetables are fine! Fungi and coral are deemed to be honorary plants! If you want your handle to appear as a credit, please place it at the start of your mail in parentheses: (thus). Otherwise, I will anonymize by using your initials. See the previous Water Cooler (with plant) here. Today's plant (TH):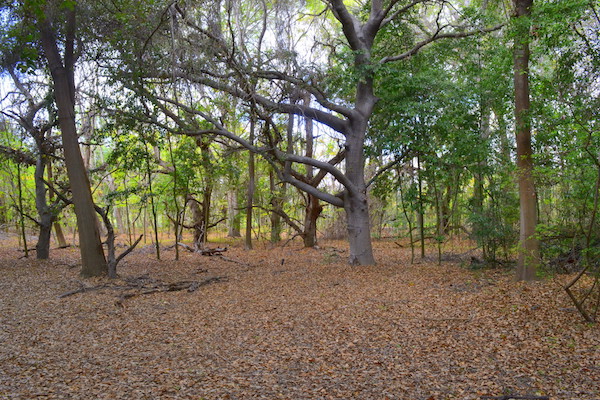 TH writes: "We don't see several trees congregating like this much in Los Angeles County, except in Nature Centers….which this is. These particular trees, ignoring social distancing, are at the El Dorado Regional Park in Long Beach, CA. (This was back in February though, when the park was still open and 'social distancing' had actually not been enacted yet, even for people." Backlighting through leaves is hard!
* * *
Readers: Water Cooler is a standalone entity not covered by the annual NC fundraiser. So if you see a link you especially like, or an item you wouldn't see anywhere else, please do not hesitate to express your appreciation in tangible form. Remember, a tip jar is for tipping! Regular positive feedback both makes me feel good and lets me know I'm on the right track with coverage. When I get no donations for five or ten days I get worried. More tangibly, a constant trickle of donations helps me with expenses, and I factor in that trickle when setting fundraising goals:
Here is the screen that will appear, which I have helpfully annotated.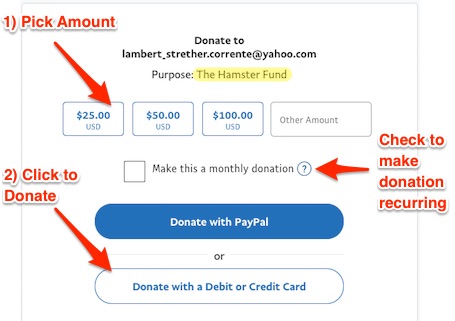 If you hate PayPal, you can email me at lambert [UNDERSCORE] strether [DOT] corrente [AT] yahoo [DOT] com, and I will give you directions on how to send a check. Thank you!