Yves here. Even though experts voice doubts about whether COVID-19 is as well contained as their data suggests, it is still true the the R0, or the basic reproduction rate rate, of an infectious disease is not etched in stone and is estimated by modeling. From a 2019 paper posted at the CDC:
The basic reproduction number (R0), also called the basic reproduction ratio or rate or the basic reproductive rate, is an epidemiologic metric used to describe the contagiousness or transmissibility of infectious agents. R0 is affected by numerous biological, sociobehavioral, and environmental factors that govern pathogen transmission and, therefore, is usually estimated with various types of complex mathematical models, which make R0 easily misrepresented, misinterpreted, and misapplied. R0 is not a biological constant for a pathogen, a rate over time, or a measure of disease severity, and R0 cannot be modified through vaccination campaigns. R0 is rarely measured directly, and modeled R0 values are dependent on model structures and assumptions. Some R0 values reported in the scientific literature are likely obsolete. R0 must be estimated, reported, and applied with great caution because this basic metric is far from simple….

For any given infectious agent, the scientific literature might present numerous different R0 values. Estimations of the R0 value are often calculated as a function of 3 primary parameters—the duration of contagiousness after a person becomes infected, the likelihood of infection per contact between a susceptible person and an infectious person or vector, and the contact rate—along with additional parameters that can be added to describe more complex cycles of transmission (19). Further, the epidemiologic triad (agent, host, and environmental factors) sometimes provides inspiration for adding parameters related to the availability of public health resources, the policy environment, various aspects of the built environment, and other factors that influence transmission dynamics and, thus, are relevant for the estimation of R0 values (21). Yet, even if the infectiousness of a pathogen (that is, the likelihood of infection occurring after an effective contact event has occurred) and the duration of contagiousness are biological constants, R0 will fluctuate if the rate of human–human or human–vector interactions varies over time or space. Limited evidence supports the applicability of R0 outside the region where the value was calculated (20). Any factor having the potential to influence the contact rate, including population density (e.g., rural vs. urban), social organization (e.g., integrated vs. segregated), and seasonality (e.g., wet vs. rainy season for vectorborne infections), will ultimately affect R0. Because R0 is a function of the effective contact rate, the value of R0 is a function of human social behavior and organization, as well as the innate biological characteristics of particular pathogens. More than 20 different R0 values (range 5.4–18) were reported for measles in a variety of study areas and periods (22), and a review in 2017 identified feasible measles R0 values of 3.7–203.3 (23). This wide range highlights the potential variability in the value of R0 for an infectious disease event on the basis of local sociobehavioral and environmental circumstances.
By Bob G
China was clearly in a lot of trouble with Covid-19, but had the contagion contained by February 19th, at least according to their data. They did this by locking down the country and shrinking their economy in the process. This is clearly a strength of a totalitarian regime.
But China also clearly showed the rest of the world how to limit a viral outbreak, and the rest of the world is slowly and reluctantly following the same playbook, to the extent that they are able.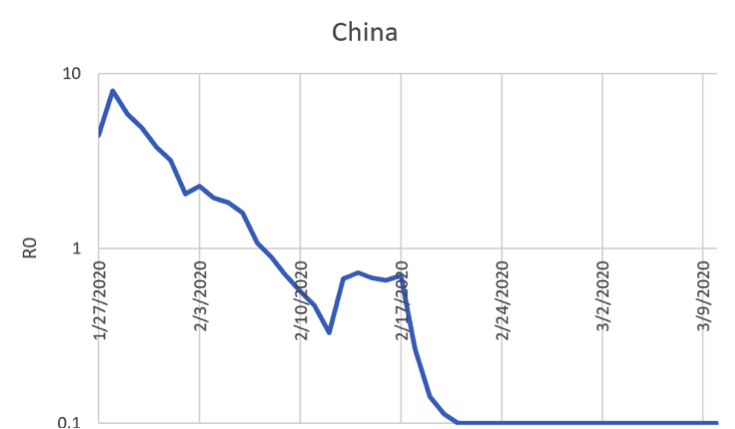 The above graph shows the transmissibility (R0) of Covid-19 in China. When R0 crossed below 1, the number of new infections was declining day-by day. The number of active cases took a number of weeks to work through the system, but they were out of trouble by February 17.
Even though China's Covid-19 hospitals are mostly emptied out, they are still on lockdown. China still has new cases arising. What is alarming is that many of the newest cases are being imported from Iran. Even in China, only a small percentage of the population has been infected, so few are immune as the virus continues to spread around the world.
We want to know if the pandemic can be controlled. It probably can, at least in countries that are willing to shut down for weeks or months. We want to know if the pandemic can be stopped across the world. That is increasingly unlikely. And we want to know how long we will need to be locked down.
The answers to these questions come down to understanding the transmissibility of the disease. Normally health care experts use R0 (pronounced R naught) to measure the transmissibility of a disease. It tries to measure how many people will be infected by each new infection of a disease. This is a wonderful metric in theory, but a terrible metric in practice. It is almost impossible to accurately measure and is debated for decades. I wanted to find a practical alternative to R0 that can be calculated from publicly available data that would tell us what we really need to know.
I was able to calculate a version of R0 that shows when the disease was spreading uncontrollably in different regions, and the progress the country made to slow this. I simply measured the number of new cases in a region relative to the number of active cases 5 days previously. This is still imperfect in that in early days many cases went undetected so R0 is overstated. It is also not at all clear if 5 days is the average incubation period. Regardless of how one calculates R0, what matters is that when R0 is above 1.0, the disease is spreading, and when it is below 1.0, the disease is contracting. My simplified R0 calculations show the trends by region. The data was downloaded from the Johns Hopkins data sets that they use for their daily reporting.
After China had contained the outbreak, it still had time to hop to other countries. South Koreas has already stopped the spread within their country. Italy and Iran have been slower. Italy has a complete shutdown. Iran released its prisoners. Their R0 is around two now, but falling quickly.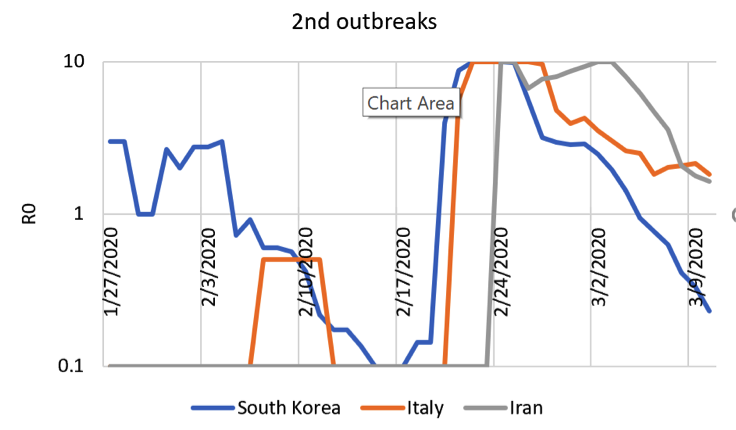 (non-Italy) Europe and the US were hit later, be neither is yet effective. R0 is five, reflective of the fact that the virus has spread everywhere, but the lockdowns have not yet started. I live in Seattle, which has had virtually all the deaths in the US. And out region is already locked down. I am stuck in my home, my children's' schools have been closed and my wife spent two days trying to find toilet paper. But all of the Seattle deaths reflected people who were already sick far before R0 in the US started rising again 2 weeks ago.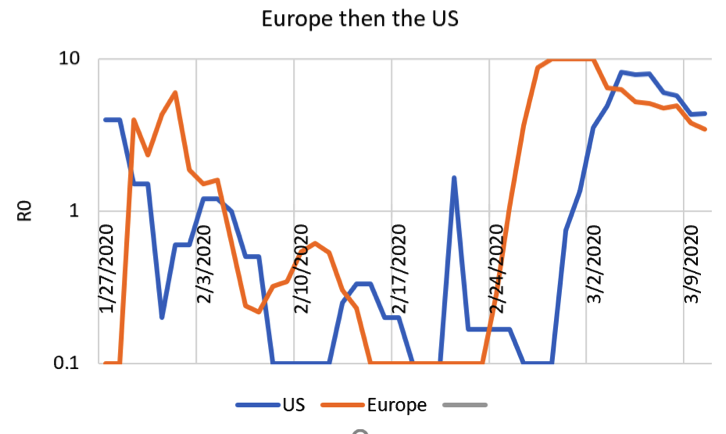 But what is scary is that the rest of the world is just getting hit right now. We do not know if Nigeria or Venezuela or Indonesia will be able to put in social distancing controls on the entire population. I am inconvenienced by being unable to leave my house. Many in America will temporarily lose employment. In the third world people may starve if they cannot work.