As a long-standing million mile American Airlines customer who has chosen to rack up even more frequent flier points via a Citi Aadvantage card, until recently, I've thought well of Mastercard and Citi. Citi once had intelligent and competent phone representatives who also seemed to have more discretion to solve cardholder problems than was typical for large banks.
That is no longer true. I've stumbled across Citi violations of Mastercard's chargeback procedures which have the earmarks of being institutionalized (note I've been to this rodeo a few times, not just as a consumer but as a seasoned consultant to large banks, as well as to American Express).
This fiasco is relevant not just as a matter of prurient interest, but more importantly, as a demonstration case of ham-fisted chicanery on two fronts. The more important one is Citi's chargeback abuses, since chargebacks are a very important but not widely recognized last vestige of consumer protection.
What Citi is up to could be dismissed as predictable bank grifting. But the question remains why is Mastercard, which is reported to be vigorous in protecting its brand, letting Citi get away with trashing Mastercard's image? And then there is the icing on the cake of Citi cornering customers into accepting its plan to use voiceprints.
Below is a voice recording and a transcript from a recent call on a badly and apparently deliberately mishandled chargeback on a Citi Mastercard. I've been put through persistent HAMP-level runarounds, for instance, of not being told to send in supporting documentation (when from prior experience I knew that was required), to being affirmatively discouraged from sending in documentation which I nevertheless sent in anyhow. But in keeping with them not wanting to consider it, it was ignored.
As we'll discuss in more detail, on this call the Citi disputes agent for its Aadvantage Mastercard not only made multiple misrepresentations of the history of a particular chargeback but finally 'fessed up to a key violation of Mastercard rules.
And to add insult to injury, before I got to the disputes department, I had a strenuous conversation with the initial agent who kept refusing to implement my demand that Citi not use my voiceprint. Since I am not convinced the eventual assent was genuine, I now have to waste even more time writing Citi's general counsel to demand my voiceprint not be retained. If they will not comply, I will cancel all of my Citicards.
Why Chargebacks Matter: Protecting Ordinary Consumers from Shady Merchants and Practices
The ability to dispute charges is one of the most important reasons to use a credit card, as opposed to a debit card or cash, where the vendor irrevocably has your money and the customer's ability to right any wrongs are limited and costly.
Indeed, given the widespread decay in business ethics, consumers' chargeback rights are one of the few remaining checks on everyday misconduct. For instance, I've had two instances in the last five years of professionals making fundamental misrepresentations about their services where my huffing and puffing didn't get them to give back the money, but putting in a chargeback did (as in both quickly capitulated and issued a refund).
Chargebacks are a very important part of the value of a credit card to customers. As we'll discuss shortly, with Citi's Mastercard operations setting about to vitiate them, there's no good reason to use a Citi Mastercard and effectively be overpaying for a deficient service (one with badly and apparently deliberately compromised chargeback rights).
Mastercard specifically imposes the rules on card issuers like Citi and makes positive claims to cardholders that this is how disputes will be resolved in their marketing materials. See https://www.mastercard.co.uk/en-gb/frequently-asked-questions.html (you have to click on an expand button ("+ Transaction Dispute") to see the text)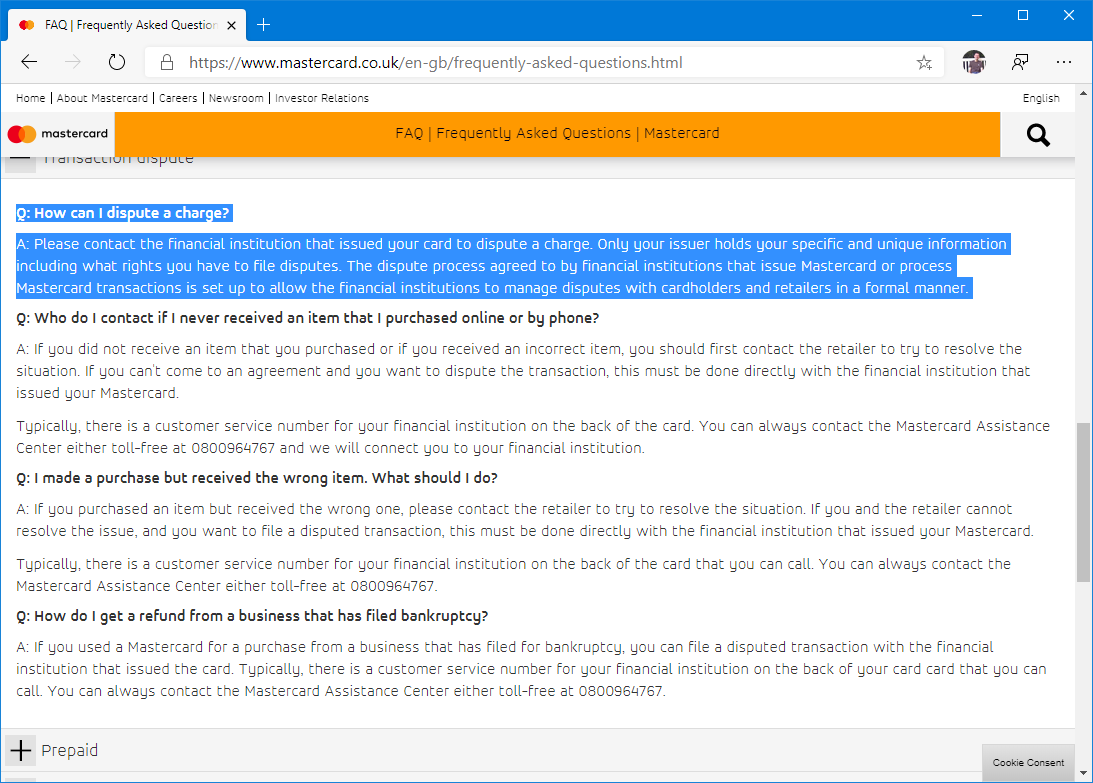 Q: How can I dispute a charge?

A: Please contact the financial institution that issued your card to dispute a charge. Only your issuer holds your specific and unique information including what rights you have to file disputes. The dispute process agreed to by financial institutions that issue Mastercard or process Mastercard transactions is set up to allow the financial institutions to manage disputes with cardholders and retailers in a formal manner.
Note the "… in a formal manner". In other words, card issuers like Citi can't make stuff up as they go along. These card issuers sign a binding contract with Mastercard to this effect (which is what is meant by "The dispute process agreed to by the financial institutions that issue Mastercard…") as a condition of their use of Mastercard under licence.
Mastercard (like Visa and other credit card networks) ruthlessly and diligently police the use of their brand and their standards (look at how stringent they are on brand assets: https://brand.mastercard.com/brandcenter/mastercard-brand-mark.html). And they micro-manage merchants and card issuers when the need arises, such as clamping down on crypto-currencies being treated as goods rather than the equivalent of a cash advance. 
Keep in mind that Citi Mastercard's sort of misconduct also greatly weakens the Visa, Mastercard, and American Express networks' efforts to preserve their egregiously high fees in the US. They managed to win an epic battle a few years ago by retailers, led by the likes of Walmart, demanding that the US put the kibosh on high merchant fees. The retailers pointed to the fact that overseas, the network operators had much newer and more secure infrastructure despite having much lower legal fee limits. Gutting service levels while trying to justify nosebleed-level fees is not a winning political proposition.
Why and How Citi Is Trying to Get Out of Processing Many Chargebacks
Card disputes are high-touch, high-skill servicing tasks for card issuers like Citi. They are not very amenable to automation. Even though the Mastercard and Visa guides are detailed, someone at the card issuer has to determine whether and where a particular chargeback request maps into that rulebook. A well-run bank will engage in triage when the chargeback is called in, with simple ones on one end of the spectrum to, on the other, fiendishly complicated issues which are one-offs or happen so infrequently that even a skilled case handler might see such an instance only once or twice in their tenure.
So finding a way to get rid of a lot of the complicated cases would mean less need for well-trained chargeback staff, far less time spent per case, meaning ka-ching, more profit! And Citi's assumption no doubt is that customers would be too unsophisticated to see they are being had.
I encountered Citi's ruse by accident, by virtue of having two fairly large chargebacks (over $1000 each) within a few months of each other, and by having initiated enough chargebacks over time to be familiar with Citi's former routine.
Remember that in the world of highly routinized operations like call centers, one incident could be a mistake, but two strongly indicates a policy.
When I initiated a chargeback in the past, the Citi representative would unfailingly tell me I would be getting a letter in 7 to 10 business days and I needed to fill it out and send it back. That letter would always contain a ridiculously short space for describing why you wanted the chargeback (although my dim recollection is that it did say to provide any supporting documents). I would always attach a narrative, any communication with the merchant, and other backup.
On the first of these chargebacks, I noticed no one at Citi told me to be on the lookout for a letter. Remember, you need instruction not just on what to send in but where to send it!
And no letter came. This first one was a complex chargeback (merchant was supposed to execute some custom work, didn't deliver on the specs, and then said in writing it couldn't). It was clear there was no way any reasonable person could rule in my favor without evidence.
I was still wrangling with the merchant and updated Citi by phone. I even pointed out in one call that I hadn't sent anything in and wondered when Citi needed it and said I would know more after I went another round (I was hopeful of agreeing on a partial refund + a repair).
Citi reversed the chargeback because I had sent nothing in, even though I had raised that very question with them! I made a stink and was able to get the chargeback reopened. With the benefit of hindsight, it was dumb luck. It appears the merchant had also sent nothing to Citi.
So with the second chargeback, I had wised up. Not that that did me much good.
When I called in on this one (a shoddy Westin Heavenly Bed mattress, it developed a deep trough where I sleep in a mere six weeks despite my weighing 2/3 as much as the average American), I took care to specify the two relevant categories in the Mastercard chargeback guide: "defective goods" and "goods not of reasonable expected quality". Even though I had given a pretty detailed account, the agent (clearly working from a script) told me to state what the problem was and encouraged me to vent, sometime to the effect of "Let it rip, here is where you can say what you feel". I found that weird, since banks are not in the business of providing emotional support. It appears that all of this faux sympathy was to cover for not taking the chargeback process seriously.
I specifically asked where and when I needed to send in documentation. The rep assured me I didn't need to do that. "We'll take it from here". That was clearly incorrect but it was also clearly in that rep's script.
But since I knew where to send the documents due to the other chargeback, I dutifully sent in my stuff, including e-mails where the merchant had agreed to issue a refund (effectively admitting the mattress was defective) but imposed physically demanding and haxardous requirements I could not meet. They went silent when I said I could not risk injury and made other suggestions. I also sent in evidence of the mattress' defects.
I called Citi after I e-mailed them in, asked if they'd been added to my disputes file, and was assured they were. Had I been more clued in, I would have asked if they had been uploaded to the Merchant Dispute Resolution System, which is where the merchant, in this case Westin's Heavenly Beds business, would see what I had sent to substantiate my claim.
Citi closed my chargeback and reversed my conditional credit. Why? Because Heavenly Beds had responded. Citi sent the records, which simply showed the details of the transaction on their end, and that they'd shipped the mattress! That was it. No response whatsoever to the two chargeback categories, which suggests that even that information, from the initial call, wasn't entered into the Merchant Dispute Resolution System.
Citi's note included this maddening, HAMP-esque "Our dog ate your homework" section:

I called twice to complain, and one of the two times even got a supervisor, each of whom said that Citi reversed the chargeback merely because the merchant responded. It was of no importance that I had already sent in documentation substantiating the mattress was defective and Citi had confirmed on the phone that they'd received it. or that the merchant response was irrelevant to the chargeback categories invoked. This is clearly improper under the Mastercard chargeback playbook.
But despite this obvious servicing failure, under Mastercard rules (which as you can see are only being used against me, not to my benefit), I could then only pursue what in Mastercard-land is called an Arbitration Chargeback.
One party involved in this escalation took interest in Citi's abuse of Mastercard rules via shutting down the chargeback merely based on the merchant sending in irrelevant documents. Even thought the paper trail clearly showed that, I thought it was important to get Citi on the record saying so yet again. The result was the Alice in Wonderland call below.
Citi's Chargeback Falsehoods and Run-Around
Quite a few readers offered to help with audio editing. Due to my concern about getting it done on a timely basis, I asked two very overqualified audio editors to have a go. Both turned it around almost immediately. I used Hank's version because he took it upon himself to amp up the Citi voices where they were hard to hear. I've also included a rough transcript.
We're starting in the middle, when I finally got past the initial rep to the Disputes department. That section begins at 8:50, or on the transcript, on page 3 the first time you see "Dispute agent" as a speaker. It takes her until 10:20 to find the dispute even though I offered twice to read out the Dispute ID.
Our retail banking ops maven Clive was appalled at the amateurism:
The World's Worst Handoff – not passing through the already-established ID and verification. That's clown-car stuff.

It got even more awful, if that were possible, didn't it – why didn't they accept your suggestion to work from the Dispute ID when you offered it, when they clearly couldn't accurately pull out your dispute record?
If you have the patience to listen or read, you can see I got distracted from my main mission of getting Citi to reconfirm what they had told me on February 1 and February 7, that they had closed the chargeback merely because the merchant had replied. The disputes agent attempted to claim that the chargeback had not been denied, when in fact the only way Citi could now be pursuing the matter was as a new type of chargeback, the afore-mentioned Arbitration Chargeback.
In fact, Citi had attempted to shut down the Arbitration Chargeback on February 24 on yet more procedurally invalid grounds:

This again is utterly irrelevant to the chargeback categories invoked. It's as if Citi has a random cardmember turndown letter generator and this is what popped out. I included the credit bureau language because this letter also incompetently acts as if the chargeback credit was just reversed, when that happened had happened in early January.
So again to recap:
The disputes agent acted as if the chargeback was alive all this time when I had to make a stink to revive it from the dead twice.

Worse, the disputes agent kept harping on my needing to send in information when the extensive documentation I had sent in twice clearly had not been read. And on top of that, if Citi really did need more information, they should have contacted me to request it rather than make noise about it only because I had called in.
Even though it is painful, I urge you to listen to or read the exchange. As our Clive said:
I am the most patient person you can imagine. But I would have totally lost it with the Citi agent. I really don't know how you kept your temper. "Can you send the documentation again?". FF'erty-F's sake.

But the really good outcome – was they (Citi) confessed. The agent said (eventually) that they reversed the Chargeback simply because the merchant "responded". And you've got the evidence right here, in this call.

This, coupled with them asking for the documentation you'd already sent again is a smoking gun that Citi are simply reversing first-presentation chargebacks any and every time a merchant sends a response. They are blatantly trashing the entire dispute simply on the basis a merchant has said something. And that something can be anything.

Unbelievable. They've so hollowed out credit card servicing so that all calls other than the most routine matter is simply closed off, without them willing to expend any manpower on it.

I can't wait to see what Mastercard do. Isn't Citi one of the biggest card issuers in the US? And this is how they've crappified their servicing?
Citi Shoving Voiceprint Verification Down Customers' Throats
More and more financial services firms are tying to impose voice verification on customers, even though well-run firms that need to keep clients happy like Vanguard take "no" for an answer with no guff. Not Citi.
First, Citi instructed me to punch in my full card number (normally they could find my account using my phone number and the last four card numbers). The system did not recognize that or my manually-entered phone number. It was obvious they had disabled the touch/voice recognition feature to make verification a hassle to push customers to accepting the use of voiceprints.
Our house expert Clive concurred:
Comical. "We're experiencing high call volumes". Well get some more bloody people on the phones, then, you cheapskates.

Their IVR/touchtone is mis-configured. Deliberately. It's the oldest trick on the call centre book – deterring "casual" servicing calls by putting on a faux touchtone listener that isn't actually picking up any tomes. And the voice-print rigmarole was Kafkaesque (sorry, I couldn't help but listen, it was too awful to pass up on!) was a cherry on the top of a rancid cake. It was pure entrapment – intentionally forcing an opt-in by default. You really had to stand your ground didn't you? You have to admire their nerve – a double-whammy fail – deterring people form calling by putting on a dummy touchtone prompt, then if they persist, force them into biometrics.
It isn't simply that retaining voiceprints for verification is offensive to privacy-sensitive customers. It's also a really bad idea, particularly for people like me who have done TV and radio and thus have lots of voice recordings out in the wild. It's already possible to create audio deepfakes with a mere 3.7 second clip and banks are playing catchup. One was already caught out in a stunt; how many more have been snookered but were able to keep it out of the press?
Citi has gone from having well-run card operations to being an embarrassment. But it's clear management doesn't care, or it never would have gotten in this shape in the first place.
00 Citi Mastercard transcript 2020-03-10_18_39_15