By Lambert Strether of Corrente.
#COVID-19
At reader request, I've added this daily chart: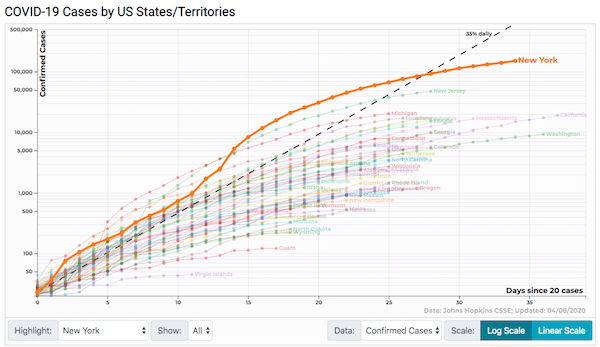 The data is the John Hopkins CSSE data. Here is the site. I have changed to a logarithmic scale for US States and territories, adjusted for population. See Vice, "How to Read the Coronavirus Graphs":
Quantities that grow exponentially, when depicted on a linear scale, look like curves that bend sharply upward, with the curve getting constantly steeper. On a log scale, exponentially growing values can be depicted with straight diagonal lines.

That's the beauty of plotting things on log scales. Plots are meant to make things easy to understand, and we humans are much more adept at understanding linear, straight-line behavior. Log plots enable us to grasp exponential behavior by transferring the complexity of constantly steepening curves into the simplicity of an exponentially increasing scale.

On a log scale, we want to constantly be making the line more and more horizontal. The general concept of "flattening" is still a good one, but it's never going to curve down. And so what we should be looking, and hoping for is a trend toward horizontal.
I removed population adjustment, based on this exchange from alert reader dk:
A quick chart for those who keep asking for per-capita adjustment:

Here's population vs total death toll one week after 10th death.

No relationship.

As I've been saying, population does not affect pace of spread. All per-capita figures do is make smaller countries look worse. pic.twitter.com/yWsa4YNNxI

— John Burn-Murdoch (@jburnmurdoch) March 29, 2020
I hope this change is helpful. One also notices at once that the New York and New Jersey metroplexes stand out.
Politics
"But what is government itself, but the greatest of all reflections on human nature?" –James Madison, Federalist 51
"They had one weapon left and both knew it: treachery." –Frank Herbert, Dune
"They had learned nothing, and forgotten nothing." –Charles Maurice de Talleyrand-Périgord
* * *
Since the Democrat primaries, barring force majeure, are over, I'm eliminating the Democrat primary voting feature. I want to thank dk for all the effort he put into it and the many improvements (and I hope he added to his technical arsenal doing it). In retrospect, and as I kept pointing out, the "Biden Juggernaut" — mysteriously strong, given that Biden performed poorly in every state em>until South Carolina, never visited many, and had cash problems — was the key story. Yes, of course there can be some bias in the polls, but not that much. In retrospect, the Biden Juggernaut said a lot about the state of the Democrat Party. Bitecofer is wrong, in that not all Democrat see politics as a partisan blood sport with team loyalty the primary ethic, if I may call it that; Bitecofer was surely right that the dominant factions see it that way, and that this — I can think of no other words for it — depraved degradation of the body politic and the democratic ethos has been carefully nurtured by the Democrat establishment (along with the press, who found it drove clicks) through, e.g., RussiaGate. On the bright side, a left that can learn to create and manage hate should do well. As the Romanovs discovered, to their cost. "Not me, them!" as it were.
* * *
2020
Biden (D)(1): "Statement From Vice President Biden" [Medium]. "Today, Senator Sanders announced he was suspending his campaign. Bernie has put his heart and soul into not only running for President, but for the causes and issues he has been dedicated to his whole life….. We will make sure healthcare is affordable and accessible to every American." • That's a big upraised middle finger to #MedicareForAll supporters.

Sanders (D)(1): "Bernie Sanders Wants to Change America. But He May Have to Change Himself First" [Anand Giridharadas, Time]. From June 2019. Some called this a hit piece (editors write the headlines), but I disagreed. The closing paragraphs:

Even in this late season of his life, Sanders has a choice about which version of himself he wants to present to the American voting public, and what he is willing to let himself become.

I keep thinking of a moment in Las Vegas that made me realize we don't know the answer yet. We had just landed at the airport. We headed for the SUV that would take us to the Paris hotel and casino. But there was a mishap: the local organizers hadn't known I was joining. When we found the SUV, we realized we were one seat short. Sanders' aides, in a hurry, looked at me like, "Bye, dude."

Sanders, who had been preoccupied with luggage, now caught wind of the issue. And I watched it come over him: a transfixing, physical sense of righteousness. It wasn't about logistics; it was about justice. At that point, he had spoken to me just once in any real way in days of traveling together. He had no interest in me in the normal ways. Oh, you live in Brooklyn? I used to live in Brooklyn. What part? But the prospect of my exclusion bothered him. Even as I said I was fine, he asked if there was any way to squeeze me in. Checked the back row. Maybe I could put a suitcase beside him, between the seats, and sit on top. But something had to be done, because to him it just was not right. .

And now there's nobody in the race like that, not remotely. And we have a political class full of people who'd shove you overboard for twenty bucks, or because they'd get a book deal if they did, or just for fun.

Sanders (D)(2): "Episode 141: In the Land of Uz" [Trillbilly Worker's Party]. • Opens with an extended reading from The Book of Job. Interesting discussion, culminating in some strategic recommendations (and at last, somebody's asking "What about the movement?" As they point out, "we" built this amazing fund-raising machine. What to do with it? (Too bad the Bern App wasn't two-way — was it? — so donors could vote. Seems like a tension between the demands of a campaign (temporary, like a circus or a rock tour) and the demands of a movement (permanent, like an army (?))).

Sanders (D)(3): "I'm a Bernie volunteer. Here's how Joe Biden can win Bernie voters." [Medium]. The headline is a bit deceptive, but I won't spoil it. A must read. Addressing a Biden supporter:

"According to the New York Times, Bernie Sanders is the most donated-to candidate in almost every district of every state in the union. He has a volunteer corps of over a million people. His coalition is, by the numbers, the most racially diverse. (Even if you believe, as a lot of Democrats seem to, that Latinos and Arabs don't count toward diversity and are just the Sam's Club Cola version of black people, Bernie has still won a narrow majority of black voters under thirty.) He lit a fire under a bunch of us who spend most of our time joking around on Twitter. I have never seen more people give freely to something bigger than themselves. It was not enough to win, but it was something unique in recent history.

If Sanders drops out of the race and endorses Joe Biden, that network of volunteers and grassroots donors will vanish like frost. The problem is not that Sanders lost but that he was defeated by main force. You don't see it that way, but my friends do."

Let's hope that "vanish like frost" part is wrong. I keep hearing that Sanders wants to continue the movement, but I'm not seeing it. That's should be the top priority, not least because it would enhance Sanders negotating power with every counterparty.

Sanders (D)(4): "Stephen Colbert Questions Bernie Sanders About Biden Endorsement" [Rolling Stone].

"It's no secret that Joe's politics are different than mine," Sanders began, "but I have known Joe since I came to the Senate in 2006, worked with him when he was Vice President in the Obama administration. And what I would say to people is that Joe is a very decent human being. I know his wife Jill as well, a wonderful person. And that I hope to be able to work with Joe to move him in a more progressive direction."

"Joe is a good politician," he added. "And he understands that in order to defeat Trump, he's gonna have to bring new people into his political world and that he's gonna have to listen to their needs — young people, working people — and maybe start moving in a different direction, to some degree, than he has in the past."

Colbert noted that Sanders said essentially the same statement in his livestream address earlier that day, then hit him with the question: "Is that a full-throated endorsement of Joe Biden?"

"We're gonna be talking to Joe," Sanders replied, "I will do everything I can to make sure that Donald Trump is not reelected. Because I believe Trump has been the most dangerous president of modern history in this country, and we're seeing his narcissism, his ignorance, playing out in terms of the pandemic we're experiencing right now."

I think if Biden could be pushed left, the Democrat Establishment would never have selected him (see here on the April 19, 2019 meeting of "Stop Sanders" Democrats). I am also not sure that (see the previous link at Sanders (D)(3)) Sanders can "deliver" his supporters in the way that the Democrat Establishment expects.

Warren (D)(1): "Warren thanks Sanders, says his efforts 'will change the course of our country and party'" [The Hill]. "'Thank you @BernieSanders, for fighting so relentlessly for America's working families during this campaign,' Warren tweeted. 'Your fight for progressive ideas moved the conversation and charted a path for candidates and activists that will change the course of our country and party.'" • First, the tired and focus-grouped "working famlies." Then the even more shop-worn "change the conversation" bullshit.

* * *

I should have a lot more on the Wisconsin debacle — debacle is far too weak a word — but these tweets will have to do for now:

In three weeks some 16 year old and her 14 year old brother will lose a mother because of the gross insistence on holding the Wisconsin primary today.

— Zephyr Teachout (@ZephyrTeachout) April 8, 2020

As Biden and the DNC encouraged them to do. (I see a lot of foofrah about the heroism of individual voters who are voting because people died for the right to do so. That would be fine, except it's not heroic to infect others, which holding an in-person election in the midst of a pandemic does.)

Perhaps the Wisconsin primary deserves not a "*" but a "†":

"It was probably the ugliest thing that I have ever seen, from a political perspective, in my life."
— @BernieSanders on the decisions that forced Wisconsin's April 7 primary to go on

Sanders had called for postponement to protect people from #COVID19https://t.co/Q86IRnnesB

— John Nichols (@NicholsUprising) April 9, 2020
A little too close to the bone:
Pete Buttigieg declares victory in Wisconsin Primary. pic.twitter.com/o9XqvtAsqD

— MSDNC – Commentary & Satire (@MSDNCNews) April 8, 2020

Realignment and Legitimacy
"The America We Need" [Editorial Board, New York Times]. "This moment demands a restoration of the national commitment to a richer conception of freedom: economic security and equality of opportunity. That's why Times Opinion is publishing this project across the next two months, to envision how to turn the America we have into the America we need." • Gad. Where have these people been for the last decades?
Stats Watch
At reader request, I added some business stats back in. Please give Econintersect click-throughs; they're a good, old-school blog that covers more than stats. If anybody knows of other aggregators, please contact me at the email address below.
Retail: "February 2020 Headline Wholesale Sales Decline" [Econintersect]. "The headlines say wholesale sales were down month-over-month with inventory levels remaining very elevated. Our analysis shows an improvement in the rate of growth for the rolling averages which are now in positive territory." • Pre-COVID19.
Consumer Sentiment: "Preliminary April 2020 Michigan Consumer Sentiment Suffers The Largest Decline Ever Recorded" [Econintersect]. "Surveys of Consumers chief economist, Richard Curtin, makes the following comments: 'Consumer sentiment plunged 18.1 Index-points in early April, the largest monthly decline ever recorded. When combined with last month's decline, the two-month drop of 30.0 Index-points was 50% larger than the prior record.'"
Producer Prices: "March 2020 Producer Price Final Demand Year-over-Year Growth Slows To 0.7%" [Econintersect]. "Year-over-year inflation pressures again declined this month."
* * *
Retail: "India is showing the world what a broken food supply chain under coronavirus restrictions looks like. Two weeks into the world's biggest lockdown, the people who move the essentials from farms to stores aren't showing up for work… and food shops say basic items are increasingly hard to find" [Wall Street Journal]. "The problem isn't a lack of food but a lack of people. India's highly fragmented food industry depends on hundreds of millions of small farmers selling through a system of millions of middlemen who eventually deliver to millions of tiny shops. But seasonal workers aren't showing up at farms."
Retail: "Retailers are debating the durability of the push toward online commerce, but [Hal Lawton, chief executive of Tractor Supply Co.] says he expects much of the shift to online buying will hold" [Wall Street Journal]. "This has been the most rapid widespread adoption of technology by consumers 'since 2007 when Steve Jobs rolled out the iPhone,' he says, and likely pulled 'pulled forward consumer adoption by two or three years.' The company has been designated an essential business and it's also hiring 5,000 more workers for its stores."
Shipping: "Carriers have idled a record 13% of their capacity over the past month, according to maritime data provider Alphaliner. The decision to put ships into storage pulls some 3 million containers' worth of capacity from seaborne supply chains… and signals that operators are bracing for a lengthy downturn under world-wide lockdowns aimed at halting the spread of the coronavirus" [Wall Street Journal]. "Laying up a ship is a costly step since carriers still face ownership, maintenance and storage expenses. Bringing a vessel back into service can be a lengthy and expensive process if owners choose 'cold storage' and almost fully shut down a ship's systems. But industry executives say mega-ships working major trade lanes now are sailing only half full, and trade flows are collapsing as pandemic restrictions unwind economic activity."
* * *
Today's Fear & Greed Index: 31 Fear (previous close: 26 Extreme Fear) [CNN]. One week ago: 22 (Extreme Fear). (0 is Extreme Fear; 100 is Extreme Greed). Last updated Apr 6 at 11:57am. Now mere fear. "Light at the end of the tunnel"?
The Biosphere
Roots, mon:
Jerry Glover shows a perennial wheatgrass plant's long roots which grow deeper than annual plants' roots. Using perennials, crops that can be harvested more than once without replanting, may be the key for feeding more people while conserving farmland soil https://t.co/vGhDNboQUE pic.twitter.com/FXjRGrDoHg

— Massimo (@Rainmaker1973) April 5, 2020
Health Care
"Most New York Coronavirus Cases Came From Europe, Genomes Show?" [New York Times]. "New research indicates that the coronavirus began to circulate in the New York area by mid-February, weeks before the first confirmed case, and that travelers brought in the virus mainly from Europe, not Asia…. Dr. Gonzalez-Reiche and her colleagues [at Mount Sinai] found that these viruses were practically identical to viruses found around Europe. They cannot say on what particular flight a particular virus arrived in New York. But they write that the viruses reveal 'a period of untracked global transmission between late January to mid-February.'"
"How Delays and Unheeded Warnings Hindered New York's Virus Fight" [The New York Times]. "A 39-year-old woman took Flight 701 from Doha, Qatar, to John F. Kennedy International Airport in late February, the final leg of her trip home to New York City from Iran. A week later, on March 1, she tested positive for the coronavirus, the first confirmed case in New York City of an outbreak that had already devastated China and parts of Europe. The next day, Gov. Andrew M. Cuomo, appearing with Mayor Bill de Blasio at a news conference, promised that health investigators would track down every person on the woman's flight. But no one did. A day later, a lawyer from New Rochelle, a New York City suburb, tested positive for the virus — an alarming sign because he had not traveled to any affected country, suggesting community spread was already taking place. Although city investigators had traced the lawyer's whereabouts and connections to the most crowded corridors of Manhattan, the state's efforts focused on the suburb, not the city, and Mr. de Blasio urged the public not to worry. "We'll tell you the second we think you should change your behavior," the mayor said on March 5. For many days after the first positive test, as the coronavirus silently spread throughout the New York region, Mr. Cuomo, Mr. de Blasio and their top aides projected an unswerving confidence that the outbreak would be readily contained." And: "Normally, New York would get help from Washington in such a time, as it did after Sept. 11. But President Trump in February and early March minimized the coronavirus threat, clashing with his own medical experts and failing to marshal the might of the federal government soon after cases emerged in the United States. As a result, state and city officials often had to make decisions early on without full assistance from the federal government. Even so, the initial efforts by New York officials to stem the outbreak were hampered by their own confused guidance, unheeded warnings, delayed decisions and political infighting, The New York Times found."
"Age, Complexity, and Crisis — A Prescription for Progress in Pandemic" [New England Journal of Medicine]. "Here is how clinicians might see Sally: morbidly obese elderly female with heart, lung, and kidney disease, atrial fibrillation, sleep apnea, depression, and polyarthritis. If you look only at her chart, the familiar picture of a high-risk elder with multiple health conditions emerges. But here is another, equally accurate portrait of Sally: witty, smart, curious older woman with many friends, who recently retired from a social service career and moved to California to be near her supportive children, a smartphone addict, leader in her church, political activist, free-live-theater aficionado, and resident of a continuing care community she chose as much for its low cost and social opportunities as for its ability to manage her future care needs…. On the day of Sally's appointment with me, having skimmed the proceduralist's discharge summary, I felt only minor concern as I entered the examination room. I didn't recognize Sally until she smiled. Her face was bloated, her hair disheveled, and her countenance lacked its previous vitality, humor, and confidence. She seemed physically and psychologically diminished. Her history and exam only reinforced this impression. Worst of all, after 25 years as a geriatrician, I am as close to certain as a clinician without a crystal ball can be that she will never return to her previous health, functional, and social status — that her life will become what her long-standing advance directive describes as 'not worth living.'" • A must-read. It's a shame administrators are in charge, and not humane doctors like this…
"A whopping 35 million Americans could lose their health insurance due to massive layoffs from coronavirus, new study says" [The Hill]. "Up to 35 million Americans could lose their health insurance in the coming weeks as businesses lay off workers due to the economic hit from the coronavirus pandemic, according to a new study. The astonishing projection from Health Management Associates underscores the pandemic's ripple effects from the economy into healthcare. The group said that the number of uninsured Americans could spike to 40 million people, a level unseen since before the Affordable Care Act became law in 2010. The study also estimated 23 million Americans could enroll in Medicaid, ensuring many would still receive insurance through other means. But 5 million Americans might still wind up uninsured."
"Building a memorial to all those lives stolen by for-profit healthcare" [r/MedicareForAll]. "I was thinking that when we pass Medicare for All we should build a memorial to all those whose lives were stolen by for-profit healthcare. Then I thought, why wait? Why not start now? Then I realized, almost certainly people must have done that. There must be hundreds of songs written in memory of family and friends killed by for-profit healthcare, probably those songs are on YouTube or somewhere else on the internet. There must be poems that have been written, portraits that have been painted, sculpture that has been created, quilts that have been sewn, and so on. We should collect all the links in one place. We need to document all those who have been stolen from us. Please put links in the comments to any song or artwork you know of that was created as a memorial." • Sounds like a good idea.
"How Do Coronavirus Tests Work?" [IEEE Spectrum]. "Diagnostics for COVID-19 typically fall into two broad categories: tests that detect proteins associated with the virus, known as immunoassays, and tests that detect the virus's genetic code, known as nucleic acid or molecular tests." • Good explantions of both methods.
Feral Hog Watch
"My Hogs" [James Buchan, London Review of Books]. From 2001, still germane. "As I contemplate these animals, my mind's eye fills with placid agricultural visions. More and extensive areas of the woods are cleared of brambles and brush. My cow begins to produce milk and the pigs take the surplus, like a Denmark in miniature; or they are turned out when the corn is cut to glean the spilled grain; or when the orchard is up, they manure the trees and eat the insect-tainted fruit. In this beautiful and frictionless economy (in the old Xenophontic or Aristotelian sense of household rather than state management, which is, properly, political economy), the pig is the heart and soul, the wild card, the blockbuster, the Maxim gun. Indeed, to me a wood without pigs is like a ballroom without women." • This is a great article on the history of the English pig since Anglo-Saxon times.
Class Warfare
"Why the Wealthy Fear Pandemics" [New York Times]. "But as successive waves of plague shrunk the work force, hired hands and tenants 'took no notice of the king's command,' as the Augustinian clergyman Henry Knighton complained. "If anyone wanted to hire them he had to submit to their demands, for either his fruit and standing corn would be lost or he had to pander to the arrogance and greed of the workers.' As a result of this shift in the balance between labor and capital, we now know, thanks to painstaking research by economic historians, that real incomes of unskilled workers doubled across much of Europe within a few decades. According to tax records that have survived in the archives of many Italian towns, wealth inequality in most of these places plummeted. In England, workers ate and drank better than they did before the plague and even wore fancy furs that used to be reserved for their betters. At the same time, higher wages and lower rents squeezed landlords, many of whom failed to hold on to their inherited privilege. Before long, there were fewer lords and knights, endowed with smaller fortunes, than there had been when the plague first struck." • Every cloud has a silver lining… And speaking of the plague–
"Is a plague of rats following the coronavirus?" [The Hill]. "Cities like New Orleans, with its popular French Quarter typically swarmed with tourists, are now seeing swarms of another kind. Emboldened by hunger, the city's rats have been taking to the now-deserted streets in large packs in search of a bite to eat." • Some pretty gruesome details. I think I prefer pigs to rats… More: "One of the scariest possibilities to consider when it comes to rats invading your building may not be what first comes to mind: them cutting off your access to television. Rats gnaw on cables…" • So here is another silver lining!
News of the Wired
"The U.S. Is Only Issuing New Passports in Emergency Cases Amid Coronavirus" [Condé Nast Traveler]. "The State Department has stopped issuing passports except for cases of a 'life-or-death' emergency among family members abroad. 'Due to public health measures to limit the spread of COVID-19, effective March 20, 2020, we are only able to offer service for customers with a qualified life-or-death emergency and who need a passport for immediate international travel within 72 hours,' the State Department's bulletin says. Emergencies that qualify for an immediate new passport include serious illnesses, injuries, or deaths affecting a 'parent, child, spouse, sibling, aunt, uncle, etc.,' which require travel outside of the U.S. Any applicant who needs their new passport within the three-day window must present proof of the emergency, such as a death certificate, a statement from a mortuary, or a signed letter from a hospital or medical professional that is written in or translated to English. Additionally a passport application is still required, as is proof of international travel like a reservation, ticket, or itinerary." • One more thing that won't ratchet back to how it was, no doubt.
* * *
Readers, feel free to contact me at lambert [UNDERSCORE] strether [DOT] corrente [AT] yahoo [DOT] com, with (a) links, and even better (b) sources I should curate regularly, (c) how to send me a check if you are allergic to PayPal, and (d) to find out how to send me images of plants. Vegetables are fine! Fungi and coral are deemed to be honorary plants! If you want your handle to appear as a credit, please place it at the start of your mail in parentheses: (thus). Otherwise, I will anonymize by using your initials. See the previous Water Cooler (with plant)
here
. Today's plant (TH):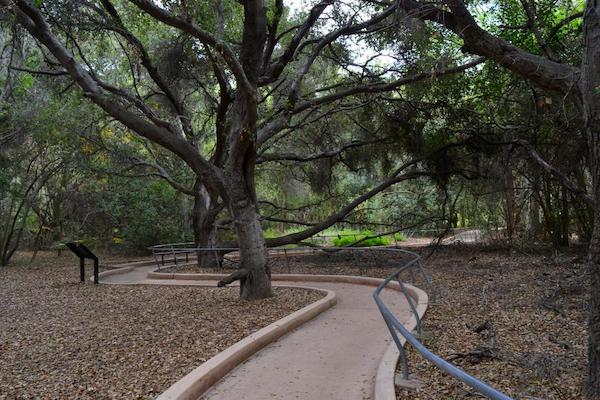 TH writes: "Oak grove at El Dorado Park in Long Beach, California." Very restful.
* * *
Readers: Water Cooler is a standalone entity not covered by the annual NC fundraiser. So if you see a link you especially like, or an item you wouldn't see anywhere else, please do not hesitate to express your appreciation in tangible form. Remember, a tip jar is for tipping! Regular positive feedback both makes me feel good and lets me know I'm on the right track with coverage. When I get no donations for five or ten days I get worried. More tangibly, a constant trickle of donations helps me with expenses, and I factor in that trickle when setting fundraising goals:
Here is the screen that will appear, which I have helpfully annotated.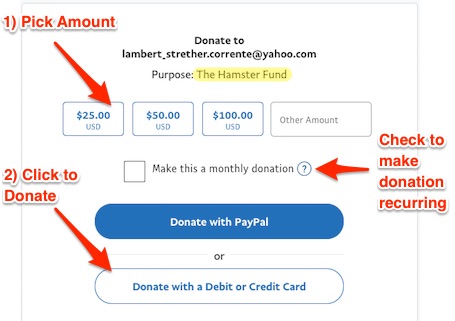 If you hate PayPal, you can email me at lambert [UNDERSCORE] strether [DOT] corrente [AT] yahoo [DOT] com, and I will give you directions on how to send a check. Thank you!