By Lambert Strether of Corrente.
#COVID-19
At reader request, I've added this daily chart: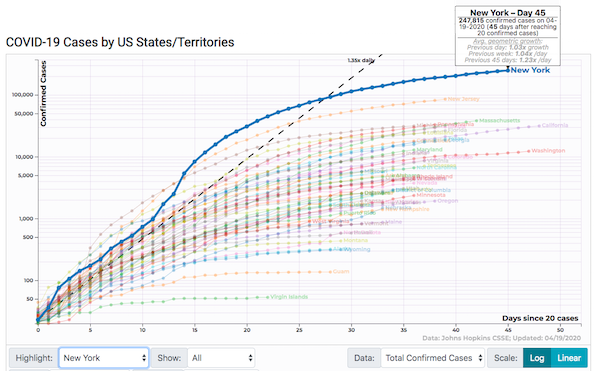 The data is the John Hopkins CSSE data. Here is the site. I have changed to a logarithmic scale for US States and territories, adjusted for population.
Facebook county data:
Facebook releases its first county-by-county maps showing the prevalence of self-reported COVID-19 symptoms based on data it has collected. https://t.co/FgsT1N0Pi5

— NBC News (@NBCNews) April 21, 2020
* * *
See Vice, "How to Read the Coronavirus Graphs":
Quantities that grow exponentially, when depicted on a linear scale, look like curves that bend sharply upward, with the curve getting constantly steeper. On a log scale, exponentially growing values can be depicted with straight diagonal lines.

That's the beauty of plotting things on log scales. Plots are meant to make things easy to understand, and we humans are much more adept at understanding linear, straight-line behavior. Log plots enable us to grasp exponential behavior by transferring the complexity of constantly steepening curves into the simplicity of an exponentially increasing scale.

On a log scale, we want to constantly be making the line more and more horizontal. The general concept of "flattening" is still a good one, but it's never going to curve down. And so what we should be looking, and hoping for is a trend toward horizontal.
Politics
"But what is government itself, but the greatest of all reflections on human nature?" –James Madison, Federalist 51
"They had one weapon left and both knew it: treachery." –Frank Herbert, Dune
"They had learned nothing, and forgotten nothing." –Charles Maurice de Talleyrand-Périgord
* * *
2020
Biden (D)(1): "Biden says he would pick Michelle Obama as running mate 'in a heartbeat'" [The Hill]. "'I'd take her in a heartbeat,' Biden told Pittsburgh's KDKA on Monday when asked if he'd choose Obama if she said she would be willing to be on the ticket with him. 'She's brilliant. She knows the way around. She is a really fine woman. The Obamas are great friends,' Biden added." • Seems legit. Dynastic succession seems to be thing, doesn't it? Bushes, Clintons, Obamas…. Anyhow, it worked for Imelda Marcos, so what's the issue?

Biden (D)(2): SInce I've run some Trump ads, here's a Biden ad:

Wow — another AMAZING Biden ad. Spot on! Please watch and share!! #Biden2020 pic.twitter.com/EI2xD4g6Xv

— Jon Cooper ?? (@joncoopertweets) April 20, 2020

Readers, how would you compare them?

Biden (D)(3): "Why Democrats should stop worrying about Biden's low profile" [WaPo]. "One thing we can say for sure is that Biden's relative quiet isn't changing anything fundamental about the contest between him and President Trump. He leads Trump by about six points in poll matchups right now. On March 1, he was ahead by about five. On Feb. 1, he was ahead by about six. On Jan. 1, he was ahead by about six. And in the new NBC News/Wall Street Journal poll, Biden led Trump by seven points overall and six points in battleground states. So he's doing pretty well, and the two candidates' relative standing is not changing…. In other words, it's not like Biden's seclusion is losing him any votes. You might argue that if there were no pandemic, Biden would be winning more converts every day, but there isn't much reason to believe that's true. Meanwhile, Trump is getting poor marks for his performance, even if his support within his base remains in place."

Biden (D)(4): "The Moral and Strategic Calculus of Voting for Joe Biden to Defeat Trump — or Not" [The Intercept]. "So what should people who want Trump gone but cannot stand Biden do?" • This is a very balanced piece, welll worth a read.

Cuomo (D)(1): "Nurses lawsuit: New York failed to protect health care workers and the public" [Politico]. "The New York State Nurses Association filed suits against the state health department and two hospitals Monday, alleging that the entities failed in their 'core duty of protecting health care workers and the public at large.'… 'Infected health care workers have become vectors of virus transmission to their families and the public at large,' according to the suit, which was filed Monday in state Supreme Court in Manhattan. 'DOH's actions have thus created a nuisance to public health, which, although acutely injurious to frontline nurses, has endangered the public at large.'"

Sanders (D)(1): A take I have not seen: Canvassing v. the media:

The canvassing was what worked. We needed more nationally, not less. 36,000 volunteers made Cali's win happen. Grassroots candidates have to have a massive ground game to defeat MSM (which is still somehow trusted by the majority of Dems/libs).

— Rebecca Bitton (@rebeinstein) April 21, 2020

Any theory of Sanders' failure needs to give an account of his steady, machine-like rise in the polls, even after the night of the long knives.

Trump (R)(1): Pelosi's freezer:

Americans are losing their jobs since the virus rocked the economy.

Nancy Pelosi blocks funding for people to keep getting paychecks.

But she's got a $24K fridge full of ice cream, so she's cool.

"??? ???? ??? ??? ?????."
– ????? ?????????? pic.twitter.com/6KDurMFJDD

— Brad Parscale – Text TRUMP to 88022 (@parscale) April 20, 2020

* * *

"Milwaukee Documents Seven Coronavirus Cases Linked to In-Person Voting" [The Intercept]. "THE CITY OF Milwaukee has identified seven positive coronavirus cases linked to in-person voting on April 7, according to a city health official. Six people who voted in person in Milwaukee tested positive, as did one poll worker, Health Commissioner Jeanette Kowalik told The Intercept. Tuesday marks the two-week incubation period since the election. The city's health department is still missing a significant amount of data from ongoing investigations into the spread of the virus following the election, she said, but they expect a more complete picture by Friday. 'Right now we have identified six cases that were tied to in-person voting. And one election worker was also positive,' Kowalik said. 'There are a lot of missing data through the investigations and contact tracing, so we're waiting for 70 percent of the fields to be populated.'" • As predicted, and shown by alert reader AH four days ago.
Realignment and Legitimacy
Nostalgia for the Obama Era, explained in one chart:

QE, Before and After. https://t.co/LRHqH3rKw7 pic.twitter.com/bIHPZP4yMx

— Rudy Havenstein, waiting for my check. (@RudyHavenstein) April 13, 2018

Neatly divided into 1% (up), 9% (up), and 90% (down). The Democrat base, the PMC, did very well for themselves under Obama.
Stats Watch
At reader request, I added some business stats back in. Please give Econintersect click-throughs; they're a good, old-school blog that covers more than stats. If anybody knows of other aggregators, please contact me at the email address below.
Housing: "February 2020 CoreLogic Single-Family Rent Index: Rents Increasing At 3.6% For Lower Price Rentals" [Econintersect]. "The Single-Family Rent Index (SFRI), which analyzes single-family rent price changes nationally and among 20 metropolitan areas shows a national rent increase of 3.3% year over year, up slightly from a 3% year-over-year increase in February 2019. National rent price growth in February 2020 marked the highest annual gain since August 2016. However, as consumers contend with widespread unemployment in the wake of the coronavirus (COVID-19) outbreak, there may be a downshift in demand in the medium-term."
* * *
Commodities: "The U.S. food system is facing deepening challenges across more supply chains under the coronavirus pandemic. Production has been curtailed at a range of facilities across the country, the Jesse Newman and Annie Gasparro report, while food companies institute precautions to maintain or restore production to keep grocery stores stocked' [Wall Street Journal]. "Food makers outside the meat sector initially were able to maintain operations, in part because packaged-food production is typically heavily automated. Now packaged-food executives are growing concerned about mounting illnesses at their plants and those in their supply chain."
Commodities: "Negative Oil Prices Are A Long Squeeze, Not A Crisis" [Forbes]. • Theories on oil prices. Oil mavens?
Shipping: "Tanker operators are reaping big returns even as the oil sector is wracked by growing turmoil. One measure of U.S. oil futures plummeted to below zero for the first time ever and other prices also dived… in a chaotic demonstration that storage space for the world's crude is quickly disappearing in a stalled global economy" [Wall Street Journal]. "That's providing an opportunity for oil traders and for the tanker operators that are filling their vessels with crude at higher prices and then setting them adrift. Lease rates for very large crude carriers are up sharply over last year, and oil traders are looking for more ships in a bet that oil prices will rebound this fall."
The Bezzle: "Uber and Lyft Are Searching for Lifelines" [New York Times]. "The two companies, which were never close to being profitable when the economy was booming, face an existential question: How will they and their drivers stay afloat when most people are staying home?… For now, the strategy at Uber and Lyft, like that at many other companies, appears to be: Wait it out. Financial analysts expect the companies to cut back on marketing and the incentives they often offer for drivers. If widespread shelter-in-place orders continue through the summer, analysts said, layoffs or furloughs among the companies' thousands of office workers are possible. Also, they're trying to deliver food — as much of it as possible."
Honey for the Bears: "Even Without A Pandemic, It's Hard To Forecast A Recession" [FiveThirtyEight]. "Economists aren't especially good at predicting recessions. In this instance, with at least 20 million people out of work in the U.S. and pretty much every country suffering from the pandemic, it seems almost certain that we're in one. But forecasting the path of a recession isn't an easy task under the best of circumstances. And we are not living through the best of circumstances right now. "This is not a situation where you can push a button on the computer and out comes a number," said Jonathan Wright, a professor of economics at Johns Hopkins University. 'It's detective work. And it will mostly be wildly wrong.' And we also don't know how it will be wrong. The forecasters are pretty much in agreement that the next months are going to be full of economic pain — but there's a lot less consensus about how quickly the economy will bounce back."
Honey for the Bears: "New repercussions from the coronavirus-driven business lockdowns are already forming in legal circles. Companies are suspending or terminating business agreements by relying on a rarely invoked escape hatch in the fine print of many commercial contracts… setting up potential court challenges over 'force majeure' clauses that can effectively throw out agreements between businesses" [Wall Street Journal]. "The 'act of God' trigger started coming up in commercial contracts connected to China as the country locked down factories in February, and it's coming into play as more buyers cancel orders and reject deliveries from suppliers.
Today's Fear & Greed Index: 41 Fear (previous close: 41 Neutral) [CNN]. One week ago: 45 (Fear). (0 is Extreme Fear; 100 is Extreme Greed). Last updated Apr 21 at 12:15pm.
The Biosphere
"Running a car costs much more than people think — stalling the uptake of green travel" [Nature]. "We surveyed more than 6,000 citizens across Germany to investigate whether consumers grasp the total cost of car ownership. We also performed a simple analysis to explore the potential implications of this awareness on the number of cars on the road. We find that people underestimate the total cost of owning a car by about 50%. We also found that providing personalized information on the costs of car ownership increased respondents' willingness to pay for a public-transport ticket by around 22% (see Supplementary information; SI). We estimate that educating people in Germany about the true cost could reduce car ownership by up to 37% and cut associated transport emissions by 23%. Here, we suggest labelling and communication policies that could help to speed the transition to cleaner transport."
Water
"The American west's drought is its second-worst for 12 centuries" [Economist]. "The south-west of the United States, together with adjacent parts of Mexico across the Rio Grande, is one of the driest parts of the North American continent. But, over the past two decades, even that expected dryness has been taken to the limit. According to Park Williams, who works at Columbia University's Lamont-Doherty Earth Observatory, the current lack of rainfall in the area constitutes a megadrought of a magnitude seen on only four other occasions in the past 1,200 years. Dr Williams and his collaborators studied the annual growth rings of 1,586 ancient trees from Oregon and Montana all the way down to the northern reaches of Mexico, in order to reconstruct soil-moisture patterns going back to 800ad."
Our Famously Free Press
"Misinformation During a Pandemic" (PDF) [Leonardo Bursztyn, Aakaash Rao, Christopher Roth, and David Yanagizawa-Drott Becker Friedman Institute]. From the abstract: "[W]e present novel survey evidence that Hannity's viewers changed behavior in response to the virus later than other Fox News viewers, while Carlson's viewers changed behavior earlier. We then turn to the effects on the pandemic itself, examining health outcomes across counties. First, we document that greater viewership of Hannity relative to Tucker Carlson Tonight is strongly associated with a greater number of COVID-19 cases and deaths in the early stages of the pandemic. The relationship is stable across an expansive set of robustness tests. To better identify the effect of differential viewership of the two shows, we employ a novel instrumental variable strategy exploiting variation in when shows are broadcast in relation to local sunset times. These estimates also show that greater exposure to Hannity relative to Tucker Carlson Tonight is associated with a greater number of county-level cases and deaths. Furthermore, the results suggest that in mid-March, after Hannity's shift in tone, the diverging trajectories on COVID-19 cases begin to revert. We provide additional evidence consistent with misinformation being an important mechanism driving the effects in the data. While our findings cannot yet speak to long-term effects, they indicate that provision of misinformation in the early stages of a pandemic can have important consequences for how a disease ultimately affects the population." • Big if true. University of Chicago, "novel survey evidence," "novel instrumental variable strategy." Would some methodology maven like to dig in?
Health Care
"Chaos and competition for vital coronavirus test could slow reopening of the economy" [Los Angeles Times]. "Dozens of companies have rushed tests onto the market that promise to tell users whether they have been exposed to the virus, and therefore may have some kind of immunity. These serology tests, which look for antibodies in blood that have the ability to fight off the virus, are rolling out at a rapid pace both for private individuals looking for hope and clarity, and public health officials increasingly pressured for timelines for reducing social restrictions. They range from simple sticks that work like a pregnancy test and rely on a few drops of blood, to complex lab tests that use the live virus and can be performed only in high-security settings. But the tests may face much of the same lack of availability as their diagnostic counterparts. In some cases, the screenings require the same mixing liquids that are in short supply for those earlier tests, potentially sparking another round of fierce competition between states, cities and counties — and even the federal government — all vying for the same limited resources as more places begin immunity testing."
"Louisiana Pastor Who Refused Pandemic Orders Announces He Will Accept Pandemic Checks" [Jonathan Turley]. "We previously discussed the defiance of Louisiana Pastor Tony Spell who refused to stop holding large services as the state struggled to control the coronavirus. Now, Spell has announced that while he wants nothing to do with orders designed to control the virus, he would appreciate the faithful sending him and other churches their pandemic stimulus checks. We also previously discussed televangelists telling the faithful that the pandemic and economic collapse is not excuse to stop sending tithes to the churches. Spell has launched the #PastorSpellStimulusChallenge, to collect stimulus checks for churches and ministers."
"Iowa prisons, jails, meatpacking plants and long-term care facilities face growing COVID-19 challenges" [Des Moines Register]. "Iowa meat-processing plants and long-term care facilities are being ravaged by COVID-19, the potentially fatal respiratory disease. Now it's begun appearing among another of Iowa's most susceptible populations: People in jails and prisons. The state has stepped up targeted testing among those populations as a result. Those efforts contributed to 827 new positive coronavirus cases reported since Saturday, or more than a quarter of the state's 3,159 total positive tests since the pandemic began. Two-thirds of the positive tests reported Sunday, 261 of the 389 total tests, were from workers at meat-processing facilities. Forty-eight percent of the state's 79 deaths involved residents of long-term care facilities." • More Petris dishes…
Class Warfare
I'm not the only one being harsh on this. Thread:
Pandemic classes
1) Very wealthy: In mansions making annoying as fuck videos. Some sing in them
2) Upper class professionals: In vacation homes in rural towns they have infected
3) Aspirational professionals: Back with parents in above. Or stuck in NYC apartment with weed stash

— Chris Arnade ? (@Chris_arnade) March 28, 2020
Do follow the thread all the way through.
"A New Doctor Faces the Coronavirus in Queens" [The New Yorker]. "'It's become very clear to me what a socioeconomic disease this is,' [Hashem Zikry, an E.R. doctor] told me. 'People hear that term 'essential workers.' Short-order cooks, doormen, cleaners, deli workers—that is the patient population here. Other people were at home, but my patients were still working. A few weeks ago, when they were told to socially isolate, they still had to go back to an apartment with ten other people. Now they are in our cardiac room dying.' Zikry, whom I have spoken to regularly in the past month, has extraordinary resilience and good humor; on this day, he sounded despondent. 'After my shift, I went for a run in Central Park, and I see these two women out in, like, full hazmat suits, basically, and gloves, screaming at people to keep six feet away while they're power walking. And I'm thinking, You know what, you're not the ones who are at risk.'" • And afterwards, brunch.
"Precarious Work Isn't New — It's Part of How Capitalism Functions" [Jacobin]. "Today, there's a broad consensus that neoliberalism is making work more precarious. Indeed, for four decades and more, successive governments in developed countries have passed various measures to flexibilize the labor market. These measures increasingly allow businesses to use fixed-term contracts with a definite end date. Added to these are other measures that make it easier for employers to lay off staff… Precarity is, in a sense, inherent to the very nature of employment contracts under capitalism. In principle — at the juridical level — a worker is free to negotiate the price of her own labor power, on an equal footing with her putative employer. According to this liberal conception, the employment relation — whether or not it takes the form of a contract — is thus a commercial transaction between formally equal subjects. Naturally, this equality in law does not translate into real-life equality…. The idea of a stable, long-term job is, in fact, something relatively new, when we look at the history of capitalism as a whole. These measures were possible only due to the strength of the labor movement and the strong economic growth of the postwar decades. Once these conditions were gone, stable and long-term jobs in capitalism appeared rather more of a short-term 'parenthesis.' Today, employment contracts are less and less associated with a protection from market forces. Both governments and employers use the vocabulary of the individual worker's "mobility" and "liberty" to justify reforms to flexibilize the labor market."
"Employers start to suspend their 401(k) match" [MarketWatch]. "The question is how quickly employers will resume their 401(k) match. An analysis of the 2008-09 suspensions showed the main motivator was liquidity constraints in the face of a recession and a banking crisis. The picture is quite different this time around. Yes, liquidity is a problem, since hotels, providers of travel, and retailers cannot sell their products. But this time, the collapse is of greater severity, so more employers may end up taking the more drastic step of furloughing employees (which suspends all retirement contributions by definition). Nevertheless, if the economy rebounds quickly and employers compete for employees by resuming the 401(k) match, the impact on individuals — of at least this one provision — will be modest. Alternatively, if the recession drags on and these suspensions lead to a permanent decline of the 401(k) employer match, significantly fewer people will participate in 401(k) plans — especially among the lower paid — and many of those affected will end up with an inadequate retirement income." • Everything's going according to plan!
"Amazon-owned Whole Foods is quietly tracking its employees with a heat map tool that ranks which stores are most at risk of unionizing" [Business Insider]. "Whole Foods is keeping an eye on stores at risk of unionizing through an interactive heat map, according to five people with knowledge of the matter and internal documents…. The heat map is powered by an elaborate scoring system, which assigns a rating to each of Whole Foods' 510 stores based on the likelihood that their employees might form or join a union. The stores' individual risk scores are calculated from more than two dozen metrics, including employee 'loyalty,' turnover, and racial diversity; 'tipline' calls to human resources; proximity to a union office; and violations recorded by the Occupational Safety and Health Administration. The map also tracks local economic and demographic factors such as the unemployment rate in a store's location and the percentage of families in the area living below the poverty line. The stores' scores on each metric are fed into the heat map, which is a geographic illustration of the United States peppered with red spots to indicate high-risk Whole Foods stores.
"The Windbag City (w/ Marshall Steinbaum)" (podcast) [Know Your Enemy]. • On the origin and metastasization of the Chicago School. Names many names.
"The Long New Deal" [Journal of Peasant Studies]. "The twenty-five to thirty-four-year-old farming demographic grew from 2007 to 2012. And although some farmers under forty-five are conservative, there are reasons for qualified optimism. A survey by the National Young Farmers Coalition suggests that there's a generation of young people who want to farm sustainably, organically, and as a part of a robust local food system (Ackoff, Bahrenburg, and Shute 2017). Their main concerns are an inability to afford land, student debt, poor health care, and a shortfall of skilled farm labor. Readers in urban areas may recognize some of these concerns as their own. And it offers an opportunity for the Green New Deal to build a bloc that might counter the dominant one." • Very interesting comparison between the New Deal and (a potential) Green New Deal.
"The Bourgeois Internationale I" [Law and Political Economy]. "I see no practicable path forward for real constitutional reform of the Eurozone. Perhaps the COVID-19 pandemic will force a new reckoning, though I rather doubt it; the European Left has obviously failed to advance any such 'comprehensive alternative' in good times and it is not clear what resources (electoral, ideological, institutional) it has to fall back on now during bad times. Beyond outsider-utopian organizations, such as Varoufakis's DiEM25, the urgent need to 'democratize' the structures of the European Union is not even discussed anymore; a call to defend 'Europe' now seems to suffice for the progressive side of the debate. More modestly, the transfer of powers from the European Commission to the European Parliament (in line with reform proposals by Thomas Piketty and others) or even the creation of a joint Franco-German budget (as Emmanuel Macron has more dubiously proposed) seem to be going nowhere fast. Meanwhile, Angela Merkel's governing coalition is falling apart, and, in retrospect, what will be said of her with regard to her European leadership is that she kept the show on the road without compromising Germany's place in it all: apres elle, le deluge."
News of the Wired
For Photoshop mavens and digital artists:
All my life I've seen pro painters talk about "values" by desaturating in Photoshop, and turns out it's one of the most widespread mistake: this is the wrong way to assume values, as the maths are wrong, and let me show you why: https://t.co/rrFUCDUTKl

— Tim Soret (@timsoret) April 19, 2020
Encouraging:
France,

Three young men scaled an apartment building to save an elderly man from his burning apartment ?

The strength, courage, bravery, unity, and humanity…WOW!

SALUTE TO THESE BRAVE HEROS ❤️✊? pic.twitter.com/tndKEbdExc

— StanceGrounded (@_SJPeace_) April 19, 2020
"Upvote To Sacrifice Your Firstborn To Moloch. Line Must Go Up!" [Reddit].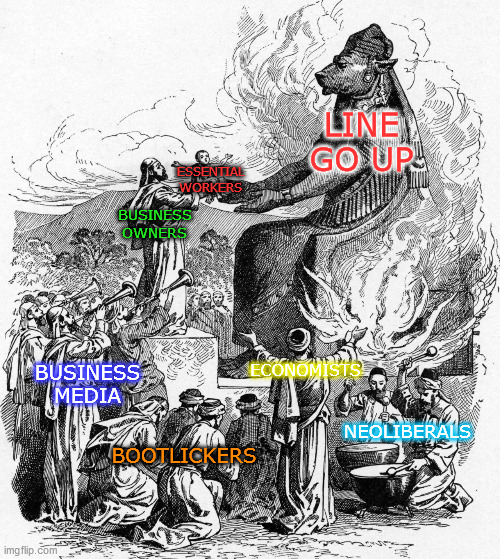 * * *
Readers, feel free to contact me at lambert [UNDERSCORE] strether [DOT] corrente [AT] yahoo [DOT] com, with (a) links, and even better (b) sources I should curate regularly, (c) how to send me a check if you are allergic to PayPal, and (d) to find out how to send me images of plants. Vegetables are fine! Fungi and coral are deemed to be honorary plants! If you want your handle to appear as a credit, please place it at the start of your mail in parentheses: (thus). Otherwise, I will anonymize by using your initials. See the previous Water Cooler (with plant)
here
. Today's plant (pq):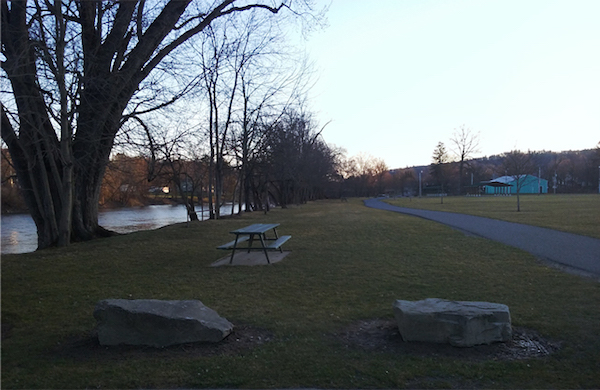 pq writes: "Social distancing."
* * *
Readers
: Water Cooler is a standalone entity
not
covered by the annual NC fundraiser. So if you see a link you especially like, or an item you wouldn't see anywhere else, please do not hesitate to express your appreciation in tangible form. Remember, a tip jar is for tipping!
Regular positive feedback both makes me feel good and lets me know I'm on the right track with coverage
. When I get no donations for five or ten days I get worried. More tangibly, a constant trickle of donations helps me with expenses, and I factor in that trickle when setting fundraising goals:
Here is the screen that will appear, which I have helpfully annotated.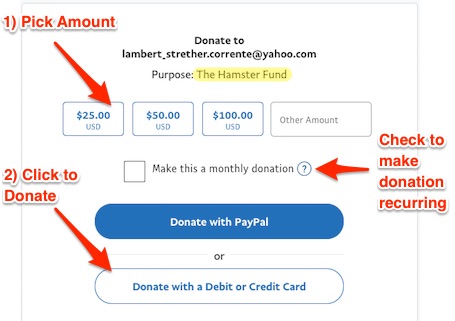 If you hate PayPal, you can email me at lambert [UNDERSCORE] strether [DOT] corrente [AT] yahoo [DOT] com, and I will give you directions on how to send a check. Thank you!