A Couple Made a Mini-Museum for Their Gerbils to Visit During Quarantine Hyperallergic (Re Silc).
NASA Satellite Data Show 30 Percent Drop In Air Pollution Over Northeast U.S. NASA
Free treatment for all virus patients Bangkok Post. How it's done.
Infants born in hospitals in Thailand during the coronavirus pandemic are being outfitted with tiny plastic visors. https://t.co/AkZYmNPlYa

— HuffPost (@HuffPost) April 10, 2020
Analysis: Virus shows benefit of learning from other nations AP
#COVID19
The science:

Why daily death tolls have become unusually important in understanding the coronavirus pandemic Nature

Coronavirus: US death toll overtakes Italy as world's highest BBC

* * *

Treatment:

Compassionate Use of Remdesivir for Patients with Severe Covid-19 (PDF) NEJM

A compilation of evidence on hydroxychloroquine and azithromycin in treatment of COVID-19 James M Todaro, MD, Google Docs

* * *

Materiel shortages:

Market And Business Ties Often Determine Where COVID-19 Supplies Go NPR. Key point: Existing contractual relations matter far more than Bad Orange Man.

A Nasty Competition Emerges in Hunt for Corona Protective Gear Der Spiegel

* * *

Spread:

How far has coronavirus spread? This test is a first step in trying to get back to normal life Los Angeles Times

Genomic analysis of COVID-19 spread. Situation report 2020-04-10. Nextstrain.org

2019 Novel Coronavirus (COVID-19) Pandemic: Built Environment Considerations To Reduce Transmission American Society for Microbiology

SARS-CoV-2 titers in wastewater are higher than expected from clinically confirmed cases medrXiv

The Best-Case Scenario for Coronavirus Is That It's Way More Infectious Than We Think New York Magazine

* * *

Economic effects:

Shockwave Adam Tooze, London Review of Books. Worth clearing your cookies for.

* * *

Corporate response:

Medical Staffing Companies Owned by Rich Investors Cut Doctor Pay and Now Want Bailout Money Pro Publica

* * *

Political response:

Experts fear 'national naivete' on COVID optimism The Hill

He Could Have Seen What Was Coming: Behind Trump's Failure on the Virus NYT. I would like to see a comparative timeline showing the response of Western democracies in general, because that would clarify choices made across political systems, and give some insight into what is systemic as opposed to personal (i.e., click-driven).

Pramila Jayapal's ambitious plan to get every worker their paycheck during coronavirus, explained Vox

Whitmer's new stay home order blasted by critics for lack of consistency Detroit Free Press. "State residents can't travel to their Up North cottages, but Illinois residents who own one in Michigan apparently can." Oh.

* * *

Exit strategy:

What I Learned About the Coronavirus World From Watching Zombie Flicks Foreign Policy

Mobilization Theory: Some Lessons from the Literature for Today Global Institute for Sustainable Prosperty

The New Normal Eschaton

A Lasting Remedy for the Covid-19 Pandemic's Economic Crisis Joseph Stiglitz, New York Review of Books (Re Silc).

We must think carefully about priorities, about how to spend money well so that we are in a position to emerge from the pandemic quickly, with the kind of twenty-first century economy we would like to have.

The aid packages that Congress has passed have—after a lot of haggling—reflected reasonably well what our priorities should be: first, contain the pandemic; second, help the most vulnerable; and third, set the stage for a strong recovery. But there are still some big gaps.

To put this as kindly as possible, I think Stiglitz should give consideration to the idea that the finance sector's version of "never let a crisis go to waste" has very little to do with containing the pandemic. And they were the big winners — perhaps the only winners — from the bailout bill.

* * *

Remedies and ameliorations:

Your questions answered about California's 'lockdown': Can I move into a new house? Can I get together with neighbors if we stay 6 feet apart? CalMatters. This is a useful FAQ:

We have a very friendly, tight-knit neighborhood. Because we're on a cul-de-sac, we don't have through traffic and our children are accustomed to playing outside. Now they must stay separated from their friends and parents are stressed trying to entertain them. Are we allowed to make a large circle, keeping the 6 ft rule, outside on our street, once a week just to share some conversation and ideas? Each neighbor would bring their own chair, and no food would be shared, nothing would be passed from person to person. Only one parent would participate to get a break, while the other parent would get a turn at the next session. Will we be penalized in any way for keeping a check on our stress levels/mental health in this way?

For most of our postwar history, this sounds like the American ideal: Families sitting in a circle on a quiet street in a small neighborhood, chewing the fat. And it's apparent that you're trying to maintain your distance, keeping with the general guidelines for safely dealing with the coronavirus.

Can it be that this pandemic has shifted society to such a degree that getting together with your cul-de-sac neighbors is playing with fire?

Yes. You're playing with fire.

Right at the top of the list of guidelines from the Los Angeles Department of Public Health: "Postpone social visits and play dates." Furthermore, the county advises cancelling all non-essential activities. While you might feel like you need this and it's essential, it's probably not.

Let's think it through. How will this actually play out? First, one parent watching the children means, despite your absolute best efforts, by accident or by volition, those kids are gonna find a way to make contact with each other.
Canada passes law that will pay businesses to keep employees on staff CNN. Well, Canada is a First World country.
China?
As the coronavirus disrupts food supply chains, who will feed China? SCMP
Pandemic a 'perfect storm' for South Asia, World Bank says The New Yorker
India
It's time for India to play hardball with Trump Times of India
Syraqistan
The US is eager to leave Iraq soon and the coronavirus pandemic will accelerate it Independent
UK/Europe
Labour antisemitism investigation will not be sent to equality commission Sky News. "A report found factional hostility towards Jeremy Corbyn amongst former senior officials contributed to 'a litany of mistakes.'" You don't say.

Why did Cabinet Office Rush through Procurement of Controversial Electoral Services Company IDOX Just Before the General Election? Byline Times. From January, still germane. Fun with vote-by-mail.
Assange
ASSANGE EXTRADITION: Julian & Lockdown Injustice Consortium News
RussiaGate
Barr says FBI probe into Russia was started 'without basis' Los Angeles Times
Trump Transition
Welcome to the Trumpocalypse Rolling Stone. There's an enormous literature on evangelicals and the Republican Party dating back at least to the Bush era, of which this article is an example. A single cautionary note: As readers know, I follow the "Rapture Ready Index," a prophetic index of end-times activity. This index has never jumped based on #COVID-19, but only slightly based on proxies like oil prices, which is odd, because the index has a "Plagues" subcomponent. Perhaps the Index has been taken over by Episcopalians. But I don't pretend to know the ins and outs of evangelical politics (though I suspect that proximity to money and power exerts its usual, er, moderating influence).
2020
Biden and Cuomo: Friends, Allies and Supporting Players No Longer NYT. "Mr. Biden, 77, and Mr. Cuomo, 62, have emerged as unlikely twin pillars of their party in a national crisis, Mr. Biden as its presumptive presidential nominee and Mr. Cuomo as its most forceful spokesman in a public-health emergency." Holy Lord.
New York Democratic presidential primary likely canceled City and State NY. "Douglas Kellner, the state Board of Election Democratic co-chair, said that in light of Sanders' announcement, he and Democratic Commissioner Andrew Spano would likely remove Sanders and every other candidate that has dropped out from the ballot. "That would mean in jurisdictions where there are no contested primaries, that there would be no primary elections and the polls would not open."
* * *
Why Bernie Sanders failed Vox. Counterpoint:
You see that "Under 45" bar?

Yeah. Our entire adult lives have been defied by financial crises (plural) that keep hitting us hardest and putting our money in the pockets of billionaires.

And people wonder why we want to destroy the political establishment so bad. pic.twitter.com/xUHncplEaD

— Lee ? Carter (@carterforva) April 10, 2020
40 Bernie Sanders Supporters Share What His 2020 Campaign Meant and What Comes Next Teen Vogue
Bernie Sanders on pandemic health coverage and supporting Joe Biden PBS
Bernie Must Retool His Campaign Organization, Not Dismantle It Jacobin. I'm sure there are technical issues with the list, but I would imagine Sanders has the money to resolve them.
* * *
The odds on who Joe Biden will pick as his female vice president candidate New York Post
Mike Bloomberg's Firm that Ran His Presidential Campaign Is Bidding to Take Over Joe Biden's Bloomberg (CL).
Biden Is a Problem for Democrats in Pennsylvania The Nation. Lowering Medicare eligility to 60. That should do it.
Virus to affect voting? Morgan County Citizen. It's obviously insane to use touchscreen voting in a pandemic.
US Postal Service investigating issues with absentee ballots in Wisconsin that went undelivered USA Today
Our Famously Free Press
The Most Important Thing Media Can Tell Us Is How We're Getting Infected FAIR
Imperial Collapse Watch
This Man Owns The World's Most Advanced Private Air Force After Buying 46 F/A-18 Hornets The Drive. So much for the monoploy in violence…
Failed State
Historical parallel. Thread:

I'm getting calls asking about the striking similarities between the Chicago heat wave and the #coronaviruspandemic. The crises are different in nature and scale, of course. Covid-19 is like multiple heat waves, per day. But they've unfolded in eerily parallel ways. (Thread 1/12)

— Eric Klinenberg (@EricKlinenberg) April 10, 2020
Guillotine Watch
Nantucket has 3 ventilators. Residents say 'stay away,' but East Coast elites keep coming. The Lily

Hanover officials irked as off-campus Dartmouth students return to town Valley News. "Earlier this week, police responded to a house on Maple Street where a group of Dartmouth students were playing beer pong."

Information Wars Craig Murray

Coronavirus: a fog of ignorance EU Referendum. "The lockdown, patchy at best, is already starting to fray. In my own little corner, over the weekend, I observed a boozy street party in one street and, in the next, a house party in a front garden. People are getting bored, they need to socialise and no amounts of threats of police intimidation is going to damp down that need." So introversion is adaptive. Good to know.
Class Warfare
Disposable People The Baffler. "Coronavirus and the lifestyles of the professional-managerial class."

'I'm in Limbo Here': Texans Are Met with an Overwhelmed and Antiquated State Unemployment System Texas Observer. Well, naturally. Claiming benefits is a moral hazard; we don't want to make it easy, for pity's sake.

Coronavirus Data Reflects New York City's Economic Divide The Intercept

Bright college days:

I talked to some classmates of the president of Harvard Law School's Federalist Society chapter, who brought a gun to Zoom class. He already has a prestigious clerkship lined up. One student said he's "on a trajectory to be a potential Gorsuch clerk."https://t.co/2Yxl3kZYNJ

— Mark Joseph Stern (@mjs_DC) April 9, 2020
COVID-19 exposes the precarious state of rural health care in the South Facing South
Nasty macOS flaw is bricking MacBooks: Don't install this update Toms Guide. Moral: Never sink $5 billion into a round headquarters building.
Scratch enters the TIOBE index top 20 TIOBE. Scratch is a graphical programming language for children.
Deserts: Cells for certain individuals Nonsite
Burning Man festival canceled due to coronavirus pandemic NY Post. That's a damn shame.
Antidote du jour (WB):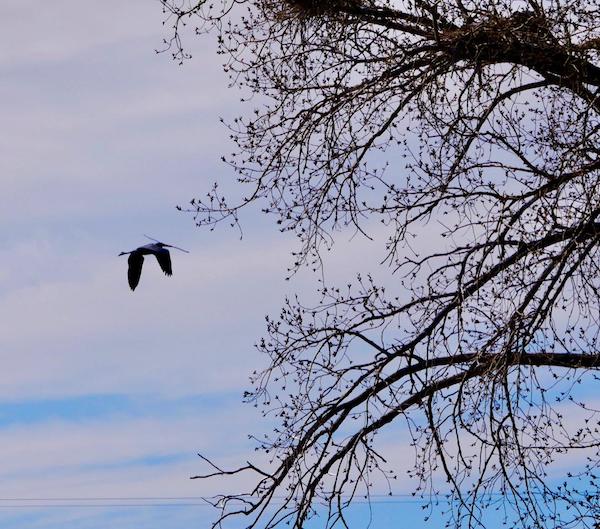 WB writes: "Great Blue Heron carries a big stick back to the rookery on the Mississippi River in Minneapolis."
See yesterday's Links and Antidote du Jour here.