By Lambert Strether of Corrente.
"Well, it's been a quiet week in Lake Wobegone…."
* * *
Patient readers, I got wrapped round the axel on COVID19. I have to add more material on events in Minneapolis. –Lambert UPDATE All done!
#COVID19
At reader request, I've added this daily chart. The data is the John Hopkins CSSE data. Here is the site. Today I thought I would look at Southeast Asia: South Korea, Vietnam, Thailand, Malaysia, Singapore, Indonesia, and the Philippines: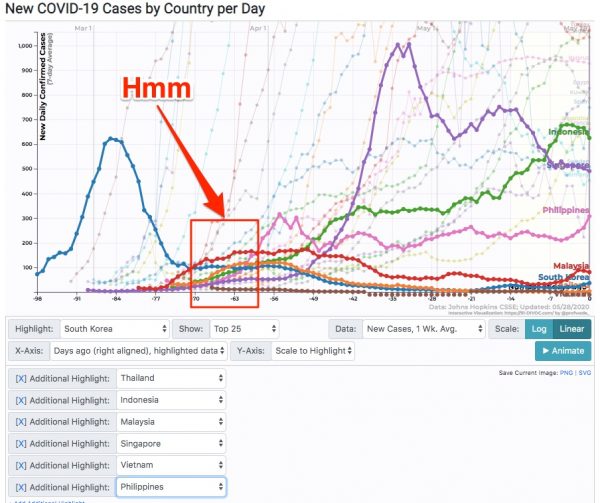 The vertical scale is scaled to the highlight, South Korea, and so really excellent performers, like VIetnam and Thailand, are jammed together at the bottom. All the curves are calendar-, not inception-based. It's not clear to me that the "moar sunlight" hypothesis has great weight, given the relative performance of Singapore and Vietnam (or Thailand). I marked the portion of the curves with a box called "Hmm" because we see curves of relatively the same shape, although at different levels, which then radically diverge. Singapore just loses it, Indonesia and the Philippines do badly, and South Korea, Vietnam, and Thailand seem to throttle the disease (we can only hope). But our Sunbelt states, seemingly chugging along: Are they in their own "Hmm" box right now? See The Atlantic's COVID Tracking Project:
The recent significant regional differences in the trends continue: pic.twitter.com/9N9Dxq0wyL

— The COVID Tracking Project (@COVID19Tracking) May 28, 2020
Alert reader CL writes: "You commented today about wanting to see a plot of excess deaths. There is a preliminary dashboard for that over at the CDC." Here it is. This is an embed, so ought to be interactive. If not, the link is here:
Politics
"But what is government itself, but the greatest of all reflections on human nature?" –James Madison, Federalist 51
"They had one weapon left and both knew it: treachery." –Frank Herbert, Dune
"They had learned nothing, and forgotten nothing." –Charles Maurice de Talleyrand-Périgord
* * *
2020
Biden (D)(1): "Joe Biden Eyes Gradual Return to the Campaign Trail" [Bloomberg]. "Biden has stayed at home for more than two months, holding campaign events and media appearances from a basement studio, in keeping with health experts' guidance. The timing of his basement exit would be propitious for Biden as President Donald Trump's re-election effort continues to reel from the shaky coronavirus response and a souring economy with more than 40 million people unemployed. As Trump pushes Americans — including Biden — to come out of their homes, Biden's natural affinity for campaigning could draw a sharp distinction. • Since when does Biden have a "natural affinity" for campaigning? For example: "On Monday, a pool of 11 journalists covered his cemetery visit, wearing masks and mostly keeping at least six feet from the candidate. It wasn't perfect. When Biden responded to a reporter's shouted question, he kept his mask on, making the answer nearly incomprehensible." • How on earth did Biden's campaign team let that happen? It's the same story yesterday with Biden's seeming pétarade; the video was made in his study, and so Biden's staff — presumably, and if not, why not? — controlled the feed. Was there nobody with their finger on the bleep button? This seems trivial, until one remembers that one way Biden promises to return to normalcy is competent administration.

Biden (D)(2): "Klobuchar makes her not-so-quiet bid to be Joe Biden's running mate" [CNN]. "The prospect that Biden could pick Klobuchar has generated a fierce backlash from some Democrats, who signaled the three-term senator would be an unacceptable choice stemming in part for her criminal justice record while she was a county attorney. That record could resurface as her home state grapples with the death of George Floyd, who died this week in Minneapolis after pleading that he couldn't breathe while a police officer held him down with a knee on his neck. Klobuchar, along with other Minnesota lawmakers, has called for an investigation into the death, and told CNN the case is 'just crying out for some kind of a charge.'" • Biden picking Klobuchar would be the Mother of All Sister Souljah Moments, wouldn't it?

Biden (D)(3): "Biden's "You Ain't Black" Comment Is Symptomatic of Democrats' Deeper Race Problem" [Briahna Joy Gray, Current Affairs]. "Democrats indulge in a kind of racial essentialism—a presumption that political allegiances are a part of one's racial identity. It's obvious that someone like Biden is not in a position to define what does and doesn't constitute true Blackness. But nobody should be portraying Black voters as a uniform bloc whose political loyalties are predetermined by their identity."

Cuomo (D)(1): "Cuomo's coronavirus halo begins to fade" [Politico]. • That's a damn shame.

UPDATE Sanders (D)(1): "Briahna Joy Gray Is Not Backing Down" (interview) [Jacobin]. "We have Democrats saying things about, "Trump voters deserve to live in squalor. They voted for him, and that's the world that they deserve, the outcome that they deserve." Not thinking about worlds of imperfect information, or the extent to which their lives have intrinsic value, or that people change and evolve over time. And that they have children who did not make those voting choices who live in those households." • Good point on the children. Sane. Relatable.
Realignment and Legitimacy
"'Don't Look for a Soothsayer': An Interview with Harry Enten" (interview) [New York Review of Books]. Enten: "[T]here hasn't been a single election like this one in the polling era, which began, roughly speaking, in the 1940s or 1950s. Fortunately, most events during a political campaign don't tend to move the polls. Moreover, we're dealing with a contest that has been incredibly static over time in terms of movement in the polls: Biden's been ahead by around a little more than five points nationally for nearly a year and a half. Campaigns that are steady in the early going have a tendency to remain that way to the end. Of course, we have to allow for a lot of uncertainty into that. What happens if we get a vaccine or a great drug for treatment that helps us beat coronavirus late in the campaign? What happens if the economy rebounds and has a strong month just before the election? The possibility of unforeseen events is greater now than perhaps ever."

UPDATE "Black voters don't trust mail ballots. That's a problem for Democrats" [Reuters]. "During the most recent national elections, the 2018 congressional midterms, only about 11% of black voters cast their ballots by mail, according to Census figures. That's the lowest percentage of any measured ethnic group, and it's just under half the rate of white voters. There are a variety of reasons. For African Americans such as Fason, striding to the polls is a powerful act, both symbolic and substantive. Some black voters fear their mail ballots might get lost or rejected. African Americans are more transient than other racial groups and have high rates of homelessness, government statistics show, major barriers to mail voting. That could pose a problem for Democrats if in-person voting is severely restricted in November and many polling stations closed because of coronavirus worries."
Stats Watch
At reader request, I added some business stats back in. Please give Econintersect click-throughs; they're a good, old-school blog that covers more than stats. If anybody knows of other aggregators, please contact me at the email address below.
Manufacturing: "May 2020 Chicago Purchasing Managers Barometer Hit Lowest Level Since 1982" [Econintersect]. "The Fed manufacturing surveys were in contraction this month because of the coronavirus impacts." From ISM Chicago: "The Chicago Business BarometerTM, produced with MNI, fell to 32.3 in May, hitting the lowest level since March 1982."
Personal Income: "April 2020 Headline Personal Income Jumps, Expenditures Significantly Declines" [Econintersect]. "This month the coronavirus again killed consumer spending which is down 13.6 %. Income grew because of the economic recovery payments sent to most Americans."
Consumer Sentiment: "Final May 2020 Michigan Consumer Sentiment Largely Unchanged But Still At Low Levels" [Econintersect]. "Consumer sentiment has remained largely unchanged during the past two months, with the final May estimate just a half index point above the April reading. The CARES relief checks and higher unemployment payments have helped to stem economic hardship, but those programs have not acted to stimulate discretionary spending due to uncertainty about the future course of the pandemic. It should not be surprising that a growing number of consumers expected the economy to improve from its recent standstill, or that the majority still thought conditions in the economy would remain unfavorable in the year ahead. This has been a common occurrence in past cycles."
Rail: "Rail Week Ending 23 May 2020 – Looking For Signs Of Improvement" [Econintersect]. "Intermodal and carloads are under Great Recession values. Whilst container exports from China are now recovering, container exports from the U.S. continues to slow. The rate of growth of rail had been improving before the coronavirus (even though it was in contraction) – and now the coronavirus is driving rail deeper into contraction. The effects of coronavirus will continue to slow rail. The AAR thinks they see some signs of improvement – but I need to see a clear sign above the normal volatility of rail."
* * *
Honey for the Bears: "Fed's Mester says it's hard to imagine quick V-shaped recovery' [Reuters]. "'The recovery could be slow,' Mester said Friday during an interview with Bloomberg TV. 'When we have so many people out of work it's hard to imagine that we see a quick V-shaped recovery.'"
* * *
Today's Fear & Greed Index: 51 Neutral (previous close: 50 Neutral;) [CNN]. One week ago: 50 (Neutral). (0 is Extreme Fear; 100 is Extreme Greed). Last updated May 29 at 1:18pm. This hovering around neutral is getting to me. 2020 has, so far, been the least neutral year imaginable.
The Biosphere
"An almost perfectly efficient light-activated catalyst for producing hydrogen from water" [Nature]. " One promising sustainable energy carrier is hydrogen, if it can be produced using renewable energy sources — hydrogen is a green fuel, because its combustion produces only pure water. Writing in Nature, Takata et al.1 report a breakthrough in catalyst design that might accelerate the development of large-scale processes for making hydrogen from water using sunlight…. This is a spectacular result for several reasons," those reasons being above my paygrade as well. Readers?
Health Care
"To mask or not to mask children to overcome COVID-19″ [European Journal of Pediatrics]. " To reduce the role of asymptomatic or poorly symptomatic people in COVID-19, universal use of face masks in addition to hand hygiene and safety distance seems extremely useful…. In addition to the availability of masks of different sizes capable of adapting perfectly to the face, it is necessary that the use of masks in children is preceded by a strong parental work and school lessons on this issue and other hygiene topics with the main aim to obtain child cooperation."
"Paul Garner: Covid-19 and fatigue—a game of snakes and ladders" [British Medical Journal]. "'Beware the apparition', a friend said to me. I have had post-viral fatigue in the past with dengue and it just slowed me down, but this was somehow different. 'Boom and bust'—you feel great, do a little bit more than usual and come crashing down the next day. I felt aggrieved as I had not done much at all. 'You don't understand pacing', the ME [Myalgic Encephalomyelitis] Association adviser Charles Shepherd told me. He explained that this 'post-exertional symptom exacerbation; is a good signal for people with the chronic fatigue syndrome/ME. The difference is with covid-19, the fatigue is happening at the same time as other dangerous complications. I looked at the Facebook self-help groups, many were describing 'relapses/' On quizzing many had the 'apparition.' They thought they were better and had taken the opportunity to clean the house top to bottom or go out on a long bike ride."
"Modeling Epidemics With Compartmental Models" [JAMA]. "[T]he parameters in a traditional SIR model do not allow for quantification of uncertainty in model parameters. The parameter inputs are point estimates, which are single values reflecting the modeler's best guess. A common strategy in predicting the course of an epidemic is to calculate the SIR model over a few possible values for each parameter. The result is a range of future trajectories, but this strategy does not formally quantify the uncertainty in the predictions. More complex models use distributions for each parameter instead of a point estimate to characterize the probability of various future trajectories." • This paper is way above my paygrade; perhaps an epidemiologist maven can elucidate. Taleb doesn't think much of SIR models, though.
"Map: COVID-19 meat plant closures" [Meat + Poultry]. The map is interactive to the plant level, but here's a high-level view: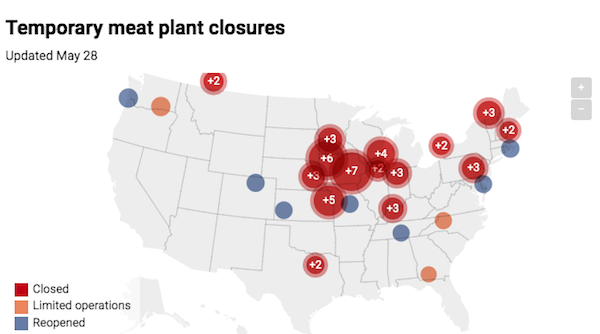 "There's A Cover-Up Happening In Iowa" [Iowa Starting Line]. "Though Iowa has put out some information on meatpacking plant outbreaks, Gov. Reynolds and IDPH has done their best to obfuscate their severity, limit public announcements and just outright ignore problems when they can. Most of what Iowans know of these outbreaks have only come after dogged investigations from local reporters. The reason is to keep these plants running at all costs, both so that company executives don't lose money and that local hog farmers don't have their supply chain disrupted. The cost to keep everything going is simply workers' lives and their health. This trade-off need not exist — it is possible to both keep workers safe and plants running, but it seems that anything that may slow production in the slightest is avoided." • I would imagine the same is happening at many other plants on the map above.
"Church challenges COVID-19 stay-at-home order (Updated)" [SCOTUSBlog]. "In its 33-page filing, which was submitted to the Supreme Court over the weekend but wasn't docketed until today, the South Bay United Pentecostal Church acknowledges that the "COVID-19 pandemic is a national tragedy" but argues that it "would be equally tragic if the federal judiciary allowed the 'fog-of-war' to act as an excuse for violating federal constitutional rights." Those rights are being violated, the church contends, because the reopening plan outlined by California Governor Gavin Newsom and San Diego County allowed retail stores, offices, restaurants and schools to open on May 20, while keeping the church and other houses of worship closed. Moreover, the church adds, Newsom justified the later opening for churches by explaining that the reopening plan gave priority to services that the state considers more important." • Typically, one does not sing or exchange the kiss of peace in a liquor store. YMMV!
"Hydroxychloroquine and the Political Polarization of Science" [Boston Review]. My bottom line: "[T]here is a huge amount of information circulating that has some scientific legitimacy but that may be dramatically underdeveloped and more likely than normal scientific findings to be overturned. Claims about hydroxychloroquine fall into this category. Despite widely reported but hardly definitive recent studies, which Trump's media critics have latched onto as evidence that hydroxychloroquine does not improve outcomes, the scientific jury is still out. We do not yet know whether hydroxychloroquine, remdesivir, or other possible treatments are effective for COVID-19. This legitimate uncertainty means that pundits and journalists who treat claims supporting hydroxychloroquine as akin to typical misinformation (or radical conspiracy theories) are misdiagnosing the situation. Trumpeting hydroxychloroquine is undoubtedly risky, both because current evidence is too mixed to support that claim and because it can lead to problems like drug hoarding. But sharing anecdotal accounts of the success of hydroxychloroquine in various clinical settings is not necessarily misinformation—and neither is sharing information about failed clinical trials or shortages for patients who need the drug for other purposes. These are all pieces of evidence that should inform any reasonable person's beliefs about hydroxychloroquine and COVID-19." • This piece is well worth a read because it traces how hydroxychloroquine as a potential treatment propagated.
"Guest Post: What will we learn from COVID-19?" [PHRMA]. • Entertaining, in its own way.
The 420
"'Cannabis burned during worship' by ancient Israelites – study" [BBC]. "A well-preserved substance found in a 2,700-year-old temple in Tel Arad has been identified as cannabis, including its psychoactive compound THC…. Thanks in part to the dry climate, and to the burial, the remains of burnt offerings were preserved on top of these altars." • Lev 2:1: "He shall take out the memorial portion from the grain offering and burn it on the altar as an offering made by fire, an aroma pleasing to the LORD." Alrighty, then!
Black Injustice Tipping Point
"When the looting starts, the shooting starts" has a history:
1/ This line in Trump's tweet: "when the looting starts, the shooting starts"… is a quote from Miami Police Chief Walter Headley

In Dec 1967, months before riots at GOP Convention in Miami, Headley used that quote to announce "get tough" policy for policing black neighborhoods

— igorvolsky (@igorvolsky) May 29, 2020
Josh Bartlett would have used his indoor voice:
Obama would have said "when rights to private property and the safety of the general public are in jeopardy, we must take thoughtful yet forceful action"

— Aisha Ahmad (@aishaismad) May 29, 2020
Liberal Democrats clutch their pearls over over Trump's use of "thug." Come on, man:
"Obama calls Baltimore rioters thugs, says entire country has work to do" [McClatchy]. From 2015 (Baltimore, Freddie Gray), still germane. "Obama decried as 'criminals and those who looted stores and torched vehicles in [Baltimore] after the funeral service for an African-American man who died of spinal cord injuries a week after an encounter with police."
"President Obama: Don't Use Ferguson as 'An Excuse for Violence'" [ABC]. From 2014 (Ferguson, Michael Brown), still germane. "'We saw during the summer the possibility of even overwhelmingly peaceful crowds being overrun by a few who might be looking for an excuse to loot or to commit vandalism,' Obama told Stephanopoulos. 'What I've done is called Jay Nixon, the governor of Missouri, to make sure that he has a plan to respond in a careful and appropriate way to any potential violence, to be able to sort out the vast majority of peaceful protesters from the handful who are not.'" • The "careful and appropriate way" was, of course, calling in the national guard.
* * *
UPDATE This is extremely odd:
Here's video of the first person alleged to have taken a hammer to the AutoZone window, which activists immediately suspected was a provocation. Black gloves, black boots, black clothes (not unkempt like antifa, no offense), nice gas mask. Who is this guy? https://t.co/jy4Fu409vF pic.twitter.com/blcn6mCujR

— Ryan Grim (@ryangrim) May 28, 2020
Quite a fetching outfit. I've seen multiple videos and photos of this (white!) guy (here, here, here, and here); it's almost like he wanted to be seen. But why? And does the black umbrella remind you of anything? Well…
He's dressed exactly like this so he's forsure someone who went out of his way to cause trouble pic.twitter.com/sJJ2Vh0TkY

— Dr. Barb MD (@ka5sh) May 28, 2020
Lots of speculation on the various threads. Indulge yourself1 But do remember that Reddit did a terrible job with the Marathon Bomber….
UPDATE Tactical ingenuity:
Just saw some protest photos out of Minneapolis, & think someone threw a frozen chicken through a squad car window pic.twitter.com/F7tldVbCtq

— * (@jennyauguste) May 27, 2020
Sports Desk
Correct:
The goal of major league baseball is to have games played by unpaid volunteers, all costs subsidized by taxpayers, and admission to games open to only a handful of billionaires who will sip $1M Bud Lights and not even watch the game.

— Mike Duncan (@mikeduncan) May 28, 2020
But insufficiently generalized?
Groves of Academe
"Protected by Decades-Old Power Structures, Three Renowned Harvard Anthropologists Face Allegations of Sexual Harassment" [Harvard Crimson]. "Bestor, Urton, and Comaroff — the three faculty members accused of sexual misconduct — are all both tenured professors in one of the world's most renowned anthropology departments and major figures in the field at large."
News of the Wired
"The Vintage Beauty Of Soviet Control Rooms" [Design You Trust]. • Primitive Soviets, they don't even have touch screens! What would Elon Musk think?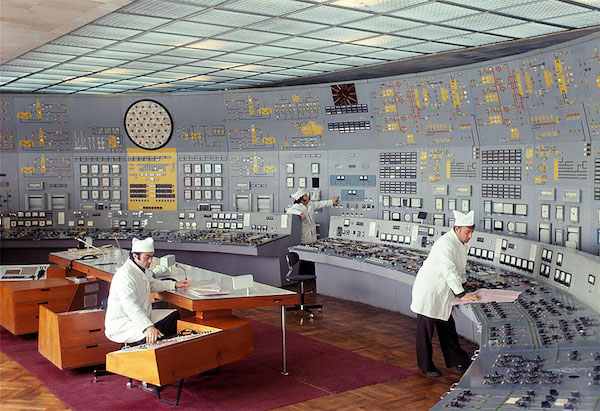 Then again, from a UI/UX perspective, you've got to wonder if those big ol' analog controls have something to be said for them.
Let this be a lesson for those who play American Roulette:
Someone Put Skeletons at a Poker Table in an Arizona Lake For Divers to Stumble Across
(https://t.co/tDJO6I99PP) pic.twitter.com/sgrztHYJqG

— Diane Doniol-Valcroze (@ddoniolvalcroze) May 29, 2020
To be fair to the ridiculous Larry Summers, studying the impressionists is not such a bad thing:
Rouen Cathedral, Symphony in Grey and Rose, 1894 #impressionism #monet pic.twitter.com/pxDqQY6KEx

— Claude Monet (@artistmonet) May 29, 2020
* * *
Readers, feel free to contact me at lambert [UNDERSCORE] strether [DOT] corrente [AT] yahoo [DOT] com, with (a) links, and even better (b) sources I should curate regularly, (c) how to send me a check if you are allergic to PayPal, and (d) to find out how to send me images of plants. Vegetables are fine! Fungi and coral are deemed to be honorary plants! If you want your handle to appear as a credit, please place it at the start of your mail in parentheses: (thus). Otherwise, I will anonymize by using your initials. See the previous Water Cooler (with plant)
here
. Today's plant (TH):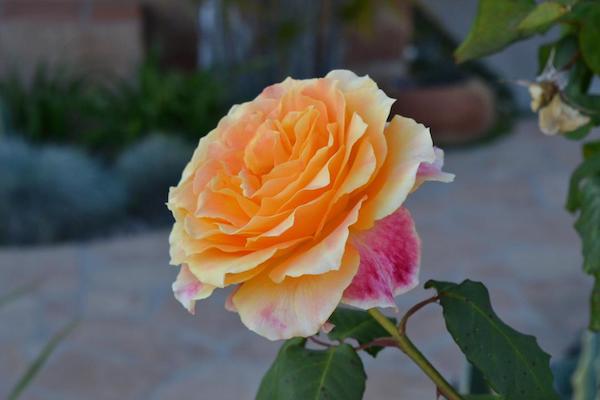 TH writes: "I believe this peach bloom with faint pink accents would be defined as a full-petalled, rosette-sshaped bloom."
* * *
Readers: Water Cooler is a standalone entity not covered by the annual NC fundraiser. So if you see a link you especially like, or an item you wouldn't see anywhere else, please do not hesitate to express your appreciation in tangible form. Remember, a tip jar is for tipping! Regular positive feedback both makes me feel good and lets me know I'm on the right track with coverage. When I get no donations for five or ten days I get worried. More tangibly, a constant trickle of donations helps me with expenses, and I factor in that trickle when setting fundraising goals:
Here is the screen that will appear, which I have helpfully annotated.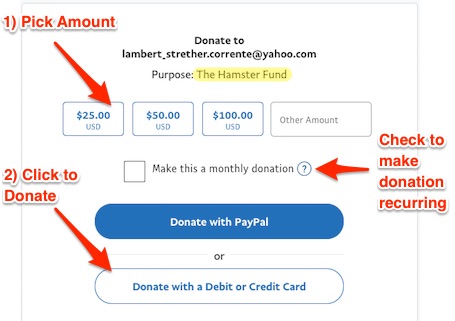 If you hate PayPal, you can email me at lambert [UNDERSCORE] strether [DOT] corrente [AT] yahoo [DOT] com, and I will give you directions on how to send a check. Thank you!