By Lambert Strether of Corrente.
Patient readers, I was trying to get my head round the riots, if riots we should call them, and so I got a very late start. I will add more links in due course. –lambert UPDATE All done!
#COVID19
At reader request, I've added this daily chart. The data is the John Hopkins CSSE data. Here is the site. Today I thought I would look at big states not in the Acela Corridor: California, Texas, Florida: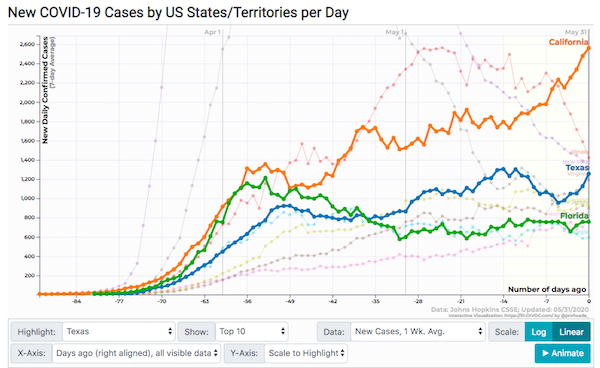 The vertical scale is scaled to the highlight. All the curves are calendar-, not inception-based. It's clear that this country cannot be said to have the pandemic under control.
Politics
"But what is government itself, but the greatest of all reflections on human nature?" –James Madison, Federalist 51
"They had one weapon left and both knew it: treachery." –Frank Herbert, Dune
"They had learned nothing, and forgotten nothing." –Charles Maurice de Talleyrand-Périgord
* * *
2020
Biden (D)(1): "Biden meets with black leaders at local church amid unrest" [Associated Press]. "[A]fter another night of violent protests, Biden gathered with roughly a dozen local black leaders during an intimate hometown meeting [in Wilington, DE] ahead of a virtual meeting with mayors from Los Angeles, Atlanta, Chicago and St. Paul, Minnesota… If elected, [Biden' promised to 'deal with institutional racism' and set up a police oversight body in his first 100 days in office. … In an election that is likely to be a referendum on the sitting president, some Biden aides say privately that the best plan may be to let Trump do himself in. Yet there is also a recognition that Biden needs to do more than simply wait for voters who may be turned off by Trump to turn toward him…. All the attendees, including Biden, wore face masks but lowered them as they spoke." • In an indoor space, so the masks were purely performative.

Biden (D)(2): "Biden's in one of the best positions for any challenger since scientific polling began" [Harry Enten, CNN]. "But it's important to put individual polls into context, and that context continues to show Biden's in one of the best positions for any challenger since scientific polling began in the 1930s. There were more than 40 national public polls taken at least partially in the month of May that asked about the Biden-Trump matchup. Biden led in every single one of them. He's the first challenger to be ahead of the incumbent in every May poll since Jimmy Carter did so in 1976. Carter, of course, won the 1976 election. Biden's the only challenger to have the advantage in every May poll over an elected incumbent in the polling era. Biden remains the lone challenger to be up in the average of polls in every single month of the election year. His average lead in a monthly average of polls has never dipped below 4 points and has usually been above it. Biden hasn't trailed Trump this entire year in a single telephone poll in which at least some voters were reached via their cell phones — historically the most accurate. The ABC News/Washington Post poll is the latest example of these polls. In fact, Biden's never been behind in any of these polls since at least January 2019. No other challenger has come close to that mark. Indeed, the stability of Biden's edge has been what is most impressive. The May polls had Biden up by 6 points on average." • This stability was the case in the primaries, too.

UPDATE Biden (D)(3): "Why Val Demings May Be the Best Running Mate for Joe Biden Right Now" [Vogue]. "Yes, America needs to heal…. One of the ways this can happen is by having representation at the highest levels of government by African Americans. Representation is one of the ways we can heal. It also may be the easiest way back to the White House…. Luckily, there are a number of incredible African American women in that VP pool…. My preference, however — especially now — would be the inspirational Val Demings, who has an amazing life story. Born in a two-room, wooden framed home in Jacksonville, Fla. — the youngest of seven children to a maid and janitor — Demings was the first in her family to graduate from college. She began her career as a social worker, then joined the Orlando police department, eventually moving up to be the city first-ever female police chief. She was elected to the House of Representatives in 2017, and this year was one of the House impeachment managers." • So she's a cop. That should play well in the suburbs.

Sanders (D)(1): "Fear Pervades Black Politics, and Makes Us Agents of Our Own Oppression" [Black Agenda Report]. From March, still germane: "Black voters in South Carolina kicked off Joe Biden's political resurrection last Saturday, and stuck with the worthless corporate hack through Super Tuesday's primary contests. Although the craven Black Misleadership Class will no doubt shout hallelujahs that "hands that picked cotton now pick presidents" and claim Black voters exercised brilliant "strategic" judgment in making themselves indispensable to the corprate Democratic party establishment, the true motivator of Black Biden supporters is a pervasive and deeply corrosive fear. Not just dread of four more years of Trump, although that is central to Black political behavior, but abject terror at the very thought that the Democratic Party – "our" party, in many Black folks' minds – might fracture under the challenge of the Sandernistas. Voluminous data over many years has shown that African Americans are to the left of Hispanics on issues of bread and butter and, especially, war and peace, and far to the left of white Democrats. But, unlike Hispanics, Blacks cannot be depended on to uphold their own historical political consensus in Democratic Party primary elections for fear of weakening the chances of defeating The White Man's Party. Hyper-conscious of their minority and despised status – and surrounded by hostile, race-obsessed white Republicans in the southern states – older Blacks cling to Democratic Party structures as if their lives depend on it. The ascent of Donald Trump has only tightened the duopoly trap, causing Blacks to invest their votes in candidates they perceive as "good for the party," as if that is synonymous with Black interests. Ruling class panic at the prospect of losing control of the top of Democratic ticket has deeply infected the party's most loyal constituency. Thus, Black folks over 40, and many younger ones, are behaving like Malcolm X's 'house Negro,' who asks with genuine concern, 'Is we sick, boss?' when the master is feeling poorly." • Ouch. And here we are!

Trump (R)(1): "Trump slams governors as 'weak,' urges crackdown on protests" [Associated Press]. "Trump spoke to governors on a video teleconference that also included law enforcement and national security officials, telling the state leaders they 'have to get much tougher.' 'Most of you are weak,' Trump said. 'You have to arrest people.' 'You've got to arrest people, you have to track people, you have to put them in jail for 10 years and you'll never see this stuff again,' said Trump. 'We're doing it in Washington, D.C. .' Attorney General Bill Barr, who was also on the call, told governors that a joint terrorist task force would be used to track agitators and urged local officials to 'dominate' the streets and control, not react to crowds, and urged them to 'go after troublemakers.'" • One wonders where this will play well. Anyhow, I don't know why we militarized the police if we don't want them to use their toys.

UPDATE Trump (R)(2): "Trump Leads Biden in the States He Won in 2016: Campaign Update" [Bloomberg]. "President Donald Trump leads Joe Biden 51% to 44% in the so-called "red states" he won in 2016, according to an ABC News/Washington Post survey released on Sunday. Biden had a wide, 65% to 32% lead in the states won by Democrat Hillary Clinton in 2016. The results highlighted the difference between a raw national poll — in which Biden led Trump by 10 points, 53% to 43% among registered voters — and the Electoral College, which will decide the victor in November. Clinton won the popular vote over Trump in 2016 by about 65.85 million to 62.95 million, but Trump triumphed in the Electoral College, 304 to 227. Biden's national lead was also halved to five points, 51% to 46%, among people who say they're certain to vote in November, underlining the importance of generating enthusiasm to drive voter turnout. Potential Trump voters were more enthusiastic." • 65% to 32% seems insurmountable, and clearly Trump is doing little to move those numbers. By the same token, Democrats seem to be doing little to move the needle in Red States. I don't think I can take another four years of whinging about the Electoral College if Biden's brain trust blows it as badly as Clinton's did.

Warren (D)(1): "Warren as Biden's running mate makes no electoral sense" [Harry Enten, CNN]. "Combining our last two CNN polls (March and May) that asked about Warren's favorability finds that she gets about a -20 point net favorability (favorable – unfavorable) among Democratic leaning voters who say they are not voting for Biden at this point…. That makes sense when you look at the groups Biden is doing well with and the voters Warren generally appealed to during the 2020 primaries. Biden's actually doing quite well on his left, for example. An average of recent live interview polls shows that Biden's getting 85% among self-described liberal voters…. Like with liberals, Biden is performing very well for a Democrat among white college educated women…. This is not to say all is well with Biden and the Democratic base. Biden does have problems with three key parts of the Democratic coalition: black voters (particularly young ones), Hispanic voters and young voters generally. Biden holds large leads among all, but not to the same degree that Clinton held at the end of the 2016 campaign. These are mostly groups that Vermont Sen. Bernie Sanders did well with in the primary, but there's little sign Warren has any special appeal to them. She underperformed with all of them in the primary."
Realignment and Legitimacy
What a legitimacy crisis looks like? Worth a listen (via DG):

Liberal Democrats have lost their minds:

Susan Rice, at the end of this clip, suggesting the uprising is a Russian plot.

You cannot make this shit up. Fucking deranged.

— Eoin Higgins (@EoinHiggins_) May 31, 2020

To be fair, Rice, as a [x] black [x] woman, is on Biden's short list, so she has to conform to RussiaGate lunacy (as did Sanders, sadly).

Bright ideas (1):

Here's an idea: Why don't @JoeBiden, along with @BarackObama and @GeorgeHWBush and @BillClinton and @CarterLibrary address to the nation together?

— Kara Swisher (@karaswisher) June 1, 2020

Bright ideas (2):

If any public-spirited billionaire out there is wondering how they can leave a legacy in America, consider buying newspaper chains and empowering non-profit trusts of journalists to run them https://t.co/4ZutVet7de

— Jonathan Martin (@jmartNYT) June 1, 2020

Look at all that air. They can't even fill their news hole!

UPDATE Thanks, Obama:

A basic point but its worth remembering that for all the red-baiting Bernie was the mild, soft-spoken answer to these problems. Any ruling class with half a brain would have been thrilled with him taking some heat but also cooling things down.The freakout was totally out of touch

— Nathan Tankus (@NathanTankus) May 29, 2020

UPDATE "The Golden Rule Is Dying of Covid-19" [John Authers, Bloomberg]. "[G]etting people to sacrifice in the name of the golden rule requires trust in governments to make sure that those sacrifices are not wasted. In many places, that doesn't exist…. Other than in countries where the state could rely on its ability to coerce people, like China, lockdowns worked most effectively under governments perceived to be trustworthy and efficient, like Germany or Norway." • Or South Korea and Taiwan, Hong Kong being the exception unless you think of the protest movement as a parallel government. More: "For people in the densely populated cities of the Acela corridor, who tend to be politically liberal, wearing masks and following government instructions seems like a good idea. For the more sparsely populated states in the middle of the country, whose citizens are philosophically more inclined to distrust the government, it is different." • But see today's #COVID19 map: Both California and Texas are in trouble. Anyhow, interesting article, well worth a read.
Stats Watch
At reader request, I added some business stats back in. Please give Econintersect click-throughs; they're a good, old-school blog that covers more than stats. If anybody knows of other aggregators, please contact me at the email address below.
Construction: "April 2020 Construction Spending Declined But Was Only Marginally Affected By The Coronavirus" [Econintersect]. "Construction spending is trending downward but remarkedly strong considering the impact of the coronavirus pandemic. Private construction had been fueling construction growth – but currently, public construction is fueling the growth.Consider this a slightly worse report relative to last month even with the decline reported by Census."
Manufacturing: "May 2020 ISM and Markit Manufacturing Surveys Remain Deep In Contraction" [Econintersect]. "Based on these surveys and the district Federal Reserve Surveys, one would expect the Fed's Industrial Production index growth rate to decline. Overall, surveys do not have a high correlation to the movement of industrial production (manufacturing) since the Great Recession. No question these surveys suggest the economy is contracting all thanks to the coronavirus."
* * *
The Bezzle: "Elon Musk vs. Bay Area officials: These emails show what happened behind the scenes in the Tesla factory fight" [MarketWatch]. "[Alameda County Interim Health Officer Erica Pan] requested police ensure several specific precautions were being taken, including screening of employees entering the facility, frequent cleaning and disinfection of high-touch surfaces, and ensuring employees wear masks and maintain physical distancing. 'My understanding is they only plan to have ~10% of their employees (~1500 employees during day shift) working this week to begin to prepare for increased operations as soon as next week, 'Pan wrote. The next afternoon, [Fremont Police Lt. Brian] Shadle and another officer arrived at the Fremont factory at 4:20 p.m. Pacific, and found a bit more activity than what Pan expected. 'During the visit it was extremely apparent that the manufacturing plant was NOT operating at full capacity it appeared that they were only operating between 25-30 percent of functions,' Shadle wrote. The rest of Shadle's report noted changes to employee shuttles, extensive hand sanitizer and personal protective equipment readily available, and abundant signage regarding social distancing and proper procedures during a nearly two-hour tour. 'The facility is huge and overall the safety measures that have been instituted exceeded the safety measures outlined by the Alameda County Health Department,' Shadle concluded. 'I am impressed at the length of the visit and the details of the report,' Pan wrote in response to the report. 'I realize this is not typical law enforcement work so I greatly appreciate the time, detail, and assistance.'" • This seems odd. Why wasn't there a heatlh officer along with the cops?
* * *
Mr. Market: "Dow claws back early losses as U.S. manufacturing data suggests worst of economic downturn is past" [MarketWatch]. "Evidence of rising tensions between the U.S. and China and social unrest in America helped to create some headwinds for markets early Monday, but the bearish sentiment gave way after economic data underlined the progress from states taking away measures implemented to stem the spread of the COVID-19 disease. All 50 states are under some stage of reopening from forced shutdowns due to the pandemic."
Today's Fear & Greed Index: 58 Neutral (previous close: 52 Neutral;) [CNN]. One week ago: 50 (Neutral). (0 is Extreme Fear; 100 is Extreme Greed). Last updated May 29 at 1:18pm. Last updated Jun 1 at 1:02pm. So Mr. Market came back from the Nineteenth Hole on Sunday, and decided to get bullish?
Rapture Index: Closes down one on earthquakes. "The lack of activity has downgraded this category" [Rapture Ready]. Record High, October 10, 2016: 189. Current: 185. Remember that bringing on the rapture is a good thing. I feel apocalyptic. Why don't these guys?
The Biosphere
"No asteroids needed: ancient mass extinction tied to ozone loss, warming climate" [Science]. "The end of the Devonian period, 359 million years ago, was an eventful time: Fish were inching out of the ocean, and fernlike forests were advancing on land. The world was recovering from a mass extinction 12 million years earlier, but the climate was still chaotic, swinging between hothouse conditions and freezes so deep that glaciers formed in the tropics. And then, just as the planet was warming from one of these ice ages, another extinction struck, seemingly without reason. Now, spores from fernlike plants, preserved in ancient lake sediments from eastern Greenland, suggest a culprit: The planet's protective ozone layer was suddenly stripped away, exposing surface life to a blast of mutation-causing ultraviolet (UV) radiation. Just as the extinction set in, the spores became misshapen and dark, indicating DNA damage, John Marshall, a palynologist at the University of Southampton, and his co-authors say in a paper published today in Science Advances. It's evidence, he says, that 'all of the ozone protection is gone.' Scientists have long believed—at least before humanity became a force for extinction—that there were just two ways to wipe out life on Earth: an asteroid strike or massive volcanic eruptions. But 2 years ago, researchers found evidence that in Earth's worst extinction—the end-Permian, 252 million years ago—volcanoes lofted Siberian salt deposits into the stratosphere, where they might have fed chemical reactions that obliterated the ozone layer and sterilized whole forests. Now, spores from the end-Devonian make a compelling case that, even without eruptions, a warming climate can deplete the ozone layer, says Lauren Sallan, a paleobiologist at the University of Pennsylvania. 'Because the evidence is so strong, it will make people rethink other mass extinction events.'" •
Health Care
UPDATE "Introductions and early spread of SARS-CoV-2 in the New York City area" [Science]. "Based on genetic similarity and phylogenetic analysis of full-length viral genome sequences, most cases diagnosed during the 18 days after the first-reported COVID-19 case in NY State appear to be associated with untracked transmission and potential travel-related exposures. Notably, the majority of introductions appear to have been sourced from Europe and the USA." • Well worth reading in conjunction with the next article from the Globe–
UPDATE "The virus's tale" [Boston Globe]. Interesting tick-tock. The story takes care not to begin with the massive Biogen outbreak, due to a corporate conference sponsored in Boston at the Marriott Long Wharf hotel. "By March 11, Massachusetts had 95 confirmed cases of the virus…. Of these, 77 were tied to the Biogen conference." • Globalization, and globalizers, as I have said. This really frosts me:
By Friday, March 6, [Mass General] was in full emergency response mode, following two days of mounting tensions around the Biogen outbreak.

It had started on Wednesday, after Biogen announced that two conference attendees tested positive following their return home to Europe. Five rattled Biogen employees soon showed up at the MGH emergency room, to be tested.

Panic among Biogen workers got so bad that the company's Global Security Operations Center sent out an urgent e-mail telling employees to refrain from showing up at Mass. General "to to be tested for the Coronavirus." Ominously, the company's warning concluded with this sentence: "."
Yikes (and a second appeal to the police, after Fremont v. Tesla). Most people are in no position at all to "demand" to be tested. Sheesh.
"The case for doing everything outside" [The Week]. "It's not impossible to catch the coronavirus outdoors, but public health experts consider outside transmission extremely unlikely if people take appropriate precautions…. This means two things. First, people going to the beach, pool, or park aren't being reckless if they're maintaining distance from others and practicing proper hygiene. And second, if we want to safely move toward normalcy before there's a vaccine, reliable treatments, or widespread natural immunity, we should move life outside as often as we can….. Education isn't the only activity we could shift outdoors. Already some cities are considering closing parking lanes or entire streets to give restaurants more room for "patio" seating… Gathering outside could work for churches and other religious assemblies, too." • Not in the winter. For those who have winter…
"Mass gatherings, erosion of trust upend coronavirus control" [Associated Press]. "It's unclear if the protests themselves will trigger large new outbreaks. The protests were outside, where infections don't spread as readily as indoors. Also, many of the protesters were wearing masks, and much of the contact was likely less-hazardous "transient" moments of people moving around, passing each other, said Dr. William Schaffner, an infectious diseases expert at Vanderbilt University. But, still, experts worry that public efforts to contain the disease in the future could be undermined." And then there's this: "In a press conference Saturday, Minnesota Public Safety Commissioner John Harrington used the term '' when describing an investigation into arrested protesters there. He said the goal is to 'see if there are crime or white supremacy organizations that have played a role' and 'to understand how do we go after them, legally,' Harrington said." • So even "contact tracing," the term, is going viral and spreading, we know not where. Guaranteed it won't stop with application to white supremacy organizations.
Black Injustice Tipping Point
UPDATE Map of the protests:
Protests have erupted in at least 140 cities across the United States over racism and police brutality. Some of the demonstrations have turned violent, prompting the activation of the National Guard in at least 21 states. https://t.co/IgDntKt02K pic.twitter.com/srpBanf3dS

— The New York Times (@nytimes) June 1, 2020
Tellingly, this story degenerates into a photo essay. Not that there's anything wrong with photos, but I want data. Size of protests. Location of protests, ideally mapped to neighborhoods city by city. Breakdown of protesters by demographic categories. Targeted buildings. A timeline. And so forth. All we have at this point is anecdote (and rhetoric (and RussiaGate ffs))).
UPDATE Serve and protect. Transcript and thread:
This is just a partial transcript of 3 minutes while Floyd is pinned on the ground. The police had multiple warnings that they were doing something extremely dangerous to Floyd, and they never stopped. pic.twitter.com/y7hvorrFFn

— Evan Hill (@evanchill) June 1, 2020
The whole thread is worth reading; I found the Times video timeline almost incomprehensible, and this thread is a useful supplement.
UPDATE "Videos, threats, but few signs protests have been stoked by 'outsider' extremist groups" [NBC]. "Unrest, violence and property destruction in cities across the U.S. on Saturday showed few signs of having been stoked by organized extremists despite a growing narrative from several political figures that outside groups are to blame for some of the worst scenes of recent protests…. And anecdotal reports of white supremacists and other extremist groups fomenting violence have been amplified by similar claims from authorities, including Minneapolis Mayor Jacob Frey, who tweeted on Saturday that the city is "now confronting white supremacists, members of organized crime, out of state instigators, and possibly even foreign actors to destroy and destabilize our city and our region….. That claim was later boosted by Minnesota Gov. Tim Walz, who claimed outside protesters, white supremacists and drug cartels were part of the protest groups in Minneapolis." • Nice job on the "outside agitators," liberal Democrats. More: "[L]ittle evidence for those claims have been put forward, and a previous statement by the mayor of St. Paul that most of the people arrested on Friday in Minneapolis were from out of town was later walked back. NBC News reached out to police departments in several major cities that were the scene of protests, but thus far none have said whether outside groups had been found to be operating during the protests." • But I'm sure the DHS fusion centers are on it!
UPDATE "Nothing fundamental will change":
Reached out to half-dozen Hill aides —

Tl;dr: Nobody thinks Congress will move anything at all in response to mass protests across major cities

House is out in June. Senate may confirm more judges. "No chance," one says of a legislative response

— Jeffrey Stein (@JStein_WaPo) June 1, 2020
Yes, McConnell controls the Senate, but have the Democrats presented any program? Aside from blaming outsiders and the Russians?
"Column: What images of burning buildings and broken windows tell us, and what they don't" [Los Angeles Times]. "A common sentiment I hear is that rioting is not the answer. But the painful truth is that rioting is not supposed to be an answer to anything. It is explicitly an expression of anger and frustration, a fire whose sparks land indiscriminately. A city burning is what happens when people have abandoned hope for answers….. In Los Angeles, many residents remember what it's like to try to answer the questions that images of a burning city raise. And if we have found a meaningful answer to the questions raised by the 1992 riots, or the Watts riots, or the Zoot Suit Riots."
UPDATE News you can use. Thread:
PSA For ANYONE who might be interested in how to pull down an obelisk* safely from an Egyptologist who never ever in a million years thought this advice might come in handy

*might be masquerading as a racist monument I dunno

— Sarah Parcak (@indyfromspace) June 1, 2020
Riot vs. rebellion: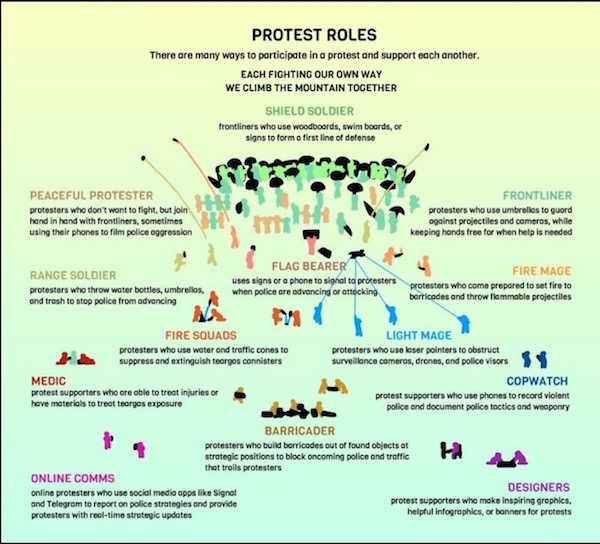 We have a ways to go…
MMT
"Cornerstone Speech" [Alexander H. Stephens, Battlefield Trust]. Killer Mike has been telling us to read this speech by Confederate Vice President Stephens, and it's a humdinger that completely demolishes the Lost Cause propaganda propagated by the Daughters of the Confederacy, which protesters set on fire the other day in Richmond, in a case of property damage, though one might question whether karma is damage. In any case, here are Stephens' views on the Federal budget, which are quite up to date, if one is a mainstream economist. Stephens is analyzying the correlation of forces between the Union and the Confederacy: "The debts of the seven confederate States sum up in the aggregate less than eighteen millions, while the existing debts of the other of the late United States sum up in the aggregate the enormous amount of one hundred and seventy-four millions of dollars. This is without taking into account the heavy city debts, corporation debts, and railroad debts, which press, and will continue to press, as a heavy incubus upon the resources of those States." And: "In Georgia, for instance, we have done as much for the cause of internal improvements as any other portion of the country, according to population and means. We have stretched out lines of railroads from the seaboard to the mountains; dug down the hills, and filled up the valleys at a cost of not less than $25,000,000. All this was done to open an outlet for our products of the interior, and those to the west of us, to reach the marts of the world. No State was in greater need of such facilities than Georgia, but we did not ask that these works should be made by appropriations out of the common treasury. The cost of the grading, the superstructure, and the equipment of our roads was borne by those who had entered into the enterprise." • In other words, Georgia built a railroad to send cotton to ports for export. Big [family blogging] deal. The railroad system the North built knit the entire industrial economy together. I mean, Alex, come on, man. Everybody knows the Confederacy had a lousy rail system; that's one reason their interior lines of communication were inferrior.
Groves of Academe
"Risky Strategy by Many Private Colleges Leaves Them Exposed" [New York Times]. See Yves on this topic here. "Mr. Ducoff, a former administrator at Northeastern University, and Ms. Manville, a former administrator at Southern New Hampshire University, looked for a credible list of financially vulnerable colleges and couldn't find one. So they decided to create their own, using publicly available information about trends in colleges' revenues, expenses, debts and cash reserves. They assembled and were preparing to release a list of colleges that were headed toward insolvency. But when Inside Higher Ed, working on a news article to accompany the data, began to contact the colleges affected, angry emails and phone calls started pouring in. Making such information public would be 'grossly irresponsible and would cause great harm to the college,' one lawyer wrote, demanding that Mr. Ducoff's and Ms. Manville's small start-up firm, called Edmit, 'refrain from publication.' Edmit didn't have the money to fend off multiple lawsuits. It put the list in a drawer. That was in November 2019, shortly before the first recorded coronavirus victim began showing symptoms in China."
"Universities will never be the same after the coronavirus crisis" [Nature]. "As universities face major changes, their financial outlook is becoming dire. Revenues are plummeting as students (particularly international ones) remain home or rethink future plans, and endowment funds implode as stock markets drop…. The universities that are likely to fare best are those that are rich and powerful. But even those face challenges…. All institutions are facing major financial problems, however. Wealthy private US universities, such as Johns Hopkins University in Baltimore, Maryland, expect to lose hundreds of millions of dollars in the next fiscal year. UK universities collectively face a shortfall of at least £2.5 billion (US$3 billion) in the next year because of projected drops in student enrolment, according to the UK consulting firm London Economics. And Australian universities could shed up to 21,000 full-time jobs this year, including 7,000 in research, a government report said in May." • So. just as with a functional press, we'll be losing university research, exactly when we need it most.
Class Warfare
"Why wealth gap has grown despite record-long economic growth" [Associated Press]. From July, 2019, still germane. I've been looking for a chart with this breakdown for some time: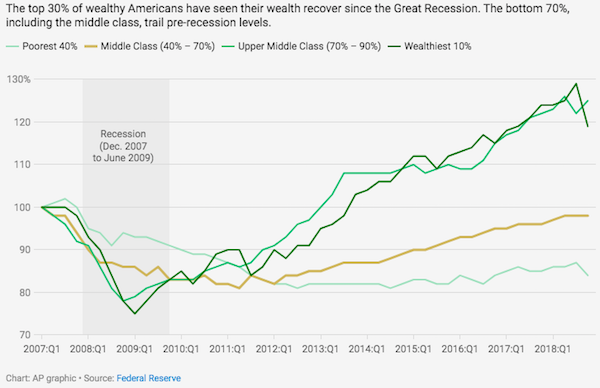 Breaks down rather neatly to the Democrat base; you can see why they genuinely would thank Obama.
"The dead end of racial identity politics" [Intransigence]. "The most recent manifestation of this phenomenon is an activist network in the United States that calls itself "Black Lives Matter," which has become synonymous with the movement against racialized police violence, a clear-cut example of capitalists and their lackeys co-opting the authentic resistance of black workers. This organization, whose ties to the Democratic Party-NGO complex are fairly well-established at this point, attempts to harness the explosive spontaneity of the proletarian element within these social movements, which often takes the form of riots and looting, into forms of engagement with the capitalist system that do not interfere in any way with profitmaking.10 It is unsurprising, therefore, that their manifesto reads like the DNC platform, but with demands for reparations and investment into black-owned businesses — effectively income redistribution for black capitalists — thrown in for good measure. Black Lives Matter are modern-day Garveyites, only they have traded in the overt homophobia and misogyny of the latter for hollow social justice rhetoric that throws a veneer of radicalism over their essentially capitalist politics." • Bracing, albeit from a tiny groupuscle.
"NY State Legislature Drops Rent Cancellation Bill, Takes Up 'Totally Inadequate' Measure Instead" [Gothamist]. "Notably absent from the agenda: legislation to waive rent for tenants facing hardship during the pandemic. That bill, introduced in March by Queens State Senator Mike Gianaris, won't get a vote this week, despite its 21 co-sponsors in the Senate and 22 in the Assembly…. Instead, legislators are poised to vote Thursday on a far more modest form of tenant relief. Dubbed the Emergency Rent Relief Act of 20201, the bill would provide vouchers to landlords on behalf of a small subset of rent-burdened tenants who lost income during the pandemic. To be eligible, a landlord's tenants must earn below 80 percent of an area's median income, and have been paying more than 30 percent of their household income in rent before March 7th." • Mark Ames comments: "Means testing—core Dem Party ideology."
News of the Wired
Normally I wouldn't run an animal (I run plants) but this seems to capture that Monday feeling so well, especially now:
— raccoons (@rqccoons) May 30, 2020
* * *
Readers, feel free to contact me at lambert [UNDERSCORE] strether [DOT] corrente [AT] yahoo [DOT] com, with (a) links, and even better (b) sources I should curate regularly, (c) how to send me a check if you are allergic to PayPal, and (d) to find out how to send me images of plants. Vegetables are fine! Fungi and coral are deemed to be honorary plants! If you want your handle to appear as a credit, please place it at the start of your mail in parentheses: (thus). Otherwise, I will anonymize by using your initials. See the previous Water Cooler (with plant)
here
. Today's plant (WB):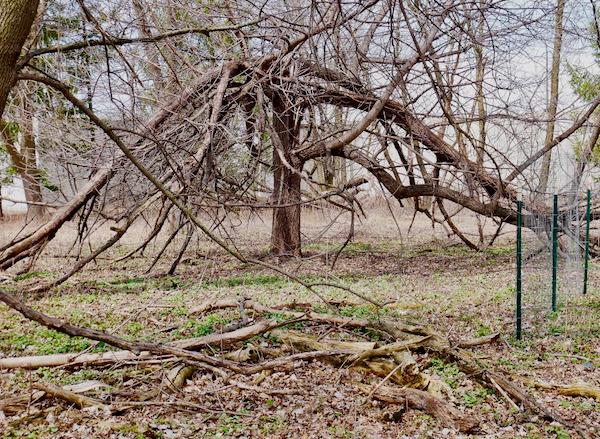 WB writes: "You wondered where umbrellas come from? Umbrella trees, of course." Add oil?
* * *
Readers: Water Cooler is a standalone entity not covered by the annual NC fundraiser. So if you see a link you especially like, or an item you wouldn't see anywhere else, please do not hesitate to express your appreciation in tangible form. Remember, a tip jar is for tipping! Regular positive feedback both makes me feel good and lets me know I'm on the right track with coverage. When I get no donations for five or ten days I get worried. More tangibly, a constant trickle of donations helps me with expenses, and I factor in that trickle when setting fundraising goals:
Here is the screen that will appear, which I have helpfully annotated.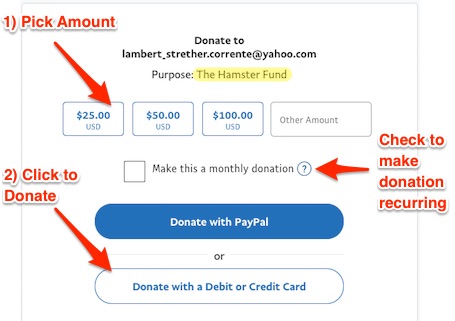 If you hate PayPal, you can email me at lambert [UNDERSCORE] strether [DOT] corrente [AT] yahoo [DOT] com, and I will give you directions on how to send a check. Thank you!