By Lambert Strether of Corrente.
#COVID19
At reader request, I've added this daily chart. The data is the John Hopkins CSSE data. Here is the site. Doing Florida and the South today. Look at Florida go!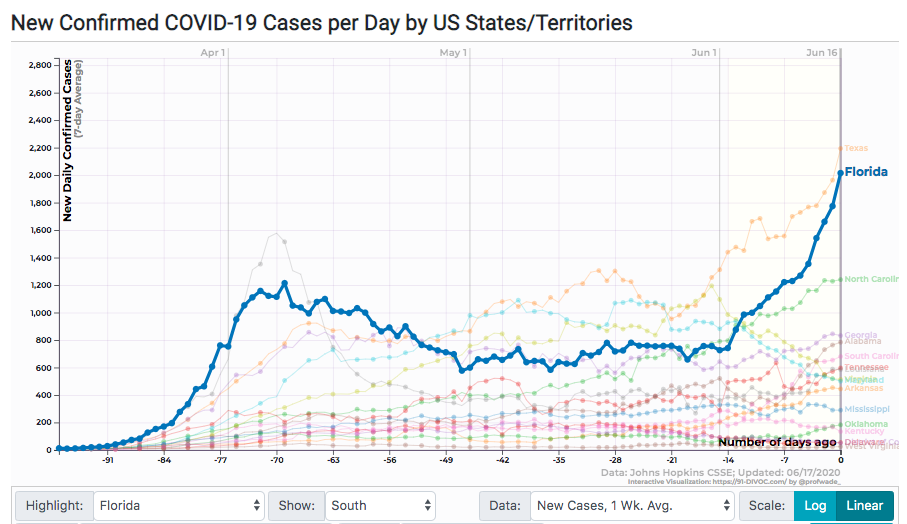 We have some exemplary badness from Florida (not to single them out too, since after all their numbers have been low by New York standards. So far).
"Woman, 15 friends test positive for coronavirus after night out at Lynch's" [News4JAX]. "Erika Crisp has been short of breath for several days and has tested positive for COVID-19. So have more than a dozen of her friends. The one thing they all had in common: a night out at Lynch's Irish Pub on June 6 in Jacksonville Beach… Crisp said she and her friends had been careful with social distancing and had stayed indoors for months 'doing everything the right way.' 'And then the first night we go out, Murphy's Law, I guess,' Crisp said. 'The only thing we have in common is that one night at that one bar.'" • Extroverts are gonna kill us all…. Maybe re-opening was not such a good idea after all? (The story does not mention, although the video does, that 7 workers were also infected.)
"DeSantis said 260 airport employees tested positive for COVID-19. MCO says that's not true" [Orlando Weekly]. "MCO took to Twitter Wednesday morning with a 'clarification' saying, "We want to clarify that the number of cases recently shared with the media is the total number of cases confirmed at our airport since mid-March through June…. The airport says the 260 confirmed cases include 132 airport employees out of more than 25,000 who work there. The other 128 cases, says the airport, are not employees, 'but have traceable connections to our employees.'" • So, at least Orlando Airport isn't a hot spot. Good news!
NOTE The 91-DIVOC site has also added "COVID-19 Data for Locations of People You Love" (by county within State).
Politics
"But what is government itself, but the greatest of all reflections on human nature?" –James Madison, Federalist 51
"They had one weapon left and both knew it: treachery." –Frank Herbert, Dune
"They had learned nothing, and forgotten nothing." –Charles Maurice de Talleyrand-Périgord
Since we're getting closer to the election, maybe it's time to start looking at the electoral map, updated June 17 and unchanged today: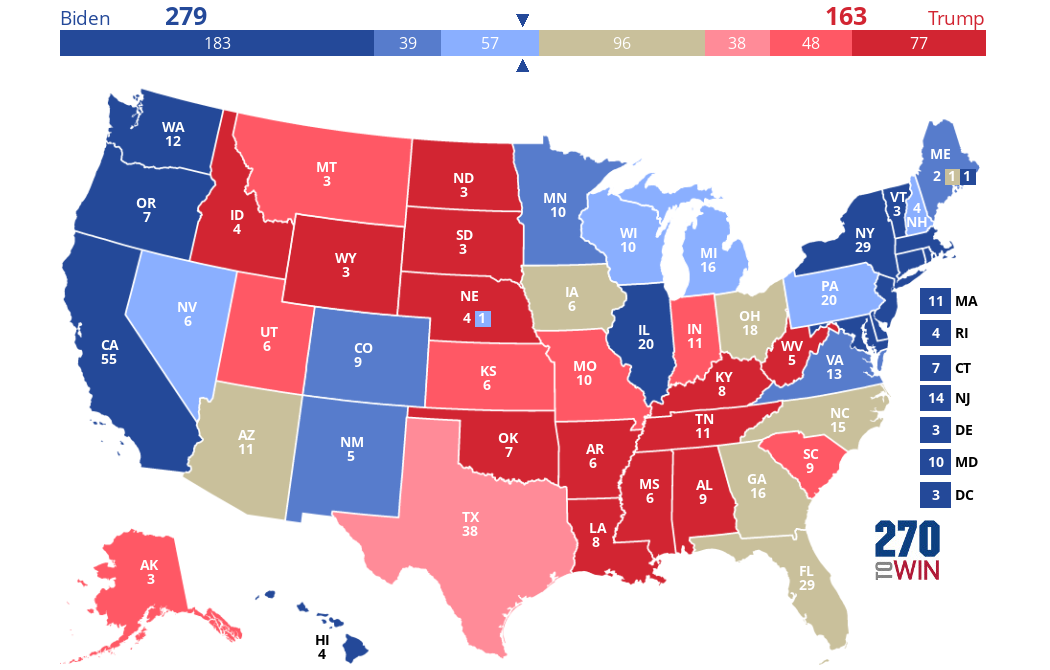 Click the map to create your own at
270toWin.com
So, taking the consensus as a given, 270 (total) – 204 (Trump's) = 66. Trump must win 66 from the states in play: AZ (11), FL (29), MI (16), NC (15), PA (20), and WI (10) plus 1 to win not tie = 102. 102 – 66 = 36. So if Trump wins FL, MI, NC, and PA (29 + 16 + 15 + 20 = 80), he wins. That's a heavy lift. I think I've got the math right this time!
"America's anachronistic electoral college gives Republicans an edge" [The Economist]. Handy chart: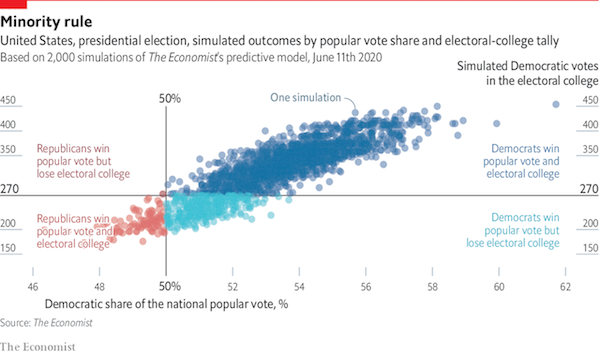 UPDATE "2020 Electoral Map Ratings: Biden Has An Edge Over Trump, With 5 Months To Go" [NPR]. "In this presidential election, our analysis finds just 16 states are competitive, in addition to two electoral votes in states that award some by individual congressional districts — that they either only lean toward one candidate or are pure toss-ups. Just eight states and one of the congressional districts are considered pure toss-ups…. Biden starts with a 238 to 186 advantage over Trump, when including states that lean in either candidate's direction or that they're likely to win. But Biden is no shoo-in. The analysis finds he's still 32 electoral votes short of the 270 he would need, and the Democrat needs to peel off key states Trump won in 2016 to get over the line…. There are eight states that are toss-ups, plus one electoral vote in Maine, for 114 electoral votes — Florida (29 electoral votes), Pennsylvania (20), Ohio (18), North Carolina (15), Arizona (11), Wisconsin (10), Nevada (6), New Hampshire (4) and one electoral vote in Maine's 2nd Congressional District…. It's notable that Biden is in the lead in all of these places, by less than 5 points in recent polls, except North Carolina, where Trump has a slight polling advantage. (There's no recent data for Maine.)" • With several scenarios. Interesting wrap-up.
* * *
2020
Biden (D)(1): "Biden is doing worse than Clinton among Hispanic voters" [Harry Enten, CNN]. "Joe Biden is reaching heights that Hillary Clinton never did this late in the campaign against Donald Trump. The former vice president holds a significant national lead of around 10 points and is over 50% support. Yet a look at recent polls suggests Trump is outperforming where he was four years ago with a key part of the Democratic coalition: Hispanics. This could have implications for what electoral strategy Biden may need to take into the fall if he is to beat the President…. White voters tend to make up a much larger share of the electorate in the northern battlegrounds (e.g. Michigan, Pennsylvania and Wisconsin) than they do in the Sun Belt (e.g. Arizona, Florida, Georgia and Texas). Hispanic voters, meanwhile, are quite prevalent in many of the Sun Belt states. This could mean Biden's best chance to accumulate 270 electoral votes goes through the north, like the president he served under, Barack Obama. Biden's underperformance with Hispanics might also cause him to think about choosing a Hispanic running mate." • Hispanic running mate…. That would be a turn-up for the books! How about Lucy Flores?

Trump (R)(1): "Tulsa Officials Plead for Trump to Cancel Rally as Virus Spikes in Oklahoma" [New York Times]. "Officials in Tulsa, Okla., are warning that President Trump's planned campaign rally on Saturday — his first in over three months — is likely to worsen an already troubling spike in coronavirus infections and could become a disastrous 'super spreader.' They are pleading with the Trump campaign to cancel the event, slated for a 20,000-person indoor arena — or at least move it outdoors. 'It's the perfect storm of potential over-the-top disease transmission," said Bruce Dart, the executive director of the Tulsa health department. "It's a perfect storm that we can't afford to have.' Tulsa County, which includes the city of Tulsa, tallied 89 new coronavirus cases on Monday, its one-day high since the virus's outbreak, according to the Tulsa Area Emergency Management Agency. The number of active coronavirus cases climbed to 532 from 188 in a one-week period, a 182 percent increase; hospitalizations with Covid-19 almost doubled. That spike has local officials and public health experts concerned about welcoming the nation's first indoor mass gathering since Mr. Trump declared a national emergency in mid-March, an influx of thousands of people interacting inside and outside, amounting to a sprawling coronavirus petri dish."

UPDATE Trump (R)(2): "Trump campaign: Biden must get out and campaign more" [The Hill]. "President Trump's reelection campaign is accusing Joe Biden of intentionally avoiding the campaign trail and is demanding that the media raise pressure on the presumptive Democratic nominee to cut a more visible profile…. The Trump campaign is eager to have Biden return to the spotlight, believing the race for the White House will narrow once they've been able to define him."

* * *

UPDATE Amy McGrath tries to knock out absentee ballots to neutralize Booker's late surge. Thread:

Today, I obtained a dismissal of Amy McGrath for Senate's lawsuit that challenged the regulation implementing my bipartisan agreement with Governor Beshear, and that sought to have a court declare our "current system of absentee voting" unconstitutional. Here's my statement:

— KY Sec. of State Michael Adams (@KYSecState) June 16, 2020

What a piece of work. No wonder the DNC loves her!
Realignment and Legitimacy
See, the architect of George W. Bush's "axis of evil," an enormous military and strategic debacle that blew hundres of thousands of faraway brown people to pink mist, was a woke liberal all the time:

Personal historical footnote. I remember my late mother refusing to buy Aunt Jemima brand syrup as long ago as the late 1960s.

— David Frum (@davidfrum) June 17, 2020

He's a Hero Of The Resistance™!

And speaking of George W. Bush:

.@OKnox FTW (This is a different angle of an Iraqi journalist throwing a shoe at George W. Bush, a traditional sign of disrespect in American culture.) https://t.co/xEWRmcieB2

— Blake News (@blakehounshell) June 17, 2020

A traditional sign of dispect in America? I wish it were!

* * *

Woke insurance (1):

We have murdered satire and we sit on its corpse like a throne https://t.co/q59UrpswRI pic.twitter.com/9nowqCaIJu

— Alex Peter (@LolOverruled) June 16, 2020

Woke insurance (2):

General Motors said it will recognize #Juneteenth with 8 minutes, 46 seconds of silence to support the Black community. The time frame represents the length of time a white Minneapolis police officer knelt on the neck of George Floyd. https://t.co/EmJY412mBV

— USA TODAY (@USATODAY) June 17, 2020

Woke insurance (3):

Gotta love all these empty gestures from banks like Chase on #BlackLivesMattters after they helped crash the global economy disproportionately preying on black homeowners to sell junk mortgages that led to black families being foreclosed on. pic.twitter.com/yW93zVJ9em

— Jordan (@JordanChariton) June 17, 2020

* * *

UPDATE "Simple math suggests complex back story at Supreme Court" [Associated Press]. "Each of the nine Supreme Court justices usually writes at least one opinion for each month the court hears arguments. Gorsuch's [landmark LGBT rights ruling] was his second for October while three of his colleagues wrote nothing. That highly unusual lineup suggests something going on behind the scenes." • Which remains a mystery!

UPDATE "Get Rid of the Presidency" [Counterpunch]. "When it came to defining the presidency, the constitution got more wrong than it did right. The vote wasn't given to the citizenry but to electors, wise men in the provinces who would gather (in early December) every four years and pick a president. (Golf club membership committees work the same way.) But the way electors have been chosen over time has been a political variation of blind man's buff. What went wrong almost immediately were the so-called presidential elections, which since 1792 have been rigged, fixed, finagled, gerrymandered, massaged, bought, and sold—yet another cornered commodity market, although this one trading only in political influence. Despite what you read about democracy-in-action in your high school civics classes, most accessions to presidential power have come as a result of a deal, bullets, blackmail, or fatal illnesses."
Stats Watch
At reader request, I added some business stats back in. Please give Econintersect click-throughs; they're a good, old-school blog that covers more than stats. If anybody knows of other aggregators, please contact me at the email address below.
https://www.bloomberg.com/news/articles/2020-06-16/auto-industry-s-coronavirus-recovery-will-involve-consolidation?utm_source=twitter&utm_content=business&utm_campaign=socialflow-organic&cmpid=socialflow-twitter-business&utm_medium=social
* * *
Real Estate: "Brokers and investors say demand for warehouses remains high because e-commerce growth has accelerated during the pandemic, pushing retailers and logistics providers to seek space to get goods closer to customers" [Wall Street Journal]. "Investors have spent tens of billions of dollars on industrial real estate near cities in recent years, betting that a shift to e-commerce would push up rents…. Industrial real-estate prices increased by more than a third over the past three years but Green Street Advisors says prices were down 4% in the past three months."
Shipping: "The peak shipping season hasn't even started and it's already a bust as far as container lines are concerned. Shipping lines have canceled more than a quarter of all sailings on Asia-to-Europe and trans-Pacific lanes… as drive down expectations for the fall" [Wall Street Journal]. "The outlook has shipping lines retrenching operations at the time of the year when they're usually scaling up. SeaIntelligence Consulting says the service cancellations have withdrawn more than 4 million containers of capacity from the biggest trade lanes and that the blanked sailings now stretch into the third quarter." • Demand destruction?
Shipping: "Crew crisis is on verge of becoming global trade crisis" [Freight Waves]. "Watching the growing threat to global trade from the stranded-crew crisis is like watching a train wreck in slow motion — and the governments of the world still don't see it coming. A June 15 deadline was set by the union representing seafarers, the International Transport Workers' Federation (ITF), to resolve the crew-repatriation issue, get many thousands of seafarers stranded by COVID-19 travel restrictions back home, and designate all seafarers "key workers" who can travel unrestricted. That deadline has predictably come and gone, and fallout for the global shipping industry and world trade now appears virtually certain. In the most extreme scenario, ships would be forcibly idled, tanker and bulk spot rates would rise, and container liner schedules would be thrown into disarray. The ITF has just adopted a new strategy that it explicitly states 'could be highly disruptive to global trade.' Between mid-March and mid-June, the ITF and affiliated unions did not fight contract extensions for crew who were unable to be repatriated due to the pandemic. No longer. According to ITF President Paddy Crumlin, 'We have drawn a line in the sand and today is the day we make it crystal clear to governments that from June 16, seafarers are going to start enforcing their right to stop working and return home. No more contract extensions.'" • Hmm.
Tech: "We cross now live to Oracle. Mr Ellison, any thoughts? 'Autonomous self-driving computers eliminate human labor, eliminate human error'" [The Register]. "Big Red co-founder, executive chairman and CTO Larry Ellison followed Catz with a review of new customers and a reprise of his vision of technical infrastructure unpolluted by people, in the form of the Oracle Autonomous Database. 'Autonomous self-driving computer systems eliminate human labor and eliminate human error. There is nothing for humans to learn and nothing for humans to do,' said Ellison. 'Eliminating human labor dramatically lowers the cost of running an autonomous system. Eliminating human error dramatically increases data security and system reliability. All of the big data losses at Amazon were caused by human error. There is no opportunity for any human error if your data is stored in an Oracle autonomous system.'" • What could go wrong?
Manufacturing: "Senate bill targets FAA certification process used for 737 MAX" [Freignt Waves]. "The Aircraft Safety and Certification Reform Act of 2020 would address a number of issues related to the manufacture of commercial aircraft, most notably incorporating human factors in assessments of pilot responses to cockpit alerts and requiring more FAA oversight of the certification process…. The legislation requires the FAA to reassess assumptions related to the interface between humans and machines when certifying aircraft, particularly situations involving multiple cockpit alerts and automation. The agency would also have to conduct more research into human factors related to design and certification of aircraft and establish a Center of Excellence that would examine human factors and automation in aviation…. The bill also instructs the FAA to approve the appointment of Organization Designation Authorization (ODA) unit members and require the FAA to develop guidance for technical qualifications for such members. Under ODA, the FAA can delegate certain certification responsibilities back to a manufacturer. Critics contend that ODA opens up potential conflicts of interest and that in the case of the MAX, the FAA failed to effectively oversee Boeing. The bill also requires the development of best practices for ODAs, including those that would ensure any reports of undue pressure or regulatory coziness are addressed, and prohibits limitations on direct communications between ODA unit members and FAA inspectors." • Not perhaps as bad as might be?
* * *
Today's Fear & Greed Index: 53 Neutral (previous close: 52 Neutral;) [CNN]. One week ago: 66 (Greed). (0 is Extreme Fear; 100 is Extreme Greed). Last updated Jun 17 at 12:42pm.
Health Care
"How — and When — Can the Coronavirus Vaccine Become a Reality?" [Pro Publica]. "Everyone I spoke to was optimistic that manufacturers would eventually develop a COVID-19 vaccine. This isn't just because there are so many scientists and pharmaceutical companies working on the endeavor, and so much money being poured into it, though that also raises the chance of success…. Dr. John Mascola, director of the Vaccine Research Center at the NIH's National Institute of Allergy and Infectious Diseases, said he is hopeful because our natural immune system, when healthy, is capable of handling the infection. 'Most of the time, people recover from COVID-19, because their immune system eventually clears the virus,' he said. He contrasted the coronavirus to HIV, for which scientists so far have struggled to create an effective vaccine: 'In HIV, the natural immune system is not effective and people get AIDS.' In this virus's case, if we can mimic a natural infection closely enough, it's likely that a vaccine will work."
"Emergency Use Authorization of Remdesivir" [JAMA]. "A transparent plan for distributing remdesivir is imperative if a potentially life-saving drug is to be given to the patients in most need. Allocation should be based on hospital, regional, and state COVID-19 infection data with equitable distribution within a region to states and within states to hospitals.9 The process should also include a mechanism for redistribution based on the constantly changing endemicity of the outbreak. The plan should ensure appropriate patient access and equitable distribution regardless of race, ethnicity, or socioeconomic status. The plan should be designed to prevent a surge in patients at institutions known or thought to have access to the drug or a large increase in requests to transfer patients to these centers from hospitals that may not have access to remdesivir. Although the distribution of remdesivir via the EUA is an issue unique to the US, as worldwide demand for the drug increases, the imbalance between drug availability and need will be further exacerbated. Countries, working with the manufacturer, will need to develop a system of distribution." • One to watch….
* * *
"U.S. Health Care Puts $4 Trillion in All the Wrong Places" [Bloomberg]. "The new coronavirus was a test of America's ability to protect the health of its people, and the country failed. The U.S. has the greatest number of confirmed cases and deaths in the world. Months after arriving in the U.S., the virus that wrecked the economy with disorienting velocity continues to inflict an unfathomable human toll. The U.S. isn't alone in failing to stop the coronavirus. But it is unique in how much of the nation's economic resources are devoted to health care—about 18% of gross domestic product, more than any other country. The spending, approaching $4 trillion a year from taxpayers, employers, and households, is what makes America's vulnerability to Covid-19 striking. What are we spending $4 trillion for, if not to avert disease and death?" • Profit?
"The Microbiome of the Nose—Friend or Foe?" [Allergy & Rhinology (nvl)]. "Current research suggests that the nasal cavity is a major reservoir for opportunistic pathogens, which can then spread to other sections of the respiratory tract and be involved in the development of conditions such as allergic rhinitis, chronic rhinosinusitis, asthma, pneumonia, and otitis media. However, our knowledge of how nasal microbiota changes originate nasopharyngeal and respiratory conditions is still incipient. Herein, we describe how the nasal microbiome in healthy individuals varies with age and explore the effect of nasal microbiota changes in a range of infectious and immunological conditions. , both in disease prevention and as adjuvant therapy. Current research suggests that patients with different chronic rhinosinusitis phenotypes possess distinct nasal microbiota profiles, which influence immune response and may be used in the future as biomarkers of disease progression. Probiotic intervention may also have a promising role in the prevention and adjunctive treatment of acute respiratory tract infections and allergic rhinitis, respectively." • Interestingly: "" • So it may be we've been thinking the wrong way with our Neti Pots. Speculating wildly, the point would be not to simply clear the nose, but to replace an ineffective biota with a beneficial one.
Black Injustice Tipping Point
"They Used To Be Strangers. Now They're Organizing Some Of The Largest Protests In America's Biggest City" [Buzzfeed]. "Despite their steady growth and national reach, the BLM protests have no central leadership. They emerge in different ways in different states, without the approval of any coordinating committee. The forms they take are reflections of the young and in some cases first-time activists who come together to lead, learning as they go. The organizers of the afternoon's march came together — pretty much spontaneously — just a couple of weeks ago, right as the protests in New York began to take shape. Most of them met in the crowds. Joseph Martinez started up a chat on Signal and named it 'Warriors in the Garden,' taken from a Japanese proverb. The name stuck. Then they started asking more people to join them…. There was anger at the officers who lined the streets, but there was also an exhilaration in the crowd's unity. 'When I'm chanting and I can hear everyone, there is a joy there because I just feel like I'm not alone in this. All these other people are here too.'"
UPDATE "Burning Down the 3rd Police Precinct Changed Everything" [The Nation]. "How did this demand [for police abolition] jump from a small, mostly black contingent of revolutionary thinkers to the mainstream in the span of a few weeks? The most obvious answer is two weeks of rioting, looting, and protesting. That is correct, of course, but it's not enough. Rioting and looting against the police took place in Ferguson, Mo., and eventually across the country, following the murders of Michael Brown and Eric Garner in 2014; Baltimore rose up against the killing of Freddie Gray in 2015; and Charlotte, N.C., saw looted and overturned semitrucks turned into burning highway barricades for Keith Lamont Scott in 2016. And yet the call that emerged out of that movement was for officers to wear body cameras. The difference, this time, is not simply in the national character of the riots, nor some other quantitative change in their ferocity or visibility. It was, I believe, the destruction of the Minneapolis Third Precinct house on the night of May 28, three days into the riots. Having just completed a book on the history of anti-police rioting and uprisings in America, I cannot recall another time when protesters took over and burnt down a police station." • Except, if this link ("Man charged with arson of Minneapolis Third Precinct station") from Water Cooler on 6/9 is correct, "protesters" did not take over and burn down a police station (and I love the quote from the Dad).
"Transcript: In conversation with Ruth Wilson Gilmore" (interview) [University College London]. " it is absolutely the case – or and it is absolutely the case – that the distribution of vulnerability to premature death in the United States, the distribution of unemployment and under employment in the United States and the specificity of state violence in the United States in response to it have all come together. They've come together so strongly that I actually think, one, some people can't not see any more what they could not see earlier…. the tendency that's got me worried is the one in which people are insisting that only certain demographics of people are authorised to speak about – speak from or speak against – certain kinds of horrors, and other people have already existing assignable jobs based on their demographic – let's call it a caste system – that they're supposed to do, so white people are supposed to fix white supremacy and so on and so forth. That path, which is actually a pretty strong path, doesn't excite me. I'm 70 years old, I'm done with it, I've been done with it a very long time. The path however which some of the young Black Lives Matter people named 5 years ago in that year of uprising in the United States, after the death of Mike Brown and Freddie Gray and so forth, the one in which they said quite simply 'when black lives matter everybody lives better' – that's the path that is of interest to me." • This is a little discursive, but interesting and well worth a read.
""The Black Lives Matter Foundation" Raised Millions. It's Not Affiliated With The Black Lives Matter Movement." [Buzzfeed]. • Read the article for detail. I went down this rabbbit hole too. The genuine Black LIves Matter site has an About page has nothing that I would expect to find for an NGO that got $6.5 million grant for organizing. No board, for example. Or any executives. Or any statement saying that we're leaderless, or fear retaliation, so no names. Since donations go through Act Blue, which is a 501(c)(3) I expect everything is OK, but…
* * *
More from Bethel, OH (birthplace of Ulysses S. Grant):
Me coming back with my new sign and marching on hehe pic.twitter.com/EWRpyjoeIS

— ryley wrigglesworth (@rywriggs) June 15, 2020
Good for her!
Our Famously Free Press
"WhatsApp, Instagram surge in popularity as people search for coronavirus news" [WaPo]. "Misinformation can be especially tough to combat on private messaging services, such as [Facebooks'] WhatsApp, where information is visible only to users in specific groups and is therefore harder for companies to police. WhatsApp has worked to limit the number of times a specific post can be shared and to label posts that have been forwarded, but misinformation about the coronavirus still flooded the encrypted messaging service in early March." • All of the algos, but none of that great content?
Yay:
A working class Mexican man gets fired from his job because a Twitter user took a photo of him cracking his knuckles and claimed he was making a white power gesture. The Twitter user deleted their account and said they didn't mean to get him fired, fwiw. https://t.co/loDUbZHnZ3

— Zaid Jilani (@ZaidJilani) June 17, 2020
Games
"Rearing Children of the Market in the "You" Decade: Choose Your Own Adventure Books and the Ascent of Free Choice in 1980s America" (PDF) [Journal of American Studies]. From the abstract: "Exploring some of the key tenets of neoliberal American culture, this article examines the historical forces behind the meteoric rise of interactive 'Choose Your Own Adventure' (CYOA) children's books in the1980s, [which sold] over 250 million copies worldwide. becoming the fourth most popular children's series of all time… [T]his article demonstrates how the incredible success of solely text-based CYOA books stemmed largely from the cultural ascent of individual market choice to the heart of American notions of agency, liberty, subjectivity and selfhood in the 1980s and 1990s."
Feral Hog Watch
"Laying a foundation for feral hog removal" [High Plains Journal]. A review of the literature, with this nugget: "Although the problem is particularly bad in Texas and Oklahoma, [Russell Stevens, strategic consultation manager and wildlife and range consultant at the Noble Research Institute] pointed out that some states, like Kansas, have avoided the wild hog epidemic. 'They have kind of tackled that up front, and they have not allowed sport hog hunting,' Stevens said. 'Because as soon as that happens, hogs start to spread everywhere and they don't have wings.'" • Wait, hunting feral hogs encourages them? Why? Also: "Another aspect which is unique to Texas, and that has contributed to feral hog numbers, is that it is legal to market feral hogs as meat animals in the state. 'It's complicated, because it's not just hunting, it's also legal to capture wild pigs in Texas and sell them through an approved holding facility—governed by the Texas Animal Health Commission—and that food goes through a couple animal processing plants here in the state and it winds up on markets, so there's also a meat packing aspect,' [Jim Cathey, associate director for the Texas A&M Natural Resources Institute] said. 'Catching and selling wild pigs is not the same as going and hunting them.'" • It would be amusing if the next zoonotic pathogen came from feral hogs in Texas (and given the current pandemic, I'd worry about quality assurance in those "animal processing plants."
Screening Room
"On the Implausibility of the Death Star's Trash Compactor" [McSweeney's Internet Tendency]. • Somehow I missed this in 2002.
Class Warfare
"A Left-Right Populist Agenda To Take Jobs Back From China" [The American Conservative]. "he neoliberal era of global governance has given us a centrist establishment in favor of free-market fundamentalism, austerity, open borders, and political correctness. It is far right on economic policy often displaying the worst aspects of woke virtue signaling. Time after time, economic crises throughout the past three decades have resulted in bigger corporate bailouts, more jobs being shipped off to China, accelerated destruction of American communities, and the continued enrichment of both America's and China's ruling class at the expense of workers. These issues have come into clearer focus with the COVID-19 crisis. Millions of Americans have filed for unemployment in a country where a vast majority of its people already lived paycheck-to-paycheck. Amidst the chaos, a bipartisan voice-vote on the Hill secured the largest corporate bailout in U.S. history. Many of these corporations that applied and received bailouts are corporations that have, at one point in time, closed their American factories and shipped them to China. It is clear that the problem here isn't just the American establishment, which is obviously selling out its people, but also with the ultra-authoritarian and hyper-capitalist People's Republic of China." • That's quite the pivot.
"'We're heroes, too:' Hospital janitors risk lives to stop spread of COVID-19" [USA Today[]. "Luis Padilla, 46, stood in line at McDonald's, excited to order his free meal. Earlier that week, the chain announced it would give thank you meals to front-line workers battling the coronavirus. Padilla, who has spent the last three years as an environmental service tech at Los Angeles County-USC Medical Center – the technical term for a hospital custodian – was thrilled his work was being acknowledged. Then he got to the register. The cashier glanced at Padilla's work badge and waved him away. 'This is not for you,' Padilla recalls the cashier saying. 'This is for doctors, nurses, and police. Don't be trying to get free food.'" • Remember when woke liberals were all about the "heroes," the "essential workers"? That went away fast. It's almost like they can't walk and chew gum at the same time. As I keep saying: All workers are essential.
"An Uprising Comes From the Viral Underclass" [Slate]. "t is not surprising that this virus, such a marker of our present crisis, got into Floyd's body before the Minneapolis Police Department took his life. Nor it is surprising to consider Breonna Taylor—who was killed by police in Louisville, Kentucky, two months before Floyd was killed in Minneapolis—had been working as an EMT helping to take care of people infected by the coronavirus. The virus didn't kill either of them; police did. But both Floyd and Taylor are part of the viral underclass—a population harmed not simply by microscopic organisms but by the societal structures that make viral transmission possible. Viruses directly affect the lives of people who become infected. But the bodies of the viral underclass are made needlessly vulnerable, and that vulnerability shapes their lives and their communities, even if individual people ultimately don't become infected or killed." • I think that "viral underclass" is called "the working class." Still, with that friendly amendment, well worth a read!
"DNA from ancient Irish tomb reveals incest and an elite class that ruled early farmers" [Science]. • How Wagnerian!
News of the Wired
Bloomsday for Chapo:
— Will?Menaker (@willmenaker) June 16, 2020
It was only a matter of time:
Pillows rock. Shelves rock. Lighting rocks. 9/10 @joanjett pic.twitter.com/oVvxMIM9HF

— Room Rater (@ratemyskyperoom) June 16, 2020
* * *
Readers, feel free to contact me at lambert [UNDERSCORE] strether [DOT] corrente [AT] yahoo [DOT] com, with (a) links, and even better (b) sources I should curate regularly, (c) how to send me a check if you are allergic to PayPal, and (d) to find out how to send me images of plants. Vegetables are fine! Fungi and coral are deemed to be honorary plants! If you want your handle to appear as a credit, please place it at the start of your mail in parentheses: (thus). Otherwise, I will anonymize by using your initials. See the previous Water Cooler (with plant) here. Today's plant (Re Silc):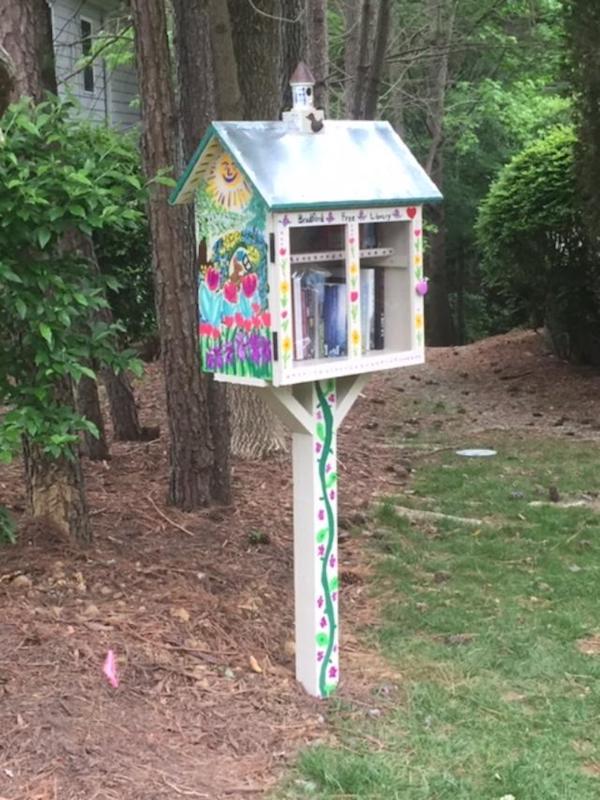 Re Silc: "A Tree of knowledge, new on my North Carolina street." This is, I believe, a Little Free Library. Neat!
* * *
Readers: Water Cooler is a standalone entity not covered by the annual NC fundraiser. So if you see a link you especially like, or an item you wouldn't see anywhere else, please do not hesitate to express your appreciation in tangible form. Remember, a tip jar is for tipping! Regular positive feedback both makes me feel good and lets me know I'm on the right track with coverage. When I get no donations for five or ten days I get worried. More tangibly, a constant trickle of donations helps me with expenses, and I factor in that trickle when setting fundraising goals:
Here is the screen that will appear, which I have helpfully annotated.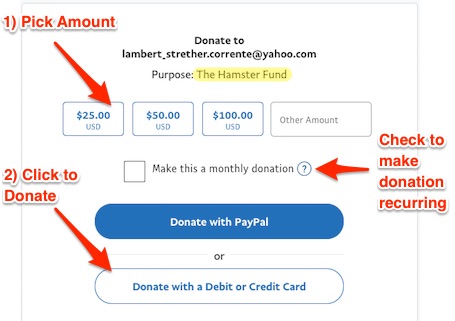 If you hate PayPal, you can email me at lambert [UNDERSCORE] strether [DOT] corrente [AT] yahoo [DOT] com, and I will give you directions on how to send a check. Thank you!