Happy Blooms Day! PlutoniumKun sends this story: What Leopold Bloom's food diary tells us about Bloomsday RTE
Spectacular bird's-eye view? Hummingbirds see diverse colors humans can only imagine PsyOrg (David L)
Beware of lateral thinking Aeon
#COVID-19
The radical uncertainties of coronavirus American Prospect
The Idea of a Nation The Point Magazine (Anthony L)
Cut and run: the underground hairdressers of lockdown Guardian
Only three out of 53 countries say US has handled coronavirus better than China Guardian (resilc). Quelle surprise!
Science/Medicine

The Pandemic Claims New Victims: Prestigious Medical Journals New York Times

COVID 19 is the worst disease process I've ever worked with in my 8 years as an ICU nurse.

When they say "recovered" they don't tell you that that means you may need a lung transplant. Or that you may come back after d/c with a massive heart attack or stroke bc COVID makes

— Cherie Antoinette (@sheriantoinette) June 14, 2020

From Ignacio:

WHO is considering human challenging with SARS CoV2 for vaccine development. Challenging humans to test the efficacy of vaccines against SARS CoV 2 is being seriously discussed. It is discussed if it would be ethical to do so with volunteers around 18-30 years old for which mortality rates habe been reported to be about 0,03% according to the second link given. The WHO core protocol doesn't specify the size of treatment groups to receive control/placebo vs. vaccine candidates.

This is the subject in focus in WHO Coronavirus disease (COVID-19) Situation Report–147 (Link: https://www.who.int/docs/default-source/coronaviruse/situation-reports/20200615-covid-19-sitrep-147.pdf) and the ethical considerations in Key criteria for the ethical acceptability of COVID-19 human challenge studies (https://apps.who.int/iris/bitstream/handle/10665/331976/WHO-2019-nCoV-Ethics_criteria-2020.1-eng.pdf)

To grasp who's dying of Covid-19, look to social factors like race STAT (Dr. Kevin)

What we know about #SARSCoV2 transmission, as ★ graphically depicted by @Mikepeeljourno and @jburnmurdoch https://t.co/gDOSLLNvBq @FT
outdoors v indoors, close and repeated, prolonged contact, poor air circulation, and superspreaders pic.twitter.com/4JnhSlQKKF

— Eric Topol (@EricTopol) June 15, 2020

Israel Set to Invest in High-priced, Unapproved Coronavirus Vaccine Haaretz

New Zealand

New Zealand ends Covid-free run with two cases from UK Guardian (resilc)

US

Surging coronavirus cases raise fears of new lockdowns The Hill

Tyson Foods Worker Urges Company To Slow Down So They Can Social Distance New York Times (resilc)

Shoppers Brawl Over One-Way Arrows At Store Smoking Gun (resilc)

Finance/Economy

College Towns Fear Covid Will Leave Them as Ghost Towns Bloomberg

Coronavirus latest: ECB considers buying debt of 'fallen angel' companies Financial Times

Donald Trump's economic adviser Larry Kudlow says $600-a-week unemployment benefits will STOP in July because they are a 'disincentive' for people to return to their jobs and will be replaced by a 'back-to-work' bonus Daily Mail. Um, there is this little matter of Congress…
Koreas
North Korea blows up inter-Korean liaison office near border with South Agence France-Presse
China?
China's drive for hegemony meets resistance Asia Times
Three Indian soldiers killed in 'violent' border face-off with China, Delhi says DPA
The cause of tension between China and India The Saker (Kevin W)
Syraqistan
Syria's Economy Collapses Even as Civil War Winds to a Close New York Times. Funny, what I heard from a Lebanese buddy when I was in NYC (and he comes from a politically connected family) was pretty different. Readers?
Big Brother is Watching You Watch
Imperial Collapse Watch
To celebrate Obama Day, here are Barack's greatest hits (wars, coups, slavery, sanctions, al-Qaeda, colonialism) Ben Norton. "Obama certainly isn't alone when it comes to being an unrepentant war criminal; every modern US president is. Barry just managed to pull it off with style." He managed to miss failing to stop 9 million mainly preventable foreclosures and not prosecuting any bankers.

Disorders Now and To Come James Howard Kunstler (Kevin W)
Trump Transition
Trump CONFIRMS pullout of US troops from Germany, until Berlin pays 'delinquent' NATO bills RT (Kevin W)

Trump's 'Baby Lives Matter' Onesie Is More Pro-Life Coopting New York Magazine (resilc)
U.S. National Pride Falls to Record Low Gallup (resilc)
Black Injustice Tipping Point
Supreme Court Will Not Reexamine Qualified Immunity For Police NPR (David L)

"Less than lethal"? What a joke. These weapons are fracturing people's skulls, destroying their eyeballs, and harming their lungs.

Enough. We must ban the use of rubber bullets, tear gas and pepper spray on protesters across the country. https://t.co/glYh47tTnE

— Bernie Sanders (@SenSanders) June 15, 2020

Language is a telling clue to unacknowledged racial attitudes Economist (Dr. Kevin)

Pentagon Surplus Handouts Stoke The Militarization Of US Police Barron's (furzy). Reported back in the day but good to have a recap.

Will the Death of George Floyd Mark the Rebirth of America? CounterPunch (Chuck L)
Interview Most Foul Off Guardian (Chuck L)
The End Of The OPEC Deal Could Be The Start Of A New Oil Price War OilPrice (Kevin W)
The stranded asset write downs begin Richard Murphy
The Economy Is Reeling. The Tech Giants Spy Opportunity. New York Times (furzy)
Ford Plans to Unveil New Bronco on OJ Simpson's Birthday Daily Beast (resilc)
Deadliest Corporate Crime in U.S. Will End With 84 Guilty Pleas Bloomberg (David L). PG&E
Why Expanding Highways Makes Traffic Worse Gizmodo
Guillotine Watch
eBay executives charged with cyberstalking Financial Times (David L). This is wild.
Class Warfare
Walmart looks to remove all cashiers from stores FOX 5 New York. Resilc: Big big employment for people on the low end."

Amazon Says Jeff Bezos Is Willing To Testify Before Congress Politico. On anti-trust

Harvard University Won't Require SAT, ACT for Admissions Next Year Wall Street Journal (J-LS)
Antidote du jour. Tracie H: "Sphynxie wants to know if I plan to put her blanket on her new desk."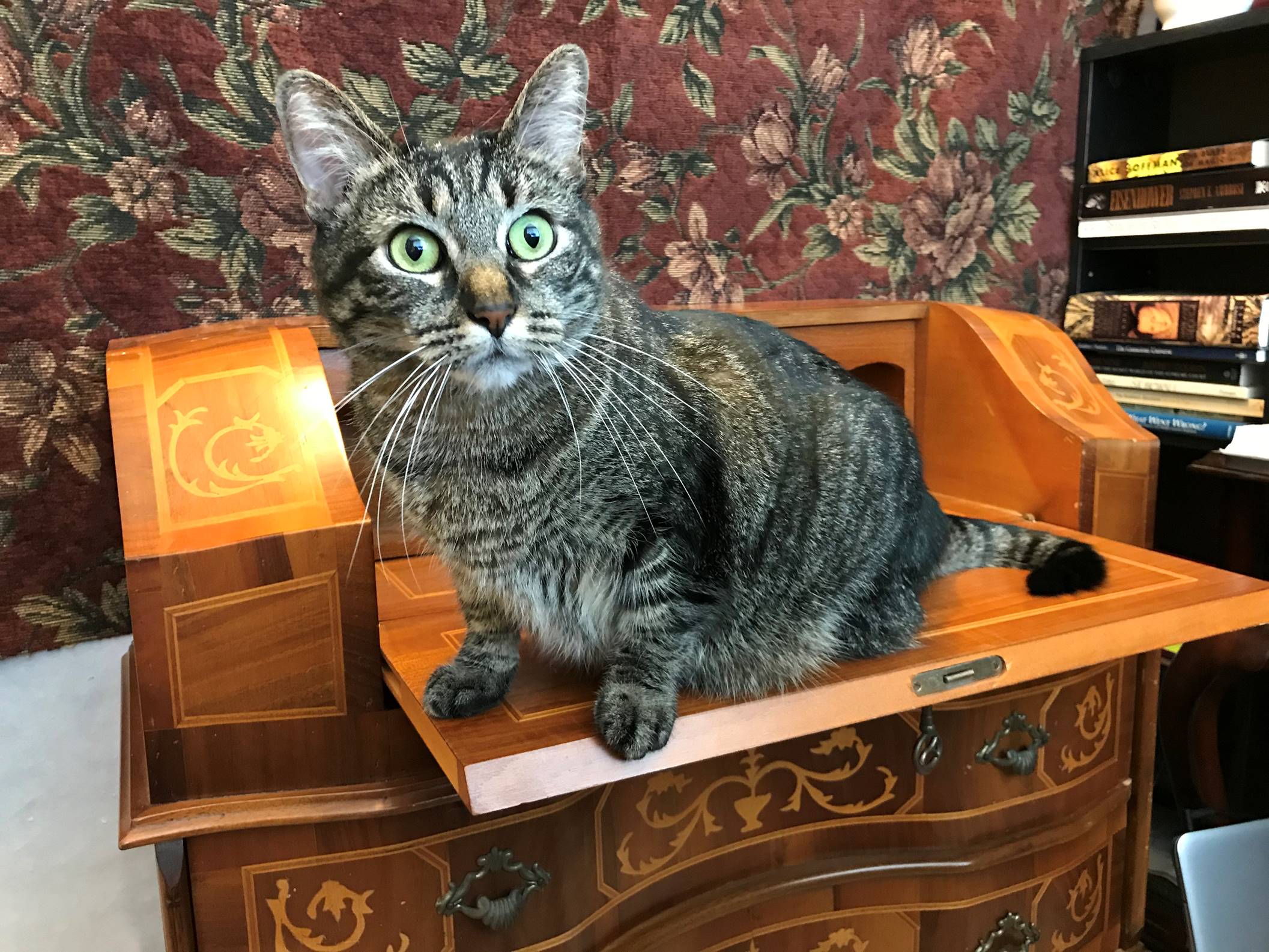 See yesterday's Links and Antidote du Jour here.