By Lambert Strether of Corrente.
Readers, Happy Belated Tax Day! Taxes are the price we pay for fiat currency, as Oliver Wendell Holmes did not quite say. –lambert
#COVID19
At reader request, I've added this daily chart. The data is the Johns Hopkins CSSE data. Here is the site. Our five problem states, with New York for comparison: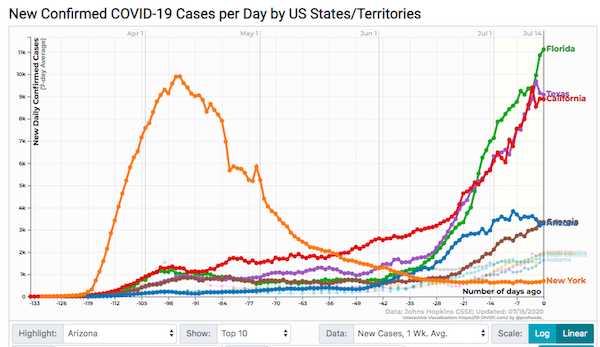 =
I'll just keep doing this one until I see a peak followed by a decline. Yikes, Florida!
Politics
"But what is government itself, but the greatest of all reflections on human nature?" –James Madison, Federalist 51
"They had one weapon left and both knew it: treachery." –Frank Herbert, Dune
"They had learned nothing, and forgotten nothing." –Charles Maurice de Talleyrand-Périgord
The electoral map. As of July 14: July 14: Indiana, Montana, South Carolina move from Safe to Likely Republican. On July 7, the undecided votes were 86. Now they are 56. This puts Biden at 278, i.e. over 270.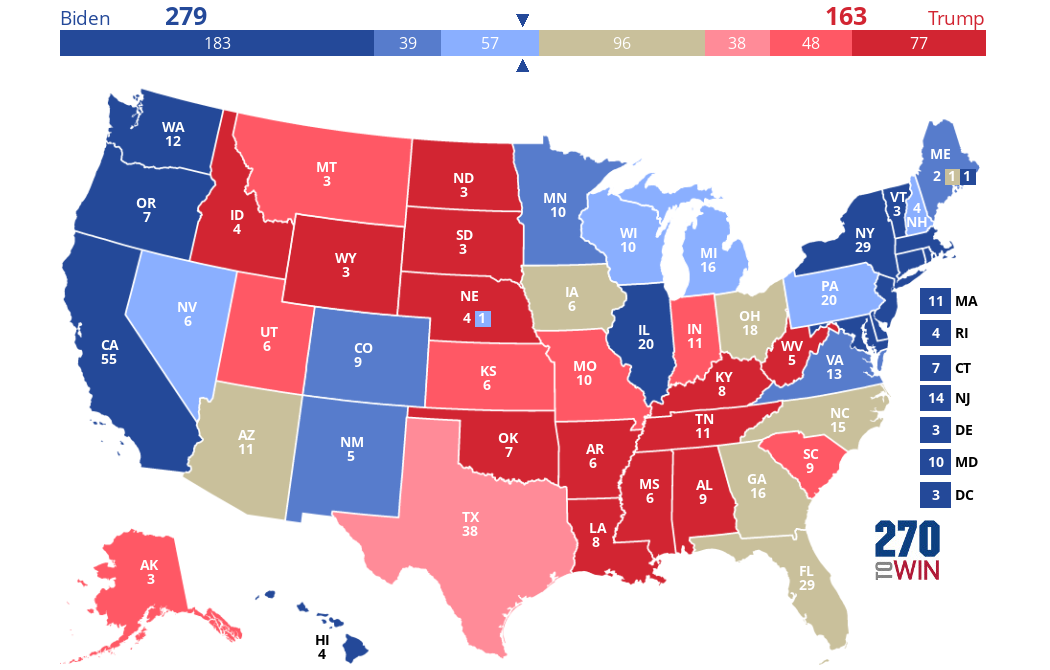 Click the map to create your own at
270toWin.com
So, taking the consensus as a given, 270 (total) – 204 (Trump's) = 66. Trump must win 66 from the states in play: AZ (11), FL (29), MI (16), NC (15), PA (20), and WI (10) plus 1 to win not tie = 102. 102 – 66 = 36. So if Trump wins FL, MI, NC, and PA (29 + 16 + 15 + 20 = 80), he wins. That's a heavy lift. I think I've got the math right this time!
2020
Patient readers who were also Sanders canvassers, thank you for your responses. I am mulling them. I may end up doing a survey, hopefully not too onerous. –lambert

Biden (D)(1): "Biden signals openness to eliminating Senate filibuster" [Politico]. "Former Vice President Joe Biden on Monday signaled he would be open to the Senate ending its practice of imposing a 60-vote threshold for most legislation, a positional shift from the Democratic presidential nominee who spent more than 35 years as a senator…. 'It's going to depend on how obstreperous they become,' the former vice president said of Senate Republicans who might filibuster legislation championed by a potential Biden administration. 'But I think you're going to just have to take a look at it.'" • Which Obama and Reid could have done 2020 – 2009 = 11 years ago, when the country was in its previous systemic crisis [sighs, puts head in hands].

UPDATE Cuomo (D)(1): Come on, man:

(This is the poster sales thing I'm referring to:) https://t.co/1vmtkfi9Fe

— Jake Tapper (@jaketapper) July 14, 2020

Trump (R)(1): "Biden leads Trump by 13 points in Pennsylvania: poll" [The Hill]. "The Monmouth University survey of Pennsylvania finds Biden at 53 percent compared to Trump at 40 percent, with 4 percent undecided and 3 percent saying they will vote for someone else… Biden also leads 54 percent to 35 percent in the so-called swing counties where the race was closest in 2016."

UPDATE Trump (R)(1): "As the Trump disaster gets worse, a new political theory helps explain it" [Greg Sargent, WaPo]. "But a new paper that develops a theory of leadership amid pandemics — combined with an alarming report on our looming economic catastrophe — point toward a more coherent narrative of Trumpian failure…. The paper offers a theory of 'executive underreach,' and applies it to leaders like Trump and Jair Bolsonaro of Brazil. Both have failed on coronavirus through indifference to mass suffering and abdication of leadership in the face of it. Law professors David Pozen and Kim Lane Scheppele present 'executive underreach' as a species of leadership failure that's as destructive as executive overreach, defining it as: 'a national executive branch's willful failure to address a significant public problem that the executive is legally and functionally equipped (though not necessarily legally required) to address." But crucially, the paper links this phenomenon to fundamentally illiberal and anti-democratic tendencies." • Oh, puh-leeze. Stop. Just stop. "Indifference to mass suffering" is not confined to Trump; it is universal across the political class. Falling life expectancy in flyover, along with the opioid epidemic and deaths of despair happened on [genuflects] Obama's watch. So did the destruction of a generation of Black wealth in the foreclosure crisis. So did a "recovery" where wages for 70% of the population took ten years to not quite recover, while the PMC and capital did very well for themselves, thank you. And that's before we get to a Democrat party whose empathetic candidate can't bring himself to support Medicare for All in the midst of a pandemic (thereby implicitly endorsing 68,000 deaths a year, as far as the eye can see). What hogwash, shocking even for Greg Sargent.

UPDATE West (I)(1): "Kanye's Short-Lived Attempt to Get on the 2020 Ballot" [New York Magazine]. "According to multiple campaign professionals who spoke with Intelligencer, West took early steps last week toward getting his name on the ballot in Florida and other states as a third-party candidate running against Joe Biden and Donald Trump…. On the morning of July 9, TMZ reported that West's family was concerned that the billionaire rapper was suffering a bipolar episode based on his presidential aspirations…. Later that day, I talked to Steve Kramer. He is a get-out-the-vote specialist who runs a firm that also helps candidates get on the ballot. Kramer, who has worked mostly for Democratic candidates but has also had some Republican clients, told me that he had been hired to help West get on the ballot in Florida and South Carolina. He added that his understanding was that West's team was 'working over weekend there, formalizing the FEC and other things that they've got to do when you have a lot of corporate lawyers involved.'… This all seemed real enough, and I reached out to West's publicist for a response. The initial response was to loop in another spokesperson on the email. West's team then went dark. As I waited for a response, I followed up with Kramer who told me, 'He's out.'"

* * *

UPDATE "Senate Democrats' Machine Spent $15 Million To Destroy Progressive Primary Candidates" [David Sirota, Too Much Information]. "With the help of the party, its major donors, and the Senate Majority PAC (SMP) — a super PAC funded by labor unions, corporate interests and Wall Street billionaires — candidates endorsed by Senate Minority Leader Chuck Schumer's Democratic Senatorial Campaign Committee have won contested primaries in four battleground states…. SMP is led byformer top staffers at the DSCC. The super PAC has raised a staggering $118 million this cycle, pooling cash from both organized labor and business titans to promote corporate-aligned candidates over more progressive primary challengers…. Overall, the top donor to SMP so far this cycle has been Democracy PAC — a super PAC that's bankrolled by billionaire George Soros and the Fund for Policy Reform, a nonprofit funded by Soros. Democracy PAC has contributed $8.5 million to SMP." • Hmm.

UPDATE "Progressive Wave Rolls Through Texas with Big Wins in Dallas, Austin, and Houston" [The Intercept]. "[The Democratic Party] has been increasingly seizing suburban territory from Republicans. Siegel, running in Texas's 10th Congressional District, which stretches from suburban Austin to suburban Houston, now faces incumbent Rep. Mike McCaul, running for an eighth term in Congress. Valenzuela, in the 24th District, which covers suburban areas outside Fort Worth and Dallas, will face Beth Van Duyne, the former mayor of Irving. The seat is currently held by Rep. Kenny Marchant, a Republican first elected in 2004, who narrowly fended off a Democratic challenger in 2018. Marchant's 2019 retirement announcement was part of what became known as 'Texit,' as longtime suburban GOP incumbents headed for the doors. Texas's suburbs are exploding with out-of-state transplants, many voting Democratic, which more than balances out the flow of conservatives leaving California for the Lone Star state. That changing demography has made the Texas suburbs culturally indistinguishable from suburbs around the country, and that spells trouble for Republicans." • Specuating freely: Socially liberal, fiscally conservative, pro-war… I'd welcome commentary from our Texas readers on this.

UPDATE "Sara Gideon wins Democratic race to challenge Susan Collins" [The Hill]. • I checked Gideon's website: "Access" to health care, which is a right (apparently to be delivered by the market which, if you have not noticed, does not deliver rights). Lots of out-of-state money.

"Green Party Chaos" [The Trickle Up]. "[T]he Green Party sure has appeared as if it's emulating the Democratic Party this time around. Even upon observation alone, it appeared to me that the Green Party somewhat effortlessly sorted the candidates into two groups. The 'qualified' groups and the 'unqualified' groups…. The GPUS has had a generally good reputation in regards to fairness of media coverage, ballot access, democratic elections, but the Green Party sent out an email on the 6th of October that they were going to remove a majority of the candidates off the official Green Party website, which plays a crucial factor in name-recognition for all the candidates. If someone was undecided and they saw that a candidate was up on the website one day and gone the next they'd assume that that candidate had either dropped out or that the candidate was beneath the ones that were still on the website. It's rather bizarre considering primaries didn't start until the Spring of 2020 and yet a majority of the Green Party candidates were getting essentially canceled on the 4th of November, well ahead of the primaries ensuring the obscurity of the second group of candidates . All seven candidates should've remained on the website until they drop out of the race or until the primaries have concluded. It's important to note that Green Party co-chair Andrea Mérida Cuéllar is also serving as Howie Hawkins' campaign manager, which is a complete conflict of interest and she should've at least stepped down or recuse herself from that role." • I can't vouch for the source, and as usual there's little coverage of the GP, but I've seen other similar material on the Twitter…
Health Care
"No One Should Be Surprised That America Abandoned the Elderly to Die" [New York Magazine]. "As coronavirus carves through the elderly, it tells us something ugly about the high price of the American project. The prosperity it engenders is real but limited; it is exclusionary by design. Wealth flows upward, where it stays, and creates an inverted pyramid that bloats at the top then vanishes to a fine point at the bottom. Proper care for the elderly and for people with disabilities requires what some corporate executives might call a restructuring — an unpalatable task for those already at the top. Coronavirus lays the consequences bare. In the U.S. the elderly and the disabled aren't quite unworthy of life, fit only for extermination. But they exist somewhere in the same hostile neighborhood. Life is expensive, which makes it a luxury. Whatever care we extend to the aged we consider a gift, or an act of charity, and not something we owe them because they exist." • Yep.
Realignment and Legitimacy
UPDATE "Throw the Bums Out" [Alex Pareene, The New Republic]. "If Donald Trump loses in November, our political system's last true believers will think that the system worked precisely as it is supposed to: It held him accountable. But this is an ongoing catastrophe of government as a whole. Every day brings a new reason to feel outraged or numbed by the scope of the disaster. We haven't begun to grapple with the breadth of it. Governors, big-city mayors, public health officials, and congressional leaders should be resigning in disgrace, firing those responsible, groveling for forgiveness, or fleeing town under cover of night…. Americans have, this year, shown a heroic willingness to take to the streets in protest and riot. If they have not yet demanded accountability and consequences for the officials who presided over this unprecedented failure of the state, it might be because hardly anyone has real faith in the ability of their government—at the federal, state, county, or city level—to accomplish anything but policing and jailing people. That isn't cynicism so much as resignation. We can elect a new president…. But to elect our way out of the debilitated and rotten political system that caused this outcome could be a project that takes generations, if it is possible at all. If you believe, fundamentally, in the American system, if you oppose radicalism from either side, you'd better hope that project is possible." • Sparked by Cuomo's mountain (of dead bodies) poster; see above.

UPDATE "The nation is in a downward spiral. Worse is still to come." [George Will, WaPo]. Who knew, George Will is still alive: "This nation built the Empire State Building, groundbreaking to official opening, in 410 days during the Depression, and the Pentagon in 16 months during wartime. Today's less serious nation is unable to competently combat a pandemic, or even reliably conduct elections. This is what national decline looks like." • And on and on and on.

* * *

"Compromise of 1877" [WikiPedia (sorry)]. "The Compromise of 1877 was an unwritten deal, informally arranged among U.S. Congressmen, that settled the intensely disputed 1876 presidential election. It resulted in the United States federal government pulling the last troops out of the South, and formally ending the Reconstruction Era. Through the Compromise, Republican Rutherford B. Hayes was awarded the White House over Democrat Samuel J. Tilden on the understanding that Hayes would remove the federal troops whose support was essential for the survival of Republican state governments in South Carolina, Florida and Louisiana. The compromise involved Democrats who controlled the House of Representatives allowing the decision of the Electoral Commission to take effect." More on the Electoral Commission: "Facing an unparalleled constitutional crisis and intense public pressure, the Democratic-controlled House of Representatives and the Republican-controlled Senate agreed to formation of the bipartisan Electoral Commission to settle the election." • So, faced with a disputed 2020 election, Congress might set up a similar Commission (which — tinfoil hat time — would serve as a straw for the intelligence community and the national security goons, who alone have the technical capacity to adjudicated authoritatively on "foreign meddling" and "hacking").

UPDATE "California rejected 100K mail-in ballots because of mistakes" [Associated Press]. "More than 100,000 mail-in ballots were rejected by California election officials during the March presidential primary, according to data obtained by The Associated Press that highlights a glaring gap in the state's effort to ensure every vote is counted…. In preparation for November, the state is launching a ballot-tracking tool that will quickly alert voters if they need to take action, such as adding a missing signature. Another change: The state is extending the window for mail ballots to arrive to 17 days after Election Day."
Stats Watch
At reader request, I added some business stats back in. Please give Econintersect click-throughs; they're a good, old-school blog that covers more than stats. If anybody knows of other aggregators, please contact me at the email address below.
Manufacturing: "June 2020 Headline Industrial Production Improves But Remains Deep In Contraction" [Econintersect]. "The headlines say seasonally adjusted Industrial Production (IP) improved month-over-month – but remains deep in contraction year-over-year. Our analysis shows the three-month rolling average declined…. Note that manufacturing is in contraction year-over-year – but capacity utilization is in expansion year-over-year."
Manufacturing: "July 2020 Empire State Manufacturing Index Significantly Improves" [Econintersect]. "The Empire State Manufacturing Survey index significantly improved and now is well into expansion… Key elements significantly improved – . Note that survey responses were collected between July 2 and July 9." • A noisy survey (and see the COVID charts above).
Inflation: "June 2020 Import Year-over-Year Inflation Now -3.8%" [Econintersect]. "Year-over-year import price indices inflation remained in contraction and moved from 6.2 % to 3.8 %…. Fuel prices and agricultural exports increased this month."
* * *
The Bezzle: The sharing economy, remember that?
Airbnb has lost its fucking head. Why would I donate to my host? I can't even afford one house. pic.twitter.com/JZspJqyoPB

— Rosaleen (@olenskae) July 14, 2020
* * *
Today's Fear & Greed Index: 61 Greed (previous close: 61 Greed) [CNN]. One week ago: 52 (Neutral). (0 is Extreme Fear; 100 is Extreme Greed). Last updated Jul 15 at 12:25pm. Whoa, back to Greed!
The Biosphere
"Mystery over Universe's expansion deepens with fresh data" [Nature]. "A new map of the early Universe has reinforced a long-running conundrum in astronomy over how fast the cosmos is expanding. The data — collected using a telescope in Chile's Atacama Desert — back up previous estimates of the Universe's age, geometry and evolution. But the findings clash with measurements of how fast galaxies are flying apart from each other, and predict that the Universe should be expanding at a significantly slower pace than is currently observed…. Many researchers had hoped that, as techniques became more accurate, the gap would shrink. Instead, narrowing error bars for each type of study have only made the inconsistency more significant."
Health Care
Billionaires doing better than ever, health insurance companies rolling in dough — What's not to like about this pandemic?
The pandemic has been very good for insurance companies so far.

UnitedHealth reports massive earnings from operations of $9.2 billion in Q2 as fewer people use care. The percent of premiums going to medical costs declined from 83.1% to 70.2%.https://t.co/Splmpqc1MO pic.twitter.com/pwstBLL9Vt

— Larry Levitt (@larry_levitt) July 15, 2020
"First COVID-19 vaccine tested in US poised for final testing" [Associated Press]. "The first COVID-19 vaccine tested in the U.S. revved up people's immune systems just the way scientists had hoped, researchers reported Tuesday — as the shots are poised to begin key final testing. 'No matter how you slice this, this is good news,' Dr. Anthony Fauci, the U.S. government's top infectious disease expert, told The Associated Press. The experimental vaccine, developed by Fauci's colleagues at the National Institutes of Health and Moderna Inc., will start its most important step around July 27: A 30,000-person study to prove if the shots really are strong enough to protect against the coronavirus." • At least Fauci isn't hyping a press release. Here is the NEJM article–
"An mRNA Vaccine against SARS-CoV-2 — Preliminary Report" [NEJM]. From the abstract: "After the first vaccination, antibody responses were higher with higher dose… After the second vaccination, serum-neutralizing activity was detected by two methods in all participants evaluated, with values generally similar to those in the upper half of the distribution of a panel of control convalescent serum specimens…. The mRNA-1273 vaccine induced anti–SARS-CoV-2 immune responses in all participants, and no trial-limiting safety concerns were identified. These findings support further development of this vaccine."
"Hazmat Suits for Air Travel Are Here" [Bloomberg]. "Yezin Al-Qaysi says haute hazmats are just the thing to make flying feel safe again. In mid-April the co-founder of VYZR Technologies, a Toronto-based company specializing in personal protective gear, launched a new product called the BioVYZR via crowdfunding site Indiegogo. The $250, futuristic-looking outer layer resembles the top half of an astronaut's uniform, with anti-fogging "windows" and a built-in hospital-grade air-purifying device. Paranoid flyers were quick to scoop it up, pre-ordering about 50,000 suits and raising $400,000 for the nascent company. The first batch is set to be delivered by the end of July…. Nobody, not even Al-Qaysi, knows how TSA officials or airline staff will react to the suit." And the specs: "Constructed from silicone, neoprene, and vinyl, the BioVYZR weighs less than three pounds and is easy to disinfect and pack away between uses. A chest harness, currently available only in a general adult size and a general child size, sits on the shoulders; two adjustable side straps with buckles can be cinched around the waist, similar to those of a life jacket. An upgrade from the standard face shield, the suit's tightly-sealed, anti-fogging helmet has two peripheral windows for optimal visibility." • Interesting!
"Where to Buy Face Masks Right Now (Updated)" [GQ (LawnDart)]. "We're no longer in the phase of the pandemic where, due to low mask supplies, your only option is to grab a bandana. There are now enough companies making face masks that you'll almost certainly be able to grab something functional and stylish enough that you won't mind wearing it. (Looks, of course, are a secondary concern. If a bandana's what you've got, a bandana's what you've got. If you're really jonesing to exercise your creativity in quarantine, ask one of these 24 certified quar geniuses.)"
The Conservatory
"Lady Gaga Dethrones Bad Bunny as the World's Biggest Pop Star" [Bloomberg]. "Gaga was the biggest pop star in the world this past month, according to Bloomberg's Pop Star Power Rankings, dethroning Puerto Rican rapper Bad Bunny after a three-month run. Gaga surged to the top thanks to interest in her new record "Chromatica," which was the best-selling album in the U.S. this past month. Gaga sold more than 400,000 copies in a month when no other artist topped 300,000. Its lead singles "Stupid Love" and "Rain on Me" lifted Gaga on Spotify, where she was the most-listened-to artist in June, as well as on YouTube, where her videos racked up more than 188 million views (fifth most). "Chromatica" is Gaga's first proper dance record in almost a decade, and her first true streaming breakthrough as a solo artist." • Really putting this here because I had no idea who "Bad Bunny" was. Kids these days and their music! Also, K-Pop.
Games
I don't know if dadification is "Dad" or "Dada":
The dadification of games has gotten out of hand pic.twitter.com/Hv3FhVCDTE

— Paolo Pedercini (@molleindustria) July 15, 2020
Whatever, get away from the screen and out of the house: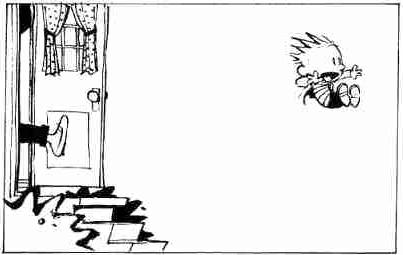 MMT
"The Money Printers" [The Bafffler]. "Kelton went on to become an adviser to Sanders in his presidential campaign of 2016, and then on his recent campaign for the 2020 nomination. Again, she saw the realities of how America's finances are discussed in the political spotlight. Time after time, Sanders would be asked how he planned to finance ambitious reforms such as a Medicare for All system. He always noted that in the wealthiest nation on earth, such goals can be attained. Yet he never came out with a direct endorsement of MMT. He didn't want to scare the public by seeming cavalier about deficit spending. As Kelton notes, Sanders at times 'has echoed Reagan.'" • Yep.
Class Warfare
"Covid Conversations With One of America's Richest Men [Bloomberg]. "Someone nearby called him [my billionaire] to dinner. He said he'd have to go soon. I asked whether he thought it was fair for the richest to keep getting richer. 'I don't know,' he said. 'Is war fair? Do people die in a war? Yes. You've got a virus that is affecting people. It's pretty clear who it affects.' He meant people who were old and sick*. 'So nature is saying, 'I'm going to pick on you.' Is it fair? Is it right? No.' His voice was as steady and calm as ever. 'But that's life.'" And: "You want to change the system? I get that. You want to break the system? You better win. Because, if you don't, the system is going to break you." • Must read, in its entirety. NOTE * No, he means working class people, especially Black and Latin, as well as the old and sick ffs. I'm sure the billionaire knows that, even if the reporter does not.
"Shipt workers to strike over shift to opaque pay structure" [The Hill]. "Workers for the Target-owned grocery delivery service Shipt are striking Wednesday in protest of the company rolling out a less transparent payment structure nationwide. xThe walk-off will coincide with the day that the new pay model will take effect in 12 metro areas, including Chicago, Tampa, Richmond, Va., and Portland, Ore. Shipt shoppers are raising alarm over the change, which they say would likely reduce shopper pay by at least 30 percent based on a similar pay shift that occurred at the end of 2019. While Shipt previously had a simple model for calculating payouts — a 7.5 percent commission on all orders plus $5 — the model, dubbed V2, rolled out in some markets last year doles out pay based on a black box algorithm."
"How the Largest Known Homeless Encampment in Minneapolis History Came To Be" [The Appeal]. "The current escalation of the homelessness crisis in Minneapolis is overlapping not just with the pandemic but also with intense protests around policing and racism. Despite making up roughly 14 percent of Hennepin County's population, Black people represent 65 percent of those living in its homeless shelters, and 49 percent of homeless adults living in the county overall. While a dearth of affordable housing is certainly contributing to the crisis, the lack of wealth in Black and Native communities—the result of being shut out for centuries from wealth accumulation opportunities—is another main driver. Minneapolis has one of the largest racial income gaps in the country, and Black homeownership in the city stands at one-third the rate of white families. Some federal funds flow to tribal governments, but the majority gets spent on reservation life, despite the fact that most Natives now live in cities. One resulting consequence is that in times of need, when Black and Native individuals turn to their family and friends for help, many of their social networks struggle to absorb the added financial pressure in ways white communities more easily can. Researchers found that people of color "are not unwilling to double up, take people in, or live in another person's home—but they do not have the capacity to accommodate the additional consumption of resources" like food and household goods. "That, in turn, strains relationships." Less wealth means less ability to weather unexpected financial emergencies."
News of the Wired
2020 midway:
How many fish?

Because the sky

— Kids Write Jokes (@KidsWriteJokes) July 13, 2020
* * *
Readers, feel free to contact me at lambert [UNDERSCORE] strether [DOT] corrente [AT] yahoo [DOT] com, with (a) links, and even better (b) sources I should curate regularly, (c) how to send me a check if you are allergic to PayPal, and (d) to find out how to send me images of plants. Vegetables are fine! Fungi and coral are deemed to be honorary plants! If you want your handle to appear as a credit, please place it at the start of your mail in parentheses: (thus). Otherwise, I will anonymize by using your initials. See the previous Water Cooler (with plant) here. Today's plant (KP):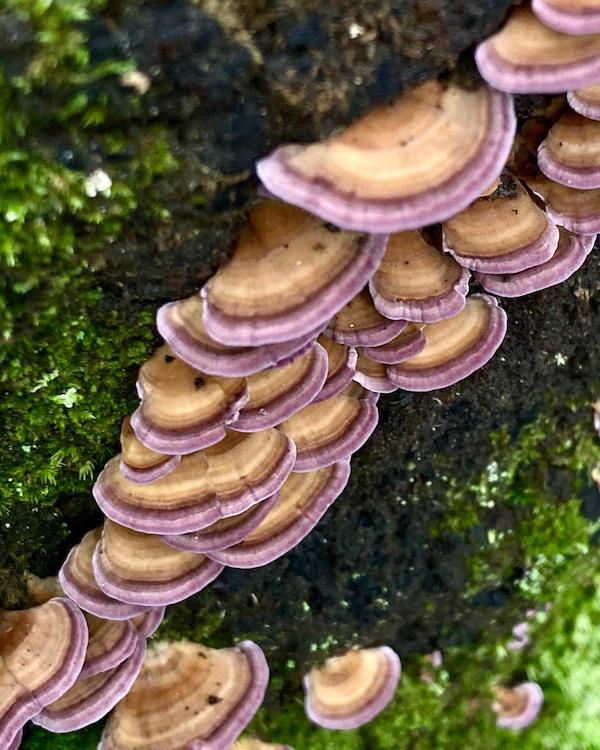 KP writes: "Some 'shrooms I saw on a walk in some woods in Hillsborough, NC. No idea what kind they were but I ate one and solved every problem in the universe." Don't try this at home!
* * *
Readers: Water Cooler is a standalone entity not covered by the annual NC fundraiser. So if you see a link you especially like, or an item you wouldn't see anywhere else, please do not hesitate to express your appreciation in tangible form. Remember, a tip jar is for tipping! Regular positive feedback both makes me feel good and lets me know I'm on the right track with coverage. When I get no donations for five or ten days I get worried. More tangibly, a constant trickle of donations helps me with expenses, and I factor in that trickle when setting fundraising goals:
Here is the screen that will appear, which I have helpfully annotated.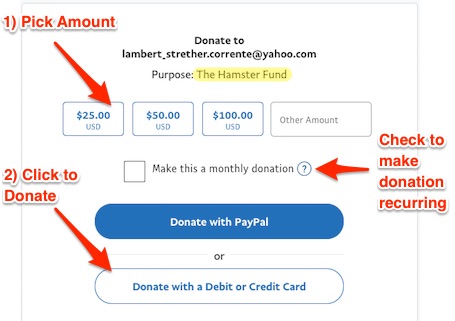 If you hate PayPal, you can email me at lambert [UNDERSCORE] strether [DOT] corrente [AT] yahoo [DOT] com, and I will give you directions on how to send a check. Thank you!