By Lambert Strether of Corrente
This post will be a little disjointed. First, you might grab a cup of coffee and listen to this panel ("Medical Grand Round") put together by Robert Wachter, chair of the Department of Medicine at the University of California, San Francisco. Wachter runs an excellent Twitter account, focused on #COVID19. The panel and topics:
Aerosol vs. Droplets: Don Milton, Professor, Environmental & Occupational Health, University of Maryland School of Public Health
Masks: Monica Gandhi, UCSF Professor of Medicine; Associate Chief of Division of HIV, Infectious Diseases, and Global Medicine at ZSFG; Director of the UCSF Center for AIDS Research; and Medical Director of the HIV Clinic, Ward 86, ZSFG
Face Shields: Michael Edmond, Chief Quality Officer and Associate Chief Medical Officer, University of Iowa Health Care; Professor of Medicine, Division of Infectious Diseases, University of Iowa Carver College of Medicine
There is a detailed table of contents with Time Codes at the videos's page; the video lasts a little under an hour-and-a-half. Here it is:
I like this video so much for a few reasons: The focus on masks, shields, and aerosols helps me decide what I can do to be and feel safe, in my personal practice; moreover, I stan aerosols (and not fomites). Further, all the presenters give me the feeling that they are medical scholars, and not academic entrepreneurs, dying to get into the business school, or make money ramping some stock. To me, as a child of scholars, that's very reassuring, and it gives me hope for the world (if not necessarily hope for the United States). And all the presentations are impressive. There is even a masked cat from the 1918 Pandemic!
So if you have by now engaged in a process of caffeination and pressed the Play button, now let me pivot to the second aspect of this post, which you can possibly even multitask and read while listening. I had noted this slide by Professor Ghandi at 43:05: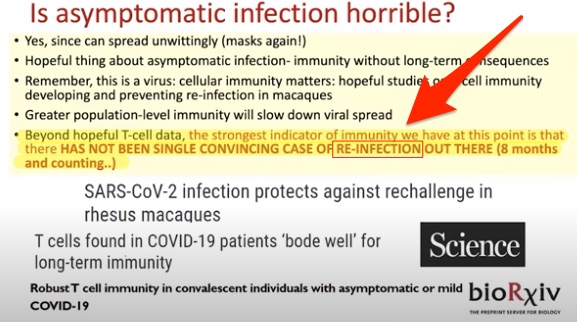 Considering the slide, I realized that there are probably some readers who would disagree on reinfection; and I realized further that I didn't know what I would say to them. So I thought I would aggregate what I could find on reinfection and try to make sense of it.
First, there doesn't seem to be a lot of published work on reinfection as such, if one rejects reinfection-adjacent topics like immunity. This search on "covid reinfection" at medRxiv, the preprint server, yielded exactly one hit with "reinfection" in the title; the National Institutes of Health did better, with three hits on the same search. One of them is from the Director's Blog, so let's start there. From Dr. Francis Collins, "Study in Primates Finds Acquired Immunity Prevents COVID-19 Reinfections":
There have been rare reports of people recovering from infection with SARS-CoV-2, the novel coronavirus that causes COVID-19, only to test positive a second time. Such results might be explained by reports that the virus can linger in our systems. Yet some important questions remain: Is it possible that people could beat this virus only to get reinfected a short time later? How long does immunity last after infection? And what can we expect about the duration of protection from a vaccine?

A recent study of rhesus macaques, which are among our close primate relatives, offers relevant insights into the first question. In a paper published in the journal Science [here], researchers found that after macaques recover from mild SARS-CoV-2 infection, they are protected from reinfection—at least for a while.

Since the second viral challenge took place just 28 days after the first infection, this study provides a rather limited window into broad landscape of SARS-CoV-2 infection and recovery. Consequently, it will be important to determine to what extent a first infection might afford protection over the course of months and even years. Also, because the macaques in this study developed only mild-to-moderate COVID-19, more research is needed to investigate what happens after recovery from more severe COVID-19.

Of course, macaques are not humans. Nevertheless, the findings lend hope that COVID-19 patients who develop acquired immunity may be at low risk for reinfection, at least in the short term. Additional studies are underway to track people who came down with COVID-19 in New York during March and April to see if any experience reinfection. By the end of this year, we should have better answers.
(This is the macaque study to which Ghandi referred.) Collins is moderately re-assuring, but I also picked up a saying in my travels on animal studies: "Mice lie, and monkeys exagerrate." Needless to say, if all the study proves is that reinfection is avoided only for 28 days, and that's an exagerration, it's hardly encouraging.
As for the other articles, the medRxiv hit is a mathematical model, as is the first NIH article. The second NIH article is a letter to the editor. The third is a restatement of the macaques study. So, with the scanty literature out of the way, let us turn first to anecdotes, and then to commentary. (As with so much #COVID19 literature, we know so much and so little at the same time.) Ordering them by time of publication:
Anecdote #1: "Questions raised over COVID-19 reinfection after Japanese woman develops illness again" Japan Times (2020-02-28):
The Osaka Prefectural Government said Wednesday that a woman in her 40s from Osaka tested positive for COVID-19 after what appeared to be a recovery earlier in February.

According to the prefecture, the woman first tested positive on Jan. 29 after joining a tour in which visitors from the Chinese city of Wuhan — where the virus is thought to have originated — also took part. She was discharged from the hospital on Feb. 1 after her condition improved. The woman tested negative during a monitoring period a few days after her release, but she was still symptomatic. She tested positive again on Wednesday after multiple visits to the hospital.
Anecdote #2: DOUBLE BLOW Diamond Princess coronavirus cruise victim 'tests positive for a SECOND time two weeks after all-clear The Sun (2020-03-16):
A Japanese man who appeared to have recovered from coronavirus tested positive again less than three weeks after he left a medical facility where he was being treated.

The Japanese man who is in his seventies first tested positive February 14 while aboard the Diamond Princess cruise ship during its quarantine.

He was then disembarked and put in further quarantine at the medical facility in Tokyo, getting the all-clear on March 2, according to Japanese news agency NHK.

He returned home to the Mie Prefecture, within the Kansai region, via public transport, but he began showing symptoms of the virus again and developed a fever of 39C on Thursday, March 12.

He went to a hospital for a re-test and was confirmed positive on Saturday, March 14.
* Anecdote #3: Israeli woman possibly reinfected with coronavirus post-recovery Jerusalem Post (2020-05-06):
A woman who had recovered from the coronavirus was re-hospitalized a month later after testing positive again. Last week, the 45-year-old woman from Jisr e-Zarka was re-admitted to Hadera's Hillel Yaffe Medical Center, where she was initially hospitalized with fever and chest pains. This comes a month after she was discharged from the medical center having recovered from the virus and testing negative twice.
* Anecdote #4: Recurrence of COVID-19 after recovery: a case report from Italy Infection (2020-05-16). Of all the anecdotes, I think this is the most "convincing," because of the (seemingly) thorough-going testing:
Here, we describe a case of reactivation of COVID-19 registered in Italy at the beginning of May 2020…. After 14 days the patients became afebrile and his respiratory symptoms disappeared. The chest X-ray showed only blurred areas of parenchymal thickening. Our hospital required two consecutive negative SARS-CoV-2 molecular tests, plus normal body temperature, resolution of respiratory symptoms, with the improvement of lung imaging. The two nasopharyngeal swabs collected on March 30 and 31 were both negative for SARS-CoV-2 infection. The patient was therefore discharged and encouraged to maintain home quarantine for at least 14 days…. The molecular test was also negative at his follow-up visit on April 15, suggesting that the patient was cured from COVID-19. In addition, two serological assays (VivaDiag™, VivaChek Laboratories, INC, USA and Anti SARS-CoV-2 ELISA IgG Test, Euroimmun, Lubeck, Germany) revealed the presence of IgM and IgG anti-SARS-CoV-2.

However, on April 30, he developed new symptoms, i.e., dyspnea and chest pain. The molecular test was also negative at his follow-up visit on April 15, suggesting that the patient was cured from COVID-19. In addition, two serological assays (VivaDiag™, VivaChek Laboratories, INC, USA and Anti SARS-CoV-2 ELISA IgG Test, Euroimmun, Lubeck, Germany) revealed the presence of IgM and IgG anti-SARS-CoV-2. However, on April 30, he developed new symptoms, i.e., dyspnea and chest pain. … To the best of our knowledge, this is the first published report describing a reactivation of COVID-19 in an apparently cured patient in Italy.
Anecdote #5: As coronavirus cases soar, doctors and patients wonder: Is it possible to get reinfected? NBC (2020-07-14):
Sherry Wellman, 56, of Youngstown, Ohio, and her doctors had assumed it would last longer than two months.

After an initial positive test for the virus in March, two additional COVID-19 tests in April were negative. It was welcome news to Wellman, whose job as a nurse required her to have two negative tests before returning to work.

But a month later, she had to go to the hospital for chest pains, and was tested again.

The physicians "ended up testing me for COVID just for the heck of it," Wellman said. "Sure enough, it came back positive. They were stunned."

"The nightmare of this is based on how much we don't know," Saag said. "COVID is brand new. We're discovering as we go." A growing pool of data, he said, suggests COVID-19 antibodies wane about 60 to 90 days after infection….

"That's certainly consistent with other coronaviruses," Derek Cummings, an infectious disease epidemiologist at the University of Florida, said. Other coronaviruses include the viruses that cause SARS and MERS, as well as several that cause common colds.

But because coronavirus infections can often occur without symptoms, "it really takes careful follow-up of individuals to detect that second infection," Cummings said.

There are three possible explanations for Wellman's second round of positive COVID-19 results. Either her negative tests were faulty; the virus remained hidden in her system undetectable by tests before flaring up again; or she really was infected a second time.
Anecdote #6: "Coronavirus patient tests positive for a second time but that doesn't mean she was reinfected, expert cautions" CNN (2020-07-17):
Shelby Hedgecock [a wellness coach in Los Angeles] thought a negative Covid-19 test meant she had recovered from her initial infection. But three months and another positive test later, she told CNN she is still feeling unwell. Hedgecock first tested positive for coronavirus on April 20. On May 9, she tested negative, she said.

Nearly two weeks later, she took an oral and nasal swab test. The oral test came back negative, but the nasal came back positive.

A week later, another test was negative, she said.

And still she feels symptoms, she said. Any exertion can put her in bed for days, and she is now on medication for daily headaches, she said.

It's not clear that the second positive test means Hedgecock was infected again. It's possible she initially received false negative test result or that the positive was misleading, CNN's chief medical correspondent Sanjay Gupta said.

"We are not getting documented cases of reinfections yet … That's not to say they won't come," Gupta said. "If people were losing their immunity I think now, six months into this, we would be seeing significant amounts of reinfection."

Some types of coronavirus tests have a 15 to 20% false negative rate, he told Cuomo Wednesday.

"If that's the case, then people have been walking around with a false sense of security for a long time," Hedgecock said. "And that's a problem."

Testing positive after an infection could come from the test looking for genetic material of the virus, Gupta said. The genetic material identified could be a sign that the virus is present, or it could be debris the virus left behind, he said.
Anecdote #7: Israeli doctor reinfected with coronavirus 3 months after recovering Jerusalem Post (2020-07-19):
A doctor at Sheba Medical Center in Tel Hashomer tested positive again for the novel coronavirus three months after initially recovering from the disease.

The doctor "tested positive again because she has remnants of her first virus still floating around in her body," a hospital spokesperson told The Jerusalem Post on Sunday.

The doctor suffered from fever, cough and muscle pain when she tested positive for the virus in April, but she recovered and tested negative in May and June.

Earlier this month, she came in contact with a confirmed patient and subsequently tested positive for the virus.
(There are also aggregated cased of reinfection in South Korea, but those may also be due to false positives. The same is true for China.)
There may be more cases out there[1], but those are the ones I can find with online search, such as it is. It's impossible to know whether my search was exhaustive, or representative. (Would re-infecttion in the immigrant population of Chelsea, MA be deemed worthy of coverage?) That said, all the cases but two (asterisked) share a common characteristic: The initial infection took place in a bat cave or petri dish: A tour to Wuhan (#1), the Diamond Princess (#2), a hospital workplace (#5), a gym (#6), and a second hospital workplace (#7). Speculating freely: If we believe dose-response affects the initial infection, as Dr. Ghandi urges, it might also lead to vulnerability for a second. That would imply that the danger of re-infection is less for the general population. Seven cases, after all, is not very many — especially since the "curves" do not seem to have been affected — at least so far! (It would be really unfortunate if such immune protection as there may be wore off in time for, say, school to start.)
I'll close on an optimistic note with the following from Popular Science, "Why no one knows if you can catch COVID-19 twice" (2020-07-16):
However, the fact that the world has seen more than 13 million known cases of COVID-19 since late 2019 and there aren't yet any confirmed, clearly documented cases of reinfection in peer-reviewed medical journals may be telling, [Luis Ostrosky, a professor of infectious diseases at McGovern Medical School at the University of Texas Health Science Center at Houston] says. "This would lead us to the conclusion that this would be a rare event if it happens at all."
And:
Generally speaking, it's unusual for a virus to infect people again after a brief period of time, both Ostrosky and the La Jolla Institute researchers agree.

A number of viral diseases—including measles, mumps, and chickenpox—typically lead to lifelong immunity. But in other cases, the immune response our bodies mount to a virus isn't strong enough to ward against reinfection; respiratory syncytial virus is one such pathogen.

Some viruses, like the ones that cause the seasonal flu, also mutate so quickly that you might recover from one strain only to encounter another that is different enough that your body's immune system doesn't recognize it. So far, the coronavirus that causes COVID-19 doesn't appear to be mutating especially rapidly or in ways that would hinder vaccine development.
Finally, don't let down your guard:
For now, though, there are two things we can do to deal with all the uncertainty.

"One is to follow the 'Hitchhiker's Guide to the Galaxy' mantra, which is don't panic," Ostrosky says. "We need to get more information to see whether this really happens or not and if it's a common or rare event." Further, researchers still need to better understand whether an individual who has some immunity can still spread it to others. So if you have recovered from COVID-19, you should still be social distancing and wearing a face mask when you plan to come into contact with other people.
And even if it is an aerosol, keep washing your hands! And I hope you enjoyed the video.
NOTES
[1] Missed this one — again, there's been no aggregation! — but the patient's occupation is not given in any case.