We are embedding an important new study by Richard Ennis, in the authoritative Journal of Portfolio Management,1 on the performance of 46 public pension funds, including CalPERS, as well as of educational endowments.
Ennis' conclusions are damning. Both the pension funds and the endowments generated negative alpha, meaning their investment programs destroyed value compared to purely passive investing.
Educational endowments did even worse than public pension funds due to their higher commitment level to "alternative" investments like private equity and real estate. Ennis explains that these types of investments merely resulted in "overdiversification." Since 2009, they have become so highly correlated with stock and bond markets that they have not added value to investment portfolios. From the article:
Alternative investments ceased to be diversifiers in the 2000s and have become a significant drag on institutional fund performance. Public pension funds underperformed passive investment by 1.0% a year over a recent decade…

For a decade [starting in 2009], stock and bond indexes have captured the return-variability characteristics of alternative investments in composites of institutional funds, for all intents and purposes. Alternative investments did not have a meaningful effect. The finding that the correlation between funds with significant alts exposure and marketable securities benchmarks is near perfect runs counter to the popular notion that the return properties of alts differ materially from those of stocks and bonds. That, after all, is an oft-cited reason for incorporating alternative investments in institutional portfolios. As we see here, however, alt returns simply blend into broad market returns in the context of standard portfolio analysis in the latter decade.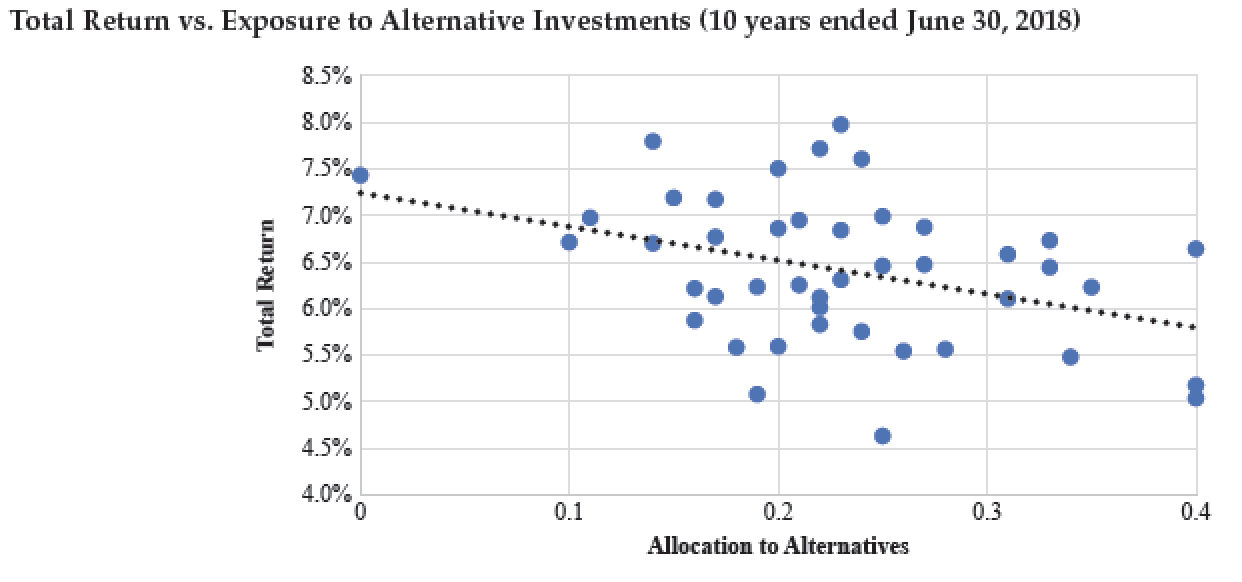 Needless to say, this finding also shows the folly of CalPERS' plan to pile on risk by investing even more in private equity and plunge into private debt.
As the extract above indicates, Ennis found the median cost of the mismanagement by the 46 public pension funds as roughly 1% per year. CalPERS is a standout in the "negative value added" category, ranking 43 out of 46, with a "negative alpha" of 2.36%. This is a particularly appalling scoring, since CalPERS has far and away the largest and best paid investment office of any US public pension fund. But is this outcome partly result of CalPERS paying its investment team for merely showing up? The investment office staff perversely receives performance bonuses for merely almosthitting their benchmarks, which means achieving what CalPERS has defined as "market" performance. As we'll discuss soon, Ennis describes how those benchmarks are self-serving and more favorable than using simple, broad stock and bond market proxies.2
Ennis explains that the public pension fund underperformance appears to be explained almost entirely by higher investment costs. Here he is clearly underestimating, since he relies on a recent study by Hooke and Yook for his estimate of the cost of investing in "alts" which relied on "detailed accounting data". As we've been explaining for years, and has been confirmed by repeated (and ineffective) calls for more fee and cost transparency by prominent pension fund trustees and even the Institutional Limited Partners Association and the SEC, private equity investors have no idea of the total fees and costs they pay, since private fund managers skim via hidden fees charged at the portfolio company level, as opposed to the fund level. Even using this clearly lowball metric, Ennis concludes:
Note that the cost estimates are very similar to the composites' respective margins of underperformance: 0.99% [for public pension funds] and 1.59% [for endowments] per year relative to passive investment. These closely comparable results provide support for the simple model of institutional investment cost; that is, given the two composites' extraordinary degree of diversification, we would expect them to underperform properly constructed passive benchmarks by about the amount of costs incurred….

Diversification, per se, is not the problem… The problem is the combination of extreme diversification and high cost: a recipe for failure.
Note this finding is also consistent with a large-scale study at Stanford, which is now being carried forward by Gordon Hamlin of Pro Bono Public Pensions, which found that a simple mix of five Vanguard funds beat the performance of 90% of public pension funds.
But why would these investment strategies that are supposedly so different from stocks and bonds, fail to change the profile of returns, as they are supposed to do? Isn't real estate in particular not at all like stocks?
It turns out, not really. As Ennis points out, public companies themselves typically have real estate holdings and they regularly buy and sell. One analysis found that real estate accounts for 40% of corporate assets. REITs are also a component of stock indices. As Ennis concluded: "…when you invest in a stock index fund, you get a big slug of genuine, diversified, valuable, income-producing real estate." Moreover, the sort of private real estate funds that investors like CalPERS patronize have to compete with corporate buyers and REITs, with an additional layer of fund manager fees. The result:
During the last two decades, private-market real estate underperformed REITs by a wide margin. In a 2019 study, CEM Benchmarking determined that institutional portfolios of private-market real estate, including core and non-core properties, underperformed listed real estate by 2.8% a year between 1998 and 2017. With comparable volatility (adjusted for return smoothing), REITs achieved much better risk-adjusted performance than private-market real estate over the 20-year period, with a Sharpe ratio of 0.44 compared with 0.33 for private real estate.
Another big problem is that these alt markets generally are too small to accommodate the investment ambitions. These strategies did deliver superior returns in the past, but now they suffer from too much money chasing too few opportunities. We've pointed out that leveraged buyouts delivered spectacular results through the late 1980s, when end of cycle deals crashed, leaving lenders with big losses. Private equity had another good run when it was getting back into investor good graces again, in the vintage years 1995 to 1999, so those deals would have been paying off from the late 1990s to the mid 2000s. Since 2004, private equity assets under management have more than doubled, with increasing amounts of that money sitting on the sideline.
We've also pointed out, as Ellis does, that hedge funds became increasingly correlated with stocks after the crisis….and stopped delivering superior returns.
Again, from Ennis:
For all the attention that alternative assets have attracted, they are relatively small components of investable capital markets. The aggregate value of stocks and bonds globally is approximately $180 trillion. Nonlisted, investment-grade commercial property in the United States has been estimated to be worth $3 trillion, or 1.7% of the aggregate value of stocks and bonds worldwide. Hedge funds are approximately $3.2 trillion, or 1.8%, and private equity is $3.4 trillion, or 1.9%. The total market value of these alts represents only about 5% of what is tantamount to a market portfolio.
The paper shows that his 46 public pension funds on average have 22% invested in alts, and endowments, 58%. Ouch.
Ennis also shellacks public pension funds' claims that all is fine because they are beating their benchmarks. In reality, the funds have been acting like students put in charge of grading their own exams:
Overseers of institutional funds—perhaps a majority of them—might say that the findings reported do not apply to them because they have outperformed their custom benchmark. These are performance benchmarks of the institutions' own devising that they use in their annual reports. There are no reporting standards governing benchmarks, and benchmark designers have been known to take liberties with the applicable principles. Here are a few we noted in the course of our study: (1) failing to define the custom benchmark or one or more of its components; (2) using as many as 20 benchmark components, including obscure ones, in a single custom benchmark, rendering it incomprehensible; (3) using noninvestable constructs (e.g., "CPI + 3%" or the fund's actuarial interest assumption) as a component; (4) using a benchmark that reflects active decision making; and (5) using a benchmark that excludes significant investment expenses…

The 10 largest public pension funds in our data set reported having outperformed their custom benchmark
by an average of 0.17% per year over the study period. Those same funds underperformed their respective
equivalent-risk benchmarks by an average of 0.83% a year—which is to say, the average of custom benchmarks lagged that of equivalent-risk benchmarks by 100 bps per year. This suggests the custom benchmarks are slow rabbits in the parlance of greyhound racing. It certainly raises a question about the objectivity of self-measurement.
This article indirectly reveals two conditions that are unlikely to change soon which will lead public pension funds and endowments to continue to destroy value.
The first is that the article made the passing observation that pension fund and endowment trustees are fiduciaries. Unfortunately, the way that has been interpreted in practice is that they hire brand name experts to bless their investment decisions. But the fiduciaries curiously choose not to consider the incentives of their advisers, which is to recommend complexity and activity, whether it pays off or not. To put it bluntly, you can't justify much in the way of fees if you recommend a short list of passive investment strategies.
Warren Buffett explained this all some time back in his parable of the Gotrocks family, which owns all US corporations. All is well until some Helpers appear and persuade some family members to try to out-do their relatives…for fees, of course. They go through more and more iterations…first by trading and incurring transaction fees, then by hiring fund managers, then hiring consultants, then adding in "hyper helpers" from private equity and hedge funds that claim they can do better by virtue of being paid even more.
The result, per Buffett:
And that's where we are today: A record portion of the earnings that would go in their entirety to owners – if they all just stayed in their rocking chairs – is now going to a swelling army of Helpers. Particularly expensive is the recent pandemic of profit arrangements under which Helpers receive large portions of the winnings when they are smart or lucky, and leave family members with all of the losses – and large fixed fees to boot – when the Helpers are dumb or unlucky (or occasionally crooked). A sufficient number of arrangements like this – heads, the Helper takes much of the winnings; tails, the Gotrocks lose and pay dearly for the privilege of doing so – may make it more accurate to call the family the Hadrocks.
And that's before we get to the incentives of the institutions themselves. CalPERS has specialist teams by asset type. The private equity and real estate teams go poof under Ennis' recommendations, and the public equity and fixed income teams would be much smaller. And what about Ben Meng and Marcie Frost? There's no reason to pay a Chief Investment Officer $1.7 million a year to baby sit a few index funds. And there's similarly no reason to pay Marcie Frost close to a million a year for her to be shown as doing essentially what she did in Washington…running a back office and call center. She was paid $140,000 a year for that in Washington. Perhaps due to CalPERS' greater size and the higher cost of living in California, you could justify $400,000. But much more than that is a stretch.
The second issue is that the devotion to alternative investments among public pension funds and other fiduciaries has become an orthodoxy, much like neoliberal economics. One big reason for the continued devotion to failed investment ideas is that giving them up would mean admitting that the only way out of public pension funds' deep underfunding is much higher employer, as in government, contributions. That in turn means a combination of higher taxes and budget cuts elsewhere. That's so politically unpalatable that clinging to ideas that don't work any more but still have a following in the captured financial press allows government officials to use them to kick the can down the road. The wee problem is that Covid-19 will force a funding crisis ahead of schedule.
____
1 The list of individuals who read and commented on Ennis' paper alone makes it hard to dismiss. It's a Who's Who of financial economics:
The author appreciates the helpful comments of Brian Birnbaum, Keith Black, Mitchell Bollinger, Stephen Brown, David Booth, Gary Brinson, Charles Ellis, Jeff Hooke, Roger Ibbotson, Bruce Jacobs, Jack Meyer, Stephen Nesbitt, Joseph Pagliari, Nicolas Rabener, Larry Siegel, William Sharpe, Rodney Sullivan, and Richard Thaler.
2 Oxford professor Ludovic Phalippou has made this point for some time for private equity benchmarks. For the 1990s and up the early 2010s, captured academics and fund consultants would score private equity performance against the S&P 500, adding a 300 basis point premium as a convention to allow for its illiquidity and higher leverage. That was a flattering comparison, since S&P 500 companies are much larger than private equity portfolio companies, and therefore on average show lower growth. However in the super low interest rate post crisis period, the S&P 500 has outperformed many other equity indices, likely due to the stock-price-goosing impact of buybacks. Phalippou pointed out that institutional investors in private equity who like CalPERS have staff that are compensated for their results compared to benchmarks have moved to using indices that are easier to beat. On top of that, CalPERS lowered its private equity risk premium from 300 basis points to 150. CalPERS admittedly recently changed to rewarding the investment office staffers on overall fund performance, which is nonsensical for anyone below Chief Investment Officer Ben Meng, since their bonus now has nothing to do with their individual actions.
00 EnnisPubJune20