By Lambert Strether of Corrente.
#COVID19
At reader request, I've added this daily chart from 91-DIVOC. The data is the Johns Hopkins CSSE data. Here is the site. Here are the top five of the top ten problem states, with New York for comparison: California, Texas, Florida, Georgia, and Arizona.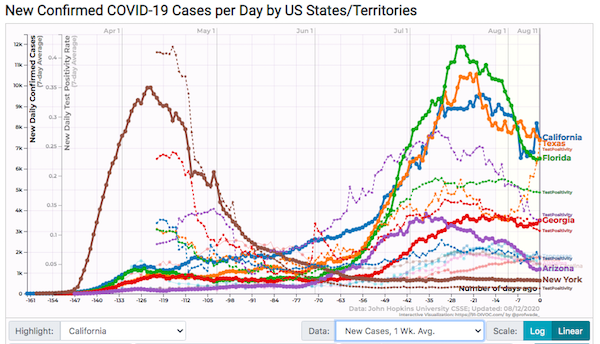 This chart also includes positivity, starting with the highest (worst): Texas, Florida, Arizona, Georgia, California. Only California, at 7.05%, approaches the WHO standard of 5%. Also, Arizona is falling out of the top five, being lapped by Tennessee, North Carolina, and Illiinois, but I'm leaving them in to say "Good job, Arizona!"
If you look at the chart you will see three things at least: First, there's a big fall, followed by a rapid rise, in California's confirmed cases; this matches recent news of their data gathering debacle, and the subsequent fix. Second, there's an enormous rise in testing positivity in Texas. This also matches recent news (and they don't know why it's happening). These two artifacts should give us some confidence that moving the data flow from CDC directly to HHS did not corrupt the data (despite the hysteria at the time). Third, since the chart uses absolute numbers on a linear scale, we have four New Yorks: New York proper, followed by California, Texas, and Florida. In my view, this argues strongly against a Red/Blue, Republican/Democrat dichotomy, since all failed alike; evidently the causes for the debacle are to be sought in the political economy of the United States as a whole. (I believe the death rate was higher in New York, but I don't know how we compensate for the increase in practitioner skill over time; New York, as the main origin/propagator of the virus, had to cope with the least amount of knowledge.)
CA: "Sacramento County's Use Of COVID-19 CARES Funds Questioned" [Sacramento Observer]. "Sacramento County officials have found themselves in defense mode after it appears they have used the bulk of the federal money they have received to respond to the coronavirus pandemic for Corrections expenses. The Sacramento OBSERVER has obtained documents that point to County officials spending more than 90 percent of its to-date allocations from the $181 million it received from the federal government through its Coronavirus Aid, Relief, and Economic Security Act (CARES Act) to cover Corrections costs. According to the documents, nearly $133 million was used for costs including salaries and benefits for the Sheriff's and probation departments, and only 2.4 percent of CARES Act funding has gone to human services — including $777,761.96 to 'public health,' and $1.1 million to 'primary health.'" • Everything is like CalPERS. Give these intrepid reporters a click!
Politics
"But what is government itself, but the greatest of all reflections on human nature?" –James Madison, Federalist 51
"They had one weapon left and both knew it: treachery." –Frank Herbert, Dune
"They had learned nothing, and forgotten nothing." –Charles Maurice de Talleyrand-Périgord
The electoral map. July 17: Georgia, Ohio, ME-2 move from Leans Republican to Toss-up. Continued yikes. On July 7, the tossup were 86. Only July 17, they were 56. Now they are 91. This puts Biden at 278, i.e. over 270. August 10: Still no changes.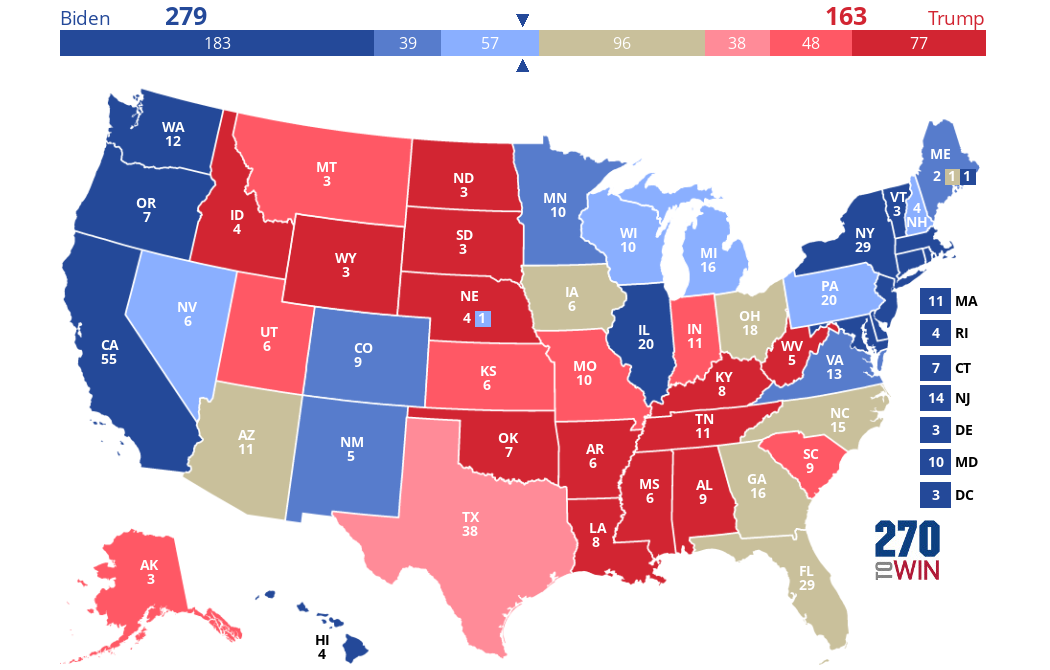 Click the map to create your own at
270toWin.com
So, taking the consensus as a given, 270 (total) – 204 (Trump's) = 66. Trump must win 66 from the states in play: AZ (11), FL (29), MI (16), NC (15), PA (20), and WI (10) plus 1 to win not tie = 102. 102 – 66 = 36. So if Trump wins FL, MI, NC, and PA (29 + 16 + 15 + 20 = 80), he wins. That's a heavy lift. I think I've got the math right this time!
2020
Patient readers, I had to wade through a ton of Harris hagiography today, so I may be a little more acerbic than usual. –lambert

Festival of Harris. I picked out one single sentence from each:

Biden (D)(1): "What The Kamala Harris Pick Means To The Black Women Who Lead The Democratic Party" [Buzzfeed]. "Brazile, Daughtry, Caraway, and Moore entered Democratic politics in the 1980s, a time that ushered in Rev. Jesse Jackson's two presidential campaigns and Ron Brown's tenure as the first Black chair of the DNC, and helped cement Black women both the party's longest-serving stewards and most loyal voting bloc every four years." • Yeah. Jesse Jackson. Whatever happened to him?

Biden (D)(2): "Harris pick creates an emotional moment for Black women" [WaPo]. "Kamala D. Harris's leap onto the Democratic ticket Tuesday sparked a surge of emotion across the nation as Americans for the first time witnessed a woman of color ascend to the country's highest political levels." • Nothing more important than a liberalgasm deeply sincere surge of emotion, especially among the political class. And I still want to know what Willie Brown was thinking.

Biden (D)(3): "Joe Biden picks Sen. Kamala Harris as his running mate [ABC]. "If elected, Harris would not only be the first woman to serve as vice president, but would also be the first person of color to be second in command and the highest-elected Asian American in history." • We seem to be getting our ascriptive identities a little confused, here.

Biden (D)(4): "Wall Street executives are glad Joe Biden picked Kamala Harris to be his VP running mate" [CNBC]. "Financial advisory firm Signum Global is already telling its clients that the choice of Harris reinforces the notion that the Democratic ticket is more moderate than progressive." • Ka-ching.

UPDATE (D)(5): "Kamala Harris is the choice Joe Biden needed to win over Silicon Valley" [Recode]. "Biden's selection of Harris — who has glad-handed with San Francisco elites for decades — as his choice for vice president is likely to usher in Silicon Valley excitement and money galore in a way that other running mates would not." • Ka-ching.

UPDATE (D)(6): "Kamala Harris, a Political Fighter Shaped by Life in Two Worlds" [New York Times]. "Caustic when she needs to be but cautious on substantive issues more often than many liberals would like, Ms. Harris has spent her public life negotiating disparate orbits, fluent in both activist and establishment circles without ever feeling entirely anchored to either." • If the orbits are disparate, they're not orbiting about anything.

UPDATE (D)(7): "The reason Kamala Harris was a bad presidential candidate is the reason she could be a good vice presidential candidate" [Boston Globe]. "[W]hat Biden requires in his running mate is someone who is politically flexible." • Not to say… nimble.

UPDATE (D)(8): "'Historic' — Biden chooses Kamala Harris, and all sides respond" [Los Angeles Times]. "Obama chimed in as well with his own statement, saying Biden 'nailed this decision' in choosing Harris." • A decision that I am sure Obama had no hand in whatever.

UPDATE (D)(9): "Kamala Harris was the safest, most experienced and most tested choice Biden could make" [E.J. Dionne, WaPo]. "An emotive person who values personal ties, Biden chose a running mate who was close to his dear departed son Beau, from the days when Harris and the younger Biden were state attorneys general." • I haven't read "dear departed" in serious prose for quite some time.

UPDATE (D)(10): "'She May Very Well Hold the Key to Biden's Win'" [Politico]. Anne-Marie Slaughter: "I strongly suspect that we will see lots of cosmetic changes without probing or changing the deeper underlying biases." • They'd never say "cosmetic changes" about a male candidate!

Biden (D)(11): "How Biden decided on Harris" [The Hill]. "'I think he wanted to consider every qualified woman out there,' the confidant said. 'Whitmer definitely was having a moment with COVID, Keisha Lance Bottoms also caught his attention, Val Demings also looked good for a while there, he liked Elizabeth Warren's ideas. He basically wanted to and see how it added up." • Oh. (OK, more than one sentence.)

Biden (D)(12): "Sarah Palin offers Harris advice: 'Don't get muzzled'" [The Hill]. "Palin, the second and most recent woman to be a major-ticket vice presidential nominee, urged Harris to 'trust no one new' and 'fight mightily to keep your own team with you.'" • Too late. As we saw yesterday, Biden already picked her staff. (And if we can rehabilitate George W. Bush, why can't we rehabilitate Sarah Palin?)

UPDATE Biden (D)(13): Bombs away:

Kamala Harris as VP pick is a big win for imperial feminism.

Next I wanna see more WOC ICE agents, prison guards, slum lords and drug queenpins. Girl power ✊?

— Rania Khalek (@RaniaKhalek) August 12, 2020

Biden (D)(14). Bill of particulars on Harris. Thread:

Kamala Harris a thread,

warning, Will make u mad as fuk

— Comrade Smoothbrain (@M_C_Yates) August 11, 2020

* * *

"Omar easily wins primary challenge as 'the Squad' continues unbeaten streak" [Yahoo News]. "Omar easily overcame a challenge from Black lawyer Antone Melton-Meaux, winning by nearly 20 points in the Minneapolis-area Fifth District. Melton-Meaux who had received heavy donations from the pro-Israel lobby that allowed him to dominate local television advertising and was endorsed by the Minneapolis Star-Tribune. Omar was targeted for comments she had made about Israel and criticisms that she was putting a national profile over the needs of her Minneapolis district." • She didn't just beat her opponent; she stomped them (as did AOC and Tlaib in their races). Ayanna Pressley, a "Squad" member solely by virtue of her ascriptive identity, is, oddly, or not, running unopposed. Star-Tribune headline: "Rep. Ilhan Omar wins contentious Fifth District DFL primary." To be contentious, you've got to have contenders; a twenty-point margin means the race was never serious, contrary to all the reporting about it. Also, [family blog] you, AIPAC.

"College Democrat at Center of Attack on Alex Morse Hoped yo Launch Career Through Richard Neal" [The Intercept]. "With the allegations short of details or any student claiming to be a victim, the focus has shifted to the origin of the letter. The man serving as chief strategist for the UMass Amherst College Democrats, Timothy Ennis, recently completed a class with Neal, who teaches a journalism course. Ennis, according to two members of the College Democrats chapter, was open about his hopes of working for Neal in the future. Meanwhile, an aide with the College of Social and Behavioral Sciences, in which the journalism program sits, alerted the school's administration of evidence that the recently surfaced allegations against Holyoke Mayor Alex Morse "are politically motivated," according to communication reviewed by The Intercept. Spokespersons for the administration did not respond to requests for comment." • Called it (though for something so obvious one deserves little credit). I said it was College Democrat oppo, and it was. Zephyr Teachout:

I'm all about investigations, hearing the stories, finding out if there are abuses, in this and every other instance, but I haven't seen any reporting suggesting there is.

If there's smoke there's fire is a recipe for progressive candidate destruction.

— Zephyr Teachout (@ZephyrTeachout) August 12, 2020

That's not a bug. It's a feature.
"SCOOP: Hospitals Bankroll The Democrat Who Lets Them Send Patients Surprise Bills" [David Sirota, Too Much Information]. "The American Hospital Association's (AHA) political action committee has spent more than $200,000 on digital ads to boost [Democratic Rep. Richard Neal's] reelection campaign as he faces a spirited primary challenge, according to campaign finance records. AHA is one of the most powerful forces in Washington D.C. working to keep health care costs outrageously high. The trade group, which represents more than 5,000 hospitals and brings in more than $130 million annually, has lobbied against reforms to end surprise medical billing, against plans requiring hospitals to make their prices public, and against the single-payer Medicare for All proposal to eliminate for-profit health insurance. AHA's political action committee, AHAPAC, spends millions each election cycle to support federal candidates, but this cycle it has shelled out far more to support Neal than it has spent in any other race. The $200,000 worth of pro-Neal ads the group has sponsored are the only independent expenditures AHAPAC has made in the 2019-20 election cycle. As chair of the Ways and Means Committee, Neal controls all legislation that has a tax component, including most major health care bills." • Ya know, if I got a surprise medical bill, I might be… "uncomfortable."
Stats Watch
At reader request, I added some business stats back in. Please give Econintersect click-throughs; they're a good, old-school blog that covers more than stats. If anybody knows of other aggregators, please contact me at the email address below.
Inflation: "July 2020 CPI: Year-over-Year Inflation Rate Grows to 1.0%" [Econintersect]. "According to the BLS, the Consumer Price Index (CPI-U) year-over-year inflation rate was 1.0 % year-over-year (up from the reported 0.6 % last month). The year-over-year core inflation (excludes energy and food) rate worsened from 1.2 % to 1.6 %…. The index for energy was the reason for the month-over-month increase of the CPI-U. Medical care services cost inflation marginally changed from 6.0 % to 5.9 % year-over-year."
Employment Situation: "The Recent COVID-19 Spike and the U.S. Employment Slowdown" [Federal Reserve Bank of St Louis]. "[S]ince the week of June 12, the recovery in employment has slowed down and slightly reverted. Can we link this recent deterioration in labor market conditions to the recent increase in COVID-19 cases since June?… The recent evolution in our coincident employment index suggests that the recent recovery in employment has halted and that the increase in Covid-19 may be the main cause for this. Thus, a strong economic recovery may need a healthy recovery from the pandemic." • Dunno about their methodology (which I have omitted) but this seems like common sense.
* * *
Savings: "Americans are sitting on record cash savings amid pandemic and uncertain economy" [USA Today]. "The savings rate – the portion of monthly income that households are socking away – hit a record 33.5% in April before edging down to a still outsized 19% in June, Commerce Department figures show. Before the pandemic, Americans were squirreling away an average 7.5% of income. 'We've never had this much savings,' says Tom Porcelli, chief economist of RBC Capital Markets. 'It's uncharted territory.' From March through June, the latest data available, U.S. households banked an additional $916 billion of their income above pre-COVID levels, according to Moody's Analytics, a stash that will top $1 trillion when July figures are included. Some of the reserves already have been spent: Consumer spending rose a record 8.5% in May and a healthy 5.6% in June. But with the economy largely shut down, little has been spent on travel, dining out, movies and other services. At the same time, households have benefited from stimulus checks of $1,200 for individuals and $2,400 for married couples."
Commodities: "U.S. farmers leave fields fallow as COVID-19 wrecks crop prospects" [Reuters]. "Farmers routinely make changes to their acreage intentions as the calendar advances, substituting in different crops if the weather mucks up their original plans. But leaving the ground bare is new territory for U.S. farmers who typically plant fencerow to fencerow, trying to squeeze profit out of every available acre. The most recent acreage data from the government showed corn and cotton plantings in particular were far below initial expectations, with corn seedings in June dropping the most from March in 37 years. The coronavirus pandemic caused many farmers to give up on their corn crop before it was even in the ground."
The Bezzle: "Former Wirecard Manager Died of Blood Poisoning in Manila: Bild" [Bloomberg]. "A former manager of Germany's disgraced Wirecard AG died of blood poisoning in a hospital in Manila, Bild am Sonntag reported, citing the dead man's mother." • His mother?
Tech: "Twitter users can now control who replies to their tweet" [Reuters]. "Twitter Inc (TWTR.N) on Tuesday rolled out a moderation feature that would allow its users to limit how many people can reply to their tweets, giving account-holders more control over conversations on their page. All accounts, including those of elected officials, can now select the people who will be allowed to reply while composing a new tweet, Twitter said." • So, the Blue Checks set up a gated community. Swell.
Tech: "Google's Search Monopoly Complicates a Mental Health Crisis" [Bloomberg]. • This is an excellent article, well worth a read; in essence, Google is facilitating the destruction of individal mental health practices by facilitating mental health chains backed by venture capital. Quote: "I think Google's ultimate goal is that you give them your credit card and that's the only thing you do."
Small Business: "Small Businesses Are Dying by the Thousands — And No One Is Tracking the Carnage" [Bloomberg]. "Big companies are going bankrupt at a record pace, but that's only part of the carnage. By some accounts, small businesses are disappearing by the thousands amid the Covid-19 pandemic, and the drag on the economy from these failures could be huge. This wave of silent failures goes uncounted in part because real-time data on small business is notoriously scarce, and because owners of small firms often have no debt, and thus no need for bankruptcy court. Yelp Inc., the online reviewer, has data showing more than 80,000 permanently shuttered from March 1 to July 25. About 60,000 were local businesses, or firms with fewer than five locations." • Readers, I suppose this is true where you are?
* * *
Today's Fear & Greed Index: 74 Greed (previous close: 71 Greed) [CNN]. One week ago: 70 (Greed). (0 is Extreme Fear; 100 is Extreme Greed). Last updated Aug 12 at 12:24pm. Falling back to mere Greed from Extreme Greed. Disappointing!
The Biosphere
"Global Response to Mauritius Oil Spill Continues" [Maritime Executive]. "Reports from Mauritius are that the weather conditions remained stable to permit the pumping operations to continue. Both the ship's owners, Nagashiki Shipping Co., and the charterer, Mitsui O.S.K. Lines, issued updates reporting that over 1,000 metric tons of the fuel had been pumped off the ship with an estimated 1,600 tons of Very Low Sulfur Fuel Oil and 200 tons of diesel oil still onboard. Reports say that approximately 500 metric tons were pumped from the ship on August 10…. While it is believes that little or no additional oil is leaking from the ship currently, it continues to show signs of worsening distress. The current fear is if the ships breaks apart the two undamaged fuel tanks could rupture. The owners confirmed that their experts on site are reporting that the cracks are widening. A line from a tug remains secured in hopes of preventing the ship from drifting in high seas." • If we leave it in the ground, this sort of thing doesn't happen.
Health Care
"Viable SARS-CoV-2 in the air of a hospital room with COVID-19 patients" (preprint) [medRxiv]. "Air samples were collected in the room of two COVID-19 patients… The genomes of the SARS-CoV-2 collected from the air and of virus isolated in cell culture from air sampling and from a NP swab from a newly admitted patient in the room were sequenced. Findings – Viable virus was isolated from air samples collected 2 to 4.8m away from the patients. The genome sequence of the SARS-CoV-2 strain isolated from the material collected by the air samplers was identical to that isolated from the NP swab from the patient with an active infection." • This is important; the preprint we linked to on July 22 (later published in Nature) showed "replication competent virus." This study shows infectious virus:
Smoking gun—Floating virus can infect cells. New study provides "unambiguous evidence" that "airborne virus plays a significant role in community transmission", says aerosol experts.

➡️This means we need to step up precaution against aerosols. ?#COVID19https://t.co/1RdDTwu95E

— Eric Feigl-Ding (@DrEricDing) August 12, 2020
The Times link is worth reading too; the methodology is ingenious.
"Management of post-acute covid-19 in primary care" [Trisha Greenhalgh, British Medical Journal]. "Around 10% of patients who have tested positive for SARS-CoV-2 virus remain unwell beyond three weeks, and a smaller proportion for months (see box 1). This is based on the UK COVID Symptom Study, in which people enter their ongoing symptoms on a smartphone app. This percentage is lower than that cited in many published observational studies, whose denominator populations were those admitted to hospital or attending specialist clinics. A recent US study found that only 65% of people had returned to their previous level of health 14-21 days after a positive test…. It is not known why some people's recovery is prolonged. …. Post-acute covid-19 symptoms vary widely." • All about "long Covid." It's those [family blogging] tentacles, I swear. Once you get bindweed in your garden….
"New Zealand considers freight as possible source of new coronavirus cluster" [Reuters]. "The source of the outbreak has baffled health officials, who said they were confident there was no local transmission of the virus in New Zealand for 102 days… Investigations were zeroing in on the potential the virus was imported by freight. Bloomfield said surface testing was underway at an Auckland cool store where a man from the infected family worked. 'We know the virus can survive within refrigerated environments for quite some time,' Bloomfield said during a televised media conference." • Whenever I bring home anything from the cooler at the store, I wash off the container.
"For All We Know, Gaiter Masks Are Fine" [Salon]. • n = 1 (!!!!).
* * *
Sports Desk
"Big Ten, Pac-12 pull plug on fall football amid pandemic" [Associated Press]. "A crumbling college football season took a massive hit Tuesday when the Big Ten and Pac-12, two historic and powerful conferences, succumbed to the pandemic and canceled their fall football seasons. Five months almost to the day after the first spikes in coronavirus cases in the U.S. led to the cancellation of the NCAA basketball tournaments, the still raging pandemic is tearing down another American sports institution: fall Saturdays filled with college football. 'This was an extremely difficult and painful decision that we know will have important impacts on our student-athletes, coaches, administrators and our fans,' Pac-12 Commissioner Larry Scott said. "We know nothing will ease that.' Despite pleas from players, coaches and President Donald Trump in recent days to play on, 40% of major college football teams have now decided to punt on a fall season, a decision that will cost schools tens of millions of dollars and upends traditions dating back a century." • Despite happy memories of watching football on the black-and-white TV (rabbit ears; three channels) with my father, I think upending this particular tradition is a good thing, and I don't care if college football ever starts up again. Less brain damage, no more grotesque displays of militarism, no more "student athletes" as indentured servants, and an end to a function universities and colleges should not be performing anyhow (at least not at the hypertrophied, cancerous level college sports
L'Affaire Joffrey Epstein
"Ghislaine Maxwell Claims Mistreatment By Jail Working To Avoid Jeffrey Epstein Suicide Repeat" [Forbes]. • Wait, what?
Class Warfare
Meanwhile:
Michigan. pic.twitter.com/CTM0OzvVIW

— Jeff Stein (@JStein_WaPo) August 12, 2020
News of the Wired
"The dark side of wellness: behind a Netflix series on a murky industry" [Guardian]. "'Wellness', like its signature vague branding, has a loose, unfixed meaning. It can describe the pursuit of greater stability. It can mean a $4.2tn, high-growth industry of products and services from goat yoga to health boutiques to Gwyneth Paltrow's Goop jade vaginal eggs. It can indicate a never-ending burden for women – the rebranding of "having it all" for 2010s consumer feminism. The gauzy, overused umbrella of wellness now encompasses a vast universe of practices, products and refashioned belief systems, with varying risks and scientific grounding, which have surged in popularity over the last decade on social media and internet forums…. [The Netflix series] (Un)well breaks down wellness through six specific trends: essential oils, tantric sex, consumption of human breast milk, fasting, ayahuasca and bee-sting therapy." • I knew it was a scam as soon as ObamaCare covered it. I mean, vaginal eggs are all very well, if you can afford them, but I suspect most Americans would prefer dental.
* * *
Readers, feel free to contact me at lambert [UNDERSCORE] strether [DOT] corrente [AT] yahoo [DOT] com, with (a) links, and even better (b) sources I should curate regularly, (c) how to send me a check if you are allergic to PayPal, and (d) to find out how to send me images of plants. Vegetables are fine! Fungi and coral are deemed to be honorary plants! If you want your handle to appear as a credit, please place it at the start of your mail in parentheses: (thus). Otherwise, I will anonymize by using your initials. See the previous Water Cooler (with plant) here. Today's plant (Re Silc):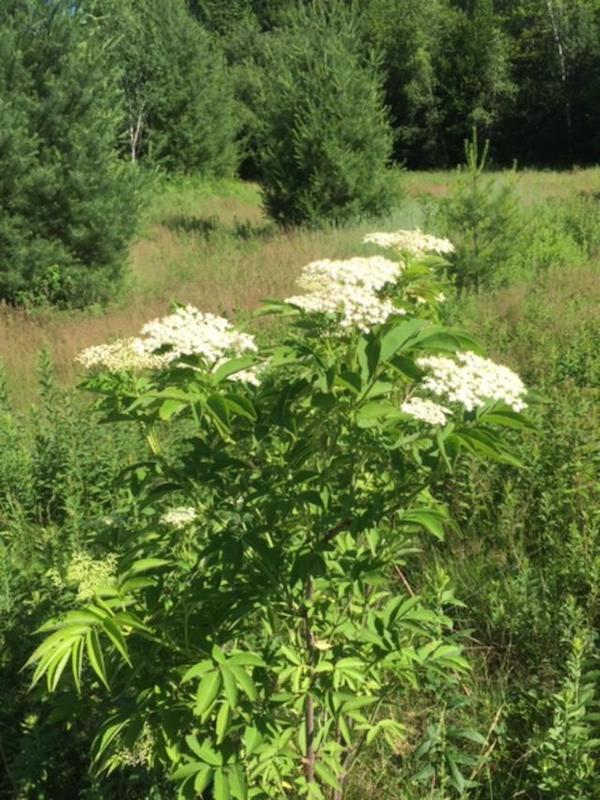 Re Silc writes: "Vermont elderberries rockin'. Planted 2 years ago." There's something about the contours of New England hills and fields that uniquely satisfying. This is true even in Maine, which has a Big Sky.
* * *
Readers: Water Cooler is a standalone entity not covered by the annual NC fundraiser. So if you see a link you especially like, or an item you wouldn't see anywhere else, please do not hesitate to express your appreciation in tangible form. Remember, a tip jar is for tipping! Regular positive feedback both makes me feel good and lets me know I'm on the right track with coverage. When I get no donations for five or ten days I get worried. More tangibly, a constant trickle of donations helps me with expenses, and I factor in that trickle when setting fundraising goals:
Here is the screen that will appear, which I have helpfully annotated.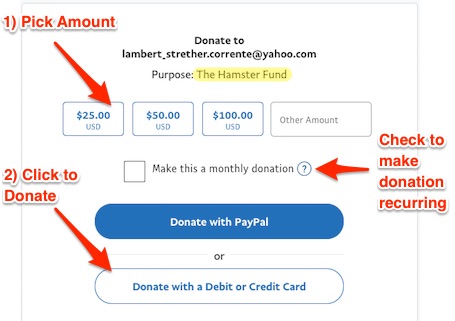 If you hate PayPal, you can email me at lambert [UNDERSCORE] strether [DOT] corrente [AT] yahoo [DOT] com, and I will give you directions on how to send a check. Thank you!