By Lambert Strether of Corrente.
#COVID19
At reader request, I've added this daily chart from 91-DIVOC. The data is the Johns Hopkins CSSE data. Here is the site.
Here again is the Midwest: Illinois, Indiana, Iowa, Kansas, Michigan, Minnesota, Missouri, Nebraska, North Dakota, Ohio, South Dakota, and Wisconsin: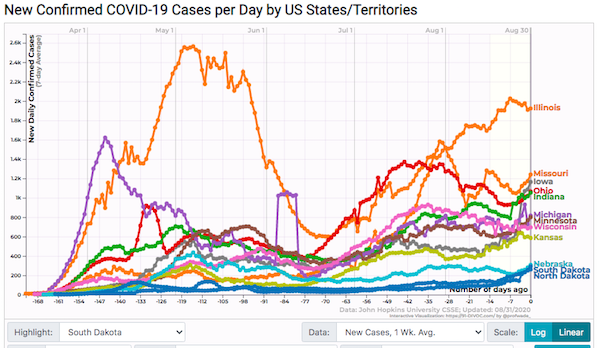 Good news for Illinois, but the rest of the Midwest moving up in unison is a little concerning.
I left out positivity, becaue the chart becomes unreadable if I include it. Interesting spike in Missouri; I wonder if it's a reporting problem at the state level, since they seem to be cropping up all over.
* * *
Politics
"But what is government itself, but the greatest of all reflections on human nature?" –James Madison, Federalist 51
"They had one weapon left and both knew it: treachery." –Frank Herbert, Dune
"They had learned nothing, and forgotten nothing." –Charles Maurice de Talleyrand-Périgord
The electoral map. July 17: Georgia, Ohio, ME-2 move from Leans Republican to Toss-up. Continued yikes. On July 7, the tossup were 86. Only July 17, they were 56. Now they are 91. This puts Biden at 278, i.e. over 270. August 18: Still no changes. (Last change August 10.) Despite the sturm and drang, and the polls, the consensus on the electoral college remains the same: Biden ahead, Trump within striking distance.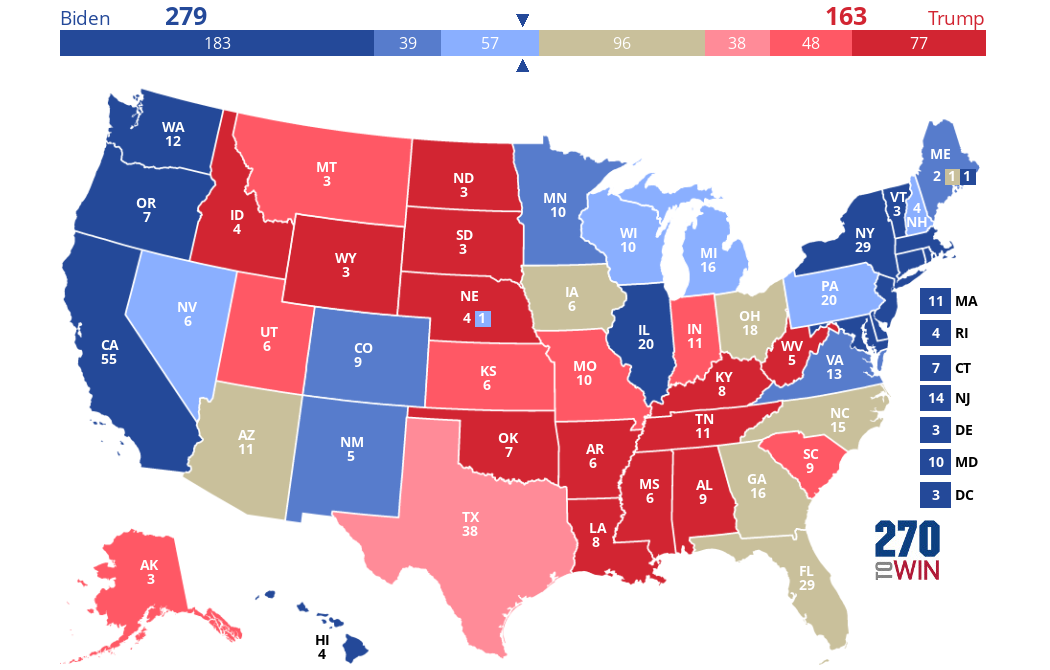 Click the map to create your own at
270toWin.com
So, taking the consensus as a given, 270 (total) – 204 (Trump's) = 66. Trump must win 66 from the states in play: AZ (11), FL (29), MI (16), NC (15), PA (20), and WI (10) plus 1 to win not tie = 102. 102 – 66 = 36. So if Trump wins FL, MI, NC, and PA (29 + 16 + 15 + 20 = 80), he wins. That's a heavy lift. I think I've got the math right this time!
2020
Biden (D)(1): Whoops:

Reporter: "I ask protesters: what are you doing in November and they say… I'm not showing up because Bernie's not on the ticket."

MSNBC: "Wow." pic.twitter.com/xAdFIM3GIZ

— i am once again asking (@BernieWatchdog) August 30, 2020

Biden (D)(2): "Cardi B In Conversation With Joe Biden" [Elle]. This exchange:

[CARDI B]: I have a whole list of things that I want our next president to do for us. But first, I just want Trump out. His mouth gets us in trouble so much. I don't want to be lied to—we're dealing with a pandemic right now, and I just want answers. I want to know when this will be over. I want to go back to my job. But I don't want someone to lie to me and tell me that it's okay not to wear a mask, that everything is going to be okay. I want a president to tell me what the steps are for us to get better, to tell me, "This is why it is taking so long, this is why other countries are doing better than ours." Tell me the truth, the hard-core truth.

Of course, I think we need free college. And I want Black people to stop getting killed and no justice for it. I'm tired of it. I'm sick of it. I just want laws that are fair to Black citizens and that are fair for cops, too. If you kill somebody who doesn't have a weapon on them, you go to jail. You know what? If I kill somebody, I've got to go to jail. You gotta go to jail, too. That's what I want.

[JOE BIDEN]: Presidents have to take responsibility. I understand one of your favorite presidents is Franklin Roosevelt. Roosevelt said the American people can take anything if you tell them the truth. Sometimes the truth is hard. But right now, we're in a position where we have an opportunity to make so much progress. The American public has had the blinders taken off.

"There's no reason why we can't have all of that." Really? Did Biden check with The Lincoln Project on that? How about his donors?

Biden (D)(3): "Enemies, Foreign and Domestic w/Special Guest Ashley Stevens" (podcast) [The West Wing Thing]. • Hard to know where to file this, but this is a good overview of 2020, with some pointed commentary on Biden from Stevens (@The_Acumen).

Biden (D)(4): "Can Joe Biden make America decent like him? [Anand Giridharadas, The Ink]. • It's like we're having the "Is his heart in the right place?" conversation before the election, as opposed to what we did in January-March 2009.

Trump (R)(1): "Trump's Gender Gap Risks Becoming Chasm, Adding to Campaign Woes" [Bloomberg]. "Polling shows that women, besides supporting Trump in much smaller numbers than men, also tend to rate Trump lower on key personal attributes. The biggest differences were on courage and on compassion for ordinary people, according to a Pew Research Center survey in June. The survey found that men are more likely to see those qualities in Trump, while women tend to see them in Biden."

Trump (R)(2): Whoops:

US military have flipped to a very unfavorable view of Pres Trump: service members who have most negative view are officers 59/35 unfavorable. Race not gender is main division but even amongst white soldiers, he is net negative. @militarytimes data https://t.co/mSx5G11aWm pic.twitter.com/gXRGMP77vw

— Adam Tooze (@adam_tooze) August 31, 2020

Trump (R)(3): "Democratic-Led States Targeted in DOJ's Review of Nursing Home Deaths" [Bloomberg]. "The Trump administration said orders by four states led by Democratic governors requiring nursing homes to admit coronavirus patients may have caused the disease to spread, killing thousands of elderly residents." • New York, New Jersey, Pennsylvania and Michigan. Don't they want to win Florida?

* * *

"This is the widest presidential battleground in a very long time" [Chris Cilizza, CNN]. "With 64 days left before the 2020 presidential election, the number of swing states is far larger than we've seen in any recent election, a reflection of President Donald Trump's asymmetrical politics and the rapidly changing demographics in the country. Former Vice President Joe Biden has reserved TV ad time in a whopping 15 states, according to Medium Buying, a Twitter handle that tracks where the campaigns are placing ad-time reservations. Trump has reserved ad spending in 11 states at this point — all states where Biden is also set to spend money on TV ads. The 11 states where both campaigns have ad reservations are: Arizona, Florida, Iowa, Michigan, Minnesota, Nevada, New Hampshire, North Carolina, Ohio, Pennsylvania and Wisconsin. Biden has also reserved time in Colorado, Georgia, Texas and Virginia. 'The presidential playing field at this point is massive,' notes Medium Buying. Agreed! Now, before we go any further, it's important to note that these are ad reservations, not ad buys. That is a critical difference. Reservations can be shifted or canceled entirely. Money used to reserve ads in one state can be moved to another state if the campaign sees a need. So, ad reservations shouldn't be seen as a set-in-stone indicator of how the two campaigns view the map. Races evolve — and ad decisions evolve with them. But ad reservations are, generally speaking, a relatively reliable look at where the two campaigns believe their opportunities and vulnerabilities exist."

MA: "Massachusetts Democratic Senate primary between Markey and Kennedy set for Tuesday" [NBC]. "A Suffolk University poll of likely Massachusetts Democratic voters released Wednesday showed Markey with a 51 percent to 41 percent lead, while a University of Massachusetts-Lowell poll of likely Democratic voters in the state released two days earlier showed him with a 12 percentage-point (52 percent to 40 percent) advantage."

MA: Neal campaign's ratfucking continues:

Update: Apparently this ad stayed on the air for quite a while. It's been aired at least 40 times. https://t.co/8hhy2jUbyW pic.twitter.com/ecEp22eqQU

— Daniel Marans (@danielmarans) August 31, 2020

Neal's shop said this ad was released by mistake. Neal's campaign said they'd take it down. It's still running. Naturally.

MA: "Alex Morse Has a Second Opponent: Local Media" [The Intercept]. "Chyrons in clips reviewed by The Intercept from local stations WWLP, Western Mass News, and CBS 3 emphasized Morse's "sexual misconduct" and the existence of an "official investigation" into the mayor from both the Holyoke City Council and UMass. The conspiracy angle — the fact that the accusations were part of a long-running scheme by students, with the aid of the state party, to take down the Morse campaign — was barely mentioned. "
* * *
–>
Stats Watch
At reader request, I added some business stats back in. Please give Econintersect click-throughs; they're a good, old-school blog that covers more than stats. If anybody knows of other aggregators, please contact me at the email address below.
No stats of interest today.
* * *
Retail: "How 'see now, buy now' culture and superior social media apps put Chinese influencers way ahead of those in the West" [South China Morning Post]. "The winners and losers of the pandemic can be neatly divided along geographical lines – while the key opinion leaders (KOLs) of China are weathering the coronavirus storm quite well, influencers in Europe and America have seen their incomes fall drastically over the past five months. Is this just luck, or does it show a fundamental contrast in how influencers and KOLs operate that predates the pandemic?… That's largely because the buying infrastructure on WeChat, Weibo and Little Red Book is superior to Western equivalents; in the West, driving sales through websites is the norm, but doing so through social media platforms such as Instagram and YouTube is not. KOLs were therefore better placed to monetise their work at a time when brands were hesitant to spend on marketing."
The Bezzle: "Blank Check IPOs, the Status Symbol of 2020, Have Raised $32 Billion This Year" [Bloomberg]. "The new big-money status symbol of 2020 is running your own blank check company. Hedge fund billionaire Bill Ackman has a new one. Oakland A's executive Billy Beane, who was played by Brad Pitt in the film Moneyball, got into the game with an initial public offering in August. Even former U.S. Speaker of the House Paul Ryan is getting one going. So what's a blank check? Formally known as a special purpose acquisition company, or SPAC, it's an investment vehicle that goes public despite having no real business. The plan is to raise money from investors and use it to buy into another company, typically a private one that's yet to be chosen. More than 40% of 2020's IPOs by volume have been SPACs, raising $31.6 billion, more than double all of last year's volume of $12.4 billion. And last year was a record breaker, too." • A company for carrying out an undertaking of great advantage, but nobody to know what it is…
Tech: "Anatomy of an AI system" (diagram) [Anatomy of AI]. • Enormous image; but see "Income Distribution" on the left.
* * *
Today's Fear & Greed Index: 75 Extreme Greed (previous close: 72 Greed) [CNN]. One week ago: 65 (Greed). (0 is Extreme Fear; 100 is Extreme Greed). Last updated Aug 31 at 12:08pm. Still extreme Greed after everybody wanders home from the Nineteenth Hole.
Rapture Index: Closes up one on Wild Weather. "A category 4 hurricane hits the U.S.:" [Rapture Ready]. Record High, October 10, 2016: 189. Current: 183. (Remember that bringing on the rapture is a good thing.)
The Biosphere
"Severe Cold Winter in North America Linked to Bering Sea Ice Loss" [American Meteorological Society]. "North America experienced an intense cold wave with record low temperatures during the winter of 2017/18, at the time reaching the smallest rank of sea ice area (SIA) in the Bering Sea over the past four decades. Using observations, ocean reanalysis, and atmospheric reanalysis data for 39 winters (1979/80–2017/18), both the Bering SIA loss and cold winters in North America are linked robustly via sea level pressure variations over Alaska detected as a dominant mode, the Alaska Oscillation (ALO)…. To explain severe cold winters in North America under global warming, it is necessary to get an understanding of climate systems with little or no sea ice." • Here we go:
August 29. Mark it down – FIRST SNOW on the high peaks this morning and some much needed rain in the valley. Who else is stoked?! @jswansonphoto couldn't sit still. pic.twitter.com/qr3LJaOOd7

— Aspen Snowmass (@AspenSnowmass) August 29, 2020
"The first snowfall of winter for Aspen most often arrives in October. At least one in four years also receive snow in September…. Aspen is normally free of snow every year during July and August."
"They Know How to Prevent Megafires. Why Won't Anybody Listen?" [Pro Publica]. "The pattern is a form of insanity: We keep doing overzealous fire suppression across California landscapes where the fire poses little risk to people and structures. As a result, wildland fuels keep building up. At the same time, the climate grows hotter and drier. Then, boom: the inevitable…. Academics believe that between 4.4 million and 11.8 million acres burned each year in prehistoric California. Between 1982 and 1998, California's agency land managers burned, on average, about 30,000 acres a year. Between 1999 and 2017, that number dropped to an annual 13,000 acres. The state passed a few new laws in 2018 designed to facilitate more intentional burning. But few are optimistic this, alone, will lead to significant change. We live with a deathly backlog. In February 2020, Nature Sustainability published this terrifying conclusion: California would need to burn 20 million acres — an area about the size of Maine — to restabilize in terms of fire."
"Rampant destruction of forests 'will unleash more pandemics'" [Guardian]. "A UN summit on biodiversity, scheduled to be held in New York next month, will be told by conservationists and biologists there is now clear evidence of a strong link between environmental destruction and the increased emergence of deadly new diseases such as Covid-19. Rampant deforestation, uncontrolled expansion of farming and the building of mines in remote regions – as well as the exploitation of wild animals as sources of food, traditional medicines and exotic pets – are creating a "perfect storm" for the spillover of diseases from wildlife to people, delegates will be told. Almost a third of all emerging diseases have originated through the process of land use change, it is claimed. As a result, five or six new epidemics a year could soon affect Earth's population."
"Catastrophic Declines in Wilderness Areas Undermine Global Environment Targets" [Current Biology]. "Humans have altered terrestrial ecosystems for millennia, yet wilderness areas still remain as vital refugia where natural ecological and evolutionary processes operate with minimal human disturbance, underpinning key regional- and planetary-scale functions. Despite the myriad values of wilderness areas—as critical strongholds for endangered biodiversity, for carbon storage and sequestration, for buffering and regulating local climates, and for supporting many of the world's most politically and economically marginalized communities—they are almost entirely ignored in multilateral environmental agreements. This is because they are assumed to be relatively free from threatening processes and therefore are not a priority for conservation efforts. Here we challenge this assertion using new comparable maps of global wilderness following methods established in the original "last of the wild" analysis to examine the change in extent since the early 1990s. We demonstrate alarming losses comprising one-tenth (3.3 million km2) of global wilderness areas over the last two decades, particularly in the Amazon (30%) and central Africa (14%). "
Health Care
"Getting COVID-19 and the flu at the same time: What are the risks?" [ABC]. "In all likelihood, being infected with both viruses at the same time would be more dangerous than just one. And experts warn that older Americans — already more vulnerable to both COVID-19 and the flu — may be particularly at risk. That's why, especially this year, older adults are strongly encouraged to get a flu shot…. A study published earlier this year in the Journal of the American Medical Association found that 20% of patients were infected with another respiratory virus in addition to COVID-19, including one who had the flu — showing it is a possibility. 'We could see rising COVID cases during flu season and some of that may depend on how effective we are at maintaining consistency in our prevention behaviors we know work,' said [Dr. Jay Bhatt, former chief medical officer of the American Hospital Association]. 'Increased indoor interaction and decreased humidity are potential factors that lead to a broad rise in respiratory illness,' said [Dr. John Brownstein, an epidemiologist and Boston Children's Hospital's chief innovation officer]. 'The concern is that we have these rising epidemics at the same time posing both increased individual risk and a deepening strain on health care capacity.' However, limited evidence from Australia, which is in the midst of its own flu season, seems to indicate that social distancing for COVID-19 is helping curb the spread of the seasonal flu."
Black Injustice Tipping Point
Paging General Sherman:
This is real (see link below the picture for more on what @Imit8ionOFlife and others are up to with @Freedomgeorgia1).

Imagine if more of us put our resources together and integrated these sorts of actions into a broader #DualPower plan rooted in cooperative economics and more. https://t.co/CLwh4zJnR2

— Black Socialists in America (@BlackSocialists) August 30, 2020
The 420
"Pot's Short Squeeze Chance 'Drastically' Lower: Cannabis Weekly" [Bloomberg]. "The potential for a short squeeze in the cannabis sector has been 'drastically reduced' even as short interest has risen from this year's lows, according to financial analytics firm S3 Partners. Lower borrow fees and year-to-date profits for those who bet against the most-shorted stocks have reduced chances for a potential squeeze on the sector."
"Pennsylvania Governor Calls for Marijuana Legalization to Cover Covid-19 Budget Shortfall" [The Appeal]. "[A]s businesses shuttered and thousands of people lost their jobs, [Pennsylvania] quickly ran through the roughly $250 million revenue surplus it had at the beginning of March. The state is now running a deficit, the unemployment rate has more than doubled since February, and more than 2 million people have applied for unemployment benefits since March. Though other state lawmakers are weighing marijuana legalization, Wolf appears to be the first state governor to call for legal pot sales to cover budget shortfalls from the pandemic. Marijuana legalization, Wolf said, in addition to money allocated to the state from the federal CARES Act, would allow the state to 'actually do things that have to be done to help families and businesses that have been devastated by this pandemic.' Wolf's plan would allow people 21 years old or older to purchase marijuana from state-run stores, similar to the way wine and liquor are currently sold in the state." • "State Ganja Stores!
"House set to vote on marijuana legalization" [Politico]. "The MORE Act would remove cannabis from the Controlled Substances Act and erase some cannabis criminal records. The vote will come during the September work period, according to an email Majority Whip Jim Clyburn's (D-S.C.) office that was sent to members Friday." And the final sentence: "The bill's lead sponsor in the Senate is Sen. Kamala Harris (D-Calif.,) the Democratic nominee for vice president." • Oh.
Groves of Academe
"Colleges crack down on student behavior as virus threatens more closures" [Politico]. "The biggest threat to universities' carefully drawn reopening plans? Their students. School leaders are dishing out suspensions, kicking students out of dorms and sanctioning Greek organizations over large gatherings during a budding semester that already has seen colleges close amid thousands of confirmed Covid-19 cases and dozens of deaths. In some cases students face the ultimate penalty of expulsion for disobeying mask rules while their schools set up tip lines and scour social media for any hint of parties or social distancing violations, both on and off campus." • When are we going to crack down on administrators' behavior–
"Nobody Could Have Predicted" [Eschaton]. "Because everyone loves to blame The Kids – and of course kids can be dipshits – the individual responsibility rhetoric is always emphasized…. That some number of students are dipshits was known by the responsible adults making these plans. That each student dipshit is going to infect some number of other 'blameless' students is regularly ignored. Contagions, how the fuck do they work?"
"Colleges With Covid Outbreaks Advised to Keep Students on Campus" [Bloomberg]. "A consensus is building among public health experts that it's better to keep university students on campus after a Covid-19 outbreak rather than send them home as many are doing. It's easier to isolate sick or exposed students and trace their contacts if they stay put, said Ravina Kullar, epidemiologist and spokesperson for Infectious Diseases Society of America. Sending students home risks exposing other people there as well as along the way, and makes contact tracing all but impossible. 'There's just inevitably going to be an outbreak,' she said. 'Colleges need to take on the burden of having these students kept at their campus and taking care of them.'"
"Commentary: Here is why every university should abandon standardized tests like the SAT and ACT" [San Diego Union-Tribune]. "Standardized tests like the SAT are biased, drive inequality, and force students to overcompensate and jeopardize their high school educations. SAT/ACT scores only predict grades earned in a student's freshman year. They're worse predictors for Black and Brown students, and are good proxies for the amount of wealth students are born into. The wealthier a family, the higher the SAT score. These tests weed out low-income students with potential instead of creating equitable access for all to attend and perform in college. This is why every university should abandon these standardized tests." • My SAT scores were excellent….
Class Warfare
"The Art of Losing" [Harpers]. Re-upped from 8/25: "The city of Kenosha is a gray, exurban strip of Lake Michigan frontage with barely a hundred thousand residents. Until this magazine offered to send me there, I had never heard of it. But Kenosha was once an iconic union town—home to a massive United Auto Workers local, to say nothing of the Jockey, Snap-on, and American Brass plants that had, not too long ago, made it one the world's great manufacturing centers. You can probably guess that most of this has passed into history. And you can also probably guess why this magazine might send me there: In 2016, after having supported Democrats in almost every election for almost every office for forty-four straight years, Kenosha County broke for Donald Trump. This was by a margin of only 238 votes, in a state that he won by only 22,748 votes, despite statewide polls days before the election that showed Hillary Clinton leading by at least five percentage points. Kenosha County and neighboring Racine County were among only a small fraction of counties in the country that voted for Trump after voting for Obama in both 2008 and 2012." •
Identity politics, shot:
the hollowness of identity politics in four goldman sachs tweets pic.twitter.com/w1WkXld9bq

— Aisha Ahmad (@aishaismad) August 29, 2020
Chaser:
If modern Democrats were around in the 1800s their solution to slavery would be Black slave owners.

— Albert Lee for the People ? (@AlbertLee2020) August 10, 2020
Another round:
The drone just pops better if a trans woman hits the brown people die button! https://t.co/fhYo2TA0h7

— Kayla (@RealKaylaJames) August 31, 2020
News of the Wired
If today is a holiday for you, enjoy:
#BankHolidayMonday advice for cats: lounge around, nap and only move for food. So a standard day.

— Larry the Cat (@Number10cat) August 31, 2020
The MacMansions of suburbia are filled with padded rooms:
For when you need an office inside your home office. https://t.co/r5TzgeCaO1

— SoraNews24 (@RocketNews24En) August 31, 2020
Good call:
This painting was done by artist Walter Molino in 1962…. and he titled the painting "Life in 2022" pic.twitter.com/0DaKyZtzI5

— Vintage Los Angeles (@alisonmartino) August 24, 2020
* * *
Readers, feel free to contact me at lambert [UNDERSCORE] strether [DOT] corrente [AT] yahoo [DOT] com, with (a) links, and even better (b) sources I should curate regularly, (c) how to send me a check if you are allergic to PayPal, and (d) to find out how to send me images of plants. Vegetables are fine! Fungi and coral are deemed to be honorary plants! If you want your handle to appear as a credit, please place it at the start of your mail in parentheses: (thus). Otherwise, I will anonymize by using your initials. See the previous Water Cooler (with plant) here. Today's plant (Jen):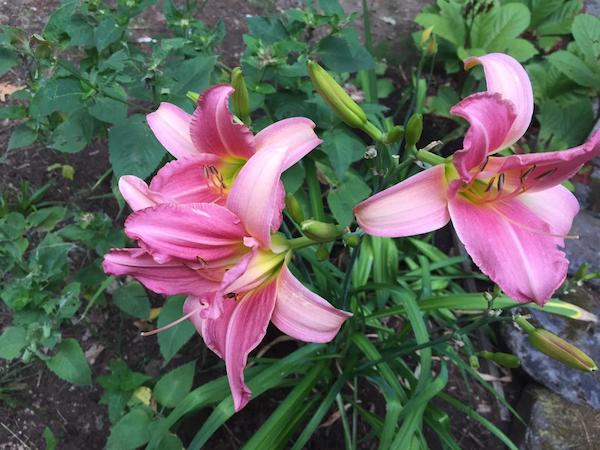 Jen writes: "One thing I really like about working from home is having more time to enjoy my flower gardens, instead of just taking a quick peak to see what's blooming before I race off in the morning, and hopefully a little more time in the evening before the day's blossoms fade. It's truly been a spectacular year for daylilies." If film was still a thing, I'd say this was Fuji.
* * *
Readers: Water Cooler is a standalone entity not covered by the annual NC fundraiser. So if you see a link you especially like, or an item you wouldn't see anywhere else, please do not hesitate to express your appreciation in tangible form. Remember, a tip jar is for tipping! Regular positive feedback both makes me feel good and lets me know I'm on the right track with coverage. When I get no donations for five or ten days I get worried. More tangibly, a constant trickle of donations helps me with expenses, and I factor in that trickle when setting fundraising goals:
Here is the screen that will appear, which I have helpfully annotated.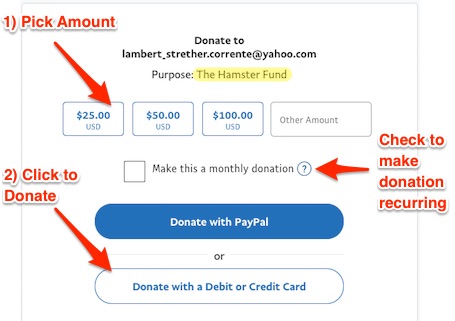 If you hate PayPal, you can email me at lambert [UNDERSCORE] strether [DOT] corrente [AT] yahoo [DOT] com, and I will give you directions on how to send a check. Thank you!