By Lambert Strether of Corrente.
Patient readers, this is a travel day for me, but I'm going to try being a little bit smarter, and post section by section until I hit the WiFi dead zone. After that, talk amongst yourselves! –lambert UPDATE Looks like I made it through….
#COVID19
At reader request, I've added this daily chart from 91-DIVOC. The data is the Johns Hopkins CSSE data. Here is the site.
Here again is the Midwest: Illinois, Indiana, Iowa, Kansas, Michigan, Minnesota, Missouri, Nebraska, North Dakota, Ohio, South Dakota, and Wisconsin: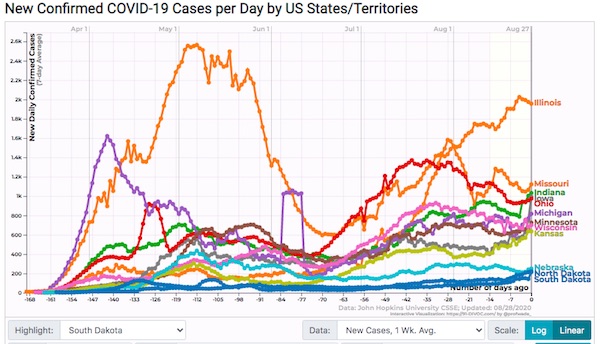 I left out positivity, becaue the chart becomes unreadable if I include it. Interesting spike in Missouri; I wonder if it's a reporting problem at the state level, since they seem to be cropping up all over.
* * *
AZ: "Wastewater helps find positive COVID-19 cases at UA dorm" [KOLD]. " Wastewater samples from the Likins dorm on the University of Arizona campus came back positive for COVID-19, according to university president, Dr. Robert Robbins. Dr. Robbins said they tested the water again, and all five samples came back positive. He said they performed roughly 311 COVID-19 tests on students and staff in the Likins dorm, and found two positive cases. Dr. Robbins said those individuals are now in isolation, and they are conducting contact tracing. He said wastewater collected from the other dorms showed no traces of COVID-19. The Director of the University of Arizona West Center, Dr. Ian Pepper and his team are sampling sewage from dorms to determine if someone is positive for COVID-19, even if they are not showing symptoms. Dr. Pepper said tracing sewage water can be one of the first methods to detect a resurgence of the virus. Dr. Pepper said ." • Good news!
CA: "Most nursing home inspectors still haven't been tested for the coronavirus, despite Newsom pledge" [Los Angeles Times]. "A month after Gov. Gavin Newsom promised an aggressive program to test nursing home inspectors for the deadly coronavirus, at least 60% still have not been tested, state health officials acknowledged…. The testing program itself has been sharply criticized by some inspectors, who say it's an informal and disorganized process with little supervision or clear protocols: They're sent for do-it-yourself drive-through testing at Rite Aid. They are not required to quarantine during the long waits for the results. And some inspectors say they haven't shared the results with the department because they don't know how to."
CA: "L.A. County sues church for violating COVID-19 orders with indoor worship services" [Los Angeles Times]. "In the weeks since, the county has instructed the church to cease indoor services. But the church has ignored such demands. On Sunday, [Pastor John MacArthur] welcomed worshipers to 'the Grace Community Church peaceful protest.' 'The county took this action reluctantly, after working with the church for several weeks in hopes of gaining voluntary compliance with the Health Officer Orders, which allow for religious services to be held outdoors in order to slow the spread of a deadly and highly contagious virus,' the county said in a statement. MacArthur thinks the state's current order is a violation of people's 1st Amendment rights." • Not sure how spreading a plague is "peaceful." Science, after all, provides evidence of things not seen.
HI: "Oahu to shut down for two weeks, 'reset' pandemic response amid rise in Hawaii COVID-19 cases" [NBC]. "Four weeks ago, Hawaii reported a total of 1,688 coronavirus cases since the start of the pandemic and was reporting an average of 45 new cases a day, according to an NBC News analysis. Since then, the total number of COVID-19 cases has reached 6,700, and public health officials are now reporting around 200 new cases a day. During this time, the death toll has also nearly doubled, jumping from 26 to 49, the figures show…. the next two weeks, Hawaii public health workers will ratchet up testing on Oahu, the state's most populous island, and in the state's biggest city, Honolulu, and they will hire 250 to 500 contact tracers. They have also booked an entire hotel Friday 'with hundreds of rooms' where people who test positive or have been in contact with people who've tested positive will be quarantined away from their families and friends, [Honolulu Mayor Kirk Caldwell] said." •
IN: "Notre Dame hires more security after students placed in quarantine violate rules" [South Bend Tribune]. "The University of Notre Dame has added security personnel to its COVID-19 quarantine sites after some students violated safety protocols and left the off-campus apartments and hotels…. Brown said the university has contracted with Monterrey Security and VSS Security Services to provide a total of eight staff members to monitor the facilities around the clock." • Didn't Australia have, er, problems with this arrangement? More: "Also, starting Thursday, troopers from the Indiana State Police Alliance, which offers security services, will patrol the properties nightly from 5:30 p.m. to 3:30 a.m., in marked police vehicles" • "Properties" plural? More: "Notre Dame has not released the locations where students are being kept, citing privacy concerns, and is not revealing how many students are in quarantine and isolation. 'That is not a number that we will be providing publicly,' [University spokesman Dennis] Brown said." • Oh.
MA: "Woodson press conference: Simply 'unattainable for us to offer on-campus housing'" [Technician]. "'It has simply become unattainable for us to offer on-campus housing to such a large number of undergraduates,' [NC State Chancellor Randy Woodson said]. 'We currently have 6,500 on campus, and it is clear that we are not going to be able to meet the required social distancing guidelines and be able to keep our students safe and healthy on campus.'… Students who are currently in quarantine and/or isolation on campus cannot leave unless they are cleared by Student Health Services, Woodson said. … As of Aug. 26, there are 900 students in quarantine and/or isolation on and off campus." • 900 / 6500 = 13.8%. Eesh.
NM: "UNM students stuck with campus leases" [Albuquerque Journal]. "By July, Ortega's scheduled classes moved completely online and the pandemic began causing financial issues for her family. To lessen the financial burden, Ortega transferred to a community college in Santa Fe for the fall semester. 'So when I had contacted (Lobo Village) and told them the situation that I wasn't going to attend UNM any more, that I have to go back home, they told me that (Lobo Village) didn't have a cancellation policy at the time,' Ortega said. 'We understand that we did sign a contract. A contract is a contract, but you'd think that with everything going on they would help students out."… Students like Ortega, meanwhile, who are looking for ways to cut costs, are running into obstacles with companies such as American Campus Communities (ACC), 'the nation's largest developer, owner and manager' of student housing, holding students to their leases."
TX: "Universities Are Playing Fast and Loose With Students' Health" [KXAN]. "Hailey Shari Scott, a cheerleader at the University of Texas, said she lived at Skyloft in West campus, and is still being asked to pay rent, despite moving home to Hutto for the spring semester of her sophomore year. Scott said she didn't want to put herself at risk of getting the virus. '[The leasing manager] told me, unfortunately, there's nothing I can do,' said Scott. 'I can try to sublet it for $350, but I'm like no one is going to want to live in the apartment with what's going on." Scott said her parents are now faced with paying $1100 a month for her empty apartment until the lease ends in July.'"
Politics
"But what is government itself, but the greatest of all reflections on human nature?" –James Madison, Federalist 51
"They had one weapon left and both knew it: treachery." –Frank Herbert, Dune
"They had learned nothing, and forgotten nothing." –Charles Maurice de Talleyrand-Périgord
The electoral map. July 17: Georgia, Ohio, ME-2 move from Leans Republican to Toss-up. Continued yikes. On July 7, the tossup were 86. Only July 17, they were 56. Now they are 91. This puts Biden at 278, i.e. over 270. August 18: Still no changes. (Last change August 10.) Despite the sturm and drang, and the polls, the consensus on the electoral college remains the same: Biden ahead, Trump within striking distance.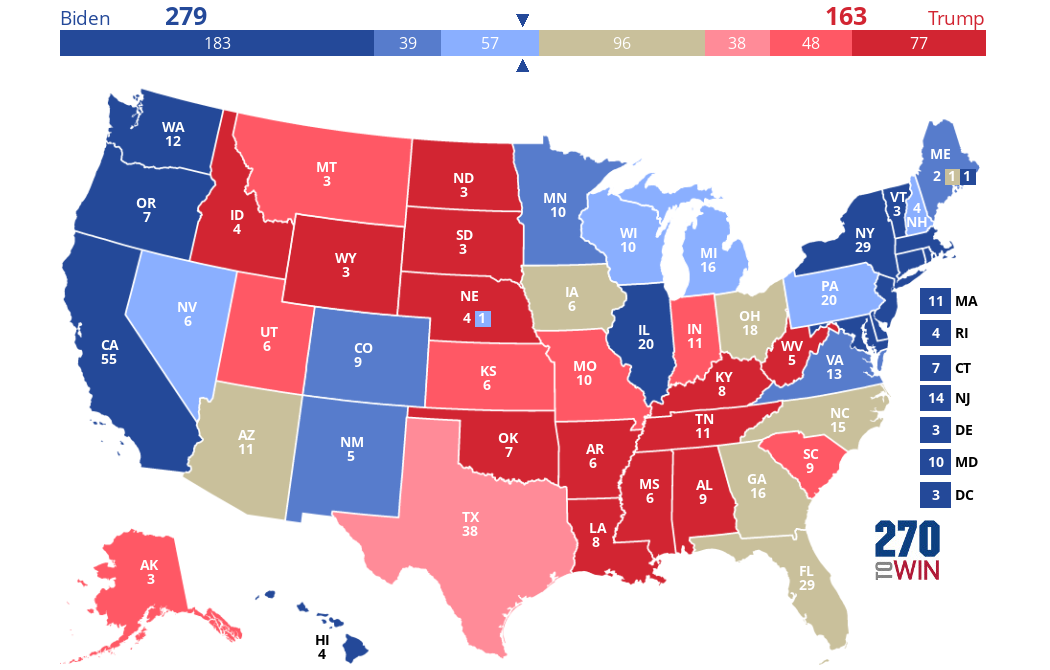 Click the map to create your own at
270toWin.com
So, taking the consensus as a given, 270 (total) – 204 (Trump's) = 66. Trump must win 66 from the states in play: AZ (11), FL (29), MI (16), NC (15), PA (20), and WI (10) plus 1 to win not tie = 102. 102 – 66 = 36. So if Trump wins FL, MI, NC, and PA (29 + 16 + 15 + 20 = 80), he wins. That's a heavy lift. I think I've got the math right this time!
2020
Biden (D)(1): "Joe Biden Is The Nominee, But The Democratic Party Belongs To Barack Obama" [HuffPo]. "Obama's story of America matters because it was the only point in this four-day convention in which anyone offered a plausible positive rationale for people to get out and vote. Every other voice raised for Biden relied on the prospective cataclysm Trump will wreak if Democrats do not vote him from power. Vote or die, the choice is yours. Obama alluded to the same potential destruction but gave his listeners a political tradition from which to rise, a historical cause to embrace, and a set of animating ideas. The election is a fight for democracy itself and for the idea of America that Obama, deep in his bones, knows to be True. It is not politicians who make history, Obama insists, but protesters and peoples demanding change… Personal charisma alone has not sustained Obama as the most popular Democrat in the country for more than a decade. The way Obama talks about the country is the way most Democrats think about America, and the way most Democrats — even lapsed Democrats — want to think about it…. If the American left hopes to see the transformative action necessary for averting another authoritarian slide, it will have to mold its ideas about sweeping change to a narrative that resembles what Obama presented on Wednesday night. Right or wrong, it's what Democrats want to hear. And there is no way forward for democracy outside the world's oldest political party." • Maybe I should put on my yellow waders for this one..

Biden (D)(2): "Biden is already forming a government. Here's what his Cabinet could look like." [Politico]. "Interviews with more than a dozen Democrats familiar with his transition process describe an effort by his campaign to assemble a center-left amalgamation of personnel designed to prioritize speed over ideology in responding to the coronavirus and the resulting economic ruin. Think Susan Rice, but also Elizabeth Warren. Pete Buttigieg, but also Karen Bass. 'I think those [ideological] distinctions are going to be a little hard to draw in this administration," said Matt Bennett, whose center-left group Third Way, like others, is developing lists of candidates to propose to Biden's advisers for sub-Cabinet and other roles. One Democratic strategist familiar with Biden's work to form a government said, 'Does it mean that the chief of staff won't be [longtime Biden advisers] Ron Klain or Steve Ricchetti or something? No, but it does mean you're going to see some unusual suspects in the government, I think.' Among those advising Biden on the transition are centrist-minded establishment figures such as Tony Blinken, the former deputy national security adviser in the Obama-Biden White House, and Lawrence Summers…." • Well, I hope Larry helped Jill pick out the drapes, is all I can say.

Biden (D)(3): "Untangling Joe Biden's Web of Healthcare Donors May Explain His Refusal to Budge on Medicare For Amid Deadly Pandemic" [Status Coup]. Surely not. From May, still germane: "A review of Biden's top donors with major financial skin in the healthcare industry, and directly working in the healthcare industry, sheds light on his lack of movement toward bold universal healthcare proposals amid the pandemic. Hedge fund titan Jim Simons, who heads Renaissance Technologies, poured in $3 million in March to pro-Biden Super Pac Unite the Country as the political and media establishment rallied around Biden against Bernie Sanders in the Democratic Primary…. Simons' big-money support for Biden comes as his hedge fund recently increased its investments in three big healthcare stocks like big pharma giant Merck & Co. … Another healthcare heavyweight supporting Biden's campaign and Super PACs is Joe Kiani, the chairman and CEO of medical technology company Masimo. Kiani has donated over $1 million to Biden's campaign and Super PAC, according to Revolving Door Project. … Kiani's medical technology company has spread the love to Biden. In addition to Kiani's donations and bundling, board chairman Craig Reynolds donated $27,800 to Biden's campaign and Super PAC, according to Revolving Door Project. Other Masimo employees have donated a combined $88,600, according to FEC campaign finance data…. Blackstone, Wall Street's private equity Goliath, has significant investments in the private healthcare industry, owning everything from healthcare staffing to billing companies. Blackstone is supporting Biden; executives John McCormick, who handles the hedge fund unit, and Verdun Perry, global head of strategic partners donated, donated $52,800 each to Biden's campaign and Super PAC. Other Blackstone employees donated a combined $118,383 to Biden's campaign, according to FEC data. According to CNBC, Blackstone's support for Biden comes as Blackstone Executive Vice Chairman Hamilton "Tony" James' name has been tossed out as a potential Biden campaign adviser—or even a position in a potential Biden administration." • And on and on and on and on….

Biden (D)(4): "Doug Emhoff, Kamala Harris's husband, takes a leave of absence from his law firm." [New York Times]. "Before joining DLA Piper, Mr. Emhoff had been a partner in Los Angeles for the firm Venable, where he represented an eclectic list of clients ranging from Merck and Walmart to financial entities and entertainment companies." • Yes, that Merck.

* * *

MA: "Super PACs Coordinating to Support Richie Neal" [The American Prospect]. "Rep. Richard Neal (D-MA) has had a strategy for beating back a challenge in next Tuesday's Democratic primary from Holyoke mayor Alex Morse. It begins with dollars and ends with cents. Neal's campaign has spent $4.3 million this cycle as of the middle of August, and still had $2.7 million left for the stretch run, nearly ten times as much as Morse, who has spent around $1 million. Much of that money—nearly $2 million—has come from corporate political action committees, though Neal's lawyers want you to know that is in no way equivalent to funding from corporations. But that apparently wasn't enough to make Neal comfortable with his political standing. He is also getting support from over $1.5 million in independent expenditure campaigns. The American Hospital Association PAC is running close to $500,000 worth of television ads. And two other super PACs, Democratic Majority for Israel (DMFI), which has spent money defending several incumbents from insurgent primary challengers this cycle, and American Working Families (AWF), have dropped over $1 million combined." • Seems legit.
* * *
–>
Realignment and Legitimacy
"Starbucks unveils plan to support partner and customer voter engagement" [Starbucks]. "In a letter to partners, Starbucks ceo Kevin Johnson shared how the company is taking steps to promote equity, justice and community resiliency. As part of this effort, the company unveiled its plan to support partners in their journey to register to vote and ensure their voices are heard. Johnson noted that no partner (employee) will have to choose between working their shift or voting on or before Election Day." • Gawd, "their journey." Although I love to see performativity worming it's way into the very typrography, as in the lower case "ceo." That said, if the Democrat party really cared about voter registration, it would be a core party function, not an opportunity for corporate branding.

"'Swipe carefully': Democratic campaign staffers warned of possible 'sting' on dating apps" [CNN]. • Democrats just now figuring out that somebody could do to them what they tried to do to Morse.

"QAnon Is the Future of the Republican Party" [The Nation]. • Gawd knows I don't want to defend QAnon, or tangle with its yarn diagrams. But is QAnon really more crazed — and dangerous! — than, say, mainstream macro, handmaiden of austerity? Or RussiaGate, another yarn diagram used by national security goons to gin up war fever against Russia? "Everybody has their own special delusion," as Catullus wrote.
Stats Watch
At reader request, I added some business stats back in. Please give Econintersect click-throughs; they're a good, old-school blog that covers more than stats. If anybody knows of other aggregators, please contact me at the email address below.
Personal Income: "July 2020 Real Personal Income Declined, Real Expenditures Improved" [Econintersect]. "The data continues to be affected by the pandemic. Expenditures grew as the economy began to open and most had the stimulus check to spend. The note from the BEA says it all: 'The July estimate for personal income and outlays was impacted by the response to the spread of COVID-19. Federal economic recovery payments continued but were at a lower level than in June, and government 'stay-at-home' orders lifted in some areas of the country. The full economic effects of the COVID-19 pandemic cannot be quantified in the personal income and outlays estimate because the impacts are generally embedded in source data and cannot be separately identified.'
Employment Situation: "U.S. Labor Department changes jobless claims data methodology after economic shock" [Reuters]. "The U.S. Labor Department said on Thursday it was changing the methodology used to address seasonal fluctuations in its weekly unemployment claims data, which economists complained was less reliable because of the economic upheaval caused by COVID-19…. The coronavirus crisis has caused an unprecedented decline in economic activity, with nearly 7 million people filing new claims for unemployment benefits at one point. The Labor Department said in the presence of a large shift in the claims series, the multiplicative seasonal adjustment factors could result in systematic over-or under-adjustment of the data. 'In such cases, additive seasonal adjustment factors are preferred since they tend to more accurately track seasonal fluctuations in the series and have smaller revisions,' it said."
* * *
Tech: "Unprotected quantum 'puters may hit 4ms brick wall, thanks to background radiation slashing qubit lifespans" [The Register]. "Non-shielded quantum computers may only be able to run for a few milliseconds before background radiation completely destabilizes the systems, according to lab experiments described in a paper published in Nature on Wednesday. .. [E]xperimenters at MIT say about four milliseconds is going to be the absolute limit for today's technology – when not sufficiently radiation shielded – due to cosmic rays and emissions from radioactive materials all around us affecting the computers' qubits. Specifically, the radiation will cause the qubits to lose coherence…. [Antti Vepsäläinen, first author of the Nature study and a postdoctoral associate at MIT] recommended protecting the devices in layers of lead shielding or rad-hardening the circuits themselves." • So, go long lead? Apparently, the top use of lead is in lead-acid batteries. Being American, I would have thought bullets, but no!
Tech: "13 things you need to know about the News Media Bargaining Code" [Google Australia]. My VPN decided I was in Australia, so I got a link to this post on the main Google search page. "If we want to keep our algorithms fair for everyone, we would have to stop making any changes in Australia. This would leave Australians with a dramatically worse Search and YouTube experience." • No, it wouldn't. If Google rolled back its algo changes for Search to, say, five years ago, Search would no longer be crapified. As for YouTube, the experience there has always been awful, unless you know what you're looking for (and don't get sucked into some yarn diagramming rabbit hole, which the algorithm encourages). Google is full of it, unsurprisingly.
Manufacturing: "Boeing finds flaws in fuselage of some Dreamliners; eight aircraft affected" [Reuters]. "Boeing Co (BA.N) said on Friday that some airlines operating its 787 Dreamliners have removed eight jets from service after the planemaker identified two distinct manufacturing issues in the fuselage section…. Aircraft for United Airlines (UAL.O), Singapore Airlines (SIAL.SI) and Air Canada (AC.TO) are impacted by the impromptu grounding, aviation publication Air Current, which first reported the news, said here." • Reuters — carefully? — doesn't explain the scope or nature of the problem. I remember, back when the 787's batteries were mysteriously catching fire, snaking about Boeing's "union-busting plastic plane." Now, I'd kinda hate to be right…. From the Air Current, which I cannot copy and must retype, but is worth a read: "Two manufacturing issues compromised an area of the structure in the rear of the 787 that is unable to withstand the maximum stress that would be experienced by the aircraft in service adnd could fail." Oh. So for this aircraft, Boeing shitcanned whatever was going to replace the 737….
* * *
Today's Fear & Greed Index: 76 Extreme Greed (previous close: 76 Greed) [CNN]. One week ago: 69 (Greed). (0 is Extreme Fear; 100 is Extreme Greed). Last updated Aug 28 at 12:31pm. Two days of Extreme Greed so far.
The Biosphere
"In Phoenix, rising temperatures day and night kill more people each year" [USA Today]. "So far in 2020, the Maricopa County Health Department has confirmed 30 heat-related deaths. The agency is investigating an additional 243. The death toll rises in a way that would drive dramatic headlines if tied to a single weather event. Hurricane landfalls typically claim far fewer lives. Instead, heat deaths happen one at a time, over the growing number of weeks and months each year when the weather turns dangerous. They are tied not to a single event but to an ongoing one, the rising temperatures that affect all seasons. Over the past 30 years, heat has accounted for more fatalities on average than any other weather-related disaster in the U.S., according to the National Weather Service. And while heat deaths may be more acute in the desert city of Phoenix, the warming climate that helps drive them is not likely to leave any major American city unscathed." • Too bad our housing stock isn't built for passive cooling (as in this Australian example). Oh well.
"Why bats matter" [Bats.org]. "Bats play an important role in many environments around the world. Some plants depend partly or wholly on bats to pollinate their flowers or spread their seeds, while other bats also help control pests by eating insects. In the UK, some bats are 'indicator species', because changes to these bat populations can indicate changes in aspects of biodiversity. Bats might suffer when there are problems with insect populations (because our bats feed on insects) or when habitats are destroyed or poorly managed (for example, some bats only live in large woodlands)." • Useful information. Just don't go in their caves!
Another art bot but I love Bonnard:
The garden steps, 1940 https://t.co/w4woKaDgny #pierrebonnard #postimpressionism pic.twitter.com/SlI2QhcT9f

— Pierre Bonnard (@pierre_bonnard) August 28, 2020
Color en masse, exemplified in this painting, is the design principle of a "grandmother's garden," and so Bonnard appeals to my personal aesthetic.
Health Care
"A Woman May Have Been Cured of H.I.V. Without Medical Treatment" [New York Times]. "A woman who was infected with H.I.V. in 1992 may be the first person cured of the virus without a risky bone-marrow transplant or even medications, researchers reported on Wednesday. In an additional 63 people in their study who controlled the infection without drugs, H.I.V. apparently was sequestered in the body in such a way that it could not reproduce, the scientists also reported. The finding suggested that these people may have achieved a 'functional cure.'… intensive scrutiny of the participants in this study showed that viral genes may be marooned in certain 'blocked and locked' regions of the genome, where reproduction cannot occur, said Dr. Xu Yu, the study's senior author and a researcher at the Ragon Institute in Boston. The participants in the research were so-called elite controllers, the 1 percent of people with H.I.V. who can keep the virus in check without antiretroviral drugs." • Here is the original article in Nature. I was speculating wildly that the "blocked and locked" regions of the genome were so-called "junk DNA," so we would have finally found a use for it, but from my translation of the Nature article, no. Oh well!
"When It Comes to Covid-19, Most of Us Have Risk Exactly Backward" [New York Times]. "Too many view protective measures as all or nothing: Either we do everything, or we might as well do none. That's wrong. Instead, we need to see that all our behavior adds up. Each decision we make to reduce risk helps. Each time we wear a mask, we're throwing some safety on the pile. Each time we socialize outside instead of inside, we're throwing some safety on the pile. Each time we stay six feet away instead of sitting closer together, we're throwing some safety on the pile. Each time we wash our hands, eat apart and don't spend time in large gatherings of people, we're adding to the pile. If the pile gets big enough, we as a society can keep this thing in check. But rather than focus on the cumulative benefits of individual actions, our attention too often rests on the few who refuse to act safely. We rage online over a couple of people who throw a fit about wearing a mask in a store. We spend far less time being grateful that so many Americans do wear them." • This makes sense both psychologically (constantly shaming people puts my head in a bad space) and in terms of a dose/response relation (the "pile" metaphor). But I'm not enough of a risk maven to know if Taleb would approve of the approach to risk the author recommends.
Oh, gawd, we've got a new term:
Health officials are already fighting to overcome vaccine hesitancy and persuade the wary to get immunized against the coronavirus, as candidate inoculations move closer to approval https://t.co/xrAYyw3FHp

— The Wall Street Journal (@WSJ) August 28, 2020
"Vaccine hesitancy." As readers know, I'm not anti-vax. But in the current context, I think it would be very helpful if the first to be for Covid were every member of the Senate, every member of the House, the President, and every political appointee in the Executive branch. That's not very many doses, after all, and every single one of 'em has "access" to the best possible health care, so no problemo, right?
"Hospitals charge a lot more when Wall Street owns them" [Axios]. "Hospitals owned by private equity firms rake in almost 30% more income than hospitals that aren't, according to new research published this week in JAMA Internal Medicine…. Hospitals recorded a sicker overall patient population after they were acquired, which could suggest that they're upcoding in search of higher reimbursements, the study's authors wrote." • Come on, man. (On medical coding and upcoding, see NC here, here, and here.)
Games
"Ronald Reagan sends you to do war crimes in the latest Call of Duty: Black Ops Cold War trailer" [The Verge]. "[W]hen discussion of the legality of the mission arises, that's when we get into murky territory. 'Every mission we go on is illegal,' protests fan-favorite Black Ops character Frank Woods, who says a lot of innocent people will perish if they don't stop Perseus. Thankfully, this is when the president shows up to give the final word. 'We're talking about preventing an attack on the free men and women of the world. Give Mr. Adler whatever he wants,' says Reagan upon entering the room and commenting that it was him, in fact, that approved the Black Ops crew's prior missions. 'Gentleman, you've been given a great task: protecting our very way of life from a great evil. There is no higher duty, there is no higher honor, and while few people will know of your struggles, rest assured the entire free world will benefit. I know you won't fail us.' It's a good thing Reagan is here to reassure us, the players, that what we're doing is in fact Good, or else Call of Duty fans everywhere might get the wrong impression about America's role in geopolitical conflicts around the globe. Can't have that happening!" • Creeps.
Groves of Academe
"Universities Are Playing Fast and Loose With Students' Health" [The Nation]. "Let's not unthinkingly embrace the conventional wisdom, or swallow the university-dispensed Kool-Aid, which defaults to student blaming…. I know, from my reporting and work on reproductive and sexual health, that asking people to change their behavior is the hardest thing to do—even when the correct thing to do has been clear for decades. Right now, scientists and public health practitioners are still debating the growing evidence that the virus may be spread by even the tiniest floating drops spewed when we talk or cough. I also know that young people can be inveterate risk takers…. Universities are deluding themselves about campus outbreaks in the making—their making. They should take a page from the world of sexual health, where the language and understanding has shifted subtly but significantly from "safe sex" to "safer sex" and the recognition that no sex is 100 percent risk-free—condoms, backup methods, and compassionate partners notwithstanding. There is no safety in residential education at this juncture." • Those administrators don't pay themselves, ya know. Worth reading in full.
"With Schools Closed, PBS Doubles Down on Offering Digital Content" [Morning Consult]. "While subscription streaming services have proven beneficial for legacy media companies during the COVID-19 pandemic, PBS has sought to emphasize its free educational material by expanding its digital offerings. Jonathan Barzilay, PBS' chief operating officer, said the company worked quickly to pivot to meet the educational needs of children, both over the air and online, after schools across the country were shut down in March." • Hopefully no sleazu funding arrangements….
"The Best Way to Help Schools Reopen" [Politico]. "The unfolding complexity of school reopening reflects a simple truth: Our state and local public health infrastructure is woefully inadequate to meet the moment. While significant evidence affirms that children being physically present in school is the most optimal learning and developmental environment, there is a groundswell of legitimate apprehension from school staff, parents and students that going to school means walking into an unsafe environment. This sentiment has led 35 of the nation's 50 largest school districts to begin the fall semester remotely, unsure how, or when, they can reopen for in-person instruction." • Like all our other infrastructure.
Class Warfare
"What Populism Is and Is Not" [The Nation]. Review of Thomas Frank's The People, No. "[The People, No] is a book that gets—in fact, obsesses over—what 'populism' is and is not, historically and in the present. Populism has a long and impressive history in American politics, a record of achieving real, tangible improvements in the lives of working people, including progressive income taxes, the eight-hour workweek, direct election of senators, and the abandonment of the gold standard. Frank identifies a pattern of elites (or anti-populists) who have perceived popular movements—early 20th century Progressives, labor activists, the civil rights movement—as threats to their own power and have responded by belittling those groups that have not met with their approval. This is the fundamental premise for Frank: that true populism represents the economic interests of the working class and, as such, is reliably detested and rejected by the upper classes (hence the titular No). … Anti-elitism, though, does not a populist make… To elites, though, anything arraigned against them is 'populist.' Anyone who thinks Larry Summers is a fraud and the White House Correspondents' Dinner is a bunch of self-gratifying bullshit must be of the same ideological cloth. Frank characterizes, correctly, the current state of American politics not as elites versus the masses but as two parties (superficially liberal and conservative) that represent warring factions among the elites." • Measured, worth reading.
"Cam girls are now working inside warehouse studio 'pods'" [New York Post]. "COVID-safe co-working spaces have arrived. Adult webcam company CamSoda has launched pop-up studios for 'cam girls' so they can have a workspace where they won't have to worry about bothering housemates or family with their potentially loud and erotic work. A test run for the concept was recently opened in Medellin, Colombia, where lockdown orders are still in place. CamSoda took advantage of the hard-hit real estate market and converted one of the city's many empty warehouses into studios featuring individual sanitized pods. Models submit to a temperature check before entry, and pods feature a laptop, bed or couch, and webcam. They are cleaned after each use. 'Quarantining for the last few months has been unbelievably hard on all of us. And for a lot of our models, it's been especially difficult to find a place to cam,' said Daryn Parker, vice president of CamSoda, in a press release. Camming has been one of the select few professions to be able to continue and thrive during the coronavirus pandemic by nature of being prime for remote work, making it among the only forms of adult entertainment able to safely produce new material since March. But for cam girls who don't live alone, quarantining has posed a unique challenge to work-life balance…. Following its success in Colombia, CamSoda is preparing to launch cam co-working pods in the US, starting with states hard-hit by COVID-19, including Florida, California, Texas and Arizona." • Go long social distancing….
News of the Wired
"What Ancient Sculptures Reveal About Universal Facial Expressions" [Smithsonian]. "Researchers have long debated whether humans use universal facial expressions to display emotion. Now, a study of ancient Mesoamerican sculptures offers a new take on the age-old question, suggesting that expressions of emotions such as pain, happiness and sadness transcend both time and culture. (It's worth noting, however, that several experts not involved in the research have raised questions regarding the findings, per Bruce Bower of Science News.)…. The results—published earlier this month in the journal Science Advances—'provide support for the universality of at least five kinds of facial expression: those associated with pain, anger, determination/strain, elation, and sadness,' according to the paper. Interestingly, these five universal emotions don't match up with the seven more commonly identified basic emotions: anger, disgust, fear, surprise, happiness, sadness and contempt." • Readers may wish to comment on the methodology. For myself, I'd be happy if disgust, fear, and contempt weren't universal. Especially given the state of our politics.
"Three Ways to Hack a Printed Circuit Board" [IEEE Spectrum]. "In order to understand how a circuit board can be hacked, it's worth reviewing how they are made. Printed circuit boards typically contain thousands of components. (They are also known as printed wiring boards, or PWBs, before they are populated with components.) The purpose of the PCB is, of course, to provide the structural support to hold the components in place and to provide the wiring needed to connect signals and power to the components…..PCB designers start by creating two electronic documents, a schematic and a layout… Once the schematic and layout have been checked, the layout is converted to a set of files….. Next, "pick and place" machines put surface-mount components where they belong on the board, and the PCBs pass through an oven that melts all the solder at once…..Attacks can be made at every one of these design steps. In the first type of attack, extra components are added to the schematic. This attack is arguably the hardest to detect because the schematic is usually regarded as the most accurate reflection of the designer's intent and thus carries the weight of authority." • Excellent technical writing, and fascinating material.
* * *
Readers, feel free to contact me at lambert [UNDERSCORE] strether [DOT] corrente [AT] yahoo [DOT] com, with (a) links, and even better (b) sources I should curate regularly, (c) how to send me a check if you are allergic to PayPal, and (d) to find out how to send me images of plants. Vegetables are fine! Fungi and coral are deemed to be honorary plants! If you want your handle to appear as a credit, please place it at the start of your mail in parentheses: (thus). Otherwise, I will anonymize by using your initials. See the previous Water Cooler (with plant) here. Today's plant (AM):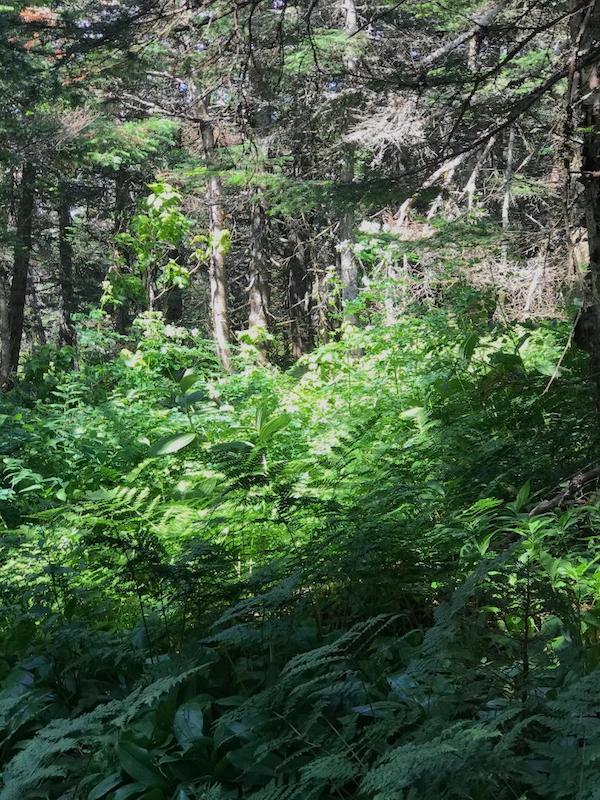 AM writes: "July 20, ferns and spruce on Killington mountain in VT from the Bucklin Trailhead hiking trail."
* * *
Readers: Water Cooler is a standalone entity not covered by the annual NC fundraiser. So if you see a link you especially like, or an item you wouldn't see anywhere else, please do not hesitate to express your appreciation in tangible form. Remember, a tip jar is for tipping! Regular positive feedback both makes me feel good and lets me know I'm on the right track with coverage. When I get no donations for five or ten days I get worried. More tangibly, a constant trickle of donations helps me with expenses, and I factor in that trickle when setting fundraising goals:
Here is the screen that will appear, which I have helpfully annotated.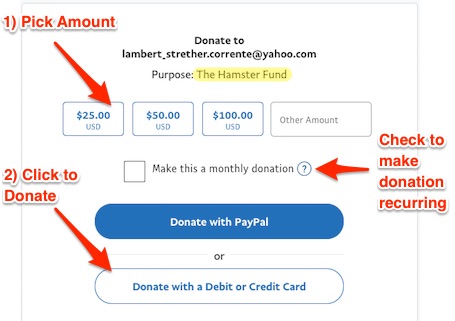 If you hate PayPal, you can email me at lambert [UNDERSCORE] strether [DOT] corrente [AT] yahoo [DOT] com, and I will give you directions on how to send a check. Thank you!