By Lambert Strether of Corrente.
#COVID19
At reader request, I've added this daily chart from 91-DIVOC. Here is world data: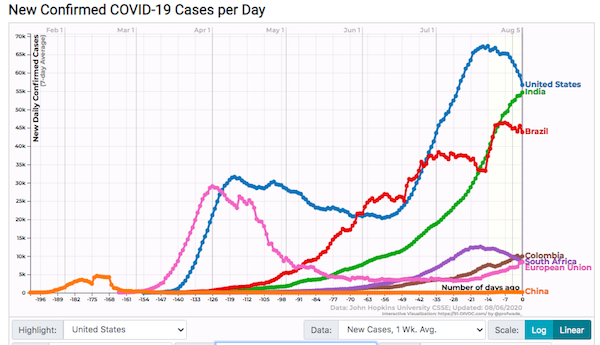 Once again, I don't love China or the CCP, but it's not hard to tell which country — and which system of political economy — prevented more people from dying of Covid. Also, I don't want to be a Gloomy Gus, but that stairstep pattern in the United States is a little concerning (though not unique, since Brazil seems to have one, too). It would be really bad if there were another step up, say after schools re-open.
And here are the United States regions: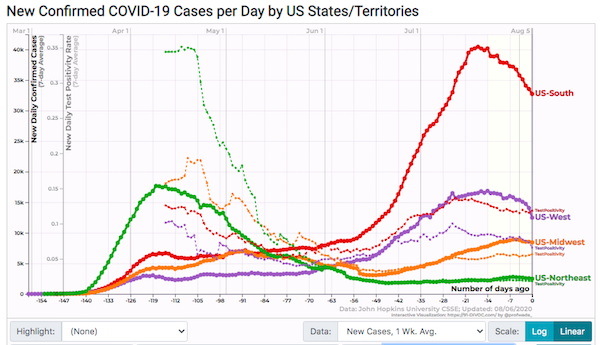 Here also it's curious that "the entity that gave it to everyone else" (China; New York) actually "got off easy" with respect to later outbreaks. I don't know if there's a reason for this or not.
Party on:
CA: "5 shot, 1 dead at Mulholland Drive mansion party in Los Angeles" [NBC]. "A NBC Los Angeles helicopter captured video of partygoers and a long line of cars going up the home's driveway, in addition to a party bus dropping guests at the event. While officers helped with traffic and parking control, they did not enforce the county's health order banning large gatherings during the coronavirus pandemic, police officials told NBC Los Angeles. California's current stay-at-home order prohibits social gatherings. State law enforcement agencies, including the LAPD, have generally opted for 'education' over action against Californians not keeping social distance or those who refuse to wear masks in public." • Wait. The cops get to "opt for" enforcing or not enforcing country health orders? (And did the cops "helping" with traffic and parking control get OT?)
CA: "Editorial: Partying our way to more coronavirus death and destruction?" [Los Angeles Times]. "Partying in the face of a pandemic isn't just foolish; it's a giant slap in the face to everyone who has followed the rules, even at great personal cost, in order to protect the larger community. Los Angeles officials are grappling with ways to stop the parties, or at least punish property owners who allow their homes to be used for illicit gatherings. Good. , but authorities must figure out how to discourage this kind of dangerously irresponsible activity." • Why not? How hard is this?
CA: "LA Mayor Authorizes DWP To Shut Off Water, Power For Large House Parties" [KCAL]. "Mayor Eric Garcetti says he is authorizing the Los Angeles Department of Water and Power to shut off utility service to properties where large parties and gatherings are held. Starting Friday, Garcetti says in 'egregious' cases where non-permitted large parties and gatherings take place, the DWP will cut off water and power service…. Under the proposal, penalties for large gatherings could include water and power shutoff, permit prohibitions or having a certificate of occupancy held or revoked for any 'large, close-contact, largely maskless gatherings, in direct violation of City Emergency Orders and County Health Orders.'" • Why not permit revocations?
TX: "UT official: No parties, on or off campus, are allowed fall semester" [Statesman]. "The rule has the potential to affect a large number of social gatherings across the campus. Sara Kennedy, a spokeswoman for the dean of students' office, said fraternities and sororities are private, off-campus organizations and not under the purview of the university, but they would still be subject to the no-party rule…. More than 6,000 UT students are members of one of the school's 63 sororities and fraternities, according to the office of the dean of students."
* * *
Positivity (not good news):
Large swath of the US is in the red zone of testing positivity, defined as 10% or more of tests positive. The South especially. 14 states currently red.

Yellow zone is 5-10% positivity. Green is <5%. #COVID19

(Analysis by @FAScientists team. @euromaestro). pic.twitter.com/HFzeMkwR47

— Eric Feigl-Ding (@DrEricDing) August 6, 2020
New cases (good news):
Suddenly a lot of green out there https://t.co/pgVrTu7NFa pic.twitter.com/5aWA7ttOxr

— Justin Fox (@foxjust) August 6, 2020
This map is a fine example of Tufte's "small multiples."
"US shows signs of coronavirus peak, but difficult days lie ahead" [The Hill]. "The number of new coronavirus infections across the United States is showing signs of easing but remains at a discouragingly high plateau that underscores the difficulty the country has ahead of it in getting the pandemic under control…. Even if the number of cases is plateauing, experts expect the number of deaths to rise for several more weeks. Deaths tend to be a lagging indicator, the tragic conclusion of cases that were confirmed several weeks ago, when average counts were substantially higher than they are today… Instead of ramping up testing, the number of tests conducted in the United States on a daily basis is actually falling. More than 929,000 people were tested on July 24, the highest level recorded to date. On Tuesday, 695,000 cases were conducted, according to data maintained by the Covid Tracking Project, an independent group of researchers." • Must not be profitable enough….
Politics
"But what is government itself, but the greatest of all reflections on human nature?" –James Madison, Federalist 51
"They had one weapon left and both knew it: treachery." –Frank Herbert, Dune
"They had learned nothing, and forgotten nothing." –Charles Maurice de Talleyrand-Périgord
The electoral map. July 17: Georgia, Ohio, ME-2 move from Leans Republican to Toss-up. Continued yikes. On July 7, the tossup were 86. Only July 17, they were 56. Now they are 91. This puts Biden at 278, i.e. over 270. August 3: Still no changes.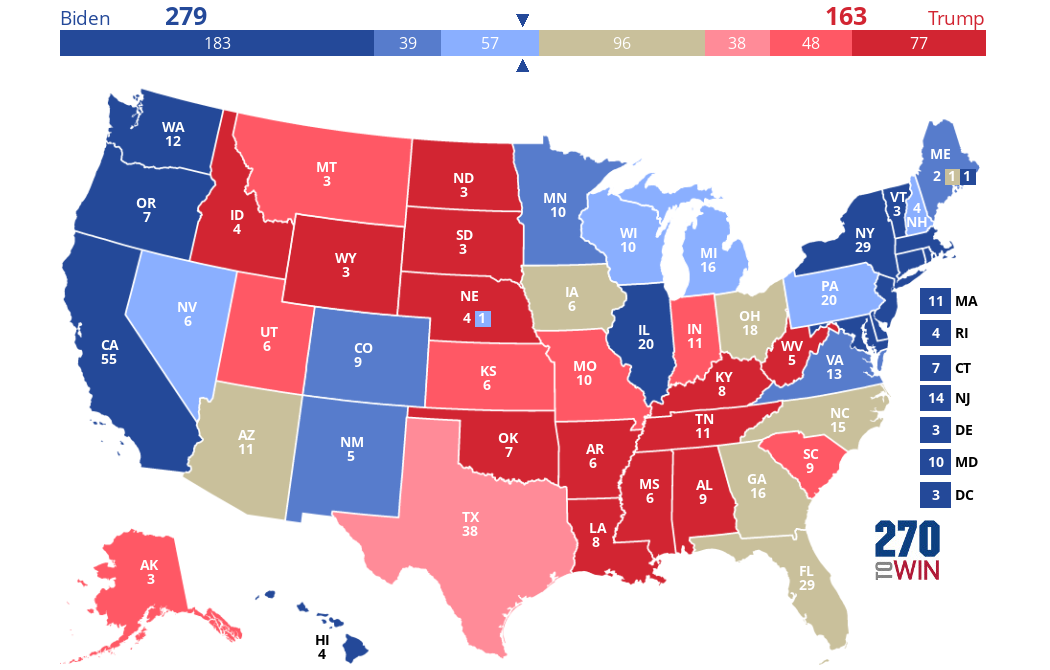 Click the map to create your own at
270toWin.com
So, taking the consensus as a given, 270 (total) – 204 (Trump's) = 66. Trump must win 66 from the states in play: AZ (11), FL (29), MI (16), NC (15), PA (20), and WI (10) plus 1 to win not tie = 102. 102 – 66 = 36. So if Trump wins FL, MI, NC, and PA (29 + 16 + 15 + 20 = 80), he wins. That's a heavy lift. I think I've got the math right this time!
2020
Biden (D)(1): This is a very good campaign ad:

There's been a lot of talk about my vetting process lately. Here's an inside look: pic.twitter.com/tFRKJOE3hi

— Joe Biden (@JoeBiden) August 5, 2020

"How can American vehicles not be out there"? Well, because Democrats and Republicans worked together to deindustrialize America over five Presidencies, that's why. But since 2016 is Year Zero for liberal Democrats, and nothing happened before then, we can forget all that!

Biden (D)(2): "With 'Survival of Organized Human Society' at Risk, New Campaign Rallies Progressives to Vote Trump Out" [Common Dreams]. "Organizers of the new 'Vote Trump Out' initiative argue that while progressives have major substantive differences with Joe Biden on a number of key issues, 'supporting the Democratic nominee in swing states is the only means we have to defeat Trump.' … 'If Biden wins, we'll be at his door on day one, demanding the kinds of structural reforms that advance racial, economic, and environmental justice,' the statement continues.'" • When does the left have more leverage? Now? Or under a Biden administration?

Biden (D)(3): "Democrats in key states press for a more visible Biden campaign" [WaPo]. "In the states that will probably decide the presidential election, President Trump is everywhere…. That has not necessarily helped Trump, who trails former vice president Joe Biden in almost all key states. Yet to some of Biden's supporters, Trump's continuing dominance is a warning sign…. Republicans in many states have resumed knocking on doors, holding meetings and registering voters at community events, despite the serious health risks of doing so. Democrats remain almost completely virtual, hosting online house parties, organizing Facebook groups and calling and texting voters — work that is largely out of view compared to traditional presidential election years. A few of the staffers the Biden campaign recently hired for battleground states may never be able to safely move to those sites." • I would imagine that virtual campaigning skews heavily PMC…

Biden (D)(4): "Joe Biden bundlers plot fundraising blitz to follow running mate announcement" [CNBC]. "Some of the expected co-hosts who are privately being mentioned are Hollywood movie executive Jeffrey Katzenberg, Wall Street executive Jim Chanos, Sen. Chris Murphy, D-Conn., Andrew Hauptman, co-founder of investment firm Andell and movie star George Clooney, according to the people…. The events will be a showcase for Biden's running mate, whom he is expected to choose within the next couple weeks. Many of these fundraisers would feature both Biden and his VP choice. But some gatherings will allow his pick to appear solo, giving a chance to connect with big money donors."

Biden (D)(5): "Biden campaign announces largest ad buy ever by a presidential candidate" [CBS]. "The Biden campaign on Wednesday is announcing what it says is the largest TV ad buy ever by a presidential candidate, with $220 million set aside for commercials to air through the fall and another $60 million budgeted to reach audiences digitally on social media or gaming platforms. Biden's team is planning to reach voters in at least 15 states, with messages that feature the former vice president speaking directly to camera about the response to the COVID-19 pandemic and the resulting economic fall. Signaling the states they see as most competitive, the Biden campaign said their ads will target: ."

UPDATE Biden (D)(6): "Why Would Biden Pick Susan Rice?" [Defense One]. "Rice's record as national security advisor is celebrated by many former Obama officials who served with or under her and are waiting in the wings with the rest of the Blob, the establishment, and the hawkish middle. Look beyond, however, and her record has been harshly criticized by far-left progressives and far-right conservatives who say Obama's record of military interventions, particularly in the Middle East, was spotty and disjointed; his Iran deal left much to be desired; and his flat-footed reaction to China's rapidly rising security and economic threats are as much to blame for the current state of Beijing-Washington relations as Trump, Xi Jinping, or the coronavirus pandemic." • Interesting venue for this discussion….

Buttigieg (D)(1): "Pete Buttigieg Takes a Faculty Post at Notre Dame" [National Review]. "Buttigieg will be a 2020-21 faculty fellow at Notre Dame's Institute for Advanced Study (NDIAS), taking part in a cohort that is set to focus on the 'nature of trust.' In October, the former mayor will release a book on just that subject, called Trust: America's Best Chance, 'interweaving history, political philosophy, and affecting passages of memoir [to explore] the strong relationship between measures of prosperity and levels of social trust.'" • "Affecting passages of memoir." I can't wait.

Sanders (D)(1):

.@RashidaTlaib: He does this Jamaal you'll get used to it@BernieSanders: I'm helping you articulate!

Rashida: Amo Bernie, I'm just letting the other kids know

Bernie: See, it's hard raising kids, I've been trying to raise her and look what I get!

Best. Stream. Ever. pic.twitter.com/89m474yZZw

— People for Bernie (@People4Bernie) August 6, 2020

school's

Sanders (D)(2):

.@JamaalBowmanNY is out here dropping truth bombs:

"Bernie, if the Democratic establishment didn't gang up on you & jump you, you would've been the nominee for the Democratic Party. They had to jump you in order to beat you. So I just want to say that." ?pic.twitter.com/azClatTWSS

— Ryan Knight ? (@ProudSocialist) August 6, 2020

You transgressed the unwritten law, there, Jamaal….

Trump (R)(1): "Trump outraises Biden in July, surpasses $1 billion for the cycle" [The Hill]. "President Trump's campaign outraised presumptive Democratic nominee Joe Biden's campaign by $25 million in the month of July and surpassed the $1 billion mark for the 2020 cycle. The Trump campaign and Republican National Committee (RNC) combined to raise $165 million in July, compared with $140 million for Biden and the Democratic National Committee. That's the best month of fundraising for Trump and the RNC this cycle. The Trump campaign boasted about plowing its money into its field game, saying its 1,500 field staffers are double Biden's."

West (I)(1): "Republican operatives are helping Kanye West get on general election ballots" [CNN]. "Republican operatives, some with ties to President Donald Trump, are actively helping Kanye West get on presidential general election ballots in states ranging from Vermont to Arkansas to Wisconsin." • Sturgill Simpson said West would run, but he didn't say as a straw! That's really funny. I haven't seen a list of where West has gotten on the ballot, but he has succeed in Vermont and Colorado, and has successfully filed in Ohio and Wisconsin (but failed in New Jersey).

* * *

"Kobach and Clay go down: Takeaways from a big primary night" [Politico]. "Republicans went into Tuesday's primaries with problems lurking all over the ballot, but they ended the night thanking their voters for cleaning up a potential mess. Democrats haven't won a Senate race in Kansas in more than 80 years, but Kris Kobach as the GOP nominee threatened to make the state an improbable toss-up. Instead, Rep. Roger Marshall won the primary, giving the GOP a much more electable candidate to go up against a strong Democratic recruit. In one of Kansas' key congressional districts, indicted Rep. Steve Watkins was looking like a juicy target for House Democrats — but they won't get the chance to run against him after state Treasurer Jake LaTurner ousted the freshman in a primary, boosting Republican chances of keeping the seat. These weren't just symbolic victories for the GOP establishment but ones that fundamentally boosted their chances in November, including their chances of keeping the Senate in Republican hands after watching their grip on the chamber weaken for months."

"The Democratic Party Is Setting the Stage for a Letdown" [James Zogby, The Nation]. "About one-quarter of this year's delegates are Bernie Sanders supporters. Most of them are progressive political activists—and many are first-time participants in a national convention. This virtual event will not be the experience they expected. And while all of those with whom I've spoken are supportive of the precautions being taken in this era of pandemic, most remain in the dark about the convention plans and whether their participation is valued…. Nevertheless, what was missing was a recognition that the convention wasn't just the concern of the planning staff or the Biden campaign. It was personal for the delegates—especially first-timers, many of whom worked hard to earn their posts, felt empowered when they won, and were looking forward to playing their part in this quadrennial drama…. leaving grassroots delegates in the dark as to how the convention will work—and reducing their role to passive online viewers—runs the risk of producing a massive letdown that could leave hundreds of delegates alienated. What this may mean is that at the conclusion of the party confab, many first-time Sanders delegates (and some old-timers, as well), instead of being energized and engaged, may turn off their computers feeling deflated and dejected. The unity so necessary for victory will not have been achieved." • It's not a bug. It's a feature.

UPDATE "Cuomo beats back 'surprise' AOC challenge to lead NY delegation to DNC" [New York Post]. "Gov. Andrew Cuomo on Tuesday easily defeated Rep. Alexandria Ocasio-Cortez's surprise challenge to determine who will head New York's delegation to the Democratic National Convention. Democratic Party chairman Jay Jacobs — a Cuomo ally — fumed that he was 'blindsided' when a motion was made to nominate AOC to head the delegation during an online Democratic Committee meeting…. Jacobs said it appeared that 'rogue operators' were behind the AOC nomination and that he didn't think the congresswoman herself instigated the challenge." • Cheeky!
RussiaGate
Ingenious:

? State Dept is "offering a reward of up to $10M for information leading to the identification or location of any person who works with or for a foreign government for the purpose of interfering with US elections through certain illegal cyber activities." https://t.co/zqtIneiarL

— Natasha Bertrand (@NatashaBertrand) August 6, 2020
Realignment and Legitimacy
"The Never Trumpers Have Already Won" [The New Republic]. "Whatever Sturm und Drang the Never Trumpers inspired on these fronts, they have done more damage to the left wing of the Democratic Party than they have to the powerful extreme right of their own party. From Trump's Inauguration Day onward, Never Trumpers have written a script of defending the status quo ante, by delegitimating alternatives to it. They joined a coalition of liberals for whom free-market depredations and imperial violence were acceptable parts of doing America's business, but left-wing mobilization was seen as part of a Weimar-style harbinger of regime collapse, and a living wage and universal health insurance were totalitarian equivalents of racist marches and travel bans. This agenda made it easy for the Never Trumpers to pivot from hating Trump to hating Bernie Sanders." • No wonder the Democrat Party found the Never Trumpers so congenial!

"What it Means for DSA to Embrace Black Leadership" [Sociality Majority] v. "Spiraling anti-Marxism in the DSA" [Class Unity]. • Oy.

* * *

UPDATE "Over 80,000 mail-in ballots disqualified in NYC primary mess" [New York Post]. "The mail-in ballots of more than 84,000 New York City Democrats who sought to vote in the presidential primary were disqualified, according to new figures released by the Board of Elections. The city BOE received 403,103 mail-in ballots for the June 23 Democratic presidential primary. But the certified results released Wednesday revealed that only 318,995 mail-in ballots were counted. That means 84,108 ballots were not counted or invalidated — ." • That seems like rather a lot.
Stats Watch
At reader request, I added some business stats back in. Please give Econintersect click-throughs; they're a good, old-school blog that covers more than stats. If anybody knows of other aggregators, please contact me at the email address below.
Employment Situation: "01 August 2020 Initial Unemployment Claims Decline To 1,186,000 This Week" [Econintersect]. "Market expectations for weekly initial unemployment claims (from Econoday) were 1,380 K to 1,500 K (consensus 1,422 K), and the Department of Labor reported -1,186,000 new claims. The more important (because of the volatility in the weekly reported claims and seasonality errors in adjusting the data) 4 week moving average moved from 1,368,750 (reported last week as 1,368,500) to 1,337,750."
Employment Situation: "July 2020 Job Cuts: Nearly 1.85M Job Cuts in 2020" [Econintersect]. "Job cuts announced by U.S.-based employers jumped in July to 262,649, the third-largest monthly total ever behind April's 671,129 and May's 397,016. July's total is 54% higher than the 170,219 job cuts announced in June, and 576% higher than the July 2019 total of 38,845. Prior to the COVID-19 pandemic, the highest monthly total of job cuts was 186,350 in February 2009." • Not seeing that V-shaped recovery.
Rail Week: "Rail Week Ending 01 August 2020 – July Down 9.3% Year-over-Year" [Econintersect]. "Week 31 of 2020 shows same week total rail traffic (from same week one year ago) contracted according to the Association of American Railroads (AAR) traffic data. Total rail traffic has been mostly in contraction for over one year – and now is recovering from a coronavirus pandemic…. Intermodal and carloads are under Great Recession values. Container exports from China are now recovering, container exports from the U.S. declined, and remains deep in contraction."
Household Debt: "2Q2020 Report on Household Debt and Credit: Total Household Debt Declines for the First Time Since 2014" [Econintersect]. "The Federal Reserve Bank of New York's Center for Microeconomic Data today issued its Quarterly Report on Household Debt and Credit, which shows that total household debt decreased by $34 billion (0.2%) to $14.27 trillion in second quarter of 2020. This marks the first decline since the second quarter of 2014 and is the largest decline since the second quarter of 2013."
* * *
Private Equity: "Blackstone to acquire Ancestry.com for $4.7 billion" [Reuters]. "Blackstone Group Inc (BX.N) said on Wednesday it agreed to acquire genealogy provider Ancestry.com Inc from private equity rivals for $4.7 billion, including debt, placing a big bet on family-tree chasing as well as personalized medicine." • What could go wrong?
Travel: "Southwest Will No Longer Disinfect Armrests and Seat Belts Between Flights" [Travel and Leisure]. "As flights increase, Southwest Airlines is reducing its COVID-focused cleaning protocol. Effective this month, the airline is now only disinfecting high-touch areas like lavatories and tray tables between flights. Armrests and seat belts will not be disinfected between flights. Customers will be able to request sanitizing wipes if they wish to disinfect their space on the airplane before sitting down." • Which they can dispose of, I would imagine, in the seatback pockets, along with the inflight magazines and safety manuals…
* * *
Today's Fear & Greed Index: 71 Greed (previous close: 70 Greed) [CNN]. One week ago: 62 (Greed). (0 is Extreme Fear; 100 is Extreme Greed). Last updated Aug 6 at 11:55am. Solid greed. Starting to get dull.
The Biosphere
"Humans have altered North America's ecosystems more than melting glaciers" [Science]. "Recent human activity, including agriculture, has had a greater impact on North America's plants and animals than even the glaciers that retreated more than 10,000 years ago. Those findings, presented this week at the virtual annual meeting of the Ecological Society of America, reveal that more North American forests and grasslands have abruptly disappeared in the past 250 years than in the previous 14,000 years, likely as a result of human activity. The authors say the new work, based on hundreds of fossilized pollen samples, supports the establishment of a new epoch in geological history known as the Anthropocene, with a start date in the past 250 years."
Health Care
Get on this, Bernie:
Inbox: DOD today announced TRICARE Select Group A retirees will be required to pay enrollment fees beginning on Jan. 1, 2021. pic.twitter.com/yrhpkcV8Eg

— Howard Altman (@haltman) August 5, 2020
Soon enough it won't be $12.50, either.
Police State Watch
"Downtown Portland quiets down, but skirmishes crop up elsewhere" [Los Angeles Times]. " Clashes outside a U.S. courthouse in downtown Portland, Ore., have largely stopped since Democratic Gov. Kate Brown reached a deal that called for the drawdown of federal agents sent by the Trump administration to protect the building — but the turmoil is far from over.
For the past several nights, Portland police have skirmished with protesters in other parts of city, far from the Mark O. Hatfield U.S. Courthouse, as residents rally around a call to defund the police force. Demonstrators are also mad at the use of tear gas by police multiple times over the summer to tamp down unrest." • For example, this thread:
is tear gas bad for chickens?

— elizabeth (@spindlypete) August 6, 2020
Surely the best opening tweet for a thread on the Twitter, at least for this week….
Sports Desk
"The Dismal Politics of the Sports World's 'Wokest' League" [The New Republic]. "[LeBron] James's approach has become the dominant mode of NBA politics. Under this paradigm, players see their interests as intertwined with that of the league. James wants to play out the season because winning a championship is good for his brand. Similarly, his loftier social justice goals are achieved in a putative partnership with the league itself. What's good for the NBA is good for James and vice-versa. Achieving social justice starts to become synonymous with winning another ring."
Class Warfare
"We need to abolish race" [Spiked Online]. "Race abolitionism poses a challenge to both racism and modern forms of 'anti-racism'. It is predicated on several core claims. First, race abolitionists argue that the social construct of race is based on a taxonomy invented to create and reinforce racial hierarchies. Therefore, to continue to affirm the meaning and existence of race will inevitably perpetuate racial hierarchies. Secondly, race abolitionists contend that the concept of 'race' is scientifically and socially unsupportable. Unlike 'sex', which describes the material reality of the divided reproduction function of a given species, the concept of race has no such material, biological basis. That's why its meaning is constantly shifting. … And thirdly, race abolitionists argue that the perpetuation of the notion of race is in direct opposition to humanism and universalism. By dividing human beings into broad racialised categories, and institutionalising those categories in the form of quotas, 'positive discrimination' schemes, 'black-only' spaces and so on, identitarians reify race and racialise social life…. racial essentialism is a destructive idea, regardless of where it is coming from on the political spectrum. This concept assumes that individuals can be reduced to some racial essence, which in turn determines how they ought to behave and act." • I wonder if it was Reed's comment (paraphrasing from memory) "a racist is someone who believes in race" made him personal non grata in some factions of the DSA….
From this interactive in the New York Times, New York employment: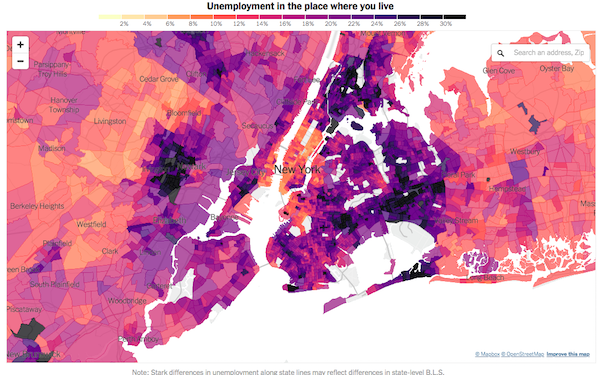 Compare to DC: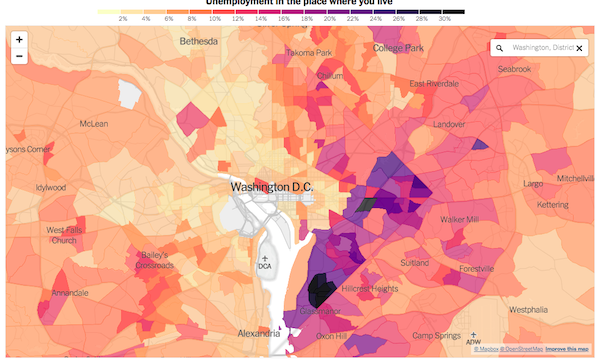 I would imagine the suffering of the rest of the country is necessarily abstract to the Beltway; McClean and Bethesda aren't feeling a thing. (Anacostia is bad, but who goes there?)
New of the Wired
Sid! Sid! Sid! Sid!
SID DIAGNOSIS UDPATE: x-rays have revealed a nasopharyngeal polyp, which basically means he's got a growth fucking with his sinuses and airway. There are questions if there is anything else going on with him but this explains a lot of symptoms. And it's something we can fix! pic.twitter.com/4KiIlDKcQE

— 10,000 Motivated Rats (@bombsfall) August 6, 2020
* * *
Readers, feel free to contact me at lambert [UNDERSCORE] strether [DOT] corrente [AT] yahoo [DOT] com, with (a) links, and even better (b) sources I should curate regularly, (c) how to send me a check if you are allergic to PayPal, and (d) to find out how to send me images of plants. Vegetables are fine! Fungi and coral are deemed to be honorary plants! If you want your handle to appear as a credit, please place it at the start of your mail in parentheses: (thus). Otherwise, I will anonymize by using your initials. See the previous Water Cooler (with plant) here. Today's plant (IM):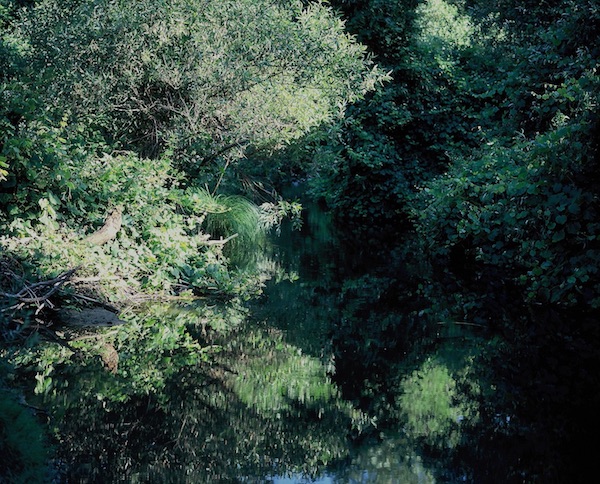 IM writes: "This one is from Napa, a trip some time ago. Among all the grapes and wineries, it is nice to find a secluded creek. No horizon line! Just the reflection in the water." Monet would be proud.
* * *
Readers: Water Cooler is a standalone entity not covered by the annual NC fundraiser. So if you see a link you especially like, or an item you wouldn't see anywhere else, please do not hesitate to express your appreciation in tangible form. Remember, a tip jar is for tipping! Regular positive feedback both makes me feel good and lets me know I'm on the right track with coverage. When I get no donations for five or ten days I get worried. More tangibly, a constant trickle of donations helps me with expenses, and I factor in that trickle when setting fundraising goals:
Here is the screen that will appear, which I have helpfully annotated.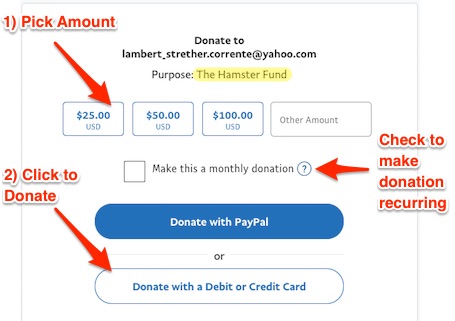 If you hate PayPal, you can email me at lambert [UNDERSCORE] strether [DOT] corrente [AT] yahoo [DOT] com, and I will give you directions on how to send a check. Thank you!