Why was CalPERS' Marcie Frost apparently trying to moonlight, when she can earn over $900,000 a year as the CEO of a giant pension fund?
Until yesterday, Frost was featured on All American Entertainment a paid speaker brokerage (usually referred to as a "speakers' bureau") which presents itself as having the largest roster of talent in the industry. We have embedded her profile at the end of the post.
The reason that this solicitation is troubling is that, as we will explain shortly, the CalPERS CEO is prohibited from taking what California law calls honoraria, which explicitly includes payments for speeches. Any proceeds must be turned over to the state's General Fund.
Accordingly, searches in two different search engines and on All American Entertainment site showed no listings for Governor Gavin Newsom, State Treasurer Fiona Ma, State Controller Betty Yee, or CalSTRS' CEO Jack Ehrens. Even putting "government" into the All American Entertainment search bar turned up no matches for Federal, state or local officials other than Frost.
We contacted All American Entertainment for their comment. All American Entertainment COO Margo Dunningham replied: "We are unable to speak about our relationship with particular clients or speakers."
However, an All American Entertainment client, a US financial firm, agreed to the anonymized publication of correspondence between them and the bureau roughly a year ago about booking Frost for a small-group event in Europe. All American Entertainment's response to this inquiry:
I connected with Marcie, and unfortunately, she's not able to make the event due to her schedule and conflicting CalPERS Board meetings that week.

Are there others you are interested in?

Let me know!

Best,

Mandy

Mandy Lubrano
Vice President, AAE
Notice that Lubrano did not say that Frost had no interest in accepting bookings arranged by All American Entertainment, but simply that the dates in question didn't work.
Even more important, this correspondence establishes irrefutably that All American Entertainment and Frost were in contact approximately a year ago about All American Entertainment arranging paid speaking opportunities for Frost.
By contrast, it is a considerable stretch to assume that All American Entertainment would have come up with the listing by scraping Frost's information from CalPERS' site and putting it up with no authorization, which is what Frost would have you believe. Here is the snippet generated from the search bar:

The speech topics are "Technology" and "Business of Health Care." Her full profile, as you can see in the document at the bottom of this post, adds "Innovation". Compare these items with Frost's official bio on the CalPERS site. You have to look hard to see mentions of "innovation" and "technology" and those are in connection with her previous job, in Washington. In other words, whatever expertise she arguably had is stale. Similarly, Frost's CalPERS blurb focuses upon investments. It does mention that CalPERS runs a large health insurance program but it's quite a leap to interpret that as "Business of Health Care".
In other words, Frost failing to authorize these subjects would run the risk that an All American Entertainment client would approach Frost on matters she was not prepared to address. Note that these topics are also not consistent with evangelizing for CalPERS.
It is also implausible that All American Entertainment could possibly have come up with the notion that Frost would travel from Seattle rather than Sacramento without Frost's direct input.1
Frost would be presumed to reside in Sacramento and is registered to vote there. And when she worked in Washington, she lived near the state capital, which is Olympia, so it would be exceeding unlikely that All American Entertainment would have gotten "Seattle" from an old bio. "Travels from Seattle" creates the impression that Frost would treat income from these engagements as Washington-sourced and therefore not subject to reporting on her required California government official annual financial disclosure, Form 700.
Even more important, to accept Frost's version of events requires believing that Frost would willingly pay a booking fee to some speakers' bureau she had never heard of that would have contacted her out of the blue. The reason this is the case is that All American Entertainment presents itself as "exclusively" representing event sponsors. But the contractual relations and money flows tell a more complicated story. From the All American Entertainment FAQs:
Will I have to pay more for booking a speaker through a speakers bureau?
In most instances, speakers pay speakers bureaus a commission on their fee. This means you can enjoy free consulting service, independent recommendations, a high level of event coordination, plus many additional services at no additional cost to you.
In other words, because event organizers don't like nickel and dime payments, the speaker fee is normally stated on gross basis with the speakers' bureau fee set as a commission. That means All American Entertainment would have to enter into an agreement with the speaker for this payment to come out of the gross speaking fee.
All American Entertainment also made clear on Frost's listing that it is not in the business of booking free speeches:
All American Entertainment (AAE) exclusively represents the interests of talent buyers, and does not claim to be the agency or management for any speaker or artist on this site. AAE is a talent booking agency for paid events only. We do not handle requests for donation of time or media requests for interviews, and cannot provide celebrity contact information.
The All American Entertainment profile used two videos created by CalPERS that use the CalPERS logo. Recall that board member Margaret Brown was sanctioned for a perfectly permissible use of the CalPERS' name on Twitter.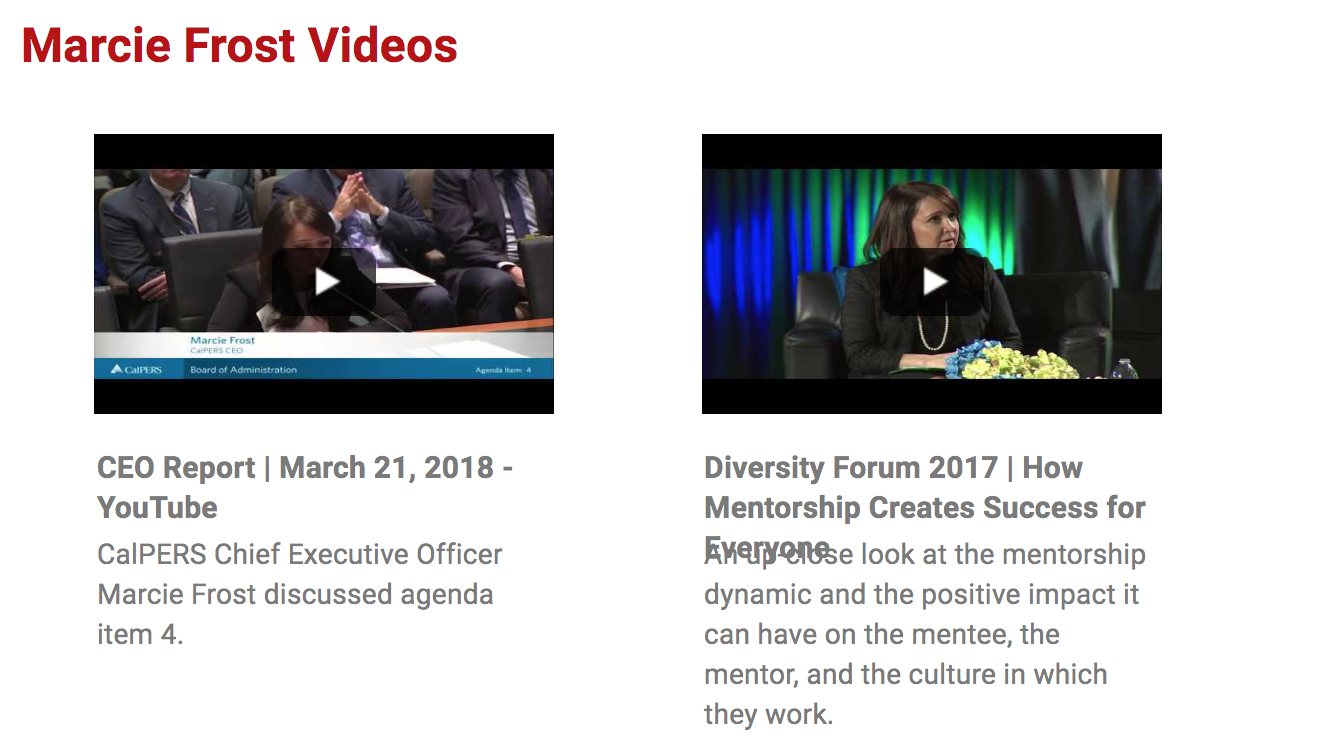 All American Entertainment features many top tier actors and entertainers on its site. The bureau would presumably would be sensitive to the need to obtain releases or permissions to use the "talent's" images and past performances.
In addition, Frost is frankly at the lower margin of someone who is employable as a paid speaker. If a speakers' bureau were interested in bulking up its offerings by adding unconsenting speakers, it would dilute its brand image to do so at the lower margin. It would make much more sense to exaggerate the bureau's representation at the top to increase cachet by listing unsuspecting pro athletes, ex-astronauts, and actors, not faceless government bureaucrats.
Finally, the All American Entertainment listing for Frost came up as the second item on a Google search for "Marcie Frost" and "speaking," as the second embedded document at the end of the post shows. It is inconceivable that Frost and CalPERS' large PR department didn't come across it in the year plus it was up.
So let us now turn to why this listing creates serious problems for Frost. It isn't just the poor appearance of the highly compensated Frost, who should be devoting all of her time to trying to remedy CalPERS' underfunding, looking as if she is soliciting side projects, and worse, creating the appearance that she's seeking additional income or at least a paid junket. Nor is it that if Frost wanted to promote CalPERS, she has already has the biggest PR department among public pension funds to get her gigs. It's that taking speaking fees would put her in legal hot water.
Note that if even if Frost had planned not to report out-of-state speaking fees on her financial disclosure form, it would not allow her to slip out of her obligations as a California state official. Failing to show income on her Form 700 (or as taxable in California) doesn't relieve Frost of legal restrictions on side activities as a Form 700 filer, including CalPERS' own conflict-of-interest regulation.2
As a member of the class of "…other public officials who manage investments," described in Government Code section 87200, the CalPERS CEO is barred under Government Code section 89501 from receiving "honoraria" defined as: "…any payment made in consideration for any speech given, article published, or attendance at any public or private conference, convention, meeting, social event, meal, or like gathering."3
Frost is required to turn any income from speaking over to California's General Fund. The Fair Political Practices Commission fact sheet Limitations and Restrictions on Gifts, Honoraria, Travel and Loans also makes clear that any payment for travel is reportable as income or a gift.
The fact that Frost engineered the removal of her All American Entertainment listing within hours of our inquiry about it to Frost is damning. If you don't believe her explanation that the listing was done without her consent, you must see her eagerness to take it down when discovered as an admission that the activity was highly improper.
If you want evidence that Frost is already engaging in self-promotion at the expense of CalPERS' image and bottom line, you need to look no further than her cozying up to motivational speaker Jon Gordon. His "Positive U" looks like a low-rent version of Trump University. Unlike Gordon, Trump is a billionaire, a successful (if controversial) developer and nationally famous due to his 14 year run as host of The Apprentice. By contrast, Gordon's Wikipedia entry lists no accomplishments outside speaking and book-writing save graduating from Cornell and Emory.
Frost hired Gordon to present at CalPERS, and insiders are confident he received a fee. His listing, ironically at All American Entertainment, shows it is not shabby:

We have put in a Public Records Act to find out how much Gordon's participation at an employer event last October cost the system and whether the event was booked through All American Entertainment.
Given that CalPERS morale among its investment staff, which is the group most important to CalPERS' performance, has been in decline under Frost's tenure, it appears she's been wasting her time and the system's money in her dalliances with Gordon.
Worse, there's the appearance of a quid pro quo: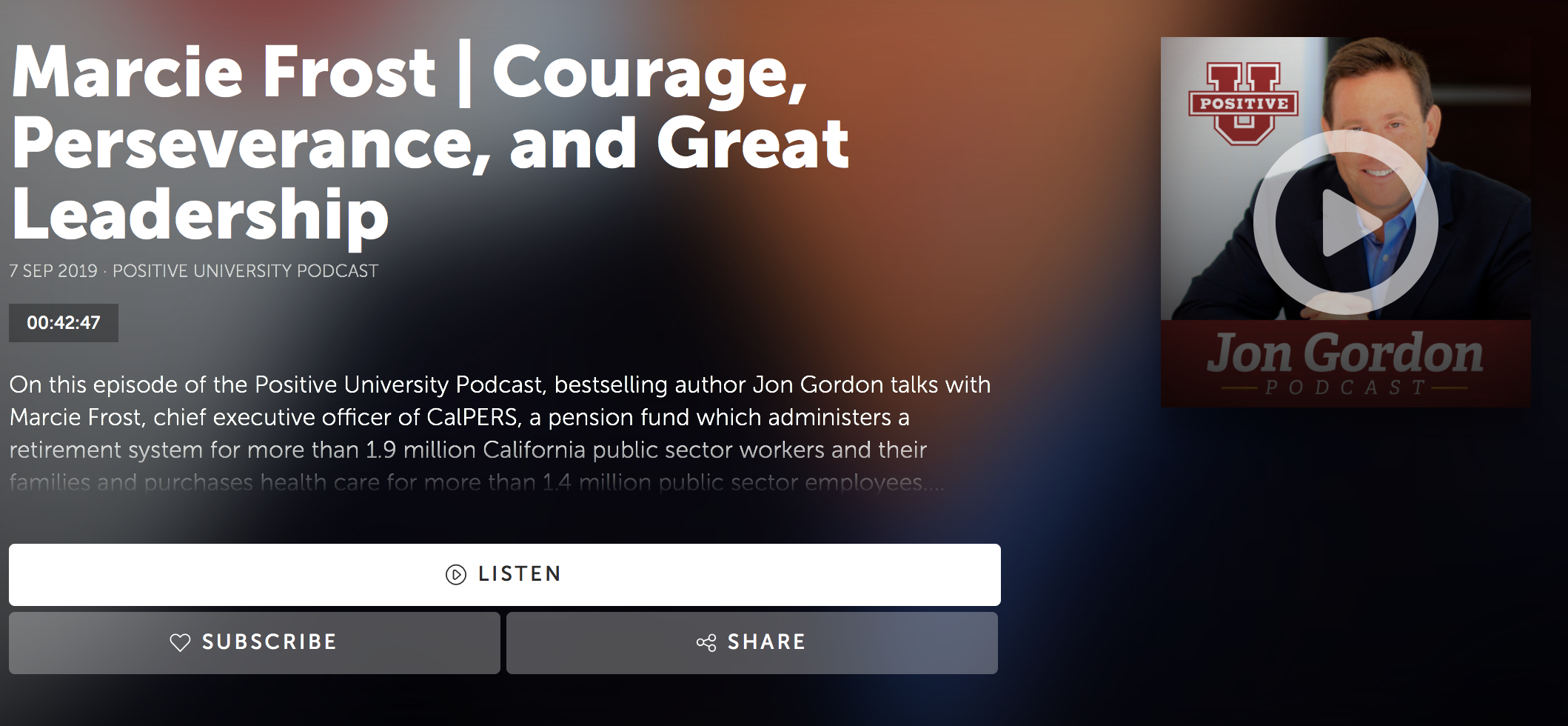 Why is Frost spending time enriching Gordon by giving him content? Mind you, if Frost were a Federal government officer, this podcast would be verboten. Federal officials are not allowed to give presentations unless they are free to members of the public.
But far more serious, Gordon's "Positive U" branding smacks of boiler room hucksterism. It is the antithesis of the careful stewardship of trust assets that CalPERS as a fiduciary should project. Success as a motivational speaker routinely has nothing to do with probity. Former McKinsey partner Tom Peters, of "In Search of Excellence" fame, was cheating with his co-author, fellow McKinsey partner Bob Waterman's, wife while they were working on the book that served as the platform for Peters turning himself into a big ticket business guru.
On the other end of the spectrum, Leonardo DiCaprio praised the real world Wolf of Wall Street, Jordan Belfort, as a phenomenal motivational speaker in video for a speakers' bureau promoting Belfort; the clip was yanked when it looked like it might endanger DiCaprio's Oscar prospects.
Mind you, we have no evidence that anyone paid Frost for speaking or her travel to appear at an event. But we can't establish that she didn't. And as you can see above, it sure looks like Frost was seeking speaker fees. One top finance professional reacted to Frost's All American Entertainment listing by saying, "It looks like she has her hand out for a bribe."
Frost issued a form of denial through CalPERS PR chief, Brad Pacheco, less than a day after we e-mailed her about the profile:4
Ms. Webber,

I'm responding to your email to Ms. Frost on her behalf.

Thank you for alerting us to this issue. Neither Ms. Frost nor CalPERS were aware she was listed on any speaker's bureau sites. We will contact any speaker's bureaus we discover and issue a cease and desist letter.

Thank you,
Brad
At a minimum, CalPERS board should demand that Frost immediately cease arranging for speeches outside of ones organized by her staff to promote CalPERS, such as her chat with Jon Gordon, so that all the arrangements are subject to disclosure under the Public Records Act. And they should also demand she produce copies of all her tax returns since she assumed office and have her explain any income aside from her CalPERS salary, bonus and any investment income.
But as readers appreciate, the odds of this captured board suddenly developing enough spine to take CalPERS' growing rap sheet seriously is remote. Readers therefore need to call in the Federal authorities, since they are the only officials with the independence and clout to investigate these abuses. Note that the speakers' bureau solicitation is a state matter and more an indicator of the CEO's character than anything they'd be interested in per se. By contrast, Ben Meng's conflict-of-interest abuse is in their wheelhouse.
Please call the Sacramento office of the FBI:
(916) 746-7000
Please also call the US Attorney's Office for the Eastern District of California:
(916) 554-2700
If you feel you need additional ammo, mine our archives under "CalPERS" or even do a search for recent press coverage. The media is finally waking up to the depth of the rot at CalPERS.
To quote Frost's favorite Jon Gordon, "Positivity is like a boomerang. The more we put it out there, the more it comes back to us." It certainly is coming back to Marcie.
Update August 13, 1:00 AM EDT. Via e-mail: "Marcie Frost just sent out an e-mail last week to all CalPERS staff about her hosting an upcoming speaker on her next webcast. Coincidentally, he is also an All American speaker."
Needless to say, I am putting in a Public Records Act request about CalPERS arrangements and correspondence with him and about him as well.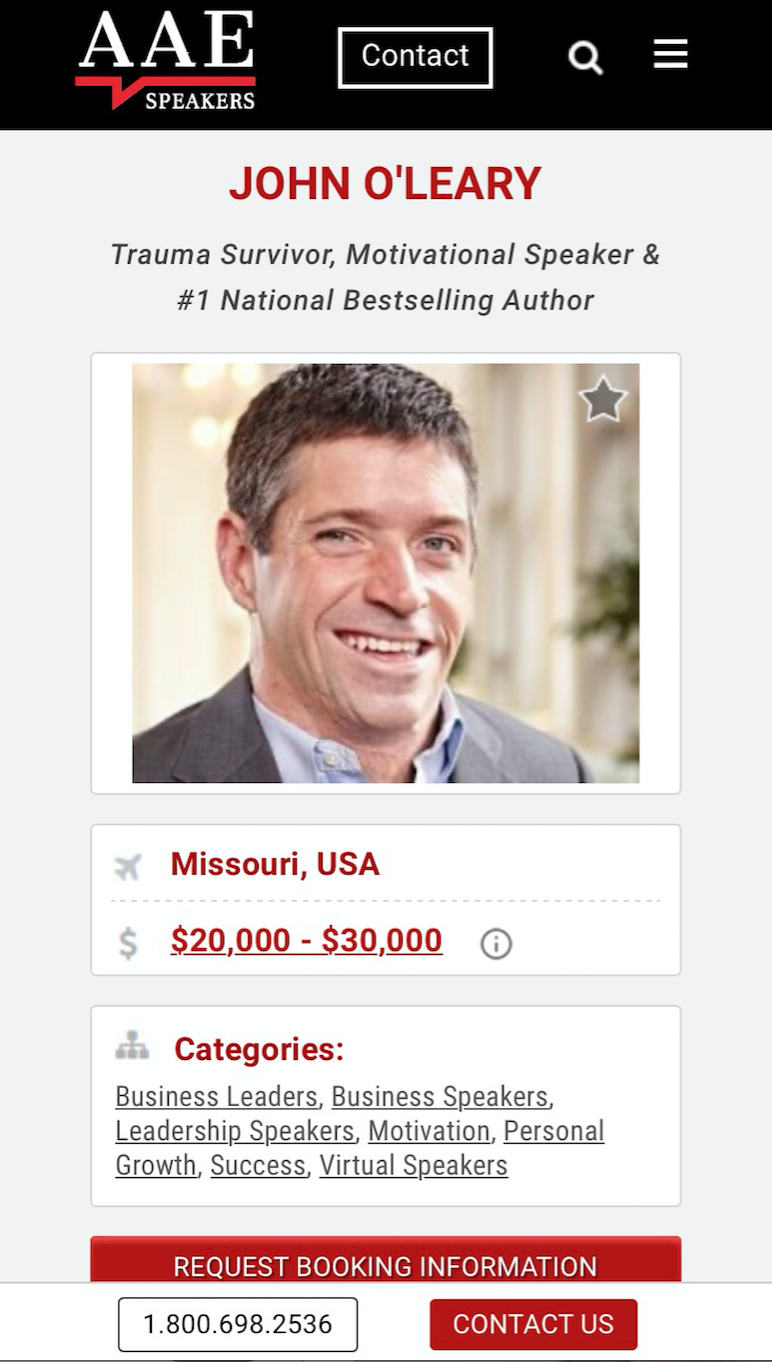 ______
1 Frost told me in September 2017 that she was traveling most weekends to see family in Washington. It seemed odd for someone in a presumed high pressure, high stakes job to spend this much time on the road in addition to the time and travel that being the CEO of CalPERS entails. Other insiders state that Frost says she travels regularly to Washington. So while there is no footprint in CalPERS' published materials that she is often in Washington, people who know her are familiar with these trips.
2 The FPPC requirements pick up the conflict of interest regulation promulgated by the employee/board member' state agency. CalPERS' Conflict-of-Interest Code sets forth a list of categories for various employees and posts disclosure requirements per category, and also notes:
All investments and business positions in business entities, and income (including gifts, loans, and travel payments) from sources which are of the type (1) to contract with CalPERS, (2) in which funds administered by the Board may be invested (including securities, real estate and business entities), or (3) to act as finder, solicitor, marketer, consultant, broker, placement agent or other intermediary to a contract or investment referenced in (1) or (2) above.

While public officials who manage investments are not required to be listed in this code, those officials are listed at the end of this document for clarity. Unlike the designated positions, these officials' reporting obligations are not limited by reference to a reporting category.
That means Frost is subject to the obligations of all the listed reporting categories, including Category 2:
All investments and business positions in business entities, and income (including gifts, loans, and travel payments) from sources which are of the type (1) to contract with CalPERS, (2) in which funds administered by the Board may be invested (including securities, real estate and business entities), or (3) to act as finder, solicitor, marketer, consultant, broker, placement agent or other intermediary to a contract or investment referenced in (1) or (2) above.
Note how broad this requirement is. It is not just California-related entities. It is any source that "are of the type" as in might, as opposed current is or has in the past, contract with CalPERS or could have CalPERS as an investor.
3 The prohibition does not apply to speeches made in connection with a legitimate business, "…unless the sole or predominant activity of the business, trade, or profession is making speeches."
But what the Fair Political Practices Commission means here is an individual giving a speech in connection with a non-governmental business, say, Senator Richard Pan lecturing on current research in his area of medical practice. From a Fair Political Practices Commission fact sheet:
Income earned and payments for travel made in connection with personal services rendered by the official if the services are provided in connection with a bona fide business, trade, or profession — such as teaching, practicing law, medicine, insurance, real estate, banking, or building contracting — and the services are customarily provided in connection with the business, trade, or profession. (Section 89506(d)(3) and Regulations 18950(a) and 18950.2.)

This exception does not apply if the sole or predominant activity of the business, trade, or profession is making speeches. In addition, the public official must meet certain criteria to establish that he or she is conducting or in a bona fide business, trade, or profession (such as maintenance of business records, licensure, proof of teaching position) before a payment received for personal services which may meet the definition of honorarium would be considered earned income and not an honorarium. (Section 89501(b); Regulations 18932 –18932.3.)
Under Government Code 89506 travel, lodging, and expenses the day before through day after within the U.S. may be provided for purposes of addressing an issue of state, national, or international public policy. There are also some narrow exemptions for certain nonprofits.
4 Frost's denial in keeping with an established pattern of her throwing service providers under the bus when she is caught out. Frost tried blaming top tier search firm Heidrick & Struggles for fabricating the fantastical claim, repeated in her official bio on CalPERS' site, that she was enrolled in a non-existent dual bachelor's/master's degree program at The Evergreen State College, when she had never matriculated anywhere. No one familiar with Corporate America would buy the notion that a firm of Heidrick & Struggles' caliber would misrepresent what Frost said, but CalPERS board happily fell in with her fabulism.
Separately, of course CalPERS would not be officially aware of any arrangement with All American Entertainment. The presumed point would be to have all communications be outside the Public Records Act discovery loop.
00 Marcie Frost | Speakers Bureau and Booking Agent Info

Marcie Frost speaking - Google Search