Many animal stories from readers! Hope this is not a sign that you need relief from the regular news even more than usual.
'I've realised my dream': Italy's oldest graduate top of the class at 96 Guardian. Definitely beats my uncle getting a PhD at 74.
Dog camera records cat and pooch's heartwarming daily routine while home alone Daily Star (Jim D)
Fox in Berlin Stole 100 Shoes The Cut
Caesar the 'no drama' therapy llama has been keeping protesters and police calm in Portland UpWorthy (David L)
Satellites Reveal Hidden Colonies of Emperor Penguins We Never Knew Existed Science Alert (Chuck L)
Frog Eats Beetle. Beetle Crawls Through Guts to Escape Wired (DK). Eeew.
Why America shouldn't have nuked Japan Asia Times (J-LS)
Here's Exactly How Inefficient Wireless Charging Is OneZero (Dr. Kevin)
Harvard Scientist Says We Need More Cheap, 'Crappy' Tests For COVID-19. Here's Why Science Alert
We Thought We Knew How Sperm Swam, But It Was Just an Optical Illusion Science Alert (Chuck L)
New study links marijuana to cardiovascular disease — but it's not all bad news Salon
#COVID-19
Your Old Radiator Is a Pandemic-Fighting Weapon Bloomberg (David L)
Coronavirus: latest Hong Kong pets to test positive for Covid-19 are Scottish shorthair cat, Yorkshire terrier dog South China Morning Post. J-LS:
Scary, yes, especially if you have a pet. But what amazes me most is that HK has such testing capacity they can use it on house pets. Whereas many humans in the US cannot get tested, certainly not on a timely basis.
Does my cat have coronavirus? RTE (PlutoniumKun)
Science/Medicine

US

?HIGHWAY ROBBERY:

Remdesivir, made by @GileadSciences, has now set the price ➡️ $2,300 to $3,100 per patient.

So how much does it cost to produce each vial?

➡️ Just $1.

US taxpayers also had paid for the drug's NIH trial.

Borderline criminal drug pricing.#COVID19 pic.twitter.com/bgd06By0cL

— Eric Feigl-Ding (@DrEricDing) August 6, 2020

'Numbers don't lie': Fauci says you can't deny the US has the world's worst COVID-19 outbreak Business Insider (J-LS)

'The economy is a bigger mess than Covid': Kentucky fears new shutdown Guardian (resilc)

Georgia class quarantined after first day of school as images of crowded school circulate online Independent (resilc)

UK/Europe

135,000 Britons now face the AXE amid fear of 'economic Armageddon' as day after day the Covid jobs bloodbath takes its devastating toll Daily Mail (J-LS)

Political Responses

US Reaches $1 Billion Deal For Doses of Potential Johnson & Johnson Vaccine The Hill

Finance/Economy

More Farmers Declare Bankruptcy Despite Record Levels of Federal Aid Wall Street Journal

Goldman warns a successful Covid-19 vaccine could spark a sell-off in bonds and rotation out of tech stocks into cyclicals.https://t.co/PSWAweO0g3 pic.twitter.com/eaYeu3ygWq

— Tracy Alloway (@tracyalloway) August 6, 2020
Beruit. So devastating, I am at a loss as to what to say.
Angry Beirut residents demand answers after blast BBC

The Beruit blast was so big it carved out part of the earth. This was taken by Jenan Moussa a fantastic middle eastern journalist. pic.twitter.com/REODiSgdsU

— Learn Something (@EyePoppingFact) August 5, 2020
India
Modi's speech in Ayodhya marks a decisive turn away from secularism for India The Scroll (J-LS)

India's Hindu Nationalists Reverse the Tide of History Bloomberg

Demolition Men Do Not Build Nations, They Destroy Them The Wire (J-LS)
Old Blighty
England's planning reforms will create 'generation of slums' Guardian (Kevin W)

BBC threatens pensioners with bailiffs if they don't pay the licence fee – after spending £38m on 800 staff to enforce collection of the £157.50 levy Daily Mail (J-LS)
New Cold War
VIPS MEMO: To Nancy Pelosi — Did Russia Hack the DNC Emails? ConsortiumNews (Chuck L)
Meet the U.S. Navy's First Black Female Fighter Pilot People
Big Brother is Watching You Watch
What Are Stingrays and Dirtboxes? Intercept (Dr. Kevin)

Beware of find-my-phone, Wi-Fi, and Bluetooth, NSA tells mobile users ars technica
Imperial Collapse Watch
Defund the Bloated U.S. Military Juan Cole (resilc)
Trump Transition
How Popular Is Donald Trump? FiveThirtyEight (resilc)
Ted Cruz bashes Oprah for 'lecture' on race: 'What utter, racist BS' The Hill (UserFriendly)
2020
Joe Biden's mental ability is a campaign issue that can't be ignored: Devine New York Post (J-LS). Yes, the Post, but still a bad look.

DeBlasio is part of the same problem as Trump, Cuomo, DeSantis, etc—ruling class failure. Voting out Trump will only solve our problem with that particular failure, not the larger problem that we're ruled over by a class of catastrophic failures.https://t.co/lvaQj3kuGL

— Mark Ames (@MarkAmesExiled) August 4, 2020

Rashida Tlaib and Slate of Local Progressives Win in Michigan Intercept (resilc)
Police State Watch
What Happened In Portland Shows Just How Fragile Our Democracy Is FiveThirtyEight (David L)

The Senate Should Ask Chad Wolf About His Illegal Appointment Lawfare (David L)
Study reveals impact of powerful CEOs and money laundering on bank performance ScienceBlog
Cigna Bilked Medicare Advantage For $1.4B, FCA Suit Says Law360
How Native Tribes Started Winning at the Supreme Court Mother Jones
US Crude Oil Production Plunged Most Ever, Natural Gas Followed: The Great American Oil & Gas Bust, Phase 2 Wolf Richter
New York Unveils Landmark Antitrust Bill That Makes It Easier To Sue Tech Giants Guardian
Class Warfare
In Hollywood Caitlin Johnstone (Kevin W)
Antidote du jour. Tracie H:
One of my White-tailed Antilope Squirrel friends enjoying the seeds I set outside for anyone interested. The squirrels like it – birds probably don't find it safe – or maybe they recognize the receptacle as a cooking pot.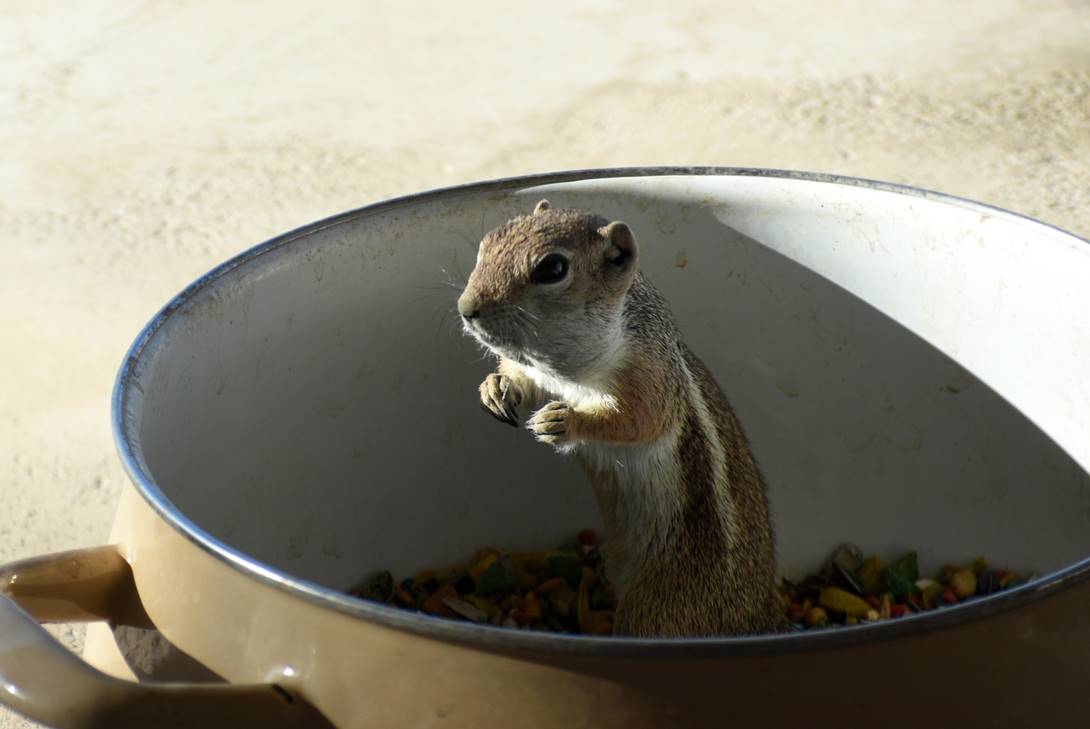 And a bonus (guurst):
Bear cubs filmed body surfing and splashing in waves of the Sea of Okhotsk. A peaceful sunrise outing of two young brown bears caught in an enchanting video https://t.co/b1pBg2n5nP pic.twitter.com/Au0PTUwGBu

— The Siberian Times (@siberian_times) July 30, 2020
See yesterday's Links and Antidote du Jour here.