By Lambert Strether of Corrente.
#COVID19
At reader request, I've added this daily chart from 91-DIVOC. The data is the Johns Hopkins CSSE data. Here is the site.
Here are the United States regions: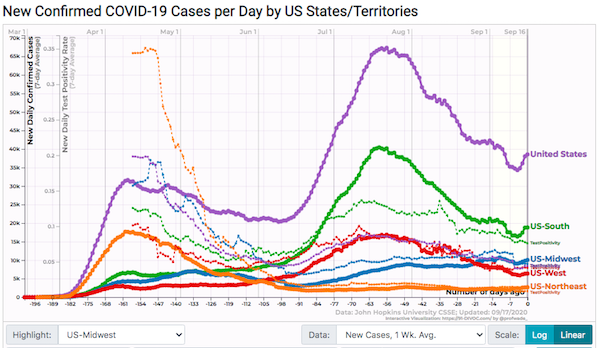 Pretty soon those upticks are gonna turn into a third wave…
Here's the global leaderboard, plus a separate curve for the US: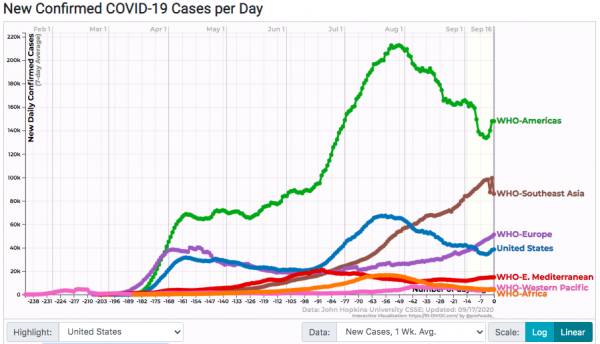 As you can see, the United States, at this point in time, has achieved mediocrity. (India is driving Southeast Asia. The Western Pacific includes China, Japan, and Australia.)
Politics
"But what is government itself, but the greatest of all reflections on human nature?" –James Madison, Federalist 51
"They had one weapon left and both knew it: treachery." –Frank Herbert, Dune
"They had learned nothing, and forgotten nothing." –Charles Maurice de Talleyrand-Périgord
The electoral map. July 17: Georgia, Ohio, ME-2 move from Leans Republican to Toss-up. Continued yikes. On July 7, the tossup were 86. Only July 17, they were 56. Now they are 91. This puts Biden at 278, i.e. over 270. August 18: Still no changes. August 31: Indiana moves from Likely to Safe Republican. September 9: No changes. September 14: No changes. Despite the sturm and drang, and the polls, the consensus on the electoral college remains the same: Biden ahead, Trump within striking distance.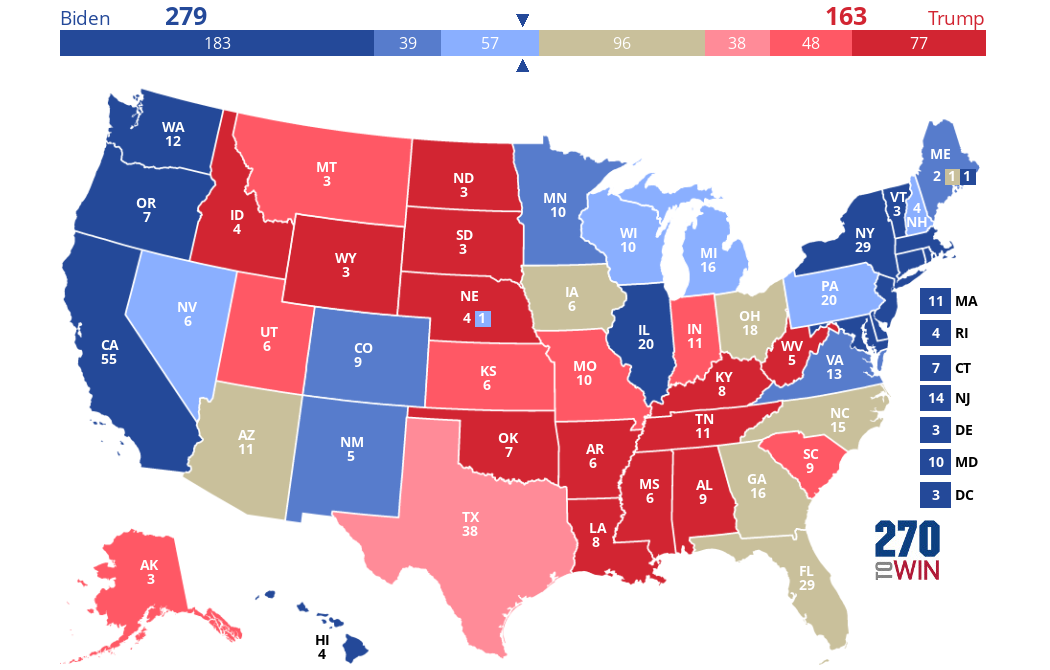 Click the map to create your own at
270toWin.com
"New Survey Results From KFF/Cook Political Report Survey in AZ, Fl, and NC. AZ Moves to Lean Dem" [Cook Political Report]. "There are two key geographic battlegrounds for the Electoral College this year. One is the Midwest that until 2016, had been reliably Democratic. The other is the fast-growing Sun Belt section of the country that has traditionally voted Republican…. This week, we are releasing the most recent poll that featured 3,479 interviews with voters in Arizona, Florida, and North Carolina. While Trump carried all three states in 2020, he is not leading in any of these states today. Trump and Biden are essentially tied in Florida (Trump 42%, Biden's 43%) and NC (Trump 43%, Biden 45%). However, in Arizona, Biden has opened up a more substantial lead (Biden 45%, Trump 40%). A Biden win in Arizona would mean that he could afford to lose Michigan or Wisconsin (two of "Blue Wall" consortium) and still eke out an Electoral College win (assuming that he wins all the states Hillary Clinton carried in 2016). Biden could even afford to lose Pennsylvania and still win the Electoral College with a combination of Arizona and Nebraska's 2nd CD."
Time to restore the election countdown:
Here, however, is an early voting calendar. Maybe we'll have a whole series of October surprises, since election day is gradually being devalued as an event.
And here are mail-in voting ruies, which naturally differ state by state.
* * *
2020
Biden (D)(1):

My poodle and I are going to bed happy knowing that when Uncle Joe becomes President, Auntie Kamala will be there in case bad crap happens. pic.twitter.com/mlWSCNvfCi

— Ana Navarro-Cárdenas (@ananavarro) August 12, 2020

I don't have time to research whether Navarro-Cárdenas named her dog after Mueller.

Biden (D)(2):

I hate our news media with a fiery passion.https://t.co/9RlL5gJWhE

— Anomaly ? ? (@spatial_anomaly) September 16, 2020

Biden (D)(2):

Joe Biden, speaking in Wilmington, Delaware, lays out his plan to combat Covid-19: "If I'm elected President, I'll begin by implementing an effective distribution plan from the minute I take office. … I'll simply follow the science" pic.twitter.com/jniHoawSei

— CNN Politics (@CNNPolitics) September 16, 2020

I'm a lonely voice on this, but you can't "follow the science," "simply" or not.

Biden (D)(3): "A Breakdown of the Biden Policy Platform: Five Key Takeaways" [Wharton Business Daily]. "We split the Biden platform into eight focus areas — immigration, taxes, education, research and development (R&D), housing assistance, Social Security, health care, and paid leave — and projected the budgetary and economic effects of Biden's proposals…. [I]n the long run, by 2050, the Biden platform would reduce the federal debt by 6.1% and boost GDP by 0.8%."

Biden (D)(4): "Joe Biden assembles legal team ahead of divisive 2020 election" [USA Today]. "Democrat Joe Biden is assembling a team of top lawyers in anticipation of court challenges to the election process that could ultimately determine who wins the race for the White House. Biden's presidential campaign says the legal war room will work to ensure that elections are properly administered and votes correctly counted. It will also seek to combat voter suppression at the polls, identify foreign interference and misinformation, and educate voters on the different methods available for casting ballots. The effort, which the Biden campaign described as the largest election protection program in presidential campaign history, reflects the extent of the preparation underway for an already divisive presidential contest in November that could produce significant, perhaps even decisive, court cases over voter access and the legitimacy of mail ballots."

Biden (D)(5): "Joe Biden is Running an Invisible Digital Campaign in All-Important Michigan. That's Making Some Democrats Nervous" [Time]. "The reason [Don Sabbe] can't find a dedicated Biden campaign field office is because there aren't any around here. Not in Macomb County, the swing region where Sabbe lives. It's not even clear Biden has opened any new dedicated field offices in the state; because of the pandemic, they've moved their field organizing effort online. The Biden campaign in Michigan refused to confirm the location of any physical field offices despite repeated requests; they say they have "supply centers" for handing out signs, but would not confirm those locations. The campaign also declined to say how many of their Michigan staff were physically located here. Biden's field operation in this all-important state is being run through the Michigan Democratic Party's One Campaign, which is also not doing physical canvassing or events at the moment. When I ask Biden campaign staffers and Democratic Party officials how many people they have on the ground in Michigan, one reply stuck out: 'What do you mean by 'on the ground?'" • I can't figure out whether the Biden campaign is being run by morons or incredibly innovative, post-post-modern, genius. This thread would suggest the former:

When you visit Biden's "Organizing Tool Kit" – https://t.co/zNnmDpOEgp – and click on "Direct Voter Contact Virtual Phonebank Guide," you're taken to an old doc about how to persuade primary voters and caucus goers. (2/6) pic.twitter.com/RQN9qptJMF

— Susan Sarandon (@SusanSarandon) September 9, 2020

This was a week ago. But… After Labor Day? Follow through on this thread:

I looked through @JoeBiden 's website after seeing @SusanSarandon 's glorious tweets. I have quite a bit to say – first off they re-directed the link she shared to the current volunteer page. That's a decent start but unfortunately even this hub is filled with problems. (1/a lot)

— Leftist Lauren? (@resist_lauren) September 10, 2020

Biden (D)(6): "Can Biden coast to victory?" [The Week]. "Biden is largely following the strategy of his primary election, in which he coasted to victory on the strength of his reputation and the anxious fears of the electorate. As much as it is distasteful for leftists like me, who strongly opposed him and his passive style in the primary, to admit, it seems so far that the strategy is working. … Importantly, as Jim Newell points out at Slate, much of Biden's polling strength is based on an unusual group: seniors. Trump won people over 65 by about 9 points in 2016, and Democrats have been losing this demographic for many years, but Biden has made astounding inroads. A poll from last month had him leading 65+ Americans by 17 points. "That would represent a shift of 26 points among the oldest measured demographic from 2016," Newell writes (though more recent polls have Trump doing better). As he argues, much of this simply must be about COVID-19, which has hit older people very, very hard."

Trump (R)(1): "Latinos for Trump release 'Despacito' video, highlight inappropriate touching allegations against Biden" [The Hill]. "Actually, 'Despacito' is the perfect song for Joe Biden,' the group said in a tweet, along with a video that begins with Biden playing the hit song from his phone after being introduced at the campaign event by the song's singer, Luis Fonsi. The video then includes footage of Biden putting his arms over women at public events, along with lyrics of the song translated into English: 'I want to breathe slowly on your neck' and 'let me whisper in your ear.' The ad then cuts to a previous CNN interview with Lucy Flores, a former Nevada state legislator who accused Biden of inappropriate touching at an event in 2014."

Trump (R)(2): "Trump's COVID-19 Culpability" [Niskanen Center]. "The fact that the United States' Center for Disease Control has long been the world's leader in research, knowledge, experience, and capacity for the control of communicable diseases is important. A number of the public health authorities in the countries that succeeded in using TTSI to suppress the virus have mentioned that they have modeled themselves after the CDC. Shouldn't we consider countries that aspired to become America's peers in disease control — that owe their success in controlling Covid-19 in part because they modeled themselves after the CDC — as the relevant set of peer-countries? Yes, we should. Not only have most of these countries looked to us for leadership in disease control for decades, none of them are wealthier than the U.S. And none but Germany comes even close to the U.S. in terms of medical research, innovation, drug development and medical manufacturing. You don't need to believe in American exceptionalism to see that, until Trump came along, America truly was exceptional in terms of its capacity for a huge pandemic control push." • As a whole, thiis is a good piece, and I picked out the weakest part. The CDC absolutely butchered testing in the beginning, which this article doesn't mention. And that wasn't Trump's fault, which this article doesn't claim.

Trump (R)(3): "Voter says she will choose Biden after Trump 'didn't answer' her health care question during town hall" [USA Today]. • Trump accuses Biden of wanting to pass Medicare for All. USA Today corrects the record: "Biden, however, is opposed to Medicare for All." Nailing that Overton Window into position.

* * *

KY: "McConnell holds 12-point lead over Democratic challenger McGrath: poll" [The Hill]. • Shocking.
Realignment and Legitimacy
"Conceptions of Politics" [Stumbling and Mumbling]. "There is a great and overlooked political division today – between those who think policy matters, and those who think it doesn't…. One conception…. sees it as a form of marketing. It consists in giving voters what they want, even if their preferences are ill-informed, contradictory and endogenous. A second conception regards it as a debased form of theatre, a form of play-acting in which appearance and presentation are everything…. Closely related to this is the tendency to see it as a game. I don't have to tell you that, too often, this is the media's conception. But there's another conception, which has grown in recent years. This regards politics not as a matter of solving (or at least ameliorating) social problems with coherent policy, but rather as unifying your tribe – for example by inventing culture wars." • There's that word, "tribe," again. What does it mean?

"'The difference is QAnon': how a conspiratorial hate campaign upended California politics" [Guardian (dk)]. "QAnon followers believe, without evidence, that the world is run by a secret cabal of Satan-worshipping Democrats and Hollywood celebrities who are engaged in wide-scale child trafficking, pedophilia and cannibalism. A national politics infected by QAnon is wholly incompatible with the evidence-based debate and compromises required to govern any society. Within QAnon there is no room for nuance or rationality; there is only good v evil, and any disagreement with QAnon dogma is evidence of abject depravity in the form of child murder." • The bill (now law) in question. I don't want to have to read about QAnon. I really don't.

* * *

UPDATE "What's at Stake in This Election? The American Democratic Experiment" [Dan Coats, New York Times]. "Our key goal should be reassurance…. I propose that Congress creates a new mechanism to help accomplish this purpose. It should create . This commission would not circumvent existing electoral reporting systems or those that tabulate, evaluate or certify the results. But it would monitor those mechanisms and confirm for the public that the laws and regulations governing them have been scrupulously and expeditiously followed — or that violations have been exposed and dealt with — without political prejudice and without regard to political interests of either party. Also, this commission would be responsible for monitoring those forces that seek to harm our electoral system through interference, fraud, disinformation or other distortions. These would be exposed to the American people in a timely manner and referred to appropriate law enforcement agencies and national security entities. Such a commission must be composed of national leaders personally committed — — to put partisan politics aside even in the midst of an electoral contest of such importance. Commission members undertaking this high, historic responsibility should come from both parties and could include congressional leaders, current and former governors, "elder statespersons," former national security leaders, perhaps the former Supreme Court justices David Souter and Anthony Kennedy, and business leaders from social media companies." • Hmm.
Stats Watch
At reader request, I added some business stats back in. Please give Econintersect click-throughs; they're a good, old-school blog that covers more than stats. If anybody knows of other aggregators, please contact me at the email address below.
"12 September 2020 Initial Unemployment Claims Rolling Average Continues To Decline" [Econintersect]. "The more important (because of the volatility in the weekly reported claims and seasonality errors in adjusting the data) 4 week moving average moved from 973,000 (reported last week as 970,750) to 912,000. Job's loss since the start of the pandemic is now 61,331,000. Many in this number are now employed or have dropped out of the workforce as all programs continuing claims number is 29,768.326."
Manufacturing: "September 2020 Philly Fed Manufacturing Survey Index Marginally Declined" [Econintersect]. "The Philly Fed Business Outlook Survey declined but remains well into expansion…. Overall, this report was better than last month's report as key elements improved."
Housing: "August 2020 Residential Building Growth Falters" [Econintersect]. "Headline residential building permits and construction completions weakened – with the rolling averages improving… The backward revisions this month were small. It is always difficult to understand the trends as the backward revisions sometimes reverse trends month-to-month. The nature of this industry normally has large variations from month-to-month (mostly due to weather) so the rolling averages are the best way to view this series. Because of the previous strong growth months, the rolling averages say this sector is expanding. We consider this report worse than last month."
* * *
Retail: "NASA Astronauts Will Shoot Images of an Estée Lauder Product in Space" [Vice]. "A face cream called 'Advanced Night Repair' will be part of the 'first purely commercial activity in NASA's new regime,' according to reporter Mark Harris, who broke the news in New Scientist… Up to 10 bottles of the beauty product will be bundled into a cargo resupply run to the station this fall, so that NASA crew members can shoot videos and images with them in the microgravity environment….. The agreement reflects the space agency's recent push to 'partner with industry to achieve a strong ecosystem in which NASA is one of many customers purchasing services and capabilities at lower cost" to the ISS….'" • Very on-brand for 2020. And yes, both "partner with" and, worse, "ecosystem" are words to watch out for.
Energy: "The business case for coal is burning out. U.S. coal output and consumption are declining at an accelerating pace despite President Trump's promise to bring back 'beautiful, clean coal,'… raising questions about the survival of companies in a sector that's been battered by the upheaval in global energy markets" [Wall Street Journal]. "A surge in demand for exports from countries such as India and South Korea has faded and the domestic business is losing steam as utilities retire coal-fired power plants and turn to cheap natural gas and renewables to make electricity. As of June, the U.S. was producing some 54% more natural gas than it did a decade earlier. That is crumbling a foundation business for railroads. Coal carloads are down 27.5% so far this year."
Shipping: "Big shifts in trade patterns are changing the direction of container imports into the U.S. The trade rift with China and a boost in e-commerce are pushing more cargo to East Coast ports…. raising concerns at West Coast seaports that have long been the major gateways for inbound Asia business" [Wall Street Journal]. "The recent arrival of a 15,000-container vessel at Atlantic seaboard sites offered one sign of the trend, but maritime executives say the change has been underway for several years and is accelerating under broad trade developments. Most recently, the U.S. trade dispute with China is pushing companies to set up production centers in Southeast Asia that put vessels in easier reach of the big population centers along the U.S. East Coast."
Tech: "AWS Aurora PostgreSQL versions vanish from the mega-cloud for days, leaving customers in the dark" [The Register]. "Greg Clough, a software engineer who uses the American super-cloud, noticed that AWS Aurora PostgreSQL v10.12, v10.13, and v11.8 vanished from every AWS region on Monday without explanation. And in some areas, v11.7 evaporated as well. From what we can tell, subscribers' data was not affected by the disappearing act, rather the software could not be deployed… [W]idespread panic appears to have been averted. Earlier this morning, PostgreSQL v10.12, v10.13, and 11.7 returned to AWS Aurora as silently as they'd left, to some AWS regions at least. That leaves only v11.8 unaccounted for. We hope for its safe return, perhaps with an explanation." • So the MCAS team went on to Amazon?
Tech: "A New System for Cooling Down Computers Could Revolutionize the Pace of Innovation" [Smithsonian]. "Previous attempts to cool microchips have relied on metal sinks, often combined with fans, that absorb heat and act like an exhaust system. Some data centers rely on fluid flowing through servers to draw away heat. But those systems are designed and fabricated separately and then combined with the chips. [Elison Matioli, a professor in the Institute of Electrical Engineering at Ecole Polytechnique Fédérale de Lausanne (EPFL)] and his team have designed and fabricated chips and their fluid cooling systems together. In the new design, the cooling elements are integrated throughout by creating microchannels for fluid within semiconductors that spirit away the heat, save energy, and mitigate the environmental problems created by data centers. Their work also could have important applications in an electrified future, helping eliminate the heat problem and reducing the size of power converters on cars, solar panels and other electronics. 'The proposed technology should enable further miniaturization of electronics, potentially extending Moore's Law and greatly reducing the energy consumption in cooling of electronics,' they write." • Extending Moore's Law would indeed be a Big Deal.
Concentration: "Why this author is taking a stand against Amazon's audiobook dominance" [Fast Company]. "When science fiction writer and activist Cory Doctorow releases his new novel, Attack Surface, next month, you'll be able to pick up a physical copy from Amazon, Barnes & Noble, or your local independent bookstore. If you'd prefer an e-book, you'll be able to download it on Amazon's Kindle, Barnes & Noble's Nook, and other mainstream digital book platforms. But if you're someone who prefers an audiobook, you'll find the novel, which deals with a corporate cybersecurity expert struggling with the morality of her work, absent from one of the biggest audiobook stores on the internet: Amazon's Audible. Instead, Doctorow is selling the recorded version of the book through a Kickstarter campaign, and it will also be available through non-Amazon vendors like Google's Play store and libro.fm. That, Doctorow explains, is because audiobooks sold through Audible must be bundled with copyright protection, or digital rights management (DRM) controls, whether authors or publishers want to include such restrictions or not. The DRM technology not only makes it harder to pirate audiobooks, but also restricts playback to devices and software authorized by Audible, which Amazon bought in 2008. For traditional e-books, Amazon lets publishers offering titles on Kindle decide whether or not to include DRM. 'We should not live in a world where manufacturers get to decide how you use their products once you buy them,' Doctorow says."
The Fed: "Powell's Great War Tactics Catch Markets Off Guard" [Bloomberg]. "As the Federal Reserve's governors do battle with deflation, and with the markets, they are borrowing some tactics from the First World War. In the classic U.K. sitcom Blackadder Goes Forth, the British general briefs his officers on a 'brilliant new tactical plan' — to climb out of their trenches and walk very slowly toward the enemy. To the objection that the British have tried doing this 18 times already, the response is that this will brilliantly allow them to catch the Germans off guard. 'Doing precisely what we've done 18 times before is exactly the last thing they'll expect us to do this time.'"
The Fed: "Fed defends 'pedal to the metal' policy and is not fearful of asset bubbles ahead" [Reuters]. "Powell said the decade-long U.S. economic expansion, which ran prior to the pandemic hitting growth, had included both quantitative easing and low interest rates but was 'notable for the lack of the emergence of some sort of a financial bubble.' 'I don't know that the connection between asset purchases and financial stability is a particular tight one,' Powell said in a press conference after the Fed concluded a two-day meeting. The central bank said Wednesday that it will continue to purchase $120 billion in government bonds each month in order to support the economy and does not expect to raise interest rates until at least 2023 in order to let some inflation build in the economy."
* * *
Today's Fear & Greed Index: 53 Neutral (previous close: 56 Greed) [CNN]. One week ago: 59 (Greed). (0 is Extreme Fear; 100 is Extreme Greed). Last updated Sep 17 at 12:15pm.
The Biosphere
"CEOs from GM, ConocoPhillips and more defy Trump's climate-change stance, push for carbon price" [MarketWatch]. • Oh, great.
"Global quieting of high-frequency seismic noise due to COVID-19 pandemic lockdown measures" [Science]. "Human activity causes vibrations that propagate into the ground as high-frequency seismic waves. Measures to mitigate the coronavirus disease 2019 (COVID-19) pandemic caused widespread changes in human activity, leading to a months-long reduction in seismic noise of up to 50%. The 2020 seismic noise quiet period is the longest and most prominent global anthropogenic seismic noise reduction on record. Although the reduction is strongest at surface seismometers in populated areas, this seismic quiescence extends for many kilometers radially and hundreds of meters in depth. This quiet period provides an opportunity to detect subtle signals from subsurface seismic sources that would have been concealed in noisier times and to benchmark sources of anthropogenic noise. A strong correlation between seismic noise and independent measurements of human mobility suggests that seismology provides an absolute, real-time estimate of human activities."
Health Care
"COVID-19 and Smoke Inhalation Symptoms are Hard to Tell Apart" [Scientific American]. "Up and down the West Coast, hospitals and health facilities are reporting an influx of patients with problems most likely related to smoke inhalation…. Facilities already strapped for testing supplies and personal protective equipment must first rule out COVID-19 in these patients, because many of the symptoms they present with are the same as those caused by the virus…. The protocol is to treat the symptoms, whatever their cause, while recommending that the patient quarantine until test results for the virus come back, she said."
"Population Density Does Not Doom Cities to Pandemic Dangers" [Scientific American]. "[Shima Hamidi, an assistant professor of environmental health and engineering at Johns Hopkins University] looked at some of the confounding factors—metropolitan size, socioeconomic status of residents, quality of health care and adoption of social distancing—when analyzing how density affects COVID-19 spread and mortality in more than 900 U.S. counties. She and her collaborators at the University of Utah found that county density had no significant relationship with infection rate. In fact, higher-density counties were actually associated with lower mortality rates, possibly because residents were more strictly following social-distancing guidelines or had better access to health care."
Protests and Riots
"'Outside agitator' in Daniel Prude protest was a University of Rochester student" [Democrat and Chronicle (WM)]. "After the upheaval of the protest on Sept. 5 in downtown Rochester, police announced nine demonstrators were detained and charged. During a press conference the following day, both Mayor Lovely Warren and former Chief La'Ron Singletary said people from as far away as Massachusetts and Alaska were arrested. Singletary said there was evidence and intelligence pointing to 'outside agitators' in our community. During a listening session with City Council Wednesday, it was revealed that the Alaska resident charged with unlawful assembly after the protest is actually a 19-year-old sophomore at the University of Rochester." • Seems a long way for an antifa bus to go, for one person.
"Documents Reveal How the Police Kept Daniel Prude's Death Quiet" [New York Times (WM)]. "The documents show how the police attempted to frame the narrative in the earliest hours, playing up Mr. Prude's potential for danger and glossing over the tactics of the officers who pinned him, naked and hooded, to the ground before he stopped breathing. In a police report on the confrontation, marking a box for 'victim type,' an officer on the scene listed Mr. Prude — who the police believed had broken a store window that night — simply as an 'individual.' But another officer circled the word in red and scribbled a note. 'Make him a suspect,' it read."
Gunz
"In America's Blood" [London Review of Books]. Interesting:
[A]s Frank Smyth points out in his new history of the NRA, the organisation was actually founded because a group of Union Army veterans were dismayed by how few Americans actually knew how to shoot, particularly compared with Europeans. According to one of its founders, George Wingate of the New York National Guard, 'the Civil War had demonstrated with bloody clarity that soldiers who could not shoot straight were of little value. This situation, and the general ignorance concerning marksmanship which I found among our soldiers during the Civil War, appalled me.' He assumed that Americans would eventually be drawn into a European war in which they would be outmatched, particularly against the Prussians with their superior rear-loading rifles.

Wingate's model was the British National Rifle Association, which had been organised to promote the Home Guard in 1859, the year Tennyson wrote 'Riflemen Form!'; Queen Victoria opened its first meeting by firing on Wimbledon Common. (The British NRA still exists to promote marksmanship 'throughout the queen's dominions' and acknowledges no relationship with its namesake.) Smyth explains that Wingate went to London in the 1870s, and 'studied how the British had designed their system of competitive shooting, and then got the American NRA to follow their lead', even turning swampland on Long Island into 'the spitting image of Wimbledon'. The NRA was privately run, but much of its money came from the government. Shortly before his death, Ulysses S. Grant was made its president, and his name helped. The army paid for NRA shooting matches, and allowed it to buy surplus military rifles at cost. After an outbreak of train robberies, the NRA was put in charge of running shooting courses for railroad mail clerks.
Sports Desk
"Golf, the official sport of social distance, had its best summer in decades" [WaPo]. "Golfers played 10 million more rounds in July than they did a year ago, a 20 percent increase. It's the largest bump recorded since Golf Datatech, the sport's leading market research company, started tracking the monthly numbers 20 years ago. Play was up 14 percent year over year in June and 6 percent in May…. It's quite a turnaround for the entire industry — the game's busiest stretch following some of the slowest months that golf has seen. And, weather-depending, the stubborn pandemic may only help golf's boom last deeper into fall. Those around the game say golf is particularly well-suited for pandemic life, offering players space, exercise and a much-needed distraction." • Golf courses are also a space where movers and shakers can go and feel less vulnerable to bugs, recording devices, etc.
Our Famously Free Press
"How Algorithms Are Changing What We Read Online" [The Walrus]. "Articles that show low engagement typically get sidelined in favour of pieces that show more, a measurement that, along with all of the above, takes into account the click-through rate, or CTR. 'You're looking at your analytics,' Gorham explained to me, 'and you're saying, Holy shit, this story's got a high CTR, let's move it forward. Surface it—share it on Facebook, put it on the home page, release a news alert, put it in the newsletter.' That support is key to keeping engagement up. 'If we don't juice it,' he said, 'it just evaporates.' In practice, this ensures the less read become even less read. It creates what one might call popularity polarization: a few pieces rise to the top, leaving the rest to fend for themselves. With print, this didn't happen as much. Flipping pages, you would see every article somewhere. But, on your phone, you scroll through what's been selected for you. And that selection likely reflects a ruthless narrowing of editorial values and priorities. 'You don't try to do everything for everyone,' is how Gorham described it. 'It's all about swinging for the fences. Don't hit singles, don't play small ball. You pick your one and you hit it hard.'"
"NYT, Facebook launch multi-year augmented reality reporting project" [Axios]. "The New York Times and Facebook have struck a multi-year partnership to co-develop augmented reality (AR) filters and effects on Instagram that help users access and contextualize New York Times journalism, executives tell Axios." • I'm so old I remember when reality could be described using words. No "visualization" needed. That was really something.
"h "Dershowitz Sues CNN For $300,000,000 In Defamation Action" [Jonathan Turley]. "Alan Dershowitz just filed a whale of a lawsuit against CNN, though it could end up beached in short order under controlling case law. The Harvard Law professor emeritus is demanding $300,000,000 in compensatory and punitive damages from CNN for misrepresenting his legal arguments in the Trump impeachment trial. In fairness to Dershowitz, the coverage of the trial by CNN was dreadful with intentionally and consistently slanted coverage of the evidence, standards, and arguments. However, the objections raised by Dershowitz are likely to be treated as part of the peril for high-profile figures operating in the public domain. In other words, you can complain about the weather but you cannot sue the storm." • That's a lot of zeroes. Why did Dersh stop adding them?"
Class Warfare
"The lifelong studies that hold clues to what today's kids might have in store" [Nature]. "Psychologists Jay Belsky, Avshalom Caspi, Terrie Moffitt and Richie Poulton have between them set up and run three remarkable projects in New Zealand, the United States and the United Kingdom, tracking children from birth into their teens, twenties, thirties or forties. Every few years, participants are assessed on everything from their height, weight and impulsivity to their school results, pay, personality and mood…. Perhaps the most important theme that emerges is that although clear continuities exist between childhood and later well-being, these links are far from exact. Human development is probabilistic rather than deterministic, and continues well beyond the first decade of life. Many different processes are likely to underlie such long-term continuities. We see here, for example, instances of the ways in which childhood characteristics can 'select' individuals into later environments, so reinforcing early tendencies. Tracked to early adulthood, for example, people who were socially inhibited as toddlers had smaller social circles and less social support than their peers, whereas those who had been impulsive in early childhood often evoked negative responses from family, friends and partners, and in the workplace. Early adversities such as maltreatment, social isolation and bullying can become embedded in our biology, influencing inflammatory processes and stress responses in ways that might, later in life, increase the risk of conditions such as diabetes and poor mental health."
News of the Wired
"The brain rhythms that detach us from reality" [Nature]. "It is premature to draw definitive conclusions from a single individual. However, Vesuna and colleagues' work provides compelling evidence that a low-frequency rhythm in the deep posteromedial cortex is an evolutionarily conserved mechanism that underlies dissociation across species. Much of the success of Vesuna and colleagues' study relies on the reversible dissociative effects of ketamine. At subanaesthetic doses, this fascinating drug elicits dissociation and pain relief (analgesia), and has antidepressant and anti-suicidal properties." • Hmm. "Fascinating."
"Google, nobody asked for a new Blogger interface" [TenFourFox Development]. "I'm writing this post in what Google is euphemistically referring to as an improvement. I don't understand this. I managed to ignore New Blogger for a few weeks but Google's ability to fark stuff up has the same air of inevitability as rotting corpses…. My biggest objection, however, is what they've done to the HTML editor. I'm probably the last person on earth to do so, but I write my posts in raw HTML [No, you're not.–lambert]. This was fine in the old Blogger interface which was basically a big freeform textbox you typed tags into manually. There was some means to intercept tags you didn't close, which was handy, and when you added elements from the toolbar you saw the HTML as it went in. Otherwise, WYTIWYG (what you typed is what you got). Since I personally use fairly limited markup and rely on the stylesheet for most everything, this worked well. … By switching into HTML view, you lose ($#@%!, stop indenting that line when I type emphasis tags!) the ability to insert hyperlinks, images or other media by any other means other than manually typing them out. You can't even upload an image, let alone automatically insert the HTML boilerplate and edit it." • I don't know why programmers who write editors, especially browser-based editors, feel such disrespect for the needs of writers. WordPress's Gutenberg editor is horrid, and they will pry the HTML editor from my cold, dead hands.
"Pericles" (podcast) [Melvyn Bragg, In Our Time, BBC]. • This channel had been silent for some time, so I'm glad to see it come alive again. ("In Our Time" is a great, and I have an NC commenter to thank for it.)
* * *
Readers, feel free to contact me at lambert [UNDERSCORE] strether [DOT] corrente [AT] yahoo [DOT] com, with (a) links, and even better (b) sources I should curate regularly, (c) how to send me a check if you are allergic to PayPal, and (d) to find out how to send me images of plants. Vegetables are fine! Fungi and coral are deemed to be honorary plants! If you want your handle to appear as a credit, please place it at the start of your mail in parentheses: (thus). Otherwise, I will anonymize by using your initials. See the previous Water Cooler (with plant) here. Today's plant (CR):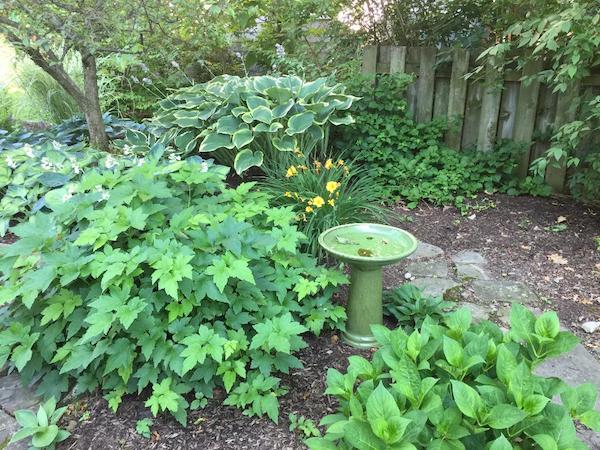 CR writes: "The older I get, the more luxurious I find the green tapestry, and the less I crave a lot of flowers. But the pollinators need flowers & we need the pollinators, so…" I still like flowers! Lots of them! But what a lovely nook, and what a lovely photo.
* * *
Readers: Water Cooler is a standalone entity not covered by the annual NC fundraiser. So if you see a link you especially like, or an item you wouldn't see anywhere else, please do not hesitate to express your appreciation in tangible form. Remember, a tip jar is for tipping! Regular positive feedback both makes me feel good and lets me know I'm on the right track with coverage. When I get no donations for five or ten days I get worried. More tangibly, a constant trickle of donations helps me with expenses, and I factor in that trickle when setting fundraising goals:
Here is the screen that will appear, which I have helpfully annotated.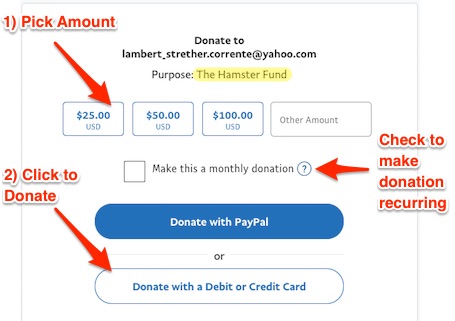 If you hate PayPal, you can email me at lambert [UNDERSCORE] strether [DOT] corrente [AT] yahoo [DOT] com, and I will give you directions on how to send a check. Thank you!