Jiří Menzel: a daring, defiant beacon of European cinema Guardian (vlade)
If the Shark in "Jaws" Scared You, Wait Until You Meet "Meg" Interesting Engineering (Chuck L)
California Scientists Build A Camera To Take Pictures Of Huge Swath Of Sky NPR (David L)
Wildfire burning 'out of control' at Vancouver Island ecological reserve CTVNews (David L)
Shorter lifespan of faster-growing trees will add to climate crisis, study finds Guardian (Kevin W)
The Coming Global Technology Fracture Project Syndicate
#COVID-19
Tech Firms Face Growing Resentment Toward Parent Employees During COVID-19 CNET
Science/Medicine

US

Americas

Special Report: How COVID-19 swept the Brazilian slaughterhouses of JBS, world's top meatpacker Reuters (resilc)

UK/Europe

Coronavirus: Social gatherings above six banned in England from 14 September BBC

If 10% of companies who took Covid loans think they might cease trading we're in deep trouble Richard Murphy

Finance/Economy

With Washington Deadlocked on Aid, States Face Dire Fiscal Crises New York Times. Resilc: "If Trump loses quick, then he will really walk away in Nov-Dec, states die."

Senate GOP bill released today leaves out $1,200 stimulus checks supported by Democrats and President Trump

— Jeff Stein (@JStein_WaPo) September 8, 2020

McConnell works to lock down GOP votes for coronavirus bill The Hill. Skinny bill does nothing for states and not enough for small businesses.

JPMorgan Probing Employees' Role in Misuse of Relief Funds Bloomberg

Manhattan's Office Buildings Are Empty. But for How Long? New York Times (Kevin W)
China?
If India wants to hold moral high ground along the LAC amid China faceoff, it must stand by Tibet The Scroll
Syraqistan
At least 37M people displaced by war on terror: researchers The Hill

Haggia Sophia reborn. Sic Semper Tyrannis (Chuck L)

Israeli Defense Minister Pushing for 5,000 New Settlement Homes in West Bank Antiwar
Big Brother is Watching You Watching
DAY TWO OF ASSANGE HEARING: US Tries to Narrow its Espionage Charge to Only Naming Informants; Defense Witness Crumbles Under Cross Examination ConsortiumNews (furzy)

Julian Assange's extradition hearing, as reported by Craig Murray who was one of handful allowed into the court, is a Dickensian farce where the charges are changed so frequently no one seems exactly sure of what they are. https://t.co/9JWASsiuPv

— Chris Hedges (@ChrisLynnHedges) September 8, 2020

Your Smartphone Can Tell If You're Drunk-Walking Wired. One, carry only a dumb phone or pull the smart phone battery out. Two, develop a drunk-walking dance step.

Apple, Amazon, Google, and Zigbee Alliance Standard For Smart Home Tech On Track For 2021 Release MacRumors. Burn it with fire.

Tesla Can Detect Aftermarket Hacks Designed To Defeat EV Performance Paywalls The Drive
Trump Transition
2020
Democrats sound alarm on possible election chaos The Hill

With Two Months To Go, a Steady Presidential Race The Cook Political Report. Lambert featured this in WC yesterday but wanted to add this sighting. "Resilc: 'We were in Amherst, MA today. Nice liberal college town. Not one Biden sign or bumper sticker seen and I walked around the nice big tree'd streets…..'"

Biden's flexibility on policy could mean bitter fights later Washington Post. UserFriendly: "Biden promises Wall Street nothing will change, again. Kill me."

"With the decline and fall of the American Empire, it looks as if the system is unable to generate enough energy to seriously reform itself," @CornelWest says of the Biden-Harris Democratic presidential ticket. "I want fundamental change." https://t.co/uqSzdFjXc0 pic.twitter.com/z6UnXMbGIz

— Democracy Now! (@democracynow) September 7, 2020

Ladies and Gentlemen, Here he is. Mr. Caring, Warm and Calm himself. Joe "lock their asses up and cancel social security" " Biden. https://t.co/rdgQqgEMYG

— RealTimBlack (@RealTimBlack) September 8, 2020

Donald Trump tells rally the 'economy will collapse' and the 'rioters, anarchists and looters' will take over if Biden wins and it would be an 'insult to our country' if Kamala Harris becomes the first female president Daily Mail. It is going to take a tough stomach to get through the next two months…..and then we have to live with the outcome.

Trump's Opponents Need to Portray him as the True Enemy of the Nation CounterPunch. Um, this is a new thought?

Chris Hedges: People's Convention 2020 YouTube (Brian L)
Health Care
Cancer survivor pleading for help with health insurance 'angry and hurt' over Tillis staffer's response WRAL. Headline understates the story.
America Divided
There are warning signs that America is in the early stages of insurgency. Slate

EP #238* [REPOST] — Antifa Freakout & Armed Vigilantes, with Matthew Randazzo Radio War Nerd (Micael)
California (and Oregon) Burning
California's Creek Fire trapped hundreds of people in the forest as helicopters struggled to land in the smoke. Rescue missions continue. Business Insider (Kevin W)

This is Talent, OR where my parents live. They have evacuated. It will take a miracle so save their home. 62 years of memories. So if you are the praying kind, for them and everyone whose house and business is still standing from Ashland to Medford.? pic.twitter.com/S7HegvCkH6

— Kel Weinhold (@kelweinhold) September 9, 2020
Apple Doubles Down in Fight With Fortnite Creator Epic Games, Seeks Damages for Breach of Contract CNBC
AT&T's current 5G is slower than 4G in nearly every city tested by PCMag ars technica (resilc)
The FTC Is Investigating Intuit Over TurboTax Practices ProPublica (BC)
Saudi Arabia Just Crushed U.S. Crude Oil Prices Again Motley Fool (Kevin W)
Lossmaking Giant Uber, Hoping To Stay Around For Decades, Says It is Aiming For 100% Zero-Emission Transport by 2040 VentureBeat
A Weapon for Extortion Long Ignored in Alabama Prisons: Cellphones New York Times Holy moley.
Class Warfare
Antidote du jour. Tracie H:
We bought this bed that was intended for a large dog in hopes that the cats would like it. They do. Several snuggle together in it, but the favored posture seems to be hanging your head off the lip for a good look into the kitchen – perhaps to be first in line when the treats appear. This is Sinbad, the best at feigning disinterest.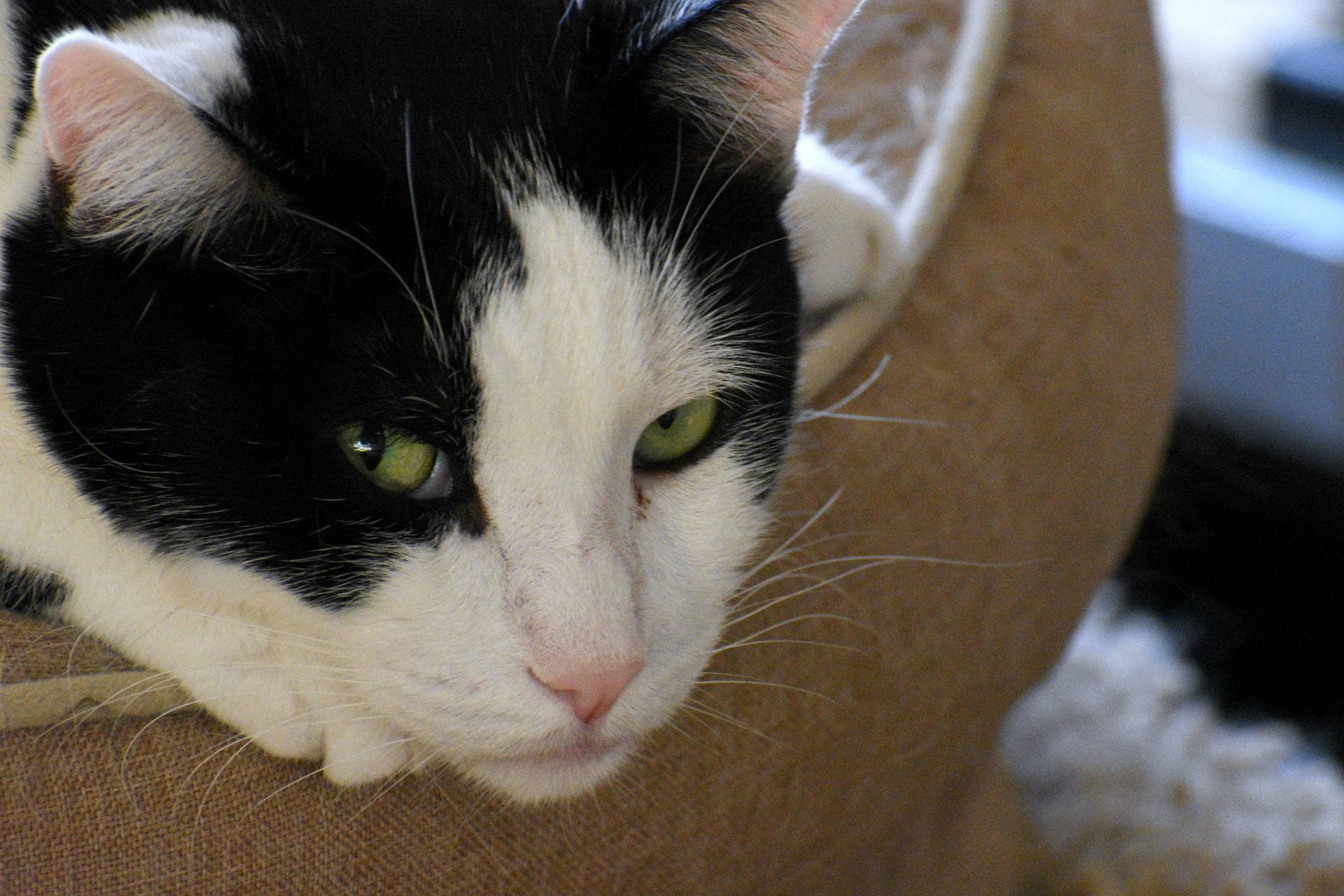 See yesterday's Links and Antidote du Jour here.