By Lambert Strether of Corrente
Patient reader, this Water Cooler is a bit light, because I have more posting to do. –lambert UPDATE All done!
Bird Song of the Day
A robin, and lots of other chatter.
#COVID19
At reader request, I've added this daily chart from 91-DIVOC. The data is the Johns Hopkins CSSE data. Here is the site.
Here are the United States regions: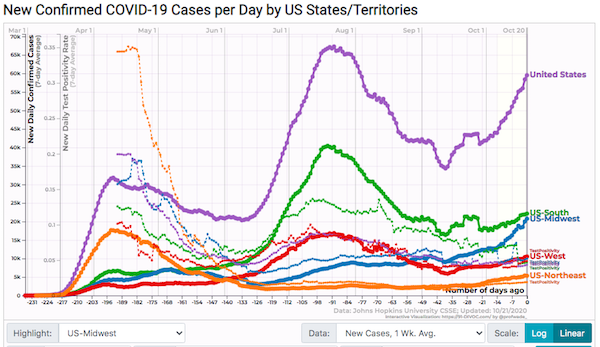 Still rising, if anthing faster. Gonna be interesting to see what happens if the virus is really cranking in November or December, and the FDA says a vaccine is ready…
Here are the Swing States as I conceive them (see below):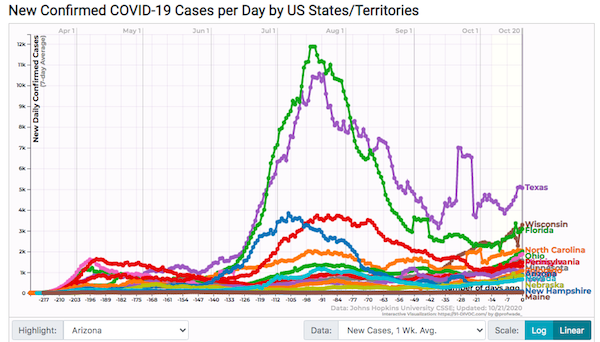 Unmistakable rise everywhere. Including Texas, which alas seems to have straightened out its data problem, in the past few days.
Politics
"But what is government itself, but the greatest of all reflections on human nature?" –James Madison, Federalist 51
"They had one weapon left and both knew it: treachery." –Frank Herbert, Dune
"They had learned nothing, and forgotten nothing." –Charles Maurice de Talleyrand-Périgord
The electoral map. July 17: Georgia, Ohio, ME-2 move from Leans Republican to Toss-up. Continued yikes. On July 7, the tossup were 86. Only July 17, they were 56. Now they are 91. This puts Biden at 278, i.e. over 270. August 18: Still no changes. August 31: Indiana moves from Likely to Safe Republican. September 9: No changes. September 14: No changes. September 21: No changes. September 22: Ohio moves from Toss-up to Leans Republican. September 25: Ohio moves from Leans Republican to Toss-up. September 30: Iowa moves from Leans Republican to Toss-up. October 3: Indiana moves from Safe to Likely Republican; Iowa moves from Toss-up to Leans Republican. October 6: Arizona moves from Toss-up to Leans Democratic; Iowa from Leans Republican to Toss-up; Indiana from Likely to Safe Republican; New Mexico from Likely to Safe Democratic. October 8: NE-2 moves from Toss-up to Leans Democratic. October 13: Indiana moves from Likely to Safe Republican. October 16: Indiana moves from Safe to Likely Republican. .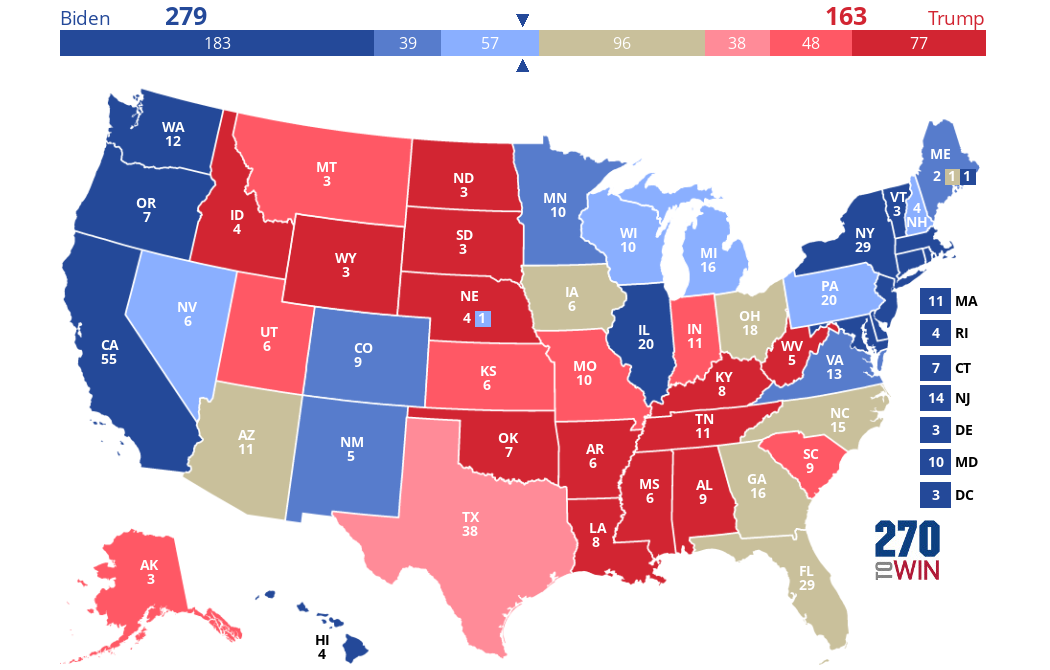 Click the map to create your own at
270toWin.com
The election countdown:
Here is an early voting calendar. Maybe we'll have a whole series of October surprises, since election day is gradually being devalued as an event.
And here are mail-in voting ruies, which naturally differ state by state.
"2020 General Election Early Vote Statistics" [U.S. Elections Project (SlayTheSmaugs)].
"How to Vote in 2020: Everything You Need to Know" [Bloomberg]. "Casting a ballot in the U.S. isn't always easy, with a complex web of varying state rules governing how and when you can vote. The Covid-19 pandemic has introduced even more complexity in 2020, as many states have made significant changes to allow for more early voting or voting by mail. More changes could come as lawsuits in several states wind their way through the courts. That's why Bloomberg News is answering these critical questions so you'll know what you need to do to make sure your vote is counted in the 2020 election."
Here are is an enormous spreadsheet on voting equipment, so you can check your own jurisdiction (hat tip, UserFriendly. I should really aggregate these onto a map…).
"2020 General Election Early Vote Statistics" [U.S. Election Project].
"California Ballots Mailed and Returned Tracker" [Political Data]. • California only, sadly.
"Where's My Ballot?" [Alex Padilla]. "Tracking your vote-by-mail ballot—when it is mailed, received, and counted—has never been easier. The California Secretary of State is now offering Where's My Ballot?—a new way for voters to track and receive notifications on the status of their vote-by-mail ballot. Powered by BallotTrax, Where's My Ballot? lets voters know where their ballot is, and its status, every step of the way." • Ballottrax. Shoulda gone long….
"State Fact Sheets" [Georgetown Universitty]. "[F]act sheets for all 50 states explaining the laws barring unauthorized private militia groups and what to do if groups of armed individuals are near a polling place or voter registration drive."
All the deadlines, rules, and voting hours to know when casting your ballot in the 2020 presidential election" [Business Insider]. "Here are 12 interactive graphics, charts, and maps Insider created to answer your most common questions about voting in 2020."
2020
Swing States

Here is my list of Swing States, with votes in the Electoral College and selected ballot initiatives in parentheticals):

Arizona (11) (marijuana; taxes(=)
Colorado (9) (taxes, lottery, abortion, paid medical leave)
Florida (29) (minimum wage)
Georgia (16) (declaratory relief)
Iowa (6) (Constitional convention)
Maine-02 (1) (vax)
Michigan (16) (oil and gas royalties; privacy)
Minnesota (10)
Nebraska-02 (1) (payday lending; gambling)
Nevada (6) (marriage)
New Hampshire (4)
North Carolina (15)
Ohio (18)
Pennsylvania (20)
Texas (38)
Wisconsin (10)

Inspired by the thread starting with Arizona Slim's comment here, I went to Ballotpedia and added selected, hopefully hot button, ballot initiatives, because sometimes they affect turnout. If you live in a swing state, please comment if I got the hot buttons wrong!

UPDATE Hmm:

RCP averages 2016 vs 2020, 15 days before election day:

PA
Clinton +5.6
Biden +3.8

WI
Clinton +6.2
Biden +6.2

FL
Clinton +4
Biden +1.3

MI
Clinton +10
Biden +7.3

NC
Clinton +2.4
Biden +2.5

AZ
Clinton +1.5
Biden +3.1

Some methodologies adjusted to weight Trump's base more.

— Walker Bragman (@WalkerBragman) October 20, 2020

UPDATE Still a horse race, then?

Biden's gain in swing state polls has been considerably more modest than his gain in national polls. pic.twitter.com/ZN7MRZqccr

— Nate Silver (@NateSilver538) October 20, 2020

A candidate with a muddled message, a poor economy, dragging a pandemic; it's amazing Trump is doing as well as he is. But a lot more has to break his way than it did in 2016. (Note, however, that Biden still has not visited Texas; Florida and Texas for Biden would put it way for him on election night, although there are other paths for that.)

* * *

Biden (D)(1): "Biden Looking to Longtime Aide Ron Klain for Chief of Staff" [MSN]. "Allies point to Klain's Ebola-response and economic-recovery work as especially relevant, given that Biden would be tackling coronavirus and the resulting economic downturn upon taking office. He's widely respected by Democrats across the party's ideological spectrum and progressives say they would be comfortable with him in that role. Others under consideration include Steve Ricchetti, also a former Biden vice presidential chief of staff and chairman of his presidential campaign, and Jeff Zients, a co-chair of Biden's transition team. But Klain, who first worked for Biden during his short-lived 1987 presidential campaign, has the candidate's trust and more pertinent experience than anyone else who might be considered for the job, the people said." • Obama's economic-recovery work has been more than sufficiently airbrushes, so I don't we need further efforts in that regard, fortunately.

Biden (D)(2): "Obama goes full throttle for Biden" [Politico]. "[H]ere were lots of logical states for Joe Biden to roll out the biggest weapon in his campaign arsenal. But he chose to deploy former President Barack Obama to Pennsylvania for the latter's first in-person event in 2020, perhaps the clearest sign yet that Biden's team sees the state as the most important piece of the Electoral College map. On Wednesday, Obama will hold a drive-in rally in Philadelphia, and he will talk directly to Black voters — and Black men specifically — according to the Biden campaign. The former president is also expected to discuss the importance of making a plan to vote early."

Biden (D)(3): And speaking of talking directly to Black people:

Kamaleon … pic.twitter.com/DFrLsuKzIC

— Michael David (@michael_david41) October 21, 2020

UPDATE (D)(4): Iconic:

In two weeks, we could call this birthday girl Madam Vice President. https://t.co/tTgeqxNqYm pic.twitter.com/DogW8kk641

— Hillary Clinton (@HillaryClinton) October 20, 2020

"Birthday girl" [squeeeeee]. I will never understand this attitude…

UPDATE Biden (D)(5): NSFW:

For Democrats the Trump administration was like sex: intense, hot, passionate.
Biden's election will be like the part when the guy ejaculates.
The Biden administration will be like the part when the guy rolls over, steals all the blankets and falls asleep without satisfying her.

— Caitlin Johnstone ⏳ (@caitoz) October 20, 2020

Buttigieg (D)(1): "Foreign Policy for a New Era? A Conversation With Pete Buttigieg" (upcoming call) [Foreign Policy]. • They're sure pushing this guy…

Trump (R)(1): 'Former RNC chairman endorses Biden with two weeks left in the election" [CNN]. • Rats leaving the sinking ship.

Trump (R)(2): "Lawyers spurn Trump campaign in individual donations, including from Jones Day" [Reuters]. "Lawyers at Jones Day, which has earned millions as outside counsel to U.S. President Donald Trump's re-election campaign, have donated nearly $90,000 to the campaign committee of Trump's Democratic rival Joe Biden. Contributions to the Trump campaign by Jones Day lawyers totaled just $50, records show." • More rats….

Trump (R)(3): "GOP pollster Luntz blasts Trump campaign as worst he's ever seen" [The Hill]. Luntz: "It is the worst campaign I've ever seen and I've been watching them since 1980. They're on the wrong issues. They're on the wrong message. They've got their heads up their assess. … Your damn job is to get your candidate to talk about things that are relevant to the people you need to reach. And if you can't do your damn job then get out." • As Yves points out, without crowds, Trump can't do A/B testing, which is what allowed him to craft his populist message in 2016. Anyhow, another rat, though I have a sneaking fondness for Luntz…

UPDATE Trump (R)(4): "Who are the first time Trump voters?" [NBC]. "In dozens of voter interviews across six battleground states over the past few months, efforts by NBC News to find first time Trump voters have largely come up short…. While anecdotal, NBC's difficulty finding new Trump voters on the campaign trail highlights the president's struggle to expand his coalition beyond his base supporters." • Either that, or Trump supporters aren't helping out somebody perceived as an enemy; which would go for pollsters, too. We'll soon know!

* * *

PA: "Supreme Court Tie Gives Pennsylvania More Time to Tally Some Votes" [New York Times]. "The Supreme Court's action was the result of a deadlock. It takes five votes to grant a stay, and the Republicans who had asked the court to intervene could muster only four: Justices Clarence Thomas, Samuel A. Alito Jr., Neil M. Gorsuch and Brett M. Kavanaugh. On the other side of the divide were Chief Justice John G. Roberts Jr. and the court's three-member liberal wing: Justices Stephen G. Breyer, Sonia Sotomayor and Elena Kagan. Neither side gave reasons. The result suggested that Judge Amy Coney Barrett, whom President Trump nominated to replace Justice Ruth Bader Ginsburg after her death last month, could play a decisive role in election disputes." • I don't think Roberts wants another Bush v. Gore, and will do what it takes to prevent it, ideally by diverting any such cases from the Court entirely (unless one candidate wins decisively, of course).

UPDATE "Infirm of purpose! Give me the daggers!

There's both a total consensus among the DC progressive org types that the entire C-suite of the party needs to be replaced, and a total unwillingness to bless primary challenges as a way to accomplish that, even as every other plausible mechanism (incl. death) has failed.

— Marshall Steinbaum ? (@Econ_Marshall) October 20, 2020
Our Famously Free Press
Platforms at work:

7 days have passed since the Post published the first story in our Hunter Biden laptop exposé. We still cannot access @nypost Twitter account, despite @jack's apology.

— Emma-Jo Morris (@EmmaJoNYC) October 21, 2020

Get used to it:

In the liberal media dream future, all news stories will first be vetted by Washington spy agencies to ensure they are not helping enemies of the Fatherland. https://t.co/7YAcy6nH4o

— Mark Ames (@MarkAmesExiled) October 21, 2020

What, they aren't already?
Realignment and Legitimacy
"The Unlikely Coalition That Made the New Deal (with Thomas Ferguson)" [YouTube]. Grab a cup of coffee:

"Stepping Back From The Brink" [William Lind, The American Conservative]. "There is nonetheless a more portentous question facing our country: do politics stay within the banks of the political system or do they overflow those banks and inundate daily life? The answer to that question may lead to another: do we remain the United States or will the astonishing disintegration of the Soviet Union be followed by the even more astonishing disintegration of our own country? Why are we faced with these questions? Because all around the world the state is in decline. The decline is steeper in some places than in others, but it is occurring almost everywhere. Why? Because many of the elites that run states have disconnected themselves from the rest of the country. Their culture and values are hostile to the beliefs of their non-elite countrymen. They suck money and power out of the rest of the country and use them solely for their own benefit. And they care about only one thing: remaining the elite. These behaviors generate a growing crisis of legitimacy for the state the elite controls. People come to see the state as a racket. When people give up on the state, politics flow out of the system and into the streets."

"Diddy Reveals Launch of Black Political Party Called Our Black Party" [Complex]. Hmm:

"I'm launching one of the boldest movements that I've ever launched. It's called Our Black Party. It's time for us to have our own Black political party—unapologetically. Because right now, if you look at the debates, we're not even a part of the conversation. We don't have any political power, we don't have any political leverage and so we started our Black party with some young, fearless Black activists, elected officials, and I've stepped up and put the money behind it."

He made similar remarks on Twitter, opening with, "The NUMBER ONE priority is to get Trump out of office. HE HAS TO GO. We can't allow this man to continue to try and DIVIDE US. The people that have the most responsibility and should be SCARED TO DEATH of this man are white people. WE ARE ON THE VERGE OF A RACE WAR."

Diddy also endorsed Biden, but let everyone know that if Biden is elected, he will be held to a higher standard: "We need to get Biden in and hold him accountable. Trump has taken things too far. As Black people, we aren't even a topic of real discussion. We can no longer stand for doing the same thing over and over expecting different results. That's insanity! It's time we unify."
Stats Watch
At reader request, I added some business stats back in. Please give Econintersect click-throughs; they're a good, old-school blog that covers more than stats. If anybody knows of other aggregators, please contact me at the email address below.
There are no statistics of note today.
* * *
The Bezzle: "Blank-Check Company Deals Driven by Speculation, Chanos Says" [Bloomberg]. "The surge in blank-check company deals is a sign of unfettered speculation and investors may see lackluster returns from these offerings, legendary short-seller Jim Chanos said…. Chanos, the founder of hedge fund Kynikos Associates Ltd., said 'academic work has showed us that the return of special purpose acquisition companies is not only bad relative to the stock market, it's even worse than initial public offerings. That hasn't stopped people from getting excited and throwing money.'"
Tech:
the "check engine" light is such a racket. the car knows what condition, sensor, whatever, tripped it. modern cars have screens, that can display actual words.

but no, they light a little LED in the dashboard and make you take it in for a $150 "diagnostic".

— Steve Randy Waldman (@interfluidity) October 19, 2020
Fodder for the Bulls: "A blue wave on Election Day may unleash $2.5 trillion in stimulus, Goldman Sachs says" [Yahoo Finance]. "Break out those shovels, picks and the debit cards if a blue wave of Democrats washes into D.C. come Election Day. Goldman Sachs said Monday in a new note that a blue wave could lead to a whopping $2.5 trillion new stimulus plan. "This would likely include a stimulus package in Q1, followed by infrastructure and climate legislation. In this scenario, we would expect legislation expanding health and other benefits, financed by tax increases, to pass in Q3," explained Goldman's Jan Hatzius. Hatzius further tossed his hat into the debate on whether presidential hopeful Joe Biden's proposed tax hikes on corporations and those earning more than $400,000 a year would help or hurt the economy.'We recently analyzed the implications of a fiscal program similar to the Biden campaign proposals and found that the boost to growth from fiscal stimulus would outweigh the negative effects of tax increases, particularly in light of the fact that the increased tax revenue would go to fund new spending.'" Hatzius added." • So Goldman is anti-austerity….
* * *
.
Today's Fear & Greed Index: 64 Greed (previous close: 58 Greed) [CNN]. One week ago: 56 (Greed). (0 is Extreme Fear; 100 is Extreme Greed). Last updated Oct 21 at 1:15pm.
The Biosphere
"The next environmental crisis could be in space" [Axios]. "Last week, two inoperative satellites nearly collided in orbit, an event that is becoming more common as debris builds up in space. While there are recommendations in place to help govern when and how satellites are de-orbited once their operational lives are over, it's not enough, according to experts. Rocket Lab's CEO Peter Beck told CNN his company is already having trouble finding safe ways to launch its customers' satellites in part because of the huge number of spacecraft and junk already in orbit. A new report on space junk from the European Space Agency last week found the disposal of defunct spacecraft in orbit is getting better, but it is happening at a slower pace than needed." • Must we sh*t in our own nest?
Health Care
"Low-dose hydroxychloroquine therapy and mortality in hospitalised patients with COVID-19: a nationwide observational study of 8075 participants" [International Journal of Microbial Agents (anon)]. From the abstract: "In Belgium, off-label use of low-dose HCQ (total 2400 mg over 5 days) was recommended for hospitalised patients with COVID-19. We conducted a retrospective analysis of in-hospital mortality in the Belgian national COVID-19 hospital surveillance data…. In Belgium, off-label use of low-dose HCQ (total 2400 mg over 5 days) was recommended for hospitalised patients with COVID-19. We conducted a retrospective analysis of in-hospital mortality in the Belgian national COVID-19 hospital surveillance data." n= 8075. The coverage of HCQ in the United States has been as shameful as Russiagate. But probably more lethal. As Taibbi wrote:
Trump one day in a press conference mutters that a drug has "tremendous promise" as a treatment of coronavirus. Within ten seconds a consensus forms that hydroxycholoroquine is snake oil, and the New York Times is running stories denouncing Trump's "brazen willingness to distort and outright defy expert opinion and scientific evidence when it does not suit his agenda."

Then you read the story and find out doctors have been prescribing the drug, that "early reports from doctors in China and France have said that [it] seemed to help patients," and moreover that the actual quote about it being a "game changer" from Trump included the lines, "Maybe not" and "What do I know? I'm not a doctor." In response to another Trump quote on the subject, "What do you have to lose?" journalists piled on again, quoting the president of the American Medical Association to remind audiences "you could lose your life" — as if Trump had recommended that people run outside and mainline the stuff.

All of which is insane, but so is .
This after [genuflects] Fauci ramped Gilead, whose remdesivir turned out (according to a JAMA Editorial turned out to have "modest clinical benefit for the 5-day course compared with standard care, although, as the authors acknowledge, the clinical importance of this finding is uncertain." Move along, folks, move along. There's no story here!
"Early Hydroxychloroquine but not Chloroquine use reduces ICU admission in COVID-19 patients" [International Journal of Infectious Diseases (anon)]. From the Conclusion: "The results of this observational study demonstrate a lack of effect of (H)CQ on non-ICU mortality. However, – but not CQ – is associated with 53% decreased risk of transfer of COVID-19 patients from the regular ward to the ICU. Recent prospective studies have reported on 28 days all-cause mortality only, therefore additional prospective data on the early effect of HCQ in preventing transfer to the ICU is still needed." n=1064.
* * *
"Cost-effectiveness of transitional US plans for universal health care" [The Lancet]. "The USA stands alone as the only high-income country not to provide health care as a human right, leaving almost 80 million of its citizens without adequate insurance. In a 2020 study, we found that securing quality health care for the entire country would save 68, 000 lives and 1·73 million life-years annually…. Given that saving lives is the paramount goal of a health-care system, any plan that expands health-care coverage is progress. Nonetheless, the economics of different plans are at the heart of the ongoing debate. Using our previously developed model of health-care costs in the USA,4 and updating the plan to 2020 US$, we calculated that reaching universal coverage without conversion to a single-payer system would increase the national health-care budget by US$149 billion annually, relative to the status quo. This would increase the overall health-care budget to more than $3·6 trillion per year, compared with an estimated $3·0 trillion for Medicare for All….. Our calculations indicate that incremental steps to achieve universal coverage en route to a single-payer system are a worthy investment. At the same time, expansion without structural improvement is not ideal. Medicare for All is the end-game strategy both economically and morally."
"How obesity could create problems for a COVID vaccine' [Nature]. "It was clear early in the outbreak that obesity heightened the risk for people infected with the coronavirus. When epidemiologist Lin Xu at Sun Yat-Sen University in Guangzhou, China, was analysing data from the earliest wave of the epidemic in China, she noticed a pattern emerging in model after model. 'BMI was always there," she says. "It is always positively associated with severity of COVID-19.' When Xu submitted her study to an academic journal in March, the editors urged her to alert the World Health Organization about her findings. Since then, studies have poured in from countries around the world reaching the same conclusion: those who are obese are more likely to die from COVID-19 than are those of normal weight, even when factors such as diabetes and hypertension are taken into account." • The United States is #12 in the World Obesity Rankings. China is #169.
"I tested a Harvard-designed nasal spray to help stop the spread of COVID-19" [Fast Company]. "However, when the FEND sprays and I inhale, suddenly, my airways feel washed. The effect is refreshing in a way that even holding your nose up to a humidifier, or using a bottled saline spray, isn't. The best analogy I can make is that my nose suddenly feels like a wet dog nose—in a good way!—and I'm immediately hooked. Through the dry nights of winter, I often sit up sniffing over and over like there's sand up my nose. Right in that moment, I plan to FEND every night before bed to prevent this." • Well, maybe. The article has a good explanation of nasal tissues and mucus. Here is the study From the abstract: "We propose the nasal administration of calcium-enriched physiological salts as a new hygienic intervention with possible therapeutic application as a response to the rapid and tenacious spread of COVID-19. We test the effectiveness of these salts against viral and bacterial pathogens in animals and humans. We find that aerosol administration of these salts to the airways diminishes the exhalation of the small particles that face masks fail to filter and, in the case of an influenza swine model, completely block airborne transmission of disease." n = 10. Dunno. I think I'll be sticking with Povidone even if it doesn't "make my airways feel washed;" I like brutally simple Victorian-era technology a lot…
Our Famously Free Press
"Zoom sleaze Jeffrey Toobin's history of sex scandals: CNN analyst cheated on his wife, offered to pay for baby mama's abortion, visited swingers' club with Roger Stone and has a hardcore 'fixation'" [Daily Mail]. • What the heck was David Remnick thinking? (Whatever he's been thinking since he got conned by Obama, I would say.)
Class Warfare
"Hypocrite? This So-Called Socialist is Earning Money at Her Job" [Reductress]. "'Molly claims to be a Democratic Socialist, but she doesn't seem to have any qualms taking a paycheck from our boss,' says Molly's smart coworker, Ron Antonelli. 'Plus she has an iPhone, so it seems like she's enjoying capitalism enough to me.'"
News of the Wired
"Driving the 2021 Cadillac Escalade was one of the most stressful experiences of my life" [The Verge]. "When you need a suite of high-definition cameras and other expensive sensors to safely drive to the grocery store, there might be something inherently wrong with your design. Manufacturers know that these types of vehicles are more dangerous to pedestrians and cyclists, but they keep making them because people keep buying them. Cadillac says it is responding to customer demands for more interior space and cargo room. Super-sizing its vehicles helps it sell more SUVs to more people." • Well worth a read. The horror! The horror!
"Discipline Doesn't Scale" [Structure and Interpretation of Computer Programmers]. "[W]hatever the source, the problem with calls for discipline is that there's no strong motivation to become more disciplined. I can use these tools, and my customer is this much satisfied, and my employer pays me this much. Or I can learn from you how I'm supposed to be doing it, which will slow me down, for…your satisfaction? So you know I'm doing it the way it's supposed to be done? Or so that I can tell everyone else that they're doing it wrong, too? Sounds like a great deal. Therefore discipline doesn't scale. Whenever you ask some people to slow down and think harder about what they're doing, some fraction of them will. Some will wonder whether there's some other way to get what you're peddling, and may find it. Some more will not pay any attention. The dangerous ones are the ones who thought they were paying attention and yet still end up not doing the disciplined thing you asked for: they either torpedo your whole idea or turn it into not doing the thing (see OOP, Agile, Functional Programming). And still more people, by far the vast majority, just weren't listening at all, and you'll never reach them." • Perhaps these thoughts apply to social engineering, too…
* * *
Readers, feel free to contact me at lambert [UNDERSCORE] strether [DOT] corrente [AT] yahoo [DOT] com, with (a) links, and even better (b) sources I should curate regularly, (c) how to send me a check if you are allergic to PayPal, and (d) to find out how to send me images of plants. Vegetables are fine! Fungi and coral are deemed to be honorary plants! If you want your handle to appear as a credit, please place it at the start of your mail in parentheses: (thus). Otherwise, I will anonymize by using your initials. See the previous Water Cooler (with plant)
here
. Today's plant (MC):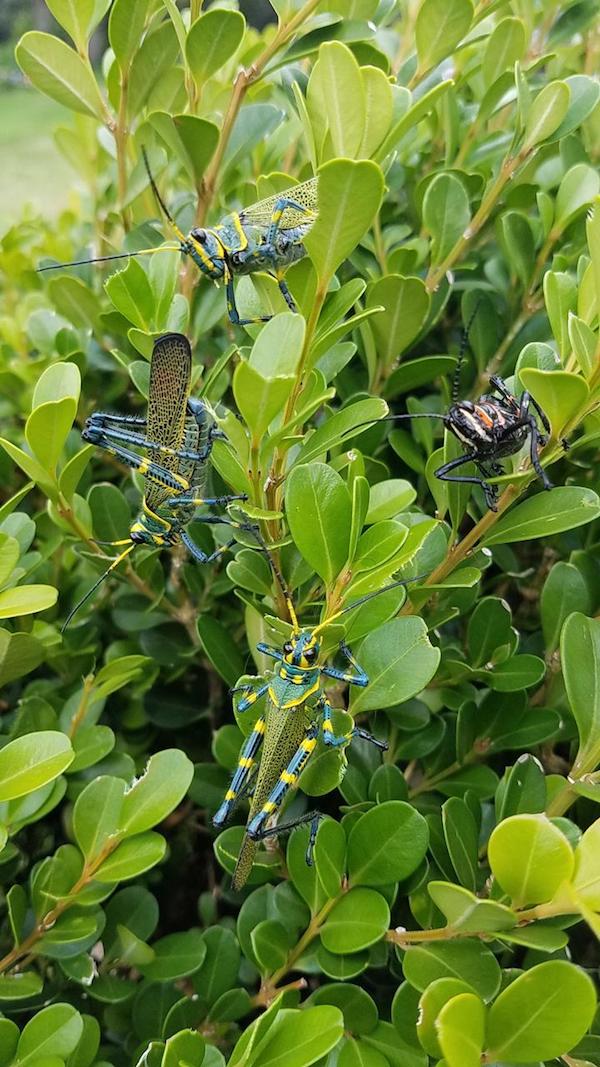 MC writes: "Attached, a picture from friends in Mexico of some colorful grasshoppers as they start to decimate what appears to be a boxwood bush."
* * *
Readers: Water Cooler is a standalone entity not covered by the recently concluded and — thank you! — successful annual NC fundraiser. So if you see a link you especially like, or an item you wouldn't see anywhere else, please do not hesitate to express your appreciation in tangible form. Remember, a tip jar is for tipping! Regular positive feedback both makes me feel good and lets me know I'm on the right track with coverage. When I get no donations for five or ten days I get worried. More tangibly, a constant trickle of donations helps me with expenses, and I factor in that trickle when setting fundraising goals:
Here is the screen that will appear, which I have helpfully annotated.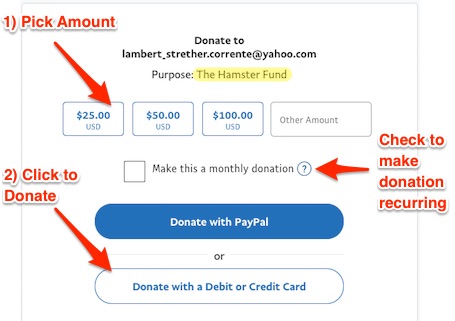 If you hate PayPal, you can email me at lambert [UNDERSCORE] strether [DOT] corrente [AT] yahoo [DOT] com, and I will give you directions on how to send a check. Thank you!