By Lambert Strether of Corrente
Bird Song of the Day
For a change of pace, here's a bird flapping (in this case, a vulture. Only two weeks 'til the election…).
#COVID19
At reader request, I've added this daily chart from 91-DIVOC. The data is the Johns Hopkins CSSE data. Here is the site.
Here are the United States regions: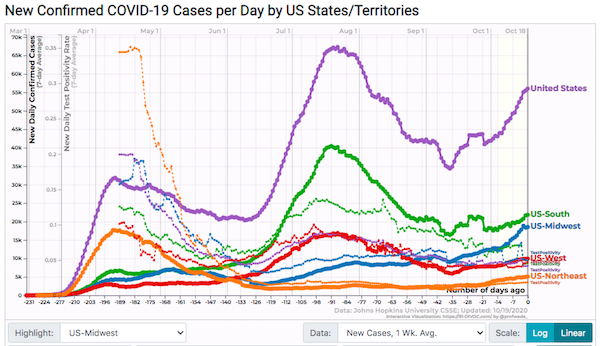 Unmistakable rise in all regions now, including the Northeast. Ugh. Super-ugh. Gonna be interesting to see what happens if the virus is really cranking in November or December, and the FDA says a vaccine is ready…
Here are the Swing States as I conceive them (see below):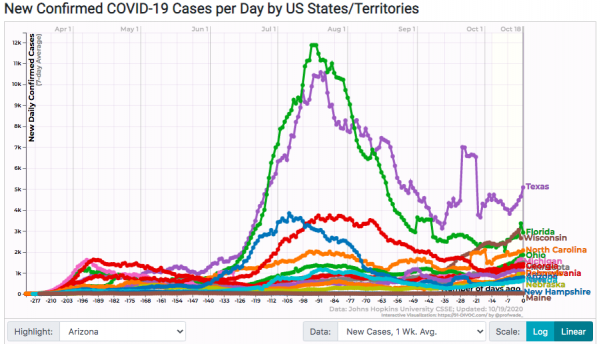 Unmistakable rise everywhere. Including Texas, which alas seems to have straightened out its data problem, in the past few days.
–>
College: "Off-campus "super-spreader" event linked to 125 virus cases at Monmouth University" [CBS]. "Through extensive contact tracing, the rise in cases was linked to a single event held about two weeks ago, Monmouth president Patrick Leahy wrote Friday. This event was held off-campus, although school officials did not specify what kind of event it was, only calling it a 'social gathering.'" • Which is ridiculous, since now we cannot add to our store of types of locations or social settings to avoid! College administrators are just the worst.
Politics
"But what is government itself, but the greatest of all reflections on human nature?" –James Madison, Federalist 51
"They had one weapon left and both knew it: treachery." –Frank Herbert, Dune
"They had learned nothing, and forgotten nothing." –Charles Maurice de Talleyrand-Périgord
The electoral map. July 17: Georgia, Ohio, ME-2 move from Leans Republican to Toss-up. Continued yikes. On July 7, the tossup were 86. Only July 17, they were 56. Now they are 91. This puts Biden at 278, i.e. over 270. August 18: Still no changes. August 31: Indiana moves from Likely to Safe Republican. September 9: No changes. September 14: No changes. September 21: No changes. September 22: Ohio moves from Toss-up to Leans Republican. September 25: Ohio moves from Leans Republican to Toss-up. September 30: Iowa moves from Leans Republican to Toss-up. October 3: Indiana moves from Safe to Likely Republican; Iowa moves from Toss-up to Leans Republican. October 6: Arizona moves from Toss-up to Leans Democratic; Iowa from Leans Republican to Toss-up; Indiana from Likely to Safe Republican; New Mexico from Likely to Safe Democratic. October 8: NE-2 moves from Toss-up to Leans Democratic. October 13: Indiana moves from Likely to Safe Republican. I would say the election is no longer static.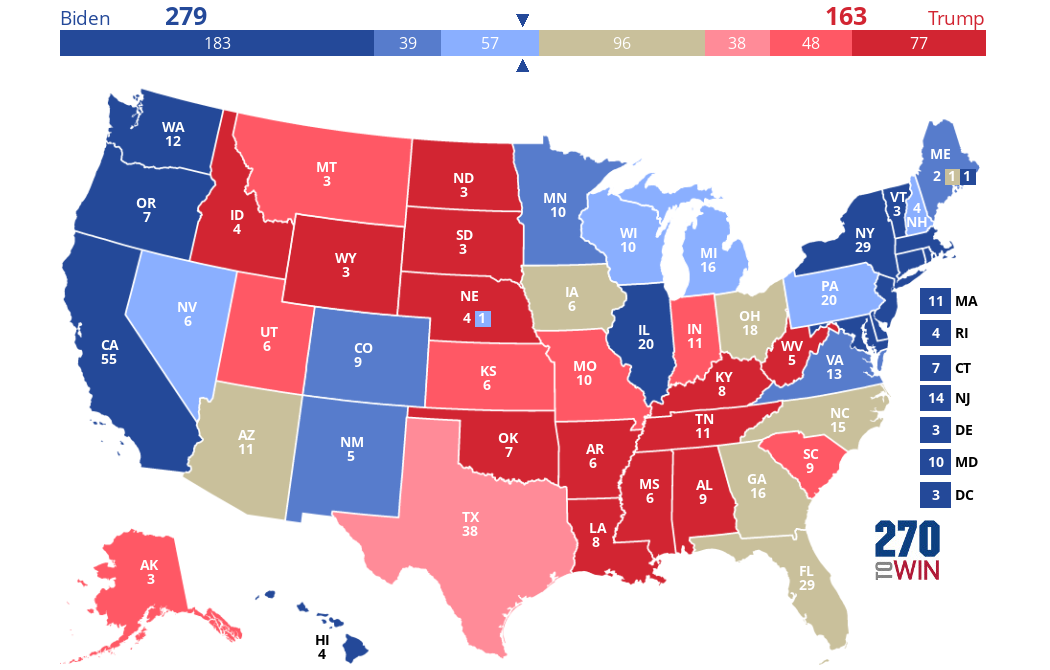 Click the map to create your own at
270toWin.com
The election countdown:
Here is an early voting calendar. Maybe we'll have a whole series of October surprises, since election day is gradually being devalued as an event.
And here are mail-in voting ruies, which naturally differ state by state.
"2020 General Election Early Vote Statistics" [U.S. Elections Project (SlayTheSmaugs)].
"How to Vote in 2020: Everything You Need to Know" [Bloomberg]. "Casting a ballot in the U.S. isn't always easy, with a complex web of varying state rules governing how and when you can vote. The Covid-19 pandemic has introduced even more complexity in 2020, as many states have made significant changes to allow for more early voting or voting by mail. More changes could come as lawsuits in several states wind their way through the courts. That's why Bloomberg News is answering these critical questions so you'll know what you need to do to make sure your vote is counted in the 2020 election."
Here are is an enormous spreadsheet on voting equipment, so you can check your own jurisdiction (hat tip, UserFriendly. I should really aggregate these onto a map…).
"2020 General Election Early Vote Statistics" [U.S. Election Project].
"California Ballots Mailed and Returned Tracker" [Political Data]. • California only, sadly.
"Where's My Ballot?" [Alex Padilla]. "Tracking your vote-by-mail ballot—when it is mailed, received, and counted—has never been easier. The California Secretary of State is now offering Where's My Ballot?—a new way for voters to track and receive notifications on the status of their vote-by-mail ballot. Powered by BallotTrax, Where's My Ballot? lets voters know where their ballot is, and its status, every step of the way." • Ballottrax. Shoulda gone long….
"State Fact Sheets" [Georgetown Universitty]. "[F]act sheets for all 50 states explaining the laws barring unauthorized private militia groups and what to do if groups of armed individuals are near a polling place or voter registration drive."
All the deadlines, rules, and voting hours to know when casting your ballot in the 2020 presidential election" [Business Insider]. "Here are 12 interactive graphics, charts, and maps Insider created to answer your most common questions about voting in 2020."
2020
Swing States

Here is my list of Swing States, with votes in the Electoral College and selected ballot initiatives in parentheticals):

Arizona (11) (marijuana; taxes(=)
Colorado (9) (taxes, lottery, abortion, paid medical leave)
Florida (29) (minimum wage)
Georgia (16) (declaratory relief)
Iowa (6) (Constitional convention)
Maine-02 (1) (vax)
Michigan (16) (oil and gas royalties; privacy)
Minnesota (10)
Nebraska-02 (1) (payday lending; gambling)
Nevada (6) (marriage)
New Hampshire (4)
North Carolina (15)
Ohio (18)
Pennsylvania (20)
Texas (38)
Wisconsin (10)

Inspired by the thread starting with Arizona Slim's comment here, I went to Ballotpedia and added selected, hopefully hot button, ballot initiatives, because sometimes they affect turnout. If you live in a swing state, please comment if I got the hot buttons wrong!

AZ: "Confessions of the Secret Suburban Trump Moms: Arizona" [The Spectator]. "Both of my children showed an interest in acting and singing at a very young age, so we got involved in our very popular local theater. When I say involved, I mean very involved. I volunteered countless hours for the kids' program and spent five years on the board of directors. The theater I tell you, was an unabashed bubble of pure elite liberalism. I dared not reveal my true views for fear that my kids would be shunned at a community, non-profit theater. This is certainly not the way it should be at a community space, but it was. I think some of the members may have suspected I was not truly one of 'theirs' because I never would comment in compliance with 'orange man bad' conversations and I did not 'like' any of their political Facebook posts. I was careful not to like political posts of any kind, so I could just fall back on the idea that I did not engage in politics publicly. It never ceased to amaze me that at public board meetings, board members would just openly declare Trump the most evil and stupidest man alive, as if there couldn't possibly be any person in earshot that may have believed something different than them. I believe they sincerely did not think anyone could possibly not see things the way they did. Or maybe, they just didn't care. It was a bubble after all." • Nevertheless, her district won't be going for Trump, so…

FL: "Florida Could Seal Trump's Fate on Election Night" [Bloomberg]. "In 2016, Trump carried Florida by crushing Hillary Clinton among voters ages 65 and older, who, exit polls showed, supported him by a 17-point margin. But seniors are a group that's moved away from Trump during his presidency, and even more so with the onset of Covid-19. Early returns in senior-heavy Florida suggest they may vote in historic numbers. That would seem to be bad news for Trump, whose support among seniors in a recent Quinnipiac University poll has cratered…. A senior surge in Florida that mirrors Quinnipiac's support level for Biden would probably mean that the nightmare scenario of a drawn-out, contested election won't happen and Trump's fate could be apparent on election night. Unlike some other states that don't start counting mail-in ballots until polls close, Florida counts them as they come in. That means the "red mirage" and "blue shift" that Democrats fear—a scenario where in-person votes put Trump in the lead on election night, but a late surge of mail-in ballots then gives Biden the edge, leading to a protracted legal battle—is unlikely if Biden's lead in Florida is decisive and the state can be called on Nov. 3."

UPDATE FL "Post Investigation: These Florida voting machines ripe for Russian hackers, experts say" [Palm Beach Post]. "Bad actors working for the likes of Russia and other nation-states are lurking on the internet, waiting for their chance to infiltrate the American voting system. Florida may be ripe for the picking, computer scientists say, because numerous counties rely on voting machines that are drawing fire for their vulnerability to a cyberattack. These computer scientists, along with election integrity groups familiar with the model that Palm Beach and 48 other counties use, say there are potentially numerous ways for a foreign entity to alter results. They say that ." • Note this is about tabulators, not ballot marking devices. I do get a litle tired of the constant yammering about "foreign entities" when it's blindingly obvious that domestic actors — say, the ones that purchased the machines — could do some hacking on their own.

UPDATE GA "Georgia Continues to Tempt Fate This Election Season" [OSET Institute]. "Georgia regulations already require keeping emergency paper ballots on hand as well as configuring polling place scanners to accept both machine-printed ballots and emergency ballots. The regulations mention a bare minimum amount equal to 10 percent of all registered voters. However, this is simply insufficient to cover three hours of voting on Election Day. The lines we saw this week during early voting in Georgia confirm what was already known: November's elections are likely to see historic turnout. Backup ballots are necessary, not only in response to machine failures, but also for provisional voting — when voters find themselves in the wrong polling place, or when they've requested an absentee ballot but wish to vote in person and a poll manager isn't available to help. To cover all these scenarios, Georgia election officials should supply Election Day polling places with enough pre-printed ballots — and provisional ballot envelopes — for 40 percent of registered voters."

TX: "2020 General Election Early Voting Analysis" (PDF) [Ryan Data and Research]. • Many charts and tables. This one caught my eye:

Looks like early voting is a roaring success among the over-70s — I assume those are Covid voters — and not so much for other age groups. This may be Texas only; certainly the images of lines I've seen have a good age distribution.

OH: "In 2016, Trump won these Rust Belt counties on the economy. In 2020, he might lose them over coronavirus" [Reuters]. "Tanya Wojciak, a lifelong Republican and suburban mom from northeast Ohio, is the kind of battleground state voter President Donald Trump can't afford to lose – but already has…. Wojciak, 39, said Trump's spotty use of masks and repeated attempts to downplay the seriousness of the coronavirus – even after being hospitalized for it himself – is "not presidential at all." She said she regrets voting for him four years ago. A hand-painted Biden sign now graces her front lawn in Cortland. Some 340 miles (547 km) east, in Bangor, Pennsylvania, Leo Bongiorno says he, too, is voting for Biden after sitting out the 2016 contest. Customers at Bongiorno's brewery and eatery, Bangor Trust Brewing, remained scarce even after Pennsylvania began to ease its bar-and-restaurant restrictions in June."

TX: "Foreign Hackers Cripple Texas County's Email System, Raising Election Security Concerns" [ProPublica]. "Last week, voters and election administrators who emailed Leanne Jackson, the clerk of rural Hamilton County in central Texas, received bureaucratic-looking replies. "Re: official precinct results," one subject line read. The text supplied passwords for an attached file. But Jackson didn't send the messages. Instead, they came from Sri Lankan and Congolese email addresses, and they cleverly hid malicious software inside a Microsoft Word attachment." • Obviously Russians in disguise. More: "ProPublica obtained five malware samples from Hamilton County and identified them as Emotet. The security firm Proofpoint, which examined the samples at our request, traced them to two weeklong Emotet campaigns in mid-September likely involving millions of malicious email attachments." • So nothing to do with the election at all?

* * *

Biden (D)(1): "Biden would revamp fraying intel community" [Politico]. "Intelligence has become a political weapon under Trump, the Democratic nominee's advisers say." • Oh.

Biden (D)(2): "K Street Buzzes Over Possible Shift to Biden After Trump Era" [Bloomberg]. "All across the nation's capital, companies and trade associations are laying plans for a potential Biden administration. They are strategizing on how to defend clients from an expected resurgence of regulation and marry their priorities with Biden's expected focus on stimulating the economy, expanding health care and overhauling corporate taxes. It's a massive undertaking that much of K Street began early in the year and which has swelled along with Biden's polling lead over President Donald Trump and signs that Democrats could also gain control of the Senate. Not since 2008, when President George W. Bush was leaving the White House, have lobbyists planned for the possibility of so sweeping a change in Washington's corridors of power."

UPDATE Biden (D)(3):

New ad from #BidenHarris that is going to air during #MondayNightFootball tonight…probably during Arizona vs. Dallas game

"I don't blame President Trump for the virus, but I 100% blame him for the response to the virus. We need a leader who's going to look out for all of us." pic.twitter.com/iD2CViVsZX

— Brad Beauregard Jr ?? (@BradBeauregardJ) October 19, 2020

Leader….

Buttigieg (D)(1): "Watch: Pete Buttigieg nails another Fox News interview — right when it matters most" [Alternet]. • CIA? State? 2024 Vice President? The possibilities are limitless!

Trump (R)(1): "Column: What explains Trump's unwavering supporters? Call it a death wish" [Los Angeles Times]. "In March, Princeton economists Anne Case and Angus Deaton published the book "Deaths of Despair and the Future of Capitalism," which analyzed the loss of white males aged 45-54 in the U.S. to suicide, drug overdoses and alcoholism. The phenomenon is especially pronounced in such red states as Arkansas, Kentucky, Mississippi and West Virginia. Case and Deaton point to loss of community as the chief risk factor. Deepening the tragedy is that the deaths of these men are not ennobled as sacrifices for their country, or a higher good. Into this narrative void has come a creed promulgated by Fox News and its imitators that itself could justify taking the next pill or drink." • I think Case and Deaton scrupulously avoid shaming. And must liberal Democrats always psychologize everything?

UPDATE Trump (R)(2): "The Memo: Trump's second-term chances fade" [The Hill]. "Barring a cataclysmic 'October surprise,' Trump's only obvious chance to change the shape of the race will come in the final presidential debate, set for Thursday evening in Nashville, Tenn. The number of Americans voting early is also surging, leaving Trump even less room to maneuver. As of Friday, more than 20 million people had cast their ballots. Trump loyalists and nervous Democrats are united on one point: that the president cannot be counted out, especially in light of his shock win in 2016, when state-level polls were badly wrong. But there are key differences this time around — not least that Biden has led the race from the start and Trump has never come particularly close to erasing that gap." • As the Trillbillies say, in 2015-2016 Trump was a one-man hit machine. No longer. In fact, I'm not even sure what the Trump campaign is about. The economy is off, there's no (colorable) vaccine, and the Durtham Report is a dry hole. Nothing that could have helped Trump is happening, and he's out of runway (unless Biden turns out to be a "goddamned robot," and starts leaking grey fluid on national television).

* * *

NE: "Trump's suburban collapse costs him in Nebraska" [Politico]. "In the 2nd District, which includes largely Democratic Omaha and its largely Republican suburbs, the president is running 6 or 7 percentage points behind Joe Biden, according to public and private polling. It's a case study of his collapse in the suburbs, an example of how the president's alienation of a traditional Republican constituency is proving costly to his reelection campaign — and how his increasingly desperate last-minute appeals to suburbanites are going unheeded. 'If you look at the struggle that Trump has going on in the suburbs, it's just super consistent,' said Ryan Horn, a Republican media strategist based in Omaha. 'What you see in Nebraska 2 you'll see in Dallas, Texas, you'll see in Charlotte, North Carolina, you'll see in Sioux Falls, South Dakota, you'll see in Orange County, California … It's super, super consistent." • Perhaps — horrid thought — Schumer was right, just not in 2016: "For every blue-collar Democrat we lose in western Pennsylvania, we will pick up two moderate Republicans in the suburbs in Philadelphia, and you can repeat that in Ohio and Illinois and Wisconsin." Although to be fair, it took Trump and a pandemic to make Schumer right (for some definition of right; there were probably other paths to a Democrat victory that didn't depend on The Great Assimilation™.

MA: "Senate Campaign Improperly Spent $1.5M: Joe Kennedy III" [NBC Boston]. "The campaign dipped into the general election funds beginning in August, as incumbent U.S. Sen. Edward Markey closed the polling gap and out-fundraised Kennedy, the [Boston Globe] reported… The Kennedy campaign said two senior officials believed the rules allowed them to spend the general election money if it was paid back with additional contributions after the primary. The campaign argued it had no reason to willingly violate the rules, because Kennedy's personal wealth meant he could have contributed the money if necessary." • Dynastic wealth as virtue signaling is something new.
Realignment and Legitimacy
"Preventing a Disrupted Presidential Election and Transition" (PDF) [Transition Integrity Project]. Love the name. "Never eat at a place called Mom's". This is the exercise where liberal Democrats and Bush Republicans gamed out the election results. It's worth a read. This caught my eye:

During the exercises, Team Biden and Democratic elected officials took the following steps:

Organizing 1,000 "influencers" to denounce efforts to steal the election.
Organizing all living presidents to stand with Biden and denounce Trump administration efforts to subvert the democratic process.
Recruiting moderate Republican Governors such as Baker (MA) and Hogan (MD) to form an "Election Protection" Coalition.
Working with local Democratic elected officials to call on the Adjutant General of the National Guard, along with representatives from the technology sector, to monitor vote counting.
Organizing a bipartisan "National Day for Restoration of Democracy" and a "National Day of Unity," both including faith leaders.
Attempting a capital strike and a work stoppage as part of an overall effort to push corporate leaders to insist that all ballots to be counted.

Considering these simply as a list of techniques drawn from the liberal Democrat hive mind, it's interesting to speculate how many of them would have been used against Sanders, had he won TX in addition to CA. And how many would be used during, or after, the general. The last bullet for example?

And then there's this:

TIP's scenario exercises underscored a basic truth: an incumbent running for re-election can use the powers of the presidency to great advantage, particularly if traditional norms are viewed as unimportant and the incumbent is willing to take the risk that a court will eventually rule his actions to be unlawful. The exercise identified the following presidential powers as most likely to be misused to manipulate electoral outcomes or disrupt the transition: the President's ability to federalize the national guard or invoke the Insurrection Act to deploy active duty military domestically; his ability to launch investigations into opponents; and his ability to use Department of Justice and/or the intelligence agencies to cast doubt on election results or discredit his opponents. The President and key members of his administration can also reference classified documents without releasing them, manipulate classified information, or selectively release classified documents for political purposes, fueling manufactured rumors. Participants noted that additional presidential powers subject to misuse include the ability to the freeze assets of individuals and groups the president determines to be a threat, and his ability to restrict internet communications in the name of national security.

Maybe a little projection going on, in some of the items?

UPDATE "Biden and Schumer face battles with left if Democrats win big" [The Hill]. "Biden has pledged to unite the country, restore comity in Washington and work with Republicans if he is elected president, but the uproar over Feinstein's brief hug with Judiciary Committee Chairman Lindsey Graham (R-S.C.) on Thursday is a sign that many on the left will have little patience working with Republicans like Senate Majority Leader Mitch McConnell (Ky.) next year." • But if Michelle hugs George Bush because he gave her candy? No problemo.

Trump (R)(2): "From Trump to eternity: The fate of the political arts in the modern world" [Club Troppo]. "My analysis does suggest the possible healing qualities of injecting into our political system political deliberation that is had at small scale, is not principally 'scaled' via politicians' media performance. There are no shortcuts back to the world where this was done in most local areas, but the institution of the jury provides us with a way of 'scaling' local deliberation. After all, a jury of twelve ordinary people siding with one side or other in a court case is a local, small scale deliberative body which gains its legitimacy from its proxying for 'the people'. I've argued elsewhere that populating our political system with such mechanisms could powerfully heal it. The ancient mechanism of selection by lot also disrupts the traditional means by which external goods might come to dominate internal goods. Jurors will continue to be virtuous or not, but a juror is unlikely to have their head turned from doing the best job they can by the external goods of money, power (including career) or fame." • Worth reading in full.

Using power for good:

Let's get physical ? pic.twitter.com/buTQrfvRhS

— CCTV_IDIOTS (@cctv_idiots) October 17, 2020
Stats Watch
At reader request, I added some business stats back in. Please give Econintersect click-throughs; they're a good, old-school blog that covers more than stats. If anybody knows of other aggregators, please contact me at the email address below.
There are no statistics of note today.
* * *
The Bezzle: "GM's Cruise Unit Allowed to Test Robotaxis in San Francisco" [Bloomberg]. "General Motors Co.'s Cruise LLC unit will be allowed to test autonomous vehicles on public roads in San Francisco without a safety driver, joining Amazon.com Inc.-backed Zoox Inc. and a handful of other self-driving startups…. Cruise will be allowed to conduct both daytime and nighttime tests on certain public roads with speed limits no greater than 30 miles per hour and only in fair-weather conditions." • So, inputs optimized.
The Bezzle: "AirbnBaller" [Scott Galloway]. Maybe I'll have to move AirBnB from "The Bezzle." We shall see. "I believe this time next year, Airbnb will be the most valuable hospitality firm in the world and one of the world's 10 strongest brands. (Note: rankings of "the world's best brands" are a desperate yelp for relevance from ad agencies begging clients to buy more media and cling to the nineties, the Brand Era.) The SF platform will likely be worth more than the three largest hotel firms, combined. Why?…. Outside of luxury, which is not relevant/affordable to 90% of travelers, there isn't a truly global brand, until now. Google searches reflect that Airbnb has eclipsed the equity of century-old brands, in one decade, across markets big and small. While competitors may have equity in a specific market, no brand sits on the iron throne across all markets as Airbnb does…. So, how to value the gangster of all private gangsters? What is the benchmark and the corresponding multiple? It's clearly not a hotel business, but not a SaaS firm either. However, Airbnb is a tech firm and highly "disruptive." The firm has a greater share of employees with an engineering background than Amazon or Uber." • Won't one super-spreader event blow away a lot of that equity? (NOTE: This may be dependent on fomites, i.e. surface cleaning.)
Tech: "Thousands of infected IoT devices used in for-profit anonymity service" [Ars Technica]. "Some 9,000 devices—mostly running Android, but also the Linux and Darwin operating Systems—have been corralled into the Interplanetary Storm, the name given to a botnet whose chief purpose is creating a for-profit proxy service, likely for anonymous Internet use…. Thursday's report is a good reminder why it's important to always change default passwords when setting up Internet-of-things devices and—when possible—to also disable remote administrative access. The cost of not doing so may not only be lost bandwidth and increased power consumption, but also criminal content that might be traced back to your network."
Tech: "Microsoft just force restarted my Windows PC again to install more unwanted apps" [The Verge]. "I stepped away from my computer for dinner, halfway through writing a story for The Verge. When I got back, I couldn't believe my eyes. Windows 10 had restarted my computer without permission yet again — to install yet another forced OS update onto my solid state drive… Microsoft doesn't respect your ownership of your own PC, the latest example of Microsoft installing anything it likes in a Windows update up to and including bloatware, and the latest example of Microsoft caring more about the bottom line than whether a few people might lose their work when Windows suddenly shuts down their PC." • MacOS doesns't do this at all. iOS would if it could bring itself to, but currently it contents itself with constant nudging.
Concentration: "Google Is Making Google Meet A Calendar Default For Workspace Starting Today" [Forbes]. "Google is pushing its Zoom competitor, Google Meet, on as default in Google Calendar invites November 16th, but notifying Google Workspace IT Admins (formerly G Suite IT admins) that they can make this feature live now." • The defaults are are like Mackender's World Island: Who rules the defaults command the world.
* * *
.
Today's Fear & Greed Index: 66 Greed (previous close: 62 Greed) [CNN]. One week ago: 58 (Greed). (0 is Extreme Fear; 100 is Extreme Greed). Last updated Oct 19 at 11:46am. Mr. Market in his happy space.
Rapture Index: Closes down one on earthquakes. "The lack of major quakes has downgraded this category" [Rapture Ready]. Record High, October 10, 2016: 189. Current: 181. (Remember that bringing on the rapture is a good thing, so high is better.) This Index doesn't seem to be reflecting the election at all. I'd expect "Beast Government" to be popping, but no!
The Biosphere
"The IMF Has a Blueprint for Helping the Climate Without Hurting Economic Growth" [Bloomberg]. "In its new report, the IMF takes a different tack, arguing that there is no trade-off between [cutting emissions and growth]. It also goes further than a lot of climate economists by factoring in the so-called 'co-benefits' from cutting emissions — the often neglected side effects, such as fewer deaths from air pollution, and reduced traffic.The IMF's climate chapter models a package of policy measures that it says would enable the world to get to net zero carbon emissions by mid-century. In addition to a carbon price starting at a modest $6 to $10 per ton, the package includes 80% subsidies for renewable energy production, a swathe of green public investments, compensation for households, and a supportive fiscal approach — that is, being prepared to load up on debt for the next decade. The IMF points out, reasonably enough, that we seem to be in a low-for-long interest rate environment." • Maybe. I'm dubious that consumption does not need to be addressed.
Does anyone do this?
Little #PlantingTip – I break off little sticks from fallen branches and stick them into the ground around young plants. This little spiky fort keeps neurotic squirrels from digging up the plant or around it.

Just planted Salal :) pic.twitter.com/sqhlO0hP0B

— A. Marmot ?Underground? (@_Anunnery) March 2, 2019
I have never had a problem with squirrels. I wonder if sheet mulch has the same effect? It sounds fun, though.
Health Care
Google butchers aerosol transmission:

Even if we accept a classification system where there is a continuum of droplets, some of which are ballistic, and some of which ("aerosols") float, Google omits the latter alternative. (My search was "how is covid spreading in the united states".)
Here, however, is a case of fomite transmission!
(1/2) Case report of probable fomite transmission of #SARSCoV2. A man with the habit of blowing his nose into his hand is thought to have infected a neighbour who touched the same lift buttons. The second man cleaned his teeth with a toothpick in the lift.https://t.co/0J0WGTn6fb pic.twitter.com/oUpZi4qCIc

— Dr Zoë Hyde (@DrZoeHyde) October 18, 2020
Seems like an outlier to me, but fomite transmission it is!
"Multi-organ impairment in low-risk individuals with long COVID" (PDF; preprint) [medRxiv]. "In a young, low-risk population with ongoing symptoms, almost 70% of individuals have impairment in one or more organs four months after initial symptoms of SARS-CoV-2 infection. There are implications not only for burden of long COVID but also public health approaches which have assumed low risk in young people with no omorbidities." • The cynical, or realistic, will note the funding at lines 71-73.
"STAT-Harris Poll: The share of Americans interested in getting Covid-19 vaccine as soon as possible is dropping [STAT]. "Overall, 58% of the U.S. public said they would get vaccinated as soon as a vaccine was available when asked earlier this month, down considerably from 69% who said the same thing in mid-August. That change suggests growing concern that the regulatory approval process for a Covid-19 vaccine has been politicized by the Trump administration in the run-up to the presidential election…. Drill down further, and the new data show a striking disparity by race. The poll found that 59% of white Americans indicated they would get vaccinated as soon as a vaccine is ready, a decline from 70% in mid-August. Only 43% of Black individuals said they would pursue a vaccine as soon as it was available, a sharp drop from 65% in mid-August." • Good job? (It's not clear to me that once having unsold people on vaccines, you can resell them. In other words, I'm not sure a change in administration will solve the problem.) And speaking of Tuskegee—
"The Captive Lab Rat: Human Medical Experimentation in the Carceral State" [Boston College Law Review]. "Our current approach to human medical experimentation disregards informed consent and privacy, allowing the pharmaceutical and medical industries to play an outsized role in shaping clinical research. The confusing amalgam of laws, rules and codes loosely governing such research almost entirely fail to regulate or prevent patient mistreatment and abuse. Acquiring a true understanding of our system of mass incarceration requires us to unearth the hidden contours of our current experiments on the poor, the disabled, and the confined, and calls for a wholesale revision of the flawed legal and medical regime overseeing human medical experimentation."
Groves of Academe
This are the people in charge of anti-Covid strategy at our universities:
Stupidity has no limits when you start classifying people based on their supposed skin color.

According to University of California's race-sorting mechanism, black people from Sudan and Somalia are now officially whitehttps://t.co/weKgOonngf pic.twitter.com/j5ZzyByezz

— Shadi Hamid (@shadihamid) October 16, 2020
Discussion here at the UCLA Faculty Association. They mention Hamid's document was from 2014, but the same policy was in effect as late as 2017.
Guillotine Watch
"Rolls-Royce Tones Down $332,500 Ghost in Latest Bid for Relevance" [Bloomberg] (September 30). "Ultra-high-net-worth individuals are notoriously demanding consumers. After all, they pay exorbitant amounts for products and services rendered. … It's a lavish and indulgent, but simultaneously detoxifying, place to be…. 'Our customers want a thinking space,' [Chief Executive Officer Torsten Mueller-Otvos] says. He means that along with wanting clean air, they don't want a ton of buttons, crazy stitching, boisterous colored leathers, and color combos as I've seen lately in a lot of Aston Martins and Maseratis. They want the interior to be a zone conducive to both psychic and emotional serenity." • I'll bet. But there's a plot twist–
"Rolls-Royce's New Car Was So Quiet at First, It Nauseated Drivers" [Bloomberg]. "(October 16). "In the new, second-generation Rolls-Royce Ghost, early test audiences during its five years of development reported that the car felt so quiet it was disorienting. "Bordering on nausea," reports the car's lead engineer, Jon Simms. … [Rolls-Royce engineers] tuned the rear seat frames and components in the trunk to a vibrate at a specific low frequency, as musicians might tune instruments to a particular pitch. They recalibrated the 563-horsepower engine to downplay its rumbly noise, and avoided aggressive drive modes such as track or sport, which would rev it louder. They rearranged the four layers of sound insulation inside the doors to help pad out dead pockets of air. They even eased up on the heavily padded headliner…. I experienced the resulting whisper while test-driving the Ghost last month. The instant the doors closed with a feather-light thud, it felt as if I had stepped into a spa. As I drove through the rolling Texas hills, I felt a deep sense of stillness and purity, even inside a speeding machine powered by fossil fuels." • I don't doubt it. I was nauseated myself!
Class Warfare
"Amazon Launches Payday Advances for Its Most Precarious Warehouse Workers" [Vice]. "Amazon has launched a payday advance program, called Anytime Pay, for its most precariously employed warehouse workers to "access up to 50% percent of the money [they've] earned instantly." While it's no secret that many Amazon warehouse workers live paycheck to paycheck, most Americans do, the implication of this new offering, which has been framed as a perk, is grim. The program codifies what many Amazon workers have been saying about their dangerous, low-paying jobs: warehouse workers need an option like this because they're not earning enough to make it to payday…. But they are some caveats to Amazon's new payday advance option. Warehouse workers who opt into this program, by signing up for a pay card with the software company Wisely, will have to pay fees at out-of-network ATMs to take out cash, and may be subject to other fines. In other words, workers will likely get a little less of their paycheck by using this card." • Oh, come on:
"Shadows On The Grass" [Spotted Toad]. "There's a cliché of recent years that the language of progressivism privileges those with the privileges to master it; true enough, but the main people it privileges is those who don't have anything to hurt their heads- no kids, lives, families, responsibilities to return to from the world of the political. As people have fewer private obligations, not only does a language that represents social relations in solely abstract terms become more appealing to them, but their capacity to adopt this language increases because the costs are less real. The intersectional ideology of progressivism favors whose ties to past, family, identity do not interfere with the favored narratives being sold at any one time. Thus those – transracial, transgender, transclass, etc- who have deliberately severed their self-continuity often appear its fastest adherents. This is perhaps also why the language of the currently dominant ideology tends simultaneously towards revolutionary insurrection and a defense of institutional power: the people most isolated and atomized will be both eager for institutional validation while also happy to burn everything else down." •¨Worth a read….
News of the Wired
Hat tip to alert reader lyman alpha blob for the Wicked Good Band:
This resonates with me because I bought a new wooden desk chair with insufficient back support. Oddly, I've always been most comfortable on benches with no back support at all, so I don't why this chair did what it did to me, which took a week of salves and a heating pad to undo. (Also, Maine is full of not-really-that-old men whose bodies have been wrecked in the woods or the mills, one source of our opioid problem. So the band is great, but also Maine does have a bit of a mean streak….)
Another artbot. Like Basquiat, Warhol's work grows stronger and stronger as we advance into the 21st Century:
One Dollar Bill, Andy Warhol, 1962 https://t.co/a1iU53ve4I #andywarhol #printsanddrawings pic.twitter.com/jPZEwhEJsj

— Andy Warhol (@artistwarhol) October 17, 2020
* * *
Readers, feel free to contact me at lambert [UNDERSCORE] strether [DOT] corrente [AT] yahoo [DOT] com, with (a) links, and even better (b) sources I should curate regularly, (c) how to send me a check if you are allergic to PayPal, and (d) to find out how to send me images of plants. Vegetables are fine! Fungi and coral are deemed to be honorary plants! If you want your handle to appear as a credit, please place it at the start of your mail in parentheses: (thus). Otherwise, I will anonymize by using your initials. See the previous Water Cooler (with plant)
here
. Today's plant (TH):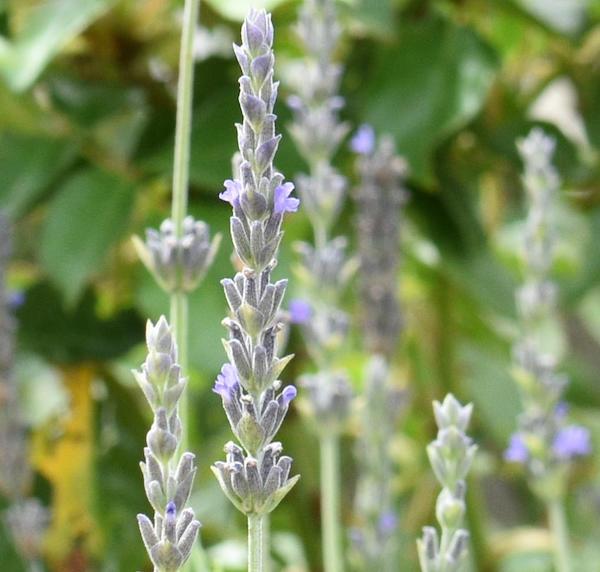 TH writes: "This is another flower (Lavender? — I didn't think to smell it) in the gardens that front the Alamitos Bay in Long Beach, California." I think it's lavender!
* * *
Readers: Water Cooler is a standalone entity not covered by the recently concluded and — thank you! — successful annual NC fundraiser. So if you see a link you especially like, or an item you wouldn't see anywhere else, please do not hesitate to express your appreciation in tangible form. Remember, a tip jar is for tipping! Regular positive feedback both makes me feel good and lets me know I'm on the right track with coverage. When I get no donations for five or ten days I get worried. More tangibly, a constant trickle of donations helps me with expenses, and I factor in that trickle when setting fundraising goals:
Here is the screen that will appear, which I have helpfully annotated.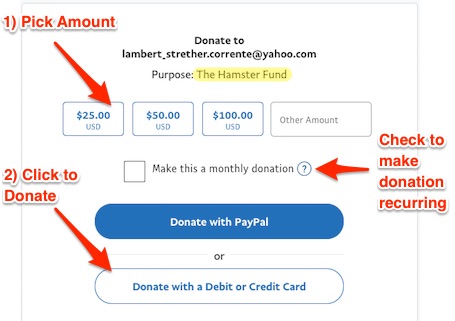 If you hate PayPal, you can email me at lambert [UNDERSCORE] strether [DOT] corrente [AT] yahoo [DOT] com, and I will give you directions on how to send a check. Thank you!