By Lambert Strether of Corrente.
Bird Song of the Day
#COVID19
At reader request, I've added this daily chart from 91-DIVOC. The data is the Johns Hopkins CSSE data. Here is the site.
Here are the United States regions: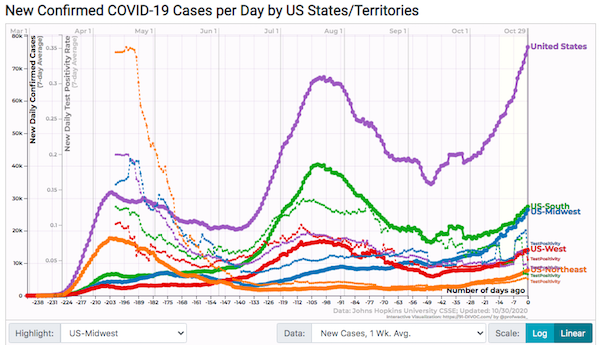 No sign of relief, sadly….
Here are the Swing States as I conceive them (see below):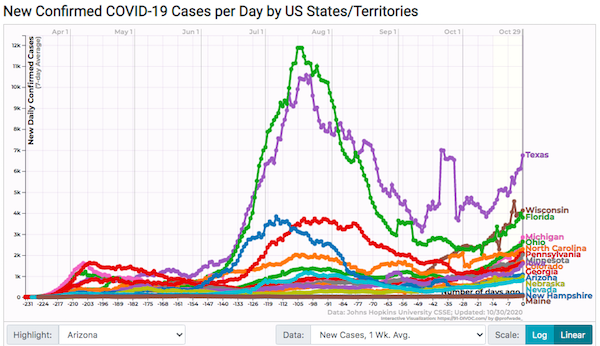 Ditto….
Politics
"But what is government itself, but the greatest of all reflections on human nature?" –James Madison, Federalist 51
"They had one weapon left and both knew it: treachery." –Frank Herbert, Dune
"They had learned nothing, and forgotten nothing." –Charles Maurice de Talleyrand-Périgord
The electoral map. July 17: Georgia, Ohio, ME-2 move from Leans Republican to Toss-up. Continued yikes. On July 7, the tossup were 86. Only July 17, they were 56. Now they are 91. This puts Biden at 278, i.e. over 270. August 18: Still no changes. August 31: Indiana moves from Likely to Safe Republican. September 9: No changes. September 14: No changes. September 21: No changes. September 22: Ohio moves from Toss-up to Leans Republican. September 25: Ohio moves from Leans Republican to Toss-up. September 30: Iowa moves from Leans Republican to Toss-up. October 3: Indiana moves from Safe to Likely Republican; Iowa moves from Toss-up to Leans Republican. October 6: Arizona moves from Toss-up to Leans Democratic; Iowa from Leans Republican to Toss-up; Indiana from Likely to Safe Republican; New Mexico from Likely to Safe Democratic. October 8: NE-2 moves from Toss-up to Leans Democratic. October 13: Indiana moves from Likely to Safe Republican. October 16: Indiana moves from Safe to Likely Republican. October 19: No changes. October 21: NE-1 moves from Likely to Safe Republican. .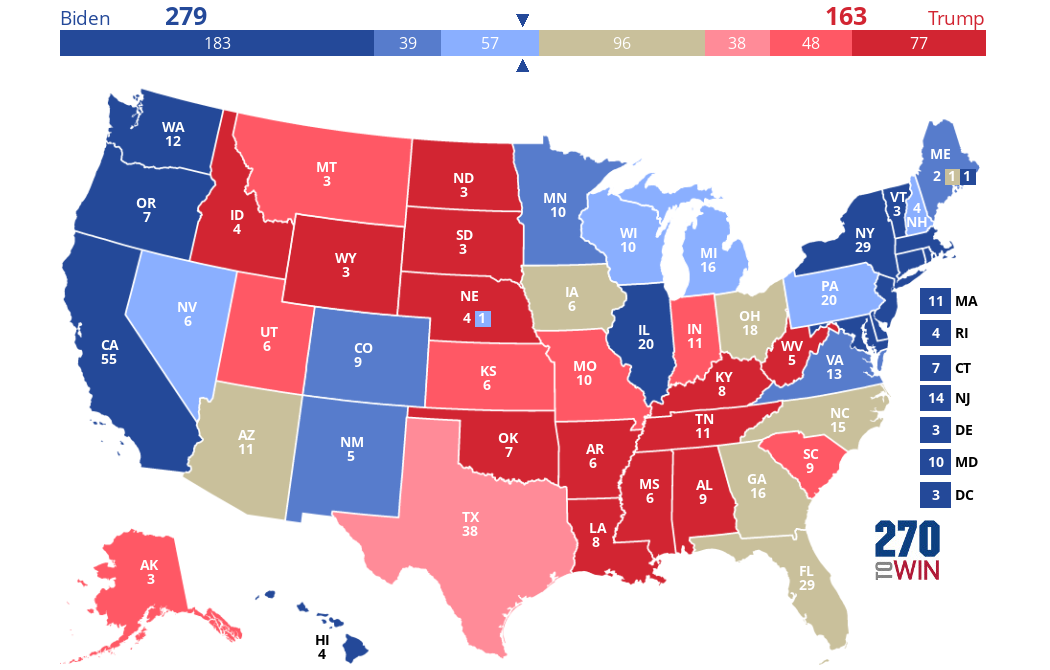 Click the map to create your own at
270toWin.com
The election countdown:
Here is an early voting calendar. Maybe we'll have a whole series of October surprises, since election day is gradually being devalued as an event.
And here are mail-in voting ruies, which naturally differ state by state.
"2020 General Election Early Vote Statistics" [U.S. Elections Project (SlayTheSmaugs)].
"How to Vote in 2020: Everything You Need to Know" [Bloomberg]. "Casting a ballot in the U.S. isn't always easy, with a complex web of varying state rules governing how and when you can vote. The Covid-19 pandemic has introduced even more complexity in 2020, as many states have made significant changes to allow for more early voting or voting by mail. More changes could come as lawsuits in several states wind their way through the courts. That's why Bloomberg News is answering these critical questions so you'll know what you need to do to make sure your vote is counted in the 2020 election."
Here are is an enormous spreadsheet on voting equipment, so you can check your own jurisdiction (hat tip, UserFriendly. I should really aggregate these onto a map…).
"2020 General Election Early Vote Statistics" [U.S. Election Project].
"California Ballots Mailed and Returned Tracker" [Political Data]. • California only, sadly.
"Where's My Ballot?" [Alex Padilla]. "Tracking your vote-by-mail ballot—when it is mailed, received, and counted—has never been easier. The California Secretary of State is now offering Where's My Ballot?—a new way for voters to track and receive notifications on the status of their vote-by-mail ballot. Powered by BallotTrax, Where's My Ballot? lets voters know where their ballot is, and its status, every step of the way." • Ballottrax. Shoulda gone long….
"State Fact Sheets" [Georgetown Universitty]. "[F]act sheets for all 50 states explaining the laws barring unauthorized private militia groups and what to do if groups of armed individuals are near a polling place or voter registration drive."
All the deadlines, rules, and voting hours to know when casting your ballot in the 2020 presidential election" [Business Insider]. "Here are 12 interactive graphics, charts, and maps Insider created to answer your most common questions about voting in 2020."
2020
Swing States

Here is my list of Swing States, with votes in the Electoral College and selected ballot initiatives in parentheticals):

Arizona (11) (marijuana; taxes(=)
Colorado (9) (taxes, lottery, abortion, paid medical leave)
Florida (29) (minimum wage)
Georgia (16) (declaratory relief)
Iowa (6) (Constitional convention)
Maine-02 (1) (vax)
Michigan (16) (oil and gas royalties; privacy)
Minnesota (10)
Nebraska-02 (1) (payday lending; gambling)
Nevada (6) (marriage)
New Hampshire (4)
North Carolina (15)
Ohio (18)
Pennsylvania (20)
Texas (38)
Wisconsin (10)

Inspired by the thread starting with Arizona Slim's comment here, I went to Ballotpedia and added selected, hopefully hot button, ballot initiatives, because sometimes they affect turnout. If you live in a swing state, please comment if I got the hot buttons wrong!

This is totally not a prediction. Here's another war game. Brown states are states that are not decided on the election day, for whatever reason:

I used states where the Republicans have filed lawsuits as a proxy for states that will get hung up one way or another: IA, MI, NC, NV, PA, TX, and WI. As you can see, even with an extraordinary clusterf*ck involving all those brown states, Biden still gets to 270 (albeit by one vote) if he wins Florida.

Handy chart from the Financial Times:

The rise in early voting in the US is creating complications that could have everybody waiting for days or even weeks for final election results. We have a guide to help you follow the returns across the country ?: https://t.co/AbdwtEDVEw pic.twitter.com/PhrCHeqGNh

— Financial Times (@FinancialTimes) October 30, 2020

The whole thread is very useful.

* * *

ME: "Bitter Legacy of Trump Court Fights Put Collins Down in Maine" [Bloomberg]. "A wild card in the race, which features two independent candidates, is Maine's use of ranked-choice voting. It permits voters to choose candidates in order of preference. If no candidate wins a majority of the vote, the candidate who received the fewest first-choice votes is eliminated, and each vote cast for that candidate will be transferred to the voter's next-ranked choice among the remaining candidates. The process continues until one candidate receives a majority of the votes. But that could be more bad news for Collins: a poll by Colby College released this week indicated that [Democrat Sara] Gideon would likely net more second-choice votes from the supporters of two independent candidates than Collins, lead researcher Dan Shea said."

MN: "U.S. appeals court upends Minnesota plan to extend deadline for receiving ballots" [Reuters]. "In a 2-1 decision, the U.S. 8th Circuit Court of Appeals said the deadline extension was an unconstitutional maneuver by the state's top election official, Minnesota Secretary of State Steve Simon, a Democrat. 'However well-intentioned and appropriate from a policy perspective in the context of a pandemic during a presidential election, it is not the province of a state executive official to re-write the state's election code,' the decision stated. 'There is no pandemic exception to the Constitution,' the majority wrote. The 8th Circuit sent the case back to a lower court and instructed it to require Minnesota election officials to identify and 'segregate' absentee ballots received after Nov. 3."

PA: "Philadelphia has the highest number of registered voters in 35 years" [Billy Penn]. "Next time you're in the supermarket, at a park, or anywhere in Philly with other adults, look around. On average, 9 out of 10 your socially distant citymates are registered to vote. That's a record high for Philadelphia voter registration over the past three decades. Will everyone come out to vote? Unlikely, but there are signs turnout could be high. Part of that assessment is based on mail ballots, which anyone can use this year for the first time in Pennsylvania. Philly voters have requested nearly 410k mail ballots so far, which is close to 60% of the number of total votes cast in the most recent presidential election."

PA: "The Divided States of Pennsylvania" [Philadelphia Inquirer]. "Pennsylvania, a state that sprawls from the Northeast corridor to Appalachia to the Midwest. It's a place of big, crowded cities, affluent suburbs, and vast farmland. Cascading mountains, forested lakefronts, fracking wells, cul-de-sacs, corner stores, and gleaming skyscrapers. Sheetz and Wawa. World-class colleges and shuttered factories. Diverse, dynamic cities and huge rural stretches where the population is almost entirely white. Each piece is big enough that no one aspect dominates the rest. A 'big, beautiful, complicated, diverse state,' as Sen. Pat Toomey put it. In other words, it mirrors America — so it's fitting that Pennsylvania is one of the country's most politically competitive states….. With nearly 13 million people spread over almost 45,000 square miles, Pennsylvania also reflects America another way: It is increasingly divided. It is separated into geographic clusters — liberals in cities and suburbs, conservatives in rural areas and small towns — that seem entirely distinct. You can drive places where seemingly everyone supports Trump, and others where almost no one does. People often view their neighbors with disdain or fear, worried their way of life is under threat from fellow Pennsylvanians. They absorb different information, work different jobs, live different lives."

TX: "In Democrats' bid to flip Texas, maximizing the Latino vote is key" [Texas Tribune]. "Democrats have long cited the state's shifting demographics as evidence that its future is blue. But attempts to take full advantage have so far fallen short. Latino voter turnout has traditionally been low in the state. The party has often seen President Donald Trump's rhetoric about immigration and people of color as an opening to win over and motivate more Latino voters to come support its candidates at the polls. But since the March presidential primary in Texas, Biden has struggled to make gains with those voters. And Republicans in the state have long argued that the state's Latino population is less liberal than many Democrats believe…. Biden lost the Latino vote to Bernie Sanders in the 2020 Democratic primary." • So I guess the Republicans are wrong?

* * *

Biden (D)(1): "Biden if elected will form task force to reunite 545 separated immigrant children with family, campaign says" [CNN]. "Joe Biden is pledging that if he's elected president, he will sign an executive order to form a task force that will focus on reuniting the 545 immigrant children who've been separated from their families." • See Taleb:

A reminder that any argument (such as the one now used for illegal immigration) that is supported by pictures/narratives of children is called PEDOPHRASTY. Actually, use of children should weaken an argument. pic.twitter.com/qZ7Qn5pHN2

— Nassim Nicholas Taleb (@nntaleb) June 16, 2018

Biden (D)(2): "The man who created the modern presidential transition now faces an extraordinary one" [Politico]. "The man who literally wrote the laws on presidential transitions is now running one — and it could be the country's most difficult handover of power since the Great Depression, with dueling health and economic crises as well as an unpredictable incumbent who may throw wrenches into the process. Ted Kaufman, Biden's longtime chief of staff in the Senate and head of his 2020 transition effort, likely has more control over a future Biden administration than anyone other than the Democratic presidential nominee himself. As head of Biden's transition team, his ambitions go beyond just an efficient hand-off of power and extend to proving that the federal government can actually work — and that bipartisanship isn't extinct. A bomb thrower he is not, and he is unlikely to hire many, either. Given the myriad crises facing the country, Kaufman is likely to favor competence and experience over ideology, allies say. That could disappoint some of Sen. Elizabeth Warren and Sen. Bernie Sanders' left-wing allies…."

Trump (R)(1): "Trump confronts his 50 percent problem" [Politico]. "The president's inability to capture a majority of support sheds light on his extraordinary attempts to limit the number of votes cast across the battleground state map — a massive campaign-within-a-campaign to maximize Trump's chances of winning a contest in which he's all but certain to earn less than 50 percent of the vote… 'What we have seen this year which is completely unprecedented … is a concerted national Republican effort across the country in every one of the states that has had a legal battle to make it harder for citizens to vote,' said Trevor Potter, a former chair of the Federal Election Commission who served as general counsel to Republican John McCain's two presidential campaigns. 'There just has been this unrelenting Republican attack on making it easier to vote.'" • Fortunately, registering new voters and bringing voters to the polls with a functional precinct organization has been a core Democrat party function ever since Bush v. Gore. Oh, wait…

Trump (R)(2): "Mixed martial arts fighters go the distance for Trump" [Politico]. "Now the president is trying to take full advantage of his popularity with influential mixed-martial artists by elevating them into full-blown campaign surrogates spreading his Make America Great Again gospel at swing-state rallies and fundraisers. The fighters reinforce his us-against-the-world message, but just as important, they speak to a crucial demographic his campaign is trying to turn out in force: young men, who overwhelmingly form the fanbase for MMA and the Ultimate Fighting Championship company."

Warren (D)(1): "Warren will make case to be Biden's Treasury secretary" [Politico]. • Idea: Warren could set up a one-on-one with Biden. Later, she can threaten to smear him as a sexist! Problem solved.

* * *

"Black men's votes courted as some search for political home" [Associated Press]. "'You don't lie, you acknowledge the truth, and admit that the choices before Black people in the year 2020 are abysmal,' said Agnew, an organizer with Black Men Build, a group created to empower Black men."

"Democrats would rather mock Ice Cube then grapple with what he represents" [Trymaine Lee, MSNBC]. "For many Black men…, there's a general sentiment that Democrats have either forgotten them or abandoned efforts to reach Black people, and Black men especially. So, why not give the boogeyman a shot? I thought about this conversation late last week when word began to get around that legendary rapper Ice Cube had advised the Trump administration on its so-called Platinum Plan for Black Americans, news that seemed to shake parts of the political universe. The backlash was swift. How could Ice Cube, the O.G., who recently said he'd never vote for Trump, ostensibly work with him despite everything we know about him?" • Lee spent all her time fact-checking….

"Biden to air 90-minute radio programs targeting Black voters" [The Hill]. "Democratic presidential nominee Joe Biden plans to air 90-minute radio programs on gospel stations across the country this weekend urging Black voters to head to the polls in a final sprint of early voting before Tuesday's elections. The Biden campaign will pay about $109,000 to air the programs on 29 radio stations in seven states, according to sources watching the advertising market. The programs are set to air in Ohio, Georgia, Michigan, North Carolina, Florida, Wisconsin and Pennsylvania. Democrats typically run Souls to the Polls programs aimed at Black churches in the final weekends before a November election, when some of the party's most loyal voters crowd onto buses and head en masse to polling places near their houses of worship. Those programs look different this year because of the pandemic, which has fallen disproportionately on Black and Brown Americans. The radio play is a way to reach those voters even if they cannot attend church in person on Sunday."
Realignment and Legitimacy
I'm so old I remember when liberal Democrats were the "reality-based community." Proudly!

It's really amazing that American politics went full Eternal Sunshine of the Spotless Mind and just erased the Iraq War, the financial crisis and the entire Bush presidency from its memory

— David Sirota (@davidsirota) October 30, 2020

Sirota is correct. It's bizarre. It's Orwellian. \ I don't even know how to process it. It's like a horror movie.

"No One Fights QAnon Like the Global Army of K-Pop Superfans" [Bloomberg]. "More than 22,000 tweets bearing Korean pop stars flooded hashtags like #WhiteLivesMatter and #QAnon that evening, according to market researcher Zignal Labs. Some typical accompanying text: 'Stan twitter RISE.' The barrage effectively commandeered the hashtag and rendered it all but unusable to white supremacists. QAnon devotees are familiar with this tactic, known as keyword squatting, because they use it all the time. 'They got beaten at their own game by Korean pop fans,' says Mike Rothschild, a conspiracy theory researcher who's writing a book about QAnon. 'I'd never seen anything like it before.'"
Our Famously Free Press
Who is this Greenwald guy?

The morning after he launched his Substack, @ggreenwald's newsletter is already in the top ten paid newsletters with "thousands of subscribers" at $5/month. pic.twitter.com/4rZBx7dCfD

— Yashar Ali ? (@yashar) October 30, 2020

"Glenn Greenwald Throws a Fit" [Jacob Silverman, The New Republic]. "Censorship! Or, just maybe, an editorial note that a notoriously egotistical writer doesn't like." The reaction to Greenwald's resignation has been spectacularly clarifying, and enables vast swathes of the so-called left to be written off, which is a mercy. A common theme with Silverman and the tweet that follows is that Greenwald is culpable because he prefers not to be gelded edited — unlike Interceptoids and former Timesmen like James Risen, a Very Good Boy who allowed his editors to spike an election-changing scoop for over a year (and caused Snowden to go to Greenwald, instead of his own paper, thankfully). I could quote hundreds of tweets like this one:

Having been on both sides of this dynamic: The secret magic phrase for if you really think your editor is wrong is "ah, I see what you're going for there—let me take a crack at it."

— Adam Rogers (@jetjocko) October 29, 2020

What these aspirational PMC "journalists" on the Twitter do not seem to understand — or, if they are sucking up to their own editors, understand all to well — is that Greenwald had a contract that "effectively exempted him from editorial intervention." In other words, they assume — if not completely sycophantic — that everybody else has business and social relations exactly like they do, which relations they privilege over all others, a generic PMC problem, visible in, say, health care policy.

Greenwald on The Rising:
Stats Watch
At reader request, I added some business stats back in. Please give Econintersect click-throughs; they're a good, old-school blog that covers more than stats. If anybody knows of other aggregators, please contact me at the email address below.
Personal Income and Expenditures: "September 2020 Real Expenditures Improved" [Econintersect]. "Expenditures improved year-over-year (but is in contraction year-over-year) whilst income also improved year-over-year (but is in expansion)… The real issue with personal income and expenditures is that it jumps around because of backward revisions – and one cannot take any single month as fixed or gospel."
* * *
Tech: "Virtual Influencers Make Real Money While Covid Locks Down Human Stars" [Bloomberg]. "At a time when interacting safely with other humans can no longer be taken for granted, the appetite for digital spokespeople is accelerating. Brands are expected to spend as much as $15 billion annually on influencer marketing by 2022, up from $8 billion last year, according to Business Insider Intelligence. A growing slice of that money belongs to virtual influencers, and traditional marketing is experiencing serious disruption. 'Virtual influencers, while fake, have real business potential,' says Christopher Travers, the founder of virtualhumans.org, a website that documents the industry. 'They are cheaper to work with than humans in the long term, are 100% controllable, can appear in many places at once, and, most importantly, they never age or die.'" • Kill them with fire.
Tech: "China Focuses on Building Its Own Core Tech as U.S. Curbs Supply" [Bloomberg]. "China said it needs to build its own core technology because it can't rely on buying it from elsewhere, as the Communist Party laid out plans for greater economic self-sufficiency. Outlining details of its new five-year economic plan that elevates self-reliance in technology and innovation, senior party officials said Friday the nation would accelerate development of the kind of technology needed to spur the next stage of economic development. Key to that are bold measures to cut reliance on foreign know-how, although that doesn't mean China will cut itself off from the world."
Mr. Market: "Dow falls more than 300 points as Big Tech guidance stokes unease over COVID impact" [MarketWatch]. "Stocks extended losses Friday morning, with investors waving off strong quarterly results from technology heavyweights to focus on the uncertain outlook amid a surge in COVID-19 cases in the U.S. and Europe. On the last trading day of the month, investors also face the prospect of the U.S. elections next Tuesday and no certainty about the timing of any further aid for businesses and consumers from Congress."
* * *
.
Today's Fear & Greed Index: 26 Fear (previous close: 32 Fear) [CNN]. One week ago: 66 (Greed). (0 is Extreme Fear; 100 is Extreme Greed). Last updated Oct 30 at 12:32pm. • It's back!
The Biosphere
"'Ghost forests' are an eerie sign of sea-level rise" [Yale Climate Connections]. "Along the Atlantic coast, ghost forests provide haunting signs of sea-level rise. These stands of bleached and broken tree trunks are all that remain after salty water inundates a forest…. 'Eventually they'll fall apart and become stumps surrounded by marshland,' [Matt Kirwan of the Virginia Institute of Marine Science] says. 'And so when you see a ghost forest now, you're seeing where the marsh will be in the future.' Marshes are valuable ecosystems, so in some ways, that's positive. 'Ghost forests are a surprising indicator of ecological resilience in coastal systems,' Kirwan says. 'They mark how marshes naturally migrate in response to sea-level rise.'"
"Geothermal energy is poised for a big breakout" [Vox]. "After many years of failure to launch, new companies and technologies have brought geothermal out of its doldrums, to the point that it may finally be ready to scale up and become a major player in clean energy. In fact, if its more enthusiastic backers are correct, geothermal may hold the key to making 100 percent clean electricity available to everyone in the world. And as a bonus, it's an opportunity for the struggling oil and gas industry to put its capital and skills to work on something that won't degrade the planet. Vik Rao, former chief technology officer at Halliburton, the oil field service giant, recently told the geothermal blog Heat Beat, 'geothermal is no longer a niche play. It's scalable, potentially in a highly material way. Scalability gets the attention of the [oil services] industry.'" • Ugh. I hate the very idea that Halliburton might be right about anything.
Health Care
"Risk for In-Hospital Complications Associated with COVID-19 and Influenza — Veterans Health Administration, United States, October 1, 2018–May 31, 2020" [Morbidity and Mortality Weekly Report]. "Hospitalized patients with COVID-19 in the Veterans Health Administration had a more than five times higher risk for in-hospital death and increased risk for 17 respiratory and nonrespiratory complications than did hospitalized patients with influenza. The risks for sepsis and respiratory, neurologic, and renal complications of COVID-19 were higher among non-Hispanic Black or African American and Hispanic patients than among non-Hispanic White patients. Compared with influenza, COVID-19 is associated with increased risk for most respiratory and nonrespiratory complications. Certain racial and ethnic minority groups are disproportionally affected by COVID-19." • No, Covid is not just "the flu."
Gunz
"Walmart Pulls Guns Off Shelves as Precaution Ahead of Election" [Bloomberg]. "'We have seen some isolated civil unrest and as we have done on several occasions over the last few years, we have moved our firearms and ammunition off the sales floor as a precaution for the safety of our associates and customers,' Walmart said in an e-mailed statement. 'These items do remain available for purchase by customers.' The retail giant made a similar decision this summer during unrest following the death of George Floyd by police, a move intended to dissuade any potential theft if stores were broken into during protests." • Lol, so they're only worried about guns being looted, not bought. This is America!
Riots and Protests
"Video surfaces showing Philadelphia police bashing SUV windows, then beating driver while child was in backseat" [Inquirer]. "Just before 2 a.m. Tuesday, about 10 blocks from where police had shot and killed Walter Wallace Jr. hours earlier, a woman stood on her rooftop, turned on her camera phone, and streamed a few minutes of live video that captured the unrest roiling West Philadelphia: Crowds of people throwing projectiles at police. Officers backing away, then advancing toward them. A slow-moving SUV navigating the scene, then being surrounded by police. Baton-wielding officers swarming the vehicle, smashing its windows, yanking its driver and a passenger from the car, throwing them to the ground, and then pulling a toddler from the backseat. For Aapril Rice, a 30-year-old who works in digital media and recorded it from her rooftop, the entire scene was 'surreal,' but none more so than seeing officers scoop up the child. That, she said, was 'the most traumatic part for me.'… An Inquirer photographer captured an image of police holding a young boy at the scene at the same time, and a freelance photographer captured another image of police pulling that child out of the vehicle that was bashed. On Wednesday, the National Fraternal Order of Police posted another image on Facebook and Twitter of a Philadelphia police officer holding the same child, writing in a caption: 'This child was lost during the violent riots in Philadelphia, wandering around barefoot in an area that was experiencing complete lawlessness. The only thing this Philadelphia police officer cared about in that moment was protecting this child.'" • Come on, man.
"CW: murder, police violence" [Duncan Gromko, Googledocs]. "This morning I can't stop thinking about Biden's statement on the Walter Wallace Jr. murder, which we read when the demonstration had just started. Let me say first: I already voted for Biden, and am investing a lot of time in getting him elected. I encourage you to vote for Biden. But this statement was terrible, as it equivocates the murder of Mr. Wallace with rioting and looting. This is a cruel equivalence to draw when someone has been murdered by the state, but it is also false. It is the police who are rioting in our cities. It is the billionaires and corporations who are looting from their employees and government tax revenues. We cannot stop if Biden is elected because he will not give us the justice we deserve.
News of the Wired
"The World's 15 Most Complex Subway Maps" [Bloomberg]. "Researchers Riccardo Gallotti and Marc Barthelemy of the CEA-Saclay in France and Mason Porter of the University of Oxford in the U.K. recently set out to calculate the maximium transit map information someone can 'reasonably process.' The goal, they write in Science Advances, was to see whether the growth of urban transportation systems has led to visual guides that "exceed our cognitive limits." If that's the case, then city residents and visitors might soon have to rely on digital navigation apps less as a crutch than as a necessity." • N-o-o-o-o-o-o-o…. New York's subway is "most complex metropolitan system in the world," followed by Paris, Tokyo, and London. I have always found Paris and London very easy to navigate, and New York less easy (because its signage seems poorer to me, plus the danged express trains). You do have to know where you're going, duh (I have never been to Japan). And you know what? You can always ask a local for help. Silicon Valley trying to get in the middle again.
* * *
Readers, feel free to contact me at lambert [UNDERSCORE] strether [DOT] corrente [AT] yahoo [DOT] com, with (a) links, and even better (b) sources I should curate regularly, (c) how to send me a check if you are allergic to PayPal, and (d) to find out how to send me images of plants. Vegetables are fine! Fungi and coral are deemed to be honorary plants! If you want your handle to appear as a credit, please place it at the start of your mail in parentheses: (thus). Otherwise, I will anonymize by using your initials. See the previous Water Cooler (with plant)
here
. Today's plant (c. roast):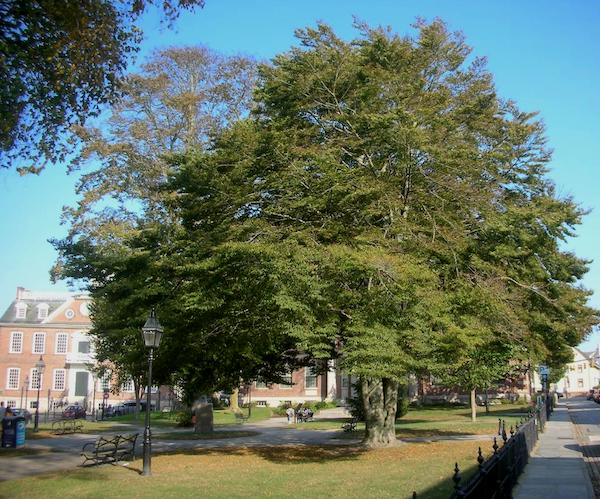 c. roast writes: "Tree huggers delight. European Beech (fagus sylvatica) in early fall."
* * *
Readers: Water Cooler is a standalone entity not covered by the recently concluded and — thank you! — successful annual NC fundraiser. So if you see a link you especially like, or an item you wouldn't see anywhere else, please do not hesitate to express your appreciation in tangible form. Remember, a tip jar is for tipping! Regular positive feedback both makes me feel good and lets me know I'm on the right track with coverage. When I get no donations for five or ten days I get worried. More tangibly, a constant trickle of donations helps me with expenses, and I factor in that trickle when setting fundraising goals:
Here is the screen that will appear, which I have helpfully annotated.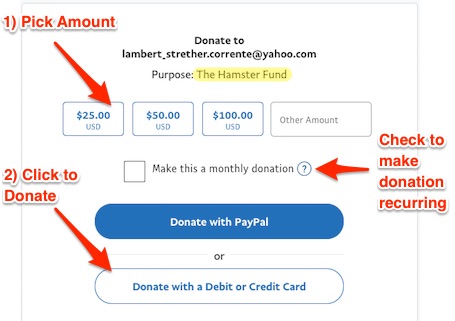 If you hate PayPal, you can email me at lambert [UNDERSCORE] strether [DOT] corrente [AT] yahoo [DOT] com, and I will give you directions on how to send a check. Thank you!