Animals Keep Evolving Into Crabs, Which Is Somewhat Disturbing Popular Mechanics
Time to Reset Expectations for World Economy With Virus Untamed Bloomberg
Nearly 12 Million Square Feet of Vacant Office Space in S.F. SocketSite
Apple, Google and a Deal That Controls the Internet NYT
The importance of Taleb's system: from the Fourth Quadrant to the Skin in the Game Branko Milanovic, globalinequality. From 2018, still germane.
#COVID19
Nursing Home Staff Networks and COVID-19 (PDF) M. Keith Chen, Judith A. Chevalier, and Elisa F. Long NBER. From July, still germane. Quoting the abstract in its entirety:

Nursing homes and other long-term care facilities account for a disproportionate share of COVID-19 cases and fatalities worldwide. Outbreaks in U.S. nursing homes have persisted despite nationwide visitor restrictions beginning in mid-March. An early report issued by the Centers for Disease Control and Prevention identified staff members working in multiple nursing homes as a likely source of spread from the Life Care Center in Kirkland, Washington to other skilled nursing facilities. The full extent of staff connections between nursing homes—and the role these connections serve in spreading a highly contagious respiratory infection—is currently unknown given the lack of centralized data on cross-facility employment. We perform the first large-scale analysis of nursing home connections via shared staff and contractors using devicelevel geolocation data from 50 million smartphones, and find that 5.1 percent of smartphone users who visit a nursing home for at least one hour also visit another facility during our 11-week study period—even after visitor restrictions were imposed. We construct network measures of connectedness and estimate that nursing homes, on average, share connections with 7 other facilities. Controlling for demographic and other factors, a home's staff-network connections and its centrality within the greater network strongly predict COVID-19 cases. Traditional federal regulatory metrics of nursing home quality are unimportant in predicting outbreaks, consistent with recent research. .

Holy moley.

Simulating the Potential Impacts Of Covid-19 School Closures on Schooling and Learning Outcomes: A Set of Global Estimates (PDF) The World Bank. Adam Tooze comments:

Counting the dead: coverage of death registration is a pretty fundamental index of state functioning. https://t.co/mZXsZSLZvJ pic.twitter.com/n2nbb7rv9A

— Adam Tooze (@adam_tooze) October 25, 2020

Nearly 80% of coronavirus-positive children in Japan infected by family members Japan Times. In Japan, school closures don't protect children.

* * *

COVID-19 tracker: AstraZeneca gets OK to unpause U.S. trial; Merck's slow and steady vaccine approach sparked internal debates: report Fierce Pharma

US faces major hurdles for COVID-19 vaccine distribution: Vaccine advisory committee Yahoo Finance. Good round-up also includes EUAs and a discussion of placebos.

Rush for results could lead to inferior Covid vaccine, say scientists Guardian. The headline is bad. This is the central argument: "[B]y spring, several vaccines may have passed their trials without any mechanism being in place to select which is the most effective for different groups…. It is expected that approval would be given to any vaccine that protects at least half of those injected with it. The problem will come when other vaccines appear and it is unclear whether or not they are better than the first licensed product."

* * *

New England ice rinks shut down after coronavirus case clusters emerge linked to hockey The Hill. Cf. China and New Zealand's experience with frozen foods?

Mitigating a COVID-19 Outbreak Among Major League Baseball Players — United States, 2020 Morbidity and Mortality Report

Policy Responses to COVID-19 International Monetary Fund. Browse by country.

* * *

Covid-19 and the Political Utility of Fear Craig Murray

Who Are the Scientists Behind the Great Barrington Declaration? MedPage Today

Covid-19 and the victory of quantitative easing The Spectator
Jubilation as Chile votes to rewrite constitution BBC. Via alert reader Timotheus on the Chilean overseas vote: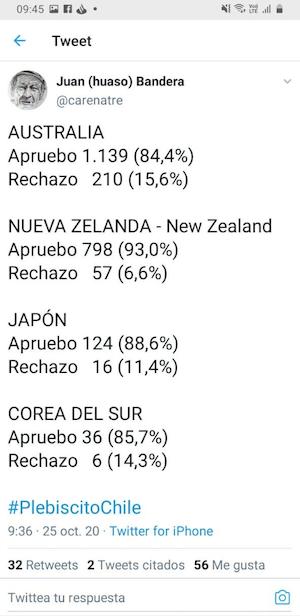 Lots of liberal Democrat mutuals high-fiving on how Chile "voted out fascism," erasing fifty years of popular resistance — oh Lordie, another useful word corrupted — and the role we played installing fascism in the first place. Who was it who said "Americans have the memory of goldfish"? Zhou Enlai?
Bolivia's Landslide Lays to Rest the Fears of Fraud International Crisis Group. Translation: "The margin was so great our goons at the OAS couldn't cry 'fraud,' unlike last time."
Venezuelan Hard Right Opposition Leader Leopoldo Lopez Flees to Spain Venezuela
Brazil soars to China's No. 3 crude oil supplier in September Reuters
China?
China Commercial Leases: Watching the Sausage Get Made China Law Blog

Marcum in the Middle: Watchdog Research Francine McKenna

The new Chinese migration to the Philippines: Inquirer columnist Straits Times
Philippines Halts Expat Retirement Visas on Senators' Concern Bloomberg
Apple's Shifting Supply Chain Creates Boomtowns in Rural Vietnam Bloomberg
India
India is caught between the need for good China relations and rising public anger South China Morning Post
Brexit
Brexit: frustrating times EU Referendum

Johnson will wait for US election result before no-deal Brexit decision Guardian. Masterful inactivity….
RussiaGate
Biden relies on pattern of activity to blame Russia for release of data from what is said to be his son's laptop WaPo. "Do you see yonder cloud that's almost in shape of a camel?" And–

Insisting that the Hunter Biden laptop is fake is a trap. So is insisting that it's real. Thomas Rid, WaPo. The money quote, per Greenwald:

We must treat the Hunter Biden leaks as if they were a foreign intelligence operation — even if they probably aren't… in the likely continued absence of certainty either way, the Biden leaks deserve the full potential-disinformation treatment.

So we really do live in a simulation, now? One designed and operated by counter-intelligence officials from the organs of state security?
UK/EU
Trump Transition
Scoop: Trump's post-election execution list Axios. You say "Defenestrate Gina Haspel" like that's a bad thing.

A Broken Census Can Break Democracy The Big Picture
2020
* * *

TAPPER: Why aren't we going to get control of the pandemic?

MEADOWS: Because it is a contagious virus. Just like the flu, it's contagious.

TAPPER: Yes, but why not make efforts to contain it?

MEADOWS: Well, we are making efforts to contain it. And that's…

TAPPER: By running all over the country not wearing a mask? That's what the vice president is doing.

MEADOWS: Jake, we can — we can get into the back — back-and-forth. Let me just say this, is, what we need to do is make sure that we have the proper mitigation factors, whether it's therapies or vaccines or treatments, to make sure that people don't die from this.

But to suggest that we're going to actually quarantine all of America, lock down our…

TAPPER: I never said — no one — no one is saying that.

MEADOWS: Well, they are. Joe Biden is saying that.

TAPPER: That's not what he said….

MEADOWS: Well, when we look — when we look at the number of cases increasing, what we have to do is make sure that we fight it with therapeutics and vaccines, take proper mitigation factors, in terms of social distancing and masks when we can.

And when we — when we look at this, what we're — we're going to defeat it, Jake, because what we are, we're Americans. We do that. And this president is leading, while Joe Biden is sitting there suggesting that we're going to mandate masks.
Feds say far-right group coordinated attack on Minneapolis police precinct during protest The Hill
Activist with ties to Ohio Republican legislators plotted to kidnap and kill Governor Mike DeWine WSWS (GF).
Realignment and Legitimacy
R.I.P., G.O.P. Editorial Board, NYT. "A healthy political system needs robust, competing parties to give citizens a choice of ideological, governing and policy visions. " Obama, after winning the Democrat nomination in 2008, had the Preamble to the party platform revised to reflect this idea, and as we all know, won the election with a mandate for "hope and change." Obama had his boot on the Republicans' throat, gave them a hand up, dusted them off, and let them back in the game (engaging in prolonged negotiations with them to pass a Heritage Foundation-friendly, market-based health care plan, for example). So this West Wing-style quest for a rational interlocutor has been pursued in elite Democrat circles for some time, this year's Great Assimilation™ being one consequence.
Democrats in Disarray
Pelosi commits to running for Speaker if Democrats retain House The Hill
Big Brother Is Watching You Watch
Zoom Deleted Events Discussing Zoom "Censorship" Buzzfeed. Because of course they did.

Why the U.S. Space & Rocket Center is teaming up with FBI AL.com
Our Famously Free Press
Facebook Prepares Measures for Possible Election Unrest WSJ

On the Week of the Election, Social Media Must Go Dark Wired. Election silence isn't necessarily a bad idea, but why limit it to the platforms? How about polling? Advertising?

A Leaked Internal Report Reveals The Wall Street Journal Is Struggling With Aging Readers And Covering Race Buzzfeed. A comment:

A running theme throughout the report is the tension between the content that the paper is best known for producing — granular coverage of business, finance, and policy — and the topics of interest to the younger readers that the publication's management desperately wants to woo.

— Eddie Du (@Edourdoo) October 24, 2020

Translation: "Now, don't you trouble your pretty little Generation Alpha heads about capital!"
Imperial Collapse Watch
Expeditionary Advanced Basing Capabilities on Display During Exercise Noble Fury Marines. Island-hopping in the Pacific. Funny how the exercise-naming algo has never emitted "Operation Miles Gloriosus."
Guillotine Watch
Private jets take off as wealthy flyers seek to avoid virus FT
Class Warfare
Yale's David Swensen Puts Money Managers on Notice About Diversity WSJ. Stoller: "David Swensen is probably one of the most destructive people in American finance, validating the movement of large chunks of financial assets into hedge funds and private equity."
Art Museums in the US Are Facing a Reckoning Jacobin
Use Your Bike as a Backup to Your Backup Power Supply IEEE Spectrum
I am Seriously Considering Going Back to Desktop Computers Miscellaneous Stuff. "What worries me as much as the end of general-purpose computing for the masses is that so few seem to understand that it is ending."
Antidote du Jour (via):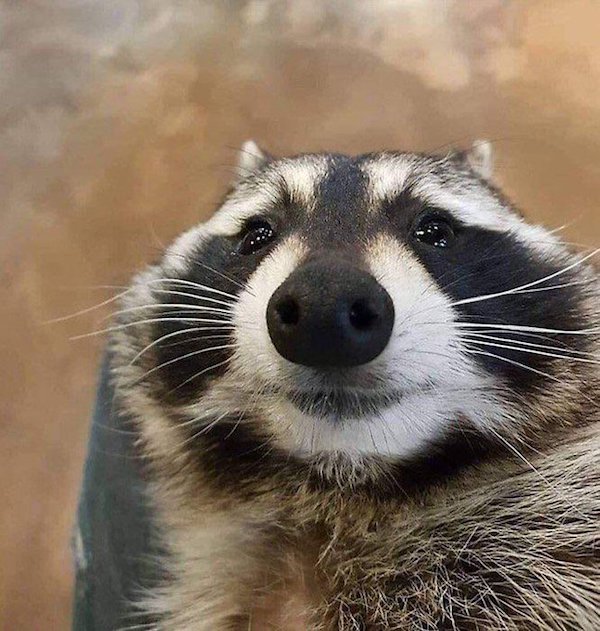 See yesterday's Links and Antidote du Jour here.