Dear patient readers,
If you are reading this version of Links, that means I lost power!!! Sorry! Please amuse yourselves in the meantime.
Scientists Are Freaking Out Over The First-Ever Footage of This Bizarre Squid Science Alert (David L)
Weirdly, Monkeys Keep Domesticating Themselves. Huh. Popular Mechanics (resilc)
American Honeybees Just Can't Get a Break TreeHugger (David L)
'Like froth on a cappuccino': spacecraft's chaotic landing reveals comet's softness Nature (Kevin W)
Physicists circumvent centuries-old theory to cancel magnetic fields PhysOrg
Why ExxonMobil is sticking with oil as rivals look to a greener future Financial Times
How to Stop Getting Into Pointless Arguments Online Wired (resilc)
Has technology made us worse hunters? Popular Science (resilc)
#COVID-19
City Locked Down for Three Months Has Bleak Lessons for the World Bloomberg (Robert M)
Science/Medicine

Scientists compare ACE2 interaction with SARS-CoV-2 across species News-medical.net (Kevin W)

Most people mount a strong antibody response to SARS-CoV-2 that does not decline rapidly: study Mount Sinai (Robert M). Mount Sinai ought to be ashamed. Pretty much every study on Covid-19 immunity has found that immunity falls pretty quickly. So why is this finding different? After misleadingly going on about 30,000+ subjects and their great test method, they get to the money part 2/3 of the way into their piece:

Another important and outstanding question in the scientific community is the longevity of the antibody response to the spike protein. To answer that question, the team recalled 121 plasma donors at a variety of titer levels for repeat antibody testing at approximately 3 months and 5 months post-symptom onset. When comparing overall titers, they saw a slight drop from a geometric mean titer (GMT) of 764 to a GMT of 690 from the first to second testing time point and another drop to a GMT of 404 for the last testing time point, indicating that a moderate level of antibody is retained by most people 5 months after symptom-onset. In the higher titer range, they observed a slow decline in titer over time. Interestingly, they saw an initial increase in titer for individuals who had originally tested as having low to moderate titer levels. This is in agreement with earlier observations from their study group that indicate seroconversion in mild COVID-19 cases might take a longer time to mount.

121 individuals? Out of a clearly biased sample to being with, individuals in NYC who had volunteered to give convalescent plasma? For starters, to give plasma, you have to have had a recent physical, which generally means insured, which means a somewhat higher than the US as a whole baseline of health care. You have to be over 18. You have to be screened out for viruses like HIV, other STDs, and hepatitis. You also can't have low blood pressure. I would strongly suspect the elderly and obese would be screened out or else severely underrepresented. We also know from the Imperial College study that health care workers had higher antibody levels due to presumably having their immune systems repeatedly Covid-19 challenged. Could some of this 121 live in high-Covid 'hoods where they wound up having a similar effect? And we are supposed to take this seriously, compared to the Imperial College study of 365,000, where each round (over 100,000) was designed to constitute a very broad sample? While later studies may indicate the antibody decline post infection isn't quite as dire as the Imperial College study indicated, this Mount Sinai work doesn't begin to meet that bar.

Coronavirus: frozen food firms as culprit in two outbreaks in China, sparking warning over cold imports South China Morning Post

UK/Europe

France's Macron Announces New National Lockdown Starting Friday Wall Street Journal

Germany to Shut Restaurants, Bars to Combat Coronavirus Spread Wall Street Journal

From Politico's morning European newsletter:

OPERATION: SAVE CHRISTMAS

DEEPER INTO LOCKDOWN: The EU's largest countries introduced new restrictions Wednesday, attempting to arrest the increasing spread of the pandemic. The aim of the measures is to break the second wave via a locked down November — with the hope that faithful adherence to safety protocols could save Christmas. It won't be a normal holiday season or anything close to it, but there's still some hope that folks will be able to gather with their loved ones, as was made clear by the Continents's most eminent parental authorities.

DR. VON DER LEYEN'S DIAGNOSIS: "We face two enemies: the coronavirus and a growing COVID-19 fatigue," Commission President Ursula von der Leyen said Wednesday, appealing to Europeans to keep their guards up. "I understand that people are tired of this virus, and I appreciate the sacrifices they are making … the situation is very, very serious, but we can slow down the spread of the virus if everyone takes responsibility." That means everybody will "need to wear masks and stick to hand hygiene," von der Leyen said.

Sleigh bells ringing? "I think this year's Christmas will be a different Christmas," the Commission president said. "A lot depends on our behavior from the individual — each individual on the regional level, on the member state level and on the European level — how we pull through this together in the next weeks. But it will be a different Christmas."

US

Young Americans are least likely to wear masks: CDC Al Jazeera. Resilc: "Estate money grab."

Finance/Economy

The Lockdown Meltdown Is Coming for Everything John Authers, Bloomberg (furzy)

Dow craters 943 points in worst day since June as virus spike spurs new lockdowns Business Insider

'Bills or food': crisis mounts for unemployed Americans Guardian (resilc)
China?
Biden Will NOT Be Soft On China; He'll Continue Trump's Aggressions Caitlin Johnstone (Kevin W)

How the United States Handed China its Rare Earth Monopoly Foreign Policy (UserFriendly)
Mathematics of a Coup – Part 1 with David Rosnick Historic.ly (JTM). Bolivia.
Syraqistan
The Lie Of U.S. Leverage: Joe Biden Must Rejoin The Iran Nuclear Deal National Interest (resilc)
Trump Transition
Top FEC Official's Undisclosed Ties to Trump Raise Concerns Over Agency Neutrality ProPublica

The New York Times called 'Anonymous' op-ed author Miles Taylor a Trump 'senior official.' Was that accurate? Washington Post (Kevin W)
2020
Social Security Seemed Like a Future Problem. The Virus Changed That. New York Times. Softening Americans up for the Dems' Catfood Commission.
A Case Against Black Republicans Esquire (resilc). So blacks aren't allowed to engage in class warfare like whites? Seriously?
Capitalism is Double-Billing Us: We Pay From Our Wallets Only to be Robbed of Our Future Counterpunch (JTM)
'Who the hell elected you?' U.S. Senate tech hearing becomes election showdown Reuters (resilc)
Italian watchdog investigates Google over alleged advertising market abuse Euractiv (JLP)
How Tesla Should Combat Child Labor In The Democratic Republic Of The Congo Forbes
Fed Is 'Really' Out Of Firepower. 'Only Government Spending' Can Save Country, Bill Dudley Warns Heisenberg Report (resilc)
The Collapse of Long-Term Care Insurance American Prospect
New CalPERS CIO Could See $2.4 Million Payout Chief Investment Officer. Kevin W: "Warning! Do not drink coffee while reading the last paragraph."
Class Warfare
Antidote du jour. Tracie H:
Every weekend when we visit the desert, we get at least a few of these little White-tailed Antelope Squirrel (AKA replace Squirrel with Chipmunk) visitors, after I fill the water dish and pour some Parrot food into this pot. My original intention was to be feeding birds, but you know how it goes—"best laid plans" and all that. Maybe we should replace "mice" with "squirrels" . . . or "chipmunks" though.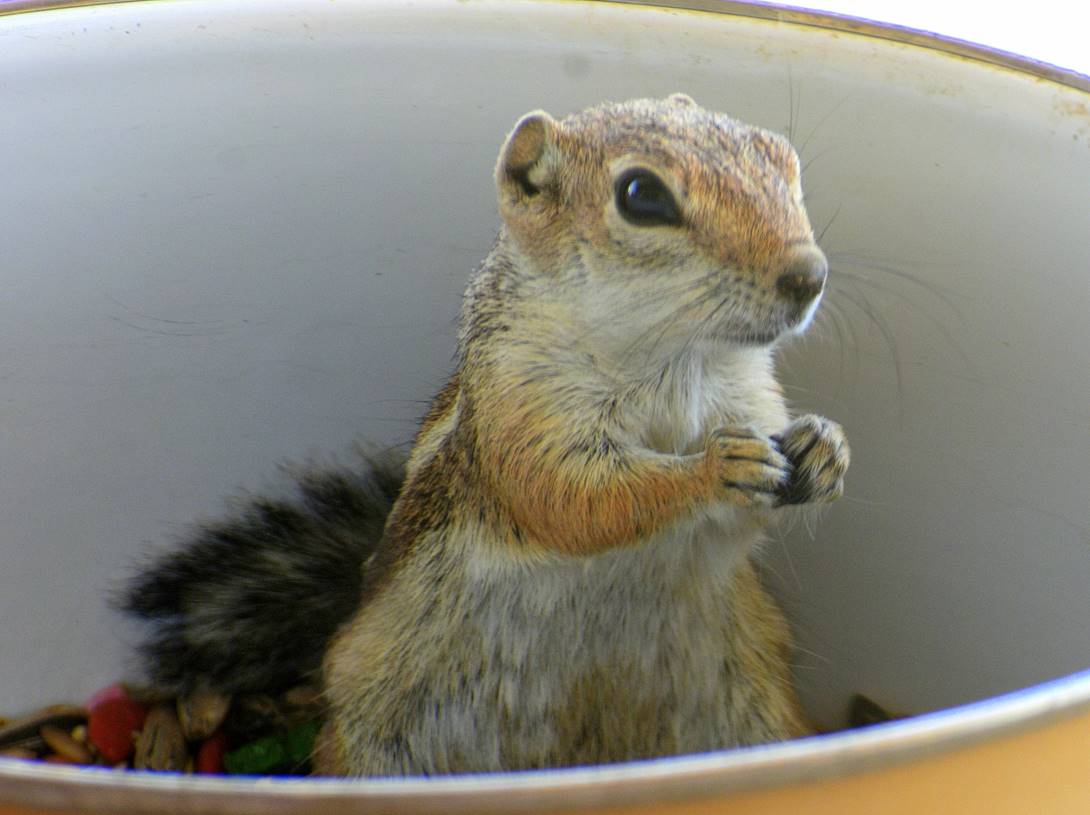 And a bonus. Guurst labeled this "not quite an antidote" but those polar bears look pretty plump:
Ten polar bears – six adults and four cubs – besiege a stalled rubbish truck in Russian Arctic. Fellow driver tries to scare the predators away as they climb inside the truck to feast on scraps https://t.co/RLzWltPUh0 pic.twitter.com/z4UpuM7J13

— The Siberian Times (@siberian_times) October 20, 2020
See yesterday's Links and Antidote du Jour here.