By Lambert Strether of Corrente.
Patient readers, the server has been a little wobbly today. Hopefully all is well now. –lambert
Bird Song of the Day
Unfortunately, the Cornell Lab of Ornithology is still down for scheduled maintenance, and won't be back up until 8:00AM on November 19 (we hope). Here is a Cornell Feederwatch cam:
#COVID19
At reader request, I've added this daily chart from 91-DIVOC. The data is the Johns Hopkins CSSE data. Here is the site.
Case count by United States region: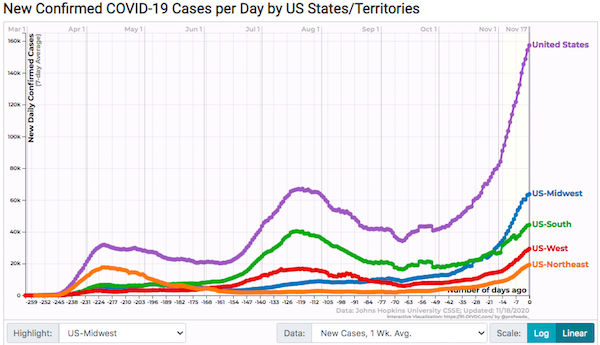 Hmm: "Here's What's Wrong With COVID-19 Case Counts" [MedPage Today]. "By base rate fallacy/false positive paradox, if the specificity of a test is 95%, when used in a population with a 2% incidence of disease — such as healthy college students and staff — there will be 5 false positives for every 2 true positives. (The actual incidence of active COVID-19 in college age students is not known but estimated to be less than 0.6% by Indiana University/Fairbanks data. Even using a test with 99% specificity with a 1% population incidence generates 10 false positives for every 9 true positives. Using the same test on patients with COVID-19 symptoms, because their incidence of disease is 50% or greater, the test does not have to be perfect. Even using a test with only 90% specificity, the number of false positives will be much less significant. The actual sensitivity and specificity of COVID-19 tests are unknown as these tests were okayed by the FDA under Emergency Use Authorization. Manufacturers' data have not yet been corroborated by the agency. The tests are "good enough" for diagnosing patients with symptoms but not nearly as effective when used for a random testing program." • Note that the case counts from the Johns Hopkins CSSE data are "confirmed" cases (although a quick search doesn't turn up the methodology of "confirmation" for me).
Test positivity by region: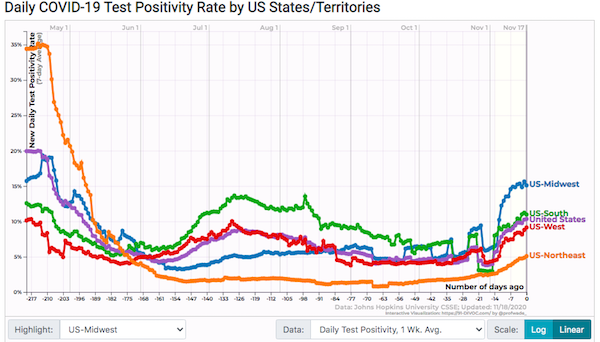 Positivity seems to have plateaued in the South.
Hospitalization by region: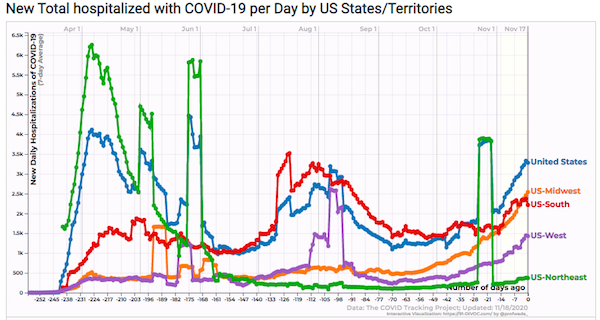 Hospitalization seems to have plateaued in the South.
Case fatality rate by region: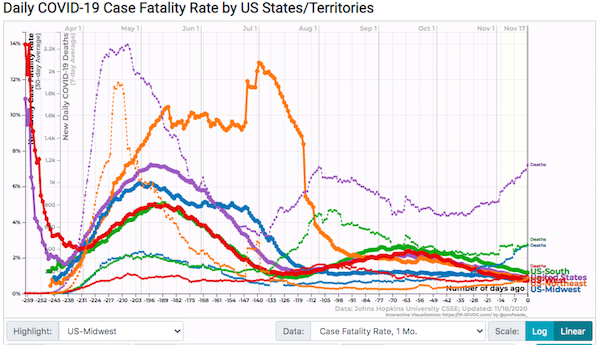 I added the death counts, and yes, deaths are rising as the case count rises; we'll need to watch for that two-week lag.
Politics
"But what is government itself, but the greatest of all reflections on human nature?" –James Madison, Federalist 51
"They had one weapon left and both knew it: treachery." –Frank Herbert, Dune
"They had learned nothing, and forgotten nothing." –Charles Maurice de Talleyrand-Périgord
Election Legitimacy
UPDATE "Half of Republicans say Biden won because of a 'rigged' election: Reuters/Ipsos poll" [Reuters]. "Altogether, 73% of those polled agreed that Biden won the election while 5% thought Trump won. But when asked specifically whether Biden had 'rightfully won,' Republicans showed they were suspicious about how Biden's victory was obtained. Fifty-two percent of Republicans said that Trump 'rightfully won,' while only 29% said that Biden had rightfully won. Asked why, Republicans were much more concerned than others that state vote counters had tipped the result toward Biden: 68% of Republicans said they were concerned that the election was 'rigged,' while only 16% of Democrats and one-third of independents were similarly worried." • The Democrats did much better after 2016 with RussiaGate. Shows the difference between the efforts of one individual and those of an "airtight consensus" among elites.

* * *

GA: "Georgia secretary of state says voting machine audit is complete, no sign of foul play" [The Hill]. "Last week, Dominion Voting Systems, which is used throughout the state of Georgia, hit back at the president's baseless claim that it had removed 2.7 million Trump votes from its machines. Pro V&V, a U.S. Elections Assistance Commission-certified testing laboratory, conducted an audit of a random sample of Dominion voting machines. The audit included precinct ballot scanners, ballot-marking devices and central absentee ballot scanners. The laboratory said it found no evidence that any of the equipment was hacked or tampered with." • Pro V&V seems to be quite small. Here is a report they did in 2020 for Virginia. The requirements set forth in Appendices are interesting.

UPDATE MI: "Michigan county reverses course, votes unanimously to certify election results" [The Hill]. "The board of canvassers in Michigan's largest county reversed course late Tuesday, voting unanimously to certify the election results after initially being deadlocked in a party-line vote. The Michigan secretary of state's office confirmed that the Wayne County Board of Canvassers voted by a 4-0 margin to certify the election results in Wayne County, which is heavily Democratic and includes Detroit, and that the board is requesting that Jocelyn Benson, the state's top elections official, investigate any discrepancies in vote totals. The unanimous decision marks a 180-degree turn from just hours earlier Tuesday night when the panel's two Republicans voted against certification, sparking celebrations from the GOP and an uproar from Democrats who said the initial vote was simply delaying the inevitable. Republicans had refused to certify the election after some absentee ballot poll books in Detroit were found to be out of balance, but liberal lawmakers and activists flooded the panel with criticism given that a similar mismatch in the August primaries and general election in 2016 did not prevent the body from certifying those results." • Oh.

PA: "'I don't expect that he would know the Pennsylvania election code': A rusty Giuliani returns to the courtroom on Trump's behalf" [Morning Call]. "Once a hard-nosed federal prosecutor who made a name for himself going after New York mobsters in the 1980s, Giuliani had not appeared in court as an attorney since 1992, according to court records…. Once a hard-nosed federal prosecutor who made a name for himself going after New York mobsters in the 1980s, Giuliani had not appeared in court as an attorney since 1992, according to court records."

WI: "Trump campaign says it will file for a recount in 2 Wisconsin counties" [Axios]. "The Trump campaign said on Wednesday that it plans to file for recounts in two Wisconsin counties — a state Joe Biden won by more than 20,600 votes, per AP… According to the Milwaukee Journal Sentinel, Trump paid the $3 million needed for a recount in Milwaukee and Dane counties — two of the most liberal counties in the state. The recount must start no later than Saturday and finish by Dec. 1." • Committing the same error Gore committed in Florida 2000: Ceding the moral high ground by only asking for a recount in counties he thinks he can win.
2020 Democrats in Disarray
"Democrats nominate Pelosi to keep Speakership" [The Hill]. • Qu'ils mangent de la crème glacée….

UPDATE That's a hell of an act. What do you call it?

EXCLUSIVE: We've obtained photos of Governor Gavin Newsom at the Napa dinner party he's in hot water over. The photos call into question just how outdoors the dinner was. A witness who took photos tells us his group was so loud, the sliding doors had to be closed. 10pm on @FOXLA pic.twitter.com/gtOVEwa864

— Bill Melugin (@BillFOXLA) November 18, 2020

The Democrats!
Biden Transition
"Essential Politics: Biden's first 10 days" [Los Angeles Times]. "[T]he president-elect has been methodically announcing key staff picks, establishing a game plan to deal with the coronavirus pandemic and receiving briefings on national security from outside experts."
2020
Sanders (D)(1): "Bernie Sanders: Build a Compassionate Nation" [Labor Notes]. "The moment we are in as a nation is unlike any other in history. We are dealing with a horrific pandemic and economic collapse. We are seeing massive protests against police brutality and a racist criminal justice system. We are watching the devastating effects of climate change unfold before our eyes. To address these urgent issues and many more, we must rebuild the trade union movement and end corporate America's stranglehold on our economy and our government. We must create the nation of, by, and for the working class that we know we can become." • None of this "working families" bushwa. Love the bio: "Senator Bernie Sanders is a Labor Notes subscriber." I wonder how many other Senators could say that?

Trump (R)(1): "Trump Lost in Georgia after Depressing GOP Mail-In Vote, Secretary of State Raffensperger Claims" [National Review]. "President Trump likely lost the election in Georgia because his comments on mail-in voting led some Republican voters to avoid casting ballots, [Republican] Georgia secretary of state Brad Raffensperger told Atlanta-based WSBTV on Tuesday…. 'Either they did not vote absentee because they were told by the president, 'Don't vote absentee, it's not secure' — but then they did not come out and vote in-person,' Raffensperger said. Trump "would have won by 10,000 votes. He actually depressed, suppressed his own voting base.'" • Of course, Raffensberger was responsible for Georgia's June voting machine debacle, so I'm not going to be waving my pom-poms for him.

Trump (R)(2): "Public Pressure And Lawsuits Kept USPS From Handing Trump The Election. Here's How." [HuffPo]. " Postal workers doing final sweeps of their systems have found just a few ballots — in most cases, they number in the double digits — that were lost or left behind. 'I think, in the end, the post office did a good job," said Allison Zieve, the director of litigation for Public Citizen, one of several watchdog groups suing the post office to make sure every ballot is delivered. What made the difference, experts say, was enormous public pressure, multiple lawsuits, scrutiny from the courts, urgent efforts to urge voters to mail their ballots as early as possible, and ." And at the very end of the article: "One group of people who did right by voters, many agreed, were postal workers."

Trump (R)(3): "Romney calls decision on troop withdrawal 'politically motivated'; 2 in Utah delegation disagree" [KSL]. • Politically motivated? Yes, that's why we have elections. And there's always a Tweet:

POTUS strategy will enhance our security & end the Afghanistan war responsibly. The longest war in American history is now coming to an end.

— Nancy Pelosi (@SpeakerPelosi) May 27, 2014

A child born when Pelosi made this statement has only eleven more years to go before they, too, can go to war in Afghanistan!

* * *

UPDATE "Hawley Bucks Trend, Backs Afghanistan Exit" [The American Conservative]. "'I write to express my support for President Trump's plan for the prompt withdrawal of U.S. forces from Afghanistan,' Hawley wrote to the acting Defense secretary, Christopher C. Miller. 'The costs of the war in Afghanistan continue to mount, and they are borne disproportionately by working Americans. … For these reasons, majorities of Americans, including veterans of the war itself, have long called for an end to the war in Afghanistan. Yet most of our nation's policymakers have ignored them.' Hawley's signaling is significant because it runs counter to the political assault on the Hill by Republicans to stop President Trump's plot to exit from the troubled theater in his administration's closing days." • Er, actually, the costs are borne disproportionately by Afghans. Still, Hawley 2024?

UPDATE "Portland, Maine Voters Delivered a Series of Huge Working-Class Victories on Election Day" [Jacobin]. "On November 3, voters in Portland, Maine delivered a stinging rebuke to Mayor Kate Snyder and all but one city councilor by voting overwhelmingly to back four out of five referenda placed on the ballot by People First Portland (PFP). Portlanders supported raising the minimum wage to $15 an hour (62.4 percent), mandating Green New Deal building codes (59.5 percent), banning police use of facial recognition software (65.6 percent), and establishing rent control and tenant protections (58.3 percent). A measure restricting short-term rentals (which take much-needed housing stock off the market for local residents) lost so narrowly that a recount is underway (50.3 to 49.7 percent). The minimum wage referendum includes a time-and-a-half hazard pay provision that will immediately raise essential workers' pay to $18 an hour, making it the highest minimum wage in the United States. All this despite the Chamber of Commerce, well-heeled developers, and the corporate headquarters of Airbnb spending $1,000,000 (nearly all of it in the final month) to defeat the measures." • A million bucks is a lot in Maine! More: "Incredibly, Mayor Snyder and the majority of the city council are now attempting to sabotage the election results." • Snyder is, of course, a Democrat.
Obama Legacy
"Obama's Memoir Is an Exercise in Ironic Realism" [George Packer, The Atlantic]. "In the year and a half during which [Obama] prevented a depression and passed universal health care and Wall Street reform, he also lost the American public." • Maybe if people like Packer hadn't tried to sell ObamaCare as "universal health care" when it self-evidently was not from the very beginning, never was, and is not now, people's disillusionment wouldn't have been so great?

It gets worse and worse:

In his new memoir, Obama says Lula da Silva had "the scruples of a mafia don."

Obama must be referring to the dubious #LavaJato lawfare investigation his DOJ helped manage, which got Lula jailed and helped Bolsonaro take power. https://t.co/7IcF8dRZgu

— Max Blumenthal (@MaxBlumenthal) November 18, 2020

Lula is [gasp] a populist…

Worser and more worse:

Obama on his how his discovery of Marx and Foucault in college became inseparable from "a strategy for picking up girls": pic.twitter.com/SWBvlb4c7j

— Daniel Steinmetz-Jenkins (@daniel_dsj2110) November 18, 2020
Realignment and Legitimacy
Patient readers, I have been collecting punditry and will be refreshing this section shortly. –lambert UPDATE I have yet more punditry, but this will do to go on with.,

"Biden Will Likely Be Worse Than Obama. The Left Must Lead The Backlash, Or The Right Will." [Caitlin Johnstone]. "[R]eturning to the pre-Trump "normal" is returning to the exact positions which created Trump. It's like using a time machine to prevent a train wreck, but only going back to one millisecond before the train wreck occurred…. If I prove right about this, the Biden administration will generate backlash just like that which arose in response to the Obama administration, and that backlash will be more severe than its previous iteration…. There is absolutely nothing American leftists can do to prevent this backlash from coming. They will have absolutely no say in this administration's policies or behavior; BidenCorp has no reason to listen to them, has made no pretense of having any interest in listening to them, and is even freezing Sanders and Warren out of cabinet roles already. All US leftists will have any control over is whether this backlash will break to the left, or if it will break to the far right…. [T]he ball needs to start rolling on this now. Not after the Georgia runoffs, not after Biden takes office, not after the midterms: now. The longer US leftists wait to start pushing this thing forward, the less of a head start you'll have on the rightists while they're fixated on Trump's recounts and legal challenges. You'll only be able to lead the backlash if you get in early and hit the ground running as fast as you can."

UPDATE "David Shor's Postmortem of the 2020 Election" [Eric Levitz, New York Magazine]. Shor: "There was a uniform swing of roughly 1.5 percentage points toward us, relative to 2016. Education polarization, which is the gap between how college-educated white people vote and how non-college-educated white people do, continued to grow. And Hispanic voters swung against us by a lot. Exactly how much is unclear. But potentially by as much as 12 points. And the sum total of all the things was that we were able to narrowly win the Electoral College. So that was the big picture at the presidential level…. The public polling suggested that a bunch of non-college-educated whites were going to come home to the Democratic Party, and while that may have been true in a few discrete places, nationally that did not happen. In fact, the gap got worse. And, broadly speaking, the worse that you do with non-college-educated whites, the more structurally disadvantaged you are in the American electoral system… [I]f we can't reduce the structural biases that have appeared in the last ten years by changing the rules of the game, we will have to make the hard choice of changing our party so that we can appeal to these non-college-educated voters who are turning against us." • It's always amazing to me that liberal Democrats would rather abolish the Electoral College, or add states to the Union, or pack the Supreme Court — all obvious fantasies — rather than appeal to actual voters. But, as Thomas Frank shows, they hate the working class (for which lack of education is a proxy). So here we are!

UPDATE "Jubilee" [Interfluidity]. "The Democratic Party is trending towards becoming a party of the educated professional class alone. I view that as a horrible development we should move heaven and earth to reverse. So long as we are (miserably) a two-party system, the complement of a professional-class party is a fascist party. The Republicans we detest are the obverse of what we are allowing ourselves to become. Letting the working class remain in hock — underwater on unforgiven credit card debt, kiting paycheck loans to feed the kid and make the rent — while we unilaterally forgive higher education debt strikes me as an almost cartoonishly perfect wedge issue to polarize the college and noncollege elements of the Democratic electorate. Republicans would ruthlessly demagogue and exploit student loan cancellation to build their new 'multiethnic, multiracial, working-class coalition.'" • Interfluidity's thougths on college debt are also interesting, but that paragraph leaped out at me.

UPDATE "It's 2020, and Democrats Still Don't Understand Their Voters" [Mike the Mad Biologist]. "[A}fter four years, too many Democrats still seem unable to comprehend that a significant fraction of bigoted people, somewhere between one-third and one-quarter depending on how you measure it, vote Democratic in spite of and in opposition to their bigotry. I find a cautious hope of sorts in that, since it means Democrats can win over bigots without having to be bigoted ourselves. Because if Democratic bigots don't turn out, never mind switch, we lose. So, do we want them to vote in support of or in opposition to their bigotry?" After citing polling data, Mike concludes: "[O]ften the argument is phrased as 'appealing to racists', as if this doesn't happen. Democrats already do appeal to some racists, in spite of their racism. Yes, I would like the scourge of racism to be eradicated, but that's kind of a long-term project–think pulpits, not politics, for that. In the meantime, the question is do we want racists to vote for or against their racism? The question pretty much answers itself."

* * *

"UPDATE Holiday jeer: Intolerance growing more evident among donors to charity" [Journal-Gazette (AM)]. "As COVID-19 has pushed our organization to a peak in numbers of first-time applicants as well as those who were in need of human services (more than 20,000 this year alone in Allen County), it also gave me the highest number of demands from donors insisting that before they assist a family or help a child, they be given the political affiliation of their parents. You read that correctly. Donors insist that before they help, they know who the people they're helping are voting for. The first few requests I shrugged off as singular instances, until gradually they became a new norm for me to ready an answer for. All seem to be like-minded, that if they're assisting children whose parents are voting a certain way, they are not worthy of basic necessities." • Yikes. I think — doing a little farfetching here on causality — that we should outlaw social media entirely. The sorting is getting too brutal.
Stats Watch
At reader request, I added some business stats back in. Please give Econintersect click-throughs; they're a good, old-school blog that covers more than stats. If anybody knows of other aggregators, please contact me at the email address below.
Construction: "October 2020 Residential Building Growth Stumbles" [Econintersect]. "We seem to be seeing and bad month, followed by a good month, and then another bad month. The backward revisions this month were small. It is always difficult to understand the trends as the backward revisions sometimes reverse trends month-to-month. The nature of this industry normally has large variations from month-to-month (mostly due to weather) so the rolling averages are the best way to view this series. The rolling averages say this sector is growing but rollercoastering. We consider this report worse than last month."
Employment Situation: "Retail, Transport, And Warehousing Jobs Soar In October 2020" [Econintersect]. "Retail and Transportation and Warehousing firms added the highest number of jobs in October on record, according to an analysis of non-seasonally adjusted data from the Bureau of Labor Statistics. 'While the year has been dominated by uncertainty, the surge in demand for online shopping necessitating the need for more shipping and transport jobs is fueling massive hiring gains in those industries right now,' said Andrew Challenger, Senior Vice President of Challenger, Gray & Christmas, Inc…. Retailers added 242,000 jobs in October, 55% higher than the 156,100 seasonal jobs added in the sector in October last year. While it is the highest total for October, it comes after falling by 75,000 jobs in September." • A roller-coaster….
* * *
Shipping: "Retailers and logistics operators expect the postholiday returns business to have big new dimensions this season. The pandemic-driven flood of online orders for furniture and other outsize consumer goods will likely bring a rush of heavy, bulky goods back into logistics channels in January [Wall Street Journal]. [C]ompanies are bracing for a heavy impact, setting up dedicated handling sites and striking deals with reverse logistics specialists to cope with the loads. The returns headaches are an annual ritual for retailers after the peak shopping season. With homebound consumers getting far more exercise bikes, lounge chairs and office desks delivered to their residences this year, the costs and complications are expected to grow."
Shipping: "Maersk Sees Rise in Freight Rates Tapering Off in 2021" [Bloomberg]. "Container volumes this quarter are expected to be in line with or a little better than levels Maersk saw in 2019, he said. Looking further out, [Maersk CEO Soren Skou] said: 'We believe that in 2021 we will see a market that is similar to one we saw in 2019 or maybe slightly better. And that means that we as a company will be able to have good utilization of our network and continue the journey that we're on.' Still, the midyear snapback in demand meant containers were in the wrong places, and Maersk is working to rectify that situation. Service reliability across the industry 'is quite low right now, so there's plenty of work for us to do to help our customers move their goods also in the coming quarters,' Skou said."
Retail: "Walmart's latest quarterly figures may be a warning shot for the rest of the U.S. retail sector. Comparable sales at the world's biggest retailer rose a strong 6.4% from a year ago… but deeper figures show the dramatic changes that are buffeting consumer-goods supply chains and suggest the clouds on retail horizons" [Wall Street Journal]. "E-commerce sales in the U.S. jumped 79% and accounted for much of Walmart's gains, and the growth has slowed as traffic in stores has declined. The company says people are making fewer store trips, shifting more spending online and stocking up when they do go to stores. Walmart and other retailers are investing heavily in filling online orders, often at the cost of profit margins. "
Manufacturing: "Cardboard is back in style in recycling supply chains. Companies are turning to discarded delivery boxes and junk mail to replace the recycled office paper that has become scarce as people work from home. [T}hat's triggered a turnaround in a market that collapsed two years ago when China toughened its standards for waste paper imports" [Wall Street Journal]. "Now, U.S. mills are figuring out how to turn the trash into toilet paper, coffee cups and even new cardboard boxes."
Tech: "Google Nest server outage leaves US, European smart homes acting dumb" [The Register]. "Nest is down – again. A widespread outage means that smart home customers are unable to login to their accounts, use their smartphones to view video livefeeds, adjust thermostat controls, or interact with any of Nest's product range…. The outage was an unfortunate reminder to Nest customers that their expensive equipment is almost entirely reliant on Google's servers to be useful and that the Chocolate Factory's [here] ongoing efforts to pull Nest into the fold continues to cause significant problems…. Nest users will be required in future to shift to Google logins and users are constantly prodded to access their accounts through Google. Today's outage is just one more sign that Google's culture and skillset is seemingly a poor match for what Nest represents – or used to represent – high-quality, non-invasive smart home hardware. The poster child of the smart home increasingly looks like a washed-up child star heading to rehab." • Ouch!
* * *
.
Today's Fear & Greed Index: 71 Greed (previous close: 69 Greed) [CNN]. One week ago: 65 (Greed). (0 is Extreme Fear; 100 is Extreme Greed). Last updated Nov 18 at 11:53am.
The Biosphere
"Otters Show How Predators Can Blunt Climate Damage" [Scientific American]. "As sea otters declined (for reasons scientists are still trying to understand), their favorite prey—sea urchins—exploded in number. The voracious echinoderms not only mowed down the kelp but are also tearing apart and devouring the massive, slow-forming limestone reefs on which this seaweed grows, [Doug Rasher, a researcher at the nonprofit Bigelow Laboratory for Ocean Sciences] and his colleagues recently reported in Science. Rising ocean temperatures and acidification are compounding the damage. Restoring otter populations could rein in the urchins and help protect the larger ecosystem, and ecologists are increasingly interested in applying this idea more broadly. 'Our study … highlights the power of trophic cascades in nature and the potential for large predators to ameliorate some of the effects of climate change in the near term,' Rasher and his co-authors wrote. ('Trophic cascade' refers to the compounding effects of removing an organism from an ecosystem.) Many climate impact studies on species have not adequately acknowledged this kind of ecosystem complexity as a factor, according to Rasher and other scientists. Incorporating it would offer a clearer picture of what a warmer future holds in store." • "Trophic cascade" is a good Phrase of The Day.
Health Care
"Here's Why COVID-19 Mortality Has Dropped" [MedScape]. "Healthcare workers are now seeing unprecedented increases in COVID-19 diagnoses and hospitalizations — but there hasn't been a congruent rise in mortality rates even as case counts set records. In fact, the COVID-19 mortality rate in the U.S. has fallen since the start of the pandemic. That decline has no single, clear explanation, but experts have pointed to a host of contributing factors, including a higher proportion of cases among the young, increased knowledge of how to treat COVID patients, better therapies, and less overcrowding in hospitals." • A good summary worth reading in full.
"75% Think Biden Likely to Impose Strict National Lockdown" [Scott Rassmussen]. "To deal with the pandemic, 75% of voters believe President-elect Biden will impose a strict nationwide lockdown. A Political IQ poll found that 15% consider such a lockdown order unlikely while 9% are not sure. Those totals include 40% who consider it Very Likely and just 3% who say it's Not at All Likely. At the same time, however, just 43% believe governments should be imposing stricter lockdowns where they live. The poll, conducted by Scott Rasmussen, found that 50% believe governments should either be easing restrictions (28%) or making no changes (22%). An additional 7% are not sure. There is a broad expectation across all segments of society that Biden is likely to impose a strict national lockdown. However, there is a huge partisan divide as to whether that's the right thing to do." • Rassmussen is a Repubican shop…
"Mom Completely Understands That Coming To Thanksgiving Is Risky And That You Don't Love Her Anymore" [The Onion]. • Of course she does.
Guillotine Watch
"Blue"* oligarchies:
today i learned that in SF it's now common to find plastic bottles filled with urine next to parked ubers whose drivers sleep in their cars and that there are entire parking lots in the city where uber drivers from modesto and tracy sleep overnight. great system we have going.

— anna/аня (@bademjanbitch) November 15, 2020
* I should not fall into the trap of saying painting any jurisdiction entirely Blue, or for that matter, Red, and probably not any individual. This is challenging in English, I think.
Class Warfare
"OPINION: Bring Back Dynamite" [The Strike Wave]. "We're being offered so little—committee-tested resolutions, hints at reform, gestures towards pushing for small changes, the illusion of proximity to power—and the leadership (and their political allies) who benefit from even these tepid measures are not interested in listening to demands for more. It's time to bring back dynamite—if not literally, then in the very least metaphorically, by harnessing the mass worker power of this movement and forcing the change that our leaders are loath to even politely consider. If our leaders aren't up to the level of organizing and outreach and political education that this moment demands, we need new leaders. The movement can't go on like this. It has already been beaten down to hell, and needs the next generation to keep it alive—so why do so few top leaders want to listen to us?" • I still think Sanders had the match in spring 2000 when the strike wave was rising, and elected not to light and throw it. In retrospect, it might have been better for Biden (not to mention Sanders and the working class), if he had.
"Hero nurses, untrustworthy domestic workers, and vilified sex workers" [Open Democracy]. "Limitations to women's mobility are aggravated during this global pandemic. As sending and receiving states curtail the cross-border movements of migrant women, particularly nurses and sex workers, and as employers limit the mobility of migrant domestic workers outside their home, they justify these mechanisms of control through the deployment of what Patricia Hill Collins calls 'controlling images.' These images include the view of migrant women as disease carriers, heroes of the nation, and untrustworthy workers. Restrictions against women's mobility have been a defining feature of migration policies. Women now account for nearly half of all international migrants. Yet, as more women relocate to another country to join family members, study, and work, our research shows that they also face migration restrictions that target them specifically. For example, domestic workers, who are mostly women, are subject to minimum age requirements in key labor source countries such as the Philippines. The Philippine government also prohibits the migration of sex workers, who are also mostly women, because of their status as 'undocumented workers.'"
"Shut out of government relief, New York City street vendors ask for support" [The Counter]. "New York City street vendors who spend five figures on black-market permits have run out of patience, eight months into the pandemic, while a bill that would help them languishes in City Council. So last Thursday, about 150 vendors and activists marched over the Brooklyn Bridge to downtown Manhattan to demand the passage of Intro 1116, a bill that would lift a 37-year-cap on the city's 5,100 legal vendor permits. Even though the two-year-old relief bill is cosponsored by 29 of 51 city council members, Speaker Corey Johnson hasn't brought it to vote, and his spokesperson had no comment about why that is. The march was the latest move in a years-long battle between vendors, business groups, and the Mayor's Office. 'On behalf of myself, and all the vendors in New York City, I want the black market to end,' said Sabina Morales, through a Spanish translator. The 62-year-old Queens produce vendor says she pays $26,000 in annual fees to sub-lease two permits from their original owner; if she could buy a permit outright it would cost $200 every two years. 'That's a lot of money that's being taken from me.'" • Morales and Mohamed Bouazizi, the same material conditions….
News of the Wired
"Conspiracy theories, explained" [Vox]. Leaving RussiaGate out of the parade of horribles, naturellement…. "Conspiracy theories provide people with a feeling of control when presented with troubling and disturbing information, calming our fears of the inevitable or unknown. 'A lot of these conspiracies detract from some scary themes in the world,' [Sander van der Linden, a social psychologist who researches conspiracies at the Social Decision-Making Lab at Cambridge] told me. 'Climate change, coronavirus. It's just another way to deny reality and having to think about your own fragility in the world. It's an escape for people who are not so tolerant of uncertainty.'" • If I had a nickel for every time I've seen a headline using the word 'terrifying' in the Times, WaPo, The New Yorker, The Atlantic, Salon, etc., I could retire and live on my non-earnings. I wish somebody would write an article on the inability of various factions in the political class and the broader population to self-respect, to introspect, "to see ourselves as others see us." (See this yesterday from KFF's Drew Altman to see the effects even in those of good faith.) If I had to prescribe one thing to mitigate "division," that would be it: Self-reflection (and combine that with critical thinking skills, and you'd really have something).
* * *
Readers, feel free to contact me at lambert [UNDERSCORE] strether [DOT] corrente [AT] yahoo [DOT] com, with (a) links, and even better (b) sources I should curate regularly, (c) how to send me a check if you are allergic to PayPal, and (d) to find out how to send me images of plants. Vegetables are fine! Fungi and coral are deemed to be honorary plants! If you want your handle to appear as a credit, please place it at the start of your mail in parentheses: (thus). Otherwise, I will anonymize by using your initials. See the previous Water Cooler (with plant) here. Today's plant (TH):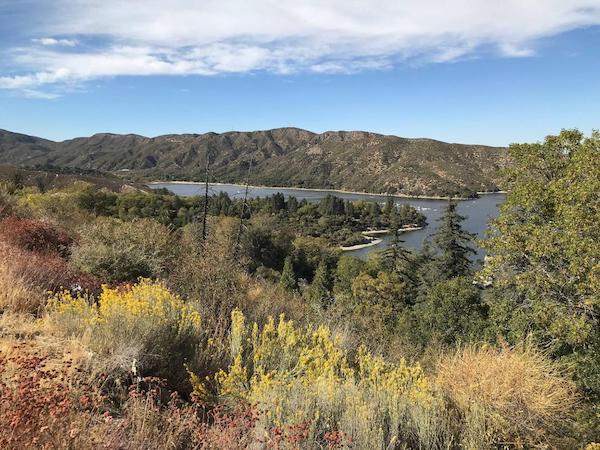 TH writes: "Just love the yellow flowers in the foreground warming up a somewhat cool scene."
* * *
Readers: Water Cooler is a standalone entity not covered by the recently concluded and — thank you! — successful annual NC fundraiser. So if you see a link you especially like, or an item you wouldn't see anywhere else, please do not hesitate to express your appreciation in tangible form. Remember, a tip jar is for tipping! Regular positive feedback both makes me feel good and lets me know I'm on the right track with coverage. When I get no donations for five or ten days I get worried. More tangibly, a constant trickle of donations helps me with expenses, and I factor in that trickle when setting fundraising goals:
Here is the screen that will appear, which I have helpfully annotated.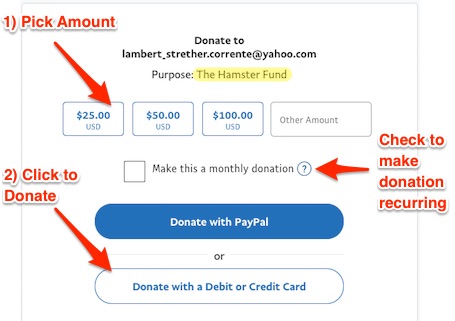 If you hate PayPal, you can email me at lambert [UNDERSCORE] strether [DOT] corrente [AT] yahoo [DOT] com, and I will give you directions on how to send a check. Thank you!