By Lambert Strether of Corrente.
Patient readers, again I've been thrown off-stride by technical issues. I'll have more shortly. –lambert. UPDATE All done!
Bird Song of the Day
Unfortunately, the Cornell Lab of Ornithology is down for scheduled maintenance, and won't be back up until 8:00AM on November 19 (we hope). Here is a Red-Tailed Hawk cam instead:
#COVID19
At reader request, I've added this daily chart from 91-DIVOC. The data is the Johns Hopkins CSSE data. Here is the site.
Case count by United States region: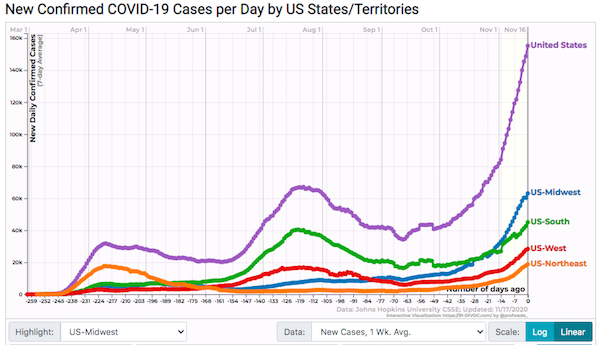 Test positivity by region: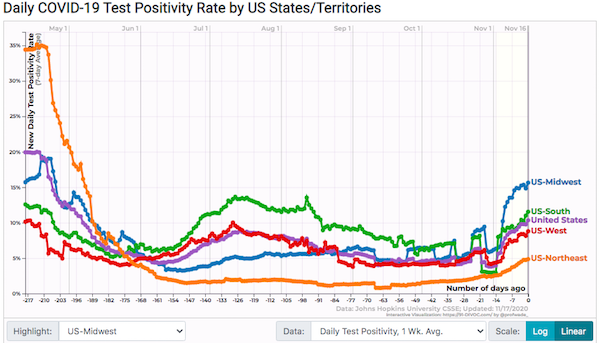 Case fatality rate by region: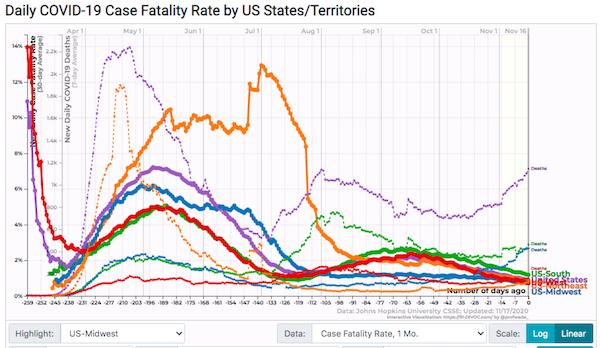 I added the death counts, and yes, deaths are rising as the case count rises; we'll need to watch for that two-week lag.
Hospitalization by region: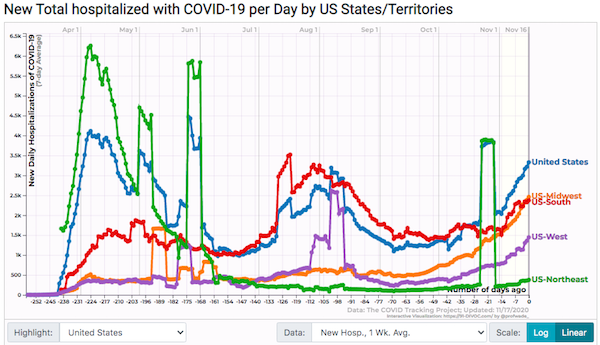 Politics
"But what is government itself, but the greatest of all reflections on human nature?" –James Madison, Federalist 51
"They had one weapon left and both knew it: treachery." –Frank Herbert, Dune
"They had learned nothing, and forgotten nothing." –Charles Maurice de Talleyrand-Périgord
Election Legitimacy
The 2016 material below happened on December 14-16, right after I wrote "Federalist 68, the Electoral College, and Faithless Electors" on December 13, in which (see the final paragraphs) I was far too polite to use the word "coup." (I went digging after I listened to the currentThe West Wing Thing podcast, "Swiss Diplomacy", where they also quote the passage from Shattered where Podesta and Mook call a meeting in Brooklyn and decide to pin the loss on the Russians.) I missed it because I don't watch television.

"Celebrities are urging the Electoral College not to vote for Trump" [Business Insider]. "As part of a last-ditch effort to block Donald Trump from becoming the next US president, a host of celebrities appear in a PSA encouraging members of the Electoral College not to cast their vote for the president-elect. 'The West Wing' star Martin Sheen starts the Unite for America-sponsored pitch to the Republican members of the Electoral College." • Oy. ("Unite for America"'s website is dead, and it was made with SquareSpace, so it looks like a throwaway. But I don't know which liberal Democrat pseudopodium funded the PSA. This article has what seems to be a proto-Great Assimilation™ Crew in the bio section: "Jon Gedney is a national organizer for Unite for America, Ryan Clayton is president of Americans Take Action, Chris Suprun was a 2016 presidential elector for the state of Texas, Michael Baca is the co-founder of the Hamilton Electors and Tom Hancock, PhD is a national grass roots organizer for the New Conservative Movement." "National organizer for a thing with a dead website four years later. Oh… kay.) Here is the video:

So all this liberal Democrat frothing and stamping about denying election legitimacy? Purest projection, from people who either have the memory of goldfish or are completely disingenuous. Or both! I'll leave that as an exercise for the reader. And speaking of projection:

ROUND OF APPLAUSE as we welcome Harvard Prof. Lawrence Lessig to today's episode of…

How it started …. How it's going pic.twitter.com/xrrsHTBhii

— Alice ??️ ?? (@AliceFromQueens) November 14, 2020

* * *

WI: "Trump Will Have To Pay $7.9 Million If He Really Wants Wisconsin Recount" [Associated Press]. "The Wisconsin Elections Commission on Monday released the recount timeline and cost estimate, which was based on costs submitted by the 72 counties."
2020 Democrats in Disarray
That's a hell of an act. What do you call it?

The right time to pressure elected officials, according to twitter ?

Primary – "you're gonna hurt our chances of winning!"
General – "first we have to win!"
After they win – "Can't we take a break?"
Once they're sworn in – "don't risk the midterms!"

The right time is always.

— Sunrise Movement ? (@sunrisemvmt) November 17, 2020

The Democrats!

Because being gay is always a punchline:

2. Enough of this…seriously. pic.twitter.com/w7Whuh2GPr

— Yashar Ali ? (@yashar) November 17, 2020
Biden Transition
Biden (D)(1): "Biden hopes to avoid divisive Trump investigations, preferring unity" [NBC]. "President-elect Joe Biden has privately told advisers that he doesn't want his presidency to be consumed by investigations of his predecessor, according to five people familiar with the discussions, despite pressure from some Democrats who want inquiries into President Donald Trump, his policies and members of his administration. Biden has raised concerns that investigations would further divide a country he is trying to unite and risk making every day of his presidency about Trump, said the sources, who spoke on background to offer details of private conversations. They said he has specifically told advisers that he is wary of federal tax investigations of Trump or of challenging any orders Trump may issue granting immunity to members of his staff before he leaves office. One adviser said Biden has made it clear that he 'just wants to move on.'" • Well, that's what Obama did on torture — "we need to look forward as opposed to looking backwards" — and as a result, we have a [x] woman torturer at the head of the CIA! So it's all good.

Biden (D)(2: "Biden COVID-19 adviser: We can get pandemic under control without another national lockdown" [The Hill]. ""The critical parts are understanding what we've learned since we did a nationwide lockdown in early April," [Atul Gawande, a member of President-elect Joe Biden's COVID-19 advisory board] told ABC host Martha Raddatz. 'And that is that you can have targeted measures building on mask-wearing to include widespread testing, to include dialing up and down capacity restrictions, and those measures need to happen in a more localized basis.'" • I think this translates to no relief, which would make Pelosi's HEROES Act just a messaging bill, shocking. I would also like to know where what Gawande is suggesting has been tried. Certainly not in Europe.

Biden (D)(3): The famous empathy:

By coincidence: exactly 6 years ago today, as Vice President of the USA, Joe Biden sent this note to his staff.

I presume in the background, thoughts of his first wife & daughter who died long ago; or his son, who died of cancer just a few months after this note.

Worth reading. pic.twitter.com/UwBbJ8A73i

— dan barker (@danbarker) November 7, 2020

And then we have the Crime Bill, making student debt non-dischargeablein bankruptcy, the vote for the Iraq War, Clarence Thomas and Anita Hill, and on and on and on… It seems that the personal really is not the political. Eh?

Biden (D)(4): "Judd Gregg: A little, big idea for Biden" [The Hill]. "Over the last years, numerous serious, bipartisan groups have developed constructive and strong plans to fix Social Security. The most recent effort was the proposal put forward by the Simpson-Bowles Commission, which was a highly workable and bipartisan plan." • The Grand Bargain lives!
2020
Trump (R)(1): "US military anticipates Trump will issue order to plan for further troop withdrawals from Afghanistan and Iraq" [CNN]. • Oh noes!!!!!! Somebody stop him!!!!!!! UPDATE Meanwhile, there's always a quote:

VP on Afghanistan: "We will leave in 2014."

— Joe Biden (@JoeBiden) October 12, 2012

UPDATE Trump (R)(2): "Republicans livid over Trump's plan to reduce troops in Afghanistan" [Politico]. "'A rapid withdrawal of U.S. forces from Afghanistan now would hurt our allies and delight the people who wish us harm,' Senate Majority Leader Mitch McConnell said bluntly." • Yes, liberal Democrats should definitely let McConnell make the running on this one…

Trump (R)(3): "Another shake-up on Trump campaign legal team" [Politico]. "A court filing said Marc Scaringi, a Harrisburg, Pa., attorney, conservative talk radio host and former Senate candidate, was taking over the case. The move came just hours before a potentially make-or-break court hearing scheduled for Tuesday afternoon on motions by Pennsylvania state and county officials to dismiss the lawsuit. The legal escapade devolved into farce on Monday night as the federal judge rejected a move by the campaign to postpone that key hearing. Less than 90 minutes after the outgoing attorneys for the campaign assured U.S. District Court Judge Matthew Brann that 'Scaringi is aware of the schedule set by the Court in this matter and will be prepared to proceed according to that schedule,' Scaringi asked the judge to put off the session, arguing that he was inadequately prepared." • You just can't get good help these days…

* * *

"Ossoff, Warnock start Georgia runoffs behind the eight ball" [Politico]. "To repeat Biden's feat in a pair of Senate runoffs on Jan. 5, with control of the Senate on the line, the Democratic Party will have to defy a long track record of failure in overtime elections. They'll need to overcome the entire weight of the Republican Party descending on the state — from organizers and operatives to potentially hundreds of millions of dollars. One of their Senate candidates, Jon Ossoff, would have to make up the nearly 90,000 votes he ran behind the GOP incumbent on Nov. 3. And Democrats will have to manage all of that without Donald Trump on the ballot to motivate their voters — while Republicans energize their base with warnings that electing Ossoff and Democrat Raphael Warnock would allow liberalism — or even socialism — to run amok in Washington… Democrats have identified thousands of potential new voters they're working to register, and tens of thousands of volunteers are already mobilizing voters who showed up on Election Day to turn out again."

* * *

UPDATE "Aryan Brotherhood Reports Record Surge In Donations On Election Night" [The Topical]. Or in fancier words–

"What Joe Biden should say about white supremacy" [Boston Globe]. • It's hard for me to see how liberal Democrats can keep pushing this line when Trump lost white votes and gained Black and Hispanic votes (unless you want to go into contortions about the oppressed identifying with the oppressor). Still, if they let go, what do they tell the consultants, the HR departments, and the NGOs?
RussiaGate
Obama Legacy
Obama just keeps looking worse and worse:

Obama renews his longstanding grievance with @ryangrim and HuffPost, longs for a liberal OANN pic.twitter.com/CH7sHjN4Ip

— David Dayen (@ddayen) November 14, 2020

ZOMG, this is even worse than the first one:

So Obama intervened with DOJ to *stop* the prosecution of banking executives? This is the first time I'm hearing about such a policy choice coming from the top. Interesting. https://t.co/TQwEL5hbqr pic.twitter.com/p4LhoITUOO

— Matt Stoller (@matthewstoller) November 15, 2020
Realignment and Legitimacy
Maybe. What have they got to lose?

The path open to the left is to cut the center's legs out from under it by swaying its voters, many of whom could well be convincible, that the current leadership of the Democratic Party is going to get us all killed.

— Marshall Steinbaum ? (@Econ_Marshall) November 15, 2020

it will be a neat trick to become the party of the working class without actually empowering them. But maybe the Republicans are feral enough to accomplish it:

There's a very strong argument the Republicans will get there first. It's not that the GOP is the party of the working class, it's that at least they know it. Progressives and Democrats actually do not understand they outsourced most stuff and gave the keys to the rest to Google. https://t.co/B2jjQjVgyT

— Matt Stoller (@matthewstoller) November 15, 2020
Stats Watch
At reader request, I added some business stats back in. Please give Econintersect click-throughs; they're a good, old-school blog that covers more than stats. If anybody knows of other aggregators, please contact me at the email address below.
Manufacturing: "October 2020 Headline Industrial Production Improves But Remains In Contraction" [Econintersect]. "The headlines say seasonally adjusted Industrial Production (IP) improved month-over-month – but remains deep in contraction year-over-year. Our analysis shows the three-month rolling average improved."
Imports: "October 2020 Import Year-over-Year Inflation Now -1.0%" [Econintersect]. "Year-over-year import price indices inflation remained in contraction and moved from a revised -1.4 % to -1.0 %. Note from the BLS: 'U.S. import prices edged down 0.1 percent in October, the U.S. Bureau of Labor Statistics reported today, after rising 0.2 percent the previous month. The October decline was driven by lower fuel prices which more than offset higher nonfuel prices. In contrast, prices for U.S. exports increased 0.2 percent in October following a 0.6-percent advance in September.'"
Retail: "Headline Retail Sales Again Improves in October 2020" [Econintersect]. "Retail sales have fully recovered their pre-virus levels overall. However, there is still year-over-year weakness in restaurants, department stores, clothing stores and gas stations. There was a downward adjustment to last month's data which exaggerated the improvement relative to the previous month. The real test of strength is the rolling averages which modestly improved. Overall, this report is considered no better than last month. Please consider that this data is not adjusted for inflation."
Housing: "September 2020 CoreLogic Single-Family Rent Index Growth Gained Strength, But Still Below Pre-Pandemic Rates" [Econintersect]. "The Single-Family Rent Index (SFRI), which analyzes single-family rent price changes nationally and among 20 metropolitan areas shows a national rent increase of 2.5% year over year, down from a 3% year-over-year increase in September 2019…. The rental market faced a tumultuous journey this year, experiencing the lowest annual growth rate this June for single-family rent prices in 10 years. While national rent prices picked up pace in the late summer, September data shows a divide in recovery across price tiers. Compared to a year ago, lower-priced rentals continued to show declines while higher-priced rentals began to match last year's growth rates. Those in higher-paying positions that easily transitioned to remote work were able to continue renting in higher price tiers, or even upgrade to new rentals with more space to accommodate working from home. Meanwhile, renters among the lower-priced tier have faced greater job market instability, which by extension has negatively impacted rent price growth."
* * *
Commodities: "Tighter supply and rising demand are lifting prices for some major U.S. farm commodities. Prices for soybeans, corn and hard red winter wheat have risen by about a third since early August… with dry weather, China's push to fatten its pigs and the lockdown-induced baking bonanza adding to the upward pressure" [Wall Street Journal]. "The shift is among the big swings commodities markets have seen in the past couple of years under strong pivots in domestic and international demand. The biggest impact on supply chains is happening in Asia. China has been restocking grains and rebuilding its hog herds after culling millions of pigs last year to combat an African swine fever outbreak. U.S. regulators predict that China this season will import record volumes of coarse grains, which are mostly corn, and buy more foreign wheat than it has in a quarter-century."
Marketing: "Khloe Kardashian sparks backlash for 'unethical' promotion of expensive 'Big Pharma' drugs" [Independent]. "Last week, Kardashian tweeted about a sponsored deal with the pharmaceutical company Biohaven for their newly-launched migraine medication NurtecODT, saying that she "dared to reimagine life with #migraine". She encouraged fans to ask their doctors about the drug and visit the company's website…. Some also noted the medication is extortionately expensive, costing between $897 and over $1,000 for a package of eight doses without insurance (according to a 2018 census, 27.5 million Americans do not have health insurance)."
Shipping: "Vaccine hope but multiple solutions needed to resolve crew change crisis" [Hellenic Shipping News]. "The availability of COVID-19 vaccines and rapid, standardised testing for the virus could be crucial in helping to resolve the ongoing crew change crisis. However, a meeting of a cross section of UN agencies, shipping organizations, unions and maritime and logistics businesses, agreed that the focus needs to be on developing a range of practical solutions. Some 400,000 seafarers are stuck at sea, months beyond their contracted time, with increasing reports of severe fatigue and mental distress. A similar number of seafarers are trying to join ships to begin contracts, but transit to and from ships is being thwarted by travel restrictions and limitations imposed due to the pandemic. The roundtable meeting (13 November), hosted by IMO Secretary-General Kitack Lim, provided an opportunity for a frank exchange of ideas on how to move forward. Among the proposals discussed were further pushes to implement public health corridors, regional implementation of protocols to allow ports/airports to facilitate crew changes and the concept of a tamper-proof digital health passport or certificate for seafarers." • A "frank exchange of ideas"… Yikes! On the crew change crisis, see NC here. In September, there were 300,000 "stranded seafarers." Now there are 400,000. Yikes again.
Tech: "Apple's New MacBook Pro Fights Three Crucial Issues" [Forbes]. • Worth a read if you're in the market for a Mac; it seems that Apple does want my business as a professional after all, since not only is the machine faster, they didn't crap around with the form factor for marketing churn. (To Apple's credit, they ditched the butterfly credit. Now, they should bring back the MagSafe connector.) The article comments: "It's the software that needs to be put through the wringer." And that Apple is sucking up my identity and location whenever I open an app… That's a problem that needs to go away.
* * *
.
Today's Fear & Greed Index: 70 Greed (previous close: 69 Greed) [CNN]. One week ago: 58 (Neutral). (0 is Extreme Fear; 100 is Extreme Greed). Last updated Nov 17 at 12:26pm.
Health Care
Please read these two in combination:
"The Exit Polls Show The Need To COVID-19 in " [Drew Altman, Kaiser Family Foundation] (Altman). "Exit polls show that when President Trump accused Democrats of exaggerating the gravity of the COVID -19 pandemic his supporters believed him. Trump supporters showed as they voted that they don't see COVID-19 as a very urgent problem. It leaves the Biden administration with a massive public re-education challenge in and among Trump supporters in every state. This matters because COVID-19 is surging and it will be exceedingly difficult to get a handle on the pandemic as long as half the adult population – the – are COVID-19 . We are also on the verge of seeing a vaccine become a reality. People who don't believe COVID-19 is a serious threat will likely feel less to get a vaccine. Over decades of messaging about HIV testing and treatment in our Greater Than AIDS program we have learned that there is no one-size-fits-all message. Messages need to be targeted to be effective with different groups. That means heavy use of digital media not PSA's on television. And messengers have to be credible not just famous. Real people and real life stories ring true. Messages that direct people to local resources or actions they can take to protect themselves and their families are often most effective. An important challenge is to emphasize disproportionate impact on people of color without furthering stigma or marginalization. The Biden administration will need to convince that COVID-19 and the economy are not an either or, and that getting a handle on COVID-19 is the route to building the economy. As Trump fades from the presidency more Americans who see COVID-19 denial as to Trump may come around." • This is a schizphrenic post. On the one hand, yes, from the AIDS crisis, "there is no one-size-fits-all message." On the other, the phrases I have helpfully underlines are not conducive to persuasion, starting from the notion and that Red States need to be educated by Blue States — where New York and California hardly have the standing to lecture others — and moving on from there. (See NC here on vaccine uptake and persuasion by experts.) And now this amazing screed–
"Olbermann vs Trump #25: 11/10 – We're not getting what we're paying for" [Daily Kos]. Olbermann: "Without the money the financially successful blue states give them, the red states would starve. Just six of these enclaves of minority oppression cost us a net $200 Billion a year… You want to talk about eliminating the electoral college? Correcting the Supreme Court? Reducing the mini-states' representation in the Senate? Then maybe we can continue to fund the states that can't carry their own weight, like Florida and Texas and the rest. (If you'd like to see just how much your state is subsidizing the loser states – or how much each of them sucks out of the taxpayer wallet: https://www.businessinsider.com/feder…) Oh by the way, isn't taking money from the hard-working people of a successful state, to give it to the slackers and lazy thugs of the failed states… SOCIALISM?" • First, does anybody think that people who live in Red States haven't heard the same message from Olbermann and his ilk many times before? And will that message make it easier to persuade "folks who followed Trump," or not? Second, consider the morality of it. Olbermann wants to cut off Federal funding for all the children in Red States who need it, as well as all the Democrats in Red States who worked so hard to drag his moribund candidate over the finish line. Check out the comments section on the original YouTube, which I couldn't bear to link to. "Folks" are cheering Olbermann on….
* * *
"The Great Revenge – How Tony Fauci F*cked Donald Trump" [Moon of Alabama]. I don't think this got enough attention in this morning's Links, so I am re-upping it here; it's well worth reading in full. The two key sentences: "In October two leading vaccine companies were ready to announce the success of their vaccine trials. But with at least the knowledge of Fauci and the Federal Drug Administration both companies deviated from their clinical protocols to intentionally move their success announcement to a date after the election." And: "In October two leading vaccine companies were ready to announce the success of their vaccine trials. But with at least the knowledge of Fauci and the Federal Drug Administration both companies deviated from their clinical protocols to intentionally move their success announcement to a date after the election." • The effect, of course, was to deny Trump an "October Surprise" on vaccines. If this is true — and I would like expert readers to examine the protocols that MoA quotes carefully, because that is above my pay-grade — it would be quite remarkable; after all, the number of deaths resulting from a delaying the announcement of a vaccine, which would initiate a cascade of follow-on events, could surely be calculated to an order of magnitude. On the personal level, much would depend on the character of Fauci, who (a) has admitted that he told a "noble lie" to the general population on masks, and (b) ramped Gilead's stock, and Pfizer's too, based on press releases. From 30,000 feet, all this is entirely consistent with the PMC having come to class consciousness in ithe period 2016-2020. Also, if this is true, Biden owes Fauci rather a lot.
"Covid-19: As lab execs sell shares worth millions, questions arise" [Medical Express]. "Pfizer, Moderna, Novavax: executives at several American laboratories developing COVID-19 vaccines have recently pocketed millions of dollars by selling shares in their companies—raising questions about the propriety of such a move in the midst of a national health crisis. On the very day that pharmaceutical giant Pfizer announced preliminary data showing its vaccine was 90 percent effective against the coronavirus, its chief executive Albert Bourla sold shares worth $5.6 million…. Under the same rules, several Moderna officials have sold shares worth more than $100 million in recent months. That company has not placed a single product on the market since its creation in 2010, but the federal government has committed to paying it up to $2.5 billion if its vaccine proves effective…. Executives at Pfizer and Moderna were operating under a rule put in place by the Securities and Exchange Commission in 2000 to allow company employees to sell shares without facing insider-trading charges…. It allows them to set up a plan determining the trades of their shares at a price, amount or dates specified in advance, but only when they are not in possession of privileged information that could affect share prices. Once such a sale is planned, it cannot be modified at the last minute, even if its timing might ultimately raise questions. Still, this use of the rule by Pfizer and Moderna appears 'legally questionable,' according to Daniel Taylor, an associate professor at the University of Pennsylvania's Wharton business school, who has been studying the big pharma firms since the beginning of the pandemic. '?' he asked." • See above….
* * *
The replication crisis, once more (because of a Paste-oh yesterday, where I duplicated another Tweet because sometimes my Copy touch is too light):
There have been serious replication issues w/ #AI but now it has become prominent for #COVID19 applications. A recent mortality predictive model w/ 3 biomarkers (LDH, CRP, lymphocyte count) was shown to be irreproducible by 3 groups @NatMachIntell pic.twitter.com/wlgorUFekS

— Eric Topol (@EricTopol) November 15, 2020
Zeitgeist Watch
Guillotine Watch
"In Wyoming, a Covid-19 surge, a struggling energy economy and a thriving haven for the rich" [NBC]. "For the rich, Wyoming embodies escape, from both the pandemic and other problems, where open skies and empty pastures can help you clear your mind. As states locked down, Wyoming stayed open. 'We have been socially distancing the entire 130 years that we have been a state,' Sen. John Barrasso, R-Wyo., said on 'Fox & Friends' in April, explaining why Wyoming hadn't issued a stay-at-home order. The wealthy had already shown up by then, and the way they continue to experience the pandemic looks very different from the experiences of most others in the state. Covid-19, in Wyoming and elsewhere throughout the country, has laid the disparities bare. If you live on a multimillion-dollar ranch in Jackson Hole, you have access to private doctors. You might have even brought your own ventilator when you fled to the state, [said Justin Farrell, a sociology professor at Yale University and author of the book 'Billionaire Wilderness'] said. But elsewhere in the state, where there are only about 5 people per square mile, residents are left vulnerable to the labor market and broadly lack access to health care. Populations are older and more health-compromised on average, and many people live far from clinics. uxury retreats like Jackson Hole translate into more money spent in the community, sure, but the elites who move to Wyoming, which has no income tax, are often doing so to shelter from taxes." • I can think of other ways to "clear your mind"….
Class Warfare
"An Update on Employment changes by employer size during the COVID-19pandemic: a look at the Current Employment Statistics survey microdata" (PDF) [Bureau of Labor Statistics]. "ontinuing trends observed since mid-summer, we observe continued faster job recovery among large employers than among smaller employers. Within small employers, we also find that in October 2020, for the first time since March, job losses due to the closure of establishments were greater than job losses in employers that continued employing at least one person." • I'm sure readers will have seen this play out….
"Social Unrest Is the Inevitable Legacy of the Covid Pandemic" [Bloomberg]. "'So when our Sickness, and our Poverty Had greater wants than we could well supply; Strict Orders did but more enrage our grief, And hinder in accomplishing relief.' That's how the British poet George Wither explained a spreading rebellion against social-distancing rules. Seeing quarantines and lockdowns as unfair and tyrannical punishments, people were taking to the streets. The year was 1625, the place was London, the disease was plague…. In March, still early in the pandemic, think tankers were already noticing that we were entering an "age of mass protests" — the number of uprisings globally has been increasing by an average of 11.5% a year since 2009. Covid-19, like so many other plagues before, will now act as the fire accelerant. Some upheavals will topple governments, others will be repressed. Some will flare up soon, others will smolder for years. In 1381, the rural poor of England rose up in the so-called Peasants' Revolt, killing, looting and burning. They did so because their lives had become unlivable since the Black Death first came ashore 33 years earlier. And the elites had done nothing in that time to make things better."
News of the Wired
"Fender CEO: We're 'running at full tilt' amid record demand" [Yahoo Finance]. "Although the coronavirus pandemic has devastated many small businesses, companies like guitar maker Fender have managed to not just hold on, but thrive. 'When the lockdowns went and took place in March, I never would have predicted in my wildest dreams that the company was going to end up having a record year,' Fender CEO Andy Mooney told Yahoo Finance Live (video above). 'But in fact, that's what's going to happen. We're literally running at full tilt to keep pace with demand through the end of this year and the beginning of next.' The surprise upside during recession times that Mooney described isn't entirely unexpected. Last year around the same time, he told Yahoo Finance that he believed the company was 'recession-resistant.'… Stay-at-home orders, which forced many Americans into quarantine or isolation, was a pivotal moment for Fender. 'People really used their time to invest in themselves, learning how to play a musical instrument, a guitar in particular, seemed to be near the top of their list,' Mooney explained." • I wonder if the same logic works for, say, Marshall amps.
* * *
Readers, feel free to contact me at lambert [UNDERSCORE] strether [DOT] corrente [AT] yahoo [DOT] com, with (a) links, and even better (b) sources I should curate regularly, (c) how to send me a check if you are allergic to PayPal, and (d) to find out how to send me images of plants. Vegetables are fine! Fungi and coral are deemed to be honorary plants! If you want your handle to appear as a credit, please place it at the start of your mail in parentheses: (thus). Otherwise, I will anonymize by using your initials. See the previous Water Cooler (with plant) here. Today's plant (JS):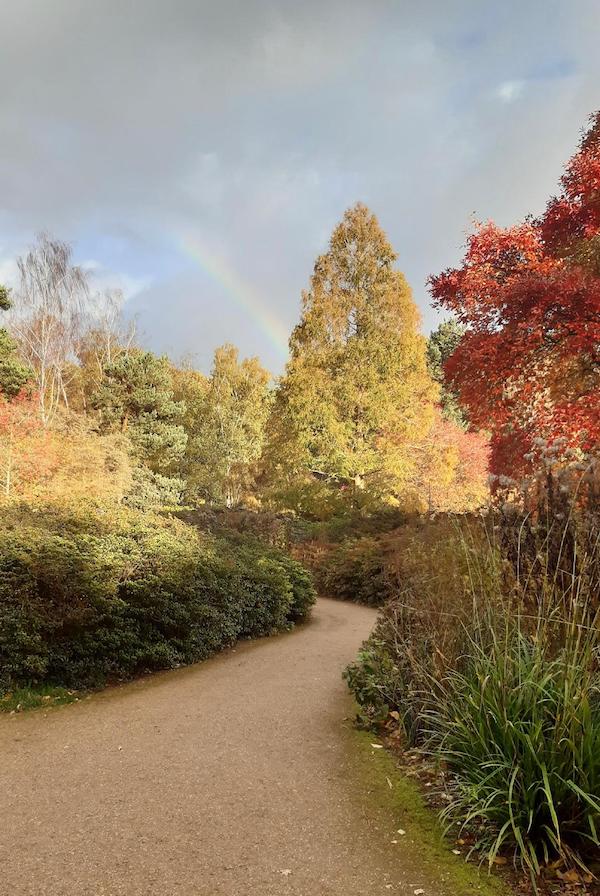 JS writes: "The trees are in their autumn beauty, / The woodland paths are dry. (W.B.Yeats Richmond Park, London, on a November afternoon."
* * *
Readers: Water Cooler is a standalone entity not covered by the recently concluded and — thank you! — successful annual NC fundraiser. So if you see a link you especially like, or an item you wouldn't see anywhere else, please do not hesitate to express your appreciation in tangible form. Remember, a tip jar is for tipping! Regular positive feedback both makes me feel good and lets me know I'm on the right track with coverage. When I get no donations for five or ten days I get worried. More tangibly, a constant trickle of donations helps me with expenses, and I factor in that trickle when setting fundraising goals:
Here is the screen that will appear, which I have helpfully annotated.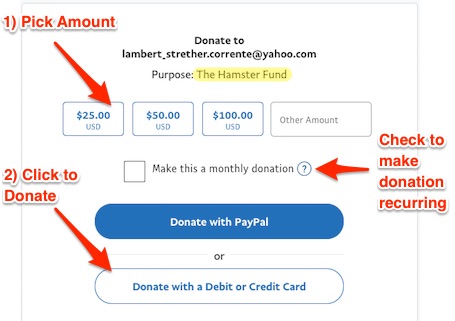 If you hate PayPal, you can email me at lambert [UNDERSCORE] strether [DOT] corrente [AT] yahoo [DOT] com, and I will give you directions on how to send a check. Thank you!