By Lambert Strether of Corrente.
Bird Song of the Day
That nutchatch is really scolding. Maybe a cat?
#COVID19
At reader request, I've added this daily chart from 91-DIVOC. The data is the Johns Hopkins CSSE data. Here is the site.
Case count by United States region: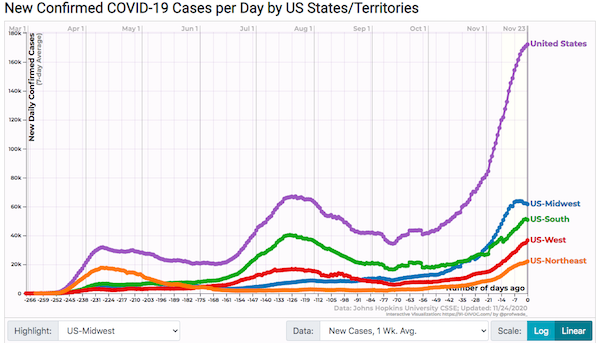 There's a drawing back from the vertical, perhaps somehow related to the upcoming Thanksgiving holiday.
The Midwest in detail: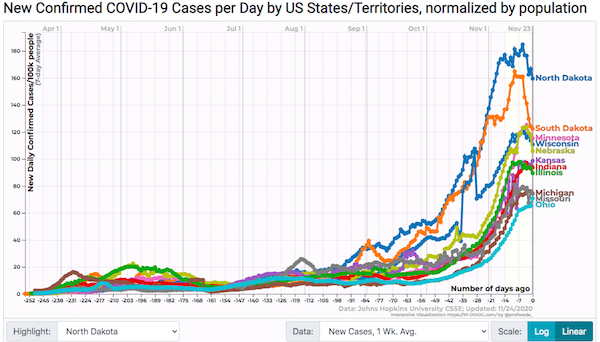 Improvement in the Dakotas and elsewhere continues, for whatever reason.
Test positivity by region: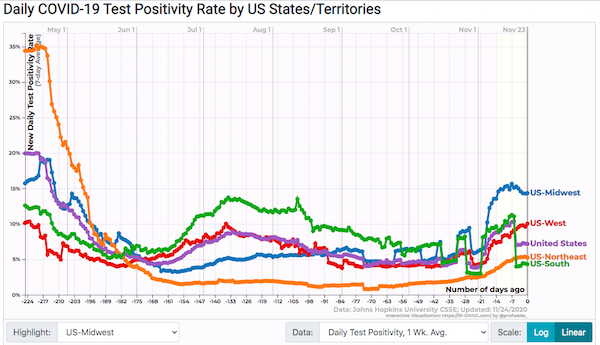 Hospitalization by region: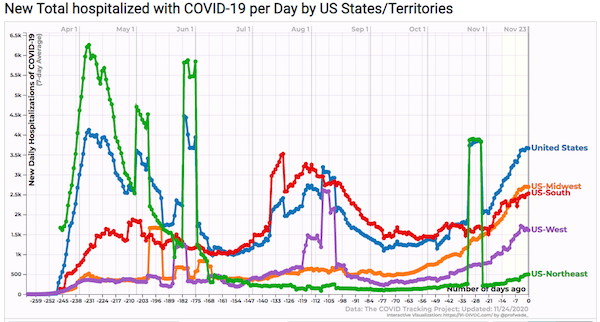 Hospitalization seems to have plateaued in the South. Nearly.
Case fatality rate by region: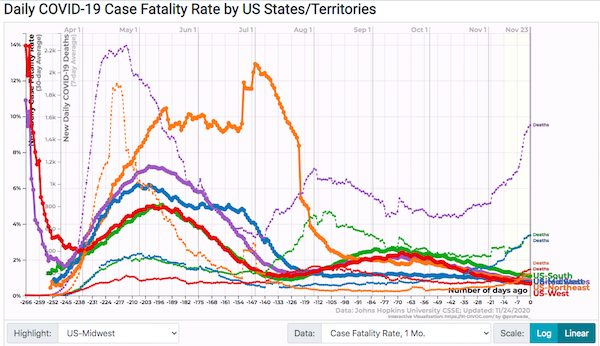 Deaths (purple dotted) heading toward vertical, as they will for awhile, although they should drop (or at least dip) where the case count does, with the two-week lag.
Politics
"But what is government itself, but the greatest of all reflections on human nature?" –James Madison, Federalist 51
"They had one weapon left and both knew it: treachery." –Frank Herbert, Dune
"They had learned nothing, and forgotten nothing." –Charles Maurice de Talleyrand-Périgord
Election Legitimacy
"Fighting Mistrust Requires More Than 'Trust Us'" [Zeynep Tufecki, Insight]. "In Georgia, a post-election audit (yay!) discovered thousands of ballots that had been overlooked—there had been a human error in uploading the ballots, which really calls into question a process that allows for such errors. The ballots were on memory cards that had been forgotten because of, apparently, bad user interface design…. What if there wasn't a risk-limiting audit in Georgia? What if the error had been large enough or the difference small enough to call the results into question? … There's a tendency to assume that widespread public mistrust is unfixable, that those people are not reality-based and so there's nothing to be done. But mistrust—including the kind that's deliberately fostered—does not thrive in a vacuum. Fixing what we can, and creating processes that are designed to resist efforts to cast doubt, is the right thing to do. There is no other way out of this crisis. Moreover, it's wrong to assume that taking vital steps to secure elections are done just for their benefit. If this election had been closer, I have no doubt that the conspiracies and mistrust would sweep through people in both parties." • Ballot marking devices, which Georgia uses, are not auditable. From "Why I Am Worried About the Legitimacy of the 2020 Election Balloting Process":

Unfortunately, BMDs are not auditable[5]. From Philip N. Stark, the inventor of "risk-limiting audits, "Ballot-marking devices (BMDs) are not secure election technology"

BMDs do not provide voters a way to demonstrate to pollworkers or election officials that a BMD has malfunctioned, and the available evidence suggests that voters are not able to check BMDs effectively or reliably, as I shall explain. This makes auditing elections that were conducted primarily using BMDs meaningless: .

So what's left? Forensic analysis of the voting machines, I would say. And if you want to know how that will go, think back to the Clinton servers: There was no chain of custody for the digital evidence, and a party-connected Beltway vendor was used.
Transition to Biden
Liberalgasm Jouissance (1). Long-delayed, but finally here:

THIS IS AN ADMIN filled with people who have deep experience in government and in the agencies they will be running. THE POST puts it this way: "By design, they seem meant to project a dutiful competence, as Biden creates a government overseen by those who have run it before."

— Jake Sherman (@JakeSherman) November 24, 2020

There is more, more, more of this ecstatic throbbing; it's worth reading the entire thread. (Personally, I think the Biden administration won't be boring at all, if the press covers it, as they did not with Obama. In 2009, what is today the Obama Alumni Assocation faced a single financial crisis, with aftershocks in foreclosures. Today, they face Covid, a collapsing economy, an overloaded and dysfunctional health care system, and a looming eviction crisis (which will feed back into the Covid and health care crisis). There's also Third World-level income disparity and a simmering legitimacy crisis, which may boil over if vaccination is forced. And all that's before we get to issues of war and peace. So 2009's team faces many more crises in 2020 — many ignited by policy decisions they themselves made — with fewer resources, economic, political, and moral. It may be that they have learned from their mistakes, unlike the Bourbons. I haven't seen a lot of evidence of that. So I predict continued volatility. I'd love to be wrong!)

Liberalgasm Jouissance (2):

"If the TRUMP White House was like downing a vat of Tabasco sauce over the past four years, the BIDEN White House will be like sipping unflavored almond milk," @JakeSherman + @apalmerdc write https://t.co/vGuN6mDi38

— Philip Rucker (@PhilipRucker) November 24, 2020

How nice: A cute little caricature Avril Haines, torture apologist and defender of the CIA goons who hacked Congress. Oh, and almond… milk? Will Sigmund Freud please pick up the white courtesy phone?

Diversity (1):

First Latino and immigrant at DHS, 1st woman to lead intel community, 1 of youngest NSA in decades, veteran of foreign and black woman at USUN, experienced and crisis-tested diplomat at State, climate as a top issue. Times they are a changing..

— Jen Psaki (@jrpsaki) November 23, 2020

Diversity (2):

The obsession on identity & race as an indicator of type of policies one will follow leads to wrong conclusions.
Note:
Putin's Minister of Defense is a Buddhist,
head of the Central Bank (Russian Fed) a Muslim woman, Putin's closest friends Jewish,
his Chief of Staff Estonian.

— Branko Milanovic (@BrankoMilan) November 23, 2020

Diversity (3):

My niece is all "Yemen Yemen Yemen" but what about women women women? Henh? Henh? https://t.co/gulhK718Gz

— Savvy & Realistic Democrat (@RealisticDemoc1) November 24, 2020

Infantilization (1):

Can't let this get lost: the next US Secretary of State @ABlinken is a new dad. It will be inspiring for working parents everywhere to see America's top diplomat in action as he also helps raise two toddlers. Thanks to Tony & the incomparable Evan Ryan for their family sacrifice. https://t.co/DjTSvpyHHQ

— Samantha Power (@SamanthaJPower) November 23, 2020

Follow up to the Muppet figures yesterday… Discourse Blog comments: "The many working parents who get killed by American drone strikes in the next four years will definitely look up at the sky and say, 'at least a dad helped do this to us.'" Here's Grover Blinken at AIPAC in 2016. The word "fealty" is far, far too weak.

"Biden Announces Secretary Of Health And Human Services Will Be Ring Of Diverse Children Holding Hands" [The Onion]. • Too true.

"Hello Brussels? President-elect Joe Biden calling" [Politico]. "In a round of phone calls with leaders in Brussels, U.S. President-elect Joe Biden spoke Monday with European Commission President Ursula von der Leyen and European Council President Charles Michel, who extended congratulations for his victory over Donald Trump. Michel invited Biden to Brussels to attend a meeting with EU heads of state and government." •¨ I'm so old I remember when Michael Flynn did the same thing and got a visit from the FBI. In fact, Biden is doing the right thing, as was Flynn.
Transition from Trump
"Trump bows to reality as Biden shapes historically diverse Cabinet" [Los Angeles Times]. "Soon after Michigan certified its vote for Biden, a major blow to Trump's efforts to contest the vote, the General Services Administration official who has blocked the start of the formal transition for three weeks effectively recognized Biden as winner of the election and agreed to provide office space, access to government officials and other logistical resources to assist his team." • The letter:

Here's the letter of ascertainment, signed by @GSAEmily, officially beginning the transition — more than two weeks after Biden won the presidential race. pic.twitter.com/RExK9Mu7jq

— Geoff Bennett (@GeoffRBennett) November 23, 2020

"What is the GSA, and what role does it play in the presidential transition?" [CBS]. "The peaceful transfer of power from one administration to another is one of the cornerstones of American democracy. , as the leader of the federal agency which oversees the transition has signed a letter of 'ascertainment' affirming the victory of President-elect Joe Biden." • This view, which has grown like kudzu over liberal Democrat discourse, is deeply bogus. "Ascertainment" by the GSA releases resources (ka-ching) to the apparatus of an incoming President, and that is all it does. It's entirely pragmatic, and in times when the Executive Branch was smaller, not needed. The Presidential Transition Act was only passed in 1963! The Presidential transition as driven by the electoral process is specified by the U.S. Constitution in Article II, Section 1. Liberal Democrats may not like that, and may not want to play by those rules, but those are the rules we have. Next thing you know, liberal Democrats are going to be claiming a President is legitimate because the GSA mailed them a check to sign. Oh, and Emily Murphy is not the "leader" of the GSA. She is the Administrator. That is her title. What's wrong with these people?
2020
Biden (D)(1): "Vaccinating a nation: can Biden manage America's biggest health project?" [Financial Times]. "For President-elect Joe Biden, the vaccine plan is arguably the most important issue that awaits him. His reputation as president will probably be decided in large part by whether he can provide vaccines to enough people to help end the pandemic in a country which has recorded more than 12.2m cases and nearly 257,000 deaths." • Interestingly, the Administration's plans for distribubtion were rolled out in October:

After months of work, the Trump administration published its distribution plans in October. Officials say they will be able to provide vaccines for all vulnerable people — likely to be frontline healthcare workers and older people with underlying illnesses — by the end of the year; all older people by the end of January; and everyone by early summer.

Under those plans, Operation Warp Speed — the vaccine development project the president set up in May — will use a piece of software created by technology company Palantir to track supply and demand in real time. The app, known as Tiberius, promises to give federal officials access to localised data on everything from the location of doses of the vaccines to how many people live in care homes in a given area.

The administration is paying healthcare logistics company McKesson to oversee the delivery of many of the vaccines, although not the Pfizer one which the pharmaceutical company itself is responsible for — albeit with government money and assistance.

Meanwhile, hundreds of companies, from haulage firms to freezer providers to producers of shipping containers, are bidding for a patchwork of local and federal contracts to help deliver doses.

Here is the plan. Let's hope it goes better than the ObamaCare website rollout.

<
2024
Lol:

2024 GOP Polling:

Trump: 54%
Pence: 12%
Trump Jr: 8%
Cruz: 4%
Haley: 4%
Romney: 3%
Rubio: 2%
Noem: 1%
Scott: 1%
Hawley: 1%

Morning Consult / November 23, 2020 / n=669 / Onlinehttps://t.co/uMbCuOUEyj

— Polling USA (@USA_Polling) November 24, 2020

Surprised Hawley is so low.
Obama Legacy
"Obama the pretender" [Ryan Cooper, The Week]. "What went wrong? Obama attempts to grapple with the massive failures of his presidency in A Promised Land, his new memoir describing his rise to power and early presidency, but ultimately the book is slippery and unconvincing. America is circling the political toilet in part because Obama had the chance to fix many longstanding problems and did not rise to the occasion, a fact the former president is still stubbornly unwilling or unable to see." • Musical interlude:
Realignment and Legitimacy
Sadly, no:

Everyone at Fox truly lives in a alternate universe ??‍♀️ pic.twitter.com/bIv7aeSeK7

— Ilhan Omar (@IlhanMN) November 23, 2020

"Why they fight" [E.J. Dionne, WaPo]. "The Democratic coalition can hang together only if its members accept this ground-level truth: that for all their quarrels, they want to move the country in the same direction." • No, they don't. This concept that leftists are liberals, just more liberal won't die. Too useful, I suppose.

Film at 11:

In 1980, the Democrats only won 9/100 of the highest income counties. In 2020, Biden won over fifty percent (57/43) of the highest income counties. Part of this, of course, was due to Trump's unique character flaws, but it is also part of a long-term Party reversal. pic.twitter.com/BFYkUzCFan

— Ben Winegard ?? (@BenWinegard) November 24, 2020

Winegard is from Hillsdale College (a conservative liberal arts school). So, Republicans are recognizing what liberal Democrats ran Thomas Frank out of town for saying, good job.

"This Political Theorist Predicted the Rise of Trumpism. His Name Was Hunter S. Thompson." [The Nation]. "What's truly shocking about reading the book today is how well Thompson foresaw the retaliatory, right-wing politics that now goes by the name of Trumpism. After following the motorcycle guys around for months, Thompson concluded that the most striking thing about them was not their hedonism but their 'ethic of total retaliation' against a technologically advanced and economically changing America in which they felt they'd been counted out and left behind. Thompson saw the appeal of that retaliatory ethic. He claimed that a small part of every human being longs to burn it all down, especially when faced with great and impersonal powers that seem hostile to your very existence. In the United States, a place of ever greater and more impersonal powers, the ethic of total retaliation was likely to catch on. What made that outcome almost certain, Thompson thought, was the obliviousness of Berkeley, California, types who, from the safety of their cocktail parties, imagined that they understood and represented the downtrodden. The Berkeley types, Thompson thought, were not going to realize how presumptuous they had been until the downtrodden broke into one of those cocktail parties and embarked on a campaign of rape, pillage, and slaughter. For Thompson, the Angels weren't important because they heralded a new movement of cultural hedonism, but because they were the advance guard for a new kind of right-wing politics."

* * *

"The Great Reset" [Time (In Partnership with Sompo Holdings)]. "The COVID-19 pandemic has provided a unique opportunity to think about the kind of future we want. TIME partnered with the World Economic Forum to ask leading thinkers to share ideas for how to transform the way we live and work…" • Fascinating collection, which I won't quote. My favorite headline: "Reddit Co-Founder Alexis Ohanian Speaks with Meghan, Duchess of Sussex About Building a Better Tech Industry."
Stats Watch
At reader request, I added some business stats back in. Please give Econintersect click-throughs; they're a good, old-school blog that covers more than stats. If anybody knows of other aggregators, please contact me at the email address below.
Manufacturing: "November 2020 Richmond Fed Manufacturing Survey Declined" [Econintersect]. "The important Richmond Fed subcategories (new orders and unfilled orders) are well into expansion but declined this month. We consider this survey worse than last month."
Housing: "S and P CoreLogic Case-Shiller 20 City Home Price Index September 2020 Year-over-Year Growth Accelerates" [Econintersect]. "The non-seasonally adjusted S and P CoreLogic Case-Shiller home price index (20 cities) year-over-year rate of home price growth continues to accelerate. The index authors stated, 'Our three monthly readings since June of this year have all shown accelerating growth in home prices, and September's results are quite strong.'"
* * *
Commodities: "David MacLennan, chief executive of Cargill [says that] the Minnesota-based company has reconfigured its operations and its supply chains during the pandemic and now isn't seeing disruptions, 'certainly not like there were back in April and May.' Mr. MacLennan says one beef facility is running at 98% of capacity but that Cargill isn't experiencing the kind of big spikes in cases that it did in the spring, even as coronavirus cases are growing at rapid rates around the U.S." [Wall Street Journal]. "The company has adjusted its supply chain repeatedly during the crisis, and expects some changes to outlast the pandemic. Even in a safer world, he says, people will be more likely to entertain at home in smaller groups, in ways that call for more home meal preparation."
Commodities: "There's $500 Million of Coal on Anchored Ships Off China's Coast" [Bloomberg]. "More than $500 million worth of Australian coal is on ships anchored off Chinese ports, as a diplomatic spat between the two countries cuts into trade, idles a portion of the world's dry bulk carriers and threatens to spiral into a humanitarian crisis. More than 50 vessels have been waiting a month or longer to offload coal from Australia, according to separate analyses of shipping data conducted by Bloomberg and data intelligence firm Kpler. There's about 5.7 million tons of coal and approximately 1,000 seafarers on the anchored vessels, which are mostly Capesize and Panamax-sized vessels, according to Kpler. The cargo and crew are victims of China's move to blacklist a wide swathe of Australian commodities and foodstuffs, ratcheting up tensions between the two trading partners that have deteriorated since Huawei Technologies Co. was barred from building Australia's 5G network in 2018."
Supply Chain: "Robots in warehouses have long had what might be called a failure to communicate. DHL Supply Chain is trying to solve the problem with a new software platform aimed at integrating automation systems more quickly in its distribution centers…, the latest in a range of efforts logistics operators are undertaking to make their robots more efficient. The system called Robotics Hub is built on technology designed by logistics software company Blue Yonder and works effectively like a training program for new hires, helping communicate with fellow workers and coordinate activities across warehouses" [Wall Street Journal]. "DHL estimates that integrating a new robotics fleet at a warehouse can take more than three months, a long stretch as companies look to rapidly scale up automation to deal with the impact of the coronavirus on operations. ." • Oh.
Supply Chain: "The pandemic-fueled shift to online buying has put delivery workers under pressure around the world. Orders have surged 50% in Europe, 70% in Asia-Pacific and 120% in North America year-over-year, and drivers have rebelled against working conditions in several countries" [Wall Street Journal]. "A labor group says the typical South Korean delivery driver works between 13 hours and 16 hours a day without overtime pay or compensation for loading trucks. South Korea has sought to give most workers more rest by lowering the maximum work week to 52 hours. But delivery drivers are exempt because they are independent contractors."
* * *
.
Today's Fear & Greed Index: 72 Greed (previous close: 63 Greed) [CNN]. One week ago: 69 (Greed). (0 is Extreme Fear; 100 is Extreme Greed). Last updated Nov 23 at 12:28pm.
The Biosphere
"What does coexistence with large carnivores actually mean?" [The Wildlife News]. "In Mexican wolf country, ranchers and agencies bandy about the word 'coexistence' as if it means an end to conflict between humans and lobos. If only that were true, and that the playing field were somehow level. Coexistence is not –notably – existing together only until it becomes inconvenient or burdensome and then calling in Wildlife Services to kill or remove your neighbors. I'm sick to death of these ranchers in Mexican wolf habitat who claim to practice coexistence but always, always, have the trump card of killing, capturing, or removing wolves in hand. Maybe we need to review the definition of 'exist' as well?…. Collectively, we throw a ton of taxpayer money at these folks and they still can't deal with sharing space with Mexican wolves. Instead, they believe they are entitled to the have the cake they are already eating."
"Hierarchies defined through human mobility" [Nature]. "Urban systems have been shaped by mobility and the need to satisfy different human interactions modulated by the speed of transportation. For centuries, we have left traces of mobility through our road networks, encoding the hierarchical structure of urban systems at multiple scales. An open question is whether Alessandretti and colleagues' research can be extended to explain why such patterns emerge worldwide and why cities have their particular morphologies. Is the observed organization of urban spaces the result of centuries of mobility? And could the authors' work help us predict the future of our cities, now that we can tap into the traces of the movements that shape them?"
Health Care
"Millions of Uninsured Americans are Eligible for Free ACA Health Insurance" [KFF]. "In other words, 4 out of 10 uninsured people – about 11.2 million people in 2018 and likely at least that many now – in the U.S. can get virtually free insurance, largely under the ACA." • Not 10 out of 10? Why?
Do as I say not as I do (1):
.@NYGovCuomo is having his 89-year old mother and two daughters to Albany for Thanksgiving.

"The story is, my mom is going to come up and two of my girls. But the plans change."

He has spent the better half of two weeks telling New Yorkers to stay home for the holiday.

— Bernadette Hogan (@bern_hogan) November 23, 2020
From "Neoliberalism According to Simple Rules", "Invariant #1: The rules of neoliberalism do not apply to those who write the rules."
Do as I say not as I do (2): "Newsom Family Quarantines Amid California's Covid Surge" [New York Times]. "Early in the morning, the governor's office said that Mr. Newsom, along with his family, had gone into quarantine after three of his children had come into contact with a state highway patrol officer who later tested positive for the coronavirus." • The timing is wrong for Newsom to have caught the virus during his escapade at the French Laundry Restaurant, so this is not a case of instant karma, sadly.
Black Injustice Tipping Point
For that problematic relative:
Reparationist talking points for Thanksgiving! Happy Holidays!https://t.co/3sdPqzTUUX

— Concerned Black American Citizens™️ (@CBAC_USA) November 24, 2020
Class Warfare
Yo, Jeff:
BIG DEAL: Union election petition filed at @amazon Fulfillment Center in Alabama by @RWDSU. Potential 1500 workers in the bargaining unit. #1u

— Strikewave (@strikewave) November 23, 2020
"Millions of Americans Expect to Lose Their Homes as Covid Rages" [Bloomberg]. "Millions of Americans expect to face eviction by the end of this year, adding to the suffering inflicted by the coronavirus pandemic raging across the U.S. About 5.8 million adults say they are somewhat to very likely to face eviction or foreclosure in the next two months, according to a survey completed Nov. 9 by the U.S. Census Bureau. That accounts for a third of the 17.8 million adults in households that are behind on rent or mortgage payments." • Merry Xmas!
"When Landlords File Evictions In Georgia, Tenants Feel The Effects For Years" [WABE]. "There are thousands of eviction cases like Williams' pending in courts around metro Atlanta. Many are on hold because of an order from the Centers for Disease Control and Prevention to halt evictions from unpaid rent until the end of the year [good job, Trump administration]. But what's not well-known is that the eviction filings against those tenants have stained their records in a way that could make it hard to find housing for years. It doesn't matter that their cases haven't gone before a judge. 'You've already lost no matter what the court decides,' said Eric Dunn, legal director at the National Housing Law Project. 'Most landlords will just categorically deny admission for people that have eviction cases filed against them.' This is because of how tenant screening often works."
"Message in a Bottle" [Jacobin]. "The self-proclaimed 'inventor of Twitter philanthropy,' Bill Pulte is the grandson of billionaire home developer William J. Pulte and the CEO of private equity firm Pulte Capital Partners. In the past two years, he has gained notoriety by giving his money away on Twitter — to the tune, he claims, of nearly half a million dollars so far. 'If you're dying of cancer, if your teeth are falling out, if your son just committed suicide after being in Afghanistan, Bill Pulte is your best friend,' Pulte told reporters last year. His selection process is mysterious, but he issues frequent reminders that, in order to be eligible for his sweepstakes, people must follow him on Twitter. He has more than three million followers. He calls his method 'twenty-first-century charity.' If there's anything that substantiates the allegation that the United States is a failed state, it is Bill Pulte's Twitter mentions. To read them is to grasp the cruelty and irrationality of American capitalism." • Lucky millionaire wants to share the wealth!
"The Comparative Impact of Cash Transfers and a Psychotherapy Program on Psychological and Economic Well-being" [NBER]. The Abstract: "We study the economic and psychological effects of a USD 1076 PPP unconditional cash transfer, a five-week psychotherapy program, and the combination of both interventions among 5,756 individuals in rural Kenya. One year after the interventions, cash transfer recipients had higher consumption, asset holdings, and revenue, as well as higher levels of psychological well-being than control households. In contrast, the psychotherapy program had no measurable effects on either psychological or economic outcomes, both for individuals with poor mental health at baseline and others. The effects of the combined treatment are similar to those of the cash transfer alone." • Give people money!
News of the Wired
Gaslighting trumps Occam's Razor?
it's one of their favorite tactics to use on very smart and logical liberals . Once you get them hopped up on Occam's razor !!! you can just walk off and let them take care of the rest ??

— detty (@0ddette) November 24, 2020
(Note that the pervasiveness of a technique doesn't imply, er, agency.) It occurs to me: Gaslighting always introduces a level of indirection. Hence, Occam's Razor will slice it out. Readers? (Filing this here instead of under Realignment and Legitimacy because I'm not sure about it….)
"Introducing 'Long-terminology'" [The Long-termist's Field Guide]. "I've always believed that novel vocabulary has the power to unlock change. A new word can clarify nebulous problems that lack a name, as well as identifying a solution or idea that people can assemble behind. Over the past couple of years, I've been collecting the vocabulary of long-term thinking: some that may already be familiar like 'anthropocene', 'cathedral thinking', or 'timefulness', and a few others that are lesser known. These words can, rather handily, be described with their own coinage, which I call 'long-terminology'. In each of these Field Guides, I'll aim to feature a word or two – and hopefully along the way, we'll coin a few of our own. The goal is to build a crowdsourced glossary…. What I've learnt so far is that "long-term" means different spans to different people. For some, it's next year, for others it's next century. There are those who look to a future of ten millennia, and then there are those dreaming of astronomical expansion a trillion tomorrows away. The language of the long-term has also emerged independently in different disciplines, including history, technology, art and philosophy. (There's also the related word "deep", linked to geology, but I'll return to that another time.)"
* * *
Readers, feel free to contact me at lambert [UNDERSCORE] strether [DOT] corrente [AT] yahoo [DOT] com, with (a) links, and even better (b) sources I should curate regularly, (c) how to send me a check if you are allergic to PayPal, and (d) to find out how to send me images of plants. Vegetables are fine! Fungi and coral are deemed to be honorary plants! If you want your handle to appear as a credit, please place it at the start of your mail in parentheses: (thus). Otherwise, I will anonymize by using your initials. See the previous Water Cooler (with plant) here. Today's plant (TH):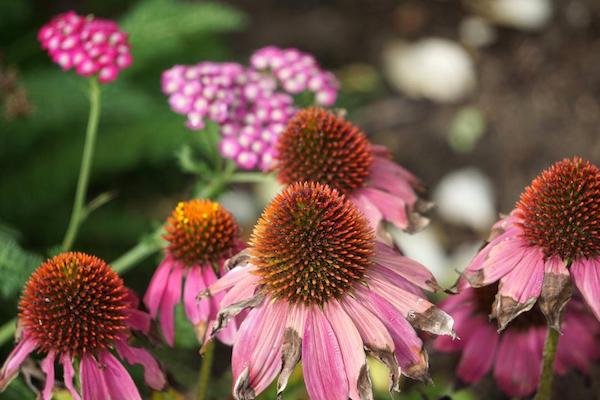 TH writes: 'Echinacea flower. Hubby, Don, takes really good pictures. This is one of his while on one of our walks around Alamitos Bay." Walks are always good!
* * *
Readers: Water Cooler is a standalone entity not covered by the recently concluded and — thank you! — successful annual NC fundraiser. So if you see a link you especially like, or an item you wouldn't see anywhere else, please do not hesitate to express your appreciation in tangible form. Remember, a tip jar is for tipping! Regular positive feedback both makes me feel good and lets me know I'm on the right track with coverage. When I get no donations for five or ten days I get worried. More tangibly, a constant trickle of donations helps me with expenses, and I factor in that trickle when setting fundraising goals:
Here is the screen that will appear, which I have helpfully annotated.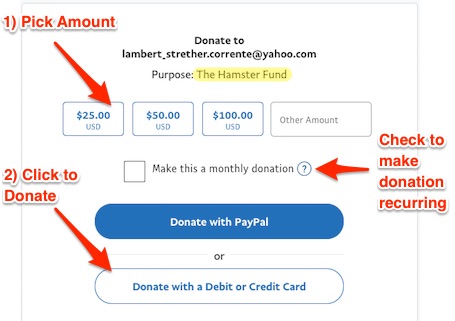 If you hate PayPal, you can email me at lambert [UNDERSCORE] strether [DOT] corrente [AT] yahoo [DOT] com, and I will give you directions on how to send a check. Thank you!