By Lambert Strether of Corrente.
Bird Song of the Day
I hope that white noise in the background is the sea…
#COVID19
At reader request, I've added this daily chart from 91-DIVOC. The data is the Johns Hopkins CSSE data. Here is the site.
Case count by United States region: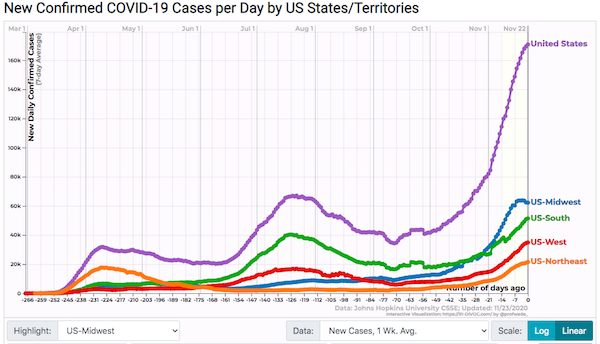 There's a drawing back from the vertical, perhaps somehow related to the upcoming Thanksgiving holiday.
To break it down a little, here's the Midwest: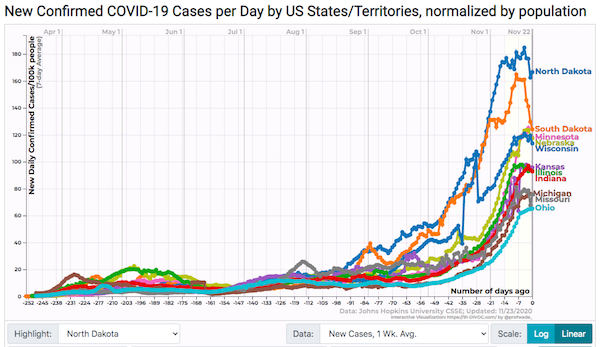 Certainly an improvement in the Dakotas, and elsewhere.
Test positivity by region: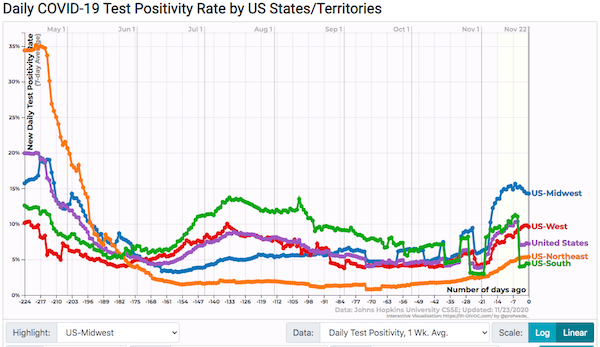 Positivity (blue) seems to have plateaued in the Midwest. Still the giant drop in the South (green). Nowhere near 3%, though.
Hospitalization by region: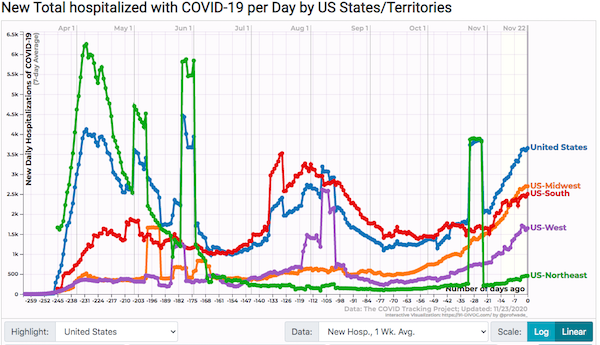 Hospitalization seems to have plateaued in the South. Nearly.
Case fatality rate by region: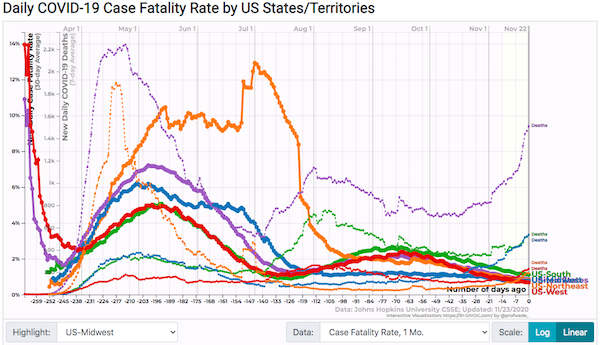 Deaths (purple dotted) heading toward vertical, as they will for until the surge in cases works its way through the pipeline (ugh, what a way to think, it's like being a World War One general).
CA: "S.F. was flattening the curve — until our urge to gather spiked it. Now we need to reverse the surge" [San Francisco Chronicle]. "In early October, just 27 people a day tested positive in the city, which sat in the state's yellow tier, meaning the virus risk was "minimal." That allowed the city to open restaurants for indoor dining at 25% capacity and loosen other restrictions. But a few weeks can bring a dramatic change of fate — especially in the miserable year that is 2020. Now, San Francisco sits in the red tier, meaning the virus spread is "substantial," and 105 people in the city receive a positive test result every day. … So what happened? Despite the city's repeated insistence on following data, science and facts, we don't have the data, science or facts to identify the exact problem spots. The city's contact tracing system isn't good enough to pinpoint specific events, gatherings, businesses or other places that are fueling the surge…. Jon Jacobo, a co-chair of the Latino Task Force, helps run a weekly test site in the Mission and said it's clear indoor dining and casual gatherings led to a rise in cases. He said the fact that the health department allowed indoor dining — without masks as people ate and drank — led some people to assume it was safe to have friends and family over for dinner in their own homes without masks."
NY: "Secret plans helped Brooklyn synagogue pull off massive, maskless wedding" [New York Post]. "A Hasidic synagogue in Brooklyn planned the wedding of a chief rabbi's grandson with such secrecy, it was able to host thousands of maskless celebrants without the city catching on. Despite a surge in COVID-19 cases, guests crammed shoulder to shoulder inside the Yetev Lev temple in Williamsburg for the Nov. 8 nuptials — stomping, dancing and singing at the top of their lungs without a mask in sight, videos obtained by The Post show… 'In recent weeks, organizers worked tirelessly to arrange everything in the best way possible. All notices about upcoming celebrations were passed along through word of mouth, with no notices in writing, no posters on the synagogue walls, no invitations sent through the mail, nor even a report in any publication, including this very newspaper,' [according to Der Blatt]." • Behavior not peculiar to the Hasidim, I might add.
Politics
"But what is government itself, but the greatest of all reflections on human nature?" –James Madison, Federalist 51
"They had one weapon left and both knew it: treachery." –Frank Herbert, Dune
"They had learned nothing, and forgotten nothing." –Charles Maurice de Talleyrand-Périgord
"Sidney Powell Not Part of Trump's Legal Team, Says Rudy Giuliani" [WSJ]. • That was fast. Woo woo.

"In Election Litigation, An Ominous Sign" [Washington Monthly]. "One of their arguments was that the state court had violated the U.S. Constitution by applying the Pennsylvania Constitution at all. This, they said, violated the 'elections clause,' Article I § 4, which provides that '[t]he times, places and manner of holding elections for senators and representatives, shall be prescribed in each state by the Legislature thereof' unless Congress passes a law governing those things. Here's the core of the argument: the provision, they argued, says, 'legislatures.' It does not say 'legislatures and state courts.' It does not say 'legislatures, state courts, and state constitutions.' …. Read that way, the U.S. Constitution, which supersedes any state law or constitution, gives the state legislatures a federal function 'independent' of its function in the state. So, Republicans argued, the people of the state could not guarantee themselves a right to vote in federal elections, whatever they might put in their state constitution…. This is the "independent state legislature doctrine.'" • I don't know who invented the "independent state legislature doctrine." My guess would be John C. Calhoun.

He's right (1):
Trump has got liberals worshipping the integrity of insecure electronic voting machines.

— Matt Stoller (@matthewstoller) November 20, 2020
"The Memo: Trump plows ahead with efforts to overturn election" [The Hill]. "An Economist/YouGov poll conducted earlier this week found that 84 percent of Republican voters do not believe Biden's election victory to be legitimate. Such a high number is a major problem, given that democracies only function when there is a widespread consensus on such basic facts as the outcome of elections." • I don't recall a similar poll being done back when the Steele Dossier was going to be a thing….
This is a good thread on being an election observer:
Doing my small part for democracy, serving as one of the legal observers for the recount in Durham

Zero discrepancies since 10am#BullCity ?? pic.twitter.com/dE0UfVWkNL

— T. Greg Doucette (@greg_doucette) November 20, 2020
Biden Transition
UPDATE "The National Security Revolving Door Starts Spinning" [David Sirota, Daily Poster]. "On Sunday, Bloomberg reported that Biden has chosen his longtime aide, Tony Blinken, to serve as Secretary of State and will name Jake Sullivan, his senior advisor and a former Hillary Clinton aide, national security adviser. Former Obama Defense Department official Michèle Flournoy is considered the favorite to be Secretary of Defense. After leaving the Obama administration, Blinken and Flournoy founded WestExec Advisors, a secretive consulting firm whose motto has been: "Bringing the Situation Room to the board room." Flournoy and Sullivan have both held roles at think tanks raking in money from defense contractors and U.S. government intelligence and defense agencies. Last week, two board members from Raytheon joined a small group to brief President-elect Biden and Vice President Kamala Harris on national security issues. One of the two Raytheon board members, Robert Work, has also worked for WestExec." • See, children? Blinken is fine:

A secretary of state who cares about refugees….
pic.twitter.com/tTTvXvmwSy

— David Corn (@DavidCornDC) November 23, 2020

Meanwhile, The Blob is cheering Blinken's appointment:

Aaron is right though. Blinken participated in society as understood by DC/Northern Virginia policy blob

Going from biz into government then to founding equity holder in biz minting money from gov & then back into a higher position in gov, is for them seen as normal, not corrupt pic.twitter.com/QW1zu6vLcm

— Chris Arnade ? (@Chris_arnade) November 23, 2020

Blobs really can't cheer, though. What do they do instead? Emit faint semi-liquid noises, as of shaken gelatin?

Sanders team on Blinken (1):

Solid choice. Leaders around the world will assume that when Blinken speaks, he speaks for Biden https://t.co/GLoIjS6TGi https://t.co/SMZxMrQuqS

— Faiz (@fshakir) November 23, 2020

Sanders team on Blinken (2):

This is a good choice. Tony has the strong confidence of the president-elect and the knowledge and experience for the important work of rebuilding US diplomacy.

It will also be a new and great thing to have a top diplomat who has regularly engaged with progressive grassroots. https://t.co/NglVbp9YCa

— Matt Duss (@mattduss) November 23, 2020

Makes Faiz and Duss realists, I suppose. After all, Biden's Secretary of State could have been Pete Buttigieg ("He speaks thirty-two languages!"). Or Hillary Clinton.

And then there's Jake Sullivan:

Biden's National Security Advisor, Jake Sullivan, was one of the key people in the group formed by CIA, Dems & neocons — including (of course) Bill Kristol, Mike Chertoff, Mike Morell, Mike Rogers, Podesta, etc. — urging more belligerence toward Moscowhttps://t.co/iKjKyJc0Xy

— Glenn Greenwald (@ggreenwald) November 23, 2020

"Biden's COVID Plan Is Better Than Trump's, But Still Far From Sufficient" [Truthout]. "Indeed, a particular brand of science underlies the plan, setting the needs of the donor class ahead of stopping the COVID outbreak in any rapid order. The plan, for one, calls for hiring 100,000 Americans as part of a Public Health Job Corps to aid in contact tracing. That certainly sounds like a lot, but isn't nearly enough by an order of magnitude…. The Fitzhugh Mullan Institute for Health Workforce Equity at George Washington University offers a county-level U.S. map of estimates of the number of contact-trace workers needed based on population size, tracer workforce and the present outbreak load. Even under heroic assumptions as to what contact tracers can accomplish daily, the projected personnel needed exceeds the Biden plan's capacity. For example, the metropolitan regions of Minneapolis and St. Paul alone would need 6,000 of those 100,000 tracers the Biden transition team proposes, hardly anywhere near what is necessary to control the outbreak, even combined with the measly efforts by the states so far. Of course, contact tracing depends on a lot more than infections and workforce. As ProPublica describes, counties with meatpacking-driven outbreaks are having great difficulty tracking cases among immigrants, many of whom speak other languages, don't have phones or don't want contact with state officials for reasons of immigration status under Trump's Immigration and Customs Enforcement. So why the numbers gap between infections and Biden's contact tracers? The political class here simply can't afford the possibility that U.S. governance in late empire, focused on corporations and the stock market first, suddenly would be centered on hiring the American people to help the American people. FDR bunting is being placed on an austerity parade float." • If Biden only jumps halfway across the abyss, it doesn't really matter that Trump jumped only one-quarter of the way.
2020
Biden (D)(1): "House of Cards" [Mother Jones (nippersmom)]. "But the most controversial item on the banks' agenda, and the one that would require the most legwork from Biden, was bankruptcy reform…. A 2008 study published in the American Bankruptcy Law Journal found that "credit card companies saved billions because of reduced loan loss rates," but that none of those savings benefited consumers. Because interest rates and late fees continued to tick upward, 'the cost to credit card customers increased 5% to 17%.' And even before the recession hit, Credit Suisse found that the bankruptcy law had 'a profound impact on subprime borrowers' and made it more likely that borrowers would fail on their bankruptcy payment plans. 'Before that law was passed you could file a chapter 7 bankruptcy for seven, eight, nine-hundred dollars, including attorney's fees and filing fees, and that's gone up to more like $2,000,' Sommer said. "It's made bankruptcy much more expensive, difficult, burdensome, and less effective.' The number of personal bankruptcy filings has fallen by half in 15 years." • This is a long and very detailed exposé of the state of Delaware, whiffy out of all proportion to its size, and Biden's role in servicing the credit card companies and banks located there. It's worth grabbing a cup of coffee and reading in full, becuase it shows the kind of politics that Biden would regard as successful. Even moral.

Biden (D)(2): "The Biden Campaign's Decision Not To Knock on Doors Was a Huge Mistake" [Jacobin]. "The Biden campaign drastically scaled back on door knockers, ceding ground to Republicans in crucial states. Throughout the summer and fall, Biden staffers and their allies argued the risk of contracting COVID-19 and spreading it to others outweighed whatever gains in-person canvassers could make on the ground." • But when Sanders had to be forced from the race, in-person voting was encouraged!

Trump (R)(1): "Trump ally Stephen Moore: President 'going to leave the office triumphant'" [The Hill]. "Stephen Moore, an economist and outside adviser to President Trump, said he thinks the president will leave office 'triumphant,' pointing to optimistic projections for the economy and noting the announcement that a COVID-19 vaccine could be just weeks away. 'I think [Trump] is going to leave the office triumphant. … By early next year, we will have a vaccine that nobody thought was possible,' Moore said during an interview with John Catsimatidis on his radio show on WABC 770 AM that aired Sunday." • Musical interlude….

* * *

"How Biden swung the religious vote" [Politico]. "Between 47 percent and 50 percent of Catholic voters supported Trump — a small decline from 2016, but enough to cost him the Rust Belt states that mattered most to his path to victory. Nationally, the president carried white Catholics by a 15-point margin, according to AP/VoteCast data, marking a significant decline from his 33-point margin of victory over Hillary Clinton four years ago. Trump's slippage with white evangelicals was less pronounced — surveys showed him carrying 76 percent to 78 percent of the white, born-again Christian vote — a slight decrease from 2016, when he won support from about 8 in 10 white evangelicals. But it had far-reaching implications for the president in states like Wisconsin, Pennsylvania and Georgia, where current vote totals show him losing by less than 1 percent."

FL: "How Hispanic Voters Swung Miami Right" [New York Times]. "[In Miami-Dade] 58 percent of the electorate is Hispanic and Mr. Trump made huge inroads from 2016 to 2020. Hundreds of thousands more people voted for him this year, and though he still lost the county to Joseph R. Biden Jr., he improved his margin over 2016 by 22 percentage points, a swing that helped him easily win Florida and sweep a slew of local Republicans into office. Much has been said about how Latinos in many parts of the country, while still favoring Mr. Biden in large numbers, voted more Republican than in 2016. But South Florida is a unique case study. No other place has quite the same mix of Republican-friendly Hispanics, led by conservative Cuban-Americans. And the Trump presidency has strengthened their hand, forcing Miami to reckon with hard and contradictory truths about immigration, racism and power." • It seems our strategy of encouraging Latin American oligarchs and regime hard men to immigrate here has had its desired effect, at least in Miami. Though not everywhere–

"Culture wars fuel Trump's blue-collar Latino gains" [Politico]. "Despite four years of being defined as a racist for his rhetoric and harsh immigration policies, Trump improved his margins in 78 of the nation's 100 majority-Hispanic counties. And he did better with Latinos in exit polls of each of the top 10 battleground states, a POLITICO review of election data found…. Trump improved his showing among Latinos by scaling back some of his immigration rhetoric and engaging in a sustained bilingual social media and TV ad campaign that courted Latinos based on place of origin, gender and religion. But, in interviews with more than a dozen experts on Hispanic voters in six states, no factor was as salient as Trump's blue-collar appeal for Latinos. 'Most Latinos identify first as working-class Americans, and Trump spoke to that,' said Josh Zaragoza, a top Democratic data specialist in Arizona, adding that Hispanic men in particular 'are very entrepreneurial. Their economic language is more aligned with the way Republicans speak: pulling yourself up by your bootstraps, owning your own business.'" • You'd think that liberal Democrats would dial back teh racism, but based on past performance, they'll double down. Handy map:

do they have diners down there we can interview people in? https://t.co/BE7Lp8HLif

— Steve Randy Waldman (@interfluidity) November 21, 2020
Obama Legacy
He's right (2):

There's a lot of work going into 10 page memos on why putting poor people into wood chippers is a bad idea, because some of the "Obama people" economists are obsessed with the idea after CBO scored it well.

— Matt Stoller (@matthewstoller) November 20, 2020
Stats Watch
At reader request, I added some business stats back in. Please give Econintersect click-throughs; they're a good, old-school blog that covers more than stats. If anybody knows of other aggregators, please contact me at the email address below.
* * *
Shipping: "Reefer capacity tapped out prior to vaccine release" [Freight Waves]. "The national reefer — industry slang for temperature-controlled trailers — rejection index (ROTRI) topped 48% for the first time since the index's creation this week, which could move even higher once the vaccine for COVID-19 begins being distributed in the coming months. This means that shippers that utilize temperature-controlled equipment should be prepared to continue paying premiums for this service for the foreseeable future… While the tight capacity may not be a direct concern for vaccine distribution efforts, it should be for shippers that move freight on temperature-controlled equipment. The vaccine will be largely moved on smaller equipment than the 53-foot trailers that the reefer rejection index measures, but that also means fewer alternatives for shippers who rely on that distribution channel. . This will also impact dry van capacity as shippers can utilize reefer backhaul lanes at a discount sometimes, meaning some of them will lose their providers if they already haven't." • Pelosi better stock up on ice cream.
Shipping: "Opinion: Australia's New Crew Change Policy is Neat, Plausible… And Wrong" [gCaptain]. • See NC on crew change policy here. Normally, I'm not a fan of arguments against "the heavy hand of regulation" and so forth. But in this case, it does seem that Australia's getting it wrong. "However, that does not change the fact that within the last month, there have been three consecutive sets of legal rules governing crew changes in Western Australia. How, therefore, can it sensibly be said that shipping companies can "adjust" and "develop new plans for seafarer repatriation" under such impossible circumstances and such fast-changing rules?"
Commodities: "'Very stressful': COVID-19 surge slices U.S. demand for big Thanksgiving turkeys" [Reuters]. "[A]s surging COVID-19 cases prompted U.S. cities and states to urge Americans to stay home just weeks before the holiday, customers swapped out orders for whole birds for smaller turkey breasts. As a last-minute shift toward small-scale celebrations upends demand for the star of Thanksgiving tables, turkey producers and retailers are scrambling to fill orders for lightweight birds and partial cuts…. Suppliers need to be nimble as about half of Americans plan to alter or skip traditional festivities due to local health advisories against big gatherings, according to market research firm Nielson. About 70% are planning a Thanksgiving with fewer than six people, compared with 48% last year."
Commodities: "World's top surgical glove maker shuts factories due to coronavirus" [Agence France Presse]. "A Malaysian company that is the world's biggest manufacturer of surgical gloves will close over half of its factories [28] after a surge in coronavirus cases among workers, authorities said Monday…. here has been a cluster of virus outbreaks among Top Glove employees — many of whom are low-paid migrant workers — at factories in an industrial area near the capital, Kuala Lumpur. More than 1,000 cases were recorded Monday, prompting the government to order the plants to close." • 28 factories!
Debt: "America's Zombie Companies Have Racked Up $1.4 Trillion of Debt" [Bloomberg]. "From Boeing Co., Carnival Corp. and Delta Air Lines Inc. to Exxon Mobil Corp. and Macy's Inc., many of the nation's most iconic companies aren't earning enough to cover their interest expenses (a key criterion, as most market experts define it, for zombie status). Almost 200 corporations have joined the ranks of so-called zombie firms since the onset of the pandemic, according to a Bloomberg analysis of financial data from 3,000 of the country's largest publicly-traded companies. In fact, zombies now account for nearly 20% of those firms. Even more stark, they've added almost $1 trillion of debt to their balance sheets in the span, bringing total obligations to $1.36 trillion. That's more than double the roughly $500 billion zombie companies owed at the peak of the financial crisis."
Manufacturing: "GM to recall 7M vehicles globally to replace Takata air bags" [Associated Press]. "General Motors will recall about 7 million big pickup trucks and SUVs worldwide to replace potentially dangerous Takata air bag inflators… Exploding Takata inflators caused the largest series of auto recalls in U.S. history, with at least 63 million inflators recalled. The U.S. government says that as of September, more than 11.1 million had not been fixed. About 100 million inflators have been recalled worldwide. Takata used volatile ammonium nitrate to create a small explosion to fill air bags in a crash. But the chemical can deteriorate when exposed to heat and humidity, and they can explode with too much pressure, blowing apart a metal canister and spewing shrapnel. Twenty-seven people have been killed worldwide by the exploding inflators, including 18 in the U.S." • Cost: "An estimated $1.2 billion, about one third of its net income so far this year."
Capital: "Wealthy Europeans Join SPAC Club in Record Year for Listings" [Bloomberg]. "The allure of blank check companies is spreading beyond the U.S., with a host of European business tycoons now plotting deals. Listing a so-called special purpose acquisition company, or SPAC, has been the go-to method for wealthy Americans to raise money for takeovers this year. SPACs have raised more than $60 billion to pursue targets in 2020, a record, according to data compiled by Bloomberg. The U.S. accounts for almost all of that figure. Now, Europeans are joining the hunt." • Private equity just wasn't predatory enough, I guess.
* * *
.
Today's Fear & Greed Index: 72 Greed (previous close: 63 Greed) [CNN]. One week ago: 69 (Greed). (0 is Extreme Fear; 100 is Extreme Greed). Last updated Nov 23 at 12:28pm.
Rapture Index: Closes unchanged [Rapture Ready]. Record High, October 10, 2016: 189. Current: 182. (Remember that bringing on the rapture is a good thing, so high is better.) I would have expected "Beast Government" to be popping with Biden's election.
The Biosphere
"Organized crime in the fisheries sector threatens a sustainable ocean economy" [Nature]. "Here we present the current state of knowledge on organized crime in the fisheries sector. We show how the many facets of organized crime in this sector, including fraud, drug trafficking and forced labour, hinder progress towards the development of a sustainable ocean economy. With reference to worldwide promising practices, we highlight practical opportunities for action to address the problem. We emphasize the need for a shared understanding of the challenge and for the implementation of intelligence-led, skills-based cooperative law enforcement action at a global level and a community-based approach for targeting organized crime in the supply chain of organized criminal networks at a local level, facilitated by legislative frameworks and increased transparency."
Health Care
"Thanksgiving Harm-Reduction Steps for Those Who Will Travel or Gather Anyway" [Zeynep Tufecki, Insight]. "I love virologist Ian Mackay's conceptualization of the swiss cheese defense against the pandemic. The more layers, the better. Some layers are shared responsibilities, some are personal. The more we can all do, the better everyone—not just ourselves—will be protected." • Here is the Swiss Cheese: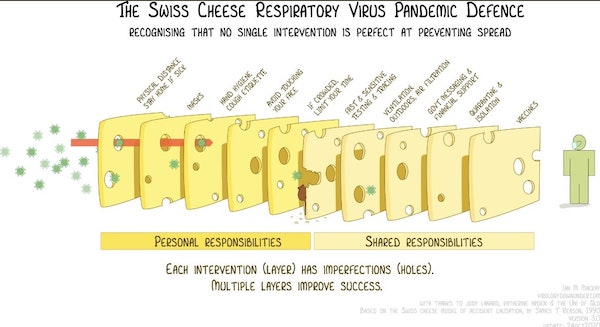 And some methods:
Even within a household, virus transmission is not inevitable. There are examples where people in the same household as a symptomatic person never get infected. Wear masks, especially indoors. Consider wearing them outdoors as well—especially if there is anyone high-risk in the group. Sit outside as much as possible. Hang out around a fire pit. Open windows as much as possible. Use a HEPA filter and run it at its highest setting. Continue to socially distance, especially indoors. Sanitize high-touch surfaces, especially if they are non-porous, like stainless steel fridge doors and door knobs.

There's increasing evidence that humidity helps lower transmission. Keeping the house at 40-60% relative humidity is great, not just for this coronavirus but other viruses as well. Also, too much humidity can encourage mold growth.This virus may also survive better at high-humidity, as its reaction appears to be U-shaped. Purchase a humidity reader (available for less than $10) and keep the house at mid-range humidity levels.

Finally, give the best masks to high-risk people: the elderly, those with pre-existing conditions, and the immuno-compromised.
Finally, some practical suggestions on ventilation as opposed to shaming and fingerwagging! (My only question would be whether it would be useful to add a fan to the mix, no matter the climate. I think moving air is best, for the dilution factor. Readers?)
"Why Oxford's positive COVID vaccine results are puzzling scientists" [Nature]. "But the [Oxford/AstraZeneca] analysis found a striking difference in efficacy, depending on the amount of vaccine delivered to a participant. A regimen consisting of two full doses given a month apart looked to be just 62% effective. But, surprisingly, participants who received a lower amount of the vaccine in a first dose and then the full amount in the second dose were 90% less likely to develop COVID, compared with participants in the placebo arm… A top priority for researchers is understanding why the vaccine seems to have performed so much better with a lower first dose. One explanation could lie in the data: the trial might not have been big enough to gauge the difference between the two regimens, and the differences will vanish once more cases of COVID-19 are detected…. Another potential explanation is the immune system's response against the chimpanzee virus. The vaccine triggers an immune response not only to the SARS-CoV-2 spike protein, but also to components of the viral vector. It's possible that the full first dose blunted this reaction, says Ewer. She plans to look at antibody responses against the chimpanzee virus to help address this question."
UPDATE "Session A01: Mini-Symposium: Fluid Mechanics of Infectious Diseases" [William D. Ristenpart, Bulletin of the American Physical Society]. Abstract for a conference paper: "Much attention has focused on the role of droplets generated by coughing and sneezing for transmitting infectious disease through the air. The relative importance of these expiratory activities to airborne transmission, however, has never been definitively established. Here, we discuss recent experimental evidence implicating two less-considered but potentially significant mechanisms for airborne disease transmission. (1) In people, we demonstrate that the number of micron-scale expiratory particles emitted during vocalization, such as speaking or singing, increases dramatically with loudness, and can greatly exceed those generated by coughing. Theoretical calculations suggest that vocalizing less often and more quietly yields substantial decreases in transmission probability. (2) In guinea pig experiments, we establish that influenza is transmitted via "aerosolized fomites," which are virus-contaminated dust particulates released from the fur and cage environment of the animals, not from their expiration. We further establish that aerosolized fomites can be emitted from sources widely used by people, such as paper tissues. Our results suggest that researchers should expand their focus beyond coughing and sneezing as the presumed mechanism for airborne disease transmission."
"Can dogs smell COVID? Here's what the science says" [Science]. "Groups need to boost their sample sizes before the wider scientific community can evaluate how useful the dogs might be, agrees James Logan, an infectious-disease researcher at the London School of Hygiene & Tropical Medicine who is training and studying COVID-19 dogs… 'It's important not to go out too early with grand claims and small data sets,' he says." • Well, at least sniffer dogs have made their way into the pages of Nature. And there are several studies underway.
The 420
Guillotine Watch
"George Clooney apparently gave his 14 closest friends a million dollars and people are speechless" [Independent]. "[Clooney told GQ] he wanted to share his wealth with his friends, saying: 'I thought, what I do have are these guys who've all, over a period of 35 years, helped me in one way or another. I've slept on their couches when I was broke.'" • I dunno. This would seem to throw those relations a little out of whack.
Class Warfare
"Blood, Breastmilk, and Dirt: Silvia Federici and Feminist Materialism in International Law" [The Hampton Institute]. "In this post, I argue that Federici's work offers a rich resource for redressing the conspicuous absence of a gendered perspective within academic scholarship on materialist approaches to international law. Materialist analyses of systematic inequalities within the international legal field are as relevant now as they ever were, yet the sidelining of gender and feminism within both traditional and new materialism has long been cause for concern. A gendered materialism in international law, which casts light on the logic of capitalist socialization and which affords the social reproductive sphere equal analytical status, allows us to access a clearer picture of the links between global and local exploitation at the intersections of gender, race, and nationality, and provides new conceptual tools to understand the emergence and function of international legal mechanisms as strategies of dominance, expansion, and accumulation." • I grant this is the sort of post you will like, if you like this sort of post, but it's a very lucid history of the tortured relations between Marxism and feminism. Also, Silvia Federici is great (see NC here).
One way to nuke meritocracy, or at least inherited meritocracy, which is what we have today with legacy adminssion and other class advantages:
College admissions should be done by lottery. Would make high school easier for kids facing parental pressure to get into elite schools. @interfluidity https://t.co/cqPQpNXr5U

— Carlos Mucha (@mucha_carlos) November 23, 2020
"The Revenge of the Yankees" [Michael Lind, Tablet]. "The New Deal revolution of the 1930s is badly misunderstood, both politically and culturally, when it is treated as a left-wing rebellion against right-wing capitalism. Fundamentally it represented the partial overthrow of Yankee Protestant hegemony in American society by a coalition of outsiders, chiefly provincial Southern and Western whites and European-American immigrants in the North, many of them Catholic…. To break this neocolonial pattern of Northeastern economic domination, New Deal Democrats used federal state capitalism to industrialize and modernize the Southern and Western periphery, by means of rural electrification cooperatives, the Tennessee Valley Authority and other hydropower projects, defense production plants assigned to the South and West during World War II, and the interstate highway system (a favorite project of FDR which was only enacted under Eisenhower). In short, Southern and Western politicians and their Northern white ethnic allies who dominated the federal government in the New Deal era deployed federal state capitalism to do an end run around unsympathetic Yankee capitalists, not to advance toward socialism or social democracy." • This is a fun read, and if you believe history is made by elites, you may even find it persuasive. And speaking of elites–
"Race Consciousness: Fascism and Frank Herbert's 'Dune'" [Los Angeles Review of Books]. "Dune was initially received as a countercultural parable warning against ecological devastation and autocratic rule, but geek fascists see the novel as a blueprint for the future…. In the fascist reading of the novel, space colonization has scattered the human species, but what Herbert calls a "race consciousness" moves them to unite under Paul, who sweeps away all opposition in a jihad that kills 60,000,000,000. For the alt-right, Paul stands as the ideal of a sovereign ruler who violently overthrows a decadent regime to bring together "Europid" peoples into a single imperium or ethnostate. Dune ranks as one of Richard Spencer's favorite novels; although Spencer styles himself as a prep these days, he got his start in geek culture…. Beyond a shared affinity for space-age aristocrats, Faye and Herbert see the sovereign as one who is capable of disciplined foresight. Drawing on the Austrian School economist Hans-Hermann Hoppe, many thinkers on the alt-right believe that only men from genetically superior populations are capable of delaying gratification and working toward long-term goals. " Fortunately for us all, that's a terrible reading of Herbert's novel: "Herbert's book is often deeply conservative, but by the fascists' own admission it presents a syncretic vision of the future in which cultures and populations have clearly intermingled over time. Paul's army of desert guerillas, the Fremen, clearly owe something to Arabic and Islamic cultures, and Paul's own genealogy defies the fascist demand for racial purity. The alt-right has tried to wrestle Islamophobic and Antisemitic messages from the book but they are stymied by its refusal to map existing ethnic categories onto the characters. Fascist commentators also overlook that their long-awaited sovereign Paul begins the series as a tragic character but ends it as a grotesque one. Herbert himself saw the series as a critique of authoritarianism demonstrating for his readers that 'superheroes are disastrous for humankind.'" •
News of the Wired
"The iPad is too powerful to not get the Linux treatment" [iPad Linux]. "Linux on the iPad isn't a reality yet, at least not like on a desktop platform. With hardware becoming more and more powerful every year, obsolete iPads (according to Apple) should be allowed to continue to serve a purpose. Obsolete iPads could be affordable personal computers and useful for project builds. We believe Linux is the key to bring new life to these devices." • They don't have a full iOS, but they do have the linux shell. I wonder if I could run Lynx on the iPad. That would be awesome! My very first mailer….
* * *
Readers, feel free to contact me at lambert [UNDERSCORE] strether [DOT] corrente [AT] yahoo [DOT] com, with (a) links, and even better (b) sources I should curate regularly, (c) how to send me a check if you are allergic to PayPal, and (d) to find out how to send me images of plants. Vegetables are fine! Fungi and coral are deemed to be honorary plants! If you want your handle to appear as a credit, please place it at the start of your mail in parentheses: (thus). Otherwise, I will anonymize by using your initials. See the previous Water Cooler (with plant) here. Today's plant (ChetG):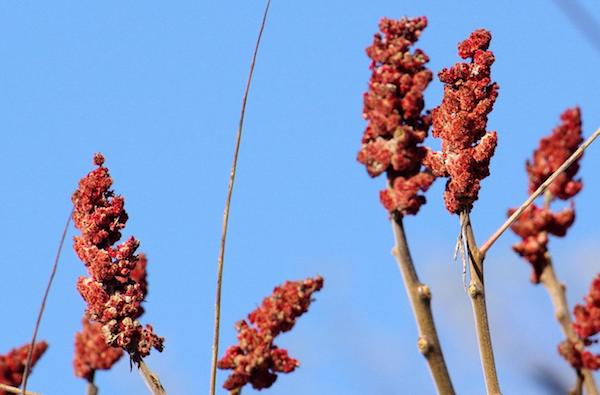 ChetG writes: "The sumac fruit could have been in a better depth-of-field position, I suppose, but I don't recall seeing any sumac in Water Cooler. It's not a favorite bird food, but as we drift into winter, chickadees, bluebirds, and others rely on sumac." I agree on the depth of field, but the colors! I have very happy memories of sumac after Labor Day in the Midwest…
* * *
Readers: Water Cooler is a standalone entity not covered by the recently concluded and — thank you! — successful annual NC fundraiser. So if you see a link you especially like, or an item you wouldn't see anywhere else, please do not hesitate to express your appreciation in tangible form. Remember, a tip jar is for tipping! Regular positive feedback both makes me feel good and lets me know I'm on the right track with coverage. When I get no donations for five or ten days I get worried. More tangibly, a constant trickle of donations helps me with expenses, and I factor in that trickle when setting fundraising goals:
Here is the screen that will appear, which I have helpfully annotated.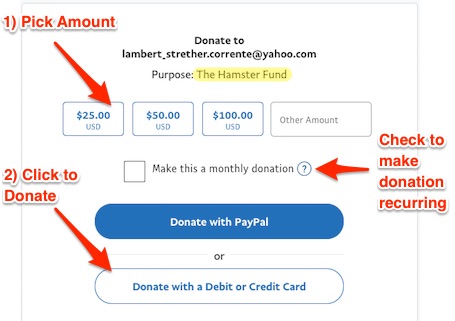 If you hate PayPal, you can email me at lambert [UNDERSCORE] strether [DOT] corrente [AT] yahoo [DOT] com, and I will give you directions on how to send a check. Thank you!