By Lambert Strether of Corrente.
Bird Song of the Day
For Turkey Day, my favorite holiday!
#COVID19
At reader request, I've added this daily chart from 91-DIVOC. The data is the Johns Hopkins CSSE data. Here is the site.
Case count by United States region: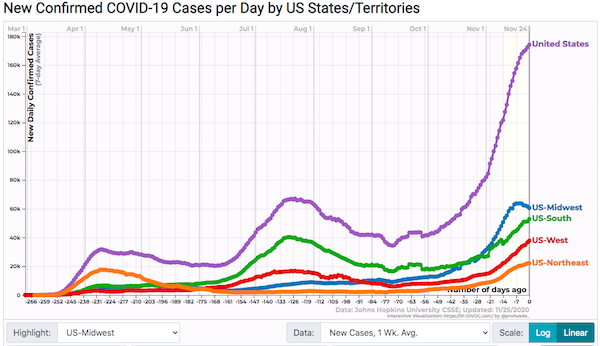 There's a drawing back from the vertical and an actual fall in the Midwest, perhaps somehow related to the upcoming Thanksgiving holiday.
The Midwest in detail: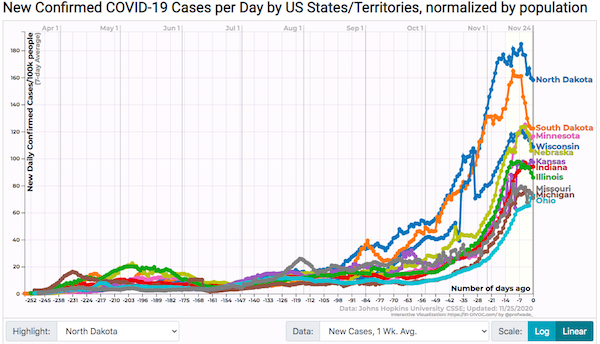 Perceptible drops in the Midwest, for whatever reason.
Test positivity by region: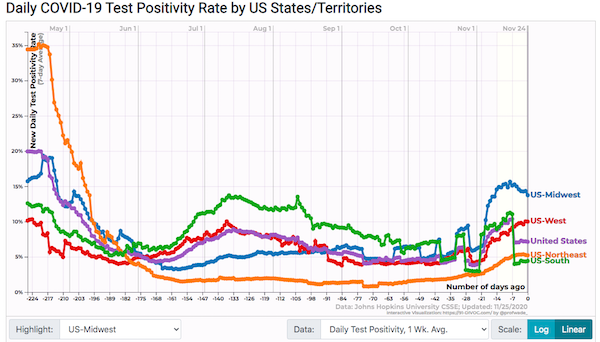 Hospitalization by region:
Hospitalization seems to have plateaued in the South, nearly. And we see the curve in the Midwest has turned down. I suppose we could use this chart as a rough and ready guide to capacity, on the theory that "what we have done, that we can do." (That assumes that hospital workers can handle it; maybe not.) On that theory, no region but the Midwest approaches its previous peak, and this is really the first time through for them.
Case fatality rate by region: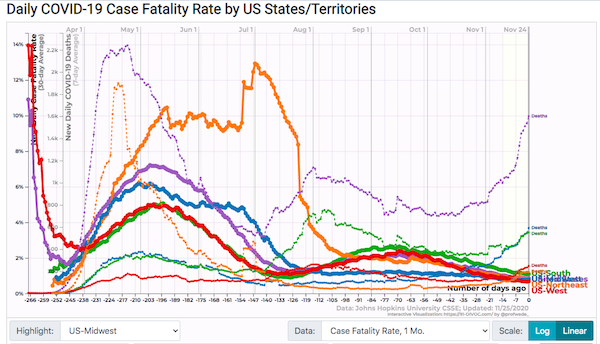 Deaths (purple dotted) heading toward vertical, as they will for awhile, although they should drop (or at least dip) where the case count does, with the two-week lag.
Politics
"But what is government itself, but the greatest of all reflections on human nature?" –James Madison, Federalist 51
"They had one weapon left and both knew it: treachery." –Frank Herbert, Dune
"They had learned nothing, and forgotten nothing." –Charles Maurice de Talleyrand-Périgord
Election Legitimacy
MI: "The Inside Story of Michigan's Fake Voter Fraud Scandal" [Politico]. Horrible stuff. And here's Hitler: "Having long been advised by his legal team that state legislators would be his ace in the hole—particularly in Republican-controlled states with close elections—the president called Chatfield and Shirkey the morning after the Wayne board meeting. He invited them to the White House for a briefing on the state of play in Michigan. Both Chatfield and Shirkey are talented and ambitious, self-grooming for future runs at higher office. Both could see the obvious problems of meeting with the president at such a precarious moment—and both could also see how spurning Trump could torpedo their careers in the GOP…. The president asked them about allegations of fraud, and the legislators told him about various probes they had authorized to look into reports of irregularities. But Trump, perhaps sensing the nervous reticence of his guests, did not make the ask they feared. As the meeting went on, it became apparent to some people in the room that more than anything, Trump had called his Michigan allies to Washington to get an honest assessment of what had happened there. He wanted to know if there was any pathway to victory. They told him there was not." • Makes you wonder if the same thing happened in Nevada–

NV: "Huge court win lets Trump present ballot evidence, could overturn Nevada result" [Washington Examiner]. "According to Trump officials, the judge set a Dec. 3 hearing date and is allowing 15 depositions. What's more, the campaign plans to present its evidence that could result in the rejection of tens of thousands of mail-in ballots in Democratic Clark County where Biden ballots outnumbered Trump ballots by 91,000 in unofficial results…. In its court filing from Nov. 17, the Trump team made several allegations of voter fraud, including votes by nonresidents and the dead. But . [Big if true.] Schlapp said he is eager to get a chance to finally show its evidence of fraud and for the campaign to present the thousands of examples of signature machine errors. Since many states require signature verification, that is where the campaign's fraud investigation is focused." • Speaking quite generally, because I haven't had the capacity to dig into particular cases: (1) Anybody who has followed Democrat primaries over the years know that Democrats have the capacity and the will to commit election fraud when needed. However, (2) the Trump campaign has had absolutely terrible lawyering; the Bush campaign in Florida, for example, had absolutely top-notch legal talen, and that's what it took. In consequence of poor lawyering — and, no doubt, lack of a prima facie case no matter the lawyering, in most instances — (3) no coherent narrative in any state has ever emerged; it's been like Benghazi, all yarn and no diagram. So all we have — as opposed to affidavits and discovery, which is what we need — is an atmosphere of suspicion (and of course the fund-raising and epistemic closure that goes along with that, similar to Russiagate). However, (4) the signature verfiication narrative above strikes me as plausble; it's very much in line with the culture of the Democratic nomenklatura: It's technocratic (verification machines), they butchered the technology ("plagued with problems"), and the goal was to bring in as many ballots as possible. So, we'll see. The nice thing about the signature allegation is that it can be disproved (or proved).

PA: "Williams prof disavows own finding of mishandled GOP ballots" [Berkshire Eagle]. "Miller told The Eagle that he made a mistake separating his analysis of the data from questions about the reliability of the data itself. 'Especially as the consequences are so important, I should have made a greater effort to go deeply into and share how the data was collected and not treat this solely as an independent calculation," he wrote in a statement Monday night. He said he was not claiming that voter fraud had occurred but maintained that 'the extrapolated numbers here are significant' and deserve more attention…. The data Miller used came from Braynard's 'Voter Integrity Fund,' a group led by former Trump campaign staffers and government employees, Miller confirmed to The Eagle. He said he was not paid for his work."

Because our political class collectively has the memory of a goldfish:

I knew it would be widely denied that prominent liberals floated an Electoral College coup in 2016, which is why I contemporaneously saved a bunch of examples pic.twitter.com/7gvape3ba2

— Michael Tracey (@mtracey) November 25, 2020
Transition to Biden
"'People are pissed': Tensions rise amid scramble for Biden jobs" [Politico]. "'The Obama staffers are now cutting out the people who got Biden elected,' said a senior Biden official channeling the feelings of the old guard of the Biden campaign, who requested anonymity for the obvious reason. 'None of these people found the courage to help the VP when he was running and now they are elevating their friends over the Biden people. It's f—– up.'" • The Obama Alumni Association? Surely not. It's a damn shame.

UPDATE "Climate Groups Prod Biden to Bolster Kerry by Declaring Crisis" [Bloomberg]. "Invoking a climate emergency could give Biden the authority to circumvent Congress and fund clean energy projects, shut down crude oil exports, suspend offshore drilling and curtail the movement of fossil fuels on pipelines, trains, and ships, according to a research note by consulting firm ClearView Energy Partners…. 'The president's powers to address climate change through an emergency are very, very large,' said Kassie Siegel, an attorney with the environmental group Center for Biological Diversity, which is lobbying Biden's team to act. 'This is No. 1 on the list of things the Biden administration should do.'"

Confidence builder:

Somehow I hadn't realized previously, until @tysonbrody pointed it out yesterday, that Janet Yellen is a director for the Committee For A Responsible Budget, which argues for long-term deficit reduction and is behind the Fix The Debt campaign. pic.twitter.com/oDNwLCHWwO

— Joe Weisenthal (@TheStalwart) November 21, 2020

Liberalgasm Jouissance (1): "…And Universal Darkness buries All":

Source: "Thomas Friedman, The Empire's Useful Idiot," John Dolan, 2000 https://t.co/NwGTgTK5BI pic.twitter.com/Ivn5XiaJah

— Graham Clark (@GrahamClarkMA) November 24, 2020

(Re: some Jake or other's remarks on a "boring" Biden administration, presumed to be forthcoming….)

Liberalgasm Jouissance (2):

VIDEO – Yamiche Alcindor: Biden's New Cabinet Is Like 'The Avengers,' 'Superheroes' Who Will 'Save Us All' https://t.co/LzElKlS582

— Grabien (@GrabienMedia) November 24, 2020

Liberalgasm Jouissance (3):

"While this team has unmatched experience and accomplishments, they also reflect the idea that we cannot meet these challenges with old thinking and unchanged habits," President-elect Joe Biden said. https://t.co/kRsWIfYnJ9

— The New York Times (@nytimes) November 25, 2020

No wonder the gullible think these national security goons are "superheroes." when they get staging like that:

Granted, the costumes are different…
Transition from Trump
Boring once more:

With Trump the entire US foreign policy was weird and unpredictable, but one thing was predictable; he did not like wars.
With Biden and his team, policy is predictable and so is war as a principal tool of policy.

— Branko Milanovic (@BrankoMilan) November 25, 2020
2020
UPDATE "It Wasn't Ideology That Sank House Democrats. It Was Bad Strategy." [Politico]. This is brutal, worth reading in full. "Guidance from Washington broadly understood by campaigns as a ban on in-person canvassing was the most damaging decision of all—an error that compounded all the others. It seemed to make sense on its face. But it was also—like the defiant lack of mask-wearing at Trump rallies is for Republicans—a form of Democratic brand messaging: They walk in the low-down footsteps of Typhoid Mary, we take the high road with Tony Fauci. Applied to campaigns all across the country, it backfired terribly. Instead of finding ways to safely campaign in swing districts and talk to voters, wearing masks and social distancing, in the weeks before the election—as did Joe Biden's presidential campaign—Democratic campaigns had to rely on secondhand insights, filtered through the misperceptions of pollsters and politicos in far-off Washington, D.C. They had no option but to rely on polling data, which a more robust ground operation would have exposed as inaccurate: Nothing better gauges voter sentiment than meeting voters in person. And so they had to connect with voters through the largely impersonal means of TV ads, email blitzes and massive spends on social media."

UPDATE "Why Stacey Abrams Is Confident Georgia Will Stay Blue" [New York Times]. Abrams: "This coalition existed in 2018 in my election. This is a coalition that we've been building together for the last decade through groups like Asian-American advocacy funds, Black Lives Matter, Coalition for People's Agenda, Mijente, Southerners on New Ground. So this is a group that didn't just come together out of convenience. We've been working together in coalition, and that's why I think we can sustain it." • Abrams is better than the Democrats and the media make her sound. They generally deploy the leadership trope, and attribute success to Abrams personally. Abrams is careful to spread the glory around; note the namechecks. (The West Wing Thing has a good discussion here.) Now, how much Abrams drove the "group" is open to question; for example, I have never tracked down the source for the 800,000 figure for voters Abrams supposedly induced to register. Another example: I doubt very much that Abrams, were she in any sort of executive capacity, would have approved this:

While we're giving out some praise, can we all thank Georgia's, particularly Atlanta's finest strippers for this game changing/election-winning voting initiative ? pic.twitter.com/yXqBp8snE0

— Martin Godfrey (@Martin__Godfrey) November 7, 2020

Pretty hard to explain that one to the brunch-goers.

PA: "Meet Pennsylvania's anger translator, and Donald Trump's worst nightmare" [Independent]. "Fetterman began his political career in the eastern suburbs of Pittsburgh. He won his first election by one vote to become the mayor of Braddock, a gritty former steel town, and won two more times after that. In Braddock, Fetterman championed a community-led approach to tackling crime and poverty, both of which blighted the town. He took the job seriously — very seriously. On his right arm he has tattooed the dates of murders that took place in Braddock while he was mayor. He currently has nine dates and is due to add one more. On his left arm he has the town's zip code. He made an unsuccessful run for the US senate in 2016, before eventually winning election as lieutenant governor in 2018. During that campaign, he was endorsed by Bernie Sanders, who called Fetterman the "candidate of the working people". After he won, he refused to take up the residence his position afforded him, and chose to live in a converted car dealership." • I would keep an eye on Fetterman:

Getting a Jesse Ventura vibe, here. I'd like to see him debate, say, Josh Hawley.
Obama Legacy
UPDATE Liberalgasm Jouissance (4):

"I just want to take a moment to drink you in for just a moment because I'm having to get used to looking at a President again" – @StephenAtHome lovefest with Barack Obama on Tuesday's @ColbertLateShow #LSSC pic.twitter.com/pSYYjRX3uH

— Brent Baker (@BrentHBaker) November 25, 2020

Guys. Get a room.
Realignment and Legitimacy
"The Double Agent" [Commonweal]. "It's not clear whether McCarrick acted on the FBI's proposal, but what the rest of the report makes clear is that the FBI, the KGB, and the Vatican all recognized something in McCarrick that made him a natural for either spycraft or the clerical culture of the Catholic hierarchy. Those two worlds could be remarkably similar. Indeed, the report often reads like a George Smiley Soviet-era spy novel (a comparison Villanova theologian Massimo Faggioli often makes). There is a sprawling cast of characters engaged in plots and sub-plots, developing networks of informants, sending secret missives, and delivering envelopes of cash. Gossip is a double-edged sword that can cut your opponents but also be turned against you. There are wheels within wheels, betrayals and secret alliances, and running through it all is McCarrick's remarkable talent for survival." • And we wonder why we in the United States so often have trust issues…

"The Silenced Majority" [Harpers]. "Instead of seeking lessons from twentieth-century Germany, we should look back to the seventeenth and eighteenth centuries of the Anglo-American complex. That will remind us that most of the phenomena we label fascist—nationalist fictions of ethnic supremacy, mass disenfranchisement, censorship—are fully compatible with free-market capitalism. In the seventeenth century, England was an emerging superpower. Supremacy would come from its invention of a world principle of property. This principle was developed following contact with the Americas, where it became possible to conjure vast new English properties 'out of nothing'—in a way that was impracticable, for instance, in the militarized, mercantile societies of India. Such properties were created by a legal definition of ownership designed so that it could be applied only to the invaders. 'As much land as a man tills, plants, improves, cultivates, and can use the product of,' John Locke wrote in 1689, 'so much is his property.' When combined with other new legal categories such as 'the savage' and 'the state of nature,' this principle of property engendered societies such as Carolina, where Locke's patron, the first earl of Shaftesbury, was a lord proprietor…. Obviously, such a system could take no account of the general opinion, and the right to vote and hold political office was restricted to men with property. All women and 90 percent of men were therefore excluded. Democratic conspiracy, meanwhile—which always had two interdependent causes: the expansion of suffrage, and the organization of workers—could be punished with exile to the penal colonies." • This sounds like a very fruitful approach to me. Well worth a read.
Stats Watch
At reader request, I added some business stats back in. Please give Econintersect click-throughs; they're a good, old-school blog that covers more than stats. If anybody knows of other aggregators, please contact me at the email address below.
Employment Situation: "21 November 2020 Initial Unemployment Claims Rolling Average Worsens" [Econintersect]. "Market expectations for weekly initial unemployment claims (from Econoday) were 700 K to 780 K (consensus 730 K), and the Department of Labor reported 778,000 new claims. The more important (because of the volatility in the weekly reported claims and seasonality errors in adjusting the data) 4 week moving average moved from 743,500 (reported last week as 742,000) to 748,500."
Durable Goods: "Headline Durable Goods New Orders Improved Again In October 2020" [Econintersect]. "The headlines say the durable goods new orders improved for the sixth consecutive month. Our analysis shows the rolling averages improved. The data this month was within expectations – and, the previous month was revised up. In the adjusted data, the improvement was driven by aircraft and motor vehicles."
Consumer Sentiment: "Final November 2020 Michigan Consumer Sentiment Significantly Declines Due To Republican Consumers" [Econintersect]. "Surveys of Consumers chief economist, Richard Curtin, makes the following comments: 'Consumer sentiment was unchanged in late November–a difference of just 0.1 points from mid-month–although there was a significant decline in the Expectations component which was offset by more favorable assessments of current economic conditions. Importantly, the November data were less optimistic than last month due to the resurgence in covid infections and deaths as well as partisan shifts due to the outcome of the presidential election. For the first time since Trump entered office, Democrats rather than Republicans held a more optimistic economic outlook (see the chart). The steep rise in covid infections had a greater impact on Democrats as 59% of Democrats reported that the coronavirus had changed their lives to a great extent compared with just 36% among Republicans. In the months ahead, if infections and deaths rise as anticipated, further declines in optimism are likely. The anticipated declines, however, will be tempered by the approval of several vaccines by the end of the year.'"
Personal Income and Expenditures: "October 2020 Real Expenditures Improved" [Econintersect]. "The data continues to be affected by the pandemic. Expenditures improved year-over-year (but is in contraction year-over-year) whilst income also improved year-over-year (but is in expansion)…. The real issue with personal income and expenditures is that it jumps around because of backward revisions – and one cannot take any single month as fixed or gospel. This should be considered a worse report than last month."
Housing: "October 2020 Headline New Home Sales Slow But Sales Are Stronger Than Any Year Since 2006" [Econintersect]. "The headlines say new home sales slowed month-over-month. Still, overall sales-to-date in 2020 is now better than any other year since 2006 – and this index has not been affected by the coronavirus. This month the backward revisions were upward. Because of weather and other factors, the rolling averages are the way to view this series. The rolling averages significantly improved. Even with the slowing this month, sales again remained strong this month demonstrating the resilience of the new home market. Growth in 2020 to-date still exceeds every year since 2006." • I don't understand how this can be…
GDP: "Second Estimate 3Q2020 GDP Growth Unchanged But Remains Deep In Contraction Year-over-Year" [Econintersect]. "The second estimate of third-quarter 2020 Real Gross Domestic Product (GDP) was unchanged from the advance estimate's positive 31.1%…. The coronavirus recovery is the reason for the improvement from the previous quarter – and pushed GDP quarter-over-quarter growth to record levels. I am not a fan of quarter-over-quarter exaggerated method of measuring GDP – but the recovery from the pandemic is not over as the year-over-year GDP growth remains in contraction."
* * *
Retail: "Twice abandoned for dead, RadioShack may have a new lease on life" [MarketWatch]. "The plan, in short, is to build a vast online marketplace on top of the RadioShack brand. Trust in that name will get consumers to the site, where the quality and variety of merchandise will dictate whether or not shoppers click the "Buy" button, they say." • I know its just a firm, but I loved RadioShack in all its incarnations. I don't know how a website duplicates the feeling of going into that crowded space of gear, and knowing that what you want is somewhere, in some drawer. A brand is more than a logo, and a retail experience is more than bits on a screen. I guess we'll find out!
Tech: "Amazon Web Services suffers amid widespread issues with online applications" [MarketWatch]. "Multiple attempts to contact Amazon for comment have yet to be returned." • I'll bet. It' not fair to call AWS a single point of failure, since there are competitive clouds, but it's certainly one of not-very-many points of failure.
Manufacturing: "Europe sets in motion January end to Boeing 737 MAX safety ban" [Reuters]. "The European Union Aviation Safety Agency (EASA) set out conditions for putting the grounded jets back into service, including new training and updating MCAS software implicated in the crashes that killed a total of 346 people in 2018 and 2019. … How long it takes for flights to resume in Europe depends on pilot training and the amount of time airlines need to upgrade MCAS software and carry out other actions mandated by EASA. U.S. flights are due to resume on Dec. 29, some six weeks after Boeing's main regulator, the U.S. Federal Aviation Administration, lifted its own ban on Nov. 18."
Mr. Market: "Dow set to pull back slightly from 30,000 ahead of Thanksgiving holiday" [MarketWatch]. "U.S. stocks pointed to a mixed open on Wednesday, with the Dow Jones Industrial Average likely to retreat somewhat from its historic close above a milestone at 30,000 on the day before the Thanksgiving holiday. Markets will be closed on Thursday for Thanksgiving and will shutter early on Friday. Due to the holiday, investors will digest a full slate of U.S. economic reports Wednesday, including weekly jobless benefit claims, a report on new-home sales, and an account of the Federal Reserve's most recent rate-setting meeting." • So homeless encampments are a bullish sign. Good to know…
* * *
.
Today's Fear & Greed Index: 91 Extreme Greed (previous close: 88 Extreme Greed) [CNN]. One week ago: 63 (Greed). (0 is Extreme Fear; 100 is Extreme Greed). Last updated Nov 25 at 12:37pm.
The Biosphere
"Medicinal Plant May Have Evolved Camouflage to Evade Humans" [Smithsonian]. "A highly sought after plant used in traditional Chinese medicine has evolved camouflage to make itself harder for humans to spot and collect… The plant, Fritillaria delavayi, grows on the rocky alpine slopes of China's Hengduan Mountains, and for more than 2,000 years its dried bulbs have been used to treat heart and lung ailments. Historically, the plant was not hard to find—a bright sprig of green amid a sea of gray scree—but demand for the powder made from its bulbs has made it rarer and more expensive…. But just as many animals have evolved camouflage to better evade predators, human harvesting behaviors have spurred many Fritillaria plants to shift from loud greens to the muted grays and browns of the rocks they grow between… The researchers also found that this effect is especially pronounced in areas where the plants are most heavily pursued by people looking to pluck them." • Evolution in historical time!
"Indigenous Peoples' Victory: Largest Dam Removal in the World" [Popular Resistance]. "After nearly two decades, Indigenous Peoples win an agreement for the largest dam removal in the world. Four of the six dams on the Klamath River in California and Oregon will be taken down, allowing the water to flow freely again and the salmon to spawn. This is a powerful story of how four tribes put aside their past conflicts to work together and environmental groups participated in an indigenous-led campaign that took on two of the wealthiest men in the world, Bill Gates and Warren Buffett. And this is an example of why, if we want to succeed in restoring our relationship with the earth, Indigenous Peoples must be at the forefront."
Health Care
The other day I speculated that a fan would be useful at Thanksgiving to keep the air moving, diluting the virus (if present). Someone agrees:
2/ Short PSA: your plans for T-giving are set. My recommendation: add 10% more caution than you were planning. Open the windows, keep a fan going, sit 7 feet apart, not 6. Something. It might make a difference. And then enjoy, without guilt.

— Bob Wachter (@Bob_Wachter) November 25, 2020
"Oxford/AZ Vaccine Efficacy Data" [Derek Lowe, "In The Pipeline," Science]. "Overall, I would have to think that Oxford and AZ are disappointed with the results from the two-full-dose regime and will be actively trying to track down the reason for the better performance in the the half/full dosing, which one would expect to be the way the vaccine is eventually used. How many of the other trials that are being run are using that protocol, one wonders? This could still be an effective weapon in the pandemic, but the stories are starting to differentiate. Pfizer (very effective, tough distribution and storage), Moderna (very effective, easier distribution/storage than Pfizer, but perhaps stronger safety reactions), and now Oxford/AZ (widely varying efficacy depending on dosing, easier distribution/storage, safety details TBD). The next vaccine effort to report efficacy will be J&J, another adenovirus vector, and this time with a one-shot dose. The landscape is starting to fill in a bit!" • Lowe is always worth a read; this post also includes a clear explanation of the mRNA "platforms." And speaking of Oxford/AZ–
"The AstraZeneca Covid Vaccine Data Isn't Up to Snuff" [Hilda Bastian, Wired]. This is quite the takedown: "The problems start with the fact that Monday's announcement did not present results from a single, large-scale, Phase 3 clinical trial, as was the case for earlier bulletins about the BNT-Pfizer and Moderna vaccines. Instead, Oxford-AstraZeneca's data came out of two separate studies: one in the UK that began in May, and another in Brazil, which got started at the end of June. These two studies were substantially different from one another: They didn't have standardized dosing schemes across the trials, for one thing, nor did they provide the same "control" injections to volunteers who were not getting the experimental Covid vaccine. The fact that they may have had to combine data from two trials in order to get a strong enough result raises the first red flag…. Consider that leading vaccine makers—including AstraZeneca—issued a scientific-rigor-and-integrity pledge back in September, in which they promised to submit their products for approval or emergency use authorization only "after demonstrating safety and efficacy through a Phase 3 clinical study that is designed and conducted to meet requirements of expert regulatory authorities such as FDA." Note the wording here: These companies did not suggest that they might claim to have demonstrated efficacy through multiple, distinct clinical studies, combined together to get enough data. They said they would use a Phase 3 study—as in, one big one." • Yikes. There's more, much more.
"Health care is going digital and that could make it 'almost free,' says tech investor Tim Draper" [CNBC]. "Draper said artificial intelligence and data will help to create a 'really good AI doctor' and design drugs that are unique to the person who is taking it. He pointed to CloudMedx, a health tech company that Draper Associates invested in, which uses medical data to 'do a better job of diagnosing your disease than the average doctor.' The firm announced last year that its clinical AI assistant outperformed human doctors on a modified version of the United States Medical Licensing Exam in 2019." • Classic. VC optimizes AI for a written examination and thinks that's the same as a medical examination.
Our Famously Free Press
"Meet the Censored: Andre Damon" (interview) [Matt Taibbi, TK]. Damon: "In August 2017, the WSWS sent Google executives an open letter demanding 'that the anti-democratic changes to the Google search result rankings and its search algorithm since April be reversed.' In January 2018, we called for the formation of an "international coalition to fight Internet censorship.' In response to our letters, Google flatly denied it was carrying out political censorship. But this makes its admission this month that it is censoring the WSWS so significant. When Senator Mike Lee asked Google CEO Sundar Pichai, 'Can you name for me one high profile person or entity from a liberal ideology who you have censored,' Pichai replied that 'We have had compliance issues with the World Socialist Review [sic], which is a left-leaning publication.' This was a confirmation of every claim made by the WSWS in its campaign against internet censorship." Oh, and naturally: "The actions by Google were the outcome of a campaign, largely bipartisan but led by the Democrats and their affiliated news outlets, to claim that domestic social opposition was the product of interference by foreign countries, particularly Russia." • The Democrats were viciously McCarthyite when they didn't control the Presidency, so it will be interesting to see what Biden does…
"Penguin Random House Staff Confront Publisher About New Jordan Peterson Book" [Vice]. "During a tense town hall, staff cried and expressed dismay with the publishing giant's decision to publish 'Beyond Order: 12 More Rules for Life.'" • Dear Lord. If the staff wants to control what's published, then they should form their own publishing house, ideally a co-op. Meanwhile, I'm sure none of them ever edited a book they found distasteful, say one by a war criminal (Hillary Clinton's Hard Choices, or Obama's Promised Land). Weeping staff!
The 420
"In Heavyweight Move for Cannabis, Weedmaps Sponsors Mike Tyson's Return to the Ring" [AdWeek]. "In one of its most significant marketing moves to date, Weedmaps is sponsoring former heavyweight champ Mike Tyson's return to the ring on Saturday, breaking ground for the cannabis industry in the high-stakes world of pro-level sports…. For Weedmaps, the partnership means more than putting its logo on the mat. The brand has created an original piece of content, narrated by Nas and celebrating cannabis pioneers, that will air during the event." • I would have thought most cannabis pioneers are anonymous and still in jail. Perhaps not.
Games
"Head Of Xbox Calls Out Toxic, Console War 'Tribalism'" [Kotaku]. "Xbox boss Phil Spencer said in a new interview that if there was anything that could make him quit the video game industry altogether, it would be the ongoing toxic fandom around consoles…." • Is this new or different? "Mac vs. PC" was quite a thing, back in the day…
Class Warfare
"DoorDash to pay $2.5 million for allegedly misusing worker tips" [CBS]. "DoorDash will pay $2.5 million to resolve allegations that it misled consumers in the District of Columbia and misused tips intended for workers. A lawsuit filed against DoorDash by Karl Racine, attorney general for the District, last year alleged that between 2017 and 2019 the company let consumers believe their tips were for workers, when in fact DoorDash was using part of that compensation to fund their operations. DoorDash will pay $1.5 million in relief to delivery workers, $750,000 to the District of Columbia and $250,000 to two local charities. The company also will be required to maintain a system that ensures tips go to workers without lowering their base pay, Racine's office said in a news release."
"University of the Arts faculty in Philadelphia have voted to unionize" [Inquirer]. "Faculty members at the University of the Arts, who are mostly adjuncts without access to health-care benefits or job security, have voted to unionize with United Academics of Philadelphia (UAP). The vote was 255-2. About 350 instructors were eligible to vote in the election, conducted by mail and administered by the National Labor Relations Board, UAP said. The size of the bargaining unit is still to be determined between the union and the school."
"The Winner of The Federalist's NLRB Saga? Public Rights." [Labor Law Lite]. "Late Monday night, the National Labor Relations Board released a one-page decision holding that publisher Ben Domenech of The Federalist, a far-right web magazine, unlawfully interfered with his employees' rights under the National Labor Relations Act by tweeting, in response to reported strike activity by employees of another online publication, "first one of you tries to unionize I swear I'll send you back to the salt mine". Two Trump appointees contributed to the unanimous ruling." • Good!
"NewsGuild Staff Shakeup as Questions Linger about Violent Intimidation, Racism & Sexual Misconduct" [Payday Report]. "On Thursday, Payday Report confirmed that NewsGuild President Jon Schleuss dismissed the long-time NewsGuild staff director, Tim Schick, from his role as the administrative director of the NewsGuild… Schleuss's refusal to speak publicly is part of a troubling pattern, one where he refuses to speak about everything from the cover-up of sexual misconduct within his union to the refusal of his union to join their rival union in calling for the expulsion of police unions from the AFL-CIO… Schleuss even kept silent after NewsGuild officer, Zach Tanner, elbowed and punched me in my ribs on tape while I tried to ask him about a sexual misconduct cover-up in our union at a NewsGuild rally at the Pittsburgh Post-Gazette earlier this year on September 25. While Schleuss knew that he was being recorded on camera, he watched as Tanner repeatedly punched and hit me. He did nothing to stop the attack. Later, Tanner and a group of three other men including one wearing a CWA union shirt surrounded me, shoved me into one another, and threatened to beat me up on tape if I attempted to approach Schleuss again to ask him more questions about sexual misconduct. Schleuss simply watched the assault and physical threats as I attempted to do my job as a reporter." • "Questions linger…."
News of the Wired
The power of the Almighty Signifier:
矢印の方向に動いて見えますね~?
人間の脳は単純なので矢印で惑わされてしまうのでーす pic.twitter.com/lUPySup2du

— じゃがりきん (@jagarikin) November 25, 2020
Very on-brand for 2020 so far:
World's deepest pool. Would you attempt? pic.twitter.com/fQGFd6U6AA

— Kgoshi Ya Lebowa (@Marcellomj) November 24, 2020
(The diver does make it back up!)
* * *
Readers, feel free to contact me at lambert [UNDERSCORE] strether [DOT] corrente [AT] yahoo [DOT] com, with (a) links, and even better (b) sources I should curate regularly, (c) how to send me a check if you are allergic to PayPal, and (d) to find out how to send me images of plants. Vegetables are fine! Fungi and coral are deemed to be honorary plants! If you want your handle to appear as a credit, please place it at the start of your mail in parentheses: (thus). Otherwise, I will anonymize by using your initials. See the previous Water Cooler (with plant) here. Today's plant (ChiGal):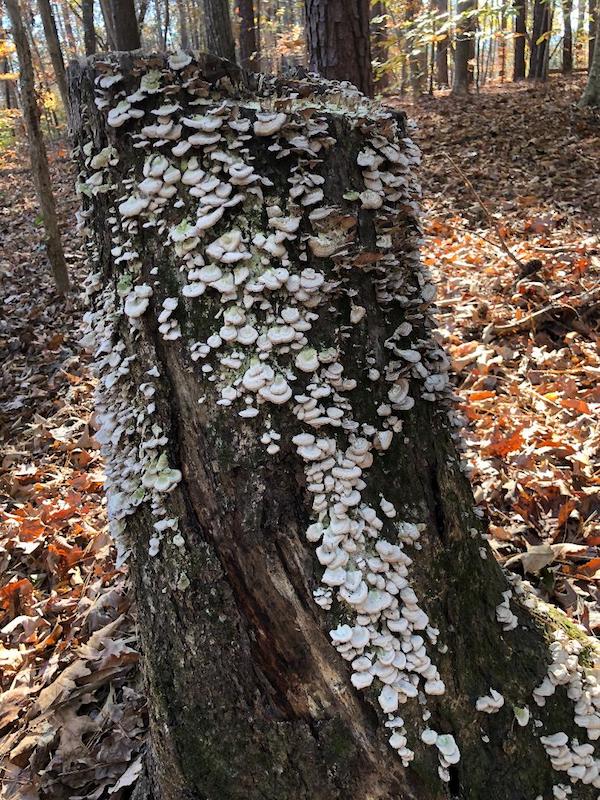 ChiGal writes: "On a recent walk I saw this rather stumpy sylvan spirit with a lovely white lacy cloak drawn about her: a beauty again as in youth. Would that we could all achieve this!" As a sort-of animist, I am quite taken with the idea of spirits that live in trees.
* * *
Readers: Water Cooler is a standalone entity not covered by the recently concluded and — thank you! — successful annual NC fundraiser. So if you see a link you especially like, or an item you wouldn't see anywhere else, please do not hesitate to express your appreciation in tangible form. Remember, a tip jar is for tipping! Regular positive feedback both makes me feel good and lets me know I'm on the right track with coverage. When I get no donations for five or ten days I get worried. More tangibly, a constant trickle of donations helps me with expenses, and I factor in that trickle when setting fundraising goals:
Here is the screen that will appear, which I have helpfully annotated.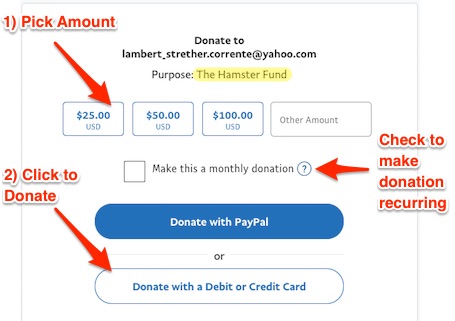 If you hate PayPal, you can email me at lambert [UNDERSCORE] strether [DOT] corrente [AT] yahoo [DOT] com, and I will give you directions on how to send a check. Thank you!