By Lambert Strether of Corrente.
Bird Song of the Day
#COVID19
At reader request, I've added this daily chart from 91-DIVOC. The data is the Johns Hopkins CSSE data. Here is the site.
Case count by United States region: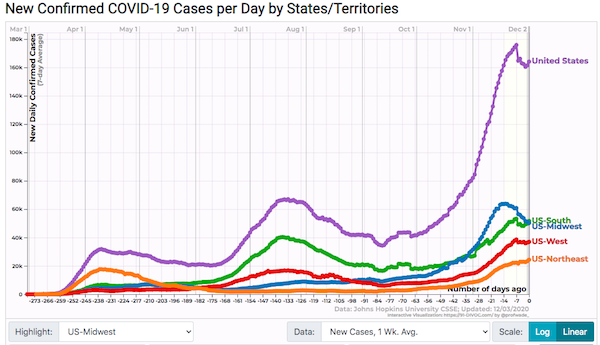 Returning to the upward trend.
I thought I'd look at some big states (New York, Florida, Texas, California) instead of the Midwest: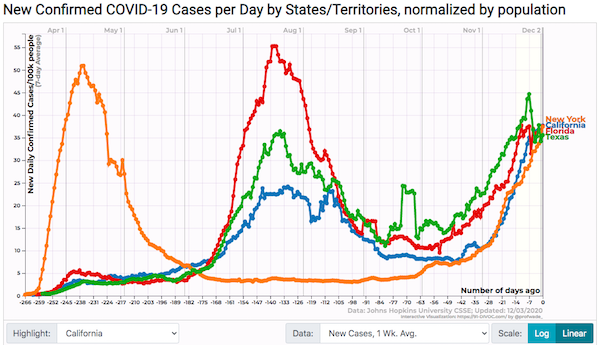 I feel I'm engaging in a macabre form of tape-watching, but it's interesting that the big states all moving more-or-less in tandem now; perhaps spread was nationalized with colleges and universities opening and closing? The correlation seems to happen around 63 days ago (October 1).
Test positivity by region: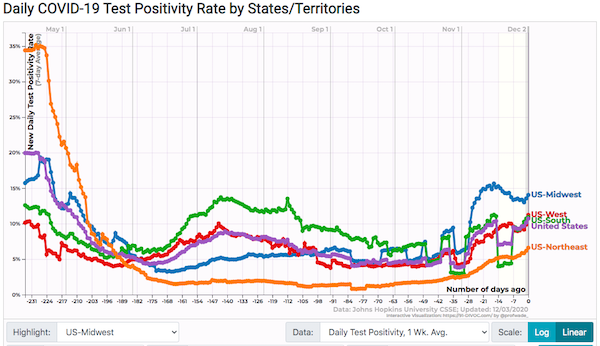 The post-Thanksgiving data has now resumed its upward trend at the same slope as before.
Hospitalization by region: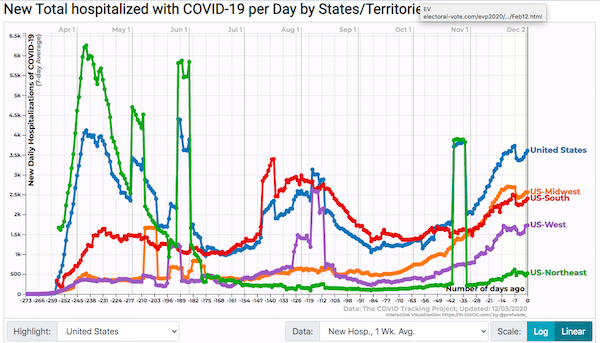 The post-Thanksgiving data has now resumed its upward trend at the same slope as before. (We should also take into account that hospitalization is also discretionary; they may also be reducing their admissions rate — relative to cases we cannot see in this data! — to preserve future capacity.)
Case fatality rate by region: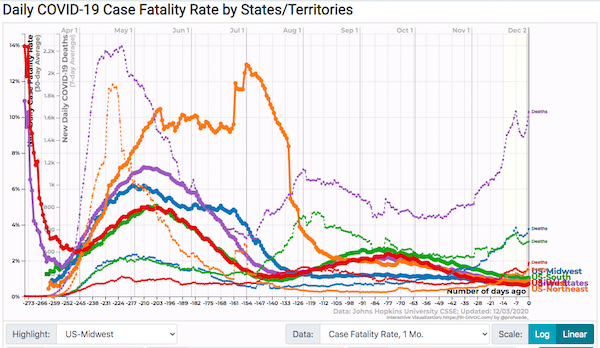 The post-Thanksgiving data has now resumed its upward trend at the same slope as before. Deaths (purple line) dropping starting on Thanksgiving Day sure looks like a reporting issue to me. And the consistent behavior of all the series but cases give some confidence that our data collection is reasonably responsive and reliable; if wrong, at least not randomly wrong….
Politics
"But what is government itself, but the greatest of all reflections on human nature?" –James Madison, Federalist 51
"They had one weapon left and both knew it: treachery." –Frank Herbert, Dune
"They had learned nothing, and forgotten nothing." –Charles Maurice de Talleyrand-Périgord
Election Legitimacy
"In video, Trump recycles unsubstantiated voter fraud claims" [Associated Press]. • No, Trump is making election fraud claims!

UPDATE "Pro-Trump legal crusade peppered with bizarre blunders" [Politico]. "Powell and Wood allege a vast conspiracy in which states' electronic voting systems have been manipulated by a company with ties to the late Venezuelan president Hugo Chávez. What has set them apart from Trump's official legal team, which has offered similarly unsupported claims of fraud, is their willingness to accuse sitting Republican officials of committing crimes to aid Biden's election." • I was always worried about central tabulation. But if you want to make a case about voting technology, you have to get the details right. So far as I can tell, Powell isn't. Technical people have been very willing to become involved in demolishing the case for Ballot Marking Devices (whose only unique selling proposition is, indeed, election fraud). They have not been willing to get involved with Powell. So, smoke without fire.

UPDATE I love the riff:

#BREAKING In national address from barricaded presidential palace in seaside capital, Washington DC, far-white US dictator Donald "Papa Don" Trump, who also heads US chapter of 200 year-old Luddite Society, condemns digital election technology and demands return to paper ballots.

— gathara (@gathara) December 2, 2020

But if the scorched earth after this election implies that the case for paper ballots will have gone up in smoke… That will be bad. Just because technology is "digital" doesn't mean it's good!
Transition to Biden
"Pelosi, Schumer endorse bipartisan fiscal stimulus plan in bid to get talks going" [MarketWatch]. "Prior to the election, Democrats insisted on a $2.2 trillion package, a size Senate Majority Leader Mitch McConnell said was well beyond what was needed. A group of lawmakers from both parties in the House and Senate unveiled a package they said totaled a bit more than $900 billion. McConnell proposed a smaller package that he said could be signed into law by President Donald Trump. The bipartisan package was put together by , a 50-member group evenly divided by party, and a group of nine senators that included Democrats, Republicans and an independent. The package would allocate about two-thirds of its aid for more Paycheck Protection Program funds, additional unemployment benefits and assistance for state, local and tribal governments." • (The "Problem Solvers Caucus".) UPDATE People are watching:

i don't think people are bored by money in their pockets. it's still the top google suggestion for "will there". pic.twitter.com/D6llMqp2ry

— Steve Randy Waldman (@interfluidity) December 3, 2020

Getting fiscal:

Weighing my words carefully: We may be on the verge of a shift in fiscal paradigm. Proof of concept: The large agreement between Summers, Furman, Bernanke, Rogoff, and me, in the PIIE-Brookings zoom. https://t.co/ULusb2AHSL (Second hour. The first hour is great as well)

— Olivier Blanchard (@ojblanchard1) December 2, 2020

Maybe.

UPDATE "Black leaders express concerns about representation in Biden administration" [The Hill]. "President-elect Joe Biden's Cabinet is quickly taking shape, but there is growing dissent from Black lawmakers and activists surrounding his picks, as only two Black Americans have been chosen so far. At the moment, Linda Thomas-Greenfield, tapped to be the country's next ambassador to the United Nations, and Cecilia Rouse, Biden's pick to chair the Council of Economic Advisers, are the only Black members of the burgeoning Cabinet. Advocates have made it clear that they want to see the administration put Democrats' staunchest voting bloc at the center right from Day One. In his first speech as president-elect, Biden made Black voters a promise: that he'd have their backs. Several Cabinet positions must still be named, but Black leaders increasingly are publicly worrying that the president-elect and his incoming administration will fall short of the pact." • In what sense is this "representation"?

"Watching Representative Katie Porter Grill Trump Administration Officials Is Still My Favorite Pandemic Pastime" [Vogue]. "Being in a pandemic lockdown, day after day, week after week, month after month, is a drag. There are only so many times I can binge-watch The Crown or Schitt's Creek or all seven seasons of The Mary Tyler Moore Show. But there is one viewing experience these past 10 months that continues to give me pleasure: watching Representative Katie Porter—a first-term Democrat who recently won reelection in the formerly Republican stronghold of California's Orange County—skillfully fillet the hapless Trump administration officials who come before one of the House committees on which she serves." • A fun round-up. And in Vogue!
2020
GA: "Georgia election official: Effort to overturn 2020 results will drive down runoff turnout" [Politico]. "Gabriel Sterling, a top Georgia election official, predicted Thursday that attorneys working to overturn the state's election results on President Donald Trump's behalf will drive down voter turnout in runoff races early next year that will determine which party controls the Senate. 'At this point, there's no way that it can't,' Sterling, Georgia's voting system implementation manager, told CNN — referring to the conspiratorial claims that pro-Trump attorneys Sidney Powell and Lin Wood have leveled this week in defense of the president's effort to reverse the outcome of the 2020 White House race." • I don't understand the plays here. Any of them. A Georgia election official:

VIDEO – Ga. Official Demands Trump Denounce Threats Against Election Workers: 'Someone's Gonna Get Killed' @GabrielSterling https://t.co/jTAXs8Luet

— Grabien (@GrabienMedia) December 2, 2020
Obama Legacy
Doubling down on drinking Flint water?

We have some more high profile volunteers for the Public Vaccine Injection Reassurance Act. Though this is now all turning into a weird pagan-esque human sacrifice type ritual. https://t.co/ayIqXiGFr3

— Izabella Kaminska (@izakaminska) December 3, 2020

I'm inclined to think that a sample size of three is not useful. There are 552 Federal electeds.There are ~4000 Federal political appointees. Is 4552 a useful sample size?
Realignment and Legitimacy
UPDATE A new way of looking at "flyover"?

It's under noticed but for large parts of the country the government has already ceased to exist except in vestigial punishment forms indistinguishable from local gangs https://t.co/MaPOFES4Ck

— John Leavitt ? (@LeavittAlone) November 29, 2020

And:

So the question isn't "will America collapse?" Its "where has it already?" And it'd not where the people making the art and news live snd it'd not any of their friends.

— John Leavitt ? (@LeavittAlone) November 29, 2020

What do readers think of this thesis?

"The Dead End of the Left?" [Commonweal]. "Contra the "Catholic Left," which tended to regard Marx's atheism as accidental, and tried to rescue his socio-political analysis from his religious views, Del Noce concluded that what Marx proposed was not just a new theory of history or a new program of political economy, but a new anthropology, one completely different from the Christian tradition. (Louis Dupré had made a similar argument in the pages of Commonweal; see "Marx and Religion: An Impossible Marriage," April 26, 1968.) Marx viewed humans as "social beings" entirely determined by historical and material circumstances rather than by their relationship with God. He viewed human reason as purely instrumental—a tool of production and social organization rather than the capacity to contemplate the truth and participate in the divine wisdom. Finally, Marx viewed liberation as the fruit of political action, not as a personal process of conversion aided by grace. Marxist politics was not guided by fixed and absolute ethical principles, because ethics, along with philosophy, was absorbed into politics. Del Noce concluded that there was no way to rescue Marx's politics from his atheism, which had as much to do with his view of man as with his view of God."
Stats Watch
At reader request, I added some business stats back in. Please give Econintersect click-throughs; they're a good, old-school blog that covers more than stats. If anybody knows of other aggregators, please contact me at the email address below.
Employment Situation: "28 November 2020 Initial Unemployment Claims Rolling Average Improves" [Econintersect]. "Market expectations for weekly initial unemployment claims (from Econoday) were 755 K to 800 K (consensus 780 K), and the Department of Labor reported 712,000 new claims. The more important (because of the volatility in the weekly reported claims and seasonality errors in adjusting the data) 4 week moving average moved from 750,750 (reported last week as 748,500) to 739,500.
Employment Situation: "November 2020 Job Cuts: Job Cuts Fall For The Second Month" [Econintersect]. "In the penultimate month of the year, U.S.-based employers announced 64,797 job cuts, the second-lowest monthly total for 2020. It is 19.7% lower than the 80,666 job cuts announced in October."
* * *
Cash: "The coronavirus pandemic has caused a surge in demand for contactless payments, accelerating the shift from cash to digital options" [CNBC]. "The Covid-19 pandemic is expected to cause a drastic decline in cash usage due to the risk of contamination…. The unprecedented surge in the demand for contactless payment has also led to outstanding performances for major companies offering cashless methods, such as Apple, Square and PayPal. Dan Schulman, the CEO of PayPal, sees it as a sign that digital payments are shifting from 'being a nice-to-have capability to a must-have essential service.'…. There has already been a significant decrease in cash usage over the past few years. Nearly a third of U.S. adults said they typically make no purchase using cash during a week, according to a study by Pew Research Center. Millennials are the ones leading the charge toward a cashless future. A report from Experian in 2019 revealed that 1-in-10 millennials use their digital wallet for every purchase. Pew Research also found that about 34% of adults under the age of 50 make no purchases in a typical week using cash." • I am not aware of a single study showing that cash transmits Covid (or, more precisely, that cash is a fomite for Covid). However, if you want to have the chance to breathe in plenty of aerosols, be sure that you get in line behind somebody trying to pair their phone with the register, or trying to get a discount through a QR code. Often the cashier will reach for the phone to help the customer!
Housing: "Bloomberg Equality: The Stench of Forced Labor Taints Big Brands" [Bloomberg]. Not sure why this snippet is under that headline: "America's richest neighborhoods have fared just fine during the pandemic. A Bloomberg analysis found that home values in the top 100 zip codes have soared by almost $30,000 on average since March." Handy chart of the neighborhoods (though not the change):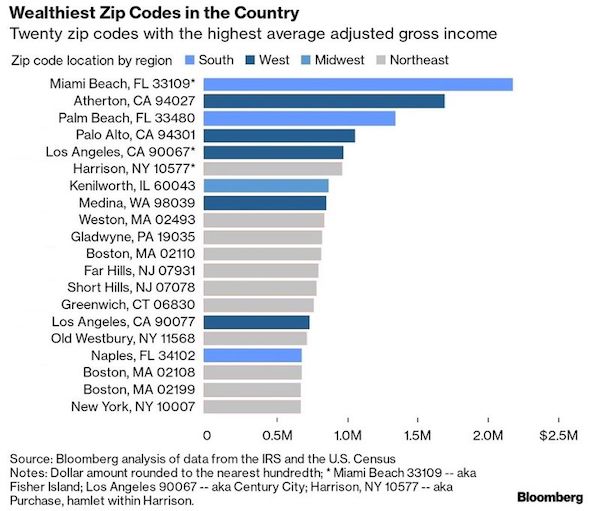 Boston punching above its weight?
Shipping: "UPS drivers told not to pick up shipments from major retailers amid pandemic-fueled holiday surge: report" [The Hill]. "UPS has reportedly told drivers across the country to stop picking up packages from six retailers, including Gap, Nike and Macy's, as the shipping company attempts to keep up with a record-breaking online shopping season amid the coronavirus pandemic. In an internal message obtained by The Wall Street Journal and confirmed by various UPS workers in different regions, the delivery company announced the temporary shipping restrictions on the retailers, which also included L.L. Bean, Hot Topic and Newegg. 'No exceptions,' the message reportedly said." • Odd! Fighting over rates?
Tech: "@bluesky Identity" [Tim Bray]. "On the Internet, there are many entities that provide online conversations, whether short-form like Twitter or bulletin-board-esque like Reddit. Then there are a nearly infinite number of specialized communities, for photographers, dog groomers, and the owners of particular types of boats or cameras. Let's call these entities 'Providers.' @bluesky envisions allowing online conversations to span Providers. Which is to say, from inside Twitter I could follow not only other Twitter accounts, but posts on my boat-owners' forum. And vice versa. This is a straightforward and easy-to-understand — if not necessarily easy to build — vision, and might be worth doing by itself." • Important.
UPDATE Travel:
A #Covid-Free Cruise Takes Planning, but the Strip Show Goes On – #Singapore allows cruises to nowhere, helping a struggling industry. That means socially distanced buffet lines, electronic monitoring and hand sanitizer at the slot machines https://t.co/npQ8j8OfFL

— Murray Hiebert (@MurrayHiebert1) December 3, 2020
This cruise ship looks like a bad case of gigantism; grotesque, and swollen. Decadent.
Mr. Market: "S&P 500, Nasdaq hit intraday records and Dow retakes 30,000 amid raging coronavirus pandemic" [MarketWatch]. • Coincidence?
* * *
.
Today's Fear & Greed Index: 86 Extreme Greed (previous close: 87 Extreme Greed) [CNN]. One week ago: 91 (Greed). (0 is Extreme Fear; 100 is Extreme Greed). Last updated Dec 3 at 11:59am.
Health Care
"Health care workers and long-term care facility residents should get Covid-19 vaccine first, CDC vaccine advisers say" [CNN]. "Vaccine advisers to the US Centers for Disease Control and Prevention voted 13-1 on Tuesday to recommend that both health care workers and residents of long-term care facilities be first in line for any coronavirus vaccines that get emergency authorization from the US Food and Drug Administration. The Advisory Committee for Immunization Practices voted to include both groups in what they're calling Phase 1a of the CDC's coronavirus vaccine distribution plan. They are at 'exceptionally high risk,' Dr. Jose Romero, who chairs ACIP, said. 'Long term care facility residents are defined as adults who reside in facilities that provide a variety of services, including medical and personal care, to persons who are unable to live independently,' the CDC said. These very frail people account for 40% of coronavirus deaths in the US and the ACIP committee members felt strongly they need to be protected."
"U.S. employers could mandate a COVID-19 vaccine, but are unlikely to do so -experts" [Reuters]. "Gostin and five other health law experts said private companies in the United States have broad liberties to set health and safety standards, which would allow them to mandate vaccinations as a condition of employment with some exceptions. The Equal Employment Opportunity Commission in May said employers were allowed to compel employees to get a coronavirus test before allowing them to return to work, a decision that some experts said might be extended to vaccine mandates. But Robert Field, a law and public health professor at Drexel University, said companies considering mandates should wait for vaccines to undergo a full-fledged regulatory review process. 'Employers are on shakier grounds because of the emergency use authorization,' Field said, adding there was no precedent for vaccine mandates during that phase. U.S. courts that have ruled on lawsuits by healthcare workers opposing employer-mandated flu vaccines have largely sided with hospitals as long as they provided reasonable exemption policies, court records showed." •
"COVID-19: Boris Johnson warns of 'immense logistical challenges' in distributing vaccine" [Sky News]. "Deputy chief medical officer [of NHS England] Professor Jonathan Van-Tam said [Pfizer/BioNTech COVID-19 vaccine] was a 'complex product with a very fragile cold chain'. 'It's not a yoghurt that can be taken out of the fridge and put back in multiple times. It's really tricky to handle,' he said." • I've gotta say China's vaccine looks best to me: Simple, rugged, proven technology. Of course, it hasn't been tested on a mass scale….
UPDATE "Supreme Court sees new requests for religious COVID-19 carve-outs" [The Hill]. ""If churches are limited to no more than 10 people, then grocery stores have to be subjected to the same limits," Wiley said, describing the Supreme Court's new legal test." • Again, it's insane to regulate by the type of firm, as opposed to the physical characteristics of the place of business (or worship); for example, ventilation. That's the source of the difficulty. For me, the thirst for "worship" is all too earthly:
The Biosphere
"Climate change: Temperature analysis shows UN goals 'within reach'" [BBC]. "The Climate Action Tracker group looked at new climate promises from China and other nations, along with the carbon plans of US President-elect Joe Biden. These commitments would mean the rise in world temperatures could be held to 2.1C by the end of this century. Previous estimates indicated up to 3C of heating, with disastrous impacts. But the experts are worried the long-term optimism is not matched by short-term plans to cut CO2." • See the optimistic scenario: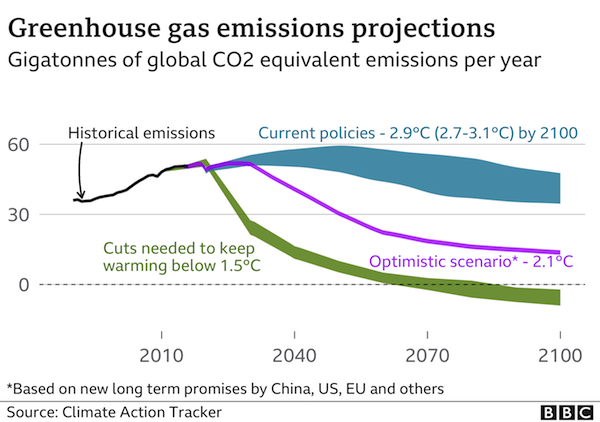 "Scientists invent technology to extract oxygen and fuel from Mars' salty water in huge step forward to colonising Red Planet" [Independent]. "Humankind's quest to set up base on Mars has received a boost as scientists have now claimed to have discovered a way that can help extract oxygen and fuel from the salty water found on the red planet. The water which is salty due to the Martian soil can't be used for drinking purposes. Even electrolysis, the usual method of using electricity to break it down into oxygen (to breathe) and hydrogen (for fuel) requires removing the salt – a cumbersome method that can be a costly endeavour in a harsh environment like Mars. But now researchers at Washington University in St Louis have developed an electrolysis system that can directly separate oxygen and hydrogen from briny water – in a less complicated and expensive manner. They examined their system in a simulated Martian atmosphere where the temperature was about -36C, in addition to testing it under typical terrestrial conditions." • I think "humankind's goal" at this moment is to pay the bills and not catch the plague. I don't think "humankind's goal" is to escape to Mars (although that might be some squillionaire's goal and for good reason).
"Oil-Hungry Asia Lures Armada of Tankers Carrying U.S. Crude" [Bloomberg]. "A fleet of around 20 tankers laden with U.S. crude oil is expected to leave for Asia this month as the region continues to outpace the rest of the world in its recovery from the Covid-19 pandemic. The vessels have been booked, some of them provisionally, to load crude from the U.S. Gulf Coast this month for delivery to the Far East, according to shipping fixtures and shipbrokers. Most are supertankers that can each carry about 2 million barrels of oil. Demand has rebounded in some parts of Asia, with Chinese crude processing matching a record in October. The nation's independent refiners, meanwhile, have ramped up purchases after receiving new import quotas for 2021. Indian demand is also climbing as processors boost run rates."
"Enbridge Pipeline Linking Oil Sands to Midwest Wins Approval" [Bloomberg]. "Minnesota approved the stormwater pollution plan for Enbridge's Line 3 pipeline replacement and expansion, the project's last pending permit, the company said on Monday. Construction is expected to take six-to-nine months on a line that will add 370,000 barrels a day of capacity." • Dang.
Guillotine Watch
This keeps happening (1):
EXCLUSIVE: Austin Mayor Steve Adler told the public to "stay home if you can…this is not the time to relax" in a Nov. 9 Facebook video. He did not disclose that he was at a timeshare in Cabo San Lucas after flying on a private jet with eight family members and guests. pic.twitter.com/w1uZahGfpM

— Tony Plohetski (@tplohetski) December 2, 2020
This keeps happening (2):
.@brikeilarcnn rolls the tape on Democratic officials caught not following their own Covid-19 guidelines:

"The past few weeks, brought into relief a pattern of leaders, failing to lead by example. Asking Americans to make sacrifices that they, themselves, are unwilling to make" pic.twitter.com/V6Xq9gRxrw

— CNN Newsroom (@CNNnewsroom) December 2, 2020
Invariant #1: "The rules of neoliberalism do not apply to those who write the rules."
2020 continues on-brand:
France's Versailles Palace is now on TikTok to get more young people through its doors when it emerges from lockdown https://t.co/5aIiqRc0SP

— Bloomberg (@business) December 3, 2020
You've gotta hand it to Louis Whatever, though; the Hall of Mirrors is at least ordered and harmonious. Unlike the decor of today's squillionaires:
interior & yard (3/3) pic.twitter.com/icr0tJX3uB

— Guillotine-Worthy Zillow Listings (@Zillotine) November 24, 2020
The horror, the horror.
Class Warfare
"The "racial wealth gap" is a class gap" [Matt Yglesias, Slow Boring]. The deck: "Rich people are very white, but most white people aren't rich."
"The False Promise of Enlightenment" [Quinn Slobodian, Boston Review]. "The concentration of wealth and its evasion of state attempts at its capture through taxation also do not happen by escaping law or the state, but through the law and the state—through projects of legal "encoding," to use Pistor's dominant metaphor. The protagonists of [Katharina] Pistor's narrative include the trust, which is used to put assets an arm's length from their original owner (originally to family members, but now, increasingly, to financial intermediaries); the partitioning of asset pools within corporations, which allows them (as in [Walter] Mattli) to take on extra risk and avoid shareholder governance; and the Investor State Dispute Settlement mechanism, which allows foreign investors to sue states for lost profits. She shows that capital is global not because it exists in the ether, but because, when properly legally framed, it is portable: 'it is possible to code assets in the modules of one legal system and still have them respected and enforced by courts and regulators of another country.' Far from a sub-galactic global space of flows, she shows that assets are almost all drawn up according to the templates of two relatively small places—New York State and Great Britain." • A review of Shoshana Zuboff, The Age of Surveillance Capitalism, Walter Mattli, Darkness by Design: The Hidden Power in Global Capital Markets, and Katharina Pistor, The Code of Capital: How the Law Creates Wealth and Inequality. It's really good. Grab a cup of coffee and read all the way to the end.
"Workers Risking the COVID-19 Outbreak at Amazon's Troutdale Warehouse Signed a Strict Confidentiality Agreement" [Willamette Week]. "On June 10, the Oregon Health Authority announced a COVID-19 outbreak at Amazon's Troutdale warehouse that has now lasted 25 weeks and infected 97 people with the virus, making it one of the largest workplace outbreaks in Oregon…. WW has learned that entry-level workers at Amazon's Troutdale warehouse have for some time been required to sign nondisclosure agreements, legally binding contracts restricting what information employees can and cannot share publicly… Nondisclosure agreements are rare for warehouse workers. But Amazon's NDA, which WW obtained, is so stringent that some lawyers believe it's the kind of contract you would expect between an employer and a software developer working on highly proprietary code, not one for a warehouse job where the primary requirement is an ability to lift heavy objects." • I think the Amazon warehouse worker's job is harder than simply lifting heavy objects. That said, good reporting. How shameful of Amazon.
"Reynolds abandoned balance with lives in the balance" [The Gazette]. "According to the lawsuit now in U.S. District Court, Tyson, which has operations in China, including in the province where the virus was first detected, understood the threat as early as January. And yet by March, when cases started to crop up in Iowa, the company failed to proactively provide protective equipment or put distancing practices in place. Instead, according to the lawsuit, Waterloo plant managers deceived their employees. An amendment to the suit filed last week charges that managers told interpreters behind closed doors in early April to tell immigrant employees that 'everything is fine' and there is no outbreak. Workers were to be told Black Hawk County public health officials had 'cleared the plant.' In reality, local public health officials and County Sheriff Tony Thompson were urging the company to shut down the plant, where, on April 10, they found workers still shoulder to shoulder with many not wearing face coverings." • Tyson had a plant in Wuhan?!?!? Do tell.
"Classism is social activists' forgotten prejudice" [Financial Times]. Not much new here, but a potential word of the day: "In France, where the prime minister's regional accent was recently described by Paris Match as 'gravelly post-match rugby', the answer appears to be legislation, and a new word: glottophobie. Along with racism and sexism, this newly recognised transgression — snobbery against regional accents — is now a criminal offence, carrying a proposed maximum sentence of three years' imprisonment and a €45,000 fine." • Glottophobia!
News of the Wired
Good for them!
"The Lord of the Rings" cast is crowdfunding to buy J.R.R. Tolkien's home in Oxford, England, and turn it into a literary center. https://t.co/SJSLmTc0oz

— CNN (@CNN) December 3, 2020
UPDATE "Back to Westeros" [George R.R. Martin, Not a Blog]. "No, sorry, still not done, but I do inch closer. It is a big big book. I try not to dwell on that too much. I write a chapter at a time, a page at a time, a sentence at a time, a word at a time. It is the only way. And sometimes I rewrite. Of late I have been spending a lot of time with the Lannisters. Cersei and Tyrion in particular. I've also paid a visit to Dorne, and dropped in to Oldtown a time or three. In addition to turning out new chapters, I've been revising some old ones (some very old)… including, yes, some stuff I read at cons ages ago, or even posted online as samples. I tweak stuff constantly, and sometimes go beyond tweaking, moving things around, combining chapters, breaking chapters in two, reordering stuff. None of this is even remotely new. It is how the first five books were written. I was really on a roll back in June and July. Progress has continued since then, but more slowly… I suffered a gut punch in early August that really had me down for a time, and another, for different reasons, in early September. But I slogged on, and of late I am picking up steam again."
Come on, man:
Two feet of #snow in Scotland pic.twitter.com/evibAX5w4o

— ♫ Adriano&Paulina ♫ (@keet0007) December 3, 2020
* * *
Readers, feel free to contact me at lambert [UNDERSCORE] strether [DOT] corrente [AT] yahoo [DOT] com, with (a) links, and even better (b) sources I should curate regularly, (c) how to send me a check if you are allergic to PayPal, and (d) to find out how to send me images of plants. Vegetables are fine! Fungi and coral are deemed to be honorary plants! If you want your handle to appear as a credit, please place it at the start of your mail in parentheses: (thus). Otherwise, I will anonymize by using your initials. See the previous Water Cooler (with plant) here. Today's plant (LR):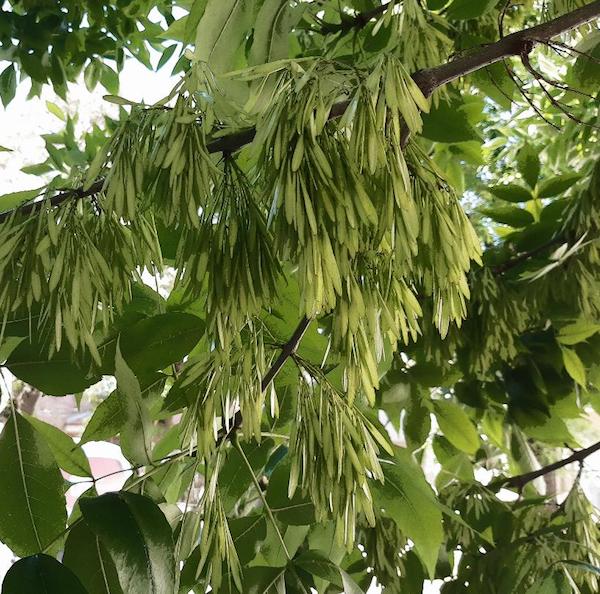 LR writes: "It is spring here in Uruguay and the soft green of these flowers make them look like leaves."
* * *
Readers: Water Cooler is a standalone entity not covered by the recently concluded and — thank you! — successful annual NC fundraiser. So if you see a link you especially like, or an item you wouldn't see anywhere else, please do not hesitate to express your appreciation in tangible form. Remember, a tip jar is for tipping! Regular positive feedback both makes me feel good and lets me know I'm on the right track with coverage. When I get no donations for five or ten days I get worried. More tangibly, a constant trickle of donations helps me with expenses, and I factor in that trickle when setting fundraising goals:
Here is the screen that will appear, which I have helpfully annotated.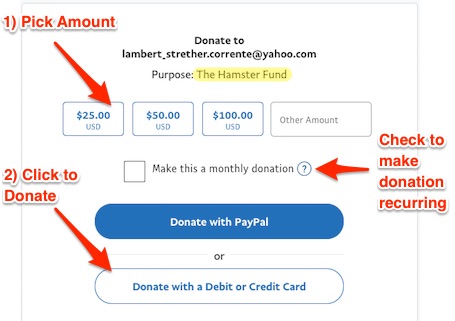 If you hate PayPal, you can email me at lambert [UNDERSCORE] strether [DOT] corrente [AT] yahoo [DOT] com, and I will give you directions on how to send a check. Thank you!