Yves here. Even though crime reports overall are a bit down,1 violent crimes, particularly murders, have spiked in the US in 2020, leaving experts scrambling for explanations. You'd think "It's the Covid, stupid, plus gunz" would suffice to explain more shootings, but understanding the dynamics is important to having any success in moderating this terrible trend. From Vox early this month:
A new report, by the Council on Criminal Justice, found homicides have increased sharply this year across 21 US cities with relevant data: "Homicide rates increased by 42% during the summer and 34% in the fall over the summer and fall of 2019." Other data, from crime analyst Jeff Asher, found murder is up 36 percent throughout the year so far, compared to the same period in 2019, in a sample of 51 US cities. A preliminary FBI reportalso found murders up 15 percent nationwide in the first half of 2020.

The increase in homicides is large and widespread enough to raise serious alarms for criminologists and other experts. So what's going on?

Some experts have cited the protests this summer over the police killings of George Floyd and others — which could've had a range of effects, from officers pulling back from their duties to greater community distrust in police, leading to more unchecked violence. Others point to the bad economy. Another potential factor is a huge increase in gun purchases this year. Still others posit boredom and social displacement as a result of physical distancing leading people to cause more trouble.

Above all, though, experts caution it's simply been a very unusual year with the Covid-19 pandemic. That makes it difficult to say what, exactly, is happening with crime rates. "The current year, 2020, is an extreme deviation from baseline — extreme," Tracey Meares, founding director at the Justice Collaboratory at Yale Law School, previously told me.
Experts hope that conditions will revert to the old normal once we are past the Covid crisis. But that cheery view ignores the way the disease looks set to increase already high levels of inequality….which are particularly visible in cities. New York has a Gini coefficient as high as China's. The US is on track to start an eviction wave in the new year. Some will escape homelessness but others won't. How do those reduced to living in cars, in shelters, on the street, or encampments claw their way back, particularly when unemployment is high?
So the stakes are very high if your perilous position is being savaged by Covid, even if you remain in decent health. And notice a key factoid: at least in New York City, guns have become cheaper and more plentiful.
By Reuen Blau, rblau@thecity.nyc. Originally published at THE CITY on December 21, 2020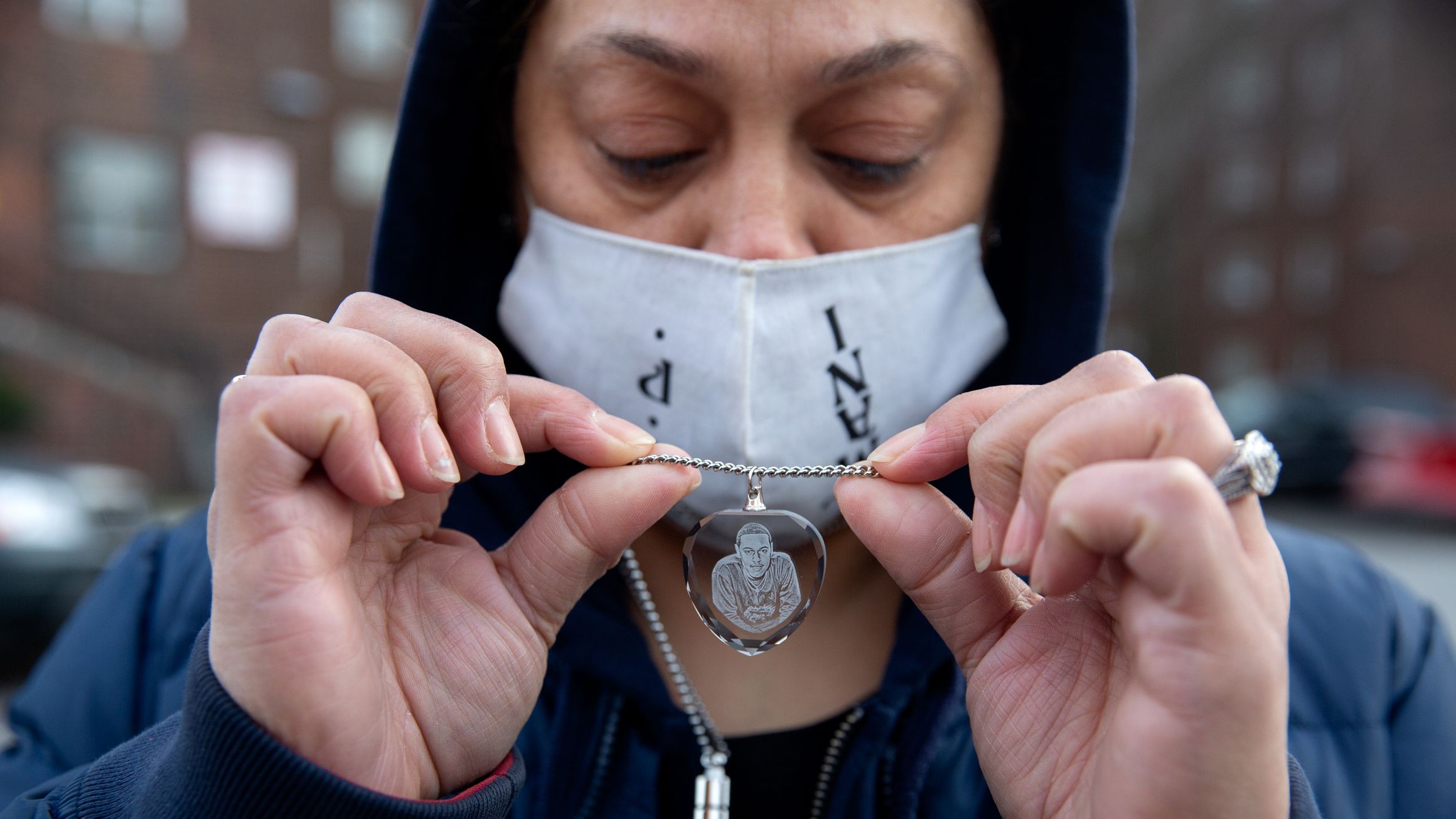 Maria Gonzalez shows an image of her son, Armani Hamilton, 22, who was fatally shot in Crown Heights during the summer. Ben Fractenberg/THE CITY
The statistics are grim: 1,480 shootings in New York City as of Thursday, almost double the 748 logged during the same period last year. The city is expected to finish 2020 with a 14-year high in that category of violence, according to Police Commissioner Dermot Shea.
Meanwhile, murders are up 40%, from 312 in 2019 to 436 so far, NYPD records show.
Victims range from a 1-year-old boy shot at a barbecue in Bedford-Stuyvesant, a 29-year-old father gunned down as he walked hand-in-hand with his young daughter while crossing a street in Claremont and a 60-year-old woman struck by a stray bullet in Brownsville.
Shea and some police unions and lawmakers blame the increase in shootings on bail reform enacted by the state Legislature. Police reformers and academics contend that's merely an excuse with no data to back the claim.
They say economic hardships exacerbated by the pandemic and a lack of government support to those hardest hit are among the primary culprits.
THE CITY spoke separately to four people who are, to varying degrees, on the front lines: a mother whose son was killed, an NYPD sergeant, a violence interrupter and an academic who focuses on crime.
They were each asked two questions: Why do they think there has been a spike in shootings? And what needs to be done to curb the violence?
Here's what they had to say:
'I See a Lot of Suffering'
Maria Gonzalez's son, Armani Hamilton, 22, was fatally shot twice in the torso in Crown Heights on July 23.
Gonzalez: I'm constantly crying. Because I don't even know what to do with myself anymore. I have family support. I got my mother living with me. I've got my oldest niece living with me as well. But I just don't want to be here. I've lived in the Kingsborough Houses for 23 years.
---
Iesha Sekou is the Founder and CEO of Street Corner Resources, Inc., a crime interrupter group based in Harlem.
Sekou: It's very draining. Last week, I was dealing with a mother who was trying to bury her son who was shot. And we were trying to get his body released from the morgue. Our counselor was not in the office. We were actually supposed to be closed that day. But the mother wanted to stop by and I didn't want to say no. So I showed up to the office.
---
This veteran NYPD sergeant works in Lower Manhattan. The cop requested anonymity.
NYPD Sergeant: I see a lot of suffering. There's mold and cockroaches everywhere in the NYCHA facility in my area in Lower Manhattan. The buildings are cold. The garbage. It's everywhere. The elevators smell like urine. Shootings are through the roof.
Gonzalez: My son, he graduated last year from high school. He was only 22 years old at the time. I asked him to pick stuff up from the supermarket and he was only gone about an hour. And then I heard these gunshots. I was doing some stuff with my mother in the living room. But it didn't dawn on me at the time because I was in a deep discussion with my mom. The TV was up.
Then the neighbor knocks on the door and she tells me my son just got shot and he's laid out in the middle of the street. From there I just lost it. My mind just took off. I started screaming. I was in house clothes and I just couldn't find nothing decent to put on to go outside. I think God didn't allow me to see him like that. So He just made me confused and disoriented. I couldn't find my shoes. My mind just totally went blank.
'People are Angry'
Alex Vitale is the coordinator of the Policing and Social Justice Project at Brooklyn College.
Vitale: Why has there been an increase in shootings? It's pretty closely correlated with the onset of COVID. Especially the period right after the most intensive lockdowns. So I think what we're seeing here is a response to a deep, deep level of sort of social and economic instability and insecurity. That's creating a tremendous amount of stress in already stressed communities. And some of that is getting expressed as interpersonal violence.
NYPD Sergeant: (He noted that arrests are down this year — from 207,759 in 2019 to about 134,000 as of last week, according to the NYPD.) Why is that happening? I think it's a combination of things. There's been so many recent changes with the body cameras and the overzealous supervision of cops. Officers are afraid to do anything because they don't want to make a mistake and get in trouble. They're afraid to stick their neck out to do anything because they don't want to get fired.
Vitale: For the police, the solution to every problem is arrest more people. So even when there's no crime it's because they arrested more people. And when there's a lot of crime, it's because they haven't arrested enough people. It's like there's no scenario where their comment isn't that we need to arrest more people. For 100 years, every time you ask the Police Department, "What should be done?" Their answer is arrest more people. There's never any variation in what they say. It's not credible.
Sekou: One of the reasons why there's been a spike is people not being at work. It's not normal trauma, particularly in urban communities, poor communities now impacted by this pandemic. So those who do the shooting, maybe, have been looking for people who they now see in the neighborhood. They are around more. People are extra stressed. So things they may have tolerated in the past, they're not tolerating now. People are angry. Old beefs come back, particularly beefs about money at a time when people don't have money.
Gang Violence to Blame?
Gonzalez: I mean, when I moved here 23 years ago, this area was really quiet. You didn't really see as much going on as you do now. Over the years it started increasing. I say maybe about four years ago. You started to see the gangs, the Bloods and the Crips. I just don't understand. They are very territorial. The colors, you got to be careful whatever you wear, who you be around, and who you're affiliated with. I mean, I just don't understand. They are out here killing our children.
NYPD Sergeant: If you want to see what's going on, you send in undercovers in these gangs. Not undercovers the way they're doing it now with buy-and-busts on the street. You got to be on the inside to know what's going on. But that takes money, money that the department doesn't want to spend.
The department has somewhat of a big budget. [But] I do think it's not using the resources properly. It's marred by a tremendous nepotistic corruption. Everybody's worried about protecting their little spot. Nobody wants to be on patrol. When you're inside, you have a lesser chance of getting jammed up. When you're on the street, you're dealing with perps, and you put your hand on people. Your chances of getting in trouble are astronomical.
Vitale: It seems very clear. The Mayor's Office of Criminal Justice said in The Wall Street Journal that the bulk of this violence is about interpersonal beefs. This is not about organized criminality. This is not about some kind of gang war. This is people under a lot of stress, carrying weapons, escalating conflicts. So what kinds of methods could the police use? They could either try to more aggressively get convictions and arrests of people, but they're already doing that? They're already putting a tremendous amount of effort into that and it's not proving at all successful.
They could be even more aggressive about preventative interventions. But because the violence seems to be of an interpersonal variety, that means that it is dispersed among populations. And this would require basically bringing back widespread indiscriminate stop-and-frisk practices, which are both illegal and politically unsupported.
Gonzalez: It's happening because they took off the stop-and-frisk. That's when I started to notice a lot of violence. If you are looking suspicious, I could see them stopping and questioning you. I also believe the undercovers, for some apparent reason, I don't know if it was a budget cut, they used to be out here all types of nights. Now, they don't have it like that. It's difficult because it's a Catch-22 when it comes to patrolling different areas. It just seems like after the death of my son, that weekend, there must have been 100 shootings. I can't even pinpoint the number of how many died.
NYPD Sergeant: There are hardly any more undercovers in the department. But there's an argument against that, too. I heard narcotics tried to increase buy-and-busts where there was an increase in shootings. And that didn't work.
An Economic Crisis
Vitale: The real solution to this is going to be improvements in people's economic security. So we got to do something about the fact that people can't pay rent and don't have enough food to put on the table. And the federal government has abandoned us in this regard.
This winter is going to be very bad for people in these already hard-hit communities. The city has got to figure out some way of guaranteeing more aggressively that people are not going to get evicted. A massive increase in food support for people and also looking at providing some income to people. Those are the real solutions.
NYPD Sergeant: When I'm driving on patrol you see food pantries and hundreds of people on the lines. Black, Asian and Jewish people. I'm just astounded by the amount of people on the breadlines.
Vitale: Is there anything we can do more immediately, to try to tamp down the violence? I think that we do need to look at, you know, community-based, street-level anti-violence initiatives, like the Cure Violence programs that rely on credible messengers. We just need to have more people out on the speakers engaged in peacemaking.
I think one of the ways to do that is to expand the number of groups because they don't exist in some of the neighborhoods where violence is increasing, like Canarsie. But also, we should involve those groups in these kinds of mutual aid activities that can provide some of that economic stability to the communities that are most in need.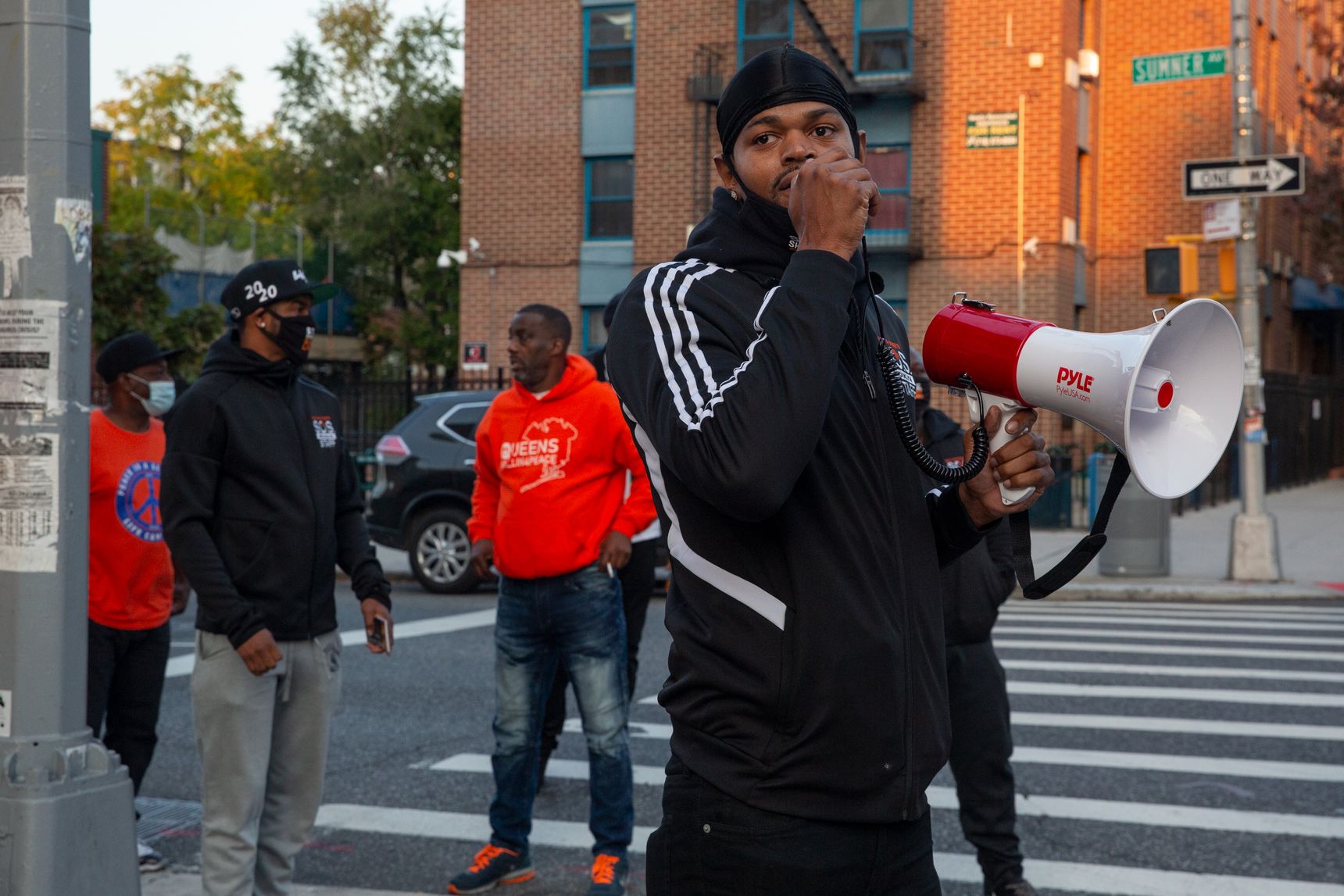 Violence interrupters with Save Our Streets in Bedford-Stuyvesant, Brooklyn, after a shooting, Oct. 20, 2020. Ben Fractenberg/THE CITY
Sekou: I think all the access to guns has become greater. Someone told me that guns are cheaper on the street now. And then guns came in at the same time as the extra hard fireworks. The guns came from down South with those fireworks, same people that brought the fireworks brought the guns. And I think with the city not having as many of the resources that it normally (does) is contributing to it. The city has cut back. Also, people dying, people losing parents and aunts and uncles and they couldn't go to the hospital to see them. Somebody who would normally be calm.
'Hardship Every Single Day'
Gonzalez: (Speaking about the day her son died) When we get to Kings County Hospital, they tell me that I have to wait to see the doctor. I used to work at a hospital for 20 years as security so I know when you have to wait for a doctor to come out and talk to you that's not a good sign. I told the lady: "Listen, I don't know what's going on but I need some answers. I need them right now. Because I'm not feeling well."
They brought me to some room with a lot of sofas and told me to sit down. I refused. I asked if my son died. She said she'd get one of the surgeons. When he came out he told me, "Unfortunately, your son did not make it. He lost a lot of blood."
I just fainted. When I woke up, I'm in a wheelchair and they tried to relax me, like sedate me. My husband says, "We got to get together because I want you to see Armani." So I tried to put it together. I was the first one to go and see him. And he was still hot. I was just in disbelief that I'm actually seeing my son on this table. He was shot three times. One went through the lungs, one grazed the heart, and another went in and out past the rib cage. I just don't understand.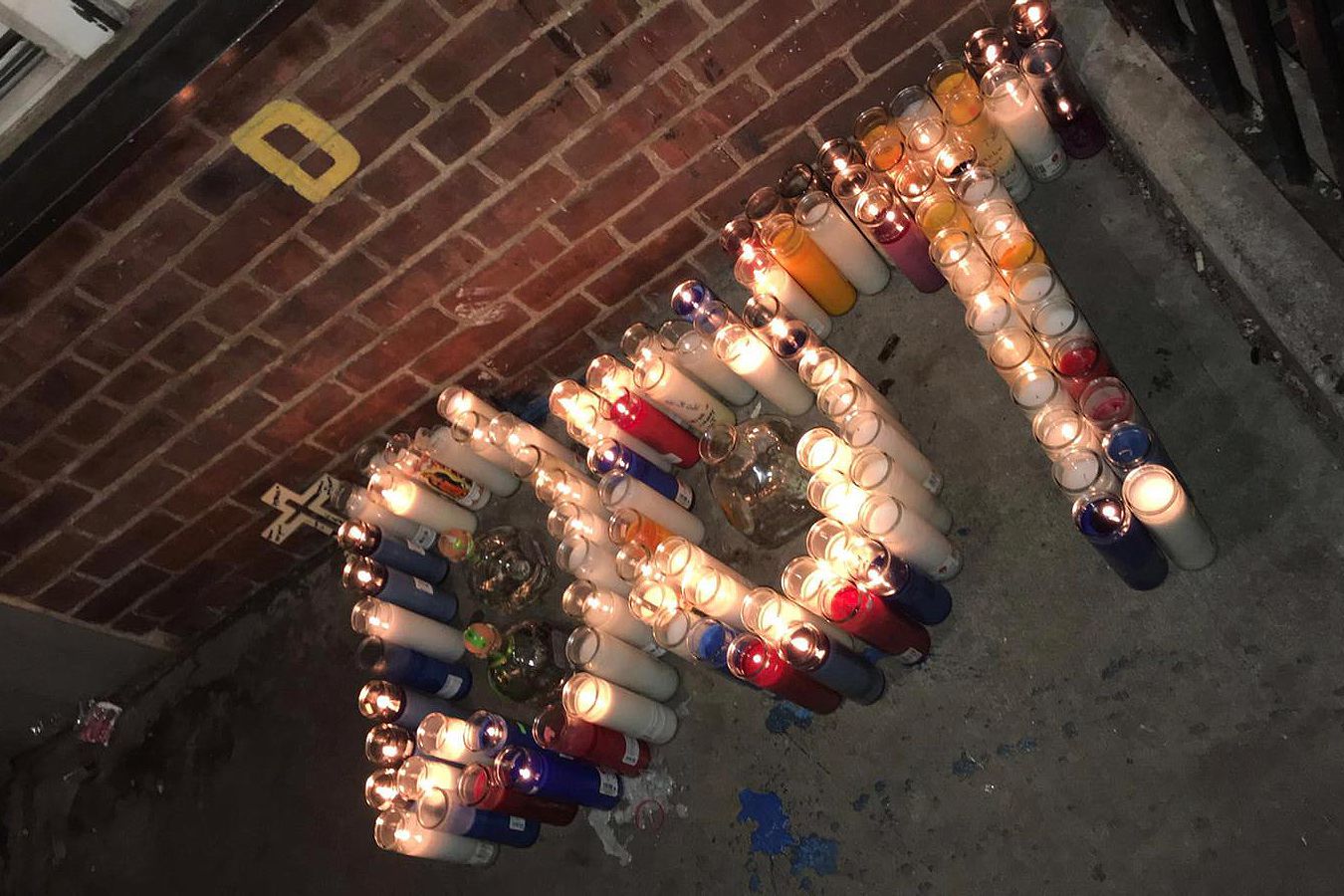 A memorial set by friends and family in honor of Armani Hamilton Courtesy of Maria Gonzalez
My son wasn't one who hung out on the streets. He was quiet. I really don't understand how it played out. There were two individuals, one who shot him. They are still out there. Nobody saw nothing? Nobody knows who they are? Why aren't they arrested?
No parent should have to go after their children. This is very stressful. Armani was my only son. I have no more children. And I go through hardship every single day. It's just been very overwhelming. I'm not sleeping, not eating. It took a month or two after his death before I got my appetite back again. I really don't sleep. Like, I actually did not sleep since yesterday afternoon and it's morning right now. And I have not slept yet.
(Interviews have been lightly edited for length and clarity.)


This story was originally published by THE CITY, an independent, nonprofit news organization dedicated to hard-hitting reporting that serves the people of New York.
____
1 One reason for the overall decline could be reduced crime against property due to lockdowns. If most people are at home all the time, burglary and car thefts become riskier. Or it could be the William Gibson notion, "The future is already here. It's just not very evenly distributed."