By Lambert Strether of Corrente.
Bird Song of the Day
At the suggestion of SomeGuyinAZ, the Gray Catbird.
#COVID19
Lambert here, last Friday: Well, I said "If these declines continue through the end of the week, I'm gonna have to conclude we're looking at a genuine fall in the numbers — not the current narrative, I might add — and that we are not looking at a reporting effect from the long weekend." So I have to conclude we're looking at a genuine fall in the numbers.
We are also not seeing an explosion from travel over the holidays, now well in the rear-view mirror. We might get a spike in ten days or so, if people were partying on MLK day, but with luck it will be small. Of course, there are those worrisome variants, so a mood of sunny optimism is not warranted.
Amplifying the variants issue: I am looking at aggregated regional and national data. That doesn't preclude the idea that there are individual "hot spots" that are doing very badly. And if those hot spots are due to the new variants, and one or more of the variants is either resistant to the vaccine, or eludes current treatment protocols, we could see another rendition of the "stair step" pattern that we've already seen in cases. Unfortunately, our data collection is so bad that we have no way of tracing viral lineage in anything like near-real time, so we can't tell where the variants are hitting. (Cities with direct flights to the UK or South Africa would be places to check the sewage.) We might keep in the back of our minds that the first sign of a tsunami is water withdrawing from the shore — like the decline we are seeing now. It never hurts to have an extra mask or two around the house, or sacks of rice and beans, say I.
* * *
At reader request, I've added this daily chart from 91-DIVOC. The data is the Johns Hopkins CSSE data. Here is the site.
I feel I'm engaging in a macabre form of tape-watching…. (A reader asked the source of the data: Johns Hopkins CSSE. DIVOC-91 does allow other data sets to be used, like Our World in Data and The Atlantic, and where they provide visualizations similar to those below, a cursory comparison shows that the shape of the curves is the same.)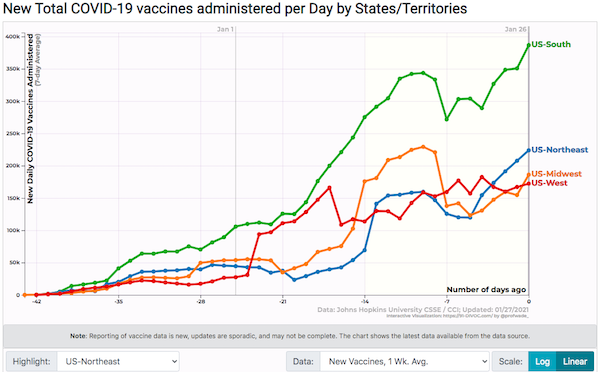 Case count by United States region: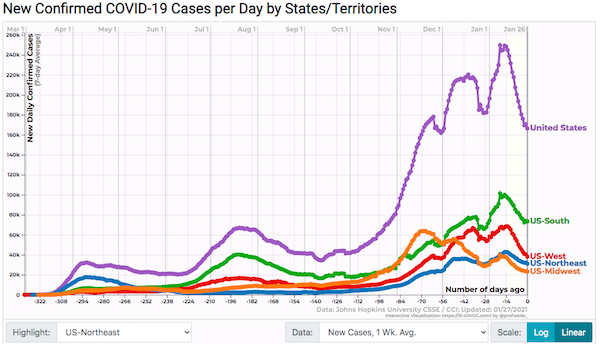 Big states (New York, Florida, Texas, California):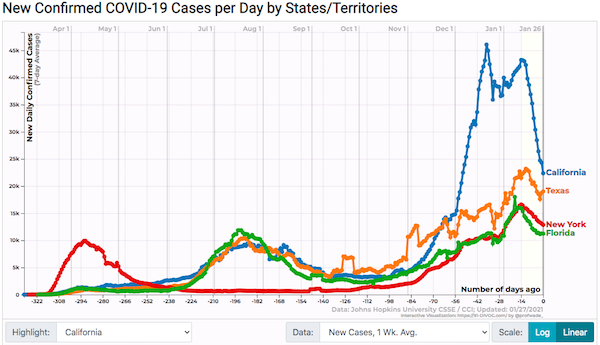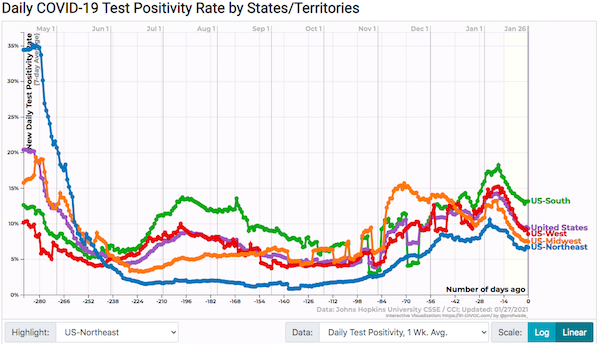 Nowhere near 3%, anywhere.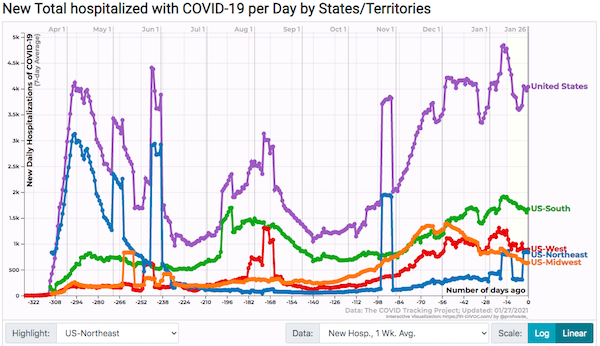 Note: The increase in hospitalizations, due to a slight uptick in the West, and a leap in the Northeast. But look back at the Northeast, and you'll see a similarly-sized leap, followed by a fall. Of course, the pessimistic scenario is that the Northeast is Boston, and Boston is flights from Ireland, infecting families with B117. Something to watch.
Hospitalization is discretionary; they may also be reducing their admissions rate — relative to cases we cannot see in this data! — to preserve future capacity; or because hospitals have figured out how to send people home.
Case fatality rate (plus deaths):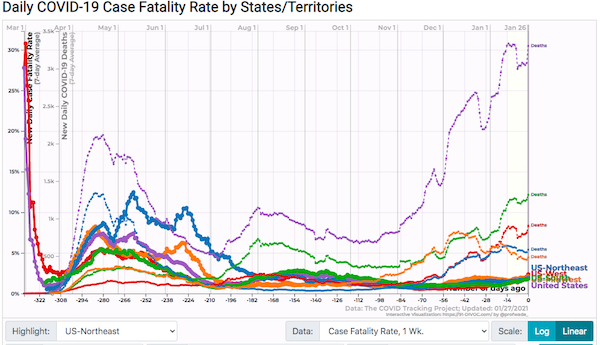 * * *
"Cuomo Lifts Gathering Restrictions Across New York State" [Bloomberg]. "Governor Andrew Cuomo lifted restrictions in most hot spot areas across New York state, saying the post-holiday surge in Covid-19 cases and hospitalizations is over. New York City restaurant restrictions continue. The governor said he will be speaking with local officials and will announce a plan by the end of the week for potentially easing them. 'We're looking at going back to the 25% would be the question, and how and when do you do that,' Cuomo said Wednesday, referring to a previous limit of 25% of indoor capacity. So-called yellow zone restrictions remain in two areas of the Bronx, one in Queens, one in Washington Heights and one in Newburgh, Cuomo said. In those spots, non-residential gatherings are restricted to a maximum of 25 people, residential gatherings are limited to 10 people, houses of worship can operate at 50% capacity and indoor and outdoor dining is restricted. Cuomo reported a fifth-straight decline in daily cases. Positivity and hospitalizations are on the decline across the state, he said Wednesday at a virus press briefing."
Politics
"But what is government itself, but the greatest of all reflections on human nature?" –James Madison, Federalist 51
"They had one weapon left and both knew it: treachery." –Frank Herbert, Dune
"They had learned nothing, and forgotten nothing." –Charles Maurice de Talleyrand-Périgord
Capitol Seizure
UPDATE "Exclusive: Proud Boys leader was 'prolific' informer for law enforcement" [Reuters]. • Quite a scoop from Reuters, lol. Did the FBI buy Gavin's moustache wax?
Impeachment
UPDATE "To achieve unity, we need the Trump impeachment trial: OPINION" [Matthew Dowd, ABC]. "The staircase to unity, healing and justice starts with the steps of truth and accountability. Leaping too quickly to unity, skipping over those first few steps, will likely lead us to stumbling, falling and failing as occurred in the aftermath of the Civil War, and allow years of division to continue to tear us apart (including insurrectionists storming the Capitol, some holding Confederate flags). Conservatives, progressives and any other political persuasion must be able to come together on some fundamental values we teach our children on truth and responsibility." • I wouldn't mind a Truth and Reconciliation Commission. I'd start with the Bush administration, because Constitutionally, I think that's when things really spun out of control. Such a Commission for the Trump Administration only is bound to fail; Dowd, as a former Bush administration official and latter-day Never Trumper, probably thinks the political universe consists of his guys and liberal Democrats. It doesn't.
Transition to Biden
UPDATE "Biden's Inaugural Speech Was the Least Upbeat in Decades" [Bloomberg]. "Using the natural-language processing software LIWC (Linguistic Inquiry and Word Count) to analyze first inaugural speeches from Ronald Reagan's onward, [social psychologist James Pennebaker] found that Biden's had more expressions of negative emotion than average, and of anger in particular. Biden talked less about money or work than Trump or any president since the 1970s, and—not surprisingly during a pandemic—more about death, asking Americans to join him in a silent prayer for those lost to the coronavirus. An analysis provided to Bloomberg using another tool, Diction, created by Roderick Hart, finds Biden favored personal language ("I," "mine") and everyday words ("highway," "groceries"). Trump and Biden used simpler language in their addresses than other recent presidents. Trump's corresponded to a 10th-grade reading level on the Flesch-Kincaid readability scale; Biden's to an eighth-grade level."

"Wall Street, financial firms go on lobbying hiring spree as Democrats take control of Washington" [CNBC]. "Wall Street and financial firms across the country are hiring a legion of lobbyists as Democrats prepare to rein in their industry with tighter regulations and increased scrutiny. These companies include private equity juggernaut Blackstone, credit card and banking company Discover, consumer credit reporting giant Equifax, and tech-driven stock exchange Members Exchange."

UPDATE "Read My Lips: $2,000 Now" [The Daily Poster]. "Late last year, at the urging of Bernie Sanders and House progressives, Democrats were forced to break from their proclivity for complexity and issue a simple 'read my lips'-esque promise to deliver $2,000 survival checks. Even though the proposal was itself means tested, it was still nearly universal and so straightforward that it helped Democrats win two Senate seats in Georgia, a longtime Republican stronghold. And yet, despite the fact that the $2,000 checks proposal is enormously popular, the party has almost immediately reverted back to form, slowly but surely trying to complicate the idea to the point where it's becoming unrecognizable, complex and a proof point for those who believe Democrats refuse to just do what they promise…. On Monday, Biden declared that the once simple proposal is now 'all a bit of a moving target in terms of the precision with which this goes,' adding: 'There's legitimate reason for people to say, 'Do you have the lines drawn the exact right way? Should it go to anybody making over X number of dollars or Y?"… The most exquisitely crafted 'well, actually' arguments from Washington know-it-alls, academic experts, smug pundits and emoji-wielding Twitter mobs will not save Democrats from a voter backlash if they fail to deliver on their simple promise — just like George Bush's technocratic arguments about budgets and taxes didn't save him from a voter backlash after he issued his simple 'read my lips' pledge and then violated it." • Which is what Biden did, and it's ridiculously obvious. Warnock ran, and won, on an actual image of a $2,000 (Two Thousand Dollar) check:

Do liberal Democrats really believe people don't notice these things?
Democrats en Deshabille
UPDATE "The Democrats' Civil War Over the Filibuster Has Barely Begun" [Eric Levitz, New York Magazine]. "[I]f the outlook for filibuster abolition looks dim, Blue America's civil war over the issue is far from over. For the Democratic Party as an institution, the stakes of enacting major reforms over the next two years are nearly existential. And its leadership appears to understand this, even if its marginal senators do not (and/or care not for their party's fate). The basic problem facing the Democratic Party is simple: Barring an extraordinary change to America's political landscape, it will lose control of Congress in 2022 and have a difficult time regaining control for a decade thereafter…. To defy political gravity, and fortify U.S. democracy against the threat of authoritarian reaction, Democrats need to either rebalance the electoral playing field through the passage of structural reforms, or attain a degree of popularity that no in-power party has achieved in modern memory. If the filibuster remains in place, doing the former will be impossible and the latter highly unlikely…. [T]he Democrats' existential interest in eroding the filibuster remains on a collision course with its moderate senators' aversion to power. Anyone with a fondness for democracy must hope that, against all odds, the forces of partisanship will prevail." • If only liberal Democrats put the same energy into figuring out how to govern that they put into screwing Sanders and his voters. Anyhow, this is really good from Levitz, worth reading in full.

"Nancy Pelosi Buys Tesla Calls, Stands To Benefit From New Biden EV Plan" [Yahoo Finance]. "he purchases by Pelosi are questionable as arguments could be made that the companies stand to benefit from new President Joe Biden's agenda. Biden's push for electric vehicles, which could include lifting the cap on sales, would give buyers tax credits again and is advantageous for Tesla. The president has also suggested a possible cash-for-clunkers program that could incentivize customers for trading in used vehicles towards the purchase of an electric vehicle. Pelosi could now have a conflict as she works to pass clean energy initiatives from which her family could profit." • "Could"?

Grifters gotta grift:

Hillary, Chelsea Clinton to produce series about all-woman militias that fought Islamic State https://t.co/xMzYUswzPD pic.twitter.com/OFXEVXEj5B

— The Hill (@thehill) January 26, 2021

Resistance types should identify…
Obama Legacy
"Remembering Rahmbamarama, the Obama Era's Most Zealous Fan Community" [Jezebel]. "other comments were similarly keyed up. "FAPFAPFAPFAPFAP," wrote one user. Another felt inspired to write a very brief fanfiction about Emanuel attempting to seduce House Speaker Nancy Pelosi. This was welcomed, even encouraged at the Livejournal community Rahmbamarama, a place where Emanuel's loudest and most ardent fans congregated during the early years of the Obama administration to talk White House news and post horny photo dumps and smutty fanfiction featuring Emanuel and other Democratic Party members and allies. " • Ow! My eyes!!!!! Seriously, how did I miss this at the time? (And is there anything similar happening now?)
RussiaGate
UPDATE "You Can't Blame Russia for Trump" [Foreign Policy]. "However, the problem with trying to pin the events of Jan. 6 on Russia, or of trying to frame Trump's actions as directed by Russians, is that it can lead Americans away from introspection about their own system's failings, and towards blaming a larger-than-life foreign other that isn't actually as powerful as some may think." • Now they tell us!
Realignment and Legitimacy
"Trump political team disavows 'Patriot Party' groups" [Axios]. "Donald Trump's still-active presidential campaign committee officially disavowed political groups affiliated with the nascent 'Patriot Party' on Monday. Trump briefly floated the possibility of creating a new political party to compete with the GOP — with him at the helm. But others have formed their own 'Patriot Party' entities during the past week, and Trump's team wants to make clear it has nothing to do with them."

When Meghan McCain makes sense

I am creeped out by both of these photos and wish people would stop sending me the one the right because the last thing I hope my dad is doing in the afterlife is literally anything having to do with politics. https://t.co/U6EMqa4Py6

— Meghan McCain (@MeghanMcCain) January 26, 2021

UPDATE "Wixom man pleads guilty in Whitmer kidnap plot, agrees to 'fully cooperate'" [Detroit Free Press]. "Almost three months after his arrest, a Wixom man pleaded guilty to his alleged role in the foiled plot to kidnap Gov. Gretechen Whitmer and has agreed to "fully cooperate" with the FBI in exchange for leniency, including testifying against his cohorts if called upon. Ty Garbin, a airline mechanic, pleaded guilty to kidnap conspiracy in U.S. District Court in Grand Rapids Tuesday morning, admitting he was part of a group that sought to kidnap Whitmer from her vacation home and that he was more than a bystander. Specifically, Garbin admitted that he cased Whitmer's vacation home in preparation for the kidnapping, attended training exercises and brought night binoculars to one practice exercise. Garbin, 25, faces up to life in prison on the kidnap conspiracy charge. Federal prosecutors have agreed to recommend a lighter sentence — they did not disclose any figures — in exchange for his cooperation…. Garbin is one of 14 men accused of conspiring to kidnap the governor, motivated largely by anger over her lockdown orders during the pandemic."

"The Siege of Paris 1870-71" (podcast) [In Our Time]. "Melvyn Bragg and guests discuss the siege of Paris during the Franco-Prussian war and the social unrest that followed, as the French capital was cut off from the rest of the country and food was scarce. When the French government surrendered Paris to the Prussians, power gravitated to the National Guard in the city and to radical socialists, and a Commune established in March 1871 with the red flag replacing the trilcoleur. The French government sent in the army and, after bloody fighting, the Communards were defeated by the end of May 1871." • If you want to understand what a real insurrection is like, you could to worse than listen to Melvyn and his guests (which is an inexhaustibly great podcast anyhow).
Stats Watch
At reader request, I added some business stats back in. Please give Econintersect click-throughs; they're a good, old-school blog that covers more than stats.
Durable Goods: "Headline Durable Goods New Orders Improved Again In December 2020" [Econintersect]. "The headlines say the durable goods new orders improved for the eighth consecutive month. Our analysis shows the rolling averages improved…. The data this month was within expectations – and, the previous month was revised up. In the adjusted data, the improvement was again driven by defense aircraft and motor vehicles."
Employment Situation: "Job Growth in the South Bucks Losses in Rest of U.S." [Wall Street Journal]. "The South is leading the U.S. labor market's recovery from the pandemic's initial shock as the only major region with continued payroll growth at the end of last year while the rest of the country lost jobs. Southern states logged job growth across the private sector in December, including services industries, which were hit hard by the pandemic, and manufacturing, according to a Labor Department report that provides details on the job market in all 50 states. Texas and Georgia gained the most jobs in December, adding a seasonally adjusted 64,200 and 44,700 jobs, respectively. In contrast, payrolls in the Midwest, West and Northeast fell last month, when the nation's total payrolls slipped by 140,000 for the first decline in seven months. In those parts of the country, a surge in virus infections, related restrictions and winter weather prompted steep job cuts in leisure and hospitality industries."
* * *
Tech: "Artificial Intelligence Will Define Google's Future. For Now, It's a Management Challenge." [Walll Street Journal]. "Alphabet Inc.'s Chief Executive Sundar Pichai has bet big on artificial intelligence as central to the company's future, investing billions of dollars to embed the technology in the conglomerate's disparate divisions. Now, it is one of his trickiest management challenges. Over the past 18 months, Google's parent has waded through one controversy after another involving its top researchers and executives in the field…. Google has said its artificial-intelligence advancements have helped create faster and more accurate search results—as well as more relevant advertising." • Oh, so it's AI that crapified Google search, good job.
Mr. Market: "Reddit Crowd Bludgeons Melvin Capital in Warning to Industry" [Bloomberg]. "The explosive growth in retail day-trading, powered by platforms like the Robinhood trading app and forums like wallstreetbets, has turned the old order on its head. Melvin Capital's mistake, if it can be called that, was leaving footprints behind in the marketplace. Reddit users were able to identify stocks that Melvin was wagering against and then buy those en masse, unleashing a violent run-up in prices that turned Melvin's winning bet into a loser…. The shorts that were listed in Melvin's regulatory filing from the third quarter all rocketed in recent weeks. Names include Bed Bath & Beyond Inc., iRobot Corp. and GSX Techedu Inc. GameStop, the stock that seemed to set off the short squeeze, soared 634% in the month through Tuesday…. Melvin's cash infusion was almost unheard of in hedge fund land. Griffin, his partners and the hedge funds he runs at Citadel threw in $2 billion and Cohen's Point72 Capital Management, which already had about $1 billion invested in Melvin, ponied up another $750 million." • That's a damn shame.
Mr. Market: "In GameStop saga unfolding on Wall Street, 2 Goliaths fall" [Associated Press]. "The size of the losses taken by Citron and Melvin are unknown. The Wall Street frenzy over GameStop began when an army of smaller-pocketed investors on Reddit started throwing dollars and buy orders at the stock — in direct opposition to a group of wealthy investors who were counting on the stock price to plunge. There is no overriding reason why GameStop has attracted those smaller investors, but there is a distinct component of revenge against Wall Street in communications online. Over the past three months, shares of GameStop Corp., which has been buffeted by a shift in gaming technology, have spiked well over 1,000%. Shares are up another 100% at the opening bell Wednesday. That has created titanic losses for major Wall Street players who have "shorted" the stock, which means they borrowed shares and sold them, hoping to buy them back at a cheaper price and pocket the difference. As of Tuesday, the losses had already topped $5 billion in 2021, according to S3 Partners. And the phenomenon does not appear to be fading."
Mr. Market: "GameStop Stock Drama Continues As Price Soars And Hedge Fund Blinks" [Kotaku]. "Meanwhile, the ensuing chaos caused GameStop stock trading to be temporarily halted yet again this morning and caused outages on the trading app Robinhood. Other companies like Blackberry and AMC are also seeing smaller, though still dramatic stock climbs, as Reddit traders attempt to go boost other companies massively shorted by big hedge funds. All of this is the culmination of a long game that's been brewing on the WallStreetBets subreddit for a while now as amateur day traders decided to turn the misfortunes of a floundering brick-and-mortar game seller into their cause celebre for dunking on professional investment firms. In some ways it's a very complicated story driven by the weird mechanics of Wall Street, but in other ways it's a familiar tale of extremely online people trying to stick it to someone, in part to make a buck, but also for the 'lulz'." • Very good, especially on the Reddit action. Then again:
It's vain to imagine you can concoct a new investment strategy that won't immediately be utilized and soon dominated by financial incumbents https://t.co/MX7NYsDdIE

— Alice ?? (@AliceFromQueens) January 27, 2021
Mr. Market: "How R/Wallstreetbets Gamed the Stock of Gamestop" [The Verge]. "Day traders, such as the ones on r/WallStreetBets, are typically held in contempt by professional traders, and they are acutely aware of this. The professional short-sellers who created the possibility of a short squeeze underestimated the day traders' sophistication, and r/WallStreetBets pounced. Time to troll Wall Street out of a fuckload of money! The fine people of r/WallStreetBets decided GameStop was undervalued, and the stock would go up, so they put up a bunch of posts about how they were buying GameStop options. This drove up the stock price for GameStop, as their counterparties had to load up on stock to balance, and then more stock as more people bought options and so on. The soaring stock meant some shorts had to cover, sending the stock up further. As of January 26th, short-sellers have been trolled out of about $5 billion in 2021, just from their GameStop positions alone. What does Robinhood have to do with this? Well, it makes options trading much more accessible to retail investors — but there's something else. Trades on Robinhood are free! But Robinhood isn't offering free trades to be nice; the company gets paid by some big-time investors such as Citadel Securities to see what retail investors are doing. This phenomenon, which other brokerages are engaged in as well, is called payment for order flow. Citadel Securities makes its money on these orders by "automatically taking the other side of the order, then returning to the market to flip the trade. It pockets the difference between the price to buy and sell, known as the spread," according to the Financial Times." • So, perhaps not quite the David and Goliath story that everybody's excited about…
Publishing: "Bracing for Another E-book Price-Fixing Case" [Publishers Weekly]. "The suit is being brought against Amazon on behalf of three named plaintiffs and a potential class of consumers who bought e-books published by the Big Five "through a retail platform that competes with Amazon at a price inflated by Amazon and its Co-conspirator Publishers' price restraint." The suit was filed by Seattle-based firm Hagens Berman, which filed the first e-book price-fixing lawsuit against Apple and five of the then–Big Six publishers in August 2011. And we remember how that turned out: with a federal antirust suit and claims from 33 states. The publishers ended up settling all claims for a total of $166 million in consumer credits. Apple lost at trial a year later and paid out a $450 million settlement. As to why this suit is happening now, suffice it to say that it feels like the Amazon antitrust train is getting ready to leave the station and Hagens Berman wants on. "
* * *
Today's Fear & Greed Index: 46 Neutral (previous close: 55 Neutral) [CNN]. One week ago: 65 (Greed). (0 is Extreme Fear; 100 is Extreme Greed). Last updated Jan 27 at 1:19pm. GameStop!
The Biosphere
"Biden Issues Dozens of Oil Drilling Permits in First Few Days" [Bloomberg]. "The Biden administration has issued at least 31 new drilling permits authorizing operations on federal land and coastal waters, despite an order putting political appointees in charge of the decisions. The move signals those drilling authorizations are continuing to flow, despite President Joe Biden's plan to pause oil and gas leasing — and a Jan. 20 order temporarily putting decisions about oil and gas permits, mining operations, hiring and other matters in the hands of top Interior Department officials. The order provoked alarm across the oil industry, as energy companies worried they wouldn't get approval to drill new wells or swift approval to amend permits for ongoing drilling operations. So far, there's no sign of that blockade."
"Empty seas: Oceanic shark populations dropped 71% since 1970" [Associated Press]. "Scientists have known for decades that individual shark species are declining, but a new study drawing on 57 global datasets underscores just how dramatically worldwide populations have collapsed in the past half century. Globally, the abundance of oceanic sharks and rays dropped more than 70% between 1970 and 2018, according to a study published Wednesday in the journal Nature. And 24 of the 31 species of sharks and rays are threatened with extinction, while three species — oceanic whitetip sharks, scalloped hammerhead sharks and great hammerhead sharks — are considered critically endangered."
Health Care
"China's Zero-Tolerance Covid Tactics Now Include Anal Swabs" [Bloomberg]. • Oh.
Our Famously Free Press
Sad news [wipes tear]:
Breaking: @washingtonpost editor Marty Baron announces his retirement. Note to staff: pic.twitter.com/BCa6zdfi43

— Paul Farhi (@farhip) January 26, 2021
Thanks for nothing, Marty you putz. (Hilariously, Baron mentions neither Iraq WMDs nor RussiaGate. I wonder why?)
Silicon Valley prepares to destroy podcasting, just as they did with blogging:
the great podcast roll-up is starting https://t.co/M76de8ljnT

— ryan cooper (@ryanlcooper) January 26, 2021
We need some platforms. Plus, they're easier to censor.
Groves of Academe
"Iowa lawmakers advance bill to eliminate tenure" [The Gazette]. "A bill to end tenure at Iowa's public universities advanced out of an education subcommittee Tuesday, despite pushback from Board of Regents lobbyists and opposition from economic and industry associations — like those representing Iowa's soybean, cattle, and pork producers. 'I worry that we're going to lose the best and the brightest,' Rep. Mary Mascher, D-Iowa City, told her colleagues in a House education subcommittee Tuesday, stressing potential losses from Iowa's research enterprise and from its medical, veterinary, pharmaceutical and dental practitioner pool. 'We have some of the best in the nation,' Mascher said, noting recent work on COVID-19 vaccines within UI Health Care. "For us to lose that quality worries me a great deal.' But Reps. John H. Wills, R-Spirit Lake, and Skyler Wheeler, R-Orange City, advanced the tenure-elimination bill, arguing Iowa's publicly funded universities should be able to terminate faculty for reasons beyond what they define as 'just cause, program discontinuance and financial exigency' — per the regents' current tenure policy. ',' Wheeler said. 'You get canned. It's going to be hard to get another job. So I won't get into all the different details, but Rep. Wills and I are going to pass this on.'" • When I hear the phrase "the real world," I tend to mentally substitute "my fantasy world." As here.
L'Affaire Joffrey Epstein
"Could Jeffrey Epstein Have Played Leon Black So Easily?" [Bloomberg]. "[T]he Wall Street tycoon's inability to follow his own advice about Epstein is a curious thing. Black, 69, is worth about $10 billion and is as savvy and hard-bitten as they come. He shouldn't be easy to hoodwink… If Apollo's board hoped its investigation of the Black-Epstein nexus might provide closure, it's wrong. The report raises as many questions as it answers, begs for more transparency, and leaves anybody who can't afford to pay $158 million to save billions – which is almost everybody – tuned in to the obvious: Leon Black is not the kind of guy to get so easily played. So tell us more. "
Class Warfare
"Why you should ditch 'follow your passion' careers advice" [Financial Times]. "Ms Jaffe wants people to imagine a society which is not organised 'emotionally and temporally' around work. As she writes in the book: 'What I believe, and want you to believe, too, is that love is too big and beautiful and grand and messy and human a thing to be wasted on a temporary fact of life like work.'" • I think Jaffe was "work" and "job" confused.
UPDATE "Neither Class Reduction nor Race Reduction: Toward a Revolutionary Left Framework on an Age-Old Debate" [Black Agenda Report]. "The white supremacist state cannot censor itself, nor does it have any interest in creating the economic conditions for its own dissolution. White supremacy and class are not separate phenomenon, especially in the context of the United States. Gerald Horne and Theodore Allen have both proven through historical record that white supremacy is embedded in the capitalist political economy of the United States… White supremacy and class struggle must thus be taken together as parts of a whole social system rather than separate categories of oppression…. White supremacy appeared in the historical development of the United States as an intentional policy meant to consolidate the rule of settler colonialism and capitalism. European settlers of all classes would be united by their racial affiliation rather than divided by contradictory class interests. Black and other non-white peoples would be terrorized by the racialization of their being, thereby enhancing class exploitation by way of chattel bondage, Jim Crow fascism, and the like….. The Capitol Hill riot was an outgrowth of a profound popular confusion that has taken hold in the United States over this basic history. Only a negation of the history of white supremacy could produce the conclusion that Medicare for All and $2,000 per month would have prevented the addle minded white Americans from storming Capitol Hill… The self-described 'patriots' who stormed Capitol Hill are the spawn of the Trump era—a period where the crisis of U.S. imperialism opened a lane for white reaction to pose as 'working class' interests. This lane was opened primarily by the Democratic Party, which used the Trump era to promote racist conspiracies of 'Russian collusion' and antagonize non-ruling class white Americans as 'deplorables.' All the while, white liberals and the so-called leadership of 'Black Lives Matter' have followed the Democrats down a 'race only' framework which seeks inclusion within a decaying imperialist state alongside openly racist 'blue MAGA' demagogues like Joe Biden."
News of the Wired
"A New Way to Trace the History of Sci-Fi's Made-Up Words" [Wired]. "The game gets played between writer and reader, for sure, but also among writers, and between all the writers and all the readers. Some words get used again and again, becoming a meta-canonical corpus as allusive as classical haiku. It's a game so complicated that it'd be nice to know the rules, maybe see the shape of the pieces. That's where a lexicographical mad scientist named Jesse Sheidlower comes in. His creation, the Historical Dictionary of Science Fiction came to life online this week—1,800 entries dating back to the beginning of the 20th century, with not only definitions but the earliest known uses, links to biographical information about the writers, and links to more than 1,600 scans of the original pages where the words appeared. It's a wormhole into not just one alternate universe but a lexicographic multiverse, where time-traveling canons overlap in unexpected ways with each other and with whatever universe the reader happens to be sitting in. Cool concepts from your favorite movies turn out to precede those movies by decades; science fiction gets things right before science. It's a trip, and it might just lead to some answers about what science fiction is and what it means." • Ansible is there. Shifgrethor is not. Hmm.
"Jim Haynes: A man who invited the world over for dinner" [BBC]. "Jim had operated open-house policy at his home every Sunday evening for more than 40 years. Absolutely anyone was welcome to come for an informal dinner, all you had to do was phone or email and he would add your name to the list. No questions asked. Just put a donation in an envelope when you arrive. There would be a buzz in the air, as people of various nationalities – locals, immigrants, travellers – milled around the small, open-plan space. A pot of hearty food bubbled on the hob and servings would be dished out on to a trestle table, so you could help yourself and continue to mingle. It was for good reason that Jim was nicknamed the 'godfather of social networking.' He led the way in connecting strangers, long before we outsourced it all to Silicon Valley." • This sounds brilliant. Not for me, but I'm too introverted. Maybe some reader will think this is a good thing to try, when we can reduce our social distance?
* * *
Readers, feel free to contact me at lambert [UNDERSCORE] strether [DOT] corrente [AT] yahoo [DOT] com, with (a) links, and even better (b) sources I should curate regularly, (c) how to send me a check if you are allergic to PayPal, and (d) to find out how to send me images of plants. Vegetables are fine! Fungi and coral are deemed to be honorary plants! If you want your handle to appear as a credit, please place it at the start of your mail in parentheses: (thus). Otherwise, I will anonymize by using your initials. See the previous Water Cooler (with plant) here. Today's plant (goingnowhereslowly):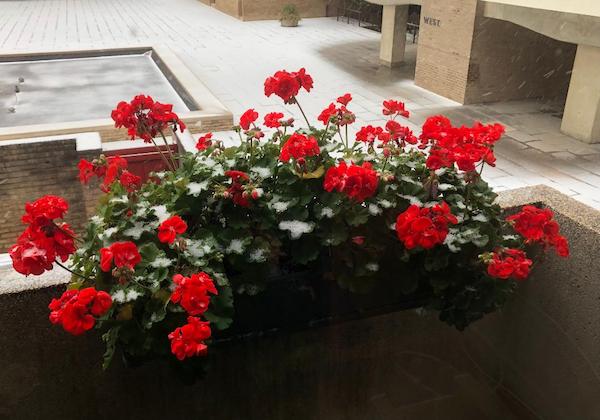 goingnowhereslowly writes: "Geraniums in the snow as the nor'easter came through DC yesterday. I've been very proud of my geraniums this year and I'm keeping them going as long as possible. They survived the storm quite well, just a little beat up from the rain and wind that followed the snow."
* * *
Readers: Water Cooler is a standalone entity not covered by the recently concluded and — thank you! — successful annual NC fundraiser. So if you see a link you especially like, or an item you wouldn't see anywhere else, please do not hesitate to express your appreciation in tangible form. Remember, a tip jar is for tipping! Regular positive feedback both makes me feel good and lets me know I'm on the right track with coverage. When I get no donations for five or ten days I get worried. More tangibly, a constant trickle of donations helps me with expenses, and I factor in that trickle when setting fundraising goals:
Here is the screen that will appear, which I have helpfully annotated.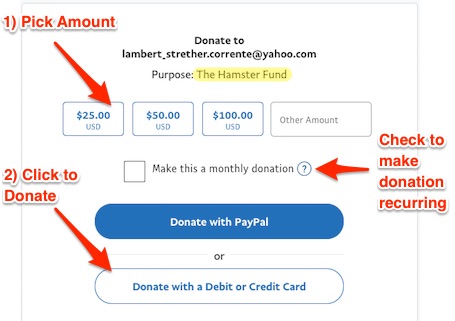 If you hate PayPal, you can email me at lambert [UNDERSCORE] strether [DOT] corrente [AT] yahoo [DOT] com, and I will give you directions on how to send a check. Thank you!