By Lambert Strether of Corrente.
Patient readers, I will add more material under Politics in shortish order. –lambert UPDATE All done!
Bird Song of the Day
A city bird — as you can tell from the honking car in the beginning!
And a country bird:
An owl obviously spotted something to eat even in the snow. They are wonderful creatures, but they don't take prisoners! pic.twitter.com/VkYuZTJCgs

— Neil Drysdale (@NeilDrysdale) February 9, 2021
#COVID19
At reader request, I've added these daily charts from 91-DIVOC. The data is the Johns Hopkins CSSE data. Here is the site.
I feel I'm engaging in a macabre form of tape-watching…. (A reader asked the source of the data: Johns Hopkins CSSE. DIVOC-91 does allow other data sets to be used, like Our World in Data and The Atlantic, and where they provide visualizations similar to those below, a cursory comparison shows that the shape of the curves is the same.)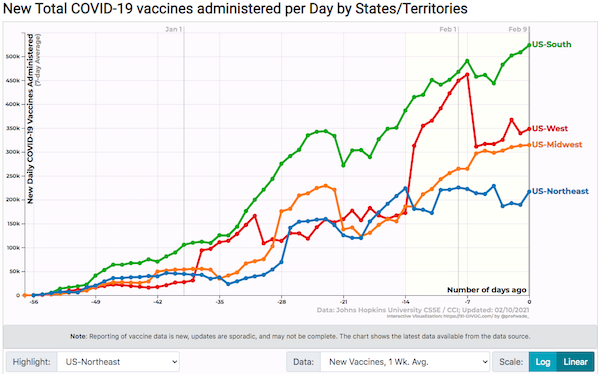 The South continues to out-perform. Snow makes the Northeast what it is. UPDATE On reconsideration, the last peak in the Northeast was two weeks ago, and today's numbers are below that peak. So perhaps there are more problems than snow. Readers?
Case count by United States region: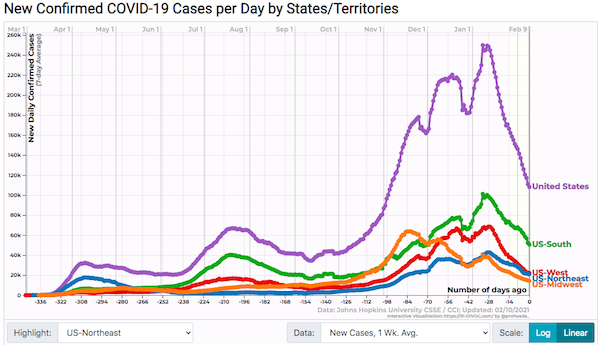 Still dropping nicely. Maybe in a couple of months we'll be back to where we here in the summer of 2020.
Big states (New York, Florida, Texas, California):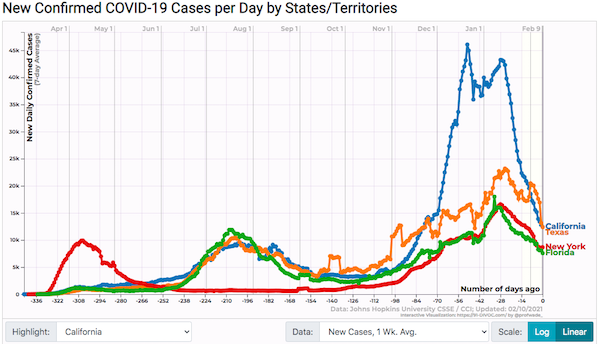 Texas going down again. That's a relief. Florida still heading down. I suppose we'll have to be watching to see the results of the Super Spreader Bowl…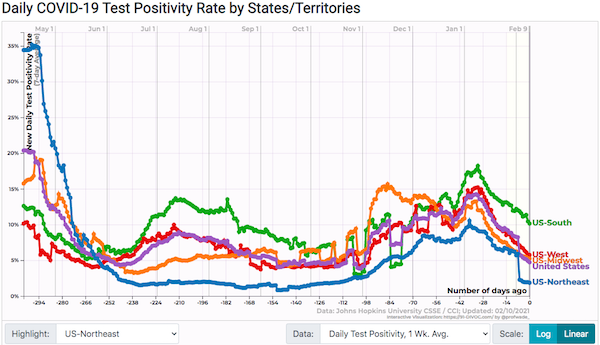 The Northeast falls off a cliff, again I assume due to snow.
Nowhere near 3%, anywhere.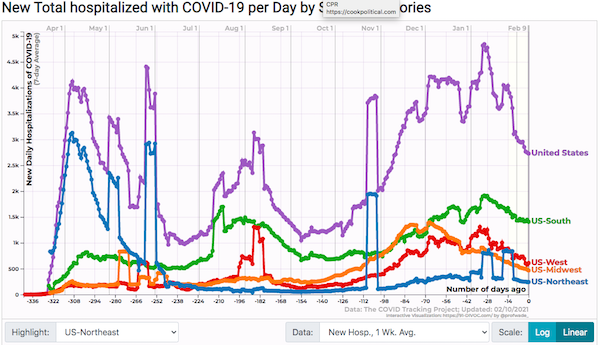 The South has flattened. Given that hospitalization is probably a more reliable indicator of trouble than case count, I certainly hope that's the not first sign of B117. Hospitalization is discretionary; they may also be reducing their admissions rate — relative to cases we cannot see in this data! — to preserve future capacity; or because hospitals have figured out how to send people home.
Case fatality rate (plus deaths):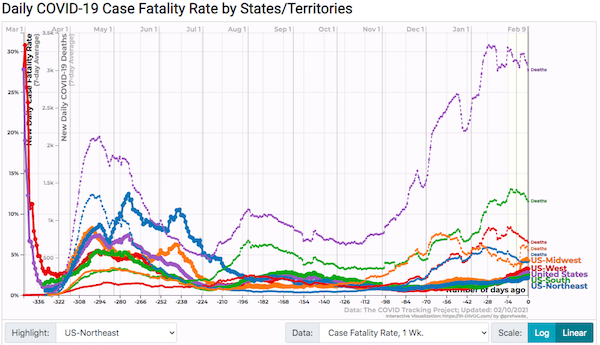 The case fatality rate has markedly increased, albeit slowly. I don't like that at all. Deaths plateau, and should really be starting to fall at some point.
* * *
CA: "No bathrooms. No seating. Endless lines. Struggling seniors face vaccine misery" [Los Angeles Times]. "The system set up by Los Angeles County seems, in many ways, to be a young person's game: It can take social media skills, technology savvy, reliable transportation and even physical stamina to obtain one of the coveted shots. That leaves some of the county's most vulnerable residents at a serious disadvantage."
Politics
"But what is government itself, but the greatest of all reflections on human nature?" –James Madison, Federalist 51
"They had one weapon left and both knew it: treachery." –Frank Herbert, Dune
"They had learned nothing, and forgotten nothing." –Charles Maurice de Talleyrand-Périgord
Capitol Seizure
"Former Capitol Police Chief Steven Sund says entire intelligence community missed signs of riot" [ABC]. "[Former Capitol Police Chief Steven Sund] said that intelligence indicated that the Jan. 6 event would be similar to two previous post-election demonstrations from November and December, which he described as MAGA I and MAGA II. Though, he wrote, the assessment included language that 'members of the Proud Boys, white supremacist groups, Antifa, and other extremist groups were expected to participate in the Jan. 6 event and that they may be inclined to become violent.' He continues: 'This was very similar to the intelligence assessment of the Dec. 12, 2020, MAGA II event.' During both of those previous protests there was a 'limited amount of violence and/or injuries to officers, and a limited number of arrests.' 'Having previously handled two major post-election demonstrations successfully utilizing an action plan that was based on intelligence assessments that had proven to be credible, reliable, and accurate, we reasonably assumed the intelligence assessment for Jan. 6, 2021, was also correct.'"
Impeachment
"Live updates: Trump's 2nd impeachment trial" [Yahoo News]. • Lots of live coverage, but this is free.
2020
"Hispanics or coups" [Noah Smith, Noahpinion]. "The Hispanic shift in 2020 was real. Giancarlo Sopo, who worked for the Trump campaign's Hispanic outreach (but who later broke with the Trumpists and denounced the coup attempt), had a good thread laying out the county-level evidence. Sopo shows a lot of county-level data indicating that the Hispanic shift to Trump was not just Cubans, but also included Mexicans, Puerto Ricans, and Colombians. Though he's obviously going to be biased, more neutral observers have reached the same conclusion….. repeated coup attempts would probably kill the GOP's chances of becoming a majority party. For example, Sopo, who actually worked on the Trump campaign, was horrified by the insurrection and denounced it repeatedly and vehemently."
2021
UPDATE "Yang holds commanding lead in mayor's race: new poll" [New York Daily News]. "Andrew Yang commands a double-digit lead in the Democrat primary for mayor, with his closest rivals, Brooklyn Borough President Eric Adams and Comptroller Scott Stringer, trailing by more than 10 percentage points each, a new poll released early Wednesday morning revealed. Yang, an entrepreneur, would win 28% of total votes, with Adams projected to win 17% and Stringer getting 13%, according to the poll conducted by Fontas Advisors and Core Decision Analytics. Shaun Donovan and Maya Wiley would get 8% of the vote each, while Kathryn Garcia, Ray McGuire and Dianne Morales scored just 2% apiece. Those numbers reflect what operatives for campaigns other than Yang's have been quietly saying for days — that if the election happened tomorrow, Yang would almost certainly win. One key reason is that New Yorkers know who he is. Yang's name recognition far exceeds that of his competitors, the poll also found." • It would be a trip if Yang won, and then eviscerated Cuomo (which is what he would have to do to be a successful mayor. And who knows, if Yang does a really good job as mayor, he might get to take over the Department of Transportation!
Biden Adminstration
UPDATE "Don't expect a $15 federal minimum wage: Goldman Sachs" [Yahoo News]. "President Biden has swung the door wide open on the minimum wage debate in the early days of his presidency. He called for it to be included in a new $1.9 trillion stimulus plan designed to fight the COVID-19 pandemic, although he has recently backed off on having it stuffed into the recovery plan." • Wait. You're telling me Biden backed off on something?

UPDATE School opening, a thread:

2/ In December, Biden said "If Congress provides the funding… if states and cities put strong public health measures in place that we all follow, then my team will work to see that a majority of our schools can be open by the end of my first 100 days."

— Jake Tapper (@jaketapper) February 10, 2021

It's probably good that Biden is backing off on this. But backing off it is.

UPDATE "Biden backs House Democrats' proposed threshold for COVID-19 checks" [The Hill]. "President Biden said Tuesday he agrees with a proposal from House Democrats to begin phasing out the next round of direct coronavirus relief payments to Americans who make more than $75,000, a key sticking point among some in the party. Biden signaled his support for the threshold during a meeting with the heads of several major corporations in the Oval Office. He hosted the business leaders to solicit buy-in on his $1.9 trillion relief proposal as well as to discuss future economic measures such as an infrastructure package and an increase to the minimum wage. 'I'm anxious to hear what these business leaders have to say about what they think about how we're approaching this issue and to see if we can find some common ground,' Biden said. Biden was joined in the Oval Office by Vice President Harris and Treasury Secretary Janet Yellen." • When "common ground" turns out to be relief for 2020's pandemic based on 2019's incomes — before the pandemic collapsed them, ffs — I don't think there's much to be said for common ground. Commentary:

"Negotiating yourself into a position where you, the Democratic Party, where you, Joe Biden, are going to give checks to fewer people than Donald Trump did?"

My mini-rant pushing back against those Dems trying to restrict $1,400 checks to fewer people:pic.twitter.com/u5bQKnUB81

— Mehdi Hasan (@mehdirhasan) February 10, 2021

Anybody who gets a smaller check from Biden than they got from Trump — or no check at all — is going to take that very, very personally.

UPDATE "In Biden's early days, signs of Trump-era problems at border" [Associated Press]. • This was predictable. What was also predictable is that there's absolutely no moral panic about any of this from liberal Democrats. In the article, there seem to be a lot euphemisms for things that might actually turn out to be [gasp] cages. Like "large cells," "holding facilities," "surge facilities," "short-term facilities," "stations," "a large tent facility," and "a converted warehouse." Children, too.
Democrats en Deshabille
UPDATE "Florida Democrats mired in division, debt ahead of 2022" [The Hill]. "Florida Democrats are engulfed in turmoil, facing a mix of internal divisions and financial woes that threaten to hobble the party as it prepares to take on Gov. Ron DeSantis (R) and Sen. Marco Rubio (R) in 2022. The challenges for Florida Democrats are clear. The party has suffered disastrous electoral losses in recent years at both the state and federal levels and now finds itself in a dire financial situation. A year-end report filed on Sunday with the Federal Election Commission showed the Florida Democrats' federal entity with less than $61,000 in the bank and more than $868,000 in debt. Underscoring the party's financial pitfall was the revelation this week that it had allowed its employees' health insurance to lapse at the end of November, leaving staffers unknowingly without coverage. The party's new chairman, Manny Diaz, who was elected to his post just a month ago, said last week that the party's insurance policy has been reinstated and that claims filed during the lapse in coverage will be paid." • I don't understand how this can be. Debbie Wasserman Schultz is a Florida Democrat. So is Donna Shalala. Florida Democratic Party Chair Terrie Rizzo was recently elected to the DNC.
Realignment and Legitimacy
"How the filibuster poisons politics from top to bottom" [Ryan Cooper, The Week]. "The filibuster as it exists today has helped centralize congressional power in a handful of party leaders, fueled corruption, and stoked polarization. It is a blood clot at the heart of our political system….. Because there is no legislating through regular order, the rewards for putting in that work in either house are tiny. If you are lucky (particularly if you suck up to leadership), you might get your pet idea folded into a super-bill, but that is a lot harder with everyone else trying to do the same thing, and you won't get nearly as much credit for it if you succeed. If you are not in the leadership — and there is little prospect of the average representative or senator making it that far — you basically won't ever get to wield real power."

"The media does its own Friday news dump" [Politico]. "Does [DCCC Chair Sean] Maloney's stereotype of QAnon supporters lacking a college education hold true? The answer seems to be no. Our partners at Morning Consult have done some polling on this in a tracking poll… Twenty-seven percent of people with a postgraduate degree responded that QAnon claims are either very accurate or somewhat accurate. That compared to 20% of those with a bachelor's degree and 14% of those with less than a college degree. The numbers were similar in Morning Consult's October poll. So Maloney was probably wrong on the narrow question of whether Republicans will have to choose between QAnon and college-educated voters: The two aren't mutually exclusive. That's not to suggest the Democrats' strategy is a losing one, though: QAnon is all over the news, but there's a 'vast chasm between news coverage and polling data,' according to Joe Uscinski, who studies conspiracy theories and why people believe in them for a living. Public support for the QAnon movement remains 'meager' across the board, according to the University of Miami professor, who reiterated the point in an interview." • Hard to know the breadth of support for QAnon; the whole discourse feels very embubbled to me.

"Activists complain of weakened voting security standard" [Associated Press]. "Leaders of the federal agency overseeing election administration have quietly weakened a key element of proposed security standards for voting systems, raising concern among voting-integrity experts that many such systems will remain vulnerable to hacking. The Election Assistance Commission is poised to approve its first new security standards in 15 years after an arduous process involving multiple technical and elections community bodies and open hearings. But ahead of a scheduled Feb. 10 ratification vote by commissioners, the EAC leadership tweaked the draft standards to remove language that stakeholders interpreted as banning wireless modems and chips from voting machines as a condition for federal certification. The mere presence of such wireless hardware poses unnecessary risks for tampering that could alter data or programs on election systems, say computer security specialists and activists, some of whom have long complained than the EAC bends too easily to industry pressure. Agency leaders argue that overall, the revised guidelines represent a major security improvement. They stress that the rules require manufacturers to disable wireless functions present in any machines, although the wireless hardware can remain." • Come on, man. That's like saying the boat is safe, even though you drilled a hole in the bottom, because you put a plug in the hole.

"Fail To Plan, Plan To Fail" [The American Conservative]. "In 2017, President Trump's inauguration was met with the violent and destructive J20 protests in Washington, D.C. There were arrests and prosecutions, but in the end everybody who hadn't already pled out had their charges dropped. You may have seen the question posed on social media: Might those arrested for storming the Capitol in 2021 receive the same treatment? No. Unlike the J20 crowd, the Capitol stormers didn't conceal their identities, don't have legal support, and don't have the communication lines and established relationships necessary for defense solidarity to make successful prosecution difficult. Investigations will take time to shake out who had plans and who acted impulsively, but the common denominator among the Capitol stormers is a failure to give serious consideration to the prospect of major legal trouble. They were a motley crew: mainstream MAGA fans and militiamen; LARPers and special forces veterans; business owners and the unemployed; law enforcement and people with criminal histories; and, of course, devotees of QAnon. The only thing they had in common was that none of them knew what they were doing. The naivete on display was staggering. Normies and radicals alike bragged about their actions, during and after the fact. They live-streamed. They texted and tweeted and Instagrammed, showing their faces and giving their names. One man posted a picture of himself pummeling law enforcement, and added a helpful label: "THIS IS ME." Another literally stormed the Capitol wearing a court-mandated GPS monitor. A former Navy SEAL bragged about his actions on video. A law enforcement officer lied to Joint Terrorism Task Force agents about his involvement—and then consented to them searching the deleted pictures and videos on his phone. Another man posted to social media, "Just finished speaking to an FBI agent, I believe I've been cleared." (He was wrong.) By contrast, here is how a hard-left group billing itself as the Tucson Anti-Repression Crew addressed the investigations into the Capitol storming: "There's word coming in from Arizona of FBI door knocks under the guise of 'looking for information on far right extremists and protests.' NEVER EVER talk to the FBI. Immediately contact your comrades, a lawyer, and anti-repression support." Say what you will about the left, at least its radicals know what they're doing." • Yeah, but who seized the Capitol? (The only previous Capitol seizure I can recall was in Wisconsin in 2011, and their the Occupiers got nothing for it.)
Stats Watch
At reader request, I added some business stats back in. Please give Econintersect click-throughs; they're a good, old-school blog that covers more than stats.
Inflation: "January 2021 CPI: Year-over-Year Inflation Rate Unchanged" [Econintersect]. "According to the BLS, the Consumer Price Index (CPI-U) year-over-year inflation rate was 1.4 % year-over-year (unchanged from the reported 1.4 % last month). The year-over-year core inflation (excludes energy and food) rate improved from 1.6 % to 1.4 %…. Energy was the major influence for the month-over-month growth for the CPI-U. Medical care services cost inflation rose from 2.8 % to 2.9 % year-over-year."
Wholesale Sales: "December 2020 Headline Wholesale Sales Improved and Inventories Marginally Up" [Econintersect]. "The headlines say wholesale sales were up month-over-month with inventory levels marginally growing. Our analysis shows improvement in the rate of growth for the rolling averages."
* * *
Retail: "How Covid-19 saved the fast food drive-thru" [The Counter]. "By the end of 2019, cities that had banned the construction of new restaurant drive-thrus included Mineappolis; Fair Haven, N.J.; Creve Coeur, Mo.; and Orchard Park, New York. An additional 27 municipalities banned drive-thrus in Canada. Then last year, as independent restaurants struggled to adapt to new Covid-19 safety protocols, dine-in and counter service fell immediately out of favor, while pick-up and home delivery thrived. In other words: The more impersonal the restaurant experience, the better. And so, the drive-thru made a comeback."
Tech: "Doordash Is Buying Robotics Company Chowbotics" [Restaurant Business (js)]. "Delivery giant DoorDash is acquiring Chowbotics with the intention of making its salad-making robot available to restaurants…. Sally creates on-demand salads, bowls and more, drawing on an assortment of up to 22 ingredients. The 3-foot-by-3-foot machine is in hundreds of hospitals, college campuses and grocery stores; DoorDash will bring it to restaurants for the first time." • js writes: "Technology we do not need for a problem we do not have. I do so love the rebranding of vending machines as robots."
Tech: "The Electric Car Consumers Want: Lower Cost, Higher Mileage" [Morning Consult]. "47% of consumers said their budget would be the same for an EV as for a conventional vehicle, while 18% said they would be willing to spend more. When asked for the maximum amount they would be willing to pay for an electric vehicle, respondents' median price was $25,000. The national average for new vehicles is $40,000. To consider purchasing an EV, 23% of adults said they would require a range of 500 miles or more; 7% said a range of less than 200 miles and 16% said between 200 and 299 miles, options representing the bulk of the current market."
Mr Market: "Five Things You Need to Know to Start Your Day" [Joe Weisenthal, Bloomberg]. "This is the most interesting moment for the economy I've seen in my career. Now granted, I've only been following markets and the economy for about 17 years, and only about 12 as a reporter. Still, something feels different…. [W]e have an administration that is eager to add a substantial amount of fiscal stimulus to an economy that's already expected to grow robustly this year and next, with the receding of the virus…. Meanwhile, the Federal Reserve has a new framework that's much more friendly to run-it-hot economics…. [W]e're coming out of a crisis with household savings in relatively good shape (in aggregate) and a booming housing market (and a booming stock market)…. There's a much greater appreciation for the power of direct checks, as opposed to "stimulus" projects that can take a long time to filter out into the economy…. i[I]'s the left's go-big approach that's winning the political argument in D.C…. The old-school deficit hawks are almost silent this time around… The key thing is that since the 1980s, the economy has run persistently below the CBO's estimate of full potential, with only a few quarters above it. Throughout this time we've seen a steady slide in yields, and an economy characterized by slow growth and low inflation. Nothing is certain, but there's a possibility that between the solid state of existing private-sector balance sheets, a Fed willing to let things run hot and an administration that's eager to spend more that we break out of this rut in a way that we haven't seen in a long time." • Cui bono?
* * *
Today's Fear & Greed Index: 54 Neutral (previous close: 57 Greed) [CNN]. One week ago: 50 (Neutral). (0 is Extreme Fear; 100 is Extreme Greed). Last updated Feb 10 at 12:11pm. Mr. Market is really having his mood swings between Neutral and Greed (not Fear). Odd.
The Biosphere
"Near Coasts, Rising Seas Could Also Push Up Long-Buried Toxic Contamination" [NPR]. "For many Bay Area residents who live near the water's edge, little-publicized research indicates groundwater rising beneath their feet could start to manifest in 10-15 years, particularly in low-lying communities like Oakland. And that could resurface toxic substances that have lingered for years underground… That's a lot of things in the Bay Area, which is rife with industrial sites new and old. In East Oakland, industry boomed in the early 1900s as lumber yards, canneries, rail depots and foundries sprung up. It was a long time before governments enacted major environmental regulations, starting in the 1960s. 'Through the entire postwar and World War II-era, stuff got dumped informally,' [Kristina Hill, an associate professor at UC Berkeley's College of Environmental Design] says. More recent contaminants lie buried as well, chemicals like benzene and toluene, leaked from underground storage tanks. Many toxic sites now considered to be contained could pose a threat as the water ascends."
Health Care
"Why mucosal immunity may be required to end the pandemic" [Endpoints]. "There is a scenario that we need to be prepared for and one that could possibly derail our fight against this virus: These first-generation vaccines will be able to effectively block disease, but not the transmission of the SARS-CoV-2 virus. Pfizer, Moderna and nearly every other pharmaceutical company are producing injectable vaccines. Their protective power results from systemic immunity, meaning that they generate antibodies that circulate in the blood to other parts of the body. They were authorized based on their ability to block the development of disease, which is not the same as the ability to inhibit viral infection or transmission. The best way to block both viral infection and transmission is by inducing a special type of immune response called mucosal immunity. Mucosal immunity protects the parts of the body that are in contact with the environment, and in the case of a respiratory pathogen, that means the nasal cavity and the lungs. Because it is a localized type of response, a vaccine needs to be delivered to the appropriate compartment if mucosal immunity is to be stimulated." • As readers know, this utter layperson and non-ponies player is long nasal sprays.
"Ventilation in Buildings" [CDC]. "SARS-CoV-2 viral particles spread between people more readily indoors than outdoors. When outdoors, the concentration of viral particles rapidly reduces with the wind, even a very light wind. When indoors, ventilation mitigation strategies help to offset the absence of natural wind and reduce the concentration of viral particles in the indoor air. The lower the concentration, the less likely some of those viral particles can be inhaled into your lungs; contact your eyes, nose, and mouth; or fall out of the air to accumulate on surfaces. Protective ventilation practices and interventions can reduce the airborne concentration, which reduces the overall viral dose to occupants. Below is a list of ventilation interventions that can help reduce the concentration of virus particles in the air, such as SARS-CoV-2." • Aerosols. Good.
"Hospitals' Covid-19 heroics have them poised for power in the new Washington" [STAT]. "The hospital business is booming on Capitol Hill like never before. Lawmakers showered the industry with more than $275 billion last year, and handed hospitals wins even on seemingly unrelated issues. And Democrats' agenda will almost certainly be better for their bottom lines. The Covid-19 pandemic has transformed the industry's image in Washington, where large health care systems have long been vilified as corporate profit mongers instead of community caregivers. Now, more than two dozen lobbyists and consultants told STAT that they are keenly aware of just how much power the industry has accrued — and are prepared to seize the moment. ',' one health care lobbyist said, requesting anonymity because the individual was not authorized by clients to speak with reporters. 'If you get straight A's, it might be the time to ask your parents for a new iPhone. This is the time not to be shy. You're kind of the golden children, but it's not going to last forever.' The one possible obstacle in hospitals' glide path is President Biden. He has spoken fondly of Walter Reed National Military Medical Center, where he was treated for brain aneurysms; where his son Beau fought brain cancer; and where, as vice president, he made regular Christmas visits to injured troops. He supports a number of policies hospitals love, such as expanding Medicaid and making it cheaper for people to get insurance through Affordable Care Act exchanges. But glaringly, Biden left hospitals completely out of his proposal for Covid-19 relief, even as he lavished some $1.9 trillion on other priorities. Some of his campaign advisers were rankled by the health care industry's seven-figure ad blitz against the public option, which ran during the Democratic primary season." • A grotesque case of stolen valor by administrators from doctors and nurses.Yecccccch.
"Without a Ride, Many in Need Have No Shot at Covid-19 Vaccine" [Daily Yonder]. "Campbell, the town commissioner in Davidson, North Carolina, worries that some of her constituents, especially older adults, don't have a way to get to Covid-19 vaccine sites. From Davidson, the nearest locations for anyone seeking a shot have been at mass vaccination events in the Charlotte area—more than a half hour away, Campbell said. For many older adults who needed transportation, that was too far. 'I can get the volunteers to drive them, but I don't think it's prudent or safe to put a volunteer and a person needing the vaccine in the same car for a 35-minute drive each way,' she said. 'It needs to be Covid-safe transportation.' While state and local governments have been busy planning for and distributing vaccines, many have left out an important piece: how to provide transportation to people who can't get to those sites. Millions of older adults and low-income people of color who are at higher risk of contracting the virus don't have cars, don't drive or don't live near public transit. Some are homebound. Some live in rural areas far from vaccination sites."
Slavitt, how it started (thread):
COVID Update July 26: We can virtually eliminate the virus any time we decide to. 1/

— Andy Slavitt @ ??? (@ASlavitt) July 26, 2020
Slavitt, how it's going (no thread):
You can't mutate if you can't multiply.

— Andy Slavitt @ ??? (@ASlavitt) February 1, 2021
Police State Watch
UPDATE "New Mexico's thin blurred line" [High Country News]. "While community members and activists have long complained about excessive use of force and surveillance at protests and in minority neighborhoods, these documents clearly show that New Mexico law enforcement tolerates — and at times embraces — white vigilantism. And despite the Albuquerque Police Department's statement condemning the New Mexico Civil Guard after the shooting, militiamen with known white-power affiliations continue to patrol protests with the silent encouragement of law enforcement. 'They all travel in the same circles,' said David Correia, associate professor of American studies at the University of New Mexico. Correia has done extensive research on the cross-pollination that occurred between police, radical right ideology and vigilantism during the civil rights movement. 'These are all former police or former military, or former guardsman or current guardsman. There's this overlap between the people who populate militias and populate police departments.'"
"How the Police Bank Millions Through Their Union Contracts" [Pro Publica]. Of the many horrid details, this is the best: "Asbury Park Mayor John Moor was skimming through a list of city expenses in the spring of 2017 when one shocked him: a $7,442 gold badge and case for the departing acting police chief, Anthony Salerno…. Asbury Park's police contract says retiring police officers are entitled to a 14-karat "gold filled" police badge. Ordinarily, "gold filled" jewelry is similar to gold-plated — a cheaper metal coated with a thick layer of gold. Not counting Salerno's badge, the city had spent $8,163 on 10 badges in the past 10 years, an average of $816 each. Salerno's badge is described in a purchase quote as "14k solid gold," a higher-end bauble than what was called for in the police contract and one much more expensive than what other officers received. Salerno didn't respond to requests for comment." • I'll bet.
Groves of Academe
"Police in dorms, outdoor exercise ban: UC Berkeley extends dorm lockdown with stricter mandates" [San Francisco Chronicle]. "Police officers monitoring dormitory halls, frequent inspections of ID cards — these are among the measures being implemented in a dorm lockdown as UC Berkeley continues to grapple with a spike of COVID-19 cases on campus…. Another new measure also in place: a ban on solitary outdoor exercise, which was not in place during the initial lockdown period." • The ban on outdoor exercise is dumb. Commentary:
If they are afraid of off-campus parties… This isn't the way to deal with it. They can't lock students in their rooms the whole semester. They'll just get more secrecy. Exercise and outdoors is an essential component of health. I don't even know what else they may be thinking.

— zeynep tufekci (@zeynep) February 10, 2021
"F*ck Nuance" (PDF) [Kieran Healy, Symposium: "What is Good Theorizing?"]. "What I call "Actually Existing Nuance" in sociological theory refers to a common and specific phenomenon, one most everyone working in sociology has witnessed, fallen victim to, or perpetrated at some time. It is the act of making—or the call to make—some bit of theory "richer" or "more sophisticated" by adding complexity to it, usually by way of some additional dimension, level, or aspect, but in the absence of any strong means of disciplining or specifying the relationship between the new elements and the existing ones. Sociologists do this to themselves, and they demand it of others. Sometimes they see it as one of the discipline's comparative virtues. I contend that it is typically a holding maneuver. It is what one does when faced with a question for which one does not yet have a compelling or interesting answer. Thinking up compelling or interesting ideas is difficult, so it is often easier to embrace complexity than to cut through it…. [Actually Existing Nuance] is more like a freefloating demand that something be added. When faced with a problem that is hard to solve, a line of thinking that requires us to commit to some defeasible claim, or a logical dilemma we must bite the bullet on, the nuance-promoting theorist says, "But isn't it more complicated than that?" or "Isn't it really both/and?" or "Aren't these phenomena mutually constitutive?" or "Aren't you leaving out [something]?" or "How does the theory deal with agency, or structure, or culture, or temporality, or power, or [some other abstract noun]?" This sort of nuance is, I contend, fundamentally antitheoretical. It blocks the process of abstraction on which theory depends, and it inhibits the creative process that makes theorizing a useful activity." • "Actually Existing Nuance." A lot of Beltway wonks and liberal Democrat electeds could read this article with profit.
Black Injustice Tipping Point
No, Booker is not missing the point. He understands it perfectly well:
The truncation of this quote entirely misses the point Fred was making. pic.twitter.com/nOAVJdsVPV

— Dylan Miles (@king_of_bob) February 6, 2021
Class Warfare
"Lacking a Lifeline: How a federal effort to help low-income Americans pay their phone bills failed amid the pandemic" [WaPo]. "The coronavirus has reinforced the Internet as the fabric of modern American life, a luxury-turned-necessity for a generation now forced to work, learn and communicate primarily through the Web. But it also has laid bare the country's inequalities — and the role Washington has played in exacerbating these long-known divides. Nowhere is the gap more startling than with Lifeline, a roughly $2.4 billion digital safety net conceived nearly three decades ago to ensure that all Americans could access reliable communications. Families who rely on Lifeline say they have struggled to talk to their doctors, employers and loved ones throughout the pandemic, illustrating how significant technical shortcomings, and years of government neglect, have undermined a critical aid program at a time when it is needed most. Many Lifeline subscribers are stuck with service so subpar that it would be unrecognizable to most app-loving, data-hungry smartphone users, according to interviews with more than two dozen participants and policy experts, including members of Congress, Biden administration officials, state regulators, telecom executives and public-interest advocates. The program's inadequacies are so great that even those who are eligible for help often turn it down: More than 33 million households are eligible to receive Lifeline support, yet only 1 in 4 of these Americans actually takes advantage of it, according to U.S. government estimates prepared in October." • Free municipal broadband?
"'Nobody Tells Daddy No': A Housing Boss's Many Abuse Cases" [New York Times]. "[Victor Rivera's] nonprofit organization is one of the largest operators of homeless shelters in New York… Ms. Sklar is one of 10 women who said they had endured assault or unwanted sexual attention from Mr. Rivera, The New York Times found. Even as some women have sounded warnings about Mr. Rivera — including two who were given payments by his organization that ensured their silence — his power and influence have only grown during New York's worst homeless crisis in decades. His organization, the Bronx Parent Housing Network, has received more than $274 million from the city to run homeless shelters and provide services just since 2017. The pandemic has intensified Mr. Rivera's importance: As the coronavirus swept through the homeless population, the city gave his group $10 million to provide rooms where infected people could isolate and recover." • Euthanize the NGOs….
"'There's a big movement in newsrooms across the country.' Interview with Clayton Guse of the new NYDN Union" [Strike Wave]. Guse: "In media and journalism in general, there has been a lot of uncertainty when it comes to job security. We've seen the number of newsroom jobs shrink drastically over the last decade, through attrition, through cuts. [Then-Tronc, now-Tribune Publishing] cut half the newsroom staff summer of 2018, six months before I joined the paper and not long after they took over. There are a lot of factors motivating this, the most obvious being the state of media and newsrooms in general. You have the spectre of Alden Global Capital coming in and buying things out. But regardless of who owns the paper, you're going to have a need for collective bargaining. Regardless of who owns what stake, we realized it was important to have a seat at the table to bargain around key issues. Then the pandemic hits and everything is up in the air. In April 2020, they instituted permanent pay cuts for some of the staff. A month later, they furloughed the rest of the staff for three weeks. We were getting hit and we didn't have a seat at the table. That was the impetus to start our organizing. It took a long time because we're doing it all virtually." • The News Guild of New York is organizing the New York Daily News.
News of the Wired
"Morality justifies motivated reasoning in the folk ethics of belief" [Corey Cusimanoa and TaniaLombrozo, Cognition]. The Abstract: "When faced with a dilemma between believing what is supported by an impartial assessment of the evidence (e.g., that one's friend is guilty of a crime) and believing what would better fulfill a moral obligation (e.g., that the friend is innocent), people often believe in line with the latter. But is this how people think beliefs ought to be formed? We addressed this question across three studies and found that, across a diverse set of everyday situations, people treat moral considerations as legitimate grounds for believing propositions that are unsupported by objective, evidence-based reasoning. We further document two ways in which moral considerations affect how people evaluate others' beliefs. First, the moral value of a belief affects the evidential threshold required to believe, such that morally beneficial beliefs demand less evidence than morally risky beliefs. Second, people sometimes treat the moral value of a belief as an independent justification for belief, and on that basis, sometimes prescribe evidentially poor beliefs to others. Together these results show that, in the folk ethics of belief, morality can justify and demand motivated reasoning.
Offensive PR:
Someday our son will throw people out of a helicopter just like this one

— Willzer (@will548) February 10, 2021
"Who Really Created the Marvel Universe?" [The New Yorker]. • Not Stan Lee, of course. This is well worth a read, and I'll just pick out one gem: "In Fantastic Four No. 45 ("Among Us Hide . . . the Inhumans!"), Sue Storm pulls a blanket tenderly over an unconscious humanoid whose huge gray head resembles a dinosaur's. 'Despite his great strength,' Sue tells her husband, 'he seems to need kindness and protection!'"
* * *
Readers, feel free to contact me at lambert [UNDERSCORE] strether [DOT] corrente [AT] yahoo [DOT] com, with (a) links, and even better (b) sources I should curate regularly, (c) how to send me a check if you are allergic to PayPal, and (d) to find out how to send me images of plants. Vegetables are fine! Fungi and coral are deemed to be honorary plants! If you want your handle to appear as a credit, please place it at the start of your mail in parentheses: (thus). Otherwise, I will anonymize by using your initials. See the previous Water Cooler (with plant) here. Today's plant (TH):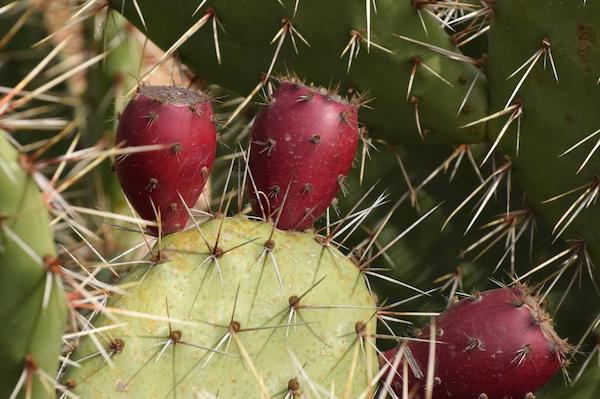 TH writes: "Prickly Pear Cactus at the Jack Dunster Marine Biological Reserve in Long Beach, California. Edible?" Thanks, I don't mind if I do!
* * *
Readers: Water Cooler is a standalone entity not covered by the recently concluded and — thank you! — successful annual NC fundraiser. So if you see a link you especially like, or an item you wouldn't see anywhere else, please do not hesitate to express your appreciation in tangible form. Remember, a tip jar is for tipping! Regular positive feedback both makes me feel good and lets me know I'm on the right track with coverage. When I get no donations for five or ten days I get worried. More tangibly, a constant trickle of donations helps me with expenses, and I factor in that trickle when setting fundraising goals:
Here is the screen that will appear, which I have helpfully annotated.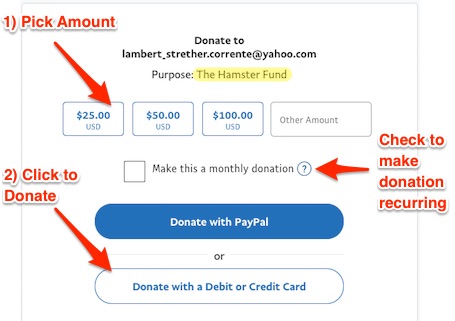 If you hate PayPal, you can email me at lambert [UNDERSCORE] strether [DOT] corrente [AT] yahoo [DOT] com, and I will give you directions on how to send a check. Thank you!