By Lambert Strether of Corrente.
Bird Song of the Day
I was hoping for a Parisian swift. Perhaps they are so common nobody has thought to record them.
#COVID19
At reader request, I've added these daily charts from 91-DIVOC. The data is the Johns Hopkins CSSE data. Here is the site.
I feel I'm engaging in a macabre form of tape-watching…. (A reader asked the source of the data: Johns Hopkins CSSE. DIVOC-91 does allow other data sets to be used, like Our World in Data and The Atlantic, and where they provide visualizations similar to those below, a cursory comparison shows that the shape of the curves is the same.)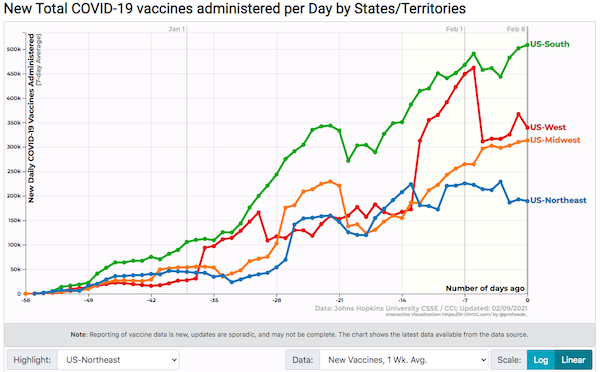 Snow makes the Northeast what it is. The South continues to out-perform.
Case count by United States region: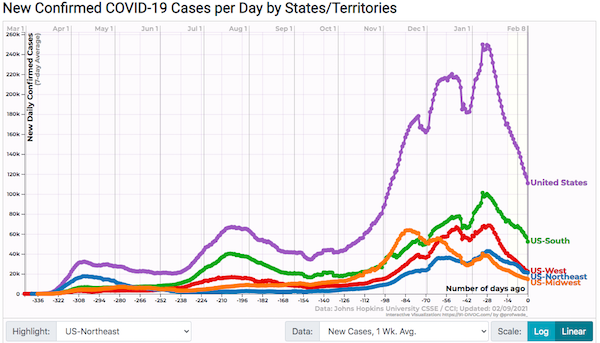 Still dropping nicely. Maybe in a couple of months we'll be back to where we here in the summer of 2020.
Big states (New York, Florida, Texas, California):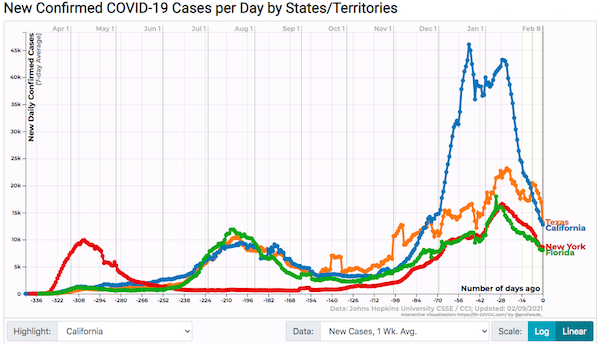 Texas going down again. That's a relief. Florida still heading down. I suppose we'll have to be watching to see the results of the Super Spreader Bowl…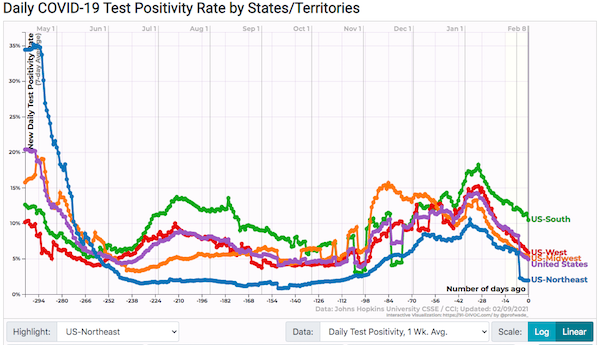 The Northeast falls off a cliff, again I assume due to snow.
Nowhere near 3%, anywhere.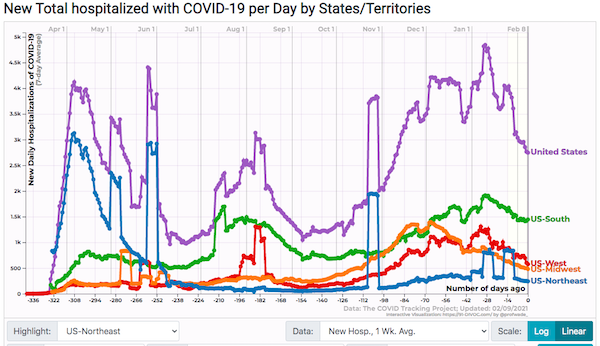 The South has flattened. Given that hospitalization is probably a more reliable indicator of trouble than case count, I certainly hope that's the not first sign of B117. Hospitalization is discretionary; they may also be reducing their admissions rate — relative to cases we cannot see in this data! — to preserve future capacity; or because hospitals have figured out how to send people home.
Case fatality rate (plus deaths):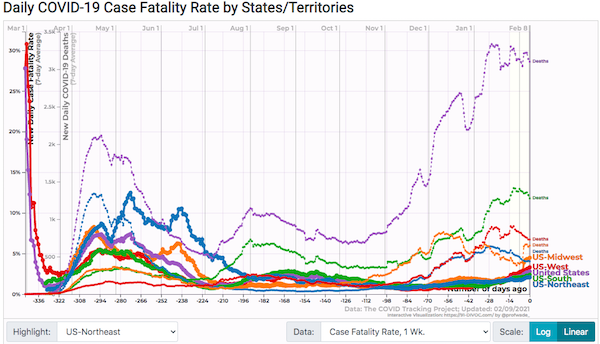 The case fatality rate has markedly increased, albeit slowly. I don't like that at all. Deaths plateau, and should really be starting to fall at some point.
Politics
"But what is government itself, but the greatest of all reflections on human nature?" –James Madison, Federalist 51
"They had one weapon left and both knew it: treachery." –Frank Herbert, Dune
"They had learned nothing, and forgotten nothing." –Charles Maurice de Talleyrand-Périgord
Capitol Seizure
"Capitol riots: Five takeaways from the arrests" [BBC]. Worth reading in full. Critically: "Far-right insignia was spotted on the clothing, badges and flags of several insurrectionists, but the vast majority of the 200-plus people charged so far are ordinary pro-Trump activists. So far, only about 10 of those charged have been found to have ties to organised far right militias or other right-wing extremist groups." • That's a mercy. Long may it continue.
Impeachment
"How to watch Trump's second impeachment trial like a boss" [Politico]. "House Democrats aren't expecting the sharply divided Senate to convict former President Donald Trump for inciting an insurrection at the Capitol on Jan. 6. They need 17 of the 50 GOP senators to break with the former president — which they know is unlikely. So instead, they're going to exact as much pain as possible on Republicans, most of whom say the trial shouldn't even be allowed to happen…. We now know that the House managers and Trump legal team will have 16 hours apiece — beginning on Wednesday — to make their most compelling case to the Senate. For Democrats, that means putting on a production heavy on the increasingly rich body of video evidence showing that the Jan. 6 insurrectionists took their cues from Trump, cited him as the reason they stormed the Capitol and viewed his remarks to them on that day as permission to confront lawmakers. sAn underappreciated fact about the trial: The collection of evidence continues to build daily, with new court filings, social media snippets and videos taken by the rioters themselves surfacing in real time. Democrats plan to knit these together with Trump's actual call on Jan. 6 for his supporters to 'fight like hell' and march on the Capitol. Several of the subsequent participants in the insurrection told judges on Monday that they viewed Trump's words as authorization, and one even called him an 'unindicted co-conspirator' in the subsequent violence." • Beware digital "evidence"…..
Transition to Biden
"Biden's first 100 days: Controversial budget chief pick Tanden vows unity" [Nikkei Asian Review]. "Neera Tanden, during her confirmation hearing to lead the Office of Management and Budget, is grilled by Republicans for her past statements about lawmakers on the opposite side of the aisle. Sen. Rob Portman, the ranking member of the Homeland Security & Governmental Affairs Committee, says: 'I'm concerned that your personal attacks about specific senators will make it more difficult for you to work with them.' 'You wrote that Susan Collins is, quote, the worst. That Tom Cotton is a fraud. That vampires have more heart than Ted Cruz. You called [Senate Republican leader Mitch] McConnell 'Moscow Mitch' and 'Voldemort," Portman says, asking, 'How do you plan to mend fences?'… Tanden, a close aide to former Secretary of State Hillary Clinton, later says: 'I know it's on me, to demonstrate to this committee and to Republican members and Democratic members I can work with anyone and that burden is on my shoulders, and it is one that I plan to take on and I will do my best to work with you on any issue where we can make progress." • Left unsaid:

I'm guessing Neera Tanden's confirmation hearing will air far more criticism of her tweets than of the fact that the head of a think tank bankrolled by corporate and foreign government money will be in the White House position empowered to give officials ethics waivers.

— David Sirota (@davidsirota) February 9, 2021

Also left unsaid:

reminder that neera tanden, who biden picked to nominate for a position in his cabinet, said that countries the US bombs like libya should pay the US for the pleasure of having been destroyed pic.twitter.com/fPL2Oq2J4P

— ☀️? (@zei_squirrel) February 9, 2021

See the righthand email to Faiz Shakir; it's not just that Tanden believes that Federal taxes fund Federal spending — which, if there were any justice in the world, would disqualify her for the position of OMB Director — it's that she thinks it's OK to invade other countries to collect them, a position worthy of Rome at its most imperial. Oh, and The Center For American Progress Staff Was Shocked After Neera Tanden Named The Anonymous Harassment Victim In An All-Staff Meeting. She's not a nice person at all, and it's surprising that nobody from our famously free press is instigating a dogpile.

UPDATE "Biden's Justice Department to ask nearly all Trump-era U.S. attorneys to resign" [NBC]. "The Biden administration will begin removing all Senate-confirmed U.S. attorneys appointed during the Trump administration, with two exceptions, a senior Justice Department official said. The process, which is not uncommon, could start as early as Tuesday. They will be asked to resign. John Durham will remain in place to investigate the origins of the Russia probe, but not as U.S. attorney for the district of Connecticut, the official said. He was appointed as a special counsel and given extra protections for the inquiry by Attorney General William Barr last fall. David Weiss, U.S. attorney for Delaware, will also remain in place. Hunter Biden, the president's son, said in December that federal officials in Delaware were investigating his taxes." • I remember an enormous bout of hysteria from Democrats when Bush did the same thing the "career prosecutors" Clinton had installed.

UPDATE "As Biden's son-in-law invests in COVID-19 response, questions of family and ethics could resurface" [ABC]. "When the boutique tech firm Yosi Health developed software aimed at streamlining the nation's coronavirus vaccine effort, CEO Hari Prasad sought help from one of its earliest investors — a company with a special government connection. The investor was StartUp Health, and that special connection came through its chief medical officer, Howard Krein, who is married to President Joe Biden's daughter…. A renowned Philadelphia-based head and neck surgeon who married Biden's daughter Ashley in 2012, Krein helps oversee StartUp Health investments in hundreds of companies, including some hoping to break through with the federal agencies battling the global coronavirus pandemic. Since 2011, when Krein founded the firm with his brother Steven Krein and veteran tech entrepreneur Unity Stoakes, Joe Biden has been an active supporter of the venture — headlining corporate conferences and inviting the company's executives to the Oval Office to meet then-President Barack Obama."

UPDATE "Harvard's Sunstein Joins Biden's DHS to Shape Immigration Rules" [Bloomberg]. "Former Obama administration official Cass Sunstein on Monday joined the Department of Homeland Security, where President Joe Biden is moving rapidly to roll back Donald Trump's immigration policy priorities. Sunstein is a senior counselor who will be responsible for making sure that the rules put forward by the department and its agencies are based on evidence and consistent with the law, an administration official said. Sunstein, a law professor at Harvard University, was administrator of President Barack Obama's Office of Information and Regulatory Affairs from 2009 to 2012. His work with Biden goes back three decades to when Biden was the top Democrat on the Senate Judiciary Commission and Sunstein weighed in on judicial nominations and constitutional interpretation." • Ugh. Can Rahm Emmanuel and Larry Summers be far behind? Sunstein is co-author of this interesting article from 2008 (PDF): "Conspiracy Theories." The Abstract contains this nugget: "Because those who hold conspiracy theories typically suffer from a crippled epistemology, in accordance with which it is rational to hold such theories, the best response consists in cognitive infiltration of extremist groups." Hmm. Not that I'm foily.
Realignment and Legitimacy
"Can There Ever Be a Working-Class Republican Party?" [The New Republic]. • This is very good, worth reading in full. I'll pull out this one fascinating factoid:

Trump's administration worked out well for American workers, at least up until Covid hit in the spring of 2020. Unemployment was under 4 percent for most of 2018 and 2019. The good times reached even those to whom prosperity had historically been slowest to arrive. Unemployment among Black men, a whisker under 20 percent in March 2010, had fallen to around 5 percent in November 2019. According to The Economist, gains were concentrated in professions where workers had heretofore faced competition from immigrant labor, such as housekeepers and maintenance workers. The kitchen-table financial concerns of such people are, of course, no more familiar to most American opinion-formers than are the aisles of Sam's Club. But the economic hand that Trump had to play in last fall's elections was stronger than almost anyone outside of the working class understood, and the results—at least in terms of the swing-state popular vote—correspondingly closer.

(We might also remember that the CARES Act, passed by a Republican Senate and signed by Trump, actually reduced poverty, proving itself far superior to Obama's notably small and weak stimulus package in 2009.) Now, to qualify:

It is an open question whether Trump's policies had anything to do with this.

Fair enough. Key point: Absent a pandemic, Trump wins in 2020. Liberal Democrat triumphalists — now setting themselves up for a midterm debacle simply by being who we thought they were — would be well advised to take that into consideration.

"Rise of the Barstool conservatives" [Matthew Walther, The Week]. "Like many observers, including an enormous number of the president's loudest detractors, I believe that Trump brought the conservative movement to an end. But what its destruction means is something very different from the prophecies of permanent Democratic supermajorities issuing forth from the former president's critics. Trump's greatest achievement, one that speaks far more than his actual record in office to his business acumen, was recognizing that in the 2012 presidential election, the old movement vein had been exhausted and that a much richer one was awaiting exploration… But in the last year, as [Barstool Sports Founder and CEO Dave] Portnoy emerged as one of America's most visible critics of the lockdown policies instituted by virtually every state governor, it became clear to me that more so than anyone else he embodied the world view of millions of Americans, who share his disdain for the language of liberal improvement, the hectoring, schoolmarmish attitude of Democratic politicians and their allies in the media, and, above all, the elevation of risk-aversion to the level of a first-order principle by our professional classes."

"Column: What can you do about the Trumpites next door?" [Virginia Heffernan, Los Angeles Times]. "Oh, heck no. The Trumpites next door to , who seem as devoted to the ex-president as you can get without being Q fans, just plowed our driveway without being asked and did a great job. How am I going to resist demands for unity in the face of this act of aggressive niceness? Of course, on some level, I realize I owe them thanks — and, man, it really looks like the guy back-dragged the driveway like a pro — but how much thanks? These neighbors are staunch partisans of blue lives, and ." • (I've helpfully underlined the "check your privilege" aspects of Heffernan's article, for those inclined to play that game of gotcha.) The plowing looks like Grandmaster-level passive aggression to me, something I don't typically associate with Trump supporters. More: ". Free driveway work, as nice as it is, is just not the same currency as justice and truth." • Yes, absolution is for religious clerics, not secular ones. And isn't it lovely to have a spiritual act of forgiveness framed with a financial metaphor ("currency"). Quite… professional.

UPDATE "How San Francisco Renamed Its Schools" (interview) [Gabriela López, The New Yorker]. Isaac Chotiner interviews the head of the San Francisco Board of Education, whose stream of consciousness reminds me a lot of Sarah Palin, albeit with different subject matter. I have to quote a lot of it, for which I apologize, but it's hard to pin down:

I read that you stated, "This in no way erases our history. It cannot, and we will not forget the past. But we can honor the work that has been done to dismantle racism and white-supremacy culture." Can you explain what you meant by that?

There's this idea that because we're removing the names we're somehow removing the stories in what we're learning, and that in fact is not the case. It's really just sharing in our schools what is and isn't . And that's part of my work as a school-board member. That's been my work as a teacher. What are we highlighting in our classes? And what are we teaching our students? And what isn't being in our time and our public-school system that we've seen throughout history?

Is what you're saying that in practice we don't necessarily want to uplift, say, Lincoln, but that doesn't mean we won't teach the Civil War or the Emancipation Proclamation?

Absolutely. But, even with that, it's talking about the brutality and the truth that is often not discussed in our classrooms. And I'm thinking even to my own experience and my own learning, all that I got through my college experiences, that we gain through ethnic studies, is not a process that we normally see in our school career. And so it is discussing the history. Of course, that's not going anywhere.

See Adolph Reed, "The Trouble with Uplift," from 2018. As usual, Reed made the correct call early.
Stats Watch
At reader request, I added some business stats back in. Please give Econintersect click-throughs; they're a good, old-school blog that covers more than stats.
Employment Situation: "United States Job Openings" [Trading Economics]. "The number of job openings in the US rose by 74 thousand from the previous month to 6.646 million in December 2020, compared with market expectations of 6.5 million but remaining below its pre-pandemic level of 7 million. Job openings increased in professional and business services (+296,000), but were down in state and local government, excluding education (-65,000); arts, entertainment, and recreation (-50,000); and nondurable goods manufacturing (-30,000). The number of job openings was little changed in all four regions. Meanwhile, the number of hires declined by 396 thousand to 5.5 million, while total separations including quits, layoffs and discharges, and other separations were little changed at 5.5 million."
Debt: "November 2020 Loan Performance: Delinquencies Reach Pre-Pandemic Levels in November" [Econintersect]. "The Loan Performance Insights Report for November 2020 shows 5.9% of mortgages were in some stage of delinquency (30 days or more past due, including those in foreclosure), which represents a 2-percentage point increase in the overall delinquency rate compared to November 2019, when it was 3.9%. This is the lowest overall delinquency rate since an initial jump in April 2020."
Consumer Expectations: "January 2021 Consumers Expect Higher Spending and Home Prices Improvement" [Econintersect]. "The Federal Reserve Bank of New York's Center for Microeconomic Data January 2021 Survey of Consumer Expectations, which shows that households' year-ahead spending growth expectations rose to 4.2%, the highest level recorded in more than 5 years. In contrast, earnings growth expectations have remained flat for the sixth consecutive month."
Small Business Optimism: "January 2021 Small Business Optimism Drops Further Below Historical Index Average in January" [Econintersect]. "The NFIB Small Business Optimism Index declined in January to 95.0, down 0.9 from December and three points below the 47-year average of 98. Owners expecting better business conditions over the next six months declined seven points to a net negative 23%, the lowest level since November 2013. The net percent of owners expecting better business conditions has fallen 55 points over the past four months."
* * *
Shipping: "India Aims to Double its Shipbreaking Capacity by 2024" [Maritime Executive]. "Last week, India's Finance Minister Nirmala Sitharaman said that the country's ship recycling capacity will be doubled by 2024. She also laid stress on the increasing efforts being made by the Indian government to woo in more ships from Japan and EU countries. This act could create 150,000 jobs in various shipyards across the country. 'Efforts will be made to bring more ships to India from Europe aa and Japan. The recycling capacity of around 4.5 million light displacement tonnes (LDT) will be doubled by 2024. This is expected to generate an additional 1.5 lakh (150,000) jobs for our youth,' said Sitharaman. Like many other South Asian countries, India aims to establish a leading position in the shipbreaking and recycling industry. … Mandaviya hopes that Alang, located in the West Indian State of Gujarat and also the world's largest shipbreaking hub, will spearhead India's success in this domain." • Let's hope the conditions in Gujarat, India are better than those in Gadani, Pakistan (see NC in 2016).
Tech: "Twitter Considers Subscription Fee for Tweetdeck, Unique Content" [Bloomberg]. "To explore potential options outside ad sales, a number of Twitter teams are researching subscription offerings, including one using the code name "Rogue One," according to people familiar with the effort. At least one idea being considered is related to "tipping," or the ability for users to pay the people they follow for exclusive content, said the people, who asked not to be named because the discussions are internal. Other possible ways to generate recurring revenue include charging for the use of services like Tweetdeck or advanced user features like "undo send" or profile-customization options." • Maybe while they're at it they could give me an edit button.
* * *
Today's Fear & Greed Index: 65 Greed (previous close: 56 Greed) [CNN]. One week ago: 51 (Neutral). (0 is Extreme Fear; 100 is Extreme Greed). Last updated Feb 9 at 12:22pm.
The Biosphere
UPDATE "Plume of Saharan Dust Makes Europe Look Like the Red Planet" [Bloomberg]. "A massive plume of Saharan-desert dust has painted European landscapes a reddish-brown hue reminiscent of Mars, reducing air-quality and solar-power production across southern swathes of the continent. … Measurements of air-born particulate matter that can endanger health were several orders of magnitude larger than normal. "
Health Care
"Aerosol emission from the respiratory tract: an analysis of relative risks from oxygen delivery systems" (preprint) (PDF) [medRxiv]. "Coughing was associated with the highest aerosol emissions with a peak concentration at least 10 times greater the mean concentration generated from speaking or breathing. Hospitalised patients with COVID-19 (n = 8 subjects; 56 measures) had similar size distributions to healthy volunteers…. Although direct comparisons are complex, cough appears to generate significant aerosols in a size range compatible with airborne transmission of SARS-CoV-2. As a consequence, the risk of SARSCoV-2 aerosolisation is likely to be high in all areas where patients with Covid-19 are coughing. Guidance on personal protective equipment policy should reflect these updated risks." • Note the hospital setting. The study does not confuse droplets (ballistic) with aerosols (floating).
The 420
"Hemp's (Maybe) Legal High Offers Growing Allure" [Bloomberg]. "Since the 2018 Farm Bill, hemp and CBD can be transported and sold freely within the U.S., unlike high-THC marijuana, which can only be grown and sold in states where it's legal. The rules around delta-8 aren't yet entirely clear, amid confusion over whether the Drug Enforcement Agency's rules on synthetic cannabinoids apply to the substance, which is synthetically produced. 'It's derived from hemp, so we're taking the position it's legal,' said Dustin Robinson, a Florida attorney and founding partner of Mr. Cannabis Law. He sees delta-8 as a cheaper and more convenient buzz for many people. 'I can get high by getting delta-8 from a smoke shop or a gas station.' That could pose a threat to multistate operators who have built their businesses to comply with tight rules around high-THC marijuana, especially after states like Illinois and Colorado last summer began allowing the hemp industry to sell through marijuana dispensaries. But it could also present an opportunity, Robinson said. 'This could be a means for the marijuana supply chain to reduce their cost of cultivation, if they can use hemp biomass instead of marijuana biomass,' he said." • Sounds like the difference between beer and hard liquor to me.
"Detroit's legal pot reticence spills over to Muslim-majority neighbor" [Politico]. "Detroit's slow walking of legal marijuana sales is driving the area's pot market to an unlikely place: a Muslim-majority city best known for its hulking General Motors assembly plant. At first glance, Hamtramck, Mich., is like thousands of other cities across the country debating with whether to allow marijuana businesses to operate within its borders…. [O]ver half of the residents of Hamtramck — historically a Polish-American enclave — are Muslim, primarily people of Yemeni and Bangladeshi descent. That Muslim majority extends to the members of the Hamtramck City Council…. Ultimately the City Council voted 4-3 to ban marijuana businesses from operating in Hamtramck, with the vote split along Muslim and non-Muslim lines… There's little chance that the current ban on additional marijuana businesses will hold."
"The Half-Legal Cannabis Trap" [Politico]. "For years, Californians could legally possess medical marijuana, but stores weren't allowed to sell it—in fact, the whole supply chain bringing it to them was considered illegal. Now, even though the city and the state are licensing cannabis shops, Los Angeles continues to struggle with its legacy of legal confusion and selective enforcement. Businesses can appear legitimate, and even exist for years, without any legal license to operate. Many of the illegal shops are in Black and Latino neighborhoods, with their employees vulnerable to arrest while owners are shielded behind shell companies. So as police and prosecutors attempt to crack down on unlicensed dispensaries, they appear to be reproducing the very social inequalities that legalization was supposed to fix."
Our Famously Free Press
"The War on Privacy" [Matt Taibbi, TK News]. "Taylor Lorenz — a dunce of historic proportions unleashed on the world by the New York Times — attended an invitation-only Clubhouse chat and not only reported that Silicon Valley entrepreneur Marc Andreesson used the word "retarded" in a discussion about the GameStop uprising, but published the names and faces of those who were guilty of being present and silent during the commission of this heinous crime…. Lorenz was wrong on three counts. One, Andreesson never said the word. Two, the person who did say the word was merely relaying that the Reddit users betting on GameStop "call themselves the 'retard revolution.'" Lorenz was confusing reporting on speech with actually speaking, the same error that's led to crackdowns on videographers like Jon Farina and Ford Fischer, punished for shooting raw footage of people saying and doing supposedly objectionable things (a story mostly uncovered by these same media priests). Thirdly, WTF???? Private utterance of the word "retarded" is news? As Greenwald points out, this would be joke behavior coming from a middle school hall monitor. Such deviance-hunts however are now a central concern of media reporters like Brian Stelter and Oliver Darcy of CNN, Ben Collins and Brandy Zadrozny of NBC, and Mike Isaac, Kevin Roose, Sheera Frenkel, and Lorenz at the Times. Somebody, somewhere, is saying or thinking a bad thing, and this crew seeks the rot out, with the aim of publicly shaming those individuals." • It gets better:
I honestly wish they weren't so predictable, but alas: pic.twitter.com/9lV0WoDSQs

— Glenn Greenwald (@ggreenwald) February 9, 2021
And better:
She left the email with his personal cell phone number up on Twitter for 24 hours, then deleted it. Obviously, he got messages and calls. Just imagine the reaction if that were done *to* her rather than by her, even though she wields infinitely more power than he.

— Glenn Greenwald (@ggreenwald) February 9, 2021
Nice people. (For more on Jones, see here.) Elevator pitch: "Heathers, but woke."
"Welcome, Facebook and Twitter. Seriously." [Substack]. "I genuinely believe that Twitter and Facebook getting into paid newsletters is good for writers and a positive development for the media ecosystem. We need more initiatives that give power to writers and reduce the force of the attention economy, just as we need more electric cars, more solar energy, and less burning of fossil fuels…. Substack is designed to be a calm space that encourages reflection. You read Substack posts in your inbox or on a web page that is free of advertising or any other distraction. There are no addiction-maximizing feeds, autoplaying videos, or retweetable quote-retweets to suck you into a psychological space you never asked to be in. You make decisions about which information to put into your brain based on how well certain writers reward your trust, not based on a dopamine hit gained by refreshing a feed packed with performative posturing. But it's the calmness of the model that's the real killer feature. …. There are now more than 500,000 paid subscriptions across Substack, and the top ten writers collectively make more than $15 million a year. It's still early days, but this thing is happening."
Sports Desk
"DeSantis on going maskless at Super Bowl: 'I had to watch the Bucs win'" [The Hill]. The headline is deceptive. "'Someone said, 'Hey, you were at the Super Bowl without a mask," DeSantis said Monday, according to Politico's Marc Caputo. '? Come on. I had to watch the Bucs win." • You can pull down your mask, take a sip, and bring your mask back up. So the only way this scenario makes sense is if DeSantis was guzzling stadium swill, continuously. If only there were video…
Zeitgeist Watch
"Michigan man killed at baby shower when gender reveal cannon explodes" [Associated Press]. "A 26-year-old man was killed at a baby shower after a cannon being used at the event exploded and sent shrapnel flying… In September, a couple's plan to reveal their baby's gender with blue or pink smoke sparked a wildfire that burned thousands of acres in Southern California. And in 2019, a homemade explosive used to reveal a baby's gender killed 56-year-old Pamela Kreimeyer in Knoxville, Iowa. The device was meant to spray powder but instead blew up like a pipe bomb." • I confess I don't understand why gender reveal parties are a thing in the first place. Perhaps some sort of funhouse mirror reaction to gender "fluidity"?
Class Warfare
UPDATE "Who should get a $1,400 check?" [Claudia Sahm, Stay-at-Home Macro]. "Over a decade of high-quality research shows that about one half to two thirds of the stimulus checks is spent within a few months. Money in the bank, not family income, is the most reliable predictor of who will spend and who will save. But we don't know people's bank account balances. From surveys, we do know that half of U.S. families lost income since the crisis began, but we do not know exactly who did in the population. Simply put, the government does not know who needs the check most and who is most likely to spend it. Without that information, lowering the income threshold for the $1,400 check from $75,000 to $50,000 per adult would cut out 40 million people, millions of whom need it and would spend it." • Worth reading in full, despite the acceptance of $1,400.
News of the Wired
Casino economy:
It's real fun. Check out this recent email from my community college about a lottery based on online suicide prevention training ran by a Blackstone owned data mining company pic.twitter.com/E3E8ERCH2c

— Apochra (@Apochra) February 9, 2021
* * *
Readers, feel free to contact me at lambert [UNDERSCORE] strether [DOT] corrente [AT] yahoo [DOT] com, with (a) links, and even better (b) sources I should curate regularly, (c) how to send me a check if you are allergic to PayPal, and (d) to find out how to send me images of plants. Vegetables are fine! Fungi and coral are deemed to be honorary plants! If you want your handle to appear as a credit, please place it at the start of your mail in parentheses: (thus). Otherwise, I will anonymize by using your initials. See the previous Water Cooler (with plant) here. Today's plant (SM):
SM writes: "Here is a fantastic fall oak a few blocks away. Rare to see a massive unpruned one in the urban neighborhoods!"
* * *
Readers: Water Cooler is a standalone entity not covered by the recently concluded and — thank you! — successful annual NC fundraiser. So if you see a link you especially like, or an item you wouldn't see anywhere else, please do not hesitate to express your appreciation in tangible form. Remember, a tip jar is for tipping! Regular positive feedback both makes me feel good and lets me know I'm on the right track with coverage. When I get no donations for five or ten days I get worried. More tangibly, a constant trickle of donations helps me with expenses, and I factor in that trickle when setting fundraising goals:
Here is the screen that will appear, which I have helpfully annotated.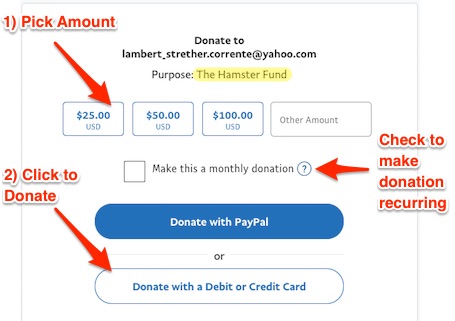 If you hate PayPal, you can email me at lambert [UNDERSCORE] strether [DOT] corrente [AT] yahoo [DOT] com, and I will give you directions on how to send a check. Thank you!