By Lambert Strether of Corrente.
Query: Readers, for my post stomping the CDC, I'm looking for an epidemiological study on Covid transmission in the schools that I know I linked to, whether in Links or Water Cooler. It was a primary source, not from the Guardian or Deustche Welle or whatever. It was from Europe, and had one of those nice diagrams showing the index case, and I may even have included a tweet with that diagram. But Google being what it is, I can't find it. Can anyone help? I didn't run it this month, and it might have been as far back as October. Thanks!
Bird Song of the Day
Another winter bird….
#COVID19
At reader request, I've added these daily charts from 91-DIVOC. The data is the Johns Hopkins CSSE data. Here is the site.
I feel I'm engaging in a macabre form of tape-watching…. (A reader asked the source of the data: Johns Hopkins CSSE. DIVOC-91 does allow other data sets to be used, like Our World in Data and The Atlantic, and where they provide visualizations similar to those below, a cursory comparison shows that the shape of the curves is the same.)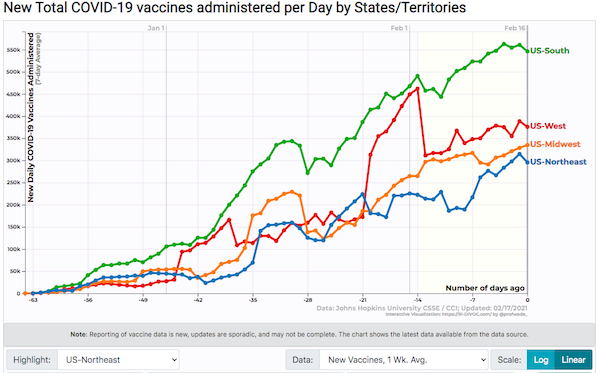 No doubt snow accounts for the drops. OTOH, there's no better social distancer than a really good blizzard!
Case count by United States region: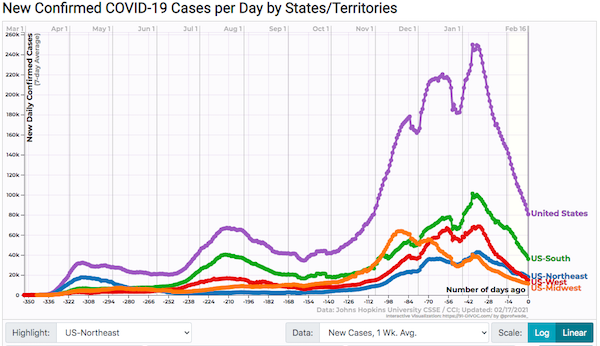 The South seems to have resumed its downward trajectory. Looks like alert reader Lou Danton was right!
"Four reasons experts say coronavirus cases are dropping in the United States" [WaPo]. "Some point to the quickening pace of coronavirus vaccine administration, some say it's because of the natural seasonal ebb of respiratory viruses and others chalk it up to social distancing measures. And every explanation is appended with two significant caveats: The country is still in a bad place, continuing to notch more than 90,000 new cases every day, and recent progress could still be imperiled, either by new fast-spreading virus variants or by relaxed social distancing measures… A fourth, less optimistic explanation has also emerged: More new cases are simply going undetected." • Somebody should tell whichever intern wrote this story that when the headline says "four reasons," there need to be four reasons, and they need to be signposted. This article is better edited–
"COVID-19 Cases Are Dropping Fast. Why?" [The Atlantic]. The deck: "Four reasons: social distancing, seasonality, seroprevalence, and shots." Nice mnemonic with the s's. "One month ago, the CDC published the results of more than 20 pandemic forecasting models. Most projected that COVID-19 cases would continue to grow through February, or at least plateau. Instead, COVID-19 is in retreat in America. New daily cases have plunged, and hospitalizations are down almost 50 percent in the past month. This is not an artifact of infrequent testing, since the share of regional daily tests that are coming back positive has declined even more than the number of cases. Some pandemic statistics are foggy, but the current decline of COVID-19 is crystal clear. What's behind the change? Americans' good behavior in the past month has tag-teamed with (mostly) warming weather across the Northern Hemisphere to slow the pandemic's growth; at the same time, partial immunity and vaccines have reduced the number of viable bodies that would allow the coronavirus to thrive. But the full story is a bit more complex." • Worth reading in full.
Big states (New York, Florida, Texas, California):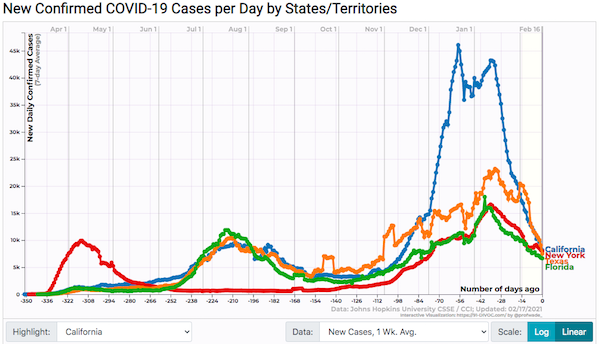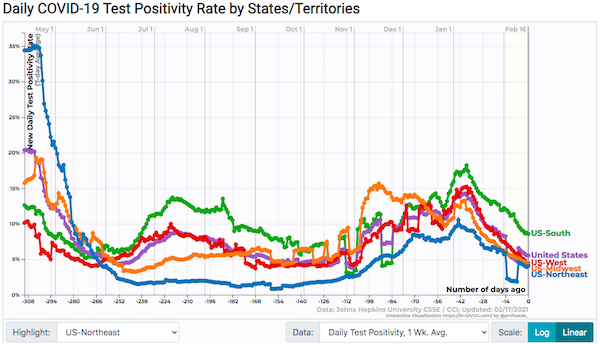 Regional averages approach 3%, which is what we want to see. (Alert reader TsWkr pointed out it's time to update my test positivity comment, which I just did).
"States ranked by COVID-19 test positivity rates: Feb. 17" [Becker Hospital Review]. • Becker, ffs, doesn't put this data in the form of a table, so TsWkr summarizes: "10 states are under 3% in their moving average, and 10 more are between 3% and 4%. Looks like we might have multiple regions below 3% for the first time pretty soon." So, optimism?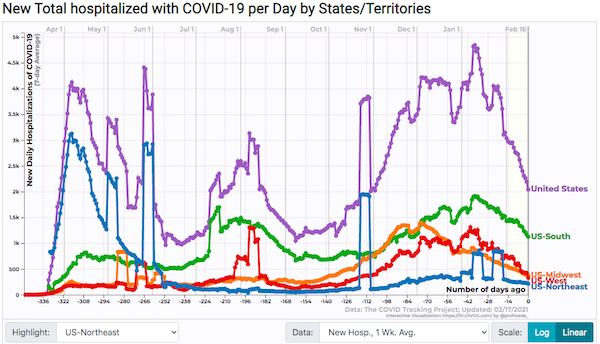 The South has resumed its downward trajectory. Hospitalization is discretionary; they may also be reducing their admissions rate — relative to cases we cannot see in this data! — to preserve future capacity; or because hospitals have figured out how to send people home.
Case fatality rate (plus deaths):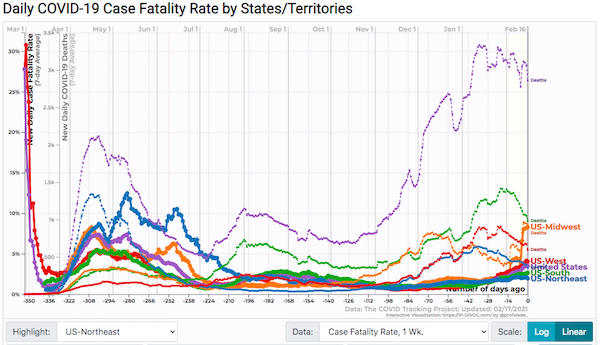 Again, this chart is giving me the creeps. The fatality rate in the West (red, at the bottom) is now distinctly separate the others and accelerating upward. The Northest is going down. Why? On the Midwest jump, alert readers Jeff N and MK Ohio finger Ohio. The chart: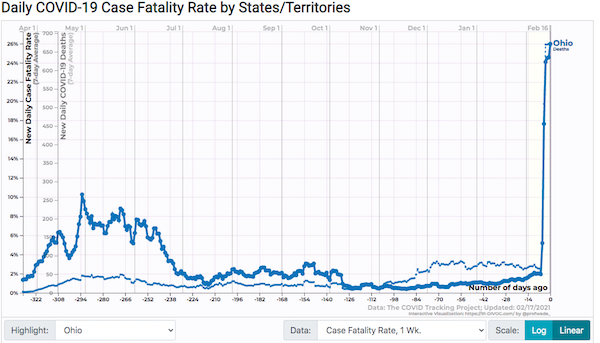 "Ohio Department of Health to restructure after 4K unreported deaths" [WTOP]. "Ohio's Health Department is restructuring its infectious disease division following the discovery of as many as 4,000 unreported COVID-19 deaths and will investigate how the error happened, the state health director said Thursday…. Republican state Auditor Keith Faber has been auditing Health Department coronavirus death data since September. A spokesperson said the error occurred when health officials were reconciling the state's death certificate database with the federal Centers for Disease Control and Prevention's infectious diseases database….. It's not uncommon for health officials to update coronavirus death totals based on data analysis, though not to the extent of Ohio's massive adjustment." • No pushback from CDC, apparently.
Patient readers, I generally have to sprint through Water Cooler, and so I very much appreciate drill-downs like this, as do other readers, I am sure.
Politics
"But what is government itself, but the greatest of all reflections on human nature?" –James Madison, Federalist 51
"They had one weapon left and both knew it: treachery." –Frank Herbert, Dune
"They had learned nothing, and forgotten nothing." –Charles Maurice de Talleyrand-Périgord
Capitol Seizure
"9/11 Commissioners warn Democrats: 1/6 Commission won't be easy" [Politico]. "Speaker Nancy Pelosi is conferring with former members of the bipartisan 9/11 Commission, which took a year and a half to assemble a comprehensive report that became a best-seller, as she accelerates her push for a 2021 successor commission to probe the Jan. 6 siege on the Capitol. Democrats could release legislation creating that commission as soon as this week, but any effort to recapture a post-9/11 sense of urgency and restore a sense of statesmanlike inquiry into the security failures of last month is bound to run into a familiar obstacle: Donald Trump, newly emboldened days after his Senate acquittal on charges of inciting the insurrection." • Any inquiry that frames the Capitol Seizure as an assault on the principal of a peaceful transition of power should also include RussiaGate, and the role of the intelligence community therein. Which will never happen.
Biden Adminstration
Biden Town Hall (1):

haha Biden ripping off Putin's annual call-in schtick here—the Good Tsar personally promises to take care of the pleb's problem. https://t.co/HTppa9SWgY

— Mark Ames (@MarkAmesExiled) February 17, 2021

Yes, the Little Father knows, and now everything will be fine.

Biden Town Hall (2):

New – Biden completely rejects Schumer/Warren proposal to cancel $50K of student loan debt per borrower:

"I will not make that happen."

Says he doesn't want to forgive debts of borrowers from elite schools — and money would be better spent on early childhood education. pic.twitter.com/oDwvCJveOm

— Michael Stratford (@mstratford) February 17, 2021

Make the benefit universal and if you want to claw back from the rich, do it with our magnificently progressive tax system.
Democrats en Deshabille
The brain worms! They b-u-r-r-r-r-r-n!!!!!!

Hey, Texas! Keep voting for officials who don't believe in climate change and supported privatization of the power grid! Maybe in 4 years you can vote for Trump again. He believes in the latter but not the former. Perfect.

— Stephen King (@StephenKing) February 17, 2021

46.6% of Texans voted for Biden in the general. 30% of Texas Democrats voted for Sanders in the Democrat primary (34.5% for Biden).
Realignment and Legitimacy
I think there's a metaphor here:

Getting fired because the rich kids I holidayed with in Peru complained to my Head of Department about my dismissive attitude to sentences that are neither analytic nor verifiable in principle.

— Liam Bright (@lastpositivist) February 16, 2021
Stats Watch
At reader request, I added some business stats back in. Please give Econintersect click-throughs; they're a good, old-school blog that covers more than stats.
Manufacturing: "January 2021 Headline Industrial Production Improves But Remains In Contraction" [Econintersect]. "The headlines say seasonally adjusted Industrial Production (IP) improved month-over-month – but remains in contraction year-over-year. Our analysis shows the three-month rolling average improved."
Retail: "Headline Retail Sales Improve in January 2021" [Econintersect]. "Retail sales have fully recovered their pre-virus levels overall. But the previous two month's sales were relatively weak. There was a downward adjustment to last month's data. The real test of strength is the rolling averages which was unchanged. Overall, this report is considered stronger than last month."
Inflation: "January 2021 Producer Price Final Demand Increased" [Econintersect]. "The Producer Price Index (PPI) year-over-year inflation increased from +0.8 % to +1.7 %."
* * *
Retail: "IKEA to Discontinue Its Annual Catalog, Ending a 70-Year Run" [Architectural Digest]. "A pandemic-induced shift to online furniture shopping likely factored into the catalog thought process as well: Reuters notes that IKEA's online sales surged by 45% from September 2019 through August 2020. With IKEA's website generating billions of hits and the IKEA Place augmented reality app garnering thousands of App Store reviews, there are simply other (arguably more cost-effective and sustainable) ways for the company to reach fans in search of inspiration. Though there won't be a 2022 edition of the catalog, its legacy will live on. The online IKEA "museum" lets visitors browse every issue from 1951 onward, functioning as a one-of-a-kind time capsule for design lovers. According to NPR, IKEA also plans to release a catalog compendium book next fall for those who simply can't live without physically flipping through those pages."
Banking: "Citi on the hook for $500M blunder, judge rules" [Banking Dive]. "Citi lost its legal battle with creditors of cosmetics firm Revlon on Tuesday after a federal judge ruled the asset managers do not need to return $504 million the bank sent them by mistake in August. After a six-day December trial, Judge Jesse Furman of the U.S. District Court for the Southern District of New York ruled the wire transfers made by Citi, acting as Revlon's loan agent, were "final and complete transactions, not subject to revocation." Human error led Citi to mistakenly transmit $900 million to creditors on a 2016 Revlon loan, instead of the $7.8 million interest payment it intended to send, the bank said in a court filing in August." • That's a damn shame.
Shipping: "A winter storm that brought snow, ice and record-setting low temperatures left millions of Americans without power and battered transportation operations across a swath of the U.S…. Union Pacific effectively shut down much of its intermodal network, telling customers it wouldn't accept loads at its terminals over the next three days" [Wall Street Journal]. "Many of BNSF Railway's trains in hard-hit Texas were at a standstill as the freight railroad braced for a new storm in the region. United Parcel Service resumed operations after shutting its main air express hub at the Louisville, Ky., airport on Monday, but UPS and FedEx warned customers of delivery delays." • On the bright side, you could bury the cold-chain vaccine boxes in the snow, if you had to.
Today's Fear & Greed Index: 63 Greed (previous close: 71 Greed) [CNN]. One week ago: 56 (Greed). (0 is Extreme Fear; 100 is Extreme Greed). Last updated Feb 17 at 12:31pm..
Health Care
"Fauci Awarded $1 Million Israeli Prize For 'Speaking Truth To Power' Amid Pandemic" [NPR]. • Are liberal Democrats naming their dogs afrer Fauci yet?
The Biosphere
Here is a list of mutual aid providers in Texas (not vetted by me, but with no gotcha responses either):
ATTENTION EVERYONE – PLEASE HELP RT/SHARE THIS DOCUMENT:

I've compiled a list of links of resources for people currently facing the weather crisis in TEXAS: https://t.co/xYC73j82fG

Please RT/COPY the document and share it for visibility! Reply with any additional resources!!!

— DOXIE ? (@dox_gay) February 17, 2021
"Everything is Bigger in Texas"
A Camden Property in the Victory Park/Uptown Dallas area. People aren't just "crying" about snowfall. Pipes are literally bursting in residential buildings around the metroplex, causing property damage to hundreds of residents! pic.twitter.com/FUOptPZGnW

— Clay10® ?? (@djordxc) February 16, 2021
"Has privatization failed Texas utility customers?" [Power Grid (MV)]. "The current incentives in electricity markets harm residential electricity consumers. Texas electricity generators, with multiple plants on the interconnection grid, receive much more money if they do not weatherize a few of their plants properly. As a consequence, these poorly weatherized plants must shut down during cold weather. All generating plants that remain online receive the spiking electricity prices, and the generating company makes much more money than if all their plants were operating properly. This is only one way privatizers are gaming the Texas electricity market: using laws and rules set up by their lobbyists." • Well worth a read. And a called shot from…. 2014!
"'We know this is hard': 3.4 million homes still dark even as ERCOT restores power to nearly 700,000 overnight" [Dallas News]. "ERCOT said that while power was restored to hundreds of thousands of homes overnight, some of that was lost when the Midwest had a power emergency of its own and the energy could no longer be imported. Although more consumers have come back on the grid, the agency warned that colder temperatures Wednesday night could increase demand and force further outages." • Reading the room:
Unplug the fancy new appliances you bought during the pandemic and only used once. #conserve #stopphantomenergy pic.twitter.com/pq33K9sF5O

— ERCOT (@ERCOT_ISO) February 14, 2021
""We're in it alone": Power outages leave millions of Texans desperate for heat and safety" [Texas Tribune]. "'To go through all of that and then also to have stuff like this happen, it's like, 'One more historical event, and I'm going to develop PTSD," said Brianna Blake, 31, a mother of two sons. 'I cannot do this.' Blake's family moved to Texas from Ohio this summer after her husband was laid off due to the pandemic, and a tornado hit their home, destroying nearly 'everything.' They tried to stock up on water and firewood after they lost power Monday, but the shelves of local gas stations were cleared out and grocery stores were closed. They couldn't find a room at hotels in nearby Mathis and Beeville, Blake said. Instead, they nestled a futon mattress and every comforter they owned near the fireplace, and slept in a pile until 3 a.m. when the couple noticed the fire was dying down. In desperation, Blake pulled a piece of canvas artwork off the wall of their Portland home and snapped it. There was 'no alternative' to keep the heat going, she said. It was the 'most helpless feeling as a mom' watching her 4-year-old and 7-year-old sons sleep, 'blissfully unaware' of what their parents were doing, Blake said." • Grapes of Wrath-level, here.
"U.S. Snow Cover Reaches Record High Across Lower 48 States" [Bloomberg]. "The record-setting cold that has gripped the central U.S. has pushed snow cover across the 48 contiguous states to an all-time high in the 18-year database of the National Operational Hydrologic Remote Sensing Center. Snow covers about 73.2% of the U.S. to an average depth 6 inches (15 centimeters), according to the agency. A year ago 35.5% was covered to an average depth of 4.6 inches. The center watches snow cover and water content in part to predict how severe spring flooding may be when it melts."
Zeitgeist Watch
Adversity's sweet milk:
Getting fired because the rich kids I holidayed with in Peru complained to my Head of Department about my dismissive attitude to sentences that are neither analytic nor verifiable in principle.

— Liam Bright (@lastpositivist) February 16, 2021
Groves of Academe
This is a thing:
Largest collection of academic phrases for scientific writing. Must have tool for PhD students, PostDocs and Academics.

Academic Phrasebank – Search Tools – Paraphrasing Tools – Plagiarism Checker

Sign up for a free trial:https://t.co/b7S7LcMMsL pic.twitter.com/dYUaW4D4Td

— REF-N-WRITE Academic Writing Tool (@refnwrite) February 4, 2021
Class Warfare
"Some Amazon workers don't want union: 'I don't think it's a good idea at all'" [AL.com]. "[Dawn Hoag], 43, said she will not be voting for union representation at Amazon. Neither will Ora McClendon, 62, who was a former shop steward for a union in a previous job in the Birmingham area. Both say the workplace already gives employees ample opportunity to ask questions and voice concerns in a responsive setting. We should note that Amazon made both Hoag and McClendon available to speak to AL.com." • Yes, you should.
"Amazon changed traffic light timing during union drive, county officials say" [The Verge]. "As part of its ongoing fight over an Alabama warehouse's efforts to unionize, Amazon reportedly changed the timing of a traffic light outside the warehouse, according to reporting by More Perfect Union. Union organizers at the site had previously accused the company of altering the timing so that pro-union workers would not be able to canvass workers while stopped at the light. Until recently, the altered timing on the traffic light outside the factory had been dismissed as a rumor. But More Perfect Union confirmed with Jefferson County officials that last year, Amazon notified the county of traffic delays during shift changes and asked for the light to be changed. On December 15th, the county increased the green light duration in an effort to clear workers off the worksite faster. There's no indication that the county was aware of the ongoing organizing drive or any effect the traffic light changes might have on the effort."
Unconscionable contracts:
"An empty stomach can make no contracts…[The workers] assent but they do not consent, they submit but they do not agree." –George McNeill, spokesman for the 8-hour League

— Veena Dubal (@veenadubal) February 12, 2021
"The Diggers' Green Roots" [Tribune]. "For the Diggers, the tumult of the [English Civil War] was an opportunity to cultivate a form of Christian agrarian proto-communism, where wage labour, class hierarchy, economic inequality, the enclosure of common lands, private property, and landowner power were things of the past. This would be achieved through shared cultivation of the land, undoing the exploitation of the earth and humankind together. Winstanley explains these ideas, with others, in 'The True Levellers Standard Advanced' of April 1649: 'Break in pieces quickly the Band of particular Propriety [property], disown this oppressing Murder, Opression and Thievery of Buying and Selling of Land, owning of landlords and paying of Rents and give thy Free Consent to make the Earth a Common Treasury without grumbling … that all may enjoy the benefit of their Creation …' Yet, for all of this prescient radicalism, the Diggers' tilling of the common land at St George's Hill lasted no more than four months. They were soon driven off the land by the military, local officials, and landowners."
News of the Wired
Pizza Rat scales:
— No Context Humans (@HumansNoContext) February 15, 2021
(I love the guy leaping over the railing; very New York!)
The country is in good hands:
The grifter: My 8 year old niece

The prize: Playing virtual hooky permanently (School Zoom calls)

The marks: My sister, my brother in law, the teacher, the school's computer teacher, the principle and Zoom's support team

The con: How she pulled it off… thread pic.twitter.com/cdz3SRhRu9

— Mike Piccolo (@mfpiccolo) February 13, 2021
* * *
Readers, feel free to contact me at lambert [UNDERSCORE] strether [DOT] corrente [AT] yahoo [DOT] com, with (a) links, and even better (b) sources I should curate regularly, (c) how to send me a check if you are allergic to PayPal, and (d) to find out how to send me images of plants. Vegetables are fine! Fungi and coral are deemed to be honorary plants! If you want your handle to appear as a credit, please place it at the start of your mail in parentheses: (thus). Otherwise, I will anonymize by using your initials. See the previous Water Cooler (with plant) here. Today's plant (Ellen):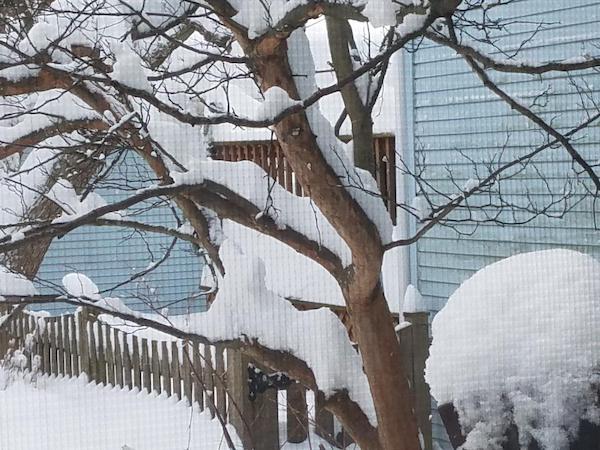 Ellen writes from Chicago: "Our poor dog froze solid last night onto the Hawthorn. Any advice?" One for the commentariat, I think!
* * *
Readers: Water Cooler is a standalone entity not covered by the recently concluded and — thank you! — successful annual NC fundraiser. So if you see a link you especially like, or an item you wouldn't see anywhere else, please do not hesitate to express your appreciation in tangible form. Remember, a tip jar is for tipping! Regular positive feedback both makes me feel good and lets me know I'm on the right track with coverage. When I get no donations for five or ten days I get worried. More tangibly, a constant trickle of donations helps me with expenses, and I factor in that trickle when setting fundraising goals:
Here is the screen that will appear, which I have helpfully annotated.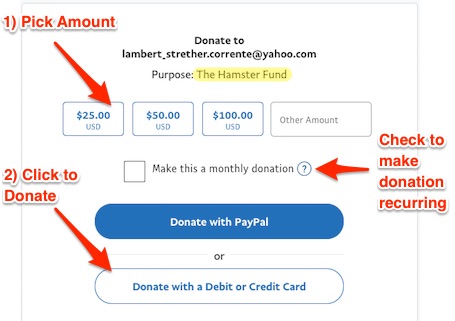 If you hate PayPal, you can email me at lambert [UNDERSCORE] strether [DOT] corrente [AT] yahoo [DOT] com, and I will give you directions on how to send a check. Thank you!