By Lambert Strether of Corrente.
Query: Readers, I'm looking for an epidemiological study on Covid transmission in the schools that I know I linked to, whether in Links or Water Cooler. It was from Europe, and had one of those nice diagrams showing the index case, and I may even have included a tweet with that diagram. But Google being what it is, I can't find it. Can anyone help? I didn't run it this month, and it might have been as far back as October. Thanks!
Patient readers, the Presidents Day three-day weekend was remarkably restorative for me. Excitingly, I cleaned and reorganized my room! Well, most of it….. In any case, I hope your long weekend, if you could take one, was good too. –lambert
Bird Song of the Day
Here is a snow-bunting. (The playback seems a little herky-jerky, but that seems to be a server thing. I hope it clears up before you listen.)
#COVID19
At reader request, I've added these daily charts from 91-DIVOC. The data is the Johns Hopkins CSSE data. Here is the site.
I feel I'm engaging in a macabre form of tape-watching…. (A reader asked the source of the data: Johns Hopkins CSSE. DIVOC-91 does allow other data sets to be used, like Our World in Data and The Atlantic, and where they provide visualizations similar to those below, a cursory comparison shows that the shape of the curves is the same.)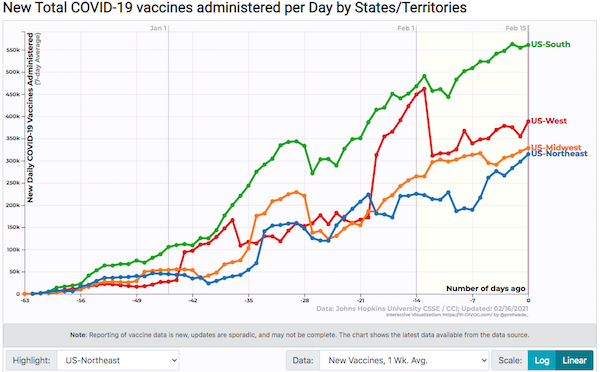 Case count by United States region: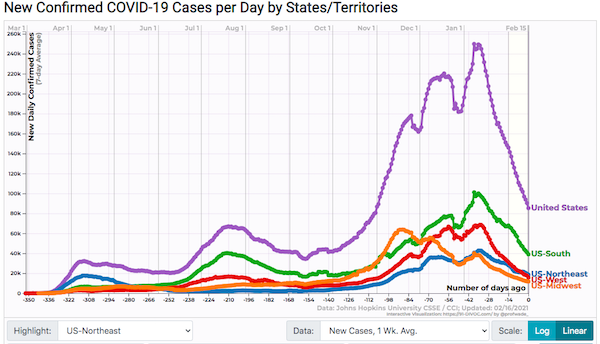 The South seems to have resumed its downward trajectory. Looks like alert reader Lou Danton was right!
Big states (New York, Florida, Texas, California):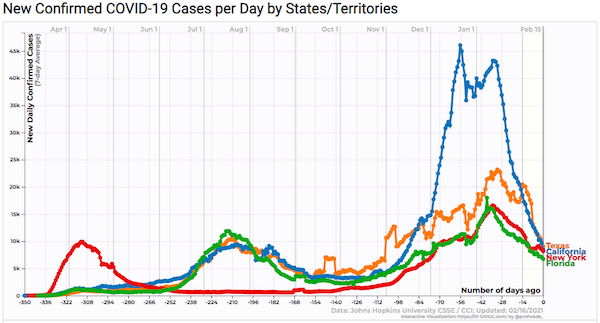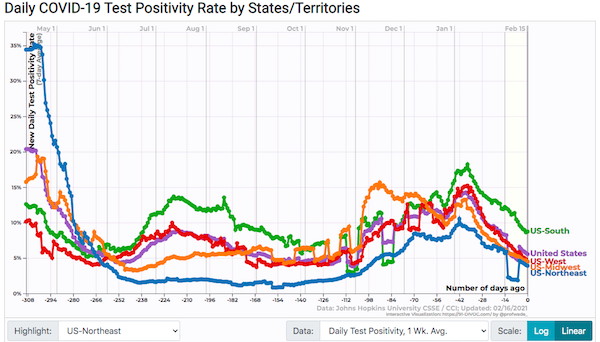 Nowhere near 3%, anywhere.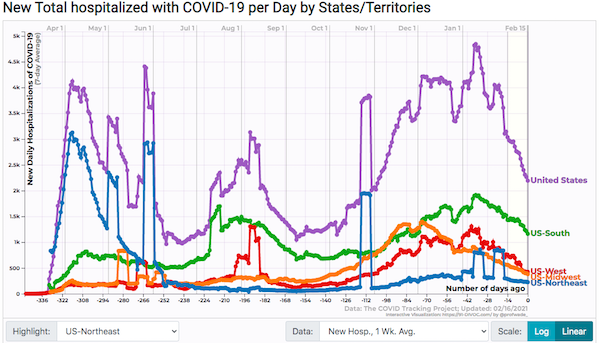 The South has resumed its downward trajectory. Hospitalization is discretionary; they may also be reducing their admissions rate — relative to cases we cannot see in this data! — to preserve future capacity; or because hospitals have figured out how to send people home.
Case fatality rate (plus deaths):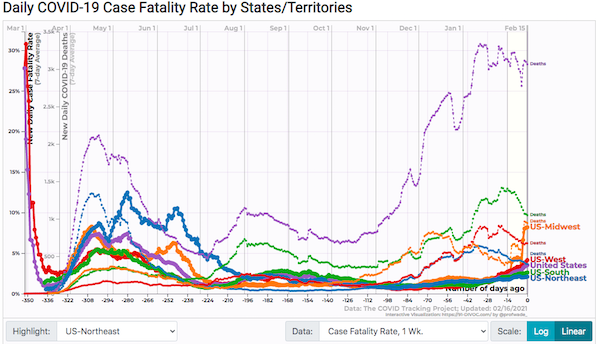 This chart is starting to give me the creeps. The deaths at the top of the chart remain stubbornly high, after everything else has been dropping for weeks. It looks like the Midwest (orange) is the problem. Why? And the fatality rate at the bottom is even more worrisome. Look at the West (red). It's accelerating, and it's already way worse than the summer. Again, why?
Politics
"But what is government itself, but the greatest of all reflections on human nature?" –James Madison, Federalist 51
"They had one weapon left and both knew it: treachery." –Frank Herbert, Dune
"They had learned nothing, and forgotten nothing." –Charles Maurice de Talleyrand-Périgord
Impeachment
"Senators and impeachment managers: The trial is over but the work isn't done" [Politico]. "Speaking on a host of Sunday shows, senators from both parties agreed that there should be a 9/11-style investigation into the Jan. 6 Capitol riots and that Trump had spewed falsehoods relating to the 2020 election. From the lack of law enforcement on the Capitol grounds that day to the seemingly coordinated maneuvers of the rioters, senators pushed to probe into the events that culminated in the attack, which left seven people dead. 'We need a 9/11 commission to find out what happened and make sure it never happens again, and I want to make sure that the Capitol footprint can be better defended next time,' Sen. Lindsey Graham (R-S.C.) told Fox News' Chris Wallace." • Clearly, if the Saudis had any role in the Capitol Seizure, that should be suppressed for at least 14 years.

"Impeachment isn't the final word on Capitol riot for Trump" [Associated Press]. "'President Trump is still liable for everything he did while he was in office, as an ordinary citizen, unless the statute of limitations has run,' Senate Minority Leader Mitch McConnell of Kentucky said after that vote. He insisted that the courts were a more appropriate venue to hold Trump accountable than a Senate trial. 'He didn't get away with anything yet,' McConnell said. "Yet.'" • Nice foreshadowing–

UPDATE "House Democrat Sues Trump, Giuliani And 2 Far-Right Groups Over Capitol Riot" [NPR]. "The lawsuit, filed on Thompson's behalf by the NAACP and the civil rights law firm Cohen Milstein Sellers & Toll, accuses Trump and the other defendants of violating the 1871 Ku Klux Klan Act by trying to interfere in Congress' certification of the Electoral College count. The legislation was part of a series of Enforcement Acts at the time intended to protect the enfranchisement of Black citizens from violence and intimidation." • The article doesn't give the theory of the case, unfortunately. Will there be video? (I wish at some point the Democrats would figure out that "we were really afraid!" just isn't a good public relations strategy.) No, but seriously, here is the lawsuit:

Here is 42 U.S. Code § 1985.Conspiracy to interfere with civil rights:

(1)Preventing officer from performing duties

If two or more persons in any State or Territory conspire to prevent, by force, intimidation, or threat, any person from accepting or holding any office, trust, or place of confidence under the United States, or from discharging any duties thereof; or to induce by like means any officer of the United States to leave any State, district, or place, where his duties as an officer are required to be performed, or to injure him in his person or property on account of his lawful discharge of the duties of his office, or while engaged in the lawful discharge thereof, or to injure his property so as to molest, interrupt, hinder, or impede him in the discharge of his official duties;

The section end with a semicolon and isn't a complete sentence. I think this is where the sentence ends, in section (3):

in any case of conspiracy set forth in this section, if one or more persons engaged therein do, or cause to be done, any act in furtherance of the object of such conspiracy, whereby another is injured in his person or property, or deprived of having and exercising any right or privilege of a citizen of the United States, the party so injured or deprived may have an action for the recovery of damages occasioned by such injury or deprivation, against any one or more of the conspirators.

This certainly strikes me as a more serious effort than the article of impeachment. One might imagine this language being applied with success to the Wilmington "Insurrection" of 1898 (which is nice because I'm so tired of hearing about Nazis when we have so many examples here at home.)

"Trump Emerges From Impeachment Trial With Sturdy Backing From GOP Voters" [Morning Consult]. "According to a Morning Consult/Politico poll conducted at the conclusion of the Senate's weeklong trial, a majority of Republican voters (54 percent) said they would support Trump in a hypothetical 2024 presidential primary election – matching the share who said the same in late November, before his standing dipped in a survey conducted shortly after the deadly Jan. 6 riot at the Capitol."

UPDATE "Democratic impeachment manager: Trump trial could have lasted years if witnesses were called" [The Hill]. • Translation: The dog caught the car, and then didn't know what to do.
Capitol Seizure
"57 GOP State And Local Officials Were At The Capitol Insurrection" [HuffPo]. "At least 57 state and local Republican officials attended the Jan. 6 rally in Washington that turned into a deadly insurrection, according to an updated HuffPost tally. Almost all of them are resisting calls to resign…. In the mob on Jan. 6, according to HuffPost's analysis, were, at least, 16 Republican members of state houses or assemblies, four state senators, a state attorney general, six county commissioners, seven city council members, two mayors, three school board members, two state GOP chairs, two prosecutors and a slew of other officials and party functionaries." • Given that Republicans fear their base, it's doubtful they'll pay a price at the polls. Which is how democracy is supposed to work, no? I don't know what losing scheme the Democrats are ginning up this time — anything, anything but give people material reasons to vote for you! — but all I can say is that let's all pray they don't pour gasoline on the flames, profitable though that would be for clicks, the intelligence community, the moralizers, etc. (See below at "Mapping the Trump Meridian in Texas.")
Biden Adminstration
"President Biden extends mortgage relief, ban on home foreclosures through June" [USA Today]. " President Joe Biden on Tuesday extended a ban on home foreclosures for federally backed mortgages by three months and expanded a mortgage relief program in a push to stabilize the nation's housing affordability crisis amid the COVID-19 pandemic. The foreclosure moratorium was set to expire March 31 and is now in place through June 30. It's the second time Biden has extended the ban after he used one of his record number of Day One executive actions to push back a previous Jan. 31 end date. The Biden administration Tuesday also extended the enrollment window to request a mortgage payment forbearance – which allows borrowers to pause or reduce mortgage payments – until June 30. That program also was scheduled to end in March. As a result of a third action, the federal government will allow borrowers to defer mortgage payments for an additional six months. ." • Last June? Really?

UPDATE "Biden relaunches faith-based White House office" [The Hill]. "The office was established 20 years ago by former President George W. Bush, the White House noted, and continued on through the Obama administration. Former President Trump did not appoint a director to the faith-based office during his tenure and its website remained blank during the four years he was in the Oval Office. Trump instead created the Center for Faith and Opportunity Initiatives, which served as the Health and Human Services Department's 'liaison to the faith community and to grassroots organizations' and sought to 'champion religious liberty in all HHS programs' according to its website. Melissa Rogers will reassume the position she held in the Obama administration as executive director of the office and as senior director for faith and public policy as part of the White House Domestic Policy Council. White House Senior Adviser for Public Engagement John Dickson will serve as deputy director of the office. He previously served as national faith engagement director for the Biden campaign." • I'm trained to hate this, since it's a Bush administration initiative, but perhaps jaw, jaw is better than war, war….
2024
"Former DNC Chair Perez Calls the Calendar Status Quo 'Unacceptable'" [FrontLoading HQ]. Perez: "A diverse state or states need to be first. The difference between going first and going third is really important. We know the importance of momentum in Democratic primaries." • "Diverse" is, of course, undefined. Wallethub's diversity ranking has six elements: Socioeconomic, cultural, economic, household, religious, and political. The top five are California, Texas, Hawaii, New Jersey, and New York. So diversity, as such, is a recipe for the high-dollar air war, cementing oligarchic control even further. Surprise! (South Carolina, whose political machine tipped the 2020 primary, is #23. To be fair, Iowa is 46, New Hampshire is 47.) Why don't we just let the DNC pick the names out of a hat?
2020
"Mapping the Trump Meridian in Texas" [The Nation]. "President Donald Trump's performance along the west and South Texas border in 2020 was nothing short of remarkable. Just five years after he'd called Mexican immigrants drug dealers, criminals, and rapists, the enthusiasm of Latino voters for the 45th president dashed Democratic dreams of a blue Texas, resulting in voting shifts in Texas border counties unseen in over a century. The Democratic Party and its media sycophants blamed the lackluster showing on Covid-19, the 'defund the police' backlash, and the specter of socialism." • Because of course they did. More: "According to the Texas secretary of state, the voting shifts were substantial, with Trump collecting more than 30 percent of the vote in every border county. In a majority of those counties, Trump received 10 percent more votes than he had in 2016, with some, like Starr County, showing shifts as high as 28 percent." • Conclusion: "The 10-hour drive back to Laredo gave us time to think about the men and women we'd met. Both of us had expected to hear something different from them, honestly. Hardly anyone mentioned "socialism" or "defund the police." Instead, we heard praise for the economy and for Trump himself. He remains a great favorite with the people we met. They all still believe he won the election and said they'd be comfortable if the results were overturned. In just four years, Trump managed to turn parts of what had been a strong blue border wall for Texas Democrats deep Republican red—truly an incredible feat. As to what lessons we can learn from it… we're still trying to figure that out."
Democrats en Deshabille
UPDATE Fire me into the sun:

During a press conference with House managers after Trump's second impeachment trial, Nancy Pelosi said: "I think our country needs a strong Republican party. It's very important." pic.twitter.com/aPbxgxDlYd

— USA TODAY (@USATODAY) February 13, 2021

To be fair to the Democrat leadership, they've certainly done everything they can to make this possible….
Realignment and Legitimacy
"Something About The Way Society Was Exposed As Complete Illusion Over Past Year Really Getting Man Down Today" [The Onion]. "'Maybe it's just quarantine talking, but the reality dawning on me that American life is a fundamentally hollow cesspool of spectacle and misery is really bumming me out lately,' said [local man Paul] Carpenter, adding that he had the vague idea that living in a social system based on brutal competition that made all human relationships transactional and perverted the very idea of community might have something to do with it." • Worth reading in full.

UPDATE "The "For The People Act" Would Make the U.S. a Democracy" [The Intercept]. "o ensure voters can be confident that elections are secure and that their votes will count, all states would be required to conduct elections via paper ballot." • I don't know whether the Intercept is sloppy and dumb or deliberately lying, but HR 1 permits the use of ballot marking devices (BMDs) which are inherently unauditable and poorly reflect voter intent. (See discussion here: The ballot is what is counted. With a BMDs , what is counted is a machine and not-readable QR code, which may or may not — depending on whether the BMD is hacked — match the printed human-readable printout, which is a mere receipt. Another way of saying this is that HR1 legitimizes technology that supports election fraud, a nirvana for both parties.
Stats Watch
At reader request, I added some business stats back in. Please give Econintersect click-throughs; they're a good, old-school blog that covers more than stats.
Housing: "December 2020 CoreLogic Single-Family Rents Experienced Growth at Disparate Rates" [Econintersect]. "The Single-Family Rent Index (SFRI), which analyzes single-family rent price changes nationally and across major metropolitan areas. December 2020 data shows a national rent increase of 3.8 % year over year, up from a 2.9 % year-over-year increase in December 2019. Annual rent growth slowed in the early months of the pandemic but then steadily picked up in the latter half of the year, reaching pre-pandemic growth rates by October. 2020 was a noteworthy year for the single-family rental market. Renters sought more space and detached properties to weather the pandemic, which kept rent prices of single-family properties on the rise and multifamily rents tumbling. While single-family rents increased on average, some areas of the country experienced lower growth and even drops in rents."
* * *
Shipping: "A pivot in supply chains driven by soaring e-commerce demand is proving to be a boon for trucking's less-than-truckload sector. Companies including Old Dominion Freight Line, ArcBest and Saia are building their profits and expanding their operations… as their "middle-mile" business dovetails with a push by shippers to make their supply chains more nimble to meet changing consumer demands" [Wall Street Journal]. "The truckers are among businesses that are benefiting from broad changes in economic demand driven by the coronavirus pandemic. The online sales boom has companies pushing more goods through tighter warehouses near population centers, where space constraints require smaller and more frequent shipments to keep inventories stocked. At the same time, sharp swings in demand are scrambling forecasting, triggering more stopgap shipments with short notice and tighter lead times that put LTL services at a premium and hand those carriers more pricing leverage."
Shipping: "LTL carriers continue to issue general rate increases" [Freight Waves]. "Less-than-truckload carrier Old Dominion Freight Line announced a 4.9% general rate increase Monday for freight carried under various general tariff codes. The increase will be effective March 1. The rate bump follows similar announcements from LTL carriers in recent weeks. The majority of the increases are in the 5% to 6% range, likely indicative of tightening LTL capacity and a rate-disciplined environment.:
Manufacturing: "The swift, global fallout from the semiconductor shortage across the automotive industry is exposing a structural supply-chain problem that car makers can't easily solve. …. [T]he chip shortfall underscores how the growing use of technology in vehicles has fractured supply-chain strategies the automotive giants had built up over decades" [Wall Street Journal]. ". Some auto manufacturers are rethinking supply chains, talking not just with front-line suppliers but with chip vendors to take a role in striking deals. Some want greater transparency on the sourcing, but others are considering getting directly involved by reserving capacity with the semiconductor suppliers."
Today's Fear & Greed Index: 68 Greed (previous close: 63 Greed) [CNN]. One week ago: 57 (Neutral). (0 is Extreme Fear; 100 is Extreme Greed). Last updated Feb 16 at 11:55am.
Rapture Index: Closes up one on Earthquakes. "A 7.1 magnitude earthquake strikes Japan" [Rapture Ready]. Record High, October 10, 2016: 189. Current: 185. (Remember that bringing on the rapture is a good thing, so high is better.)
Health Care
Masking, how it's done:
ICYMI: Venice Carnival kicks off with restrictions pic.twitter.com/VDoPxtRejL

— Reuters (@Reuters) February 14, 2021
Somehow, we've been able to turn sneakers into coveted and very expensive consumer goods in high demand. Why oh why can't we do the same with masks?
"We Never Reached Containment" [Mike the Mad Biologist]. "We still haven't wrapped our heads around the importance of prevalence, and are still too focused on the trend (the trend does matter, just not for what you decide to do that day). I have yet to hear prominent politicians or other figures lay out prevalence-based goals*, as a path to containment. A broad failure of governance. *As best as I can tell, the 'metrics' exist only to justify loosening restrictions, otherwise political leaders are just using any good news, no matter how trivial or irrelevant, to loosen the restrictions they want to loosen." On prevalence: "If people want things to 'return to normal', or some semblance of normal, then we need to dramatically lower the prevalence of infected people. When COVID-19 is very rare, one is far more likely to survive higher risk activities. That means masks and physical distancing for an extended period of time–the first, sort of shutdown didn't cut it, and we left far too early."
The Biosphere
Here's hoping our friends are weathering the storm:
Massive electrical sparks fly across power lines in Louisiana as dangerous weather batters the region. https://t.co/sZvxmygyiK pic.twitter.com/ET9LNk8wYQ

— ABC News (@ABC) February 15, 2021
Under the house:
environmental storytelling pic.twitter.com/5N4r6wbJVG

— ignacio martinez (@NacioMartinez) February 15, 2021
When you button up the house for the winter, you really do have to imagine that critters have excellent infrared sensors, and a lot of incentive to get in out of the cold. And if — spoiler alert — there are pipes in that crawlspace? They're probably frozen. No drafts!
Monsters!
Lighthouse on Lake Michigan after an ice storm pic.twitter.com/4NOzOrh9Yi

— Alex Eccleston (@AventuraObscura) February 15, 2021
* * *
"Texas' power grid crumples under the cold" [Ars Technica]. "Texas is unusual in that almost the entire state is part of a single grid that lacks extensive integration with those of the surrounding states. That grid is run by an organization called ERCOT, the Electric Reliability Council of Texas, a nonprofit controlled by the state legislature." • Ah, the Leg. More: "[R]oughly 30 gigawatts of generation capacity has been forced offline. While some early reports indicated that frozen wind turbines were causing significant shortfalls, 30GW is roughly equal to the entire state's wind capacity if every turbine is producing all the power it's rated for. Since wind in Texas generally tends to produce less during winter, there's no way that the grid operators would have planned for getting 30GW from wind generation; in fact, a chart at ERCOT indicates that wind is producing significantly more than forecast…. So while having Texas' full wind-generating capacity online would help, the problems with meeting demand appear to lie elsewhere. An ERCOT director told Bloomberg that problems were widespread across generating sources, including coal, natural gas, and even nuclear plants. In the past, severe cold has caused US supplies of natural gas to be constrained, as use in residential heating competes with its use in generating electricity. But that doesn't explain the shortfalls in coal and nuclear, and the ERCOT executive wasn't willing to speculate. With generation failing to meet demand, ERCOT was left with no other option other than to cut off customers' access to power."
"Scotland's hilarious gritter fleet triggers naming contests in US and Russia" [The Scotsman]. "It comes as the likes of Sir Andy Flurry, Lew-Ice Capaldi and Gritter Thunberg gaining such a following that an online tracker showing their movements has clocked up more than 100,000 hits a day. The US states of Michigan, Minnesota and South Dakota are among those following Scotland's lead to soliciting names for their winter fleets. Stateside name suggestions have included Salter Mondale, Lake Snow Be Gone and Plowy McPlowface." • Here is the gritter tracker: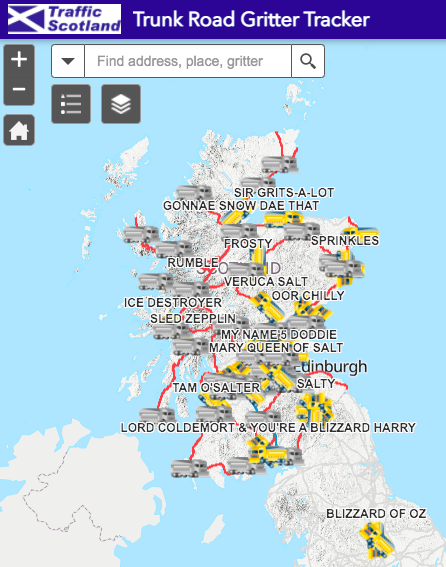 The gritter tracker is actually a good way to demonstrate that government actually brings concrete material benefits; states and localities might consider expanding on this idea. I think the naming concept — probably comes from named British steam locomitives? — is important, too. We might name school buses and ambulances, for example. Or postal routes.
Book Nook
"Heresies of 'Dune'" [Los Angeles Review of Books]. Worth reading in full. The conclusion: "Though the counterculture's most visible immediate impact was on the left, the 21st century has witnessed the growth of its right-wing forms. Technolibertarians like Elon Musk reach for space; the incels of 8kun promulgate antigovernment paranoia; and heavily armed Odin-worshipers storm state capitols to protest mask regulations. The right no longer sports a crew cut, goes to church, venerates the family, and plays it straight. Instead, it spurns the establishment and makes war on the state. On cue, Dune is back. The first book is a novel, not a manifesto, and has admirers across the political spectrum. Yet the one itch it doesn't scratch is the longing for liberal democracy. Dune is, in that sense, a measure of our discontent. As liberal norms lose their hold — as our world lurches from Parks and Recreation to Game of Thrones — Arrakis feels more real. We look up from the wreckage of 2020 and there is Frank Herbert, beckoning from the desert." • The review trashes Herberts later Dune works ("written quickly while the IRS hounded the author for unpaid taxes"), with a lot of quotes I just don't remember (or have repressed). I don't much care for the novels where Leto has turned himself into a sandworm, but I do think Heretics of Dune and Chapterhouse Dune have some wonderful set pieces, even if the plotting is so intricate as to defy comprehension.
Screening Room
"Can't Get You Out of My Head review: Adam Curtis's emotional history is fascinating and disorienting" [Independent]. "Two years in the making, this six-part, eight-hour series aims to tell an entire emotional history of the postwar period, of how we got to where we are. As ever with Curtis, the film resists précis, but it broadly aims to show how radical movements, emerging after the Second World War, were neutralised and co-opted by an establishment determined to maintain the status quo. These decades that prioritised the individual, mainly as a consumer, have become a dead end for politics and culture. His case studies are extraordinarily varied and would all make fascinating films in their own right. There's Michael de Freitas, one of London's most notorious gangsters but also a civil rights activist who persuaded Yoko and John Lennon to cut off their hair for him; Jiang Qing, aka Madame Mao, who clung to her thwarted dreams of acting as she rose to be the most powerful woman in China; Afeni Shakur, the Black Panther and mother of the rapper Tupac. For someone who professes to side with "the people", Curtis has a Nietzschean fascination with thugs and strongmen. Their stories are told via detours to Dominic Cummings, the Baader-Meinhoff Gang, Lee Harvey Oswald, the Illuminati and MK Ultra, among others…..The feeling of watching Curtis's best work has more in common with an encounter with a piece of art than it does a piece of history or a more traditional documentary. You emerge from Can't Get You Out of My Head not with the clean satisfaction of rational combat, but the sense of having been carpet bombed out of your old worldview."
"Why Did Bridgerton Erase Haiti?" [Los Angeles Review of Books]. "Julia Quinn's Bridgerton novels are mostly populated with white people like the regency-era England where they take place. The London of Shonda Rhimes's Bridgerton tv series for Netflix, in contrast, is a multicultural mecca, sprinkled with Black characters of various skin hues, as well as a smattering of east and south Asians walking around silently in the background. There is even a Black queen and a Black duke…. In season one, episode four, we learn that the reason the Black Brits of Bridgerton are on par—economically and socially— with the white characters is not because they are the mixed-race children of white male British colonists and free women of color from the Caribbean, nineteenth-century England's actual Black children of 'uncertain fortune,' in one historian's words. Instead, it is because the white king, George, fell in love with a Black woman, Charlotte, whose marriage to him made her the Queen of England…. [I]n Bridgerton love has already changed everything. It has defeated color prejudice and it has eliminated chattel slavery. Likewise, it has erased any need to mention the thousands of Black revolutionaries in Haiti who fought for abolition for 13 long years, in the process creating the first independent and slavery-free nation of the American hemisphere.
Go long social distancing:
This video on the rise of porn in the pandemic…what are your thoughts?

Watch the full video here: https://t.co/amttmPxkd3 pic.twitter.com/n08PEQLRQT

— Russell Brand (@rustyrockets) February 14, 2021
Class Warfare
"State treasurers of Delaware, Illinois, Wisconsin and Colorado tell Amazon not to interfere in union efforts" [AL.com]. "The officials sent a letter Feb. 9 to the chair of Amazon's Nominating and Corporate Governance Committee, echoing a similar letter sent by an investor group. Last week, a group of about 70 Amazon investors told the company in a letter to stop interfering in unionization efforts in Bessemer. The investors, led by the Swedish groups Folksam and Ohman Fonder, control more than $20 billion in company shares and include the comptrollers for both New York State and New York City, Legal and General Investment Management, BMO Global Asset Management and the Church of England Pensions Board." • No word on the Bessemer vote as of this writing.
"Workers at Medium are unionizing" [The Verge]. "Medium workers have announced they're forming a union with the Communications Workers of America (CWA) Local 9410. The Medium Workers Union says more than 70 percent of eligible employees have already signed cards in support, currently representing 140 workers across editorial, engineering, design, and product, according to CNN. The organization plans to negotiate a contract for its members. Right now, it's asking Medium to voluntarily recognize the union. If the company refuses, the union can force recognition through the National Labor Relations Board as long as a majority of employees vote in favor of unionization."
News of the Wired
"Talking Is a Free Action" [TV Tropes]. "Time in comics is flexible. Each panel shows a single event, which is usually accompanied by a length of dialog, which must take some time to say. This disparity is usually accepted if it isn't taken to extremes. But often, characters will exposit when it's most needed: at the story's climax, when both the intricacies of the plot and the intensity of action hit their highest… The Trope Namer is Dungeons & Dragons, in which certain actions (most notably talking) are designated "free actions" and can be taken in addition to any other actions within the normal limit of a turn. Talking does not distract the player from any other actions, and there is no word count limit on how much the player can say. This is a case of Rule of Fun; spouting a Bond One-Liner during combat is awesome, but no one would do it when it would impair combat performance." • Fascinating idea, the reverse of a filibuster, but I'm really including this to plug TV Tropes, a wonderful, wonderful site (which I hope isn't run by the Clinton Foundation or something).
"The War For The Future Of Psychotherapy" [Forbes]. "Maybe you heard. There's a war brewing. At stake is the future of psychotherapy. Will manuals, algorithms, and automatons prevail? Or will we be able to preserve the centrality of unique and responsive human relationships? The fight will determine the kinds of care available to people with problems in living. And you better pay attention. This fight concerns you; after all, who doesn't have such problems at some point in life, or care about someone who does?
call the people fighting to remove the human from the psychotherapy equation "algorithm warriors." I'm on the other side, standing with those defending psychotherapy as a professional practice ever more sharply focussed on the healing power of human relationships. … I call the people fighting to remove the human from the psychotherapy equation "algorithm warriors." I'm on the other side, standing with those defending psychotherapy as a professional practice ever more sharply focussed on the healing power of human relationships…. The need is great and potential profits and rewards astronomical….. The second faction in the algorithmic alliance are inside the profession; those reducing and then limiting psychotherapy to a set of procedures encoded in instruction manuals, i.e., to an algorithm. The group supporting instruction-manual therapies includes psychotherapy researchers designing treatment procedures based on how easily they can be studied under controlled circumstances. Rather than taking seriously the unique features of specifically psychological treatments, this research is built on a serious case of medicine-envy: if the drug companies do it then so too should we!" • Ugh. Do we have an psychiatrists in the commentariat?
Speaking of algos:
When you foolishly thought the tech spec was pretty clear: pic.twitter.com/xr4IB8axok

— Nick Craver (@Nick_Craver) February 14, 2021
* * *
Readers, feel free to contact me at lambert [UNDERSCORE] strether [DOT] corrente [AT] yahoo [DOT] com, with (a) links, and even better (b) sources I should curate regularly, (c) how to send me a check if you are allergic to PayPal, and (d) to find out how to send me images of plants. Vegetables are fine! Fungi and coral are deemed to be honorary plants! If you want your handle to appear as a credit, please place it at the start of your mail in parentheses: (thus). Otherwise, I will anonymize by using your initials. See the previous Water Cooler (with plant) here. Today's plant (Tommy):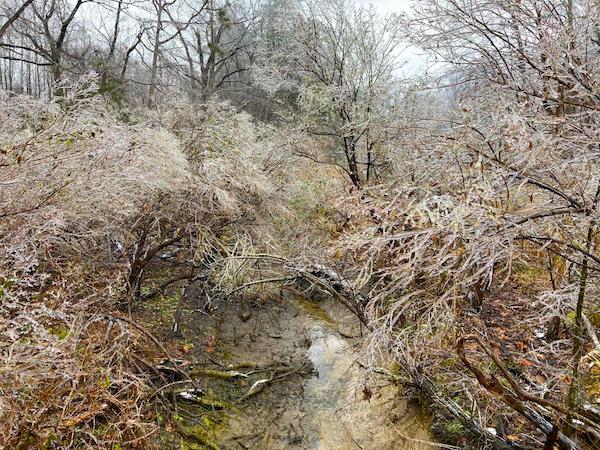 Tommy writes: "Wanted to submit a picture from our hike on the Pickering Creek Audubon trail on the eastern shore of Maryland. Pic was taken after freezing rain from the night before." Gorgeous!
* * *
Readers: Water Cooler is a standalone entity not covered by the recently concluded and — thank you! — successful annual NC fundraiser. So if you see a link you especially like, or an item you wouldn't see anywhere else, please do not hesitate to express your appreciation in tangible form. Remember, a tip jar is for tipping! Regular positive feedback both makes me feel good and lets me know I'm on the right track with coverage. When I get no donations for five or ten days I get worried. More tangibly, a constant trickle of donations helps me with expenses, and I factor in that trickle when setting fundraising goals:
Here is the screen that will appear, which I have helpfully annotated.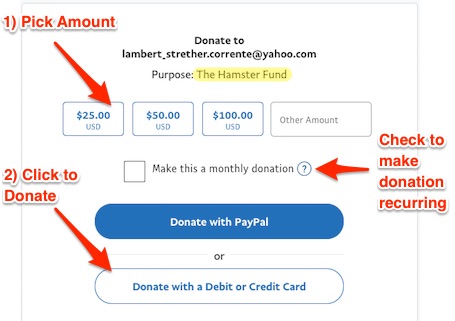 If you hate PayPal, you can email me at lambert [UNDERSCORE] strether [DOT] corrente [AT] yahoo [DOT] com, and I will give you directions on how to send a check. Thank you!