By Lambert Strether of Corrente.
Bird Song of the Day
From the frozen North.
#COVID19
At reader request, I've added this daily chart from 91-DIVOC. The data is the Johns Hopkins CSSE data. Here is the site.
I feel I'm engaging in a macabre form of tape-watching, because I don't think the peak is coming in the next days, or even weeks. Is the virus gathering itself for another leap?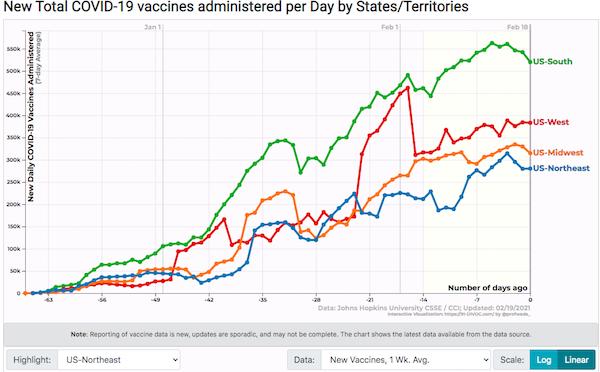 Case count by United States region: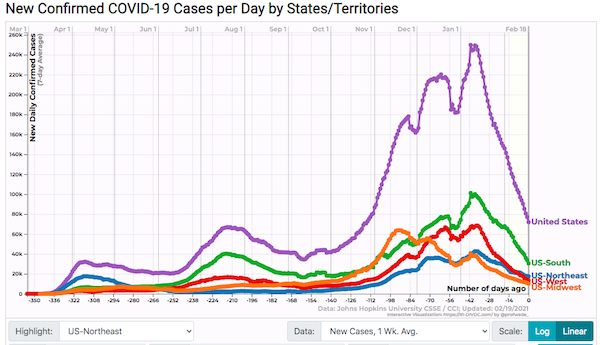 Big states (New York, Florida, Texas, California):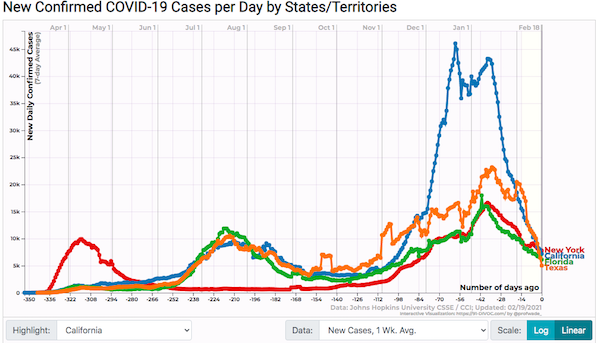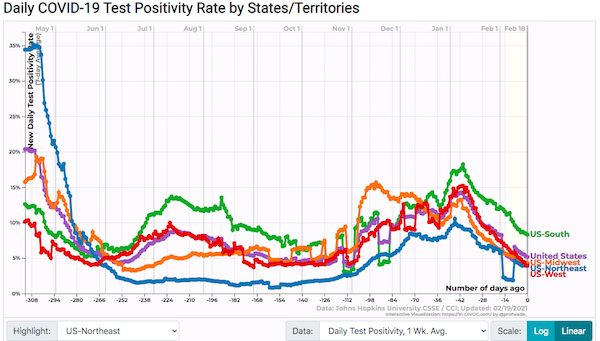 Regional averages approach 3%, which is what we want to see. (Alert reader TsWkr pointed out it's time to update my test positivity comment, which I just did.)
Hospitalization is discretionary; they may also be reducing their admissions rate — relative to cases we cannot see in this data! — to preserve future capacity; or because hospitals have figured out how to send people home.
Case fatality rate (plus deaths):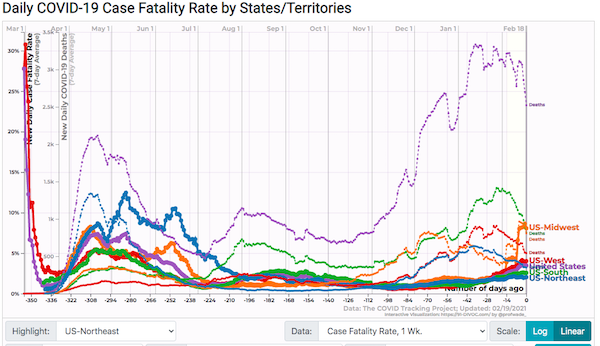 Again, this chart is giving me the creeps. The fatality rate in the West (red, at the bottom) is now distinctly separate the others and trending upward. The Northest is going down. Why?
NY: "The Strange Case of New York's Covid-19 Death Count" [Bloomberg]. "the state Department of Health has been running a real-time monitoring system, a useful thing in the middle of a pandemic but not a source of reliable vital statistics. That's understandable given that in New York the state health department doesn't do vital statistics. As is the case in about half the states, New York has decentralized public-health governance, meaning that the county and New York City health departments are responsible for figuring out how many people actually died of Covid-19 (and of everything else) and reporting that to the CDC's National Center for Health Statistics. But instead of incorporating their more-complete tallies into its totals, the state just keeps putting out its own obviously wrong numbers. This is weird, but not entirely unique. There are three other states (Nebraska, Kentucky and Missouri), where the state-reported death toll is about as low relative to the CDC's as New York's, and one (Oklahoma) where it's even lower….. Seen in conjunction with the state's habit of reporting obviously wrong overall Covid-19 death totals, though, a pattern begins to emerge. Given that they are now ignored by much of the media, and have no effect on the official totals maintained by the CDC, the main audience for the state's lower numbers by this point has got to be the governor himself. Apparently nobody in Albany wants to be the one to tell famously prickly Andrew Cuomo that the state's Covid-19 death toll needs to be revised upwards by more than 20%. At least, that's my theory." • Makes sense. I mean, if you live in a Third World-style political system where nobody wants to tell the Big Man the truth because they're all afraid of him. Maybe Cuomo needed a court jester….
* * *
NY: "CVS, Walgreens cancel COVID vaccine appointments in NY for those under 65" [Democrat and Chronicle]. "An unknown number of New York residents had their COVID-19 vaccine appointments abruptly cancelled by CVS and Walgreens after they were able to sign up despite a state rule preventing pharmacies from vaccinating those under the age of 65. The retail pharmacy giants began administering the vaccine in New York last week under a federal program that allocates doses directly to them, with the chains' limited appointments booked up within hours of being made available. Some of those appointments were filled by those who have comorbidities, who gained eligibility to receive the vaccine on Monday. But those who are under the age of 65 had their appointments abruptly cancelled days after making them, with the pharmacies pointing to the state rule….. The state's rule preventing pharmacies from vaccinating people younger than 65, however, had been in effect for nearly a month prior to Feb. 15."
Politics
"But what is government itself, but the greatest of all reflections on human nature?" –James Madison, Federalist 51
"They had one weapon left and both knew it: treachery." –Frank Herbert, Dune
"They had learned nothing, and forgotten nothing." –Charles Maurice de Talleyrand-Périgord
Capitol Seizure
UDPATE "Proud Boy cited in Trump impeachment trial poised to plead guilty" [Politico]. "Dominic Pezzola, 43, of Rochester, N.Y., would become the first target of the nationwide investigation of participants in the Capitol riot to plead guilty to crimes related to the breach….. [His lawyer, Jonathon] Zucker also said he and his client have come to believe another member of the Proud Boys — one far more involved in the group and accused of spraying police with pepper spray on Jan. 6 — has been working with law enforcement in order to avoid a charge." • No doubt. Agent provocateurs are one reason these groups fractionalize.

UPDATE I'm less than enthusiastic about privatized law enforcement, even on a volunteer basis:

Please share across all platforms. Do you Know this person?? Please contact the FBI with FBI Photo 5 if you do! #SeditionHunters #DCRIOTS #CapitolRiots #Doyouknow Please DO NOT post names on social media Special thanks to @SimsSimon15 for finding these great photos. pic.twitter.com/5A8sEcY4yl

— #SeditionHunters (@SeditionHunters) February 16, 2021

Because the powers-that-be can adjust the magic decoder ring to read "left" instead of "conservative" whenever they want.
Our Famously Free Press
"We knew media would coddle Biden — here's why it's much worse" [The Hill]. "Biden and the first lady took a stroll on the North Lawn on Friday, along with their two dogs. The press had an opportunity to ask about COVID-19 relief, the thousands of jobs lost as a result of Biden's executive order regarding the Keystone pipeline, his broken promise about reopening schools by redefining 'reopening' as just one day a week of in-classroom teaching. In other words, plenty of questions to ask — but here's what we got: 'What inspired you to do this?' one reporter asked of Jill Biden, regarding large hearts placed on the lawn with messages of unity and healing. 'Next time bring us coffee too!' one journalist shouted. 'Which one is the old one?' another journalist asked of the president's dogs. 'I'll bring the donuts next time if you come back' someone else in the press gallery offered. There was one semi-serious question, concerning Biden's thoughts about former President Trump's impeachment. The 46th president then proceeded to give his cup of coffee to a member of the press, who happily accepted it. All this in the middle of a pandemic. And not one late-night host touched it." • Yep. I feel like the anaesthesia mask is being slowly fitted over my face….
Biden Administration
"Democrats shift Congress into top speed on Covid aid, but it may still be too slow for many" [Politico]. "Democratic leaders are racing to get President Joe Biden's $1.9 trillion pandemic aid plan through Congress, fulfilling one of his biggest early promises. But even if they hit their ambitious targets, major parts of the bill may already be too slow for many Americans walloped by the virus. That's because some of the largest pieces of the aid will not hit U.S. households for at least another month — and in some cases longer — given the host of new bureaucratic holdups that are bound to follow congressional action. The lag is expected to be most painful for the millions of jobless Americans facing a drop-off in their $300 a week boost in unemployment payments, even if Congress can stay on track and get its Covid aid measure to Biden's desk by mid-March. Delays in the delivery of federal economic aid are a Washington fixture, but their effect on Biden's plan comes with particularly high stakes. The new president is devoting significant political capital to promoting the package as he tries to heal widespread anguish among Americans after nearly a year of pandemic disruption, making every day count as his White House pushes for benefits to get approved and distributed. Democrats are aware that their current plans to push the bill through at what qualifies as top speed for Congress may not be enough to assuage ." • "Anxious." Always with the feelings, never with the material. Anyhow, the reporter makes "most painful for the millions of jobless Americans" sound like a bad thing.

"Biden questions why Yale or Harvard graduates should get loans forgiven. But few borrowers attend elite schools" [CNBC]. "President Joe Biden recently questioned the logic of spending money to forgive the loans of students who attended elite colleges like Harvard, Yale and the University of Pennsylvania. Just 0.3% of federal student borrowers attended Ivy League colleges, according to an estimate by higher education expert Mark Kantrowitz." • Oopsie. Here is an excellent long thread on student debt:

You look at that chart and you see the total failure of the human capital model to explain labor market outcomes, insofar as it even is a falsifiable social science hypothesis.
/3

— Marshall Steinbaum ? (@Econ_Marshall) February 18, 2021

UPDATE "US officially rejoins the Paris climate accord" [CNN]. "The United States officially rejoined the landmark international accord to limit global warming known as the Paris Agreement on Friday. Hours after he was sworn-in on January 20, President Joe Biden signed an executive order beginning the 30-day process for the US to reenter the global pact. The US had officially exited the agreement late last year on former President Donald Trump's orders, becoming the first and only country to formally pull out of the deal since it was adopted in 2015. Rejoining the Paris Agreement is a significant step by the Biden administration to reverse the climate policies of the last four years, during which Trump rolled back or loosened many of the country's bedrock environmental policies and regulations." • This is good. Is it good enough?
Republican Funhouse
(With subliminal "Hall of Funhouse Mirrors" reference.)

"As Trump's latest intra-party feud rages, Sen. Graham heads to Mar-a-Lago on a peace mission" [CNN]. "A staunch ally of Trump's, Graham has said in recent weeks he is concerned with how the feud between Trump and McConnell will affect Republicans' chances in next year's midterm elections.

"They're now at each other's throat," Graham said on Fox News this week. "I'm more worried about 2022 than I've ever been. I don't want to eat our own."

Like McConnell, Graham has the next election at the top of his agenda. But while McConnell has made a conscious decision to ignore Trump and wants the party to move beyond the twice-impeached former president, Graham is trying to engage Trump to help the party's chances." • Dunno if Daniel Cameron's gonna work out for McConnell as the next Republican VP….
Trunp Legacy
"Trump Hotel Employees Reveal What It Was Really Like Catering to the Right Wing Elite" [Washingtonian]. "As soon as Trump was seated, the server had to 'discreetly present' a mini bottle of Purell hand sanitizer. (This applied long before Covid, mind you.) Next, cue dialogue: 'Good (time of day) Mr. President. Would you like your Diet Coke with or without ice?' the server was instructed to recite. A polished tray with chilled bottles and highball glasses was already prepared for either response. Directions for pouring the soda were detailed in a process no fewer than seven steps long—and illustrated with four photo exhibits. The beverage had to be opened in front of the germophobe commander in chief, 'never beforehand.' The server was to hold a longneck-bottle opener by the lower third of the handle in one hand and the Diet Coke, also by the lower third, in the other. Once poured, the drink had to be placed at the President's right-hand side. 'Repeat until POTUS departs.'" • Ugh, diet soda.
Realignment and Legitimacy
"The Politics of a Second Gilded Age" [Matt Karp, Jacobin]. "November's third major winner, filling out the picture, was America's headlong march toward a party system entirely decoupled from the politics of class. To be sure, the class-aligned politics of the long New Deal era — which happened to produce virtually every worthwhile national law, from Social Security to the Voting Rights Act — began to erode decades ago. But the last four years have seen a rapid acceleration of this trend, with Republicans winning larger and larger chunks of the non-college-educated working class, while Democrats gain more and more votes from affluent professionals and managers. The result is a party system in which 'issues' and 'policies' — that is, competing ideas about the exercise of power or the distribution of goods — can hardly expect to find meaningful expression, let alone material fulfillment." • Well worth read.

I don't think this is the own that Clinton thinks it is:

Don't vote for anyone you wouldn't trust with your dog.

— Hillary Clinton (@HillaryClinton) February 19, 2021
Stats Watch
At reader request, I added some business stats back in. Please give Econintersect click-throughs; they're a good, old-school blog that covers more than stats.
Rail: "Rail Week Ending 13 February 2021 – Growth Rate Slows This Week" [Econintersect]. "Total rail traffic has two components – carloads and intermodal (containers or trailers on rail cars). Container exports from China have recovered, container exports from the U.S. remain deep in contraction. This week again intermodal continued in expansion year-over-year and continues on a strengthening trendline. Carloads 4-week rolling average is in expansion when compared to the 4-week rolling average one year ago but the economic intuitive sectors remain in contraction. But overall because of the strength of intermodal, rail is growing year-over-year."
* * *
* * *
Today's Fear & Greed Index: The Fear and Greed screen is blank again! [CNN]. One week ago: 69 (Greed). (0 is Extreme Fear; 100 is Extreme Greed). Last updated Feb 19 at 11:46am. New intern?
The Biosphere
"Texas Grid Calls Off Emergency as Cold Eases: Energy Update" [Bloomberg]. "The Electric Reliability Council of Texas, which manages the grid, said it had returned to normal operations Friday. But the winter storms blanketing much of the U.S. in snow and ice could cost the country as much as $50 billion in damage and economic loss, according to an estimate from AccuWeather."
"Biden authorizes supplies for Texas amid power outages, approves new disaster declarations" [The Hill]. "Homeland security adviser and deputy national security adviser Liz Sherwood-Randall told reporters Thursday afternoon that the Federal Emergency Management Agency (FEMA) has supplied 60 generators to support critical sites like hospitals and water facilities, 729,000 liters of water, more than 10,000 wool blankets, 50,000 cotton blankets and 225,000 meals. Officials are also preparing for the possibility of further requests by Texas and getting ready to supply diesel fuel to power facilities, she said. [Homeland security adviser and deputy national security adviser Liz Sherwood-Randall] told reporters that the administration would undertake an effort to "strengthen and harden" critical infrastructure to ensure that the federal government and states can better prepare for incidents of severe weather."
How it started:
Team AOC is launching relief efforts for Texas starting today.

Our first effort is a partnership w/ 5 Texas orgs getting on-the-ground relief to Texans ASAP.

If you're able, please donate here – it'll split your contribution to all 5.

?% goes to them.https://t.co/TTIiNimja7

— Alexandria Ocasio-Cortez (@AOC) February 18, 2021
How it's going:
Totally blown away.

$1M raised in direct relief for Texans in less than a day.

As a thank you to everyone who contributed & amplified, I'll be going to Texas this weekend to visit w/ @LaCongresista in Houston & highlight what's happening on the ground. https://t.co/DSkTSqfbkZ

— Alexandria Ocasio-Cortez (@AOC) February 19, 2021
Proving once again that AOC is a very talented politician (and one who can deliver concrete material benefits. And smartly, she's reinforcing a fellow House member). However, what we are seeing is every sign of a failed state; AOC's effort is the equivalent of a GoFundMe for medical bills that should be handled by #MedicareForAll. And I'm not sure AOC sees that.
Health Care
"Impact of Key Provisions of the House COVID-19 Relief Proposal on Marketplace Premiums" [KFF]. "The Affordable Care Act (ACA) made premium tax credits available to people purchasing health coverage on the Marketplaces, but generally only when their incomes fall between 100% and 400% of the federal poverty level…. However, a sharp cliff exists at 400% of the poverty level…. By extending eligibility for Marketplace subsidies above 400% of poverty, the House proposal flattens out the ACA's subsidy cliff and lowers premiums for virtually everyone already eligible for Marketplace subsidies." • Handy chart:
it hasn't been discussed much, but there is a massive ObamaCare reform in the covid bill. look at that subsidy cliff lol https://t.co/7UfepoVpcN pic.twitter.com/lNzM9drgCO

— ryan cooper (@ryanlcooper) February 19, 2021
When the cliff existed:
Some quick math: In the silver plan, if you make $51,000 you pay $5,004 / year, leaving you with $45,996. If you get a $1,000 raise, you would pay $10,440 in premiums per year, leaving you with $41,560.

If a conservative told me this is how it works I'd assume they were lying.

— The Famed Curmudgeon (@jarsilver) February 19, 2021
I wrote at length about means-testing nonsense like the subsidy cliff (I called it being "on the bubble") back in 2013 under the rubric of "Obama's relentless creation of second-class citizens." It warms my heart to see that seven years on, the wonks have proven me correct. Now do single payer. And please don't spend another two or three Presidential cycles dicking around with co-pays, deductibles, networks (and missing dental). Just do single payer.
"How One Employer Stuck a New Mom With an $898,984 Bill for Her Premature Baby" [ProPublica]. "Lauren Bard opened the hospital bill this month and her body went numb. In bold block letters it said, 'AMOUNT DUE: $898,984.57.' Last fall, Bard's daughter, Sadie, had arrived about three months prematurely; and as a nurse herself, Bard knew the costs for Sadie's care would be high. But she'd assumed the bulk would be covered by the organization that owned the hospital where she worked: Dignity Health, whose marketing motto is ''. She would be wrong." • "DIgnity Health." "Never eat at a place called Mom's."
"Covid-19 Was Spreading in China Before First Confirmed Cases, Fresh Evidence Suggests" [Wall Street Journal]. "Chinese authorities have identified 174 confirmed Covid-19 cases around the city from December 2019, said World Health Organization researchers, enough to suggest there were many more mild, asymptomatic or otherwise undetected cases than previously thought. Many of the 174 cases had no known connection to the market that was initially considered the source of the outbreak, according to information gathered by WHO investigators during the four-week mission to China to examine the origins of the virus. Chinese authorities declined to give the WHO team raw data on these cases and potential earlier ones, team members said. In examining 13 genetic sequences of the virus from December, Chinese authorities found similar sequences among those linked to the market, but slight differences in those of people without any link to it, according to the WHO investigators. The two sets likely began to diverge between mid-November and early December, but could possibly indicate infections as far back as September, said Marion Koopmans, a Dutch virologist on the WHO team."
"Pfizer says vaccine can be stored in normal freezers" [The Hill]. "The Pfizer COVID-19 vaccine does not need to be stored in expensive deep freezers that have posed challenges to the vaccination campaign, the company announced Friday. Pfizer submitted data to the Food and Drug Administration (FDA) showing the vaccine is stable when stored between minus 13 degrees and 5 degrees Fahrenheit, temperatures commonly found in pharmaceutical freezers and refrigerators. The company is asking the FDA to update its authorization of the vaccine to allow for vials to be stored at these temperatures for a total of two weeks as an alternative or complement to colder freezers." • Good news medically, but I bet a lot of hospitals, especiallly rural ones, would like to send Pfizer an invoice for the now-useless freezers they bought….
Plus ça change….
Streetcar conductor in Seattle not allowing passengers aboard without a mask, during Spanish Flu Pandemic in 1918 pic.twitter.com/bEcukmKaPy

— Things from the past ?? (@moodvintage) February 12, 2021
Groves of Academe
"The student and the algorithm: how the exam results fiasco threatened one pupil's future" [Guardian]. • I don't want to excerpt this; it's worth reading in full [family bloggering algos and the administrators who love them].
Logrolling in our time:
Called it #SilentSham https://t.co/uMmZF3vbkd pic.twitter.com/TGiBpBlUZX

— T. Greg Doucette (@greg_doucette) February 18, 2021
Guillotine Watch
"How the Rich Can Escape America's Unreliable Power Grid" [Bloomberg]. "[Wim] Coekaerts, who grew up in Belgium, is a man who highly values reliable, stable electricity— something PG&E has not always provided in recent years amid increasingly ferocious wildfires…. His system, which was activated in November, combines 27 kw of photovoltaic solar panels with a 232kWh Tesla Powerpack. There are five ground-mounted arrays of 15 solar panels each, or 75 solar panels total, stretching across the yard. The Tesla Powerpack, which on the outside just looks like a massive white box with Tesla's logo, emits a low hum and is protected and surrounded by a tasteful wooden fence." • It's gonna take more than a wooden fence…
Class Warfare
UPDATE "The Gig Economy Is Coming for Millions of American Jobs" [Bloomberg]. "Employees in related fields are already feeling the knock-on effects [of Proposition 22]. In December, Albertsons Cos., the supermarket chain, started informing delivery drivers they'd be replaced by contractors. In California hundreds of Albertsons employees are being swapped for DoorDash Inc. workers, according to the United Food & Commercial Workers union. Albertsons declined to comment on the layoff figures but says that the move is happening in multiple states to "help us create a more efficient operation" and that affected workers are being offered other jobs there. (Some workers dispute that last part.) Startups such as Jyve Corp., which sends contractors to grocery stores to stock shelves in lieu of employees, are seeking similar exemptions. Companies in a range of industries could use the Prop 22 model to undermine or eliminate employment protections. A week after the election, Shawn Carolan, a partner at early Uber investor Menlo Ventures, wrote an op-ed heralding the potential to spread Prop 22's vision of work "from agriculture to zookeeping," including to "nursing, executive assistance, tutoring, programming, restaurant work and design." The Coalition for Workforce Innovation, a lobbying group that seeks to enable wider use of contract labor, includes trade groups representing Amazon.com, Apple, AT&T, Comcast NBCUniversal, CVS Health, General Motors, Nike, Rite Aid, Starbucks, T-Mobile, Verizon Communications, and Walmart, as well as construction, finance, media, sales, and trucking interests." • Pelosi and Harris fought Proposition 22 with everything they had… Which turned out to be precisely nothing. Thanks, California oligarchy!
The K-shaped recovery:
In 2020 Americans with good credit scores went on a giant borrowing binge. Far larger than anything before 2008. https://t.co/1u3a2UtTGY pic.twitter.com/IC28hs36WR

— Adam Tooze (@adam_tooze) February 19, 2021
Guess which arm of the K the Democrat base is on?
News of the Wired
"COVID-19 and the Political Economy of Mass Hysteria" (PDF) [International Journal of Environmental Research and Public Health]. An excerpt:
[T]he state may actively want to instill fear in the population, thereby contributing to the making of mass hysteria. Illustrating this point is the leakage of an internal paper of the German Department of the Interior during the first weeks of the COVID-19 crisis [101]. In the paper, the state experts recommended that the government should instill fear in the German population. In order to spread fear, the paper endorsed three communication strategies. First, the state authorities should stress the breathing problems of COVID-19 patients because human beings have a primordial fear of death by suffocation [102,103], which can easily trigger panic [104]. Second, the experts emphasized that fear should also be instilled in children, even though there is next to no risk to children´s own health. However, children could get easily infected by meeting and playing with other children. According to the report, children should be told that when they infect their parents and grandparents in turn, they could suffer a distressful death at home. This communication advice intended to invoke anxiety and feelings of guilt. Instilling guilt is another measure used by governments to make the population more supportive [105]. The recommended message instills fear of being responsible for infecting others who die a distressful death. Third, the German government was advised to mention the possibility of unknown longterm irreversible health damage caused by a SARS-CoV-2 infection and the possibility of a sudden and unexpected death of people who were infected. All these communication recommendations were intended to increase fear in the population. Fear, at the end, is an important foundation of a government's power. As Henry H. Mencken put it: "the whole aim of practical politics is to keep the populace alarmed (and hence clamorous to be led to safety) by an endless series of hobgoblins, most of them imaginary." [106] The overreaction of government to a perceived threat then fosters anxiety.
The difficulty here is that the Covid can create breathing problems, children can transmit, and there is irreversible health damage. It is right to be fearful of Covid. It seems to me, however, that the conservative trope of "living in fear" has a point; living in fear prevents action. The issue, then, is what sort of action to take. Here the state has not been at all helpful, as with recommendations to "trust the science" while the science changes, Fauci and WHO"s Noble Lies on masks, Fauci's moving goalposts on herd immunity, and so forth. It's almost as if the state, having handled the instilling fear part quite well, doesn't want an informed citizenry making decisions democratically. Commentary:
In previous experiences of ill health I have always found that a positive mental attitude can do wonders for recovery. Yet what I found in my personal experience was that due to the paranoia and *fear* of becoming a statistic I had the opposite of positive mental attitude.

— Izabella Kaminska (@izakaminska) February 19, 2021
RussiaGate might have been a better case study than Covid, being simpler and cleaner.
* * *
Readers, feel free to contact me at lambert [UNDERSCORE] strether [DOT] corrente [AT] yahoo [DOT] com, with (a) links, and even better (b) sources I should curate regularly, (c) how to send me a check if you are allergic to PayPal, and (d) to find out how to send me images of plants. Vegetables are fine! Fungi and coral are deemed to be honorary plants! If you want your handle to appear as a credit, please place it at the start of your mail in parentheses: (thus). Otherwise, I will anonymize by using your initials. See the previous Water Cooler (with plant) here. Today's plant (DCBlogger):
Not a movie.

Frozen Louisiana… pic.twitter.com/ciEIyJzbsY

— Rex Chapman?? (@RexChapman) February 19, 2021
Not only Texas!
* * *
Readers: Water Cooler is a standalone entity not covered by the recently concluded and — thank you! — successful annual NC fundraiser. So if you see a link you especially like, or an item you wouldn't see anywhere else, please do not hesitate to express your appreciation in tangible form. Remember, a tip jar is for tipping! Regular positive feedback both makes me feel good and lets me know I'm on the right track with coverage. When I get no donations for five or ten days I get worried. More tangibly, a constant trickle of donations helps me with expenses, and I factor in that trickle when setting fundraising goals:
Here is the screen that will appear, which I have helpfully annotated.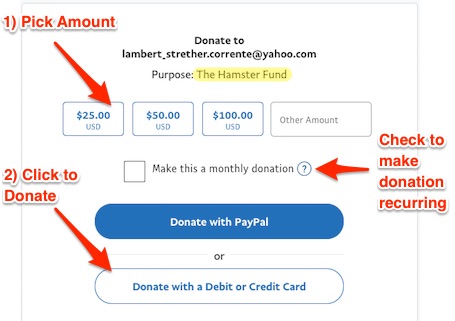 If you hate PayPal, you can email me at lambert [UNDERSCORE] strether [DOT] corrente [AT] yahoo [DOT] com, and I will give you directions on how to send a check. Thank you!