By Lambert Strether of Corrente.
Bird Song of the Day
Texas Sandhill Crane. (Macaulay Library allows searches to be filtered on location, which is handy.)
#COVID19
At reader request, I've added this daily chart from 91-DIVOC. The data is the Johns Hopkins CSSE data. Here is the site.
I feel I'm engaging in a macabre form of tape-watching, because I don't think the peak is coming in the next days, or even weeks. Is the virus gathering itself for another leap?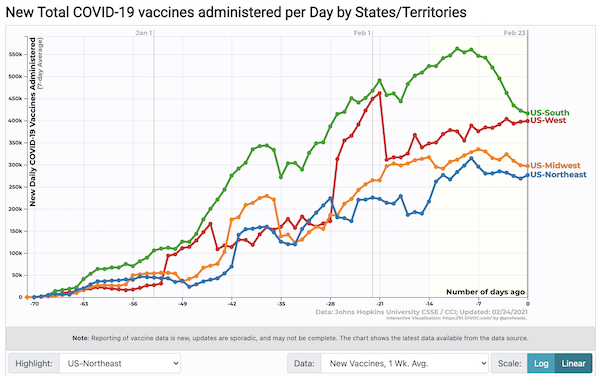 Big drop in the South no doubt storm-related.
Here is vaccination in the South (as defined by the US Census):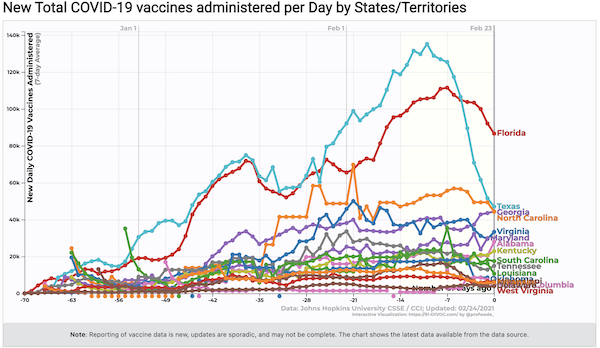 Mostly Texas, so I say the drop in the South is weather-related, although there may be supply (supply chain, also weather; manufacturing) and demand (hesitancy) issues as well. The trackers (Bloomberg, WaPo) are unilluminating).
Case count by United States region: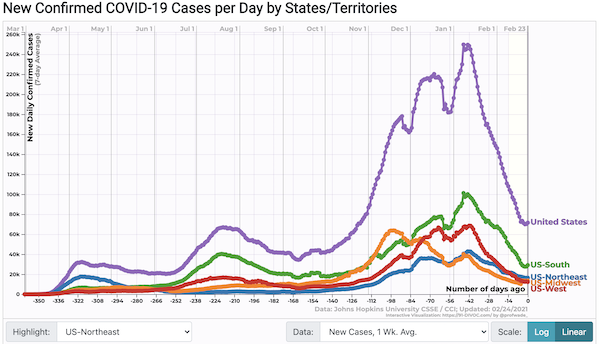 A little uptick in the South.
Big states (New York, Florida, Texas, California):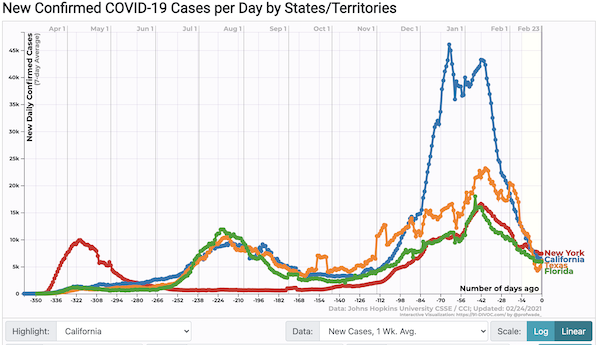 Encouraging to see cases in Texas go up, in that at least we know there's some testing being done.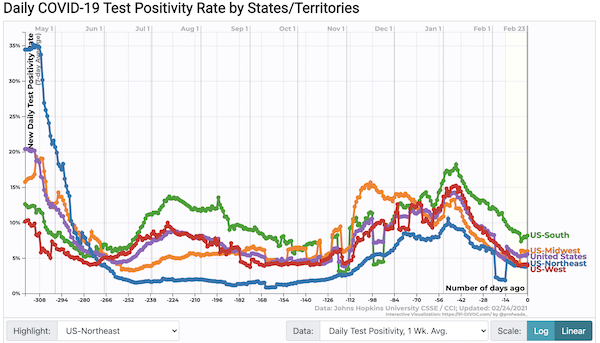 Regional averages approach 3%, which is what we want to see. (Alert reader TsWkr pointed out it's time to update my test positivity comment, which I just did.)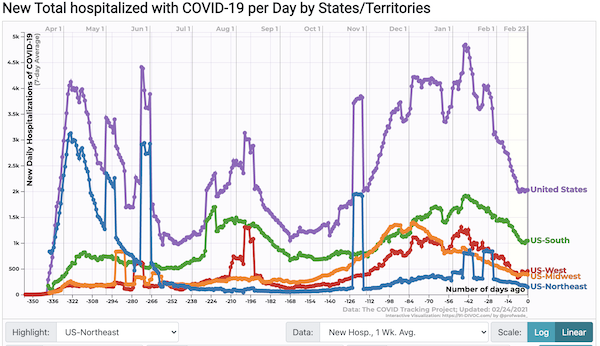 Hospitalization is discretionary; they may also be reducing their admissions rate — relative to cases we cannot see in this data! — to preserve future capacity; or because hospitals have figured out how to send people home.
Case fatality rate (plus deaths):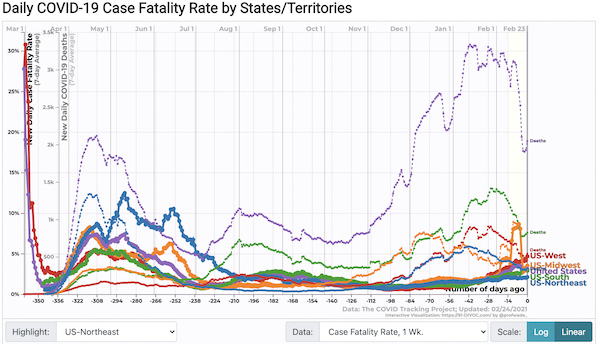 An uptick in deaths. Still, that rising fatality rate in the West (red) is what worries me. Could that be due to variants?
Politics
"But what is government itself, but the greatest of all reflections on human nature?" –James Madison, Federalist 51
"They had one weapon left and both knew it: treachery." –Frank Herbert, Dune
"They had learned nothing, and forgotten nothing." –Charles Maurice de Talleyrand-Périgord
Capitol Seizure
"Political Violence, Risk Aversion, and Non-Localized Disease Spread: Evidence from the U.S. Capitol Riot" (PDF) [NBER]. Smartphone data. "On January 6, 2021, the U.S. Capitol was sieged by rioters protesting certification of Joseph R. Biden's election as the 46th president of the United States. The Director of the Centers for Disease Control and Prevention (CDC) quickly predicted that the Riot would be a COVID-19 'surge event.' This study is the first to estimate the impact of the Capitol Riot on risk-averting behavior and community-level spread of the novel coronavirus. …. [T]urning to COVID-19 case data, we find no evidence that the Capitol Riot substantially increased community spread of COVID-19 in the District of Columbia in the month-long period following the event…. [C]ounties with the highest protester inflows experienced a significant increase in the rate of daily cumulative COVID-19 case growth in the month following the protest. We conclude that the Capitol Riot contributed to non-localized COVID-19 spread." • No spread in DC, spread nationwide. Due to DC lockdown?

"Peter Stager, Capitol Rioter Accused of Beating Officer With Flag Pole, Faces 40-Year Sentence" [Newsweek]. "Stager is facing a total of seven charges including entering and remaining in a restricted building or grounds with a deadly or dangerous weapon, and engaging in physical violence in a restricted building or grounds with a deadly or dangerous weapon, in connection to the attack. Two of the charges against Stager—"obstruction of an official proceeding and aiding and abetting" and "assaulting, resisting, or impeding certain officers using a dangerous weapon"—carry a maximum penalty of 20 years in jail."
Biden Administration
"Senate meetings on Tanden postponed, suggesting lack of support for Biden budget pick" [Reuters]. • That's a damn shame. And whoops:

A source close to the process confirms the politico report that Senate Budget Committee Chairman @BernieSanders was not consulted before the Biden team announced it would be nominating Tanden to be director of OMB.

Sanders learned about it from news media reports.

— Jake Tapper (@jaketapper) February 24, 2021

You'd think the Administration would give the Chair of the Senate Budget Committee a courtesy call.

"How the White House botched the Neera Tanden nomination" [Politico]. To be fair to Biden, his honeymoon has been remarkably short. ""Around here the opposition is always looking for the person that they can put a fight up about. And she would be the obvious one to cull from the herd," said one Senate Democrat, referring to the wall of GOP opposition Tanden faced from the beginning. For a while, the White House felt Tanden would avoid her current fate. She atoned for her now infamous Twitter behavior and put forward her personal story of a hardscrabble life, living on food stamps and raised by a single mother. And allies like former Democratic Senate Majority Leader Harry Reid, who consults frequently with the White House, predicted that both parties would get on board due to the historic nature of her nomination: Tanden would become the first South Asian woman to head up the agency." • Harry Reid couldn't even hold Nevada in 2020. Why does anyone still listen to him?

"Sanders votes against Biden USDA nominee Vilsack" [The Hill]. ""' like Tom and I've known him for years. I think we need somebody a little bit more vigorous in terms of protecting family farms and taking on corporate agriculture,' Sanders told reporters after the vote. 'I think he'll be fine, but not as strong as I would like.'"

"Biden is leaving Amazon workers out in the cold" [The Week]. "And Biden has taken some reasonably encouraging pro-labor steps since becoming president. Almost immediately, he fired the entire board of Trump appointees on the Federal Service Impasses Panel, which oversees unions of federal workers. He later fired the top two members of the National Labor Relations Board, and has nominated a union attorney to become the agency's general counsel. Both moves were cheered by unions. But now, when it comes to one of the most high-stakes union drives in years, the ongoing union election at an Amazon warehouse in Alabama, Biden has said nothing in support. Here we have the prospect of organizing one of the most brutally anti-worker firms in the country — and possibly beginning to reverse the long decline in private-sector unionization, as Biden claims to want — and the president is AWOL. It's a maddening decision." • No, it's simple. Biden wants to replace Trump's political appointees with his own. Amazon strikers have nothing to do with patronage. More: "Amazon is one of the richest and most powerful companies in the world, and therefore a juicy prospect for post-office jobs and bribes for Biden and his staffers — witness former Obama administration press secretary Jay Carney, who is now a senior vice president at Amazon." By contrast:

Let me congratulate the workers at Amazon for having the incredible courage to stand up and to fight for a union. The fight you are waging will send a message to workers all across the country that if they stand up, stand together, and fight, they can win. pic.twitter.com/7cG5v6elCb

— Bernie Sanders (@BernieSanders) February 24, 2021

"Democrats Are Waltzing Toward an Easily Avoidable Political Disaster With Their COVID Bill" [Slate]. "At the moment, Democrats in Washington appear to be in danger of sleepwalking their way toward a major policy and public relations debacle. The problem? With tax season underway, millions of Americans who lost their jobs thanks to the coronavirus crisis might soon discover that they unexpectedly owe thousands of dollars to the IRS. Lawmakers could prevent this wave of surprise tax bills by adding a fix to the $1.9 trillion coronavirus relief package that's currently moving through Congress. But so far, efforts to do so seem to be stalling out. A senior Democratic aide told me that, as of now, he thought the chances legislators would act were 'slim to none,' and described the failure as 'political malpractice.' While unemployment benefits have long been considered taxable income, recipients are often unaware of that fact until it's time to file. Under normal circumstances, this is not necessarily a disaster, since people tend to stay on unemployment for relatively short stints of time. But the past year has been different. A historic number of households fell back on unemployment insurance to survive the pandemic, and some have collected well over $10,000 or even $20,000 in aid thanks to the enhanced benefits Congress enacted."

* * *

Biden Walkback: "Biden Shelves Mass Mask Shipments In Favor of Targeted Push" [Bloomberg]. • Lol, the liberal Democrats means-tested masks. Can I wake up now, please?

Biden Walkback: "Dems' Gift To Health Insurance Predators" [Daily Poster]. "Instead of enacting a universal Medicare for All health care system that would save the United States and its citizens hundreds of billions of dollars annually, temporarily expanding Medicare or championing Democrats are rallying behind a health care proposal that will funnel tens of billions of dollars to corporate health insurance companies even as they are already experiencing record profits and jacking up premiums, while continuing to deny claims. Democrats' current plan will lower people's premiums, but only on a temporary basis. It will also not stop insurers from passing on huge out-of-pocket costs to enrollees if they need medical care, nor does it improve the quality of people's health insurance. Indeed, it will push people onto state exchanges where one in six in-network medical claims were denied in 2019. The proposal would be a boon for the health insurance industry, which has specifically lobbied for the new subsidies. Health insurers have already seen their profits skyrocket during the COVID-19 pandemic, since people have avoided going to the doctor, which means insurance companies are paying less to providers while collecting the same amount of premiums." • Lol, Biden walked back the public option.

Biden Walkback:

The Democrats campaigned on closing the private immigration facilities they are now (again) using. Weaponizing brown suffering to support kinder, gentler white supremacy is their forte.

— Héctor E. Alcalá (@Hector_E_Alcala) February 24, 2021

Harris (I had to listen to this, pity me): "When elected, the first things I'm gonna do, one of the first things, is shut down these private detection facilities." Narrator: She didn't shut down the private detention facilities.

"The Job Of The Opposition Is To Oppose" [Eschaton]. "[E]very time I see someone complaining about Mitch stopping the Senate from doing things, I want to scream. Chuck Schumer runs the Senate. The rules are what they are because a portion of Democrats want the rules to be that way. That isn't necessarily Chuck's fault or Biden's fault, but it isn't Mitch's fault. When Mitch didn't like what Democrats in the minority were doing, he changed the rules." • 
Obama Legacy
"Inside new podcast featuring Bruce Springsteen in conversation with Barack Obama" [ABC]. "In a video trailer for "Renegades: Born in the USA," Obama explains, "In our own ways, Bruce and I have been on parallel journeys, looking for a way to connect our own individual searches for meaning, truth, then community with the larger story of America. And over the course of a few days, all just a few miles from where he grew up, we talked." • You're never going to get on the High Court, Larry:

Like @BarackObama? Dig @springsteen? You'll love their podcast! https://t.co/gsWc16qJSo

— Laurence Tribe (@tribelaw) February 24, 2021

Sample dialog:

OBAMA: Make no mistake. The Post Office is an essential service. But going there can be a drag.
SPRINGSTEEN: Yes, sir. When you've been workin' all day, the last thing you need is to go buy stamps.

— James Urbaniak (@JamesUrbaniak) February 23, 2021

TOGETHER: Privatize it!
Clinton Legacy
"Hillary Clinton Co-Writing Mystery Novel With Louise Penny" [HuffPo]. "Clinton is teaming up with her friend, the novelist Louise Penny, on 'State of Terror,' which has a plot that might occur to someone of Clinton's background: A 'novice' secretary of state, working in the administration of a rival politician, tries to solve a wave of terrorist attacks." • How are the mighty fallen.
Democrats en deshabille
"My story of working with Governor Cuomo" [Lindsey Boylan, Medium]. "'Let's play strip poker.' I should have been shocked by the Governor's crude comment, but I wasn't. We were flying home from an October 2017 event in Western New York on his taxpayer-funded jet. He was seated facing me, so close our knees almost touched. His press aide was to my right and a state trooper behind us. 'That's exactly what I was thinking,' I responded sarcastically and awkwardly. I tried to play it cool. But in that moment, I realized just how acquiescent I had become. Governor Andrew Cuomo has created a culture within his administration where sexual harassment and bullying is so pervasive that it is not only condoned but expected. His inappropriate behavior toward women was an affirmation that he liked you, that you must be doing something right. He used intimidation to silence his critics. And if you dared to speak up, you would face consequences." • Who wrote this script? Aaron Sorkin?

"Newsom pushes private seawater desalting plant over local and environmental opposition" [Los Angeles Times]. "When Gov. Gavin Newsom was photographed dining at an opulent Napa Valley restaurant [the French Laundry] during a surge in coronavirus cases, many Californians saw it as hypocrisy. For opponents of a planned $1-billion desalination plant along the Orange County coast, however, the optics were menacing. The unmasked Newsom was celebrating the birthday of a lobbyist for Poseidon Water, which is close to obtaining final government approval for one of the country's biggest seawater desalination plants." • That's the lead. It gets worse from there. Everything is like CalPERS.
Republican Funhouse
"State GOP leaders opt for drive-up convention at Liberty University to nominate candidates" [Times-Dispatch]. "fter months of disagreement, the Virginia Republican Party's governing body agreed Tuesday night on a method to nominate statewide candidates for the November election. They'll hold a drive-up convention May 8 on the campus of Liberty University. The decision followed feuds among members of the party's State Central Committee, who had opted for a convention to nominate candidates for governor, lieutenant governor and attorney general. But such a gathering would be illegal under Virginia's COVID-19 rules. Republicans spent months unable to reach agreement until Tuesday night. The convention at Liberty, the Christian university well known for its affiliations with conservative causes, is to be held at 9 a.m. Republicans said convention delegates will be able to stay in their cars the entire time, possibly listening to proceedings on a radio broadcast. They plan to use ranked-choice voting, so delegates would fill out one ballot and list their choices." • Doubling down is not the exclusive province of liberals. But RCV is interesting!
Stats Watch
At reader request, I added some business stats back in. Please give Econintersect click-throughs; they're a good, old-school blog that covers more than stats.
There are no official stats of interest today.
* * *
Retail: "The retail sector's inventory restocking drive isn't likely to let up anytime soon. Home Depot and Macy's both are seeing pandemic-fueled shopping binge for home-improvement and furnishing goods continuing into 2021…. but executives at the chains say consumer spending could shift in the second half of the year depending on the course of the health crisis" [Wall Street Journal]. "Home Depot's same-store sales rose 20% in the past quarter while sagging apparel demand sent Macy's annual sales tumbling 30%. Home Depot's online sales also soared 83%, highlighting a transformation in consumer spending that is still roiling supply chains. Home Depot's inventories were up only 14.4% from a year ago, to $16.63 billion."
Shipping: "January 2021 Trucking Improved" [Econintersect]. "Headline data for the CASS Freight Index show that truck volumes show volumes grew month-over-month – and the year-over-year growth advanced further in positive territory…. The CASS index is inclusive of rail, truck, and air shipments. The ATA truck index is inclusive of only trucking industry member movements (ATA's tonnage data is dominated by contract freight). I put a heavier weight on the CASS index year-over-year which is more consistent with rail and ocean freight."
Manufacturing: "FAA back under spotlight with latest Boeing incidents" [Agence France Presse]. "In the wake of a weekend scare on a Boeing 777 over engine failure, the Federal Aviation Administration moved immediately to suspend flights on planes with the same model. On Tuesday, the FAA disclosed that it had also been contemplating stricter rules on the same kind of planes even before the Denver flight, following a similar incident on Japanese Airlines in December when a Pratt & Whitney engine also failed. The statement comes as the US agency, once considered the gold standard of aviation safety, works to recover its standing in the wake of the previous Boeing 737 MAX disasters…. NTSB Chair Robert Sumwalt said Monday that a root cause of the incident appeared to be metal fatigue, adding that the investigation was ongoing. The NTSB plans to look at the inspection record on the United plane to see 'who knew what when, what could have been done and what should have been done,' Sumwalt said."
Manufacturing: "United Air's Grounded 777s Had Troubled History in Debt Markets" [Bloomberg]. "Before coming under scrutiny because of a mid-air engine explosion, United Airlines Holdings Inc.'s aging fleet of Boeing Co. 777s had already garnered plenty of criticism in credit markets. The aircraft that showered debris over a Denver suburb this past weekend was among assets that investors had been reluctant to accept as collateral last year when the airline sought to borrow billions of dollars to ride out the pandemic, according to flight records and debt documents reviewed by Bloomberg. United's first attempt to sell debt backed by some of its oldest planes — including the 26-year-old 777-200 with the engine mishap, and dozens more like it — collapsed in May after investors demanded interest as high as 11% to compensate for the risk." • Hoo boy.
Manufacturing: "Apple Partner Foxconn to Form EV Partnership With Fisker" [Bloomberg]. "Foxconn Technology Group will develop an electric vehicle with Fisker Inc., part of the manufacturer's efforts to boost its automotive capabilities at a time when technology companies including its main customer Apple Inc. are looking to expand in vehicles. The car will be built by Foxconn, targeted at multiple markets including North America, Europe, China and India, and sold under the Fisker brand, according to a joint statement from the companies Wednesday. Production is set to start in the fourth quarter of 2023."
Supply Chain: "February Regional Business Surveys Find Widespread Supply Disruptions" [Liberty Street Economics]. "Business activity increased in the region's manufacturing sector in recent weeks but continued to decline in the region's service sector, continuing a divergent trend seen over the past several months, according to the Federal Reserve Bank of New York's February regional business surveys. Looking ahead, however, businesses expressed widespread optimism about the near-term outlook, with service firms increasingly confident that the business climate will be better in six months. The surveys also found that supply disruptions were widespread, with manufacturing firms reporting longer delivery times and rising input costs, a likely consequence of such disruptions."
Travel: "Air Travel Quarantines Are Getting Longer and Lonelier" [Bloomberg]. "in parts of the world that have been most successful in keeping out the virus, quarantine rules are being tightened and policy makers are striking a more cautious tone on when travel may start again. Authorities in Melbourne are sketching out plans for custom-built isolation facilities outside the city. Hong Kong has one of the most extreme policies: a soul-crushing 21-day hotel lockup awaits residents arriving from outside China. The different requirements are neutering a push by airlines for a standardized global response to get people flying again. The International Air Transport Association's proposal for test or vaccine certificates to replace quarantines hasn't gained traction with governments." • It occurs to me that the arc of international air travel went from something glamorous and expensive, through the mass market, to almost impossible, all in the space of a single lifetime (mine). Would it really be so bad to take a ship to Europe again? (Perhaps not to Asia.)
* * *
Today's Fear & Greed Index: 61 Greed (previous close: 57 Greed) [CNN]. One week ago: 66 (Greed). (0 is Extreme Fear; 100 is Extreme Greed). Last updated Feb 24 at 12:15pm.
CNN]. One week ago: 69 (Greed). (0 is Extreme Fear; 100 is Extreme Greed). Last updated Feb 19 at 11:46am. New intern? —>
The Biosphere
Nature's loogie gun:
Velvet worms are 400-million-year-old caterpillars that have an unusually gooey way of subduing their prey: squirting an adhesive slime [source, full video: https://t.co/7Dr40a5rbE] pic.twitter.com/Ht6VJJrQXi

— Massimo (@Rainmaker1973) February 24, 2021
I'd really like to see mass-market loogie guns using Super Soaker technology at that price-point. I want one handy for the first time I encounter a Boston Dynamics "dog." Or several, in case I encounter a pack.
Health Care
"FDA says single-dose shot from J&J prevents severe COVID" [Associated Press]. "Johnson & Johnson's single-dose vaccine offers strong protection against severe COVID-19, according to an analysis released Wednesday by U.S. regulators that sets the stage for a final decision on a new and easier-to-use shot to help tame the pandemic. The long-anticipated shot could offer the nation a third vaccine option and help speed vaccinations by requiring just one dose instead of two…. Across all countries, Wednesday's analysis showed protection began to emerge about 14 days after vaccination. But by 28 days after vaccination, there were no hospitalizations or deaths in the vaccinated group compared with 16 hospitalizations and seven deaths in study recipients who received a dummy shot. The FDA said effectiveness and safety were consistent across racial groups, including Black and Latino participants. All of the world's COVID-19 vaccines have been tested differently, making comparisons nearly impossible."
"FDA scientists endorse J&J's Covid vaccine, as new data shed light on efficacy" [STAT]. "Documents from the FDA scientists, as well as separate documents from Johnson & Johnson, were released ahead of a Friday meeting of an FDA advisory panel in which outside experts will discuss and then vote on the risks and benefits of the new vaccine. The panel, known as the Vaccines and Related Biological Products Advisory Committee, makes recommendations to the FDA; the agency is not required to follow them, but it generally does… The J&J vaccine is the first vaccine to show efficacy given as a single dose. It also does not need to be kept frozen when being shipped, as the vaccines developed by Moderna and the team of Pfizer and BioNTech do. Both of those advantages could be profound when it comes to vaccinating as many people as possible, a key step in slowing the spread of SARS-CoV-2."
* * *
"Reanalysis of deep-sequencing data from Austria points towards a small SARS-COV-2 transmission bottleneck on the order of one to three virions" (preprint) [bioRxiv]. From the abstract: "An early analysis of SARS-CoV-2 deep-sequencing data that combined epidemiological and genetic data to characterize the transmission dynamics of the virus in and beyond Austria concluded that the size of the virus's transmission bottleneck was large – on the order of 1000 virions. We performed new computational analyses using these deep-sequenced samples from Austria…. From these analyses, among others, we found that SARS-CoV-2 transmission bottlenecks are instead likely to be very tight, on the order of 1-3 virions." • (Here is an article on the distinction between a virion and a virus. For our immediate purposes, it doesn't seem that important, though it is important as an enormous paradigmatic issue, and we can use virus in the popular sense, as the particle that infects.) Speaking as a layperson: The authors draw the conclusion that people are unlikely to be infected by several variants at once, which would be more likely if the transmission bottleneck (minimum dose) were 1000 virions. I speculate in addition that this supports the aerosol theory of transmission: A tiny aerosol particle would be more likely to transport fewer virions rather than many (unlike a big hawked-up droplet). In addition, I find this strangely reassuring: If it only takes one virion to infect, then the entire world would already be sick if transmission were that easy; so the ancient protections of the body must be pretty good (and need an assist, essentially). Qualified commenters please weigh in!
"Overcoming the Market Dominance of Hospitals" [JAMA]. "Amidst remarkable uncertainty for its future, one of the most concerning and constant trends in US health care has been the increasing consolidation of health delivery organizations. In health care, 2 main forms of consolidation exist. Horizontal consolidation occurs when hospitals or physician groups merge together, enabling the combined entity to increase its market share…. Vertical consolidation occurs when a hospital increases its employed physicians by acquiring a physician practice… Hospital consolidation in the past decade has not improved quality. Among 246 acquired hospitals and 1986 control hospitals, being acquired was associated with a moderate decline in performance on an aggregate patient experience measure (from the 50th percentile to the 41st percentile) but no significant changes in 30-day readmissions or mortality rates. Due to a lack of competition, the prices for services provided by physician practices tend to increase after acquisition. Additionally, legal limitations have weakened the ability of the Federal Trade Commission (FTC) to enforce antitrust rules on nonprofit hospitals, even though these hospitals are involved in the majority of hospital and health system mergers. Thus, consolidation and the creation of multistate hospital systems could continue to have potentially adverse consequences for patients." • 
Our Famously Free Press
Good call:
It took only two years to go from disappearing Milo and Alex Jones to banning content said to "amplify narratives that undermine faith in NATO."

Imagine where the line will be two years from now.

Censorship is an intoxicating power that endlessly expands until it's smashed. https://t.co/ShrHhTqxGY

— Glenn Greenwald (@ggreenwald) February 24, 2021
Gunz
"A Bristling Standoff Rattles Gun-Friendly Vermont" [New York Times]. "Daniel Banyai, a 47-year-old New Yorker…, attracted by Vermont's relaxed gun laws, bought 30 acres in this rural town of around 1,400 and transformed it into his dream project, a training camp where visitors could practice shooting as if engaged in armed combat." The neighbors aren't happy. AR-15 barrages aside: "One reason they were irritated is because Vermont's land use law, known as Act 250, is notoriously burdensome, requiring permits for anything built for a commercial purpose. 'People do get bent out of shape when you are flouting the rules everyone else is following,' said Merrill E. Bent, the town's attorney since the summer of 2019. 'They're like, wait a minute, I had to get a permit for my chicken coop.'" • This is gun-friendly Vermont, one recalls. Local reporting from last year—
"Militia training site terrifies neighbors in West Pawlet" [VT Digger]. "The neighbors met with VTDigger near Briar Hill Road, which undulates beneath forests and through farm fields, lending a sense of isolation to the area. During the meeting, an unfamiliar truck sped into the backyard, several hundred yards from where the group had gathered. They didn't recognize the vehicle, and their fear was palpable as the truck turned and peeled away. Some jumped to their feet, while others called out in alarm. 'I have no idea who that is. Who the heck is that?' One resident pulled out a phone to record, and another ran after the vehicle as it left the property. They worried the driver could be Banyai, or one of the men acting under his direction. In the past two weeks, men from Slate Ridge have surrounded individual neighbors in attempts to intimidate them. Banyai also threatened to kill bow hunters who had been near his property." • And–
"Slate Ridge owner files as candidate for the Pawlet Selectboard" [VT Digger]. "PAWLET — Daniel Banyai, owner of the Slate Ridge firearms training facility, submitted paperwork yesterday to run for a seat on the town's selectboard — a group he has clashed with for several years. If he were elected, Banyai would join a board that has hired an attorney and filed suit against him. The town has argued in court that Banyai's operation is unpermitted, and therefore unlawful, in a residential area. Last week, as part of that case, an environmental court judge issued a preliminary injunction demanding that Banyai cease operations at Slate Ridge until the court issues a final ruling…. Typically, people running for office are required to collect voter signatures to qualify as candidates, but to prevent door-to-door signature collection during Covid-19, candidates only needed to fill out a consent form." • Looks like "Town Meeting Voting Day" is March 2. Could be interesting.
Class Warfare
As Pandemic Profits Put Bezos on Track for Trillionaire Status, Tish James Asks: At What Cost? The Nation
"Britney Spears Was Never in Control" [The Cut]. "I have spoken with an affirming and disheartening number of people who described experiences of predators who, to borrow phrasing from my friend Suzy Exposito, 'weaponized sex positivity.'"
I don't know how to give an account of this:
Huge increases in bisexual identification in younger cohorts. https://t.co/tti9E2ke4n pic.twitter.com/NnAjeiRD5C

— Matthew Yglesias (@mattyglesias) February 24, 2021
News of the Wired
"Alamut, Bosch, Gaddis: Introduction to Epochal Art" [Covidian Aesthetics]. "[T]he @boschbot account on Twitter may be doing more to further our appreciation of Bosch's Garden than most recent scholarship on it has, by exposing and exploiting its extraordinary detail through a telescopic lens, in an approach that allows the observer to engage the work on a precritical, almost prefrontal level, while opening up new and previously unseen dimensions of an artwork that had become a sort of floating signifier through memetic overexposure. As much as this enriches art by association, familiarity breeds indifference, the most unimaginative form of contempt. Counter to this level of assimilation, @boschbot plumbs the Garden's enigmas and restores its mystery —that is to say, an element of its authority—in a feat of auratic restoration." • For example:
— BoschBot (@boschbot) February 24, 2021
"Lawrence Ferlinghetti" [Poetry Foundation]. "He died in early 2021, at the age of 101. He lived in San Francisco, where a street is named in his honor."
* * *
Readers, feel free to contact me at lambert [UNDERSCORE] strether [DOT] corrente [AT] yahoo [DOT] com, with (a) links, and even better (b) sources I should curate regularly, (c) how to send me a check if you are allergic to PayPal, and (d) to find out how to send me images of plants. Vegetables are fine! Fungi and coral are deemed to be honorary plants! If you want your handle to appear as a credit, please place it at the start of your mail in parentheses: (thus). Otherwise, I will anonymize by using your initials. See the previous Water Cooler (with plant) here. Today's plant (ulfarthelunatic):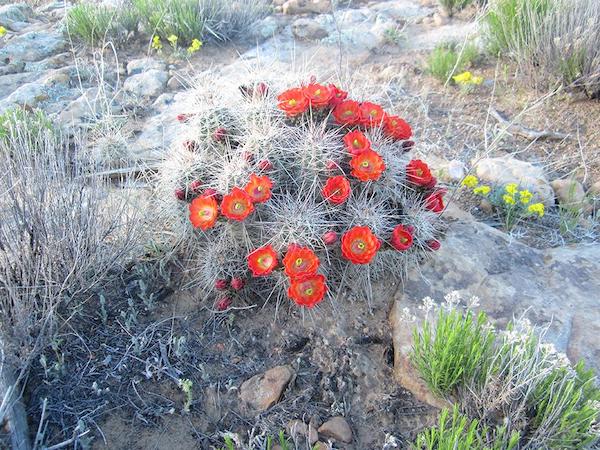 ulfarthelunatic writes: "I am a regular reader. Thanks for your great website. Claret Cup cactus, New Mexico, April 2019."
* * *
Readers: Water Cooler is a standalone entity not covered by the recently concluded and — thank you! — successful annual NC fundraiser. So if you see a link you especially like, or an item you wouldn't see anywhere else, please do not hesitate to express your appreciation in tangible form. Remember, a tip jar is for tipping! Regular positive feedback both makes me feel good and lets me know I'm on the right track with coverage. When I get no donations for five or ten days I get worried. More tangibly, a constant trickle of donations helps me with expenses, and I factor in that trickle when setting fundraising goals:
Here is the screen that will appear, which I have helpfully annotated.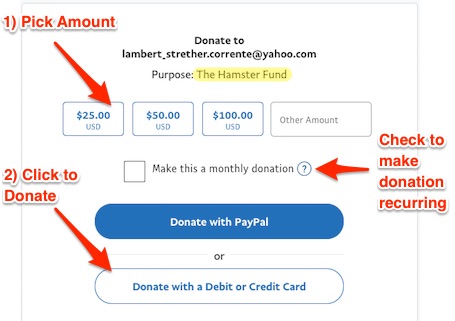 If you hate PayPal, you can email me at lambert [UNDERSCORE] strether [DOT] corrente [AT] yahoo [DOT] com, and I will give you directions on how to send a check. Thank you!