By Lambert Strether of Corrente.
Bird Song of the Day
Sounds rather like a seagull, not what I'd expect of a hawk.
#COVID19
At reader request, I've added this daily chart from 91-DIVOC. The data is the Johns Hopkins CSSE data. Here is the site.
I feel I'm engaging in a macabre form of tape-watching, because I don't think the peak is coming in the next days, or even weeks. Is the virus gathering itself for another leap?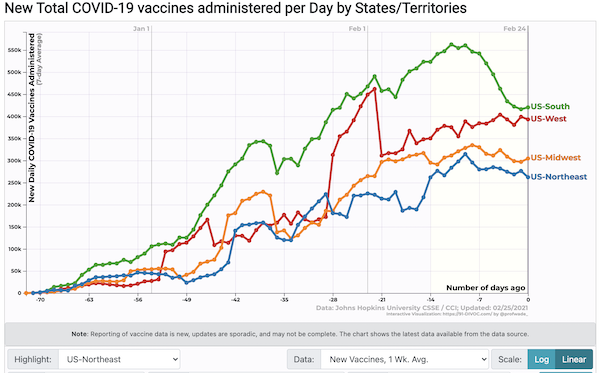 South and Midwest head upwards once gain.
Here is vaccination in the South (as defined by the US Census):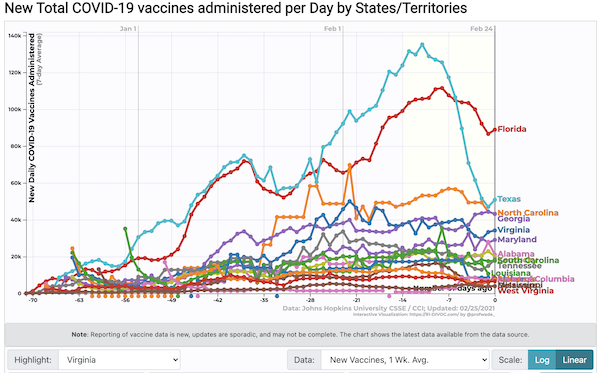 Florida and Texas bounce back.
What's with New York?
If New York City were a state, it would be the least vaccinated in the country, with 9.5% of the population receiving at least one shot. Washington, D.C., and Puerto Rico are also getting a higher share of people vaccinated. https://t.co/RADbG6TlgX

— Alyssa Katz (@alykatzz) February 25, 2021
Case count by United States region: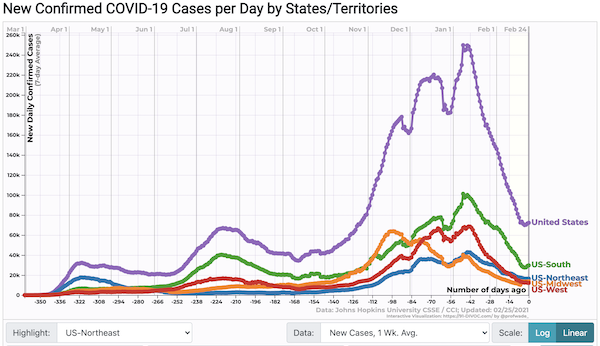 A little uptick in the South, driven by Texas.
Big states (New York, Florida, Texas, California):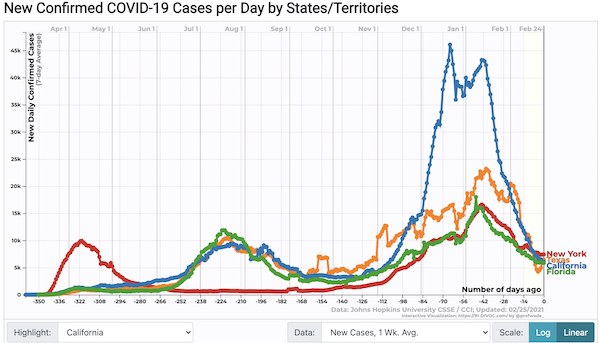 Encouraging to see cases in Texas go up, in that at least we know there's some testing being done.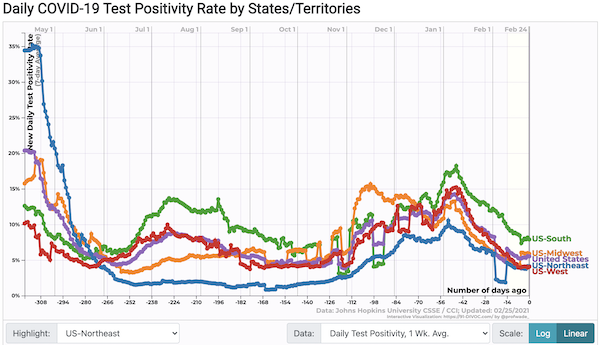 Decline is flattening across the board. Weather? Variants? Regional averages approach 3%, which is what we want to see. (Alert reader TsWkr pointed out it's time to update my test positivity comment, which I just did.)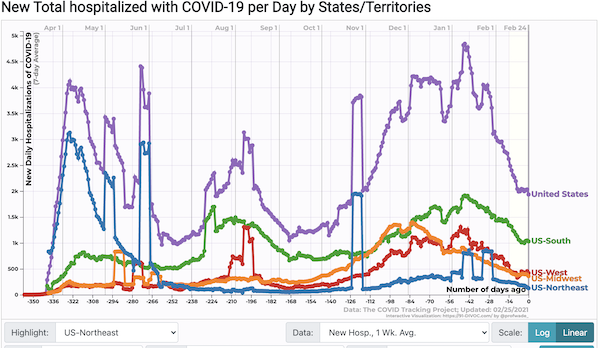 Upticks in the South and West. Hospitalization is discretionary; they may also be reducing their admissions rate — relative to cases we cannot see in this data! — to preserve future capacity; or because hospitals have figured out how to send people home.
Case fatality rate (plus deaths):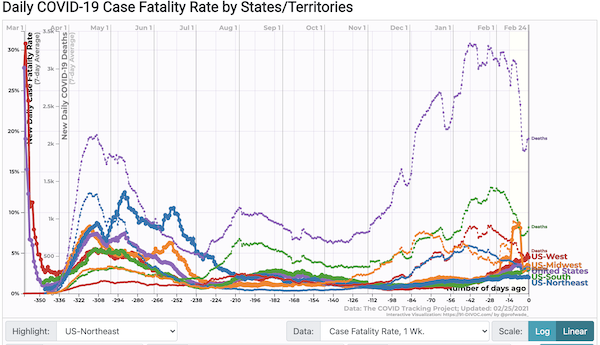 An uptick in deaths, driven by the South. Still, that rising fatality rate in the West (red) is what worries me. Could that be due to variants?
Here is an encouraging chart on nursing home fatalities:
What a graph, wowhttps://t.co/KCGc0PT4l4 pic.twitter.com/JlwcrlYfcf

— David Grabowski (@DavidCGrabowski) February 25, 2021
Politics
"But what is government itself, but the greatest of all reflections on human nature?" –James Madison, Federalist 51
"They had one weapon left and both knew it: treachery." –Frank Herbert, Dune
"They had learned nothing, and forgotten nothing." –Charles Maurice de Talleyrand-Périgord
Capitol Seizure
"Oath Keepers leader charged in Capitol riot claims she met with Secret Service" [New York Post]. Big if true. And the next to the final paragraph: "She is asking to be released to home confinement while awaiting trial, noting she is at risk for "harsh treatment" as a transgender woman." • I would have thought her identity gave a straight readout of her political views, but apparently not.
Biden Administration
"Biden Unveils Cool Teen Migrant Detainment Center Where Youths Can Hang Out And Never Leave" [The Onion]. ""We think migrant teenagers are going to love getting a chance to kick back and chillax in this fenced-off compound from which they cannot escape," said Biden, touting the facility's air hockey table, pinball machine, and miles of unscalable barbed wire that would allow teenagers to comingle with other undocumented aliens to their hearts' content…. At press time, Biden supporters across the country were organizing a fundraising campaign to help provide the center with a new trophy case."

Biden Walkbacks: "Advocates Denounce Biden Plan to Reopen Homestead Migrant Children's Facility" [Miami New Times]. "Just a few months after the Democratic debates, the shelter was shuttered in August 2019. But this morning, the Miami Herald reported that the Biden administration plans to reopen the Homestead center, which is now called the Biscayne Influx Care Facility. 'This is not a place for children,' Alvarado says. 'This is a place that is going to be impossible to maintain COVID safety regulations. We're already putting these children in danger. This detention center doesn't have safety measures for hurricanes. The operators hire random people who don't have experience or knowledge on how to work with children, especially children facing trauma from leaving their home countries. They're at risk of getting sexually assaulted, and many of them did….' Alvarado says she's disappointed that her organizations and others will have to fight the same fight, but she says they'll do everything in their power to block the detention center from reopening. 'I condemn the actions of the Biden administration for being a hypocrite and calling for family reunification while at the same time opening these influx centers,' Alvarado says. 'His rhetoric may not be anti-immigrant, but his actions are. This is shameful, disgusting, and indefensible.'" • Yes, this center (from yesterday):

The Democrats campaigned on closing the private immigration facilities they are now (again) using. Weaponizing brown suffering to support kinder, gentler white supremacy is their forte.

— Héctor E. Alcalá (@Hector_E_Alcala) February 24, 2021

As readers know, I'm not an Open Borders fan. But I'm not a fan of campaigning on an issue and then doing the exact opposite. "It was a debate campaign!" –Kamala Harris

Biden Walkbacks:

And why the hell not? https://t.co/PNQeR59mqs

— Marianne Williamson (@marwilliamson) February 25, 2021

I never hear a peep from the Senate parliamentarian when we're shoveling the big bucks to the banks. Why is that?

Biden Walkbacks: "The Health 202: Biden wants a 'public option' health plan. Two Senate moderates say they have just the bill" [WaPo]. "To get more Americans covered, President Biden wants to create a government-backed 'public option' health plan and expand Obamacare subsidies. Two moderate Democratic senators, Tim Kaine (Va.) and Michael Bennet (Colo.), insist they have just the bill to accomplish that. It's called 'Medicare-X.'… Medicare-X proposes adding a public option plan first in the parts of the country where consumers have the fewest private marketplace options, then moving to areas with higher plan costs and finally expanding into every Zip code in the country by 2025. The aim is to give consumers more options, while also putting competitive pressure on private plans to lower their costs… Medicare-X leaves out one Biden proposal: lowering the Medicare eligibility age from 65 to 60." • 2025, one year after the Presidential election of 2024, exactly as with ObamaCare, whose major provisions came into effect in 2014, five years after it was passed, and two years after 2012. It's almost like Democrats don't want to run on ObamaCare as delivered, isn't it? Of course, it's not like people are suffering…

"Why Biden chose California's attorney general to be Health and Human Services secretary" [Yahoo News]. "Becerra served in the House of Representatives from 1993 to 2017 before moving on to the role of California's attorney general. His nomination comes at a time when the fate of Obamacare is up to the Supreme Court, which is debating the constitutionality of the landmark health care bill after a Texas judge declared it unconstitutional back in December 2018.' His defense of the Affordable Care Act is the most notable item there, which likely means he's going to continue to advocate for expansions of coverage,' Chris Meekins, Washington policy analyst at Raymond James, told Yahoo Finance. Meekins also noted that the choice of Becerra 'regenerates a perception that most of the health care policy will likely be driven by the White House rather than the Department [of HHS].'" • Awesome.
Democrats en deshabille
"Democratic fury with GOP explodes in House" [The Hill]. "Democratic fury over the mob attack on the Capitol and its aftermath is spilling into nearly every aspect of life in the House, squashing hopes for comity and threatening even mundane legislative tasks like the naming of a local post office. Democrats accuse Republicans of nothing short of sabotaging the nation's democracy with false claims that November's election was "stolen" from former President Trump. Already angry that the refusal by some Republicans to wear masks to prevent the spread of COVID-19 was endangering lives, Democrats now see the GOP as directly putting lawmaker lives on the line with dangerous rhetoric that feeds outlandish conspiracy theories." • From the party that brought you RussiaGate (inflaming tensions, at the very least, with a nuclear power, in case anybody's forgotten the geopolitical/national security goon grifting part. Musical interlude… (And yes, Republicans not masking is to say the least extremely discourteous, even un-Christian.)
RussiaGate
"In Final Days, Trump Gave Up on Forcing Release of Russiagate Files, Nunes Prober Says" [Aaron Maté, RealClear Investigations]. "Kash Patel, whose work on the House Intelligence Committee helped unearth U.S. intelligence malpractice during the FBI's Crossfire Hurricane probe, said he does not know why Trump did not force the release of documents that would expose further wrongdoing. But he said senior intelligence officials 'continuously impeded' their release – usually by slow-walking their reviews of the material. Patel said Trump's CIA Director, Gina Haspel, was instrumental in blocking one of the most critical documents, he said. Patel, who has seen the Russia probe's underlying intelligence and co-wrote critical reports that have yet to be declassified, said new disclosures would expose additional misconduct and evidentiary holes in the CIA and FBI's work. 'I think there were people within the IC [Intelligence Community], at the heads of certain intelligence agencies, who did not want their tradecraft called out, even though it was during a former administration, because it doesn't look good on the agency itself,' Patel told RealClearInvestigations in his first in-depth interview since leaving government at the end of Trump's term last month, having served in several intelligence and defense roles (full interview here)…. [D]espite an ongoing investigation by Special Counsel John Durham into the conduct of the officials who carried out the Trump-Russia inquiry, it is unclear if key documents will ever see the light of day." • Maybe Obama should do a podcast with Durham.
Republican Funhouse
UPDATE "The Republican Party Is Now in Its End Stages" [The Atlantic]. "Republicans have entered their own kind of end-stage Bolshevism, as members of a party that is now exhausted by its failures, cynical about its own ideology, authoritarian by reflex, controlled as a personality cult by a failing old man, and looking for new adventures to rejuvenate its fortunes…. This comparison is more than a metaphor; it is a warning. A dying party can still be a dangerous party. The Communist leaders in those last years of political sclerosis arrayed a new generation of nuclear missiles against NATO, invaded Afghanistan, tightened the screws on Jews and other dissidents, lied about why they shot down a civilian 747 airliner, and, near the end, came close to starting World War III out of sheer paranoia…. Another lesson from all this history is that the Republicans have no path to reform. Like their Soviet counterparts, their party is too far gone. Gorbachev tried to reform the Soviet Communist Party, and he remains reviled among the Soviet faithful to this day. Similar efforts by the remaining handful of reasonable Republicans are unlikely to fare any better. The Republican Party, to take a phrase from the early Soviet leader Leon Trotsky, should now be deposited where it belongs: in the 'dustbin of history.'" • Entertaining, and attractive to liberal Democrats who have Russia on the brain, but I'm not sure correct. After all, no Covid, and — assuming the Democrats crippled Sanders again — Trump wins. That's basically like Breshnev invading West Germany — and winning
Stats Watch
At reader request, I added some business stats back in. Please give Econintersect click-throughs; they're a good, old-school blog that covers more than stats.
Durable Goods: "Headline Durable Goods New Orders Improved Again In January 2021" [Econintersect]. "The headlines say the durable goods new orders improved for the ninth consecutive month. Our analysis shows the rolling averages improved…. The data this month was on the high side of expectations – and, the previous month was little changed. In the adjusted data, the improvement was driven by defense and civilian aircraft."
GDP: "Second Estimate 4Q2020 GDP Growth Marginally Improves But Remains Deep In Contraction Year-over-Year" [Econintersect]. "The second estimate of fourth-quarter 2020 Real Gross Domestic Product (GDP) marginally improved to 4.1 % from the advance estimate's 4.0 %… I am not a fan of quarter-over-quarter exaggerated method of measuring GDP – but the recovery from the pandemic is not over as the year-over-year GDP growth remains in contraction."
Unemployment: "20 February 2021 Initial Unemployment Claims Rolling Average Improves" [Econintersect]. "Market expectations for weekly initial unemployment claims (from Econoday) were 725 K to 900 K (consensus 815 K), and the Department of Labor reported 730,000 new claims. The more important (because of the volatility in the weekly reported claims and seasonality errors in adjusting the data) 4 week moving average moved from 828,250 (reported last week as 833,250) to 807,750… Job's loss since the start of the pandemic is now 79,931,000. Many in this number are now employed or have dropped out of the workforce as all programs continuing claims number is 19,042,686, up from last week's 18,341,584."
Leading Indicators: "February 2021 Chemical Activity Barometer Index Improves" [Econintersect]. "The Chemical Activity Barometer (CAB), a leading economic indicator created by the American Chemistry Council (ACC), rose 1.0% in February on a three-month moving average (3MMA) basis following a 1.8% increase in January. On a year-over-year (Y/Y) basis, the barometer rose 1.3% in February…. Per Kevin Swift, chief economist at ACC: 'With ten months of gains, the latest CAB reading is consistent with expansion in the U.S. economy.'"
* * *
Manufacturing: "United 777 plane flew fewer than half the flights allowed between checks: sources" [Reuters]. "A United Airlines plane with a Pratt & Whitney engine that failed on Saturday had flown fewer than half the flights allowed by U.S. regulators between fan blade inspections, two sources with knowledge of the matter said…. The Boeing Co 777 plane had flown nearly 3,000 cycles, equivalent to one take-off and landing, which compares to the checks every 6,500 cycles mandated after a separate United engine incident in 2018, said the sources…. Pratt, the maker of the PW4000 engines, advised airlines on Monday to step up checks to every 1,000 cycles, in a bulletin seen by Reuters…. On Tuesday, the U.S. Federal Aviation Administration said it was ordering immediate inspections of 777 planes with PW4000 engines before they could return to flight, going further than Pratt."
The Bezzle: "New York shutting down cryptocurrency trading platforms that hid millions in losses" [The Hill]. "New York's attorney general has reached a deal with two cryptocurrency trading platforms to shut down all business in the state and pay nearly $20 million in damages after the two firms hid hundreds of millions in losses. A statement from the office of Letitia James (D) on Wednesday said that the cryptocurrency platforms Bitfinex and Tether would be forced to end all transactions with New York residents and pay a combined $18.5 million in fines after hiding roughly $850 million in losses around the world. The two companies offered a service referred to as 'stablecoins,' or cryptocurrency backed by a set U.S. dollar value. James said in her press release that the companies' claims of a guaranteed set value for the stablecoins was fraudulent." • "Stablecoins"…. Never eat at a place called Mom's….
Mr. Market: "Wall Street's 'fear gauge' is in a bubble, says J.P. Morgan" [Reuters]. "Wall Street's 'fear gauge' is in a bubble, according to analysts at J.P. Morgan. Investor appetite for protective options has kept the https://thehill.com/policy/finance/540362-new-york-shutting-down-cryptocurrency-trading-platforms-that-hid-millions-in Volatility Index elevated despite muted moves on the benchmark S&P 500, according to the bank. The gap between investor expectations for volatility in U.S. stocks, as measured by the VIX, and actual moves on the S&P 500 is near its highest levels over the past 30 years, said Marko Kolanovic, J.P. Morgan's global head of macro quantitative and derivatives strategy." • Hmm. Not what CNN's gauge says.
The Fed: "Federal Reserve falls over in massive hours-long tech outage, knocks down US inter-bank transfer system" [The Register]. "The US Federal Reserve's money-transfer systems failed on Wednesday for a number of hours, likely halting the electronic movement of billions of dollars…. The IT outage at the United States' central banking system effectively prevented the nation's financial institutions from electronically sending money to each other, knackering wire transfers and deposits." • Say the Fed: "The cause is a Federal Reserve operational error." No further explanation given.
* * *
Today's Fear & Greed Index: 65 Greed (previous close: 63 Greed) [CNN]. One week ago: 59 (Greed). (0 is Extreme Fear; 100 is Extreme Greed). Last updated Feb 25 at 11:58am.
The Biosphere
"At Cape Wildlife Center: Living peacefully with coyotes" [Barnstable Patriot]. "Why killing coyotes is unnecessary and doesn't work. Nature hates a void. Killing coyotes as a way to control population doesn't work. Within a year or two, you will have as many coyotes as you had before. Killing one breeding pair leaves space open for another breeding pair to move in and establish a home. At the same time, lone coyotes will move into mate, young coyotes will have offspring sooner, and litter sizes will grow. Why not relocate coyotes? Despite what we think, this is not a humane alternative. Relocating a coyote is a death sentence for that animal. Coyotes are territorial and will try to do anything to get back to its home. They are often killed crossing roads or by other coyotes in territorial disputes, or they may starve from not knowing the area. Education is the best way to keep humans and coyotes co-existing peacefully. Humans can take an active role by removing attractants (food), being responsible pet owners, hazing coyotes that are in too close and learning about coyote behavior." • Lots of other tips in this article!
Health Care
"BNT162b2 mRNA Covid-19 Vaccine in a Nationwide Mass Vaccination Setting" [NEJM]. Pfizer. Importantly: "Concerns have emerged regarding the possible resistance of SARS-CoV-2 variants to Covid-19 vaccines17,18 and neutralizing antibodies.19,20 During the study period, an increasing share of SARS-CoV-2 isolates in Israel — up to 80% in the days before data extraction — were of the B.1.1.7 variant.21 Thus, this study estimates an average effectiveness of the vaccine over multiple strains. Although we cannot provide a specific effectiveness estimate for the B.1.1.7 variant, the plateau observed during the later periods in the cumulative incidence curve for vaccinated persons suggests that the BNT162b2 vaccine is also effective for this variant, an observation consistent with previous reports that showed preserved neutralizing antibody titers."
Black Injustice Tipping Point
"AP Exclusive: Black Lives Matter opens up about its finances" [Associated Press]. "The Black Lives Matter Global Network Foundation is now building infrastructure to catch up to the speed of its funding and plans to use its endowment to become known for more than protests after Black Americans die at the hands of police or vigilantes…. This marks the first time in the movement's nearly eight-year history that BLM leaders have revealed a detailed look at their finances. … That growth also caused longstanding tensions to boil over between some of the movement's grassroots organizers and national leaders — the former went public last fall with grievances about financial transparency, decision-making and accountability. The foundation said it committed $21.7 million in grant funding to official and unofficial BLM chapters, as well as 30 Black-led local organizations. It ended 2020 with a balance of more than $60 million, after spending nearly a quarter of its assets on the grant funds and other charitable giving." • Well, perhaps the material will be up on their website soon, along with the usual non-profit apparatus, like staff or even a board of directors.
Our Famously Free Press
"Inside the new $65 million push from progressives to compete with conservative media" [Recode]. "A prominent Democratic strategist is planning a new $65 million effort to push progressive local news around the United States as part of an attempt to match the dominance of right-wing media, Recode has learned. The organization, whose formation hasn't previously been reported, is called the Project for Good Information (PGI). It's being created by Tara McGowan, a Democratic strategist who has spent the last few years at her current organization, Acronym, trying to encourage her party to counter far-right media with liberal content…. The new push will consist of two entities, according to the document: A 501(c)(3) public foundation called the Good Information Project, which will grant money to nonprofit media companies, and a public benefit corporation (a so-called B Corp) called Good Information Inc., which will invest in for-profit media companies…. McGowan has been a controversial figure in Democratic politics ever since news emerged of the link between Acronym and Shadow, the startup responsible for bungling the 2020 Democratic Iowa caucuses." • In what sense were the Iowa caucuses "bungled"? In any case, we have Media Matters. What do we need this for?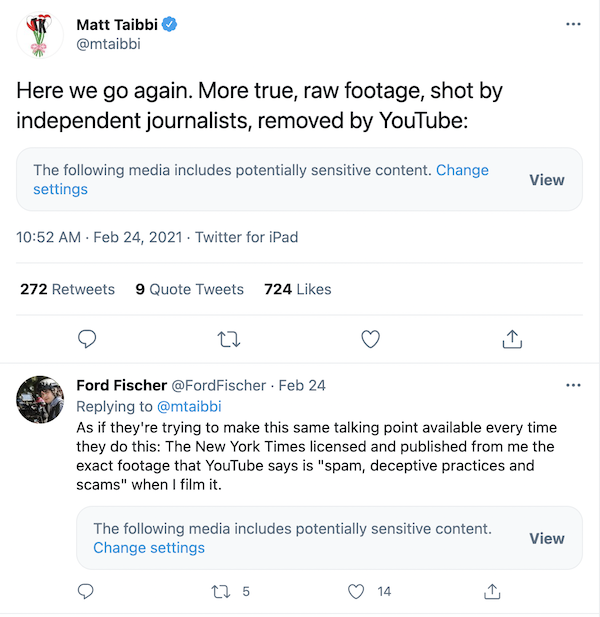 I'm using a screenshot as opposed to an embed, because with "The following media includes potentially sensitive content" it looks like Twitter's getting in on the act, raising the possibility that Twitter and YouTube are working from a common list of sources to be censored.
Anecdotal. Nevertheless:
Feel you. It's such a discouraging thing to watch

— Stephen Sawchuk (@Stephen_Sawchuk) February 21, 2021
Book Nook
"The Prison Playwright" [Gadfly]. From 1999: "San Quentin wasn't famed for its cultural offerings. In the 1890s, Sarah Bernhardt did a one-act play in San Quentin's lower yard. That was it for showbiz until Waiting for Godot arrived in 1957, via the San Francisco Actors Workshop. The captive audience of twelve hundred included [Rick] Cluchey, who'd 'never been in a theater, not even to rob one," he says. 'I saw myself on that stage, amid the two tramps commenting, and the baronial character hauling another guy with a rope around his neck." And, of course, waiting for something to happen." • Over the transom from an alert reader: Rick Cluchey was "a Beckett protege who became one of my closest pals, gone now, alas. His relationship to Beckett was unique, perhaps his perspective might be of interest."
Class Warfare
"'We deserve more': an Amazon warehouse's high-stakes union drive" [Guardian]. "Darryl Richardson was delighted when he landed a job as a 'picker' at the Amazon warehouse in Bessemer, Alabama. 'I thought, 'Wow, I'm going to work for Amazon, work for the richest man around,' he said. 'I thought it would be a nice facility that would treat you right.'… He complained about the fast, unrelenting pace of work and about seeing co-workers terminated for falling behind Amazon's production quotas. As a picker, Richardson takes merchandise out of large metal bins that robots carry to his workstation, and he then hurries to put the items in various totes that a conveyor belt takes to packing. Nearby video monitors tell him what to do minute after minute. His quota is to pick 315 items an hour, five items a minute: toilet paper and toys, baby food and books destined for Amazon customers. 'You're running at a consistent, fast pace,' Richardson said. 'You ain't got time to look around. You get treated like a number. You don't get treated like a person. They work you like a robot.'"
"Amazon reportedly told workers to 'Vote NO' in a historic union election and to drop ballots in a USPS mailbox that recently appeared at their Alabama warehouse" [Business Insider]. "Amazon also reportedly sent text messages to the warehouse's approximately 6,000 workers telling them to place their ballots in a US Postal Service mailbox that has recently appeared near the main entrance to their Bessemer plant. According to Motherboard, which viewed both the text message and the pamphlet, Amazon advised employees to vote by March 1, but workers have until March 29 to cast their ballots…. One worker told Motherboard that she feels as though Amazon is telling them to vote at the mailbox so higher-ups 'can monitor us and gauge how many people are using' it." • Or stuff it.
"Amazon Union Vote Is a Big Deal for the U.S. Labor Movement" [Teen Vogue]. "Despite Alabama being a 'right-to-work' state — a label that notes the passage of 'right-to-work' laws that weaken employees' ability to unionize — Bessemer actually has a strong pro-union history with the United Steelworkers, the largest industrial union in North America. Tellingly, more than 3,000 of the facility's roughly 5,800 employees originally signed union authorization cards back in November 2020, petitioning the NLRB to hold a union vote…. On a national scale, establishing a union could provide the energy needed to spur successful union organizing efforts at Amazon workplaces across the country. And if the employees at Bessemer do manage to set a new standard for workplace conditions, pay, benefits, and accountability, they'll offer a success story that could inspire thousands of other Amazon workers around the world."
* * *
This is in Links this morning, but I want to call attention to the reporter's tweet:
Inside a Battle Over Race, Class and Power at Smith College. Tension between a student's deeply felt sense of personal truth and facts that are at odds with it. My story: https://t.co/gyEDcwSNny

— Michael Powell (@powellnyt) February 24, 2021
"[A] student's deeply felt sense of personal truth and facts that are at odds with it" is delicately put. It reminds me of this passage from Terry Pratchett's Men at Arms (heavily edited for reasons I assume are obvious):
There were, eventually, two theories, [one] based on observational evidence [and the other] based on what might tentatively be called the truth of the heart….
And we know which truth Smith chose, don't we…. The story is worth reading in full. Presumably, the Times Slack channel is aflame with calls for the reporter's head. Unsurprisingly, the working class staff at Smith paid the price. Everybody else went on from strength to strength. So it goes.
"How the Media Led the Great Racial Awakening" [Tablet (flora)]. From 2020, still germane: "Starting well before Donald Trump's rise to power, while President Obama was still in office, terms like "microaggression" and "white privilege" were picked up by liberal journalists. These terms went from being obscure fragments of academic jargon to commonplace journalistic language in only a few years—a process that I document here in detail. During this same period, while exotic new phrases were entering the discourse, universally recognizable words like "racism" were being radically redefined. Along with the new language came ideas and beliefs animating a new moral-political framework to apply to public life and American society."
"St. Joseph's University Professor Suspended For Criticism Of Reparations On Social Media" [Jonathan Turley]. "Professor Gregory Manco, a math professor at St. Joseph's University, has been suspended after he made arguments opposing reparations on twitter…. In this case, Manco was writing on a personal and an anonymous account as "South Jersey Giants." Yet, he was still targeted because he expressed his opposition to reparations as well as racial bias training. A professor should be able to voice such views not just anonymously but directly as part of a national debate on such issues. As always, my concern is not with the merits of such arguments, or even the manner in which they are expressed. Rather, professors have a right to express themselves even when they espouse offensive or disgraceful positions."
News of the Wired
"Why Your Brain Feels Broken" [New York Times]. "I don't know how else to put it, but lately it seems like my brain is broken. I'm not functioning with the mental quickness I'm used to. I find myself struggling to locate words I want to use, like "vigilant" (it took me a full day to remember it). Sometimes when I'm especially tired in the evenings, I will trail off midsentence, and when my husband asks a follow-up question I will have completely lost my train of thought — it drives him bonkers…. It turns out that many aspects of our pandemic lives could lead to impaired executive functioning, which is a fancy way of describing the mental processes that allow us to plan, organize and remember instructions." • No kidding. And but: "[G]oing outside, or even simulating the outdoors, may help when you're feeling mentally dull. Studies have shown that spending time in nature, and even looking at pictures of nature, can improve cognitive functioning. Though it may be difficult to find the time, a 50-minute outdoor walk has been shown to improve memory and decrease anxiety, no matter what the weather is (though you will probably enjoy it a lot less if it's 25 degrees out)." • As I have often said, and say again! And when you take your walk, look up at the trees and the sky not down at your feet!
It's not too late to order seeds:
If this doesn't make you appreciate plants more, I don't know what will. pic.twitter.com/SCcEQcqZbu

— Kgoshi Ya Lebowa (@Marcellomj) February 24, 2021
* * *
Readers, feel free to contact me at lambert [UNDERSCORE] strether [DOT] corrente [AT] yahoo [DOT] com, with (a) links, and even better (b) sources I should curate regularly, (c) how to send me a check if you are allergic to PayPal, and (d) to find out how to send me images of plants. Vegetables are fine! Fungi and coral are deemed to be honorary plants! If you want your handle to appear as a credit, please place it at the start of your mail in parentheses: (thus). Otherwise, I will anonymize by using your initials. See the previous Water Cooler (with plant) here. Today's plant:
* * *
Readers: Water Cooler is a standalone entity not covered by the recently concluded and — thank you! — successful annual NC fundraiser. So if you see a link you especially like, or an item you wouldn't see anywhere else, please do not hesitate to express your appreciation in tangible form. Remember, a tip jar is for tipping! Regular positive feedback both makes me feel good and lets me know I'm on the right track with coverage. When I get no donations for five or ten days I get worried. More tangibly, a constant trickle of donations helps me with expenses, and I factor in that trickle when setting fundraising goals:
Here is the screen that will appear, which I have helpfully annotated.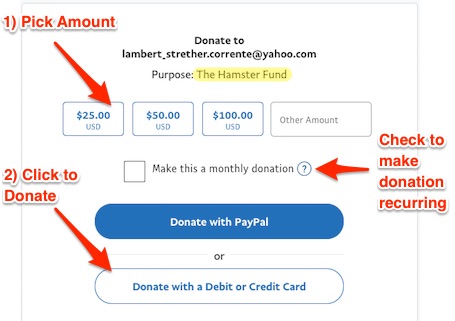 If you hate PayPal, you can email me at lambert [UNDERSCORE] strether [DOT] corrente [AT] yahoo [DOT] com, and I will give you directions on how to send a check. Thank you!