By Lambert Strether of Corrente.
Bird Song of the Day
One more Texas bird (from Texas Parks and Wildlife).
#COVID19
At reader request, I've added this daily chart from 91-DIVOC. The data is the Johns Hopkins CSSE data. Here is the site.
I feel I'm engaging in a macabre form of tape-watching, because I don't think the peak is coming in the next days, or even weeks. Is the virus gathering itself for another leap?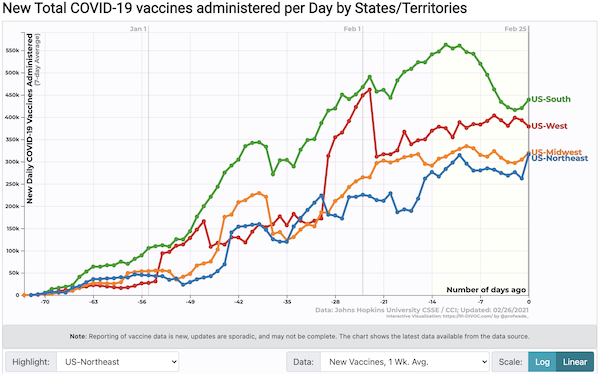 South and Midwest head upwards once again.
Biden triumphalism:
Take a look at what we've accomplished in 5 weeks:

– We've increased vaccine supply to states by 70%

– Nearly 60% of people 75+ have now received at least one shot — that was 14% 6 weeks ago

– Almost 50% of the people 65+ have at least one shot now — that was 8% 6 weeks ago

— White House COVID-19 Response Team (@WHCOVIDResponse) February 26, 2021
As I posited a few weeks ago, I think if swapping in a new administration was a key driver, we'd see the slope of vaccination increase given a decent interval after the Inaugural. We're not seeing that. I think, instead, we're seeing collective efforts at improving delivery and uptake all across our Federalized fragmented system. The Biden administration does not get to speak for "we" here.
Case count by United States region: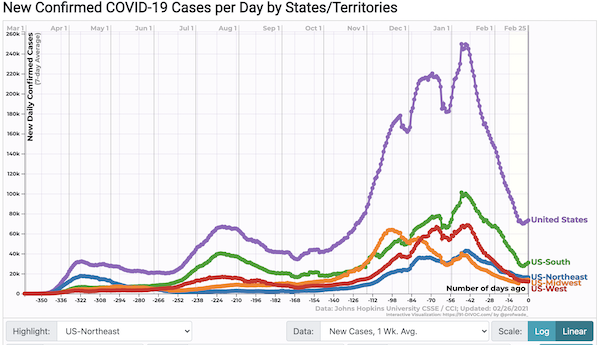 A little uptick in the South, driven by Texas.
Big states (New York, Florida, Texas, California):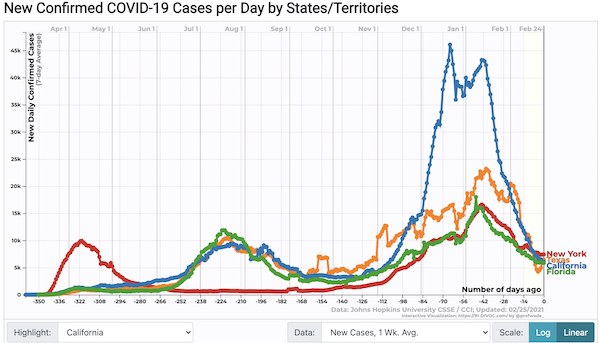 Encouraging to see cases in Texas go up, in that at least we know there's some testing being done.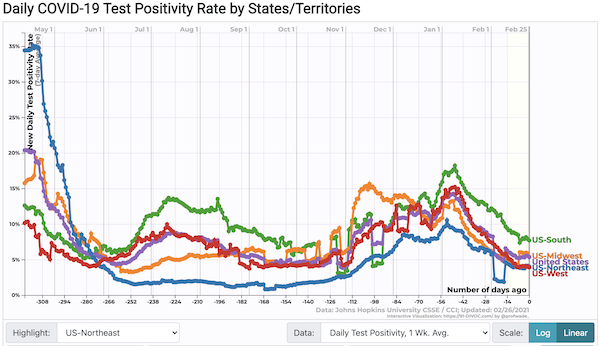 Decline is flattening across the board. Weather? Variants? Regional averages approach 3%, which is what we want to see. (Alert reader TsWkr pointed out it's time to update my test positivity comment, which I just did.)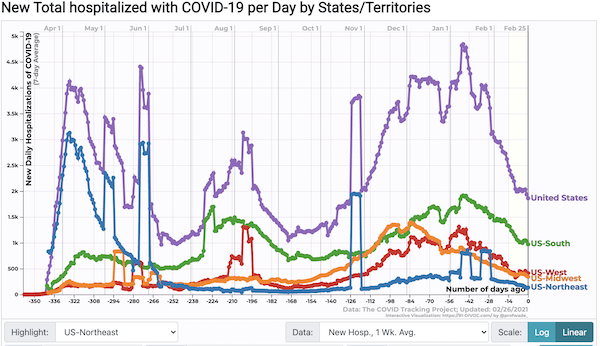 Upticks in the South and West. Hospitalization is discretionary; they may also be reducing their admissions rate — relative to cases we cannot see in this data! — to preserve future capacity; or because hospitals have figured out how to send people home.
Case fatality rate (plus deaths):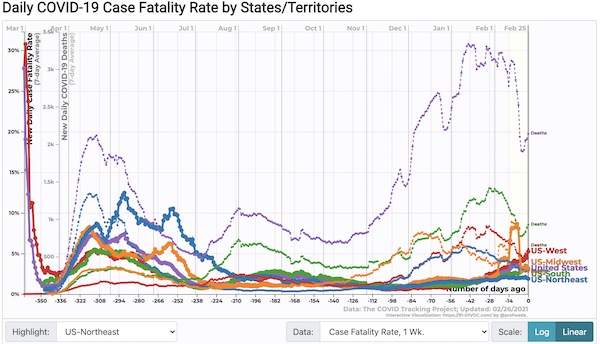 That rising fatality rate in the West (red) is what worries me. Here is the regional breakdown: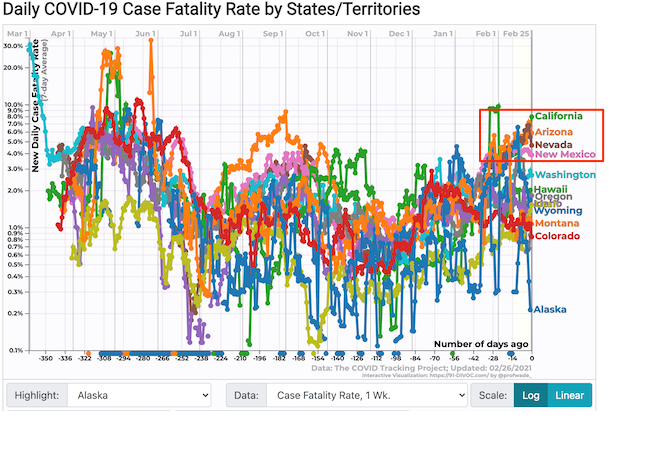 (I used the log scale to pull everything up from the baseline, because Oregon's early numbers throw the chart off.) It looks to me like the top four Western states naturally separate themselves out. Here they are: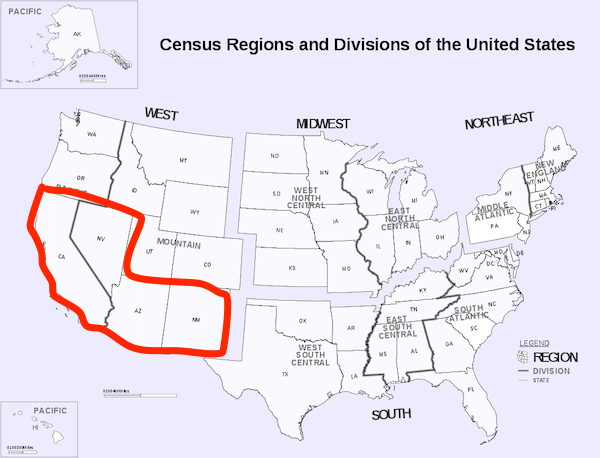 (I'm not implying immigration is the issue; I am saying the four outlined states could well have something similar in their political economies that leads to the fatality rate outcomes.)
Politics
"But what is government itself, but the greatest of all reflections on human nature?" –James Madison, Federalist 51
"They had one weapon left and both knew it: treachery." –Frank Herbert, Dune
"They had learned nothing, and forgotten nothing." –Charles Maurice de Talleyrand-Périgord
Capitol Seizure
Biden Administration
"US-China rivalry: America test-fires Minuteman III intercontinental ballistic missile" [South China Morning Post]. "'The operators delivered an on-time, on-target sortie and provided yet another reminder of the readiness and reliability of the Minuteman III weapon system,' Major Jesse Haskett, commander of the launch task force, said in a press release." • I don't want to seem alamist, but (a) this seems more aggressive than anything [warding sign] Trump ever did, and (b) comes at the same time as the Syrian bombing campaign. "America is back," indeed.

"Biden's Syria airstrikes are first test of role as world's police" [USA Today]. • First? Reallly? Anyhow, liberalgasms for everybody:

I'm speechless. pic.twitter.com/QvXfX7Q6xV

— هديل (@nothxdeel) February 26, 2021

Silent but deadly, that's our Joe….

"Biden says US will 'never' accept 'aggressive' Russia's Ukraine annexation" [Agence France Presse]. "'The United States does not and will never recognize Russia's purported annexation of the peninsula, and we will stand with Ukraine against Russia's aggressive acts,' Biden said in a statement marking the anniversary of the Russian invasion of Crimea. 'The United States continues to stand with Ukraine and its allies and partners today, as it has from the beginning of this conflict. On this somber anniversary, we reaffirm a simple truth: Crimea is Ukraine,' Biden said." • Maybe we need to reinstitute the draft…

Biden follows the CDC in suppressing aerosol transmission and reinforcing fomites:

.@POTUS: "Above all, remember we can do this. This is the United States of America. There is nothing we can't do when we do it together." https://t.co/quTSuqQO66 pic.twitter.com/5GPVu5gct4

— The Hill (@thehill) February 26, 2021

And that "nothing we can't do" apparently doesn't apply to cutting $2,000 checks, the $15 minimum wage, and so on and on and on.

* * *

"Biden 'disappointed' in Senate parliamentarian ruling but 'respects' decision" [The Hill]. • So fire the dude and get another ruling. Dear Lord. "Let us continue to respect the rules that we can change at any time, and have at other times for other reasons!"

UPDATE "The $15 Minimum-Wage Debate Clarifies the Partisan Economic Divide" [Eric Levitz, New York Magazine]. "Nevertheless, if liberals' culturalist account of America's political divide has its flaws, the 'populist' right's efforts to cast the conflict between red and blue in strictly materialist terms — with Republicans representing the interests of blue-collar workers in the heartland, and Democrats of cosseted professionals in parasitic cities — is infinitely more strained."

"Team Biden taps Asian American groups to help save Tanden" [Politico]. "President Joe Biden's aides are urging Asian American groups to mount a last-minute campaign to try to rescue his budget chief nominee, Neera Tanden, as her prospects for Senate confirmation dwindle. Those groups are calling and sending letters to Senate offices and advocating for Tanden on social media to try to combat what they are calling "structural racism" and "institutional racism.'" • The race card never fails….

"Virus Mobilization" [New York Times]. "Later this morning, Biden administration officials and business leaders will announce a plan to change that, White House officials told me. The plan includes some of the country's largest corporate lobbying groups — like the Chamber of Commerce, the Business Roundtable, the National Association of Manufacturers and groups representing Asian, Black and Latino executives — as well as some big-name companies. Ford and The Gap will donate more than 100 million masks for free distribution. Pro sports leagues will help set aside more than 100 stadiums and arenas to become mass vaccination sites. Uber, PayPal and Walgreens will provide free rides for people to get to vaccination sites. Best Buy, Dollar General and Target will give their workers paid time off to get a shot. And the White House will urge many more companies to do likewise." • Good to see Biden following along the public-private partnership road pioneeded by Trump. Heaven forfend we should strengthen state capacity!

This new release is enormously, unequivocally good news from the Biden Labor Department: https://t.co/foB6X2ZjBW

The @DailyPoster has been covering this issue for a while. Read here for background: https://t.co/Hb90TeL01B

— David Sirota (@davidsirota) February 25, 2021
2022
"Liberal group targets Republicans who voted to overturn 2020 election" [Politico]. • Why do these groups even exist? Don't we have a party for such functions?
Republican Funhouse
"A Modest Proposal For Republicans: Use The Word 'Class'" [Astral Codex Ten]. "Consciously embracing the project of fighting classism would let future Republican politicians replicate Trump's appeal without having to stoop to his tactics. It could tie together all the fractured constituencies of the Republican party. It could appeal to the white working class. Everyone agreed these people were Trump's base, but the media insisted on emphasizing the "white", as in "WHITE!!! working class". Your job is to get people thinking "white WORKING CLASS!!!" instead. You cannot ethically or pragmatically flatter these people's identity as whites, but you can very easily flatter their identity as the working class. It could appeal to blacks and Hispanics. They're mostly working-class, so they hate the elites as much as anyone else. So far the left has kept them voting Democrat by scaring them with stories about how racist the white working class is, and convincing them that only Democratic elites can keep them safe. Your job is to make the Marxist argument that this is the typical ruling class tactic of using racial animus to keep the working classes divided and powerless. If you do this right, you can get a bunch of minorities on your side without driving away any whites; mutual enemies are the duct tape of political coalitions. The pro-Trump shift among blacks and Hispanics in 2020 proves that minorities are willing to vote Republican once someone frames the conflict in class terms. And success stories like Ben Carson, Ted Cruz and Nikki Haley prove that white Republicans are friendly to minorities once they're convinced they share their values. All you need to do is drag both sides to the altar and tie the knot." • As I've said, it's going to be a neat trick, creating a working class coalition without actually empowering them. OTOH, Republicans like to get stuff done….

"Republican leaders split while CPAC prepares to unite around Trump" [Politico]. "In one camp, there are the Republicans like McCarthy and Scalise who have calculated that getting cozier with Trump and his base is the best way to boost the party's prospects in the next election. In the other are establishment-minded pols like McConnell and Cheney, who counsel a more traditional brand of conservatism after the GOP lost both chambers of Congress and ultimately the White House under Trump. Yet even McConnell — despite his reservations — told Fox News on Thursday that if Trump were the GOP presidential nominee in 2024, he would support him. Rep. Chris Stewart (R-Utah) acknowledged that questions about the GOP's identity are 'clearly not settled yet.' But, he added: 'the narrative that Republicans are fractured is greatly exaggerated.' 'Time is going to heal that,' he said, because 'we're united in the minority.' For now, though, tensions are undoubtedly simmering as the party argues over its future."

"Josh Hawley, Senator No" [The Week]. "Back in the summer of 2019, when he was still finding his footing after winning his senate seat the previous fall, Hawley delivered a speech at the National Conservatism conference that I found interesting and noteworthy. In it, the recently elected senator from Missouri made a rhetorically powerful case for transforming the Republican Party into a working-class party that would defend the interests of ordinary Americans against a class of aristocratic overlords whose interests are aligned with elites around the world…. What, according to Hawley, would a more authentically populist Republican Party say and do? It would hold grandstanding hearings and publish a book with an incendiary title about the supposed moral depredations and tyrannical ambitions of tech companies. It would jump on the bandwagon of treating the brief Gamestop stock-buying frenzy of last month as some kind of populist morality play about predatory hedge funds. It would legitimize conspiracies about election fraud, offer a supportive fist pump for insurrectionists gathering on Capitol Hill, and lead the vote against certification of Pennsylvania's election results even after rioters stormed the building, sending members of Congress into hiding to avoid attack."
Stats Watch
At reader request, I added some business stats back in. Please give Econintersect click-throughs; they're a good, old-school blog that covers more than stats.
Income: "January 2021 Real Income Grew Due To Stimulus" [Econintersect]. "The data continues to be affected by the pandemic. Expenditures improved month-over-month (but is in contraction year-over-year) whilst income improved month-over-month mostly due to the stimulus payments…. The note from the BEA says it all: "The increase in personal income in January was more than accounted for by an increase in government social benefits to persons as payments were made to individuals from federal COVID-19 pandemic response programs. The increase in 'other' benefits primarily reflected economic impact payments distributed through the CRRSA Act. Unemployment insurance also increased, reflecting an increase in pandemic unemployment compensation, including supplemental weekly payments to unemployment beneficiaries re-introduced by the CRRSA Act."
Rail: "Rail Week Ending 13 February 2021 – A Real Bad Week For Rail" [Econintersect]. "Total rail traffic has been mostly in contraction for over one year – and now is slowly recovering from the coronavirus pandemic…. I must assume that this bad week was caused by the unusually cold weather/storms over most of the country. Also, President's Day fell in a different week than the previous year."
* * *
Shipping: "Congestion in Southern California Spreads to Other West Coast Ports" [Maritime Executive]. "The congestion issues at the Southern California ports are also impacting the operations of other ports along the Pacific Coast. The Port of Oakland in the San Francisco Bay, which recently highlighted its available capacity, cited spreading supply chain congestion as a factor contributing to a decline in volumes in January.. At the same time, the San Francisco Bay is also becoming crowded with ships waiting for space at the container terminals."
Shipping: "Tanker shipping: a tough year ahead as virus mutations and slow vaccine rollout hampers recovery" [Hellenic Shipping News]. "The realities of the pandemic are setting in for the tanker market. The record-breaking Q2 2020 is a distant memory and, instead, the market faces a slow recovery with low demand, stock drawdowns in consuming countries (with products already where they need to be and therefore not being transported by sea) and loss-making rates. Perhaps the most notable example of this is on the benchmark Middle East Gulf to China trade where earnings (voyage revenue – voyage costs) have fallen from USD 250,354 per day in mid-March 2020 to USD -1,056 per day on 15 February; voyage revenues are so low they no longer cover voyage costs, let alone operating and financing costs."
Tech: "This hydrogen paste has a similar range to that of gasoline and could revolutionize the transport industry" [Business Insider]. "[T]he hydrogen industry is projected to generate $2.5 trillion in revenue by 2050 and to provide hard competition to Elon Musk's Tesla-produced electric cars. A team at the Fraunhofer Institute for Manufacturing Technology and Advanced Materials IFAM in Germany has now developed a hydrogen paste, POWERPASTE, that may be easier to use especially in smaller vehicles…. As the paste only begins to decompose at temperatures of around 480 degrees Fahrenheit, researchers said drivers didn't need to worry about leaving their vehicles out in the hot sun." • Good to know!
Tech: "Google Analytics: Stop feeding the beast" [@wrede]. "I believe it is a moral imperative for web developers to think about the "free" tools they are using to provide their products. In the case of Google Analytics, the tool is only very superficially free. We are all paying the hidden costs. If you want to make the world a better place, stop feeding the beast."
The Fed: "America's creaky payments infrastructure is showing cracks" [Axios]. "The majority of the U.S. payments infrastructure came to a shuddering halt on Wednesday when a "Federal Reserve operational error" caused a whole slew of services to stop working. ACH went down, which covers most transfers in and out of bank accounts, along with Check21, which covers checks; FedCash; and more. Fedwire — the self-described "premier electronic funds-transfer service that banks, businesses and government agencies rely on for mission-critical, same-day transactions" — also went down. The Fed is unlikely to give much public explanation of what went wrong. CNBC's David Faber, however, reported that the Fed did try turning the system off and on again — and that didn't work." • The whole article is worth a read, especially for payments mavens.
The Economy: "U.S. As Global Growth Engine Risks Igniting Some Old Tensions" [Bloomberg]. "The U.S. economy appears primed to recover from the Covid-19 slump much faster than others, causing havoc on bond markets this week and potentially exacerbating the kind of imbalances that caused trouble after the last crisis. The prospect that the U.S. recovery could decouple from developed-world peers and the implication of that for global currencies and trade is likely to figure high on the agenda when finance ministers and central bankers from the Group of 20 major economies meet online later today. 'A multi-speed rebound in the global economy continues with a strong U.S., a moderating China and a choppy euro-area,' said Catherine Mann, chief economist at Citigroup Inc. 'For 2021 at least, the U.S. as global locomotive is back on track.'"
* * *
Today's Fear & Greed Index: 62 Greed (previous close: 58 Greed) [CNN]. One week ago: 59 (Greed). (0 is Extreme Fear; 100 is Extreme Greed). Last updated Feb 26 at 12:18pm.
The Biosphere
"Microscopic Wrinkles in Leaves Ward Off Insects" [Scientific American]. "The new research, published in Royal Society Open Science, finds that along with the cuticle's inherently slippery surface, its tiny wrinkles also help discourage insects. The wrinkles most likely become more pronounced as the leaf matures and its cuticle builds up, eventually expanding and buckling. 'Plants are really good at surviving,' says Dana MacGregor, a molecular botanist at Rothamsted Research in England, who was not involved in the new study. 'There are excellent ways by which they can change their structure, their chemistry or their physiology to hinder herbivores from eating their leaves. This is another example of plants changing their shape to make sure they survive.'"
"'Unique' petrified tree up to 20m years old found intact in Lesbos" [Guardian]. "Geologists around the world have described the find as a breakthrough. 'We have a case of extraordinary fossilisation in which a tree was preserved with its various parts intact. In the history of paleontology, worldwide, it's unique,' said the Portuguese palaeontologist Artur Abreu Sá. 'That it was buried by sediments expelled during a destructive volcanic eruption, and then found in situ, makes it even more unusual.'"
"The Reader of Rocks" [New York Review of Books]. "In 1815 William Smith published the first detailed geological map of an entire country [England, Wales, and part of Scotland]. Smith worked out a table of succession for the sedimentary rocks, listing the series of strata laid down, in chronological order, from the oldest, 'Granite, Sienite and Gneiss,' to the most recent, 'London clay.' There had been geological maps before, based on rocks found at the surface, but Smith's breakthrough came with his use of fossils, found in different layers and at different depths, to identify the strata and suggest their distribution below the ground. While others had toyed with this method, he was the first to apply it on such a large scale. The 1815 map was not only innovative and beautiful but also huge, made up of fifteen large sheets and measuring eight and a half by six feet."
"East African Nations Will Likely Contain Locust Swarms, FAO Says" [Bloomberg]. "East African nations are likely to contain new locust swarms emerging in the region because of continuing pest-control operations and the prospect of poor spring rains, the Food and Agriculture Organization said." • Good news!
Health Care
"Coronavirus: 11 test positive on New York rescue flight to Israel" [Jerusalem Post]. "At least 11 people tested positive for coronavirus Tuesday after arriving from a planned rescue flight for stranded Israelis originating in New York, according to a Ynet News report. Upon arriving at Ben Gurion Airport, passengers on the El Al rescue flight were required to undergo mandatory testing, where it was discovered that 11 were infected with the coronavirus. According to the report, some ultra-Orthodox passengers on the flight also bragged about forging documents to show that they were not positive with the coronavirus…. [P]assengers speaking to Ynet also spoke of the fact that some ultra-Orthodox passengers refused to remain in their seats and prayed in groups without masks, which is against current aviation regulations." • Weird, because isn't Deuteronomy, among other things, a codification of the public health regulations of the day?
UPDATE "Summit County Public Health switches to lottery system for COVID-19 vaccines" [Akron Beacon Journal]. "After overwhelming demand and scheduling frustrations, Summit County Public Health is switching to a lottery system to determine who gets COVID-19 vaccines through the health department. The health department said the lottery system, which will start Monday, March 1, will pull a computer-generated random sample from its vaccine registry. Those selected will receive instructions on how to schedule an appointment." • Eliminates the scheduling function from the websites; addition by subtraction!
"Is more simply better? Why Pfizer thinks a booster of its Covid vaccine might work against new variants" [STAT]. "While Moderna and Pfizer, along with its partner BioNTech, have announced plans to test vaccines specifically targeted at variants of the SARS-CoV-2 virus, they are also planning to test the idea of simply giving people three doses instead of two of their vaccines that have already been authorized. Experts say it's at least conceivable it could work." • I dunno. Next, four? How about a drip feed?
The 420
"New Jersey Stops Marijuana Arrests, Ends Pending Prosecutions" [Bloomberg]. "New Jersey Attorney General Gurbir Grewal has ordered an immediate end to marijuana arrests and pending prosecutions while telling courts to set aside convictions before this week, when Governor Phil Murphy signed legalization bills. Weed still can't be sold legally, as the state must set up distribution, licensing, taxation and other rules, which will take effect in about a year." • Now do amnesty.
Games
"Twitch Removes Amazon's Anti-Union Ads After Furious Streamer Response" [Kotaku]. "Earlier this week, it came to light that Twitch was running ads in blatant opposition to the Amazon warehouse worker unionization effort in Bessemer, Alabama. Streamers, who had no say in whether or not these ads appeared during their broadcasts, were outraged. Today, Twitch has removed the ads, saying that they never should have run in the first place. Despite being owned by Amazon, Twitch said in a statement to Kotaku that its parent company's union-busting ads have no place on the streaming platform. 'Twitch does not allow political advertising, and these ads should never have been allowed to run on our service,' a Twitch spokesperson said in an email. 'We have removed these ads and are evaluating our review processes to ensure that similar content does not run in the future. We are grateful to our community for bringing this to our attention.'"
Black Injustice Tipping Point
"Harvard Critics Ask Supreme Court to Ban Race in Admissions" [Bloomberg]. "The appeal by Students for Fair Admissions asks the court to overturn the 2003 ruling that let universities keep using race-conscious admissions to diversify their student bodies. A federal appeals court rejected the group's lawsuit, which contends Harvard is violating federal civil rights laws by intentionally discriminating against Asian-Americans in undergraduate admissions."
Our Famously Free Press
"YouTube Rejects Consortium News Appeal" [Consortium News]. "It appears that just reporting on claims that the 2020 election was stolen, without supporting those claims, is enough for either a YouTube algorithm or human reviewer to banish a video." • Here, YouTube is suppressing Greg Palast (!!!!).
"Twitter announces paid Super Follows to let you charge for tweets" [The Verge]. "Twitter announced a pair of big upcoming features today: the ability for users to charge their followers for access to additional content, and the ability to create and join groups based around specific interests. They're two of the more substantial changes to Twitter in a while, but they also fit snugly into models that have been popular and successful on other social platforms."
Pulitzer prize winner for commentary:
I don't like reducing everything to a power diagram before you can decide to be decent to someone, seems like some kind of weird caste system, but if you did, in what world is the healthy young private school student inferior to the sick old janitor? pic.twitter.com/T591i6iTYO

— Zaid Jilani (@ZaidJilani) February 26, 2021
Class Warfare
"Will Woke Go Up in Smoke?" [Vanity Fair]. "One of my friends is a phone sex worker, and she deals with folk on a pretty primal level. She is always a Black woman but sometimes not, depends who might be calling. 'I had a guy who had curated his fantasies to make sure I know he's woke—like I care—and he doesn't want to do it anymore,' she told me. 'Since November he's just been rage venting. He did everything he was supposed to do. But everyone's still mad at him.' Wait. Everyone's mad at him? Everyone who? 'I don't know. The Black lady in his office. She makes him feel castrated. Or something. Now he's angry. He's angry at the language. I was like: 'You know you're actually in a 'safe space' now, right?'And he totally lost his hard-on. Boom. He doesn't want to hear about safe spaces or talk about this shit anymore. Fuck, I wasn't making this guy be woke. By the way he's super dom now.'" • Wowsers….
News of the Wired
"Pilgrimages: Sacred Destinations" [Traveling Boy]. "In 1633 the Plague mauled Oberammergau and, in desperation the village counselor pledge to perform a Passion Play immediately, and every ten years forever after, if there were no more victims. The pandemic passed and in 1634 Oberammergau honored their oath and performed the Passion Play for the first time in the cemetery on the still-fresh graves of the Plague victims with the oldest existing manuscript of the Passion Play text dating to 1662/1664." • Something to try?
"The Old New York Won't Come Back" [Peggy Noonan]. "In the past year the owners of great businesses found how much can be done remotely. They hadn't known that! They hadn't had to find out. They don't have to pay that killer rent for office space anymore. People think it will all snap back when the pandemic is fully over but no, a human habit broke; a new way of operating has begun. People will come back to office life to some degree, maybe a significant one; not everything can be done remotely; people want to gather, make friends, instill a sense of mission; but it will never be what it was. The closed shops in and around train stations and office buildings, they're not coming back. The empty towers—people say, "Oh, they can become luxury apartments!' Really? Why would people clamor for them, so they can have a place in the city and be near work? But near work has changed. So you can be glamorous? Many of the things that made Manhattan glamorous—shows, restaurants, clubs, museums, the opera—are wobbling…. The Partnership for New York City reports 300,000 residents of high-income neighborhoods have filed change-of-address forms with the U.S. Postal Service. You know where they are going: to lower-tax and no-income-tax states, those that have a friendlier attitude toward money making and that presumably aren't going hard-left. Florida has gotten so cheeky that this month its chief financial officer sent a letter inviting the New York Stock Exchange to relocate to Miami."
"Vaccine Emoji Comes to Life" [Emojipedia]. "The 💉 Syringe emoji has been updated to remove the blood, allowing this existing emoji serve as a vaccination emoji in 2021." • Fascinating article for international standards mavens, typography fans, trendspotters, and emoji users.
Guru:
— Russell Brand (@rustyrockets) February 26, 2021
"More free," I would say. Freedom demands "the spirit of association," as de Tocqueville put it.
* * *
Readers, feel free to contact me at lambert [UNDERSCORE] strether [DOT] corrente [AT] yahoo [DOT] com, with (a) links, and even better (b) sources I should curate regularly, (c) how to send me a check if you are allergic to PayPal, and (d) to find out how to send me images of plants. Vegetables are fine! Fungi and coral are deemed to be honorary plants! If you want your handle to appear as a credit, please place it at the start of your mail in parentheses: (thus). Otherwise, I will anonymize by using your initials. See the previous Water Cooler (with plant) here. Today's plant (dk):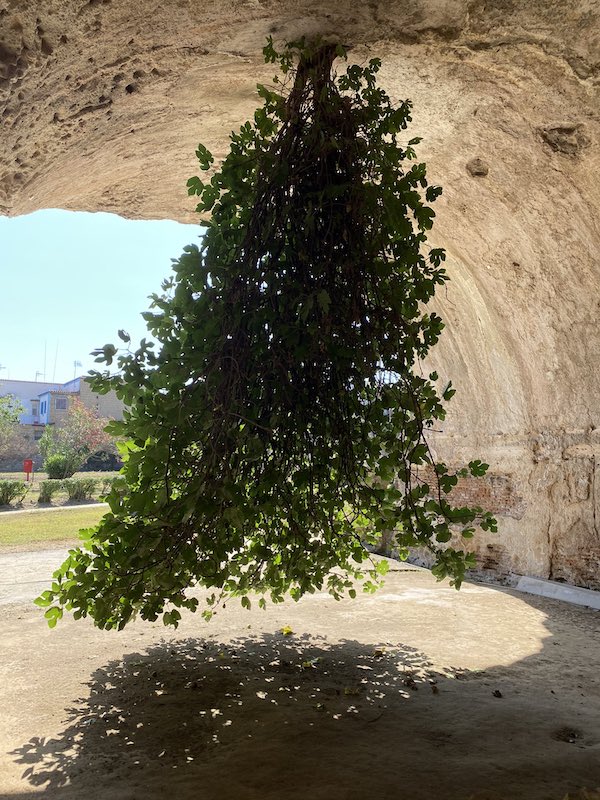 "Nature wins!"
* * *
Readers: Water Cooler is a standalone entity not covered by the recently concluded and — thank you! — successful annual NC fundraiser. So if you see a link you especially like, or an item you wouldn't see anywhere else, please do not hesitate to express your appreciation in tangible form. Remember, a tip jar is for tipping! Regular positive feedback both makes me feel good and lets me know I'm on the right track with coverage. When I get no donations for five or ten days I get worried. More tangibly, a constant trickle of donations helps me with expenses, and I factor in that trickle when setting fundraising goals:
Here is the screen that will appear, which I have helpfully annotated.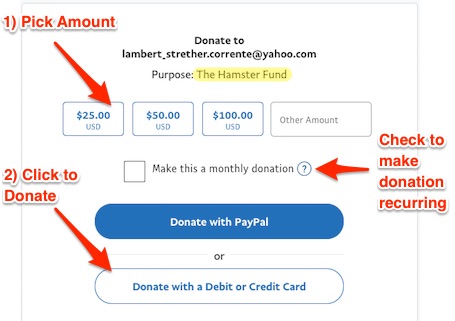 If you hate PayPal, you can email me at lambert [UNDERSCORE] strether [DOT] corrente [AT] yahoo [DOT] com, and I will give you directions on how to send a check. Thank you!