By Lambert Strether of Corrente.
Bird Song of the Day
#COVID19
At reader request, I've added these daily charts from 91-DIVOC. The data is the Johns Hopkins CSSE data. Here is the site.
I feel I'm engaging in a macabre form of tape-watching…. (A reader asked the source of the data: Johns Hopkins CSSE. DIVOC-91 does allow other data sets to be used, like Our World in Data and The Atlantic, and where they provide visualizations similar to those below, a cursory comparison shows that the shape of the curves is the same.)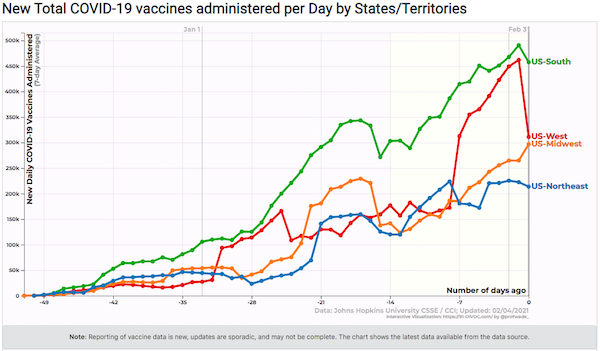 "Vaccination Drive Stumbles as Snow Shuts Northeastern Sites" [Bloomberg]. "The headlong rush to vaccinate U.S. residents bogged down this week, as snow blanketed the Northeast and appointments for life-saving shots were missed or canceled…. The heaviest storm of the year plodded across the East Coast, depositing snow in waist-high depths and turning streets into sled runs. Winter storm warnings were in place from West Virginia to Maine." • This does make you wonder if other countries handled winter snow more successfully. For example, is snow-clearing infrastructure underfunded and/or privatized?
At some point, say by the third week in February*, we're going to need to see these curves going more vertical, or else we can conclude that the vaccination rate is basically a function of our extraordinarily [family-blogged] health care system, and "competence" and "leadership" operate only at the margin. Needless to say, I'd like to see the curves going more vertical. NOTE * "He's only been President ___ weeks, give him time."
Case count by United States region: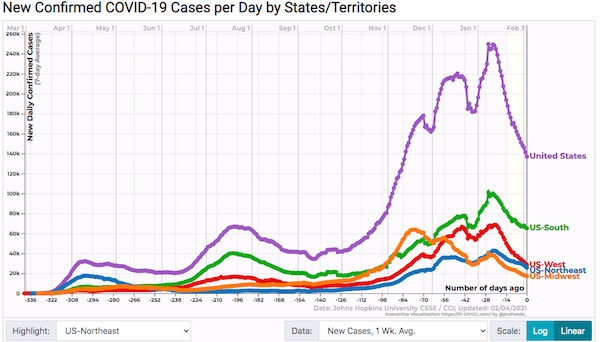 Big states (New York, Florida, Texas, California):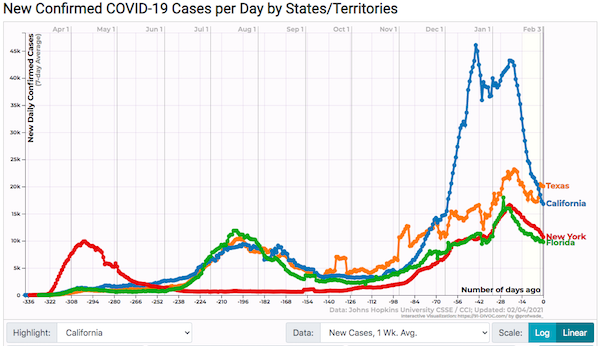 Texas going down again. That's a relief.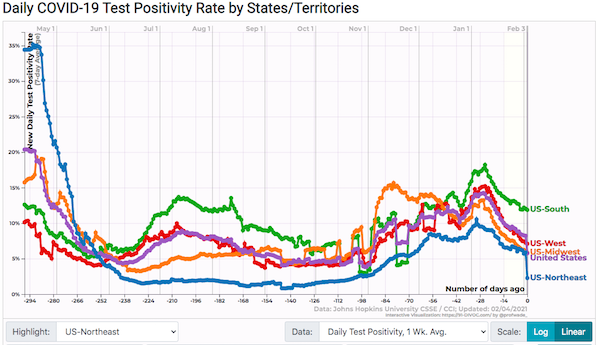 The Northeast falls off a cliff, again I assume due to snow.
Nowhere near 3%, anywhere.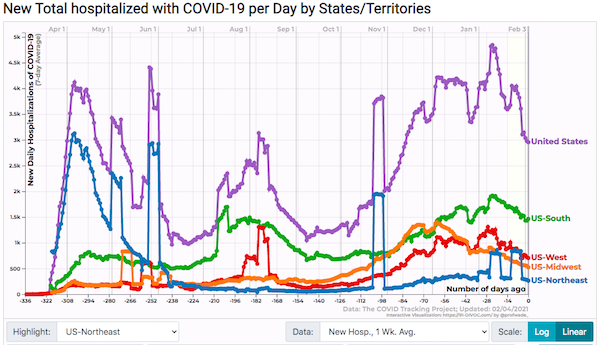 I wondered if New England would repeat its earlier, and unique, stairstep pattern; now it has. Hospitalization is discretionary; they may also be reducing their admissions rate — relative to cases we cannot see in this data! — to preserve future capacity; or because hospitals have figured out how to send people home.
Case fatality rate (plus deaths):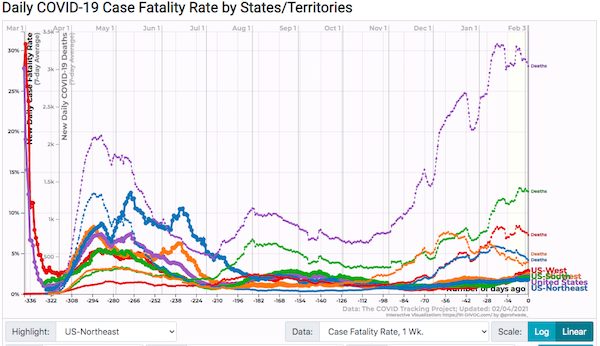 Nice to see a little drop in deaths, may it continue. That rise in the fatality rate was bugging me, so I split the deaths from the fatality rate, using the log scale to unbunch the curves: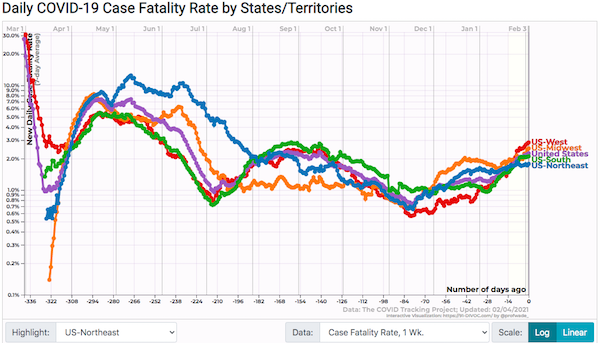 That rise in the fatality rate is steady and consistent across all regions, isn't it? What's up with that?
Politics
"But what is government itself, but the greatest of all reflections on human nature?" –James Madison, Federalist 51
"They had one weapon left and both knew it: treachery." –Frank Herbert, Dune
"They had learned nothing, and forgotten nothing." –Charles Maurice de Talleyrand-Périgord
Capitol Seizure
"Were Panic Buttons Removed From Democratic Lawmaker's Office Prior to Insurrection?" [Snopes]. "The statement to Snopes [from Pressley's office] confirmed 'relevant agencies' were investigating the matter, though it did not answer our questions about who or what was conducting that examination — those questions remained unknown. Also, the email did not include anything but the above-displayed text, which meant our request for visual evidence of the new or former button system was denied. Nonetheless, no proof existed to doubt Pressley's staff's account of what happened in their suite as the mob of extremists including white nationalists stormed the federal building. Simultaneously, no evidence existed to determine whether the incident was indicative of 'an inside job' by congressional allies of Trump or Capitol Hill police." • Popped up in the news flow, then sank without a trace.

UPDATE "Anatomy of the pro-Trump mob: How the former president's rhetoric galvanized a far-right coalition" [ABC]. "Former President Donald Trump's supporters — 74 million of whom voted to give him a second term in 2020 — are diverse in background and ideology and come from all corners of the United States, and those who stormed the Capitol represent just a fraction. But to some experts, the hundreds who took part in the Capitol siege represent some of the most fervent and radical adherents of the "Make America Great Again" movement and others caught up in the frenzy of the day. They say attempts to unite those extremist elements fell apart after Charlottesville but gained renewed momentum in 2020, with racial unrest, the pandemic and most recently the unfounded controversy over the election." • The video accompanying the article says "thousands," not "hundreds." More: "Larry Rosenthal, chair and lead researcher of the Berkeley Center for Right-Wing Studies, said that the mob was generally made up of two groups: 'right-wing populists,' whom he described as part of Trump's most faithful 'rally-goers,' and right-wing militia groups that represent two overlapping 'currents' of the far-right movement: white nationalism and anti-government." • Note the absolute refusal, as one pole in the civil war among the petty bourgeoisie categorizes the other, to consider class. More: "In order to understand Trump's support, 'we must think in terms of multiracial whiteness,' Beltrán writes in a Washington Post op-ed: 'Multiracial whiteness reflects an understanding of whiteness as a political color and not simply a racial identity — a discriminatory worldview in which feelings of freedom and belonging are produced through the persecution and dehumanization of others.'" • It takes a certain… flexibility of mind to come up with a category like "multiracial whiteness." I'm eagerly awaiting "gender-fluid heteronormativity." All these formulations are rather like "darkness visible," aren't they?
Transition to Biden
On the $2000 checks:

This is a key point. The $600 check was *already* targeted. The promise was the same type of checks.

Democrats are already getting cute with the $2,000, but changing the terms of the promise on *who* gets the check is absolutely, without question, breaking the promise https://t.co/y6cDDG3B71

— Ryan Grim (@ryangrim) February 4, 2021

And:

This is not a small tweak either. New Census numbers show it could cut by HALF the number of people who get the check. That would be a detestable lie on which to launch a presidency. https://t.co/fdtNjvkD7D

— Ryan Grim (@ryangrim) February 4, 2021

"Democrats Likely To Drop Paid Sick Leave From COVID-19 Rescue Bill" [HuffPo]. "There's unlikely to be any formal paid sick leave in the latest COVID-19 rescue bill unless at least 10 Republicans sign on to it, despite the policy's proven effectiveness in slowing the spread of the coronavirus, according to three congressional aides who spoke to HuffPost. Without Republican support, Democrats will also likely have to leave out paid family and medical leave, illustrating the limitations of Democrats' razor-thin majority in such a deeply partisan Congress. , a legislative process Democrats are pursuing to pass legislation in the Senate with only a simple majority. 'We knew a mandate would never survive [under Senate rules],' said one Democratic House aide. 'It's not like we didn't expect it.'" • The Democrats!

"Independent business groups push Biden against FTC, DOJ appointees with ties to Big Tech" [The Hill]. "A coalition of independent business associations is urging President Biden against appointing individuals with ties to the four biggest tech companies to top antitrust enforcement roles at the Department of Justice (DOJ) and Federal Trade Commission (FTC). The associations, representing more than 60,000 independent businesses, sent a letter to the president on Wednesday calling for him to appoint individuals that will 'prioritize reinvigorating anti-monopoly policy.' … 'We believe that it is imperative that you avoid appointing individuals who have served as lawyers, lobbyists, or consultants for Amazon, Apple, Facebook, and Google to key antitrust enforcement positions. Instead, we encourage you to appoint experienced litigators or public servants who recognized the dangers of, rather than helped to exacerbate, these corporations' market power,' the letter continued." • Stoller must be in his glory on this :-)

"The Case for a Third Reconstruction" [New York Review of Books]. "Like the secessionist slaveholders who would break the republic rather than accept the election of an antislavery president, Trump and his enablers tried to disrupt the electoral process rather than accept his decisive defeat in the election." • "Like" is doing a lot of heavy lifting there. To begin with, as Matthew Karp points out in This Vast Southern Empire, the "antebelleum master class" who brought about secession and the Civil War dominated what today we would call the National Security establishment of the Federal Government, with a view toward expanding slavery west and south. There's absolutely no equivalent to that among the Capitol rioters. There's a lot of stolen valor going on among liberal Democrats, I must say.

An administration that looks like America:

Diversity! https://t.co/YArVBUc4VS

— Zaid Jilani (@ZaidJilani) February 3, 2021
Transition from Trump
"Bonus episode: Inside the craziest meeting of the Trump presidency" [Axios]. "At its essence, the Powell crew's argument to the president was this: We have the real information. These people — your White House staff — don't believe in the truth. They're liars and quitters. They're not willing to fight for you because they don't want to get their hands dirty. Put us in charge. Let us take control of everything. We'll prove to you that what we're saying is right. We won't quit, we'll fight. We're willing to fight for the presidency. On some level, this argument was music to Trump's ears. He was desperate. Powell and her team were the only people willing to tell him what he wanted to hear — that a path to stay in power in the White House remained.The Oval Office portion of the meeting had dragged on for nearly three hours, creeping beyond 9 p.m. The arguments became so heated that even Giuliani — still on the phone — at one point told everyone to calm down. One participant later recalled: 'When Rudy's the voice of reason, you know the meeting's not going well.'"
Obama Legacy
A stately pleasure dome:

Former President Barack Obama announces presidential center groundbreaking planned for 2021 pic.twitter.com/b8JFxvAc7j

— The Hill (@thehill) February 4, 2021

No community benefit agreement, a public park partially privatized, and it's not even a library, ffs.
2020
"Trump pollster's campaign autopsy paints damning picture of defeat" [Politico]. "The post-mortem, a copy of which was obtained by POLITICO, says the former president suffered from voter perception that he wasn't honest or trustworthy and that he was crushed by disapproval of his handling of the coronavirus pandemic…. The findings are based on an analysis of exit polling in 10 states. Five of them — Arizona, Georgia, Michigan, Wisconsin and Pennsylvania — are states that Trump lost after winning them in 2016. The other five — Florida, Iowa, North Carolina, Ohio and Texas — are states that Trump won in both elections. The report zeroes in on an array of demographics where Trump suffered decisive reversals in 2020, including among white seniors, the same group that helped to propel him to the White House. The autopsy says that Trump saw the 'greatest erosion with white voters, particularly white men,' and that he 'lost ground with almost every age group.' In the five states that flipped to Biden, Trump's biggest drop-off was among voters aged 18-29 and 65 and older. Suburbanites — who bolted from Trump after 2016 — also played a major role. The report says that the former president suffered a 'double-digit erosion' with 'White College educated voters across the board.'" • Shorter: No pandemic, Trump wins. And hats off to wypipo….

Red State v. Blue State foo-fra:

This is really important to militate against both red state blue state nonsense and conventional regional prejudice. The more profound divide is between core and periphery, metropolitan centers, the dense corridors surrounding them and rural areas and hinterlands. https://t.co/x6FNs758rl

— Nikhil Pal Singh (@nikhil_palsingh) February 3, 2021
Realignment and Legitimacy
"Greene apologizes to GOP colleagues — and gets standing ovation" [The Hill]. "Rep. Marjorie Taylor Greene (R-Ga.) apologized for her past controversial remarks and embrace of the QAnon conspiracy theory during a heated closed-door House GOP conference meeting — and received a standing ovation at one point from a number of her colleagues. Greene told her colleagues that she made a mistake by being curious about 'Q' and said she told her children she learned a lesson about what to put on social media, according to two sources in the room. She also denied that she knew what Jewish space lasers were and defended her comments that past school shootings were staged by stating that she had personal experience with a school shooting. She received a standing ovation from some members of the caucus at the conclusion of her remarks." • Musical interlude…

"Militia alliance in Georgia signals new phase for extremist paramilitaries" [Atlanta Journal-Constitution]. "'The way patriots are now being hunted down and arrested by fellow men and women who have taken the same oath has disheartened any faith I had in the redemption or reformation of the USA as one entity,' Justin Thayer, head of the Georgia III% Martyrs, said in a text exchange with The Atlanta Journal-Constitution this week. Thayer said the Martyrs have allied themselves with fellow 'Three Percenter' militia the American Brotherhood of Patriots and American Patriots USA (APUSA), a north Georgia group headed by Chester Doles, a Dahlonega resident who belonged to various racist and neo-Nazi hate groups before forming the new group in 2019. The combined groups will advocate for Georgia's secession from the union through an amendment to the U.S. Constitution or through 'the collapse of the American experiment,' Thayer said. 'For the last 150 years, the Imperial Yankee culture of the northeast has been molding Georgia — and the South in general — into its 'perfect' image," he said." • Lone wolves and leaderless resistance types aren't organized militants. And these groups typically fractionalize quickly (partially, no doubt, due to FBI infiltration. Nevertheless….
Stats Watch
At reader request, I added some business stats back in. Please give Econintersect click-throughs; they're a good, old-school blog that covers more than stats.
Employment Situation: "A Strong Jobs Report Friday Could Doom Biden's $1.9 Trillion Stimulus" [Bloomberg]. "Robust job growth would be good, of course, but it could undermine the rationale for the $1.9 trillion rescue package that's the top priority of his young administration. "It could take out some of the urgency," Michelle Meyer, head of U.S. economics at Bank of America Corp., told Rich Miller of Bloomberg News. The unpredictability of the coronavirus pandemic's effects has left economists unusually divided over what the Bureau of Labor Statistics will say." • Grateful populace: "Who needs that $2000 $1400 check? Not us! We're good."
Employment Situation: "30 January 2021 Initial Unemployment Claims Rolling Average Marginally Improves" [Econintersect]. "Market expectations for weekly initial unemployment claims (from Econoday) were 820 K to 875 K (consensus 835 K), and the Department of Labor reported 779,000 new claims. The more important (because of the volatility in the weekly reported claims and seasonality errors in adjusting the data) 4 week moving average moved from 849,500 (reported last week as 868,000) to 848,250… The four-week rolling average of initial claims is 304 % higher than one year ago (versus the 300 % higher last week)."
Employment Situation: "January 2021 Job Cuts Increase Slightly" [Econintersect]. "Planned job cuts announced by U.S.-based companies rose 3.3%, to 79,552, in January from 77,030 in December…. January's total is 17.4% higher than the 67,735 cuts announced in the same month last year. It is the highest January total since 2009, when 241,749 cuts were announced. 'While cuts were higher than average last month, we are seeing a leveling off of announcements, which may bode well for recovery in the coming months. Companies may be reassessing their staffing levels and waiting on the impact of the relief bill before making any additional workforce decisions,' said Andrew Challenger, Senior Vice President of Challenger, Gray & Christmas, Inc."
Productivty: "4Q2020 Preliminary Headline Productivity Contracts" [Econintersect]. "A simple summary of the headlines for this release is that labor costs are growing and productivity is contracting on a quarter-over-quarter basis." But: "Doing a productivity analysis during a major recession or recovery period is a waste of time as productivity is obscured by government interventions."
* * *
Shipping: "Another Ship in Rough Pacific Ocean Spills Containers Overboard" [Bloomberg]. "Forty-one empty containers fell from the [MSC Aries] around Jan. 29, according to a website notice from marine-claims consultancy W.K. Webster, which said it has nominated a surveyor to investigate the extent of damage. The incident is at least the second time this year, and the third time in less than 10 weeks, that a notable number of containers have fallen into the Pacific while ships ply the busy trade lane. Last month, the Maersk Essen lost about 750 boxes while sailing from Xiamen, China, to Los Angeles. Around Nov. 30, the Japanese-flagged ONE Apus hit rough seas traveling from China to the U.S. and lost more than 1,800."
Shipping: "How Shipping Containers End Up in the Ocean" [Wall Street Journal]. Hundreds of containers have fallen from container ships into ocean waters in recent months, in a flare-up of accidents that can destroy millions of dollars worth of goods, damage vessels and endanger lives and the environment. Such accidents are rare among the millions of boxes that move across oceans each year, and maritime officials say they have been declining over the long term. But the recent spate of failures adds urgency to investigations of the losses. Naval architects and engineers say a string of circumstances have to come together to create the catastrophic event known as parametric rolling. They say that as ships become bigger and containers are stacked as high as multistory buildings, the stability of vessels on the open waters is a growing concern. 'It is a big factor in container losses and it happens when waves hit the bow not head-on, but at an angle,' said Fotis Pagoulatos, an Athens-based naval architect. 'Ships pitch up and down as they steam ahead but they can also go into a rolling motion from side to side. This can become uncontrollable and displace a lot of boxes that fall over.'" • "There seems to be something wrong with our bloody ships today." –VIce Admiral David Beatty, at the Battle of Jutland. And any other system that's evolved toward gigantism, cruise ships (Petri dishes) being another example.
Tech: "Ring, Ring, why don't you give me a call? Amazon-owned doorbells aren't answering after large-scale outage" [The Register]. "Ring is suffering a major outage with many of its video doorbells effectively dead, turning smart homes into very dumb ones. The issue started just after 9am PST on Wednesday with users reporting that they were unable to see any live video feeds from their devices. Integration with smart assistants also fell over, in what's looking like an unusually wide-ranging failure. Soon after, Amazon-owned Ring reported on its status page that it was investigating the issue."
Tech: "With Bezos out as Amazon CEO, is this the end of his ominous question-mark emails?" [Reuters]. "Bezos, whose email address is public, receives customer complaints that he then forwards to a relevant executive whose team is responsible for fixing the problem. Sometimes landing overnight, these emails from the world's second-richest person had no salutation, no commentary or thank you – just a single question mark. Or worse, said one former manager. ''This can't be true' was a bad one. 'Fix this' was another,' the manager said on condition of anonymity. 'By the morning, I better have a damn good resolution to whatever this is.'"
Manufacturing: "U.S. Is Losing the Battery Race Despite Having the Right Stuff" [Bloomberg]. "[T]he U.S. has most of the ingredients it needs for a battery-building industry. It has the raw materials, with three companies developing facilities to extract lithium from subsurface brine in the Southern California desert, while similar projects are under way in Arkansas and Nevada. It also has the demand. Utilities are plugging big batteries into the electric grid to store renewable power and protect against blackouts. And U.S. automakers are ramping up production of EVs… For U.S. automakers, there's good reason to want batteries built here. In an era of trade turmoil, relying on imported batteries could be problematic, even if President Biden abandons his predecessor's use of tariffs. And with car companies worldwide shifting to electrics, Detroit will need an ample supply to keep car prices low. Plus, EV battery packs are big and heavy, making them expensive to ship. The pack for a compact Chevrolet Bolt, for example, weighs about 950 pounds. U.S. battery factories feeding U.S. auto plants could reduce those costs. 'Think about shipping a couple million battery packs from Asia—it's a nightmare,' says Brett Smith, director of technology for the Center for Automotive Research. 'It just becomes more logistically reasonable to build it here.'" • Can't find the workers because they all learned to code?
Manufacturing: "Finally, Boeing moves in the right direction" [Leeham News & Analysis]. "Aviation Week reported this week Boeing appears to be developing a third member of the New Midmarket Airplane (NMA), dubbed the NMA-5X. The NMA-5X is sized directly across from the Airbus A321neo family. It's the third member of the NMA family that was missing throughout Boeing's struggles to form a business model for the NMA. The current concept is also what Boeing wanted to do in 2011 when Airbus forced its hand with the huge American Airlines order for the A319/321ceo/neo. Boeing launched the 737 MAX instead." • And no doubt they'll build it in their union-busting plant in South Carolina, the one with all the quality control problems….
* * *
Today's Fear & Greed Index: 51 Neutral (previous close: 50 Neutral) [CNN]. One week ago: 41 (Fear). (0 is Extreme Fear; 100 is Extreme Greed). Last updated Feb 4 at 12:27pm. Mr. Market really having some mood swings.
The Biosphere
"The Accident on the Pacific Crest Trail" [Alta]. "It's called 'wilderness' because it's wild." • I get more than enough adventure in my daily routine, thank you very much.
"Life on Venus Claim Faces Strongest Challenge Yet" [Scientific American]. "The claim that there is phosphine on Venus rocked planetary science last September, when researchers reported spotting the gas's spectral signature in telescope data. If confirmed, the discovery could mean that organisms drifting among Venusian clouds are releasing the gas. Since then, several studies have challenged—although not entirely debunked—the report. Now, a team of scientists has published the biggest critique yet…. Ultimately, the debate can be resolved only with fresh observations of Venus, many of which are planned in the coming months and years, says [Jet Propulsion Laboratory scientist Alex] Akins. "Until we see something new, it's probably just going to keep going back and forth."
Health Care
"Recovered COVID patients likely protected for at least six months, study finds" [Reuters]. "Almost all people previously infected with COVID-19 have high levels of antibodies for at least six months that are likely to protect them from reinfection with the disease, results of a major UK study showed on Wednesday. Scientists said the study, which measured levels of previous COVID-19 infection in populations across Britain, as well as how long antibodies persisted in those infected, should provide some reassurance that swift cases of reinfection will be rare. 'The vast majority of people retain detectable antibodies for at least six months after infection with the coronavirus,' said Naomi Allen, a professor and chief scientist at the UK Biobank, where the study was carried out." • Six months is not that long, so perhaps vaccines have a viable business model at last. Silver lining!
"Why Are We Still Deep-Cleaning Surfaces for COVID?" [Scientific American]. "[Emmanuel] Goldman, a microbiologist at Rutgers New Jersey Medical School in Newark, decided to take a closer look at the evidence around fomites. What he found was that there was little to support the idea that SARS-CoV-2 passes from one person to another through contaminated surfaces. He wrote a pointed commentary for The Lancet Infectious Diseases in July, arguing that surfaces presented relatively little risk of transmitting the virus…. Many others reached similar conclusions. In fact, the US Centers for Disease Control and Prevention (CDC) clarified its guidance about surface transmission in May…. It now states that transmission through surfaces is 'not thought to be a common way that COVID-19 spreads.' … But —especially in the winter—and consumers have come to expect disinfection protocols. That means that governments, companies and individuals continue to invest vast amounts of time and money in deep-cleaning efforts. By the end of 2020, global sales of surface disinfectant totalled US$4.5 billion, a jump of more than 30% over the previous year….
Part of the problem is that specialists can't rule out the possibility of fomite transmission, and the guidance from many health agencies about how to deal with surfaces has been unclear as the science has changed."
Black Injustice Tipping Point
"New Sheriff in Town​ | Law Enforcement and the Urban-Rural Divide" [The Drift]. "The South in 1865 was not a blank slate, but an open field for a new battle. This fresh struggle would pit those who embraced Black citizenship and wished to consolidate the gains of emancipation against those who aimed to use the law and the power of the state to continue profiting from Black labor. In the mid-1870s, the federal government retreated from its support of the freedpeople, and white planters violently retook control of the region. The political wing of this counterrevolution was the Democratic Party, but its paramilitary wing was divided in two: in rural areas, it wore Klan hoods; in cities, it donned police uniforms. This bifurcation of state power across urban police forces and rural sheriffs is one that persists today. Urban police, especially those in our biggest cities, receive the bulk of media attention, but for millions of rural Americans the primary agent of law enforcement is the county sheriff, just as it was for Big Harris Rood in 1866 — a distinction that tends to get lost in contemporary discourse that treats all "cops" as identical. It understandably matters little to a protestor getting beaten whether the person doing the beating is a sheriff's deputy or a city police officer. But as we begin the process of rethinking American law enforcement as a whole, these structural differences can help us determine what kind of change is possible." • This is a very interesting article, and if, as I believe, the Reconstruction South was the world's first example of fascism, the parallel development of policing is super-interesting. Well worth a read.
Guillotine Watch
"How Billionaire Robert Smith Avoided Indictment in a Multimillion-Dollar Tax Case" [Bloomberg]. "But rather than expose a man worth about $7 billion to a possible prison term and potentially force him to give up control of his private equity firm, Vista Equity Partners, Barr signed off on a non-prosecution agreement. It required Smith to admit he had committed crimes, pay $139 million and cooperate against a close business associate indicted in the largest tax-evasion case in U.S. history—Texas software mogul Robert T. Brockman. Smith, the richest Black person in the U.S. according to the Bloomberg Billionaires Index, agreed to cooperate after spending years raising his public profile as a philanthropist and advocate for racial justice. He praised the Trump administration's efforts to provide economic assistance to minority business owners amid the Covid-19 pandemic. As his wealth tripled over the past five years, he also gave away more than he had hidden abroad. All that complicated the possible prosecution of a defendant whom jurors may have viewed sympathetically."
Class Warfare
"Why millions of Americans are now tapping credit unions for loans" [CNBC]. "It's not surprising that many Americans have received loans in the past year given record low interest rates, but research shows that credit unions tend to lend more than commercial banks during times of crisis. That's because their mission is to support Main Street, unions and the local communities they serve. According to industry trade group Credit Union National Association, or CUNA, credit unions continued to lend and even increased lending during the Great Recession and current pandemic crisis. By comparison, banks have tended to pull back or even reduce lending during crises. Between year-end 2019 and Sept. 2020, credit union memberships increased by 3.37 million, or 2.8%, to 125.11 million. Loan portfolios at credit unions rose 6.6% in the 12 months ending Sept. 2020, slightly above last year's annual rate of 6.5%. By comparison, banks saw 4.9% growth in loans. Because credit unions are not-for-profit entities, they return earnings to members through lower loan rates than commercial banks, higher deposit rates, and lower and fewer fees."
"Time Is the Universal Measure of Freedom" [Boston Review]. "The workplace has been a central battleground in the debate over freedom. On the clock, bosses tell us how to act and what to do, even around basic bodily functions: workers can be told when they can use the bathroom. Bosses also exert a significant amount of control over our personal lives, dictating limits on speech and our political actions. Governments can imprison us for breaking their rules; bosses can fire us, depriving us of the basic resources we need to live. Unlike our democratic form of public government, the workplace subjects us to, in the words of philosopher Elizabeth Anderson, a kind of private government, with no presumption of fairness, accountability, or even regularity—a despotic state in miniature. Leaving our job is no check on this despotic tendency. People know this, which is why for centuries American workers have demanded more than the power to quit. As much as fair wages and safe working conditions, workers have also demanded safeguards over their time. There have always been workers who demanded limits on working hours to accommodate everything else that they needed time for. They understood that if they didn't have free time, they couldn't have the kinds of relationships and commitments they needed to lead free and full lives. This is a story almost as old as the United States itself."
"How the Trust Trap Perpetuates Inequality" [Scientific American]. "An abundance of social science research indicates that high economic inequality comes along with several undesirable outcomes, such as higher levels of violence and lower levels of health, happiness and satisfaction with life. But inequality has been rising in almost all developed countries since the 1970s, which raises an important question. If high inequality is detrimental to the well-being of a large majority of the populace and if democracy is about realizing "the will of the people," why has inequality been allowed to increase in most democracies? Put differently, if most people would benefit from enhancing equality, why have voters not elected politicians who would implement policies to do that? This is one of the most significant paradoxes of our time…. I would like to add yet another factor to this discussion—trust, in two distinct forms. One is social trust, the extent to which people trust most others in their society. An important asset for any community, it influences how likely individuals are to participate in politics or civic organizations, how tolerant they are of minorities and even how optimistic they are about their life chances. The other kind is institutional trust—the extent to which people believe their public institutions can be trusted." • For example, when a politician promises a $2000 check "out the door immediately," which turns into a $1400 check at some indeterminate future date. As Steve Randy Waldman says:
if you had to sum up the playbook of the successful counterrevolution against social democracy, it would be "make sure the government always breaks their hearts."

— Steve Randy Waldman (@interfluidity) February 4, 2021
"The Life and Death of Modern Homosexuality" [The Baffler]. "Maybe the problem is precisely the ease with which we assume that there is a queer "us"— this idea, of a united queer identity forged in the crucible of decades or centuries of homophobia, often lurks behind even those histories that insist that homosexuality is a modern invention. It's easy to understand that the structural position of a Black trans woman experiencing homelessness or a working-class Native lesbian are not the same as those of a white gay male corporate lawyer, no matter how much that movement's nonprofit organs might want to feature the former two in ad campaigns for policy proposals that mostly benefit the latter. It is difficult to write queer histories that don't smuggle those assumptions in the back door, but there are many reasons to talk about sexuality in history as a rich site of identity formation, control, and meaning-making. Throwing it out entirely won't do." • Well worth a read.
News of the Wired
"Another Princess Diana Movie Isn't Needed" [Teen Vogue]. • I hate to even think this, but is Teen Vogue subtweeting?
Sid meets with the staff:
"Do you have those reports I asked for Benson?"

— The Trash Cat Chorus (@Trashcat_Chorus) February 1, 2021
"The Photographer Behind That Image of Bernie Sanders Reflects on the Moment and Its Virality" [Esquire]. " When I took the photo,I practiced a technique I learned from photographing sports: you look through the camera with one eye, but then you keep your other eye open to kind of look around (for other possibilities). So when you have a long lens, you can use your other eye to see everything at once. My lens was originally on somebody else, but out of my other eye I saw him fiddling with his hands and I just very quickly went back to him. I originally thought I had missed it." • A very interesting description of a working photographer's routine.
"Keep Direction By Good Methods" [Places Journal]. "Flashes of light pulse through the dark, a repetitive rhythm transmitted in Morse code, marking a path in a void. One by one, each letter from the string WUVHRKDBGM [(".—— ..— …— .—. —.— —.. —… ——. ——")]— whose logic is visual, building predictably from dashes to dots and back again, rather than alphabetic — one by one, each signaled letter beams at many millions of candlepower from beacons 51 feet high, one beacon every ten miles, strung across the U.S. from New York to San Francisco… Ten flashing bits of code, for which the pilots pioneering transcontinental U.S. airmail made a mnemonic: 'When Undertaking Very Hard Routes Keep Direction By Good Methods.' This simple system is what made coast-to-coast airmail viable in the decades after World War I." • A remarkable analog network!
"How To Build A Skyline At Human Scale" [The American Conservative]. From 2018: "The pitched roof, like the window, was one of those great discoveries that any child could have made, but which, like the window, required a vast amount of research before architects could dispense with it. This research has enabled architects to design sealed buildings whose windows cannot be opened, which require constant heating and cooling, and which generally fall apart at the joints and leak from the roof—all positive attributes that necessitate demolition and rebuilding every 20 or 30 years. Pitched roofs and windows, by contrast, produce buildings that last forever, and which can be constructed without the advice of an architect, as at Ghent: They are a disaster for the profession and it is no wonder that every effort is being made to forget how to construct them." • The subtext here is those Bauhaus dudes got it all wrong, and I have to admit I agree. I wish TAC wasn't the only political journal I know of that covers architecture and public spaces regularly. Readers, is there another?
* * *
Readers, feel free to contact me at lambert [UNDERSCORE] strether [DOT] corrente [AT] yahoo [DOT] com, with (a) links, and even better (b) sources I should curate regularly, (c) how to send me a check if you are allergic to PayPal, and (d) to find out how to send me images of plants. Vegetables are fine! Fungi and coral are deemed to be honorary plants! If you want your handle to appear as a credit, please place it at the start of your mail in parentheses: (thus). Otherwise, I will anonymize by using your initials. See the previous Water Cooler (with plant) here. Today's plant (CM):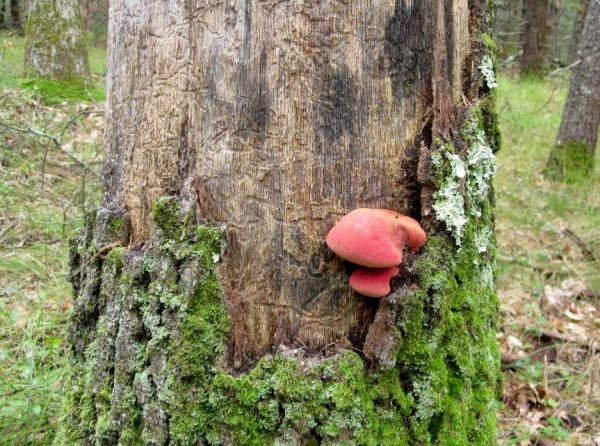 CM writes: "Tree and Friends. In case you don't get any newbies responding."
* * *
Readers: Water Cooler is a standalone entity not covered by the recently concluded and — thank you! — successful annual NC fundraiser. So if you see a link you especially like, or an item you wouldn't see anywhere else, please do not hesitate to express your appreciation in tangible form. Remember, a tip jar is for tipping! Regular positive feedback both makes me feel good and lets me know I'm on the right track with coverage. When I get no donations for five or ten days I get worried. More tangibly, a constant trickle of donations helps me with expenses, and I factor in that trickle when setting fundraising goals:
Here is the screen that will appear, which I have helpfully annotated.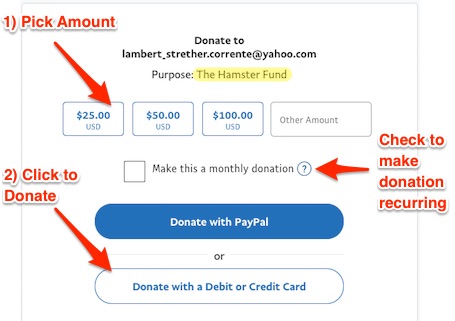 If you hate PayPal, you can email me at lambert [UNDERSCORE] strether [DOT] corrente [AT] yahoo [DOT] com, and I will give you directions on how to send a check. Thank you!