By Lambert Strether of Corrente.
Bird Song of the Day
A happy couple:
— Janet Strath (@JanetStrath) February 5, 2021
#COVID19
At reader request, I've added these daily charts from 91-DIVOC. The data is the Johns Hopkins CSSE data. Here is the site.
I feel I'm engaging in a macabre form of tape-watching…. (A reader asked the source of the data: Johns Hopkins CSSE. DIVOC-91 does allow other data sets to be used, like Our World in Data and The Atlantic, and where they provide visualizations similar to those below, a cursory comparison shows that the shape of the curves is the same.)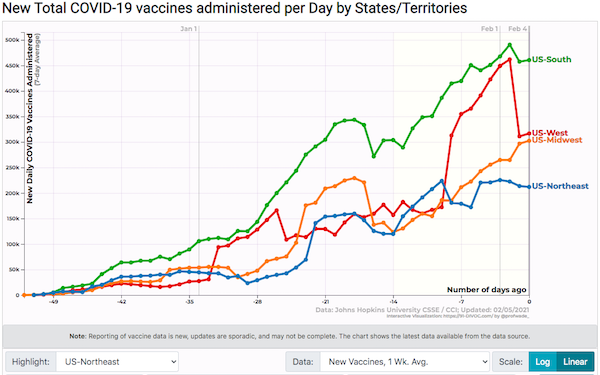 Snow makes the Northeast what it is, but at least the other regions aren't dropping.
At some point, say by the third week in February*, we're going to need to see these curves going more vertical, or else we can conclude that the vaccination rate is basically a function of our extraordinarily [family-blogged] health care system, and "competence" and "leadership" operate only at the margin. Needless to say, I'd like to see the curves going more vertical. NOTE * "He's only been President ___ weeks, give him time."
Case count by United States region: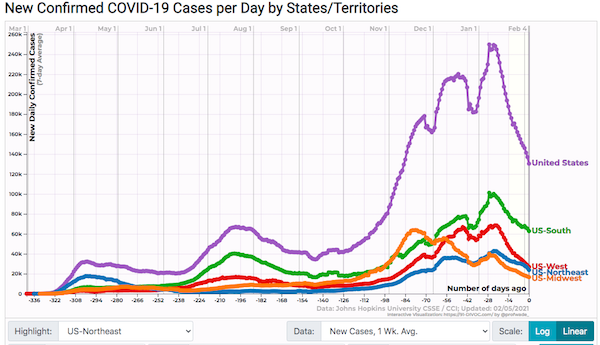 At some point I should try to find a chart of city case counts, and see what the cities with direct flights from the UK are doing.
Big states (New York, Florida, Texas, California):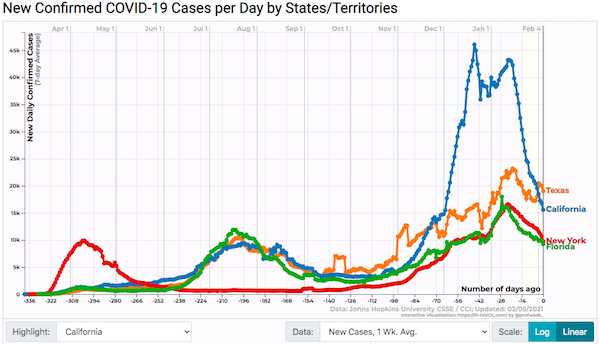 Texas going down again. That's a relief.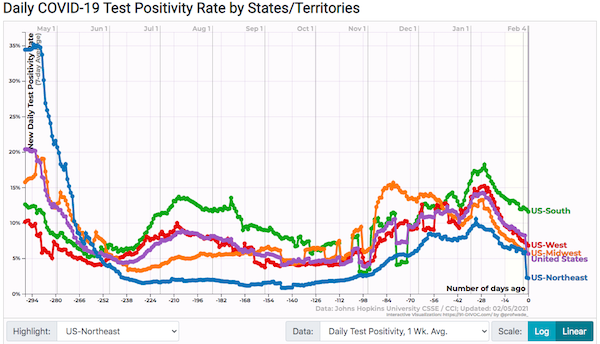 The Northeast falls off a cliff, again I assume due to snow.
Nowhere near 3%, anywhere.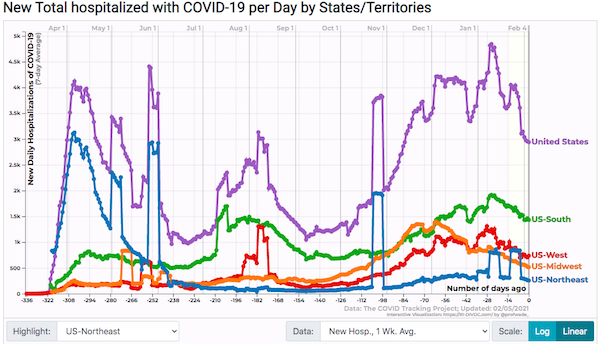 I wondered if New England would repeat its earlier, and unique, stairstep pattern; now it has. Hospitalization is discretionary; they may also be reducing their admissions rate — relative to cases we cannot see in this data! — to preserve future capacity; or because hospitals have figured out how to send people home.
Case fatality rate (plus deaths):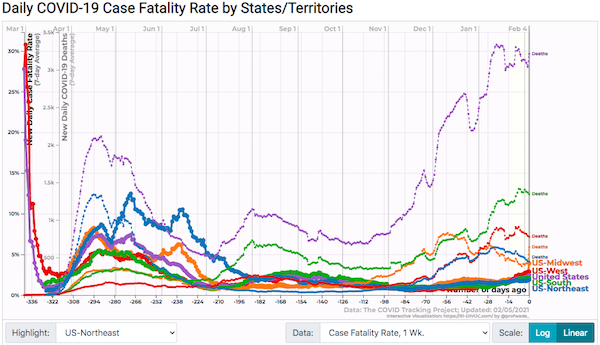 Politics
"But what is government itself, but the greatest of all reflections on human nature?" –James Madison, Federalist 51
"They had one weapon left and both knew it: treachery." –Frank Herbert, Dune
"They had learned nothing, and forgotten nothing." –Charles Maurice de Talleyrand-Périgord
Capitol Seizure
Transition to Biden
Better than Obama:

Biden: "A lot of folks are losing hope … So I'm going to act and I'm going to act fast. I would like to be doing it with the support of Republicans … but they're just not willing to go as far as we have to go." pic.twitter.com/b1XSW5BgJU

— Aaron Rupar (@atrupar) February 5, 2021

But, if you were expecting a $2,000 check to go out the door immediately, better is not the same as good enough:

I actually think the means-testing is worse. There is a large chunk of the income distribution that got $2000 from Trump, $600 from Trump, and then will get $0 from Biden. https://t.co/zzhZ8pic9a

— Marshall Steinbaum ? (@Econ_Marshall) February 4, 2021

You will pry means-testing from their cold, dead hands…

"Hunter Biden's memoir 'Beautiful Things' out in April" [Associated Press]. "The book is called 'Beautiful Things' and will center on the younger Biden's well publicized struggles with substance abuse, according to Gallery Books, an imprint of Simon & Schuster. Acquired in the fall of 2019, 'Beautiful Things' was kept under wraps even as Biden's business dealings became a fixation of then-President Donald Trump and others during the election and his finances a matter of investigation by the Justice Department.[1] 'Beautiful Things' was circulated among several authors and includes advance praise from Stephen King, Dave Eggers and Anne Lamott. 'In his harrowing and compulsively readable memoir, Hunter Biden proves again that anybody — even the son of a United States President — can take a ride on the pink horse down nightmare alley,' King writes in his blurb. 'Biden remembers it all and tells it all with a bravery that is both . He starts with a question: Where's Hunter? The answer is he's in this book, the good, the bad, and the beautiful.'" • Yikes. King is, last I checked, from the Great State of Maine, which has a severe opioid problem. Although I have enormous respect for the good things King has done for the state, somehow I don't think he would be so fulsome over the addiction problems of a forcibly retired millworker's inarticulate son. Sheesh. NOTE [1] Associated Press carefully erases the laptop. I wonder if Hunter will?

"Jill Biden To Parents Struggling Amid The Pandemic: 'You're Not Failing. You're Strong.'" [HuffPo]. • No, you're not failing. You're being screwed, ffs. What's wrong with these people?
2020
UPDATE "The Secret History of the Shadow Campaign That Saved the 2020 Election" [Time]. "This is the inside story of the conspiracy to save the 2020 election, based on access to the group's inner workings, never-before-seen documents and interviews with dozens of those involved from across the political spectrum. It is the story of an unprecedented, creative and determined campaign whose success also reveals how close the nation came to disaster. 'Every attempt to interfere with the proper outcome of the election was defeated," says Ian Bassin, co-founder of Protect Democracy, a nonpartisan rule-of-law advocacy group. 'But it's massively important for the country to understand that it didn't happen accidentally. The system didn't work magically. Democracy is not self-executing.' That's why the participants want the secret history of the 2020 election told, even though it sounds like a paranoid fever dream–a well-funded cabal of powerful people, ranging across industries and ideologies, working together behind the scenes to influence perceptions, change rules and laws, steer media coverage and control the flow of information. They were not rigging the election; they were fortifying it. And they believe the public needs to understand the system's fragility in order to ensure that democracy in America endures." • Oh. I searched the article for the word "Sanders"; it doesn't appear. The effort is credited to Mike Podhorzer of the AFL-CIO, the "architect." So I guess now we know why the national AFL-CIO didn't endorse Sanders. This is worth a careful read….
Obama Legacy
From alert reader DL: "I once lived in the South Side. I am familiar with Jackson Park, the Midway and the Museum of Science and Industry. The Obama pile of rocks will be a forgotten relic similar to the Stalin Museum. People will visit just because they have some free time on their hands. The only class the complex will have is because it is next to the Jackson Park, Japanese Garden:"

DL continues: "Obama has never added any value and he never will. He fits right in with the mediocre Presidents serving the few starting with Ford/Carter administrations."
Realignment and Legitimacy
"Fascism, Fascisation, Antifascism" [Historical Materialism]. I'm picking this (long) extract because I've taken a contrary view, and I may need to rethink:

It is undeniable that extra-state violence, in the form of mass paramilitary organisations, has played an important (though probably overestimated) role in the rise of fascists – an element that distinguishes them from other reactionary movements that did not seek to organise the masses militarily. Yet, (with the exception of the Indian BJP and to a lesser degree, in terms of mass implantation, the Hungarian Jobbik and the Golden Dawn in Greece).

Several hypotheses can be put forward to explain why neo-fascists are unable or do not aspire to build such militias:

– the delegitimisation of political violence, especially in Western societies, which would condemn political parties with paramilitary structures to electoral marginality;

– the absence of equivalent experience to that of the First World War in terms of the brutalisation of populations[1], i.e. habituation to the exercise of violence, which would provide fascists with masses of men willing to enlist and exercise violence within the framework of armed fascist militias;

– the weakening of workers' movements in their capacity to structure and organise the popular classes, in trade unions and politically, which means that the fascists of our time no longer have a real adversary in front of them, which they would imperatively have to break by force to impose themselves, and which would necessitate equipping themselves with an apparatus of mass violence;

– the fact that states are much more powerful today and have at their disposal instruments of surveillance and repression of a sophistication that is out of all proportion to that of the inter-war period, so that the fascists of our time may feel that state violence is quite sufficient to annihilate all forms of opposition, physically if necessary;

– finally, the strategically crucial necessity for neo-fascists to distinguish themselves from the most visible forms of continuity with historical fascism, and especially this dimension of extra-state violence. In this connection, we should recall that parties such as the FN in France or the Austrian FPÖ were created on the basis of strategies of 'respectabilisation' developed and implemented by notorious fascists, who had collaborated very actively in Nazi domination during the Second World War.

These hypotheses make it possible to conclude that the formation of mass militias was made necessary and possible for fascist movements in the very particular context of the inter-war period. But .

NOTE [1] I have urged that falling life expectancy in flyover, deaths of despair, and the effects of deindustrialization have created the required level of brutalization (I called it "organic damage").

The piece is very long, but I think very worthwhile. So fire up the coffee machine, because you'll need several cups.

"Analysis: U.S. Consumers Are Increasingly Geographically Divided in Terms of Assessing the Economy" [Morning Consult]. "Much of the debate in 2020 focused on divisions and polarization within the American electorate. Morning Consult's consumer sentiment data provides evidence of a similar phenomenon occurring in the economic sphere: American consumers' responses to economic news and developments are increasingly a function of where they live…. The same goes for policy approaches to the economic recovery: While incomes on average may be rising, there are pockets of the country that risk being left behind."

"Record Firearm Background Checks In January Signal Massive Gun Sales" [HuffPo]. "More than 4.3 million checks were initiated through the National Instant Criminal Background Checks System (NICS) last month, marking a nearly 60% increase in checks compared to January 2020, according to FBI data released this week…. Firearm sales typically spike around elections and after mass shootings, when there is a worry among gun rights advocates that such events could prompt stricter gun safety measures…. According to a survey conducted by the National Shooting Sports Foundation, an industry trade group, roughly 40% of guns purchased between January and August 2020 were by first-time buyers. Women comprised 40% of first-time buyers, and Black people accounted for 58% of all firearm purchases, the survey found."

"Poll: 64 percent of GOP voters say they would join a Trump-led new party" [The Hill]. "A majority of Republican voters said if former President Trump were to start a new political party they would likely join, a new Hill-HarrisX poll finds. Sixty-four percent of registered Republican voters in the Jan. 28-29 survey said they'd join a new political party led by the former president, including 32 percent who said they would very likely join." • Ensuring liberal Democrat hegemony for the forseeable future?

UPDATE "Searching For Alternative Facts: Analyzing Scriptural Inference In Conservative News Practices" (PDF) [Data & Society]. "Given the importance of Christian faith in these central tenets, it became clear that conservatives in this study apply the same type of close reading that they were taught in Bible study to mainstream media. They consume many news sources but then juxtapose what they read, see, and hear with documents including presidential speeches and the Constitution. I call this compare and contrasting focus on 'the Word' scriptural inference. Because this process prioritizes direct analysis of primary sources, respondents relied on Google to 'do their own research.' However, few if any members expressed an accurate understanding of the algorithms Google uses to serve search results. Using sample search queries taken from interviews, I document the way in which simple syntax differences can create and reinforce ideological biases in newsgathering." • Interesting. Commentary:

She actually describes something key: using @google search as her primary information portal led her directly to QAnon conspiracy misinfo on @facebook — presumably the former ranked the latter highly in results. Epidemic mis/disinfo often starts w search. @safiyanoble @BostonJoan https://t.co/piZE4vtxAz

— Dr. Sarah T. Roberts (@ubiquity75) February 4, 2021
Stats Watch
At reader request, I added some business stats back in. Please give Econintersect click-throughs; they're a good, old-school blog that covers more than stats.
Employment Situation: "January 2021 BLS Jobs Situation – Only A Small Employment Increase" [Econintersect]. "The headline seasonally adjusted BLS job growth was small but at expectations, with the unemployment rate improving from 6.7 % to 6.3 %…. Employment recovery from the coronavirus has now stalled. The small growth this month was mainly from the government sector. This month the BLS benchmarked their data and revised their 2020 employment. The economically intuitive sectors were mixed for economic growth. The rate of further recovery will be dependant on the coronavirus effects." • Handy chart (1):
Labor Force Participation Rate ticked down to 61.4% pic.twitter.com/DQ8bt8G60u

— Liz Ann Sonders (@LizAnnSonders) February 5, 2021
Handy Chart (2):
Comments on January Employment Report https://t.co/HoVFRAGquR In January, the number of permanent job losers increased to 3.503 million from 3.370 million in December. pic.twitter.com/mMTlcfKZEP

— Bill McBride (@calculatedrisk) February 5, 2021
Employment Situation: "U.S. Employment Report for January" (live blog) [Bloomberg]. "An important caveat is that the figures include only payroll data through mid-month, meaning that job gains resulting from restrictions being lifted likely won't show up until next month's report….. The outlook for payrolls continues to be negatively influenced by several key service sectors hit hard by winter lockdowns, including department stores, transit systems, educational services and, as Olivia mentioned, leisure and hospitality."
Trade: December 2020 Trade Data Continues To Show Recovery But Exports Remain In Contraction Year-over-Year" [Econintersect]. "Trade data headlines show the trade balance continues to worsen with imports growing faster than exports…. The data in this series wobbles and the 3-month rolling averages are the best way to look at this series. The 3-month average rate of growth improved for imports and exports – but exports remain in contraction."
Rail: "Rail Week Ending 30 January 2021 – Rail Movements Up 5.3% In January" [Econintersect]. "Total rail traffic has two components – carloads and intermodal (containers or trailers on rail cars). Container exports from China have recovered, container exports from the U.S. remain deep in contraction. This week again intermodal continued in expansion year-over-year and continues on a strengthening trendline."
* * *
Finance: "Booming Blank Check Companies Are the Talk of Reddit and TikTok" [Bloomberg]. "The SPAC boom that seemed to come out of nowhere in 2020 is still going strong. Billionaires, celebrities, and money managers are lining up to start special-purpose acquisition companies and hedge funds are clamoring to buy an early piece of them. Retail investors are piling in, with Reddit boards and even a corner of TikTok lighting up with discussions about these unusual stocks. SPACs, also known as blank check companies, are empty corporate shells that raise money from investors and then aim to merge with a private business, essentially taking that company public through the back door."
Finance: "PayPal says U.S. consumer watchdog investigating payment app Venmo" [Reuters]. "PayPal Holdings Inc said on Friday it was cooperating with the U.S. consumer watchdog regarding a civil investigation demand relating to its app Venmo's alleged unauthorized fund transfers and collections processes…. In the fourth quarter, Venmo, which has been part of PayPal since 2013, processed about $47 billion in total payments volume, up 60% from last year."
Finance: "Covid-19 Shutdowns Shore Up Allstate, MetLife Earnings" [Wall Street Journal]. "Two of the nation's best-known sellers of insurance—Allstate Corp. and MetLife Inc.—delivered fourth-quarter results bolstered partly by Covid-19 business shutdowns and stay-at-home directives. Allstate's net income surged 52% to $2.6 billion, while net income at the big New York life insurer fell 77% to $124 million. MetLife's decline was primarily related to mark-to-market losses on the financial hedges it buys to protect the company from falling interest rates and stock markets. When rates and equities rise, as they did in the fourth quarter, the value of that protection falls. Wall Street analysts treat those declines as noneconomic and focus on adjusted earnings, which were nearly flat at $1.838 billion at MetLife from $1.834 billion in the year-ago period. Allstate became the latest car insurer to report robust auto-insurance underwriting profit as the pandemic, and resulting weak U.S. economy, continued to hold down the number of miles motorists drove."
Finance: "A Texas Maverick Is Trying to Save Endowments From the Next Stock-Market Crash. Will They Listen?" [Institutional Investor]. • by Betteridge's Law…
Retail: "A Massive Chicken Wing Shortage Is Brewing" [Restaurant Business (JC)]. "Fueled by a pandemic-driven uptick in wing consumption, wing reserves are at their lowest in a decade and prices are steadily climbing…. The pandemic has fueled a veritable wing explosion, with existing brands such as Wingstop reporting double-digit growth and other operators creating delivery-only wing concepts to satisfy consumer demand. Chicken wings travel well for delivery, can be customized with sauces and dips for a variety of tastes, and are relatively inexpensive for value-minded diners. Casual-dining stalwarts such as Chili's parent Brinker International and Applebee's have launched virtual chicken wing brands during the pandemic." • JC writes: "OMG not a wing shortage. I will gladly give up my share for the common good."
Tech: "Chromium cleans up its act – and daily DNS root server queries drop by 60 billion" [The Register]. "The Chromium team redesigned its code to stop junk DNS requests, and released the update in Chromium 87. All too often, technologists solve problems by introducing additional layers and disregarding simpler solutions The result? 'Before the software release, the root server system saw peaks of ~143 billion queries per day,' he wrote. 'Traffic volumes have since decreased to ~84 billion queries a day. This represents more than a 41 per cent reduction of total query volume.'"
Tech: "Google's next big Chrome update will rewrite the rules of the web" [Wired]. "Google's plan is to target ads against people's general interests using an AI system called Federated Learning of Cohorts (FLoC). The machine learning system takes your web history, among other things, and puts you into a certain group based on your interests. Google hasn't defined what these groups will be yet but they will include thousands of people that have similar interests. Advertisers will then be able to put ads in front of people based on the group they're in. If Google's AI works out you really like sneakers, for example, then you'll be chucked in a group with other similarly-minded sneaker fans. It all works in a similar way to how Netflix's algorithm works out what you might like to watch."
Tech triumphalism:
.@karaswisher: Amazon is well positioned to move into healthcare since it already knows so much about consumer spending patterns. "If they had been doing vaccination more than our federal government, we might be all vaccinated at this point." https://t.co/J57mVpAArd pic.twitter.com/s41jIHe6xX

— CNBC (@CNBC) February 3, 2021
Manufacturing: "In Epically Nerdy Interview, Elon Musk Discusses Build Quality Problems With Engineer Who Compared Model 3 To 'A Kia In The '90s'" [Jalopnik]. "Musk discusses this Model 3 design weakness. 'The organizational structure errors, they manifest themselves in the product,' he begins. 'We've got probably the best material science team in the world at Tesla. Engineers would ask what's the best material for this purpose…and they got like 50 different answers. And they're all true individually, but they were not true collectively,' he admits. 'When you try to join all these dissimilar alloys…you've got gaps that you've got to seal, and you've got to join these things, and some of them need to be joined with rivets, some of them need to be joined with spot welds, some of them need to be joined with resin or resin and spot welds,' he continues." • Conway's Law…
* * *
Today's Fear & Greed Index: 59 Greed (previous close: 53 Neutral) [CNN]. One week ago: 35 (Fear). (0 is Extreme Fear; 100 is Extreme Greed). Last updated Feb 5 at 12:36pm. Mr. Market really having some mood swings.
The Biosphere
"From extractive to regenerative: experts highlight benefits of nature-based climate solutions" [The Narwhale]. "Research shows one-third of the carbon reductions needed to meet the goals of the Paris Climate Accord can be achieved by protecting, managing and restoring natural landscapes. 'That's the equivalent of stopping burning oil globally. It's a very big opportunity,' panellist Hadley Archer, executive director of Nature United, said in the webinar. While Canada is home to a quarter of the world's intact forests, Archer noted the potential for nature-based solutions to reach far beyond protecting and restoring forests. Archer shared some preliminary observations from a forthcoming Nature United study that evaluates the carbon sequestration potential of 24 natural climate solutions and land management approaches. 'There are many solutions that are near-term, cost-effective and feasible, and we can get on with right away,' he said. Many of these solutions come with benefits beyond climate mitigation such as providing clean air and water, and promoting local sustainable economic development, he added."
Health Care
"Pregnant People Deserve Better Data on Covid-19 Vaccines" [Bloomberg]. "Researchers studying Covid-19 vaccines failed to get much of any data on pregnant people. That disservice was compounded last week when the WHO recommended against giving pregnant women the Moderna or Pfizer vaccines, appearing to conflict with earlier advice offered by the CDC and the American College of Obstetricians and Gynecologists. It later backtracked, though too late to avoid raising a round of new questions. Experts who study sex differences, pregnancy and the immune system say the limited evidence available suggests pregnant people are more at risk from the virus than from the vaccine. 'Shame on everybody for not including pregnant females at every stage along the pipeline,' says Sabra Klein, an immunologist at Johns Hopkins University. That should have included testing vaccines on pregnant animals as well as enrolling pregnant women in clinical trials, she says. The mixed messages are stirring undue fear and confusion at a time when people are being bombarded by anti-vaccine misinformation, some of it focused on women and fertility. And pregnant people deserve better advice than the vague 'ask your doctor.'" • Especially since the FDA gained enormous regulatory power after the thalidomide disaster, which was all about birth defects.
"The Pandemic Broke the Flu" [The Atlantic]. "Since early fall, about 800,000 laboratory samples have been tested in the United States for the flu and reported to the CDC, and only 1,500 or so have come up positive—a mere 0.2 percent. This time last year, close to 100 times as many flu cases had been identified from nearly the same number of tests. By the middle of the 2019–20 flu season, positivity rates were cresting at about 25 or 30 percent, mottling federal flu-activity maps in shades of red and orange, which denote the virus's rampant spread. Now those maps remain almost entirely green, indicating low or minimal flu activity."
Fauci's Covid thread:
Tomorrow at 12:30, Dr. Fauci's taking over our account to answer questions and @CDCDirector and @aslavitt46 will be taking questions from their accounts. Reply with your questions and come back tomorrow for a breakdown on all things COVID-19. (And see if yours has been answered!) pic.twitter.com/c8J2tRmOB6

— White House COVID-19 Response Team (@WHCOVIDResponse) February 4, 2021
No mention of aerosols that I can find, which would be incredible, verging on criminal. Did I miss it?
Water
"How One of the World's Wettest Major Cities Ran Out of Water" [Bloomberg]. "While climate change and extreme weather have played a part, the main culprit for Chennai's water woes is poor planning. As the city grew, vast areas of the surrounding floodplain, along with its lakes and ponds, disappeared. Between 1893 and 2017, the area of Chennai's water bodies shrank from 12.6 square kilometers to about 3.2 square kilometers, according to researchers at Chennai's Anna University. Most of that loss was in the past few decades, including the construction of the city's famous IT corridor in 2008 on about 230 square kilometers of marshland. The team from Anna University projects that by 2030 around 60% of the city's groundwater will be critically degraded."
The 420
"Can CBD help with cancer treatment?" [Leafly (ano)]. • Cites some studies that look plausible, but I don't see a masthead on the About page (although there is an Investor Relations link). Can anybody recommend a solid 420 source that's woo-free?
Sports Desk
"NFL should discourage people from indoor Super Bowl parties" [STAT]. "Community transmission is high, the overwhelming majority of Americans have not yet been vaccinated, and more transmissible variants of the virus are beginning to spread throughout the U.S. In these dangerous conditions, there's a moral imperative for the host of a major sports event to include proactive efforts to protect the community — not just its athletes and staff." • I'm not sure what the advertisers would think of this….
Darwin Awards for Everyone!
Today in terrible press releases pic.twitter.com/qOWESHDMaO

— Felix Salmon (@felixsalmon) February 5, 2021
Class Warfare
"In Need of Truckers, Amazon Plans Incubator to Create More Shipping Companies" [The Information]. "Amazon is finding it can't hire enough trucking companies to haul all its freight. So it decided to help would-be trucking entrepreneurs start their own firms. The retail behemoth is working on an incubator program that aims to train hundreds of people to launch their own trucking businesses exclusively transporting freight for Amazon, The Information has learned. In an internal proposal, Amazon said the incubator would provide business training, loans for truck purchases…" • Awesome. You can go into debt to work for Amazon….
News of the Wired
"Science needs a radical overhaul" [IAI News]. "Scientists have a problem. We are discovery junkies. The addiction metaphor is overused, but, well, I can't resist. Scientists have a drive to discover the next big thing. This drive can be channeled in positive ways, but can do serious damage to science and to society when it goes unchecked. And what's worse, the journals we publish our science in are the enablers that pretend they are protecting us. The problem runs deep. Science selects for people who are naturally curious, and then it heaps rewards and incentives that amplify their drive to find new things. Unfortunately, not all findings are equally gratifying, or equally valued – learning that your potential new cure (for cancer, or racism, or inequality) doesn't work is just as informative as finding out that it does work, but it just doesn't feel nearly as good. What's more, the negative answers aren't rewarded nearly as much as the positive ones. Journals don't want to publish the negative results. Awards are rarely given out for rigorously testing a good idea that turned out to be wrong. A track record of negative results is not going to get you a grant. A system that only publishes positive results and sweeps negative results under the rug would be bad enough, but it gets worse. There's good reason to think that in some fields, many of the positive results aren't real discoveries – they are quite likely to be false positives." • Sounds like another dopamine loop….
Quirks Of Britain:
I have been living in the UK for 10 years this year. Please have a short thread of things that are still weird as hell to me ?

— Jessica Rose (@jesslynnrose) February 4, 2021
For example, beans on toast. Why? Amusing…
Because of course:
The internet wins… pic.twitter.com/ZZFTlGgnlR

— Rex Chapman?? (@RexChapman) February 4, 2021
* * *
Readers, feel free to contact me at lambert [UNDERSCORE] strether [DOT] corrente [AT] yahoo [DOT] com, with (a) links, and even better (b) sources I should curate regularly, (c) how to send me a check if you are allergic to PayPal, and (d) to find out how to send me images of plants. Vegetables are fine! Fungi and coral are deemed to be honorary plants! If you want your handle to appear as a credit, please place it at the start of your mail in parentheses: (thus). Otherwise, I will anonymize by using your initials. See the previous Water Cooler (with plant) here. Today's plant (JK):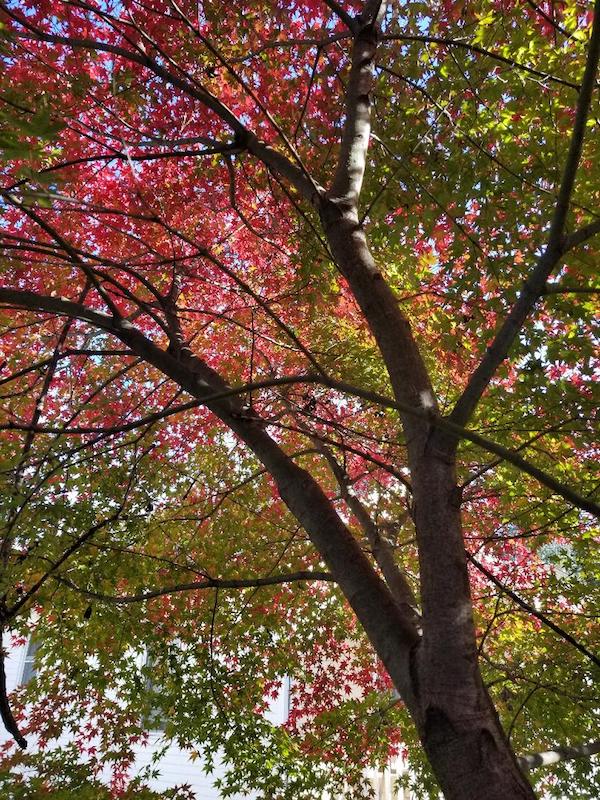 JK writes: "Here's a few of our Japanese Maple. Late turning variety – starting in late November and last leaves falling now just before Solstice. It is growing under an Ash."
* * *
Readers: Water Cooler is a standalone entity not covered by the recently concluded and — thank you! — successful annual NC fundraiser. So if you see a link you especially like, or an item you wouldn't see anywhere else, please do not hesitate to express your appreciation in tangible form. Remember, a tip jar is for tipping! Regular positive feedback both makes me feel good and lets me know I'm on the right track with coverage. When I get no donations for five or ten days I get worried. More tangibly, a constant trickle of donations helps me with expenses, and I factor in that trickle when setting fundraising goals:
Here is the screen that will appear, which I have helpfully annotated.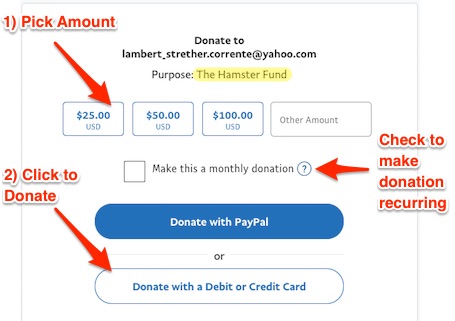 If you hate PayPal, you can email me at lambert [UNDERSCORE] strether [DOT] corrente [AT] yahoo [DOT] com, and I will give you directions on how to send a check. Thank you!