By Lambert Strether of Corrente.
Patient readers, I had a workflow debacle where I accidentally sent my enormous haul of weekend nuggets and scraps to the wrong account, which took me awhile to sort. Here are some conversation starters. Please check back for more. –lambert UPDATE All done!
Bird Song of the Day
The insect sounds are so summery!
#COVID19
The worst case scenario:
Nota bene: pretty sure we are at this chest-thumping phase arrogantly yelling "we did it" just before the next surge.

Don't forego mitigation efforts too early. It's not time yet. #COVID19 #MaskUp #vaccinate #ventilate pic.twitter.com/f74U9j9D45

— Eric Feigl-Ding (@DrEricDing) March 13, 2021
At reader request, I've added this daily chart from 91-DIVOC. The data is the Johns Hopkins CSSE data. Here is the site.
I feel I'm engaging in a macabre form of tape-watching. If we are in the eye of the storm, we are still in the eye of the storm.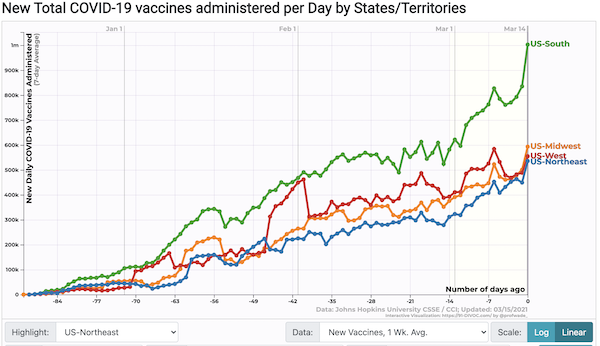 That's the stuff to give the troops! The jump is a data artifact. • Early in February, I said a simple way to compare Biden's performance to Trump's on vaccination would be to compare the slopes of the curves. If Biden accelerated vaccine administration, post-Inaugural slopes would get steeper. They have not. The fragmented, Federalized, and profit-driven lumbering monstrosity that we laughingly call our "health care" "system" has not responded to "energy in the executive," but has continued on its inertial path.
Case count by United States regions: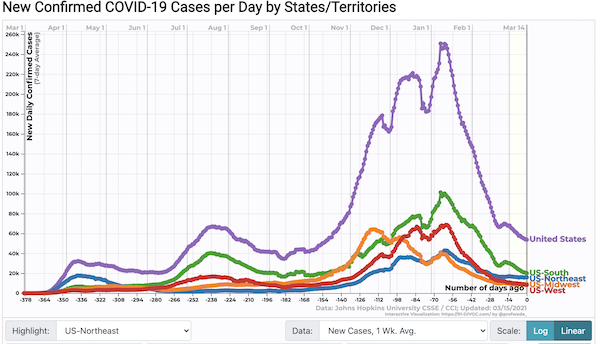 Before we break out the champers, we would do well to remember that cases are still well above the peak New York achieved early in the crisis, then regarded, rightly, as horrific.
Big states (New York, Florida, Texas, California):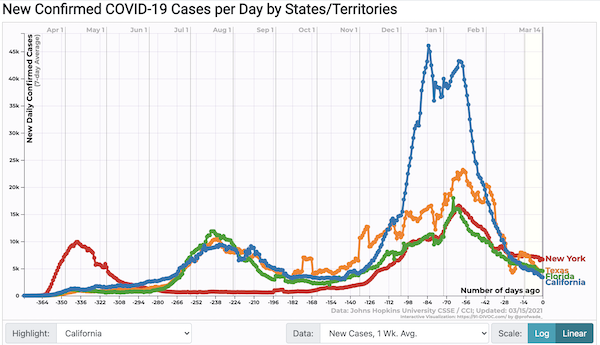 New York leads.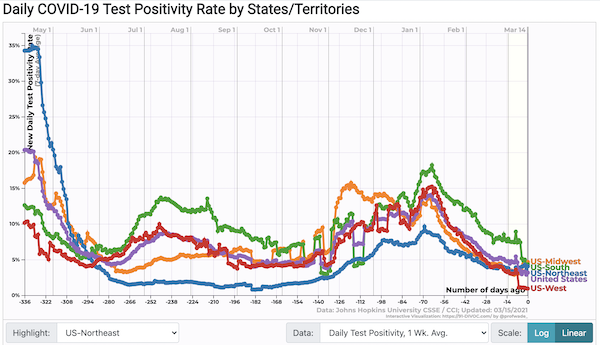 Humongous drop in the West, but is this a data artifact?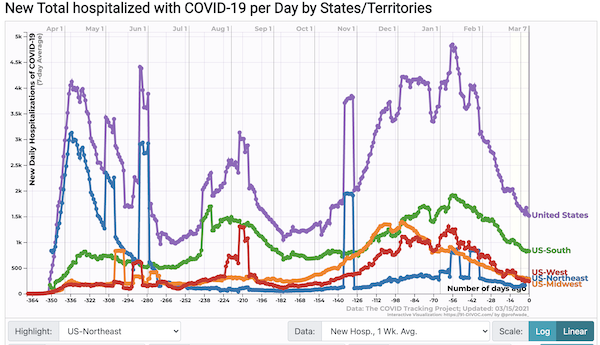 Hospitalization is discretionary; they may also be reducing their admissions rate — relative to cases we cannot see in this data! — to preserve future capacity; or because hospitals have figured out how to send people home.
Case fatality rate (plus deaths):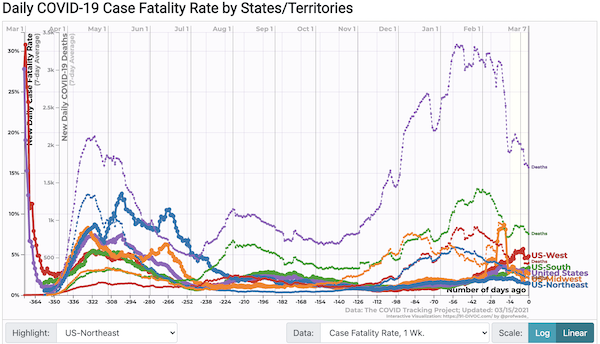 Good to see those deaths dropping.
* * *
Politics
"But what is government itself, but the greatest of all reflections on human nature?" –James Madison, Federalist 51
"They had one weapon left and both knew it: treachery." –Frank Herbert, Dune
"They had learned nothing, and forgotten nothing." –Charles Maurice de Talleyrand-Périgord
Biden Administration
"How to get Joe Biden to tell us something new (because there's a lot we don't know)" [Dan Froomkin, PressWatch]. "That's why I'd like to see at least some questions that don't have talking-point answers, and that will add to our understanding of how this presidency is going to work. Ideally, they would not only provide transparency, but encourage even more of it. So I'll start with some of those." • Here's an example:

Q. When speaking extemporaneously, you occasionally interrupt yourself in mid-sentence and go on riffs that don't seem directly related. Sometimes it's not easy to figure out exactly what you mean. What are we to make of that?

I picked the most incendiary one, but there are many, many questions!

"Biden's White House launching 'Help is Here' tour to promote stimulus package in key states" [Channel News Asia]. "Taking their case directly to the people, Harris will launch the tour on Monday in Las Vegas, while Biden goes to Delaware County, Pennsylvania, on Tuesday and Atlanta on Friday. He will also do an interview on Wednesday on ABC's 'Good Morning America' program. Biden defeated Trump in closely divided Nevada, Pennsylvania and Georgia in the 2020 presidential election. Each state will also feature a competitive Senate race in 2022. Losing just one seat in that evenly divided chamber would all but doom Biden's legislative agenda, handing Senate control to Republicans for the rest of the president's four-year term. At least two outside political spending groups that backed Biden's presidential bid, Priorities USA and Unite the Country, said they would put millions into advertisements supporting the stimulus measures." • But no presser!

"Biden Eyes First Major Tax Hike Since 1993 in Next Economic Plan" [Bloomberg]. As long as Biden soaks the rich, I'm fine with it. "President Joe Biden is planning the first major federal tax hike since 1993 to help the long-term economic program designed as a follow-up to his pandemic-relief bill, according to people familiar with the matter." • No. More: "The plan will test both Biden's capacity to woo Republicans and Democrats' ability to remain unified…. White House economist Heather Boushey underlined that Biden doesn't intend to boost taxes on people earning less than $400,000 a year." • Also, why don't we use the estate tax to roll back our current aristocracy of inherited wealth?

Sanders presser from last week, with Vermont governor:

Senator Sanders says giving cash payouts is very important. Says he'll never forget the lines of people in Vermont who needed emergency food packages. Says these direct cash payments are the most efficient way to get money into the hands of families who need it now.

— Jane Lindholm (@JaneLindholm) March 12, 2021

Drawing the knife across means-testing's jugular. We hope.

"Sanders: Americans Care More About $1,400 Checks From Aid Plan Than Lack Of GOP Votes" [NPR]. This is the best part: "Look, I am not a baseball expert, so I don't know how you develop talent. But this is what I do know, is you go to a minor league game and kids get their hotdogs, and the ballplayers are often very nice and they'll sign autographs and kids, you get good seats for a couple of bucks. Minor league baseball is enormously important to dozens and dozens and dozens of communities all over this country. It is a beautiful thing. Baseball is not just, you know, paying $50 million for some great athlete, you know, who plays for the New York Yankees. And I am really outraged that at a profitable institution like Major League Baseball, these guys want to eliminate baseball in so many communities around this country. It really is awful to my mind." • I remember going to the Portland Sea Dogs with my mother and father. It was great!
Trump Post Mortem
"Trump and the Trapped Country" [Corey Robin, The New Yorker]. "The current moment is less reminiscent of the last days of Weimar than of Britain in the years before the Reform Act of 1832. With a scheme of representation dating back to the twelfth century, Parliament was the playground of grandees from rural and sparsely populated regions of the South. Growing cities in the Midlands and the North had no representation at all…. This is the situation we now find ourselves in. One party, representing the popular majority, remains on the outskirts of power, thanks to the Constitution. The other party, representing the minority, cannot wield power when it has it but finds its position protected nonetheless by the very same Constitution. We are not witnesses to Prometheus unbound. We are seeing the sufferings of Sisyphus, forever rolling his rock—immigration reform, new infrastructure, green jobs—up a hill. It's no wonder everyone saw an authoritarian at the top of that hill. When no one can act, any performance of power, no matter how empty, can seem real."
Realignment and Legitimacy
"AP-NORC poll: 1 in 5 in US lost someone close in pandemic" [Associated Press]. "COVID-19's toll is staggering, more than 527,000 dead in the U.S. alone, and counting. But 'it's hard to conceptualize the true danger if you don't know it personally,' said Dr. K. Luan Phan, psychiatry chief at Ohio State University's Wexner Medical Center. For those who lost a loved one, 'that fear is most salient in them. They're going to be a lot more cautious as businesses reopen and as schools start back.' Phan said. And without that first-hand experience, even people who heeded health officials' pleas to stay masked and keep their distance are succumbing to pandemic fatigue because "fears tend to habituate," he said. Communities of color were hardest hit by the coronavirus. The AP-NORC poll found about 30% of African Americans, like Parks, and Hispanics know a relative or close friend who died from the virus, compared with 15% of white people." • Oddly, I don't see any polling reported on essential workers (though to be fair, maybe it's in the original). Remember when essential workers were important, and people were performing empathy right and left?

"How Biden, Republicans and public health leaders are trying to persuade GOP skeptics to get their Covid vaccinations" [NBC]. For example: "Groups like the Ad Council, which recently launched a half-billion dollar campaign to promote vaccines, are planning to partner with faith leaders, country music stars, athletes and other figures influential in conservative and rural areas." • All very well, but isn't it a bit late to get this going? Remember all those task forces during the Interregnum? What was up with them?

"The Conservatives and The Court" [Jack Goldsmith, Liberties]. This is an excellent history of the Federalist Society and the judiciary from a conservative perspective. The Conclusion: "Whatever happens, the Court is destined to become a more politicized and controversial institution. When all is said and done, the Court has only itself to blame. Beginning in the 1960s it reached far beyond its proper jurisdiction to grab enormous control over public policy away from democratic institutions, which sparked a conservative counterrevolution in the 1980s that has now won power and on many issues is doing the same thing in the other direction. It is a sign of advanced constitutional decay that so many important decisions in our democracy are made by five or six unelected Justices, and that confirmation battles have become the most consequential political episodes in the nation after presidential elections."
Stats Watch
Manufacturing: "March 2021 Empire State Manufacturing Index Improves" [Econintersect]. "The Empire State Manufacturing Survey index improved and remained in expansion…. Key elements are in positive territory but new orders declined. This report is considered about the same as last month."
* * *
The Bezzle: Great Q&A on BTC v. USD:
I think this will alleviate many people's USD concerns pic.twitter.com/QZnxeQrIhc

— Joe Weisenthal (@TheStalwart) March 13, 2021
Tech: "American Idle" [Remains of the Day]. "By network effects of creativity, I mean that every additional user on TikTok makes every other user more creative… Various memes and trends pass around on networks like Instagram and Twitter. But there, you still have to create your own version of a meme from scratch, even if, on Twitter, it's as simple as copying and pasting. But TikTok has a strong form of this type of network effect. They explicitly lower the barrier to the literal remixing of everyone else's content. In their app, they have a wealth of features that make it dead simple to grab any element from another TikTok and incorporate it into a new TikTok." • "Reemixing" was the strength of the blogosphere. Both Facebook and Twitter make it extremely hard to quote and link to other sources, and impossible to do so long form.
Tech:
What do you mean this isn't maintainable?https://t.co/ogFxv6D2s4 pic.twitter.com/ih25Ofscox

— Kenneth Chiu (@kjw_chiu) March 13, 2021
BWA-HA-HA-HA-HA!!!!
* * *
Today's Fear & Greed Index: 57 Greed (previous close: 59 Greed) [CNN]. One week ago: 49 (Neutral). (0 is Extreme Fear; 100 is Extreme Greed). Last updated Mar 15 at 12:37pm. One year ago: 5 (Extreme Fear).
Rapture Index: Closes unchanged [Rapture Ready]. Record High, October 10, 2016: 189. Current: 189. (Remember that bringing on the rapture is a good thing, so high is better.) Worth noting we are now at Record Highs. Angst in the Heartland?
Health Care
"How the West Lost COVID How did so many rich countries get it so wrong? How did others get it so right?" [David Wallace-Wells, New York Magazine]. This is worth reading in full, but I'll quote the portion that substantiates the thesis expressed in "By Declaring March 11 'Our' Covid Anniversary, the Press Erases Covid's Origin Story in the U.S." (because it's always nice not to be completely alone):
On February 11, a month before Ryan's press conference, Anthony Fauci, Nancy Messonnier, and Ron Klain had taken the stage at an Aspen Institute panel on the novel coronavirus led by the superstar infectious-disease journalist Helen Branswell. Several times, Fauci repeated that he believed the virus was low-risk — later clarifying that it was important to communicate to the public that it was low-risk, in part to protect his own credibility and the credibility of the public-health Establishment. "To this day I do not understand why," Branswell recently wrote. A few days after the panel, Fauci described the risk of the coronavirus to Americans as "minuscule."

This was a time when the U.S. public-health infrastructure assuming (or even pretending to assume) a war footing might have made a meaningful difference. But at every opportunity, Fauci was counseling the opposite — calm in the face of the storm. On February 15, he told an interviewer that the flu was a bigger threat to Americans. For another month, he was still advising against masks. It wasn't just Fauci (whom the upstart leftist magazine The Drift recently mocked as "Dr. Do-Little" in what likely won't be the last reconsideration of the sainted physician). New York governor Andrew Cuomo, a cable-news hero in the spring, has already come in for reconsideration, and in his self-aggrandizing pandemic memoir, he is unintentionally revealing. "Most of all, I was concerned about public panic," Cuomo writes, reflecting on the need to "socialize the notion of a shutdown," ideally slowly, rather than simply imposing it. "Panic is the real enemy," he adds. The coronavirus may not prove Cuomo's ultimate political undoing, but his formulation may nevertheless provide the most fitting epitaph for the entire western response: that disruption was scarier and less tolerable than the disease.
Oopsie.
"The return to school is welcome, but we must minimise shared air" [British Medical Journal]. From Britain, but still relevant here: "Although there is still some debate about how the virus spreads through air (inhalation), increasingly the evidence suggests that airborne spread is the dominant mode of transmission even at close range. Against this background, it is time to revisit our analysis in The BMJ last year, where we discussed how physical distancing, masks, ventilation, and type of activity combine in shaping the relative risk of SARS-CoV-2 transmission. If a live virus spreads exclusively through large ballistic droplets (which fall quickly onto surfaces and objects), integrated people, surface, and space management is required to minimize direct touching or spraying, with a focus on cleaning surfaces, installing physical barriers (e.g. screens), practising physical distancing (e.g. 2 metres apart), and wearing any type of mask. (see recent fluid dynamics review for more detailed arguments [8-14]). The risk of airborne spread increases with the number of people in an indoor space, with crowding when it leads to overlap of breathing zones of the occupants (order of 2 metres), and with the duration of time they breathe the same air." • All of which the school reopening guidance from CDC suppresses. Garbage guidance from a sclerotic, entrenched institution. The tragedy is that "managing patterns of airflow" is common sense to those who know the buildings, and not necessarily expensive. CDC can't and won't see this.
An excellent thread from Tricia Greenhalgh on what I would call the aerosol paradigm shift. Current focus is on AGP (Aerosol-Generating Procedures) by doctors in hospital, for example intubation. But now that we know that Covid is airborne, the AGP paradirgm is not adequate:
The AGP/non-AGP dualism is based on incorrect science and should not be used to allocate PPE to staff groups. Given that *speaking* and even *breathing hard* generates infectious aerosols, we need to shift our mental model to how we *avoid sharing air*. 22/

— Trisha Greenhalgh 😷 #CovidIsAirborne (@trishgreenhalgh) March 13, 2021
(Hospital-centrism also led to a lot of useless studies on HQ; no use testing hospitalized patients if the use case is prophylaxis!) More on AGP/non-AGP dualism here. Shorter: "Don't share your air!"
"Evidence on: Doulas" [Evidence-Based Birth]. From 2015, still germane. "][T]he doula's role and agenda are tied solely to the birthing person's agenda. This is also known as primacy of interest. In other words, a doula's primary responsibility is to the birthing person—not to a hospital administrator, nurse, midwife, or doctor…. Overall, people who received continuous support [the doula's job] were more likely to have spontaneous vaginal births and less likely to have any pain medication, epidurals, negative feelings about childbirth, vacuum or forceps-assisted births, and Cesareans. In addition, their labors were shorter by about 40 minutes and their babies were less likely to have low Apgar scores at birth. There is a smaller amount of evidence that doula support in labor can lower postpartum depression in mothers. There is no evidence for negative consequences to continuous labor support." • Nobody else in the health care system has "primary responsibility" "to the birthing person"?
The Biosphere
"Parrots Will Share Currency to Help Their Pals Purchase Food" [Smithsonian]. "Parrots go bonkers for walnuts. After snatching the seeds, these brightly plumed birds crack into them with glee. When offered the nuts as a prize, parrots will do tricks, solve puzzles and learn complex tasks. They'll even trade currency for them in the form of small metal rings passed into the hands of human researchers…. But despite the nuts' value—or perhaps because of it—parrots are also willing to share their treats and the tokens to buy them with other birds. Given the option, the birds will transfer the precious metal rings to a friend in a neighboring cage so they, too, can enjoy some nutty nosh—even without the promise of reciprocation, Brucks' latest research shows."
"Letter: Coyotes are a beautiful, valuable natural resource" [Niagara Now]. "Coyotes, as top-of-the-chain predators, are an essential part of our natural system. They are responsible for the control of vermin and other smaller animals, which if not kept in natural balance by predators become, in the least, an annoyance, and at best, a health risk. These animals will become a destructive force when their numbers rise because the natural balance is disrupted. Killing coyotes does not bring a balance to nature, but it certainly sets the course for problems down the road. We need only look to Niagara Falls, which has been struggling with rat infestations for years because the rat population has exploded unchecked. It is not only urban centres that will struggle with overpopulation of vermin: look to barns housing animals and feed, and you will find the same problems. Left to predators, these problems are positively controlled. I have lived in Niagara for 20 years and have come across the 'sport' of hunting coyotes. Let us be clear that these animals are set on the run by hunting dogs fitted with tracker collars, followed by their handler through GPS signal, and when they all meet in an open space, the coyote is shot." • The unspeakable in pursuit of the uneatable…
Games
An amazing thread on what's difficult in games-making:
Hey #gamedev Twitter:
What are some things that are super hard that seem easy to non-game devs?
I'll go 1st:
– Doors

— Mark Darrah (@BioMarkDarrah) March 14, 2021
A whole world of art-making, of which I know nothing whatever… .
The Agony Column
"How the pandemic has changed our bodies" [NBC News]. Lots of good detail. This in particular: "A large international survey of more than 7,700 adults in April found that 27 percent of all respondents reported weight gain around the start of the pandemic, a figure that increased to 33 percent among those already obese. Fewer than 20 percent reported losing weight. More than half of parents gained an average 36 pounds, according to the APA survey." • I certainly didn't gain 36 pounds (!!!), but gain weight I did. On top of the weight I gained from the last quarantine. I used to be thin!
"Hitting the Books: America's loneliness crisis began well before the COVID quarantine" [Engadget]. "Overnight, contactless became in many respects our only choice. It's impossible to predict with certainty how this will play out in the long term. As we've seen, the human craving for proximity and physical connection runs deep; later we will see how a burgeoning Loneliness Economy may act as a counterbalancing force. But the reality is that new habits, once forged, can take hold pretty fast. Many people who lived through the Great Depression, for example, remained frugal throughout their entire lives." • And so, perhaps, with social distancing.
"Why you might be experiencing what psychologists call 'the anniversary effect' — and what to do about it" [CNN].
Zeitgeist Watch
"Linger Eatuary" [Atlas Obscura]. "The rooftop neon sign that used to proclaim [Denver's] 'Olinger Mortuaries' was barely even altered, with the capitol 'O' simply being turned out and the word 'mortuaries' being slightly altered so that the current sign reads, 'Linger Eatuaries.' The funereal history continues on in the interior as well where the old A/C units have been turned into hanging lamps, glass-topped metal conveyor belts are used as tables, and a church pew is used as the host's stand…. Other deathly touches abound in the eatuary such as water served from formaldehyde bottles and a picture from one of cinema's more touching paeans to death, Harold and Maude. To the restaurant's credit, all of the morbid accents do nothing to make the site unappetizing, possibly because of the constant reminder that you can't eat when you're dead." • Unless you're a zombie or a ghoul. So, optimism!
Not my world, or the Pope's either, it would seem. Thread:
One thing , pre-pandemic, that feels,like science fiction now, is how I used the early 00s@pre Grindr, pre-scruff gay social networks to basically find uh , lunch pals? I was friend with so many older guys who needed a second to a matinee or wanted to try a prixe fixe lunch

— John Leavitt 🌹 (@LeavittAlone) March 14, 2021
Weak ties!
Our Famously Free Press
This thread is a must-read, all of it (because the platforms will do this to podcasting next, and all independent blogs and sites next, if they possibly can. There's a reason apps aren't real good at displaying URLs, and phone browsers are starting to hide them or make them hard to use):
As successful as the campaign was, the delivery was a nightmare. Part of that was down to some pretty poor digital distribution tools on my fulfilment partner's side, but the real problem was mobile devices and their operating systems.

2/

— Cory Doctorow (@doctorow) March 15, 2021

The moral, of which Stoller would approve, is that once the "free market" meant a market that was free of rentiers, because of regulation. Now it means the opposite.

Class Warfare

"The Revolt of the Feminist Law Profs" [Wesley Yang, Chronicle of Higher Education]. From 2019, still worth a read: " In the fall of 2011, the Department of Education's Office for Civil Rights issued informal, non-binding guidance on how colleges should treat claims of sexual assault and harassment in a document now referred to as the Dear Colleague letter. It was accompanied by public claims of an ongoing crisis of sexual violence on universities made by President Barack Obama and Vice President Joe Biden. In 2014, Gersen and three of her colleagues — Elizabeth Bartholet, Janet Halley, and Nancy Gertner — led a contingent of their peers in calling out the system of investigation and adjudication that emerged during the Obama years as 'so unfair as to be truly shocking.' The four were joined by 24 of their Harvard Law colleagues in an open letter published in The Boston Globe decrying Obama's Title IX recommendations as 'overwhelmingly stacked against the accused.'" Critcally: "As informal guidance, the Dear Colleague letter was not subject to the normal rule-making process, which would have permitted give-and-take with universities through formal comment-seeking. It was, however, accompanied by the threatened withdrawal of all federal funds from universities that did not comply with its instructions, including ones that "are in no way required by Title IX law or regulation," as Gersen and her colleagues put it in The Boston Globe. The process was so irregular, Halley told me recently, that if any university had asked a court to declare whether the guidance was legally binding, "Every single court would have said, 'You don't have to do this.'" But no university wanted the bad press.'" • Sounds familiar. I love the "Dear Colleague" formulation. Just PMC-to-PMC, no need for any pesky process.

News of the Wired

This is apparently going around again. A thread:

So I have seen the whole "medieval alewives are the archetype for the modern witch depictions" thing going around…. again, and I thought I would do a bit of myth-busting. Grab a seat, this is a long one. pic.twitter.com/FRnqtT4VDG

— Dr Christina Wade (@Braciatrix) February 12, 2020

Family Power Struggles:

Meanwhile when my other Gran died her daughters fought FOR DAYS over her recipe notebook that nobody was allowed to touch till they finally decided to just copy the recipes down & so they opened it & found out there was only 1 entry & it said "Book that I pretend has recipes" https://t.co/hGRB007sEo

— Shiv Ramdas (@nameshiv) March 14, 2021

One more reason to hate the change to (and from) Daylight Savings Time:

drone: ha ha i am free! to hell with you and your control "app", i'm f

— Grand Designs Outer Chaos (@bombsfall) March 14, 2021

* * *

Readers, feel free to contact me at lambert [UNDERSCORE] strether [DOT] corrente [AT] yahoo [DOT] com, with (a) links, and even better (b) sources I should curate regularly, (c) how to send me a check if you are allergic to PayPal, and (d) to find out how to send me images of plants. Vegetables are fine! Fungi and coral are deemed to be honorary plants! If you want your handle to appear as a credit, please place it at the start of your mail in parentheses: (thus). Otherwise, I will anonymize by using your initials. See the previous Water Cooler (with plant) here. Today's plant (JJR):

JJR writes: "This is a Silk Floss Tree in Sarasota, FL. It also has a wide spiky trunk."

* * *

Readers: Water Cooler is a standalone entity not covered by the recently concluded and — thank you! — successful annual NC fundraiser. So if you see a link you especially like, or an item you wouldn't see anywhere else, please do not hesitate to express your appreciation in tangible form. Remember, a tip jar is for tipping! Regular positive feedback both makes me feel good and lets me know I'm on the right track with coverage. When I get no donations for five or ten days I get worried. More tangibly, a constant trickle of donations helps me with expenses, and I factor in that trickle when setting fundraising goals:

Here is the screen that will appear, which I have helpfully annotated.

If you hate PayPal, you can email me at lambert [UNDERSCORE] strether [DOT] corrente [AT] yahoo [DOT] com, and I will give you directions on how to send a check. Thank you!