By Lambert Strether of Corrente.
Bird Song of the Day
Owl Week at the Naked Capitalism Water Cooler continues, with an entire family of Barn Owls (plus some insects, I think).
#COVID19
Since we are apparently "in the eye of the storm" with our still appallingly high Covid numbers, and waiting until the effects of the variants makes themselves felt, I thought I'd try to get a handle on where the variants are. Here is the CDC's map: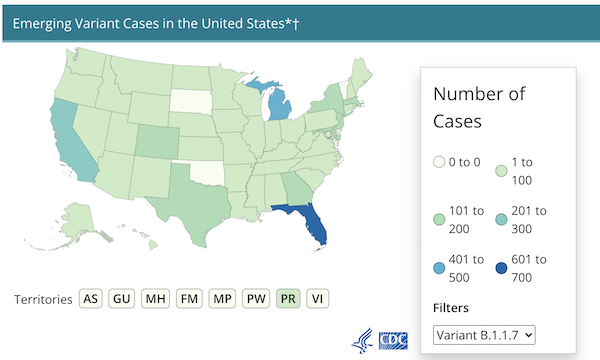 Note CDC's careful qualification: "The cases identified above are based on a sampling of SARS-CoV-2-positive specimens and do not represent the total number of B.1.1.7, B.1.351, and P.1 lineage cases that may be circulating in the United States and may not match numbers reported by states, territories, tribes, and local officials." I presume that's because our lineage tracking, unlike that of civilized countries with national health care systems, is abysmal.
It's a little concerning that much of the Acela Corridor is in the 101-200 category. Be that as it may, I made a list of the states in the "Number of Cases" legend from 101 up (CA, CO, FL, GA, MA, MD, MI, NJ, and TX) and charted them. I used the daily figures, not the weekly averages, so any recent spikes wouldn't be smoothed out. First, cases: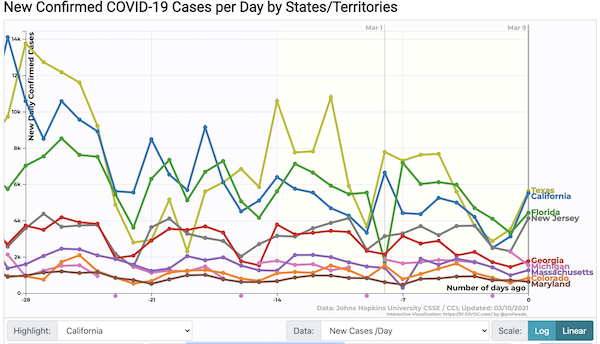 Maybe that jump in four states is variants. Now, hospitalization: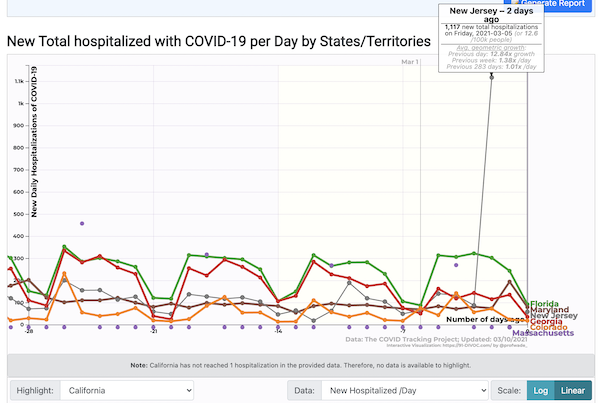 So, at least according to reported data, the variants have not made themselves known to the health care system (assuming that huge spike in NJ hospitalizations is a data artifact.) I guess I'll check back in a week. Meanwhile, I thought to check the wastewater angle–
"More contagious COVID variant first found in UK spreads in Houston, according to our waste" [KHOU]. "[The Houston Health Department] cited recent testing that detected the variant at 31 of the City of Houston's 39 wastewater treatment plants. Earlier testing on February 8 detected the variant at 21 plants, while late January results gave experts hope that cases were dropped. Now, the health department says the increase reveals ;ongoing and uncontrolled community spread of the U.K. variant.': • This link is from yesterday. Nevertheless, here is case and fatality data for Harris County (Houston):

So, yes, checking back in a week is in order.
* * *
At reader request, I've added this daily chart from 91-DIVOC. The data is the Johns Hopkins CSSE data. Here is the site.
I feel I'm engaging in a macabre form of tape-watching, because I don't think the peak is coming in the next days, or even weeks. Is the virus gathering itself for another leap?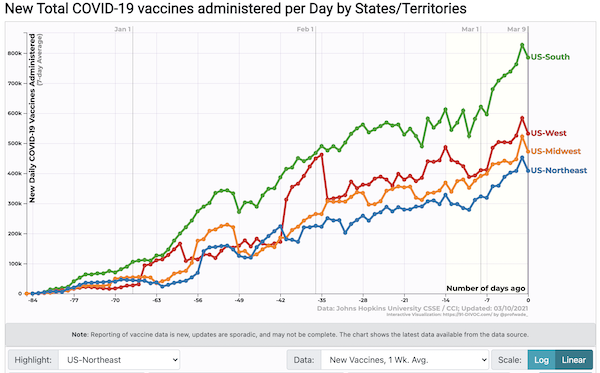 I doublechecked the drop with Bloomberg, which agrees.
Early in February, I said a simple way to compare Biden's performance to Trump's on vaccination would be to compare the slopes of the curves. If Biden accelerated vaccine administration, the slopes would get steeper. What I expected was that that the slopes would remain the same; that the fragmented, Federalized, and profit-driven lumbering monstrosity that we laughingly call our "health care" "system" would not respond to "energy in the executive," but would continue on its inertial path.
Case count by United States regions: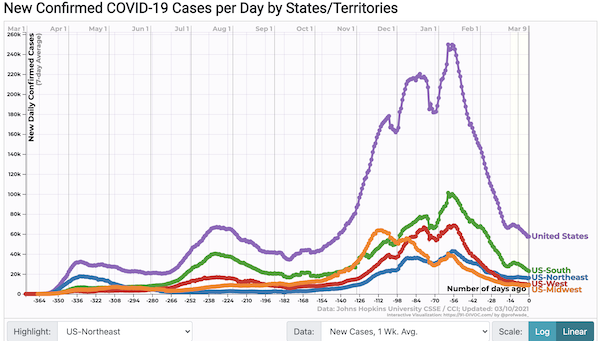 South heads downward again, Northeast flat.
Big states (New York, Florida, Texas, California):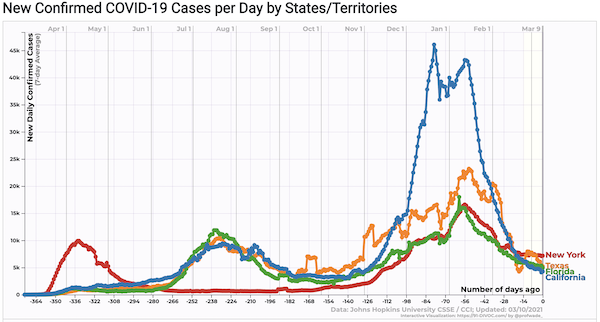 Texas drops below New York.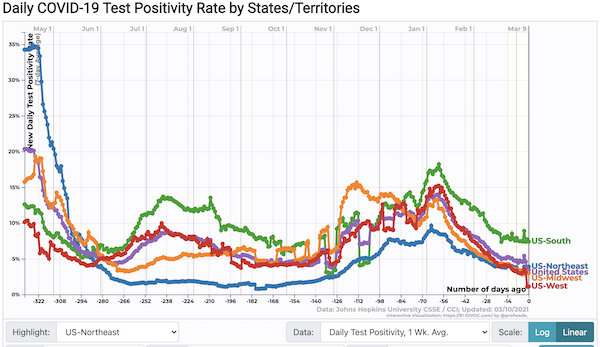 Jumps in the South.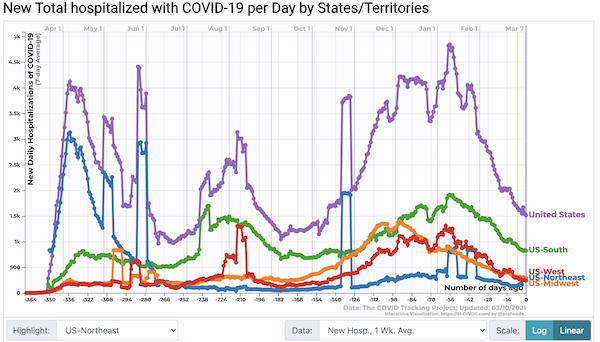 Hospitalization is discretionary; they may also be reducing their admissions rate — relative to cases we cannot see in this data! — to preserve future capacity; or because hospitals have figured out how to send people home.
Case fatality rate (plus deaths):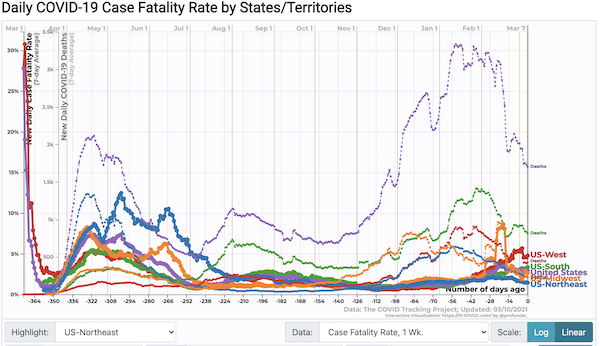 That fatality rate in the West (red) is rising still, which is what worries me. Now it's at it's highest in over a year. It's not going vertical, which is what I feared. Is the reason nobody else is worrying about this is that it's not really a problem? Is this some sort of statistical artifact as well?
* * *
Politics
"But what is government itself, but the greatest of all reflections on human nature?" –James Madison, Federalist 51
"They had one weapon left and both knew it: treachery." –Frank Herbert, Dune
"They had learned nothing, and forgotten nothing." –Charles Maurice de Talleyrand-Périgord
More to come. –lambert UPDATE All done!
Biden Administration
"Here's what's in the $1.9T COVID-19 relief package" [The Hill]. "The bill would expand the child tax credit in 2021, a move that Democratic lawmakers and economists say could substantially reduce child poverty. Democrats are hoping to make the expansion permanent in future legislation. The measure would increase from $2,000 to $3,600 the credit for children under 6 years old, and to $3,000 for older children. The additional amount would phase out for individuals with income above $75,000, head-of-household filers with income above $112,500 and $150,000 for married couples filing jointly. The bill would also make the credit fully refundable, in an effort to ensure that the lowest-income households receive the full amount of the credit. It would make 17-year-olds eligible for the credit. The IRS is directed to make periodic advance payments of the credit, so that households could receive the credit in installments throughout the year instead of having to wait to file their taxes to receive all the money." • Funny to watch Democrats tinkering with tax credits to make them not suck. Still, it could be worse!

UPDATE "Biden wants to sell the stimulus. The White House is still figuring out how." [WaPo], "The Biden administration weighed putting the president's name on stimulus checks to make sure he got credit for helping the millions of Americans who will receive aid — but rejected the idea in recent days. The White House is planning for President Biden to hit the road to promote the $1.9 trillion plan, but officials have not settled on where he should go.

And there is currently no major advertising campaign focused on the proposal. As Democrats prepare to celebrate what they see as one of the most significant domestic policy achievements in modern history, the White House has yet to fully develop a strategy for the next crucial step: selling it to the American public." • I think it's a classy gesture for Biden not to put his name on the check!

UPDATE "New $1,400 stimulus checks could be garnished for unpaid debts. Some are calling for that to change" [CNBC]. "because these new checks are set to be authorized through a process known as budget reconciliation, they will not be exempt from garnishment…. Consumer and banking trade groups, including the American Bankers Association, sent a letter to Congressional and Senate leaders on Monday calling for the stimulus payments to be exempt from garnishment. 'Otherwise, the families that most need this money — those struggling with debt and whose entire bank accounts may be frozen by garnishment orders — will be not be able to access their funds,' the letter said. The groups call on Congress to pass a standalone bill to prevent depository institutions from having to pay creditors who attempt to garnish and freeze bank accounts." • The American Bankers Association!!!!!

"Exclusive: Biden appoints Clare Martorana to lead the White House's digital efforts" [Fast Company]. "President Joe Biden is appointing Clare Martorana, a veteran of the U.S. Digital Service and a former health tech executive, to oversee White House efforts to upgrade the government's creaky tech infrastructure…. In October 2016, she joined the USDS's team at the U.S. Department of Veteran Affairs, where she led an effort to modernize the agency's digital infrastructure and make it easier for veterans to access and manage their benefits online. At the VA, Martorana used the principles of human-centered design to bring veterans into the process of designing and developing technology. "From rebuilding Veteran-facing applications to creating a personalized dashboard where Veterans can see their benefits in one place, our approach was the same: Veterans were at the center of every decision we made," wrote Martorana and USDS design director Kat Jurick about their work at the agency in 2019." • Do we have any veterans in the readership who can comment? (I should say that I'm favorably inclined to the Digital Service, which is an after-effect of the effort to unf*ck the ObamaCare marketplace after it crashed on launch.

UPDATE "US visa applicants denied under Trump's travel ban can reapply" [ABC]. "However, Price said that those who were selected in the diversity visa lottery during the fiscal years of the Trump administration are still barred from being issued visas if they haven't gotten them already, because 'the deadlines for visa issuance in those fiscal years have expired.' That means they are eligible for the diversity visa lottery again but have no redress for their denial under Trump's travel ban. The diversity visa lottery aims to accept applicants from nations with historically low rates of immigration to the United States." • It doesn't seem fair to allow people who won a lottery to take the lottery again (this being separate from my views on diversity visas as such).

If the U.S.S.R. had propagandists as good as ours, the Communists would still be in power today:

Psaki says Biden's pet cat "will break the internet" when it arrives to the White House as planned https://t.co/ExxdoTc6bh pic.twitter.com/9ZrSswGsE5

— The Hill (@thehill) March 9, 2021

First the dog, now the cat. What next? Birds? Fish?

UPDATE "Bush and Clinton portraits are back on display in White House's Grand Foyer" [CNN]. "The White House has rehung the official presidential portraits of former Presidents George W. Bush and Bill Clinton after they were removed last July during the Trump administration." • No doubt.
Republican Funhouse
"Republican donations surge despite corporate boycott after Capitol riots" [Reuters]. "Right after the deadly insurrection at the U.S. Capitol, dozens of U.S. companies announced they would halt political donations to the 147 Republican lawmakers who voted to overturn Donald Trump's presidential election loss. Two months later, there is little sign that the corporate revolt has done any real damage to Republican fundraising." • If only Democrats could say the same!
Democrats en Deshabille
"Sixth woman accuses NY governor Cuomo of harassment" [Agence France Presse]. • That's a damn shame.
Realignment and Legitimacy
"Election Assistance Commission Investigated Es&S Voting Systems" [Jenny Cohn, WhoWhatWhereWhy]. "While allies of former President Donald Trump have leveled spurious charges against Dominion Voting Systems surrounding the 2020 elections, they have generally turned a blind eye to questions about Election Systems and Software, LLC (ES&S), a much larger voting machine company operating in dozens of states, including Texas and Arizona. Documents obtained by WhoWhatWhy show that, about 40 days before the 2020 election, the federal Election Assistance Commission (EAC) quietly investigated concerns that ES&S's software installation and validation methods could have left touch-screen voting systems in up to 19 states vulnerable to the installation of malicious or otherwise unapproved software. The documents also suggest that ES&S may have initially misled election officials about this issue. The documents, produced by the office of the Texas secretary of state after a public records request, show that the investigation arose from the discovery by Texas voting machine examiners that ES&S had used an uncertified USB stick method to install software updates for some versions of its ExpressVote touchscreen voting machines. Software installed with this method didn't match the software certified by the EAC and failed hash-validation testing, which is conducted when new or updated software is installed…. ." • Yikes. This is an important post and a must-read. If possible, please redistribute; it's telling that Cohn couldn't get this material into a top-tier publication, because the article is good.

UPDATE "Allan McDonald Dies at 83; Tried to Stop the Challenger Launch" (obituary) [New York Times]. There were engineers in those days. During the Challenger Commission hearings:

At that point Mr. McDonald, sitting in the back of the room, stood up. His hands shaking, he told the panel that [Lawrence B. Mulloy, who oversaw the booster rockets for NASA] was not giving them the whole story; the engineers, he said, had been pressured and overruled.

Mr. Rogers immediately asked for the room to be emptied so that the commissioners could discuss Mr. McDonald's revelation. As the audience cleared out, Ms. Ride came over and hugged Mr. McDonald. Both of them had tears in their eyes.

"It was the turning point of the commission," Alton G. Keel, its executive director, said in an interview, adding that Mr. McDonald's statement and subsequent public testimony had led Mr. Rogers to take a more focused, adversarial approach. The commission's final report criticized both the design of the rockets and NASA's decision to ignore the engineers' concerns.

"Allan McDonald was a hero in our eyes," Mr. Keel said in an interview.

And now, financial engineering?
Stats Watch
Inflation: "February 2021 CPI: Year-over-Year Inflation Rate Now 1.7%" [Econintersect]. "According to the BLS, the Consumer Price Index (CPI-U) year-over-year inflation rate was 1.7 % year-over-year (up from the reported 1.4 % last month). The year-over-year core inflation (excludes energy and food) rate declined from 1.4 % to 1.3 %. Energy was the major influence for the month-over-month growth for the CPI-U. Medical care services cost inflation rose from 2.9 % to 3.0 % year-over-year."
Leading Indicator: "World Economy Projected To Return To Pre-Pandemic Output In 2021" [Econintersect]. "The OECD released its latest interim Economic Outlook report on Tuesday, providing us with an updated look at the pandemic's impact on the world economy. Striking a cautiously optimistic tone, the report finds that "global economic prospects have improved markedly in recent months," revising its GDP growth forecast for 2021 upward by more than 1 percentage point compared to the December issue of the OECD Economic Outlook…. Boosted by the global vaccine rollout, gradual reopenings and government stimulus, the OECD expects global GDP to grow by 5.6 percent this year, and continue the recovery with 4.0 percent growth in 2022. A high degree of uncertainty remains, however, as new virus mutations could spark another wave of infections during the vaccination campaign or even prove resistant to the vaccines currently deployed."
* * *
Tech: "Hackers Breach Thousands of Security Cameras, Exposing Tesla, Jails, Hospitals" [Bloomberg]. "A group of hackers say they breached a massive trove of security-camera data collected by Silicon Valley startup Verkada Inc., gaining access to live feeds of 150,000 surveillance cameras inside hospitals, companies, police departments, prisons and schools. Companies whose footage was exposed include carmaker Tesla Inc. and software provider Cloudflare Inc. In addition, hackers were able to view video from inside women's health clinics, psychiatric hospitals and the offices of Verkada itself. Some of the cameras, including in hospitals, use facial-recognition technology to identify and categorize people captured on the footage. The hackers say they also have access to the full video archive of all Verkada customers. In a video seen by Bloomberg, a Verkada camera inside Florida hospital Halifax Health showed what appeared to be eight hospital staffers tackling a man and pinning him to a bed. Halifax Health is featured on Verkada's public-facing website in a case study entitled: 'How a Florida Healthcare Provider Easily Updated and Deployed a Scalable HIPAA Compliant Security System.' A spokesman for Halifax confirmed Wednesday that it uses Verkada cameras but added that 'we believe the scope of the situation is limited.' Another video, shot inside a Tesla warehouse in Shanghai, shows workers on an assembly line. The hackers said they obtained access to 222 cameras in Tesla factories and warehouses. , said Tillie Kottmann, one of the hackers who claimed credit for breaching San Mateo, California-based Verkada."
Tech: That was fast:
I've reported it now, (this url for opensea abuses https://t.co/2NEVvJP53Q )

Dear artists, I guess we must do a daily google if we've been NFT:d from now on. Thanks Silicon Valley! https://t.co/RbOikIloOk

— Simon Stålenhag (@simonstalenhag) March 10, 2021
* * *
Today's Fear & Greed Index: 51 Neutral (previous close: 50 Neutral) [CNN]. One week ago: 52 (Neutral). (0 is Extreme Fear; 100 is Extreme Greed). Last updated Mar 10 at 12:30pm.
Health Care
"'Then the world caved in': 9 experts describe the day they realized Covid-19 was here to stay" [STAT]. We're going to be getting a lot of these Covid retrospectives. The "days" of the experts are: "10 years ago" (pandemic expert), "Jan. 24, 2020" (health care journalist), "the end of January 2020" (BioNTech CEO), "March 9th" (Nobel Prize winner in Chemistry), "Feb. 20" (former DHS official), "the first week of March 2020" (emergency physician), "February 2020" (dean of the Boston University School of Public Health), "Toward the end of February 2020" (emergency physician), and "late January 2020" (professor of medicine).
Lambert here: Not to preen unduly, but NC ran multiple Covid stories in Links on 1/20/2020, 1/21/2020, 1/22/2020, 1/23/2020 (our first masking link), and 1/24/2020. Yves ran "China Coronavirus Watch: Updated – Another Chinese City Locked Down to Prevent Spread" on 1/23/2020. We ran Eric Fiegl-Ding's "HOLY MOTHER OF GOD" tweet in Links, 1/25/2020. I created my first Links "bucket" (then #2019-nCoV, now #COVID19) on 1/28/2020. In short, dear readers, if you followed Naked Capitalism carefully, you had the information to "realize Covid was here to stay," and take action, before seven out of nine "experts."
Groves of Academe
"Cornel West leaving Harvard amid dispute over tenure position" [The Hill]. "Philosopher and activist Cornel West announced on Monday that he is leaving Harvard University's Divinity School. West announced on Twitter that he will be moving to Union Theological Seminary in New York City. Union Theological Seminary said in a statement that West will hold the position of the school's prestigious Dietrich Bonhoeffer chair." • It never occurred to me that West didn't have tenure at Harvard. The more fools they.
"Full of Fire" (interview) [Cornel West, Boycott Times]. "Right now, the market model has taken over. It's about donor money. It's about the public image. It's about consumer reputation of students and it's about top-heavy administration and bureaucrats who make big money. And yet when it comes to focusing on the souls and minds of students, there's too little priority. Students have to be at the center, at the core. We are trying to unsettle them, trying to empower their souls, trying to get them to shatter indifference and callousness and not be mere careerists and opportunists that just can't wait to make money and reinforce the organized greed and institutionalized contempt for common folk and for everyday people. This is the spiritual rot of the American empire. That's what Harvard needs to do. It's not just going to be a matter of a PR move here and a PR move there. No, they need to reevaluate the whole market model. And of course, Harvard unfortunately is often imitated by others. And others need to be wise: learn from the best of Harvard, reject the worst of Harvard." • And this is great: "Harvard's president, Lawrence Bacow, he's a decent brother. I mean, he's not a gangster the way my dear brother Larry Summers was, you know what I mean?" • Hmm. "Brother" seems to be used much like "bless his heart" would be, a locution with which I was unfamiliar.
Zeitgeist Watch
"Police pour scorn on Harry and Meghan's claims Archie's security was tied to him being a prince and say couple had NO right to bodyguards because as private individuals they were no longer under threat" [Daily Mail]. "But round-the-clock police protection is understood to have been taken away when they stepped down as working royals after a meeting of the government body that oversees protection. Prince Charles then reportedly said he would not fund their private security out of his own money…. Former chief superintendent Dai Davies, who led the Metropolitan Police's royalty protection unit, said the couple's plans were 'utterly unrealistic' and could have put British police at risk….He added: 'It was utterly unrealistic to think they could continue to have their royal protection team working in America – in fact it would have put their [police] lives at risk.'" • Because we're a nation of gun-owners, no doubt. About Archie, for whom I already have pity, most of the rest of the article is devoted to a detailed discussion of the line of succession, "Letters Patent," etc., a discussion as detailed as any in Game of Thrones. Clearly, the House of Windsor has an enormous fan base, who love the complexities of a multigenerational breeding program. They don't call it "good breeding" for nothing.
"Dumped British TV host Morgan pours more scorn on Meghan suicide, racism claims" [Reuters]. "Piers Morgan, the pugnacious British TV presenter who lost his job over his attacks on Prince Harry's wife Meghan, said on Wednesday he still did not believe what she had said during her Oprah Winfrey interview…. Morgan told reporters on Tuesday he thought Meghan's interview had damaged the monarchy and Queen Elizabeth at a time when her 99-year-old husband Prince Philip was in hospital, which he said was 'contemptible.' 'If I have to fall on my sword for expressing an honestly held opinion about Meghan Markle and that diatribe of bilge that she came out with in that interview, so be it,' he said."
"We're being endlessly played by the media as the toppling of Piers Morgan underscores" [Jonathon Cook]. "To fully understand how confected and bogus this segment is from start to finish, I suggest you carry out a small thought experiment. Imagine for a moment this same scene playing out but not between Morgan and Mos-Shogbamimu feuding over Meghan's personal, celebrity agonies. Imagine it taking place instead two years ago between Morgan and an equally outspoken supporter of the then Labour leader Jeremy Corbyn. Imagine this isn't about the issue of whether a mix-race boy will be allowed to call himself ;prince", or whether Meghan has felt depressed and isolated by her treatment from the Royals, but about much larger matters of political and public urgency: say, the antisemitism smears used to demonise Corbyn and his party, or the sinister corporate media campaign against him. Then imagine that, like Mos-Shogbamimu, Corbyn's ally is given five minutes to berate Morgan, calling him a liar, a racist, a misogynist, and telling him to his face to keep quiet and listen. Imagine further, if you can, that the Corbyn supporter not only feels bold enough to say all these things on Morgan's own show but is allowed to get away with it. Not only does Morgan fight back with one arm very visibly tied behind his back, but his own GMB execs let the segment run and run, preventing him from shutting down the interview, either verbally or by turning off the video connection. Can't imagine it? Of course, you can't. Because it would never be allowed to happen. No ally of Corbyn's would ever be given five minutes to trash Piers Morgan while upholding the rights of working people or criticising the rigged nature of the corporate media."'
"Royal Thieves: Queen Elizabeth Says That Harry And Meghan Took All 50 Sets Of Her Dentures With Them When They Left Buckingham Palace" [Clickhole]. "'I used to have so many lovely sets of dentures, but yesterday, I went to put my dentures into my mouth so that I could bite my great-grandson, Prince George on the leg, and when I crawled under my bed to get them, I discovered that the garbage bag where I keep all 50 sets of my false teeth had been stolen by Harry and Meghan on their way out of the palace,' Queen Elizabeth said to members of the press and a large crowd of British subjects. 'I'm now forced to wear my plastic vampire teeth, which I usually reserve for special occasions such as Christmas and Princess Diana's funeral.'"
The Agony Column
"Late-Stage Pandemic Is Messing With Your Brain" [The Atlantic]. "Everywhere I turn, the fog of forgetting has crept in. A friend of mine recently confessed that the morning routine he'd comfortably maintained for a decade—wake up before 7, shower, dress, get on the subway—now feels unimaginable on a literal level: He cannot put himself back there. Another has forgotten how to tie a tie. A co-worker isn't sure her toddler remembers what it's like to go shopping in a store. The comedian Kylie Brakeman made a joke video of herself attempting to recall pre-pandemic life, the mania flashing across her face: 'You know what I miss, is, like, those night restaurants that served alcohol. What were those called?' she asks. 'And there were those, like, big men outside who would check your credit card to make sure you were 41?'" • I bet plenty of essential workers remember exactly what it's like to deliver a pizza or change a bedpan, because they're doing it every dayt at work. More seriously: "The share of Americans reporting symptoms of anxiety disorder, depressive disorder, or both roughly quadrupled from June 2019 to December 2020, according to a Census Bureau study released late last year. What's more, we simply don't know the long-term effects of collective, sustained grief." • "Collective" is doing a lot of work there, if current attempts — candles in front of the Biden White House — are any guide.
Class Warfare
"[T]he Synecdoche Problem" [Freddie DeBoer]. "The synecdoche problem is just this: when people consistently advocate for a particular group, they come to believe that they know what's best for that group, can speak for that group, or just literally are that group. The constant advocacy creates a sense of identification that deludes the advocate. They become incapable of seeing that their point of view is not universally shared, or even broadly shared, by the people who make up that group… [O]ur perception of the concerns and positions of voters of color is often far out of line with their self-reported preferences." • As with Latinx (I myself am WASPx). I have a dim recollection that DeBoer was run off the Twitter by a gaggle of idpol goons, though perhaps I oversimplify, Heretical views like this would be the reason why. Ask a Korean has another angle on the same problem, in this thread:
In other words, these people – including me – all belong to the "leisure class". Not in a sense of being super rich and not having to work, but in a sense of having enough time/money/energy/social capital. And here, "social capital" can be as little as "ability to speak English."

— T.K. of AAK! (@AskAKorean) March 6, 2021
See also the Adolph Reed article I keep mentioning, "The Trouble with Uplift," on "voices," for another angle,
From Joe Weisenthal, in "risk apetite":
On a recent episode of our podcast, Tracy Alloway and I were interviewing the investor Howard Lindzon, who recently launched his own SPAC, the Social Leverage Acquisition Corp. And when he talked about where the idea to do a SPAC actually came from, he told us:

"My last pre-Covid memory of a fun time was at this incredible restaurant at Carbone, which is like an institution for some reason in New York, which is a hard-to-get-into Italian place, and I was sitting at a table with Adam Bain (former Twitter COO)… there were two things you talked about at the time with Adam Bain. We were talking about what the hell was going on with this Covid thing, and what is this SPAC that you speak of. Everybody was talking about Virgin Galactic, which was an Adam Bain production with Chamath that was done by SPAC… he took the time to walk us through how Chamath was thinking about SPACs."

One thing led to another and after this dinner conversation, eventually Howard did in fact launch a SPAC. And more people had versions of the same conversation (probably over Zoom) and so on and so on. And now we have this tidal wave of SPAC issuance. And now we have flying taxi companies that have billion dollar valuations despite no product. And we have all of this capital flowing into battery and EV companies through SPACs. And everybody wants a piece of the action. And a bunch of people are going to get very rich out of it and so on. Oh, and even Sammy Hagar of the band Van Halen is involved with a SPAC.

And then at some point, presumably, a bunch of these companies will flop, the cycle will retrench, the money will be less free-flowing, and what once was an expanding supply of money and wealth will start to shrink. But the point is that it's an organic process with the cycle of risk appetite — a phenomenon that's only partially related to any monetary or fiscal policy.
So this is how we allocate capital, in this truly exceptional country, in this best of all possible worlds.
News of the Wired
Another organic process:
i've soil pic.twitter.com/fl9APxDjEH

— hunca munca (@spindlypete) March 9, 2021
* * *
Readers, feel free to contact me at lambert [UNDERSCORE] strether [DOT] corrente [AT] yahoo [DOT] com, with (a) links, and even better (b) sources I should curate regularly, (c) how to send me a check if you are allergic to PayPal, and (d) to find out how to send me images of plants. Vegetables are fine! Fungi and coral are deemed to be honorary plants! If you want your handle to appear as a credit, please place it at the start of your mail in parentheses: (thus). Otherwise, I will anonymize by using your initials. See the previous Water Cooler (with plant) here. Today's plant (.Tom):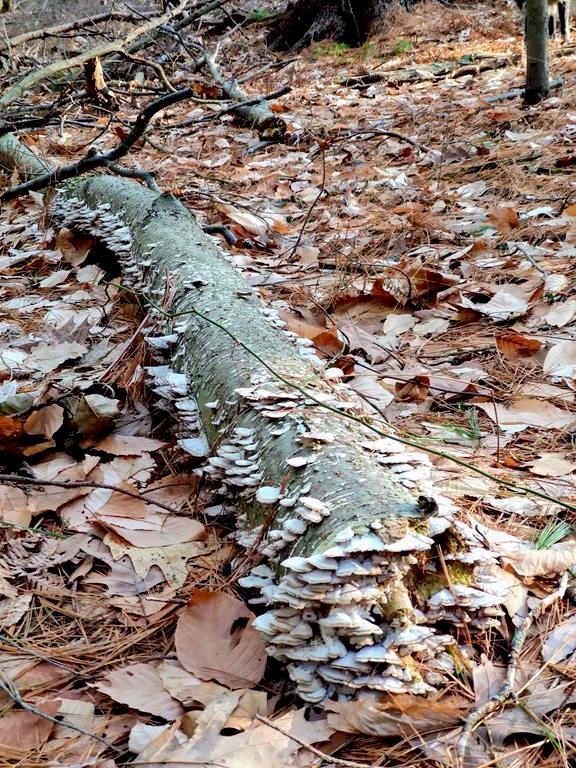 .Tom writes: "Another fungus-on-dead-tree-in-forest photo. Again from Blue Hills Reservation in Mass., this time on a frosty morning walk New Year's day. I like how the fungus growths organized themselves so as to give the former tree wings."
* * *
Readers: Water Cooler is a standalone entity not covered by the recently concluded and — thank you! — successful annual NC fundraiser. So if you see a link you especially like, or an item you wouldn't see anywhere else, please do not hesitate to express your appreciation in tangible form. Remember, a tip jar is for tipping! Regular positive feedback both makes me feel good and lets me know I'm on the right track with coverage. When I get no donations for five or ten days I get worried. More tangibly, a constant trickle of donations helps me with expenses, and I factor in that trickle when setting fundraising goals:
Here is the screen that will appear, which I have helpfully annotated.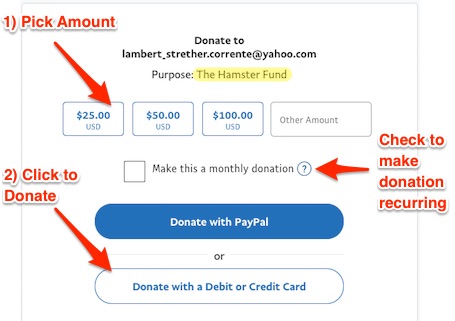 If you hate PayPal, you can email me at lambert [UNDERSCORE] strether [DOT] corrente [AT] yahoo [DOT] com, and I will give you directions on how to send a check. Thank you!