By Lambert Strether of Corrente.
Somehow the hive mind of the political class has decided that March 11 is "our" anniversary for Covid: "5 Ways the World Changed on March 11, 2020, When COVID-19 Was Declared a Pandemic" (People), "March 11, 2020: After the WHO declared COVID-19 a pandemic, the world came to a screeching halt" (ABC Denver), "March 11, 2020: An oral history of the day the 2019-20 NBA season was suspended" (NBA), "The Day Everything Changed: A Timeline of March 11, 2020" (10Boston), "March 11, 2020: The Day Everything Changed" (NPR), "The most unusual day': How March 11, 2020, marked the start of the COVID era" (Yahoo News), "A Pandemic Year" (WaPo), "Tom Hanks, The NBA, And COVID's Day Of Reckoning In The US: An Oral History" (Buzzfeed), and "'It felt like the world was falling apart': An oral history of the day that changed America" (NBC). I'm sure there are many others.
Of course, the putative anniversary was marked by a Presidential address: "Transcript: Joe Biden delivers remarks on 1-year anniversary of pandemic" (ABC). However, in this post I won't be pulling on my yellow waders to read it; rather, I'll focus on how convenient the March 11 is for the Professional-Managerial Class (PMC) that is so busily constructing this narrative for us, in the persons of writers at the New York Times, WaPo, People, Buzzfeed, ABC, NBC, and NBC, among others.
Why March 11? Well, because an authority (WHO, or, if you like, the NBA) ruled that Covid was a pandemic; the stories linked to above contain many examples of people not treating Covid seriously until such an authority told them to do so. Needless to say, at NC we took a different approach.
At NC, we did not wait for authority to declare anything. As I wrote earlier in Water Cooler — I'm expanding the idea to this post because the whole thing ticks me off so much — "Not to preen unduly, but NC readers were well aware of Covid months, plural, before March 11, the date the Times believes 'our' reality broke." We ran multiple Covid stories in Links on 1/20/2020, 1/21/2020, 1/22/2020, 1/23/2020 (our first link on masks), and 1/24/2020. Yves ran "China Coronavirus Watch: Updated – Another Chinese City Locked Down to Prevent Spread" on 1/23/2020, before Eric Fiegl-Ding's famous "HOLY MOTHER OF GOD" (Links, 1/25/2020). I created my first Links "bucket" (then "#2019-nCoV," now "#COVID19") on 1/28/2020. Both Yves and I put our Covid buckets at the top of Links, indicating that we felt Covid was the most important story. From that date forward, our Covid coverage was as exhaustive as we could make it. In short, dear readers, if you followed Naked Capitalism carefully, you had the goods on Covid well before the Times believes its own readers did. We've read in comments that readers used that time well, to prepare.
I said the March 11 date was convenient for the PMC. This is true for several reasons. First, it allows them to erase reasonable albeit ineffective actions that a political enemy of theirs took, well before March 11. Second, it allows them to erase shameful actions by a revered political figure, also before March 11. Third, it allows them to erase the technical bungles of an institution they regard as an authority. Finally, it allows them to erase the culpability of actors within an important Blue region. The remainder of this post will be the simple evidence backing up these points.
A March 11 Anniversary Erases Trump's Actions
In January–
Just to quote Biden's anniversay speech once:
A year ago we were hit with a virus that was met with silence and spread unchecked. Denials for days, weeks, then months. That led to more deaths, more infections, more stress, and more loneliness.
Except, as CNN gently points out, Biden is being economical with the truth:
In late January 2020, the White House announced a coronavirus task force, declared a public health emergency, and imposed travel restrictions on China. Trump spoke of the threat of the virus at a campaign rally in late January 2020 and in his State of the Union address in early February 2020.
Now, one could argue that Trump's actions were ineffective or even malevolent. What they were not, was "silent." On the issue of travel restrictions, for example, I recall a noisy discussion: Some believed there should be no restrictions. Besides the travel industry; WHO wanted its own personnel to be able to travel. Others believed the restrictions were racist (although the record is extraordinarily polluted about who said what when). Still others, in San Francisco and New York, visited their own Chinatowns, whose restaurants were already struggling. (To my recollection, there was no discussion of a complete travel ban, which seems to have been a prerequisite for success in China, New Zealand, Australia, Thailand, and Vietnam, again if my recollection is correct, an enormous failure of nerve by our political class collectively.) Nevertheless, "silence"? Not at all.
A March 11 Anniversary Erases Fauci's Noble Lie on Masks
March 8–
Here is the Fauci Noble Lie, from March 8 on CBS "60 Minutes":
"," infectious disease expert Dr. Anthony Fauci told 60 Minutes. While masks may block some droplets, Fauci said, they do not provide the level of protection people think they do. Wearing a mask may also have unintended consequences: People who wear masks tend to touch their face more often to adjust them, which can spread germs from their hands.
(Note that Fauci is pushing the theory that Covid spreads by droplets alone, but the tide did not begin to turn on aerosols until May, so I cannot hold his adherence to an outdated paradigm against him.)
And here is Fauci admitting his Noble Lie, from Business Insider on July 16:
"I don't regret anything I said then because in the context of the time in which I said it, it was correct. We were told in our task force meetings that we have a serious problem with the lack of PPEs and masks for the health providers who are putting themselves in harm's way every day to take care of sick people,"
This is decision-making with a democratic deficit. Rather than make the case that health care workers deserved masks as a public good, Fauci simply lied to the great unwashed, so they wouldn't buy masks on market. The Week commented, before Fauci's admission, in "The noble lie about masks and coronavirus should never have been told":
As would more of I will bluntly call adult behavior. We must put an end to the idea that the best way to get through this crisis is to say things we know are not true in the hope of getting people to behave a certain way. This means not saying masks are useless when what you really mean is, "Masks are in short supply, please consider before you start hoarding them whether you really need them at present and if so how many."
And I'm still ticked off because I bought into Fauci's argument (and WHO's), and had to apologize to readers for doing so. As I ought to be!
A March 11 Anniversary Erases CDC's Test Kit Bungling
In February–
There have been several versions of how the CDC bungled the Covid test kits; first, everybody was silent, then it was contractors, finally it became CDC personnel (none of whom, naturally, have been held accountable, nor, naturally, the CDC itself). This story from the New Yorker is the latest version, at least. From "The Plague Year":
The testing fiasco [in early February] marked the second failed opportunity America had to control the contagion…. The development of the C.D.C.'s test kits was overseen by Stephen Lindstrom, a microbiologist from Saskatchewan, who was known for his ability to function under pressure. C.D.C. scientists began working sixteen-hour days. The C.D.C.'s Biotechnology Core Facility is in charge of producing the components used to detect such pathogens as flu, H.I.V., and SARS. To save time, Lindstrom asked the Core Facility to produce both the components and a template of a coronavirus fragment, which would be used to generate the positive control for the C.D.C. test. But, just as the kits were being boxed up to be mailed, a last-minute quality-control procedure found a problem that could cause the tests to fail thirty-three per cent of the time. A decision was made—perhaps by Lindstrom, perhaps by his superiors—to send the kits anyway. According to ProPublica, Lindstrom told colleagues, "This is either going to make me or break me." (The C.D.C. did not make Lindstrom available for comment.)

Almost immediately, public-health labs realized that something was wrong with the kits. The labs are required to do a negative control on the test—for instance, using sterile water—and the tests kept showing false positives.

The C.D.C. test kit had three sets of primers and probes, which are tiny bits of nucleic acid that find a segment of RNA in the virus and replicate it until it gets to a detectable level. Two were aimed at SARS-CoV-2 and a third would detect any coronavirus, in case the virus mutated. The third component failed. Public-health labs figured this out quickly. On their behalf, Scott Becker communicated with the C.D.C. on February 9th, seeking permission to use the test without the third component. 'I got radio silence,' he told me. Later, he learned that an internal C.D.C. review showed that it hadn't passed the quality-control check before the test kit was sent out. "That was a gut punch," Becker said.
There's plenty more detail like that, and I don't want to make Lindstrom "The Man in the Dock" for an institutional failure. But if you make the assumption that extensive testing is needed to control the virus, then the battle was lost when the CDC test kits failed.
A March 11 Anniversary Erases Covid's Spread from the Acela Corridor
On or about March 1–
From the New York Times, "Travel From New York City Seeded Wave of U.S. Outbreaks":
Other scientists said that they would like to see more samples before calculating precise figures. But they agreed that New York's prominence in seeding the national spread appears to have begun in early March, two weeks before stay-at-home orders were put in place [on March 20].

A New York Times analysis of travel data supports the idea that the chains of infection originated in New York, experts said. The number of cases across the country was closely related to how many travelers each place received from New York in early March, based on anonymized cellphone tracking data from Cuebiq, a data intelligence company.

"It looks like ," said Dr. Kari Stefansson, founder and chief executive of deCODE Genetics, a leading genome analysis firm based in Reykjavik, Iceland.

Last week, Dr. Andersen of Scripps Research and other scientists analyzing the outbreak in New Orleans reported that all of the samples taken from New Orleans were from the line linked back to New York. The virus swept through the area in March and has killed more than 1,000 people.
Here is a handy map: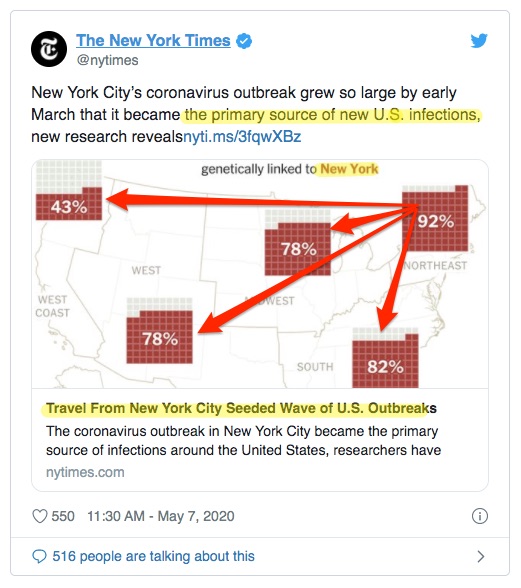 (Note: These are not the earlier excursions from Manhattan to the Hamptons and the Hudson Valley, which also spread the virus, but not, apparently, on a national scale.)
Conclusion
Needless to say, Trump is a political enemy of the PMC, who are the base of the Democrat Party. Hence, Biden's erasure with "silence." Fauci ("American's favorite doctor") is a revered figure in the PMC generally and the press in particular if only as a Trump antagonist; Biden immediately picked him work with WHO on an international response plan. Hence, it makes sense to protect him, Noble Lies or not. The CDC, as an institution chock full of credentialed professionals, is naturally above criticism. As is the Acela Corridor, the PMC heartland. A source of contagion?! The idea! Handily, the March 11 date erases all these pesky details. The appropriate people, organs, and regions retain their authority and charisma. The hive mind hums happily. My anniversary would be 1/23, the day NC first devoted a post to Covid.
In a way, the transition from Trump to Biden reminds me of the transition from Bush to Obama; the sighs of relief and the hagiography in the Democrat Party are similar, albeit more intense this time around. However, Obama consolidated and rationalized almost everything Bush did. Biden, amidst the Trumpian wreckage, will consolidate, among other things, the pharmaceutical fruits of Operation Warp Speed (which include vaccines that work like software, platforms with the ability to deliver upgrades). Neither Trump, nor Biden, gave or will give the slightest consideration to the one solution that would have eliminated the virus: Paying people to stay home. Can't give the working class the idea that they might not have to sell their labor power to survive. So it goes.