By Lambert Strether of Corrente.
Bird Song of the Day
#COVID19
At reader request, I've added this daily chart from 91-DIVOC. The data is the Johns Hopkins CSSE data. Here is the site.
I feel I'm engaging in a macabre form of tape-watching. If we are in the eye of the storm, we are still in the eye of the storm.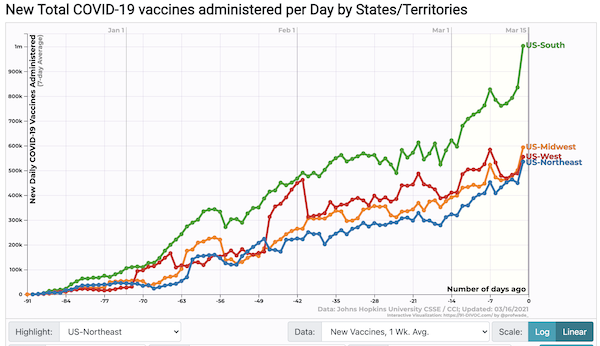 This is yesterday's data; no data for today. • Early in February, I said a simple way to compare Biden's performance to Trump's on vaccination would be to compare the slopes of the curves. If Biden accelerated vaccine administration, post-Inaugural slopes would get steeper. They have not. The fragmented, Federalized, and profit-driven lumbering monstrosity that we laughingly call our "health care" "system" has not responded to "energy in the executive," but has continued on its inertial path.
Case count by United States regions: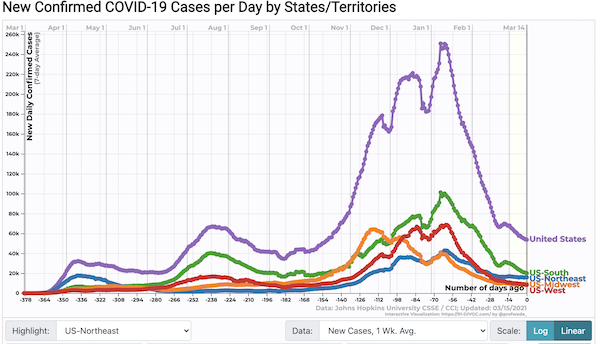 Before we break out the champers, we would do well to remember that cases are still well above the peak New York achieved early in the crisis, then regarded, rightly, as horrific.
Big states (New York, Florida, Texas, California):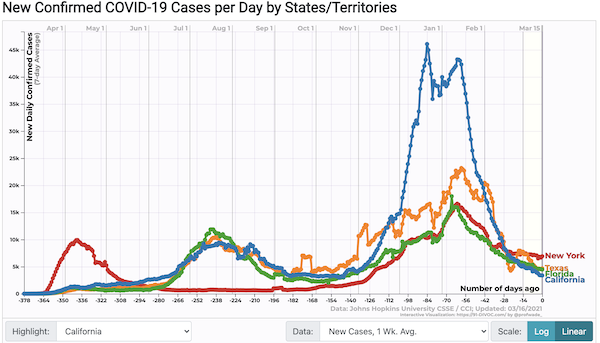 New York leads.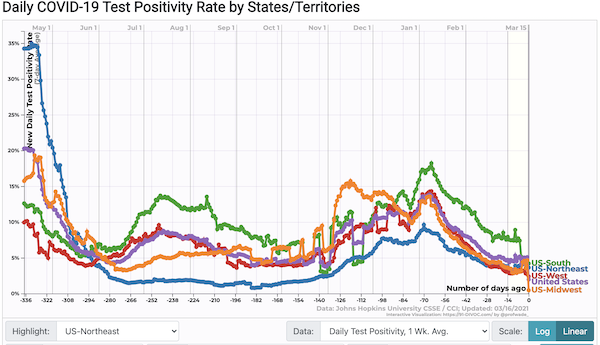 Humongous drop in the West, but is this a data artifact?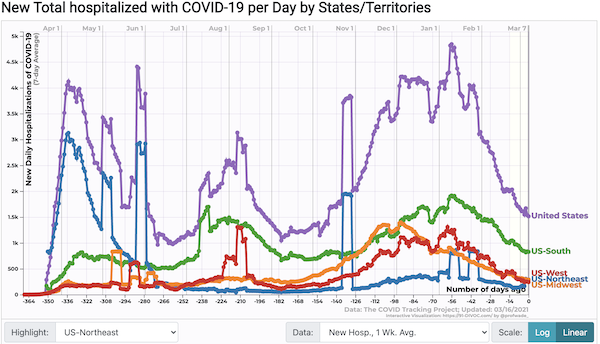 Hospitalization is discretionary; they may also be reducing their admissions rate — relative to cases we cannot see in this data! — to preserve future capacity; or because hospitals have figured out how to send people home.
Case fatality rate (plus deaths):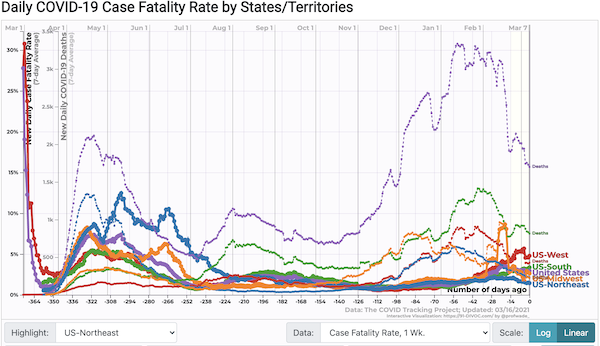 Good to see those deaths dropping. The fatality rate in the West is where it was last May.
* * *
Politics
"But what is government itself, but the greatest of all reflections on human nature?" –James Madison, Federalist 51
"They had one weapon left and both knew it: treachery." –Frank Herbert, Dune
"They had learned nothing, and forgotten nothing." –Charles Maurice de Talleyrand-Périgord
More to come. –lambert
Capitol Seizure
"What I Saw Inside the Capitol Riot" [Slate]. From January, still germane: "I saw a man in a conference room with his feet up. He and his friends were smoking weed, and when we clocked each other, they offered me a joint." • Whatever the Capitol Seizure was, it wasn't an insurrection. Come on, man.

"Capitol Police planning to start removing fence" [The Hill]. "Capitol Police in the coming days will begin scaling back and removing parts of the perimeter fencing erected outside the Capitol after the deadly Jan. 6 insurrection. In a memo to lawmakers and staff on Monday, acting House Sergeant-at-Arms Timothy Blodgett said that Capitol Police officials have stated that 'there does not exist a known, credible threat against Congress or the Capitol Complex that warrants the temporary security fencing.' Due to the reduced threat level since supporters of former President Trump stormed the complex, the Capitol Police and the Architect of the Capitol will adjust the inner perimeter fencing this week to move it closer to the building and provide more street and sidewalk access. The Architect of the Capitol will also remove the razor wire lining the top of the inner perimeter fence. And late next week, the agencies will start removing the outer perimeter fencing and open Independence Avenue and Constitution Avenue to traffic for the first time since January. — the part of the campus between Independence Ave. NW and Constitution Ave. NW and First St. NW and First St. NE — while the Architect of the Capitol "continues to make necessary security repairs to the Capitol building,' Blodgett said. Blodgett also wrote in the memo that 'it is anticipated' that the National Guard will start to reduce its presence at the Capitol in the coming weeks." • Maybe "start" is doing a lot of work there? I don't know the Capitol area well enough to know if these measures would mean, subjectively, that the Capitol was no longer fenced in (though no more razor wire is a good start). Readers?
Biden Administration
About "cutting poverty in half":

Interesting. The screenshot on the left was from this morning. 12 hours later (right), they've edited the front page of the report to fit their narrative, omitting reference to raising the minimum wage: pic.twitter.com/RlNyhYjEy6

— Leila Charles Leigh 🌹 – Purity Tester (@leilacleigh) March 12, 2021

Not the Biden Administration per se; just the talking point everybody is using.

"How Biden, Republicans and public health leaders are trying to persuade GOP skeptics to get their Covid vaccinations" [NBC]. "While efforts to combat vaccine hesitancy and access have so far been mostly focused on African Americans and Latinos, recent polls suggest the largest group of Americans either hesitant about the Covid-19 vaccine or outright opposed to it are Republicans, and efforts to reach them are only in their infancy. Success convincing skeptical conservatives could be the difference between the United States reaching herd immunity or not. That's why a group of Republican pollsters and politicians, plus the White House, are all already working on getting the skeptics on board. Messages targeted at minority groups were overt and discussion of hesitancy among people of color was clear. But when it comes to targeting a partisan population, appearing overtly political opens up new risks and could backfire, those working on the efforts warn." • From Frank Luntz:

Here was my attempt to reach people who have deep suspicions about the Covid vaccine, government, and the virus. Doctors will be critically important messengers to reach this group and many others. @FrankLuntz @deBeaumontFndtn @BrianCCastrucci pic.twitter.com/uOsFOyuPR8

— Dr. Tom Frieden (@DrTomFrieden) March 15, 2021

UPDATE "Historic benefits in stimulus bill may answer a big question for Democrats" [CNN]. "The vast scale of this material assistance to financially strained families of all races will test whether any conceivable set of government economic benefits can loosen the GOP's hold on working-class Whites — or the modest but measurable gains that Trump recorded in the 2020 race among working-class Hispanics and even some Black voters (especially men in each case)."
2022
"Billionaire Peter Thiel gives $10 million to super PAC backing potential JD Vance Senate bid in Ohio" [The Hill]. "Vance is a venture capitalist and author, who rose to prominence for his 2016 memoir Hillbilly Elegy that has since been made into a Netflix film of the same name. He grew up in Middletown, Ohio, and now lives in Cincinnati. Vance previously considered challenging Sen. Sherrod Brown (D-Ohio) in 2018, though he ultimately declined. That hasn't stopped efforts to recruit him into the state's 2022 Senate race." • I imagine the Trillbillies will have something to say about this.
Democrats en Deshabille
Neera's back on the job?

A four-and-a-half page memo from CAP and others to transition borrowers back into paying off their student loans on Sept. 30 when the easy, obvious solution is right there: cancel it all.

h/t @Econ_Marshall
https://t.co/NeomeAejcs pic.twitter.com/w05jJ5JmmK

— Eoin Higgins (@EoinHiggins_) March 16, 2021

"Democrats, Pushing Stimulus, Admit to Regrets on Obama's 2009 Response" [New York Times]. "Party leaders from President Biden on down are citing Mr. Obama's strategy on his most urgent policy initiative — an $800 billion financial rescue plan in 2009 in the midst of a crippling recession — as too cautious and too deferential to Republicans, mistakes they were determined not to repeat. The pointed assessments of Mr. Obama's handling of the 2009 stimulus effort are the closest Democrats have come to grappling with a highly delicate matter in the party: the shortcomings in the legacy of Mr. Obama, one of the most popular figures in the Democratic Party and a powerful voice for bipartisanship in a deeply divided country." • Twelve years after the debacle, Democrats are wondering whether creating the conditions for Trump was a bad thing.
Realignment and Legitimacy
"Families, activists call for COVID-19 Memorial Day to be declared in March" [Today]. Kristin Urquiza, co-founder of the advocacy group Marked By COVID (just look at the bios): "Why do we need a national COVID-19 Memorial Day? March really is the time in which everything changed for , so we wanted to set the tone for the entire month." • Not for everyone, it wasn't.

This could be read as a takedown of Jack Goldsmith's article on the history of the Federalist Society, quoted yesterday. It's a long and good thread, but here's the best one-liner:

The Federalist Society also satisfies two other definitions of conservative thought.

First, @StevenBrust's: "If you think human rights are more important than property rights, you're not a conservative. If you think property rights ARE human rights, you are a conservative."

6/

— Cory Doctorow (@doctorow) March 16, 2021
Stats Watch
Retail: "Year-over-year import price indices inflation grew from +1.4 % to +3.0%" [Econintersect]. "Retail sales have fully recovered their pre-virus levels overall. There was a significant upward adjustment to last month's data. The real test of strength is the rolling averages which were little changed. Overall, this report is considered weaker than last month."
Manufacturing: "February 2021 Headline Industrial Production Declines Due To Weather" [Econintersect]. "The headlines say seasonally adjusted Industrial Production (IP) declined month-over-month – and remains in contraction year-over-year. Our analysis shows the three-month rolling average marginally improved."
Housing: "January 2021 CoreLogic Single-Family Rents: Sharp Rise in Single-Family Rents from a Year Earlier" [Econintersect]. "The Single-Family Rent Index (SFRI), which analyzes single-family rent price changes nationally and across major metropolitan areas, for January 2021 shows a national rent increase of 3.8% year over year, up from a 2.9% year-over-year increase in January 2020. In January, rent growth continued to show promising strength. National rent prices reached the largest annual gain since June of 2016, and prices in three of the four price tiers exceeded pre-pandemic levels."
Inflation: "February 2021 Import Year-over-Year Inflation Grows To +3.0%" [Econintersect]. "Year-over-year import price indices inflation grew from +1.4 % to +3.0 %."
* * *
The Bezzle:
NON-FUNGIBLE ELONS pic.twitter.com/KZDpYGVWvz

— beeple (@beeple) March 16, 2021
The Bezzle: "Bitcoin ATMs are coming to a gas station near you" [Reuters]. "A new feature has appeared at smoke shops in Montana, gas stations in the Carolinas and delis in far-flung corners of New York City: a brightly-lit bitcoin ATM, where customers can buy or sell digital currency, and sometimes extract hard cash…. As of January, there were 28,185 bitcoin ATMs in the United States, according to howmanybitcoinatms.com, an independent research site. Roughly 10,000 came within the prior five months."
Concentration: "How Washington fumbled the future" [Politico]. The deck: "A decade ago, a surging Silicon Valley giant was making plans to dominate the internet. Given a chance to stop it, regulators chosen by Barack Obama misread the evidence in front of their eyes." Wait. Obama? Actual reporting (!), well worth a read. Here is a summary of they key moment: "The FTC's decision to let Google off the hook reflected an era when the Obama administration had a close relationship with Silicon Valley and Americans held largely positive views toward the emerging tech giants. But the documents also demonstrate how the Obama-era FTC took a cautious approach to antitrust enforcement, deferring to the wisdom of the agency's economists over its lawyers — an attitude anti-monopoly advocates are now questioning as Congress considers sweeping changes to antitrust laws." • Ah, economists. I recall reading today that peer reviewers in the world of economics don't review blind, but actually know who wrote the articles they're reviewing. Can this be true?
* * *
Today's Fear & Greed Index: 58 Greed (previous close: 60 Greed) [CNN]. One week ago: 50 (Neutral). (0 is Extreme Fear; 100 is Extreme Greed). Last updated Mar 16 at 2:08pm. One year ago: 3 (Extreme Fear).
Health Care
"Testimony of Linsey C. Marr, Ph.D., Charles P. Lunsford Professor of Civil and Environmental Engineering, Virginia Tech" (PDF) [Subcommittee on Workforce Protections, Committee on Education and Labor, United States House of Representatives]. Important!
At the beginning of the pandemic, most of the emphasis was on wiping down your groceries to avoid transmission by touching contaminated surfaces. However, all evidence suggests that transmission from contaminated surfaces is rare. It is possible, but there are zero documented cases involving this type of transmission. Although laboratory studies have shown that this coronavirus can survive for many hours on different types of surface materials, the experiments used unrealistically large amounts of virus in unrealistically large droplets.

For over a century, physicians and many scientists have believed that colds and the flu are spread mainly by large droplets released during coughing. The droplets could land on your eyes, nose, or mouth, and they are large enough that, if they don't hit anybody, they fall to the ground within 3 to 6 feet of the sick person. Many cases of COVID-19 have been traced to "close contacts," and this was incorrectly interpreted to mean that large droplets were responsible for transmitting the disease.

However, this assumption ignores the fact that when people breathe, talk, sing, laugh, cough, or sneeze, they release far more aerosols than large droplets, as shown in Figure 1. When we speak, we release hundreds of aerosols for every one large droplet. These aerosols are most concentrated close to the sick person, and they don't fall quickly to the ground. Instead of falling like cannonballs, they remain floating in the air and follow air currents like cigarette smoke. , as shown in Figure 1. …
"A new study suggests 3 feet, not 6 feet, is sufficient distance for school students, with mask-wearing and other safety measures kept in place." [New York Times]. "The new study, published on Wednesday, compared the incidence rates of virus cases among students and staff members in Massachusetts school districts that required at least six feet of separation with those that required only three feet of distance, and found no statistically significant differences in infection rates among staff members or students." •
"Effectiveness of three versus six feet of physical distancing for controlling spread of COVID-19 among primary and secondary students and staff: A retrospective, state-wide cohort study" (PDF) [Clinical Infectious Diseases]. The Conclusion: "Lower physical distancing policies can be adopted in school settings with masking mandates without negatively impacting student or staff safety." • However, according to Table II, 90% of the schools studied also had "ventilation interventions," which would be (if I have my statistical jargon correct) an enormous confounding factor. So, we are about to conduct yet another enormous natural experiment…
Our Famously Free Press
"How Do Big Media Outlets So Often "Independently Confirm" Each Other's Falsehoods?" [Glenn Greenwald]. Based on RussiaGate (for which there's a great recap: "When a news outlet such as NBC News claims to have "independently corroborated" a report from another corporate outlet, they often do not mean that they searched for and acquired corroborating evidence for it. What they mean is much more tawdry: they called, or were called by, the same anonymous sources that fed CNN the false story in the first place, and were fed the same false story." And a current case: "On January 9, The Washington Post published a story reporting that an anonymous source claimed that on December 23, Trump spoke by phone with Frances Watson, the chief investigator of the Georgia Secretary of State's office, and directed her that she must "find the fraud" and promised her she would be 'a national hero' if she did so. The paper insisted that those were actual quotes of what Trump said. … But late last week, The Wall Street Journal obtained a recording of that call, and those quotes attributed to Trump do not appear. As a result, The Washington Post — two months after its original story that predictably spread like wildfire throughout the entire media ecosystem — has appended a correction at the top of its original story. Politico's Alex Thompson correctly pronounced these errors 'real bad' because of how widely they spread and were endorsed by other major media outlets." • Lol, we know all about "corrections" at the top of unretracted garbage stories; that's what WaPo did with its PropOrNot story smearing us. In any case, I suppose I should have been following the story of the Trump Georgia call, but at this point I always look at the lead first: If the story has anonymous sources, I figure it's fake, and move on. Sad but true.
Zeitgeist Watch
"A Bucks County woman created 'deepfake' videos to harass rivals on her daughter's cheerleading squad, DA says" [Philadelphia Inquirer]. "A Bucks County woman anonymously sent coaches on her teen daughter's cheerleading squad fake photos and videos that depicted the girl's rivals naked, drinking, or smoking, all in a bid to embarrass them and force them from the team, prosecutors say…. After analyzing the videos, detectives determined they were 'deepfakes' — digitally altered but realistic looking images — created by mapping the girls' social media photos onto other images. Detectives traced the phone numbers to a website specializing in selling them to telemarketers, and followed the data to an IP address that showed activity from within [Raffaela] Spone's house in Chalfont. After searching Spone's smartphone, detectives found evidence linking her to the numbers used to send the harassing texts and images, the affidavit said."
Black Injustice Tipping Point
"What Happens When a Slogan Becomes the Curriculum" [Conor Friedersdorf, The Atlantic]. This is all about a curriculum adopted in Evanston, IL, which is a bit of an outlier. Ends with a question: "In persuading Evanston educators to adopt a BLM at School curriculum, Black Lives Matter activists did their job. Did the District 65 public schools do theirs?" • The curriculum started as a volunteer effort. I doubt that will last; curricula and textbooks are very profitable, as are all the ancillaries, like speaking gigs, book deals, etc.
"It is Time for Accountability" [STATEMENT FROM THE FRONTLINES OF BLM]. "It was recently declared that Patrisse Cullors was appointed the Executive Director to the Black Lives Matter Global Network (BLMGN) Foundation. Since then, two new Black Lives Matter formations have been announced to the public: a Black Lives Matter Political Action Committee, and BLM Grassroots. BLM Grassroots was allegedly created to support the organizational needs of chapters, separate from the financial functions of BLMGN. We, the undersigned chapters, believe that all of these events occurred without democracy, and assert that it was without the knowledge of the majority of Black Lives Matters chapters across the country and world." • What might be expected from an organization without staff or board on its About page, that's also asking for money, and collected rather a lot of it.
"Tamir Rice's Mother Calls Tamika Mallory and Celebrity BLM Activists 'Clout Chasers'" [Jezebel]. "Mallory was one of the original co-chairs of the Women's March, but quietly stepped down with two other Women's March leaders following allegations of anti-Semitism and organizational mismanagement in 2019. In the spring, Mallory spoke at rallies for George Floyd and Breonna Taylor. Rice shared a clip of Mallory's Grammy performance on Facebook Monday morning, writing, 'Look at this clout chaser did she lose something in this fight i don't think so. That's the problem they take us for a joke thats why we never have justice cause of shit like this.'… Rice is perhaps understandably skeptical of some of the corporate infrastructure that has been built up around what is, at its core, an organic, grassroots movement." • But what's at the core of BLM is the issue, as the link above shows.
Guillotine Watch
"Private Schools Have Become Truly Obscene" [Caitlin Flanagan, The Atlantic]. This is a well-trodden beat, but: "Parents at elite private schools sometimes grumble about taking nothing from public schools yet having to support them via their tax dollars. But the reverse proposition is a more compelling argument. Why should public-school parents—why should anyone—be expected to support private schools? Exeter has 1,100 students and a $1.3 billion endowment. Andover, which has 1,150 students, is on track to take in $400 million in its current capital campaign. And all of this cash, glorious cash, comes pouring into the countinghouse 100 percent tax-free." • Since apparently we're going to have a tax bill, this might be a fun place to start.
Class Warfare
"Conquest and Slavery as Foundational to Property Law" [K-Sue Park, Georgetown Law Faculty Publications and Other Works]. "This article demonstrates that the histories of conquest and slavement are foundational to U.S. property law. Over centuries, laws and legal institutions facilitated the production of the two commodities, or forms of property, upon which the colonial economy and the United States came to depend above all others: enclosures of Native nations' land and enslaved people. By describing the role of property law in creating markets for lands and people, this article addresses the gap between the marginal place of these histories in the contemporary property law canon and the growing scholarly and popular recognition that conquest and enslavement were primary modes of property formation in American history."
"Google's Colosseum" [Google's Colosseum]. "In the formulation of Gebru's paper, large language models ('large' because they're trained on a massive, unsanitized corpus of texts from the wilds of the internet) re-present, or 'parrot,' the problematic linguistic status quo. And in parroting it, they can perpetuate it… As someone who trained as an historian, it's not at all surprising to me that what was true of the Roman Colosseum — in everything from the class-stratified seating arrangement to the central spectacle — is also true of a the massively complex and expensive public display of cultural power that is Google's language model." • With a neat diagram of the Colosseum showing the class stratification.
News of the Wired
"Future life expectancy in 35 industrialised countries: projections with a Bayesian model ensemble" [The Lancet]. "Life expectancy is projected to increase in all 35 countries with a probability of at least 65% for women and 85% for men. There is a 90% probability that life expectancy at birth among South Korean women in 2030 will be higher than 86·7 years, the same as the highest worldwide life expectancy in 2012, and a 57% probability that it will be higher than 90 years. Projected female life expectancy in South Korea is followed by those in France, Spain, and Japan. There is a greater than 95% probability that life expectancy at birth among men in South Korea, Australia, and Switzerland will surpass 80 years in 2030, and a greater than 27% probability that it will surpass 85 years. Of the countries studied, the USA, Japan, Sweden, Greece, Macedonia, and Serbia have some of the lowest projected life expectancy gains for both men and women. "
"What If You Could Describe Your Dreams While Dreaming?" [Nautilus]. "[Psychologist Karen] Konkoly and her colleagues trained lucid dreamers to receive and send messages, demonstrating that dreaming people can remember and follow instructions from when they were awake and engage in cognitive tasks when asked to. Interestingly, when the researchers woke up their subjects and asked them about their dreams, the dreamers sometimes misremembered the math problem [(their cognitive task)], showing strong evidence of the problems associated with relying on dream reports of waking people. People's memories of their own dreams can be wrong, even when those dreams were lucid."
HTML:
HTTP. I'm not HTTPS cuz I'm too insecure

— Esra (@esrasilvertunga) March 11, 2021
* * *
Readers, feel free to contact me at lambert [UNDERSCORE] strether [DOT] corrente [AT] yahoo [DOT] com, with (a) links, and even better (b) sources I should curate regularly, (c) how to send me a check if you are allergic to PayPal, and (d) to find out how to send me images of plants. Vegetables are fine! Fungi and coral are deemed to be honorary plants! If you want your handle to appear as a credit, please place it at the start of your mail in parentheses: (thus). Otherwise, I will anonymize by using your initials. See the previous Water Cooler (with plant) here. Today's plant (RT):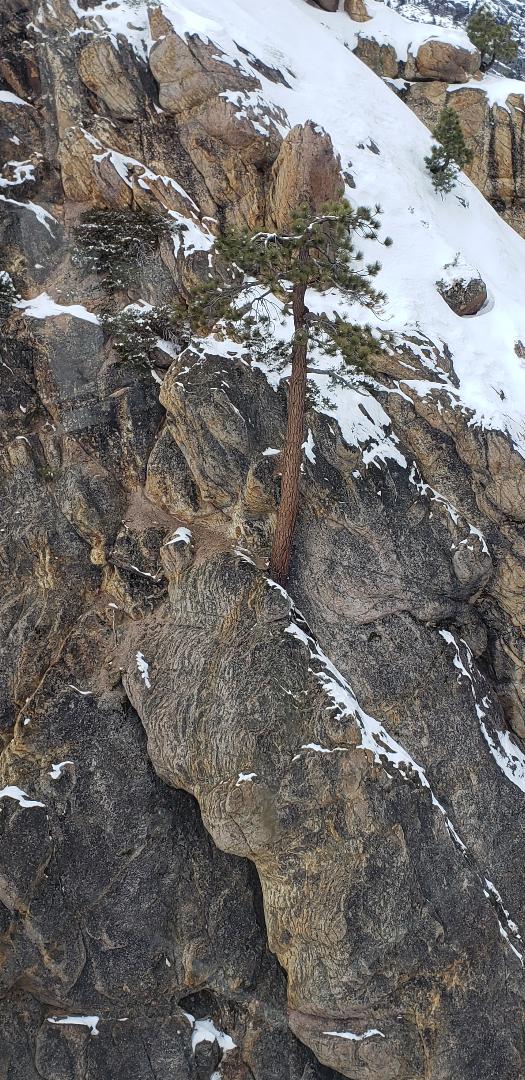 RT writes: "I drive the tram at Squaw Valley, CA one day/week to get a pass for wife and I. The job has compensations: pulling the legs of tourists, and a great traveling office with varying scenery, the occasional porcupine and some tough trees. Here's one.
* * *
Readers: Water Cooler is a standalone entity not covered by the recently concluded and — thank you! — successful annual NC fundraiser. So if you see a link you especially like, or an item you wouldn't see anywhere else, please do not hesitate to express your appreciation in tangible form. Remember, a tip jar is for tipping! Regular positive feedback both makes me feel good and lets me know I'm on the right track with coverage. When I get no donations for five or ten days I get worried. More tangibly, a constant trickle of donations helps me with expenses, and I factor in that trickle when setting fundraising goals:
Here is the screen that will appear, which I have helpfully annotated.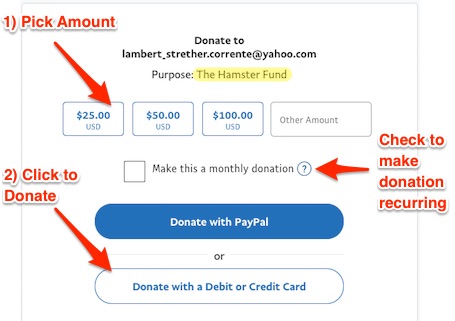 If you hate PayPal, you can email me at lambert [UNDERSCORE] strether [DOT] corrente [AT] yahoo [DOT] com, and I will give you directions on how to send a check. Thank you!