By Lambert Strether of Corrente.
Bird Song of the Day
Four minutes of Budgies!
#COVID19
* * *
At reader request, I've added this daily chart from 91-DIVOC. The data is the Johns Hopkins CSSE data. Here is the site.
I feel I'm engaging in a macabre form of tape-watching. If we are in the eye of the storm, we are still in the eye of the storm. Last week I took a loot at variants, and concluded "at least according to reported data, the variants have not made themselves known to the health care system" (caveat: Covid is a multiplicative process). I promised then I'd take a look in a week. So here are the same sources take the same approach: A CDC map on emerging variant cases, confirmed cases in the states highlighted by CDC, and a comparison between wastewater data and cases and fatalies. Last week's map: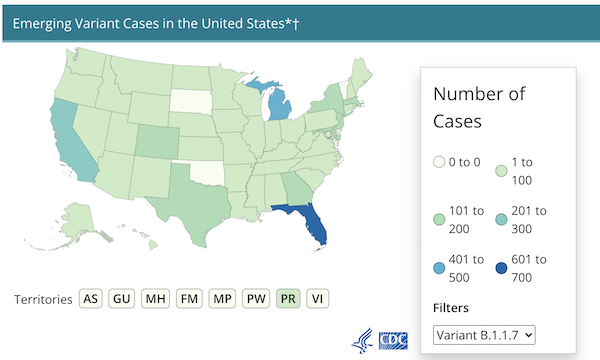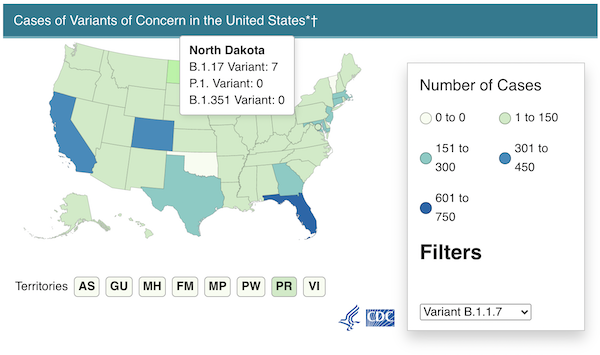 Darker is bad. That's not good. Note also the changes in the legend. Taking again the states in the top three tiers (which, confusingly, now start at 151, not 101) we look at cases for CA, CO, FL, GA, MA, MD, MI, NJ, and TX: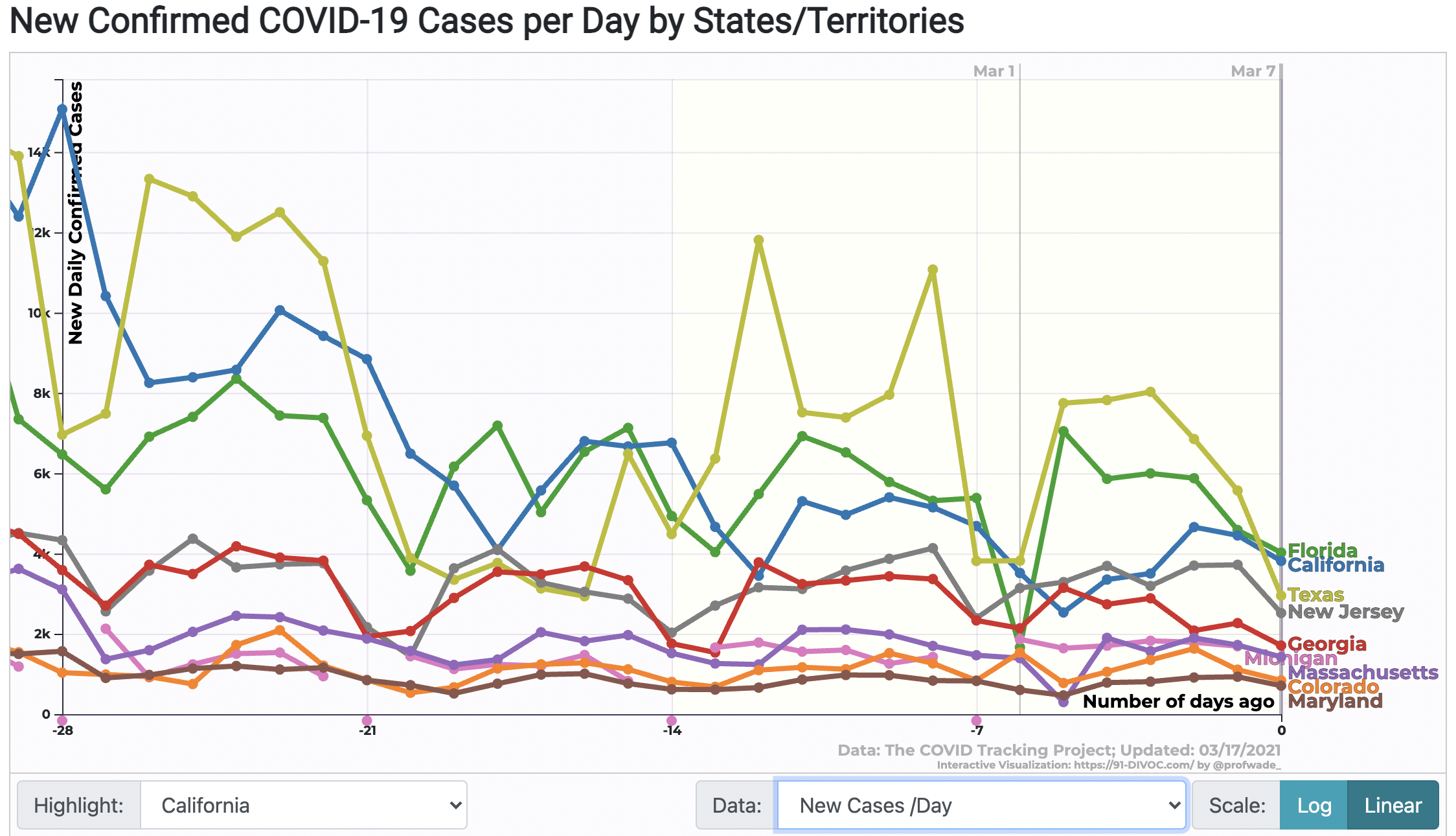 And hospitalization: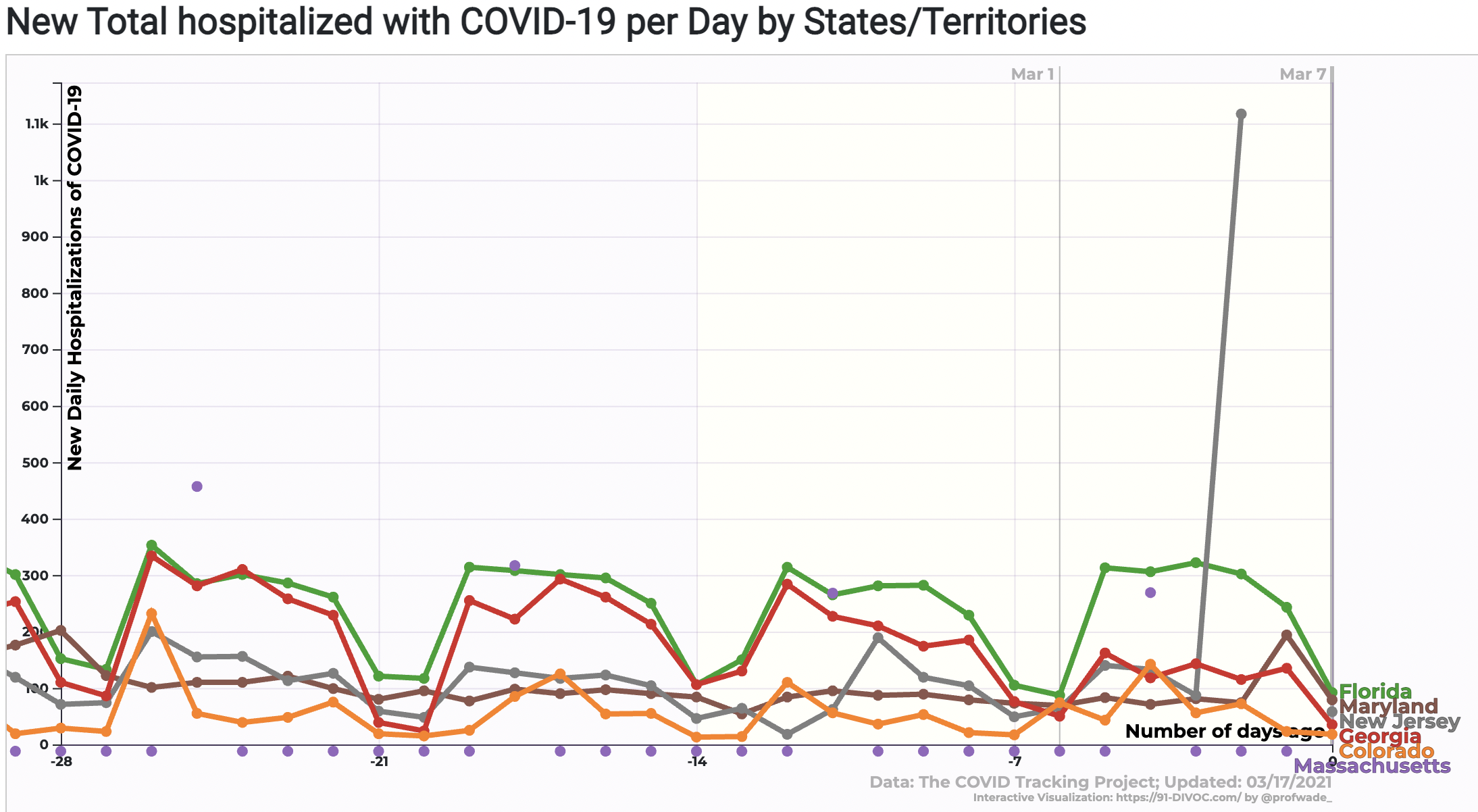 Houston, TX (as of March 8; I couldn't find anything more recent) is known to have had variants increasing in its wastewater. Nevertheless, here is case and fatality data for Harris County (Houston) last week:

And this week:

So, I'll check back next week. The case numbers from CDC are concerning; that's how the multiplicative train gets rolling, after all. Perhaps next week we'll see substantive effects on cases or hospitalization (and I'll look into Michigan wastewater, too). All that said, I am so not sanguine. Premature triumphalism in the re-opening states, re-opening schools with CDC suppressing guidance on aerosol transmission, and the past "stairstep" pattern of decrease followed by increase, are all reasons for concern. Ditto Spring Break (although not on the beaches; in the bars, restaurants, and, well, motel rooms).
* * *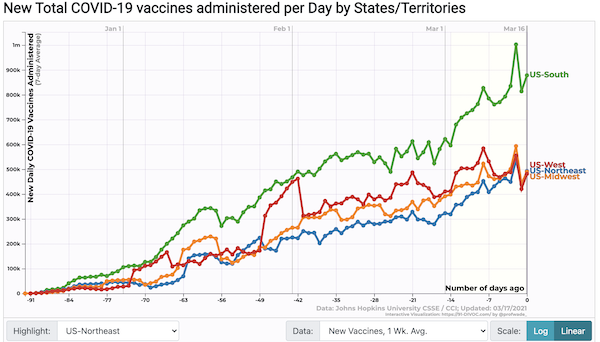 Having engorged a ginormous data artifact, vaccination is now back on trend. • Early in February, I said a simple way to compare Biden's performance to Trump's on vaccination would be to compare the slopes of the curves. If Biden accelerated vaccine administration, post-Inaugural slopes would get steeper. They have not. The fragmented, Federalized, and profit-driven lumbering monstrosity that we laughingly call our "health care" "system" has not responded to "energy in the executive," but has continued on its inertial path.
Case count by United States regions: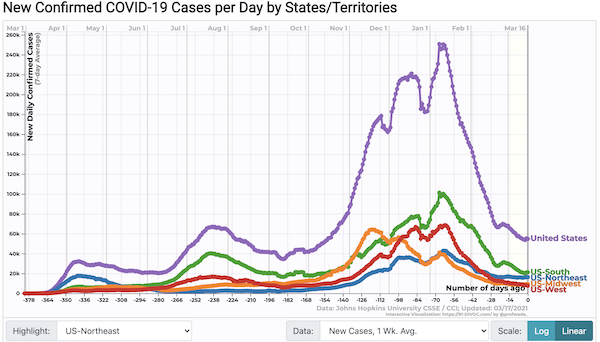 Before we break out the champers, we would do well to remember that cases are still well above the peak New York achieved early in the crisis, then regarded, rightly, as horrific.
Big states (New York, Florida, Texas, California):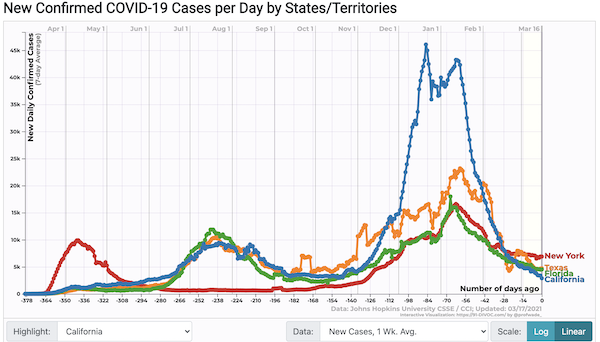 New York leads.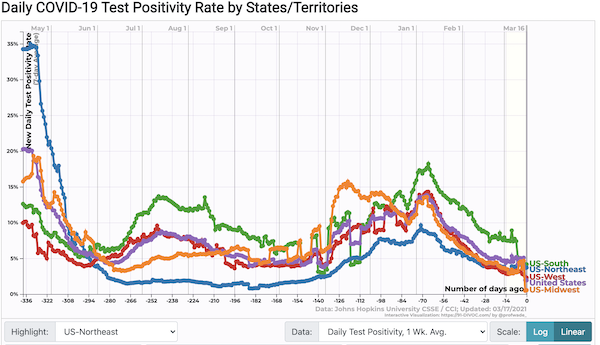 Having declared victory, are we just not testing anymore?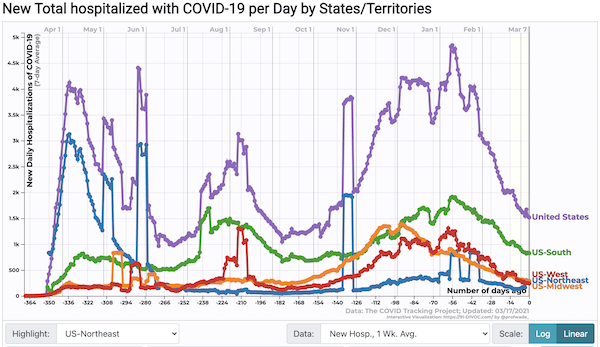 Hospitalization data is the best data we have, because hospital billing is a highly functional data acquisition system (ka-ching). That said, hospitalization is discretionary; they may also be reducing their admissions rate — relative to cases we cannot see in this data! — to preserve future capacity; or because hospitals have figured out how to send people home.
Case fatality rate (plus deaths):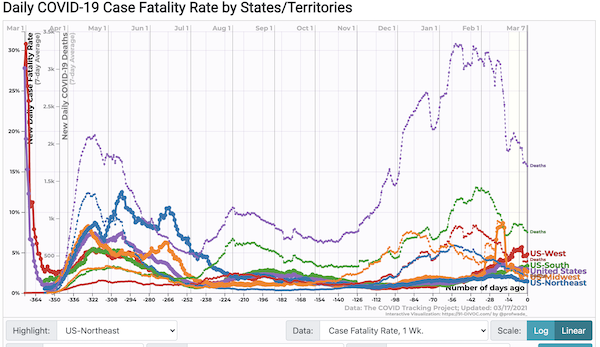 Good to see those deaths dropping. The fatality rate in the West is where it was last May.
* * *
Politics
"But what is government itself, but the greatest of all reflections on human nature?" –James Madison, Federalist 51
"They had one weapon left and both knew it: treachery." –Frank Herbert, Dune
"They had learned nothing, and forgotten nothing." –Charles Maurice de Talleyrand-Périgord
More to come. –lambert
Biden Administration
"Biden says Putin 'will pay a price' for Russian efforts to undermine the 2020 US election" [CNN]. • Please stop.

UPDATE "Washington's Anti-Russia Fixation" [The American Conservative]. "The Cold War is back. Many analysts imagine a new twilight struggle against the People's Republic of China. More improbably, an equally dedicated band is treating the Russian Federation as America's eternal enemy. Indeed, members of an informal Russia as Enemy caucus at the Atlantic Council seem horrified that anyone would dissent from their preferred program of military containment and economic impoverishment." • The brain geniuses in the national security bureaucracy seem to be stumbling into a two-front war, good job.

UPDATE "Biden Says He Supports Senate Filibuster Reform" [HuffPo]. "Under its current iteration, the procedural rule requires 60 votes for most important measures to pass in the Senate. Biden, however, said he thinks the rules should be changed to require lawmakers to talk on the Senate floor in order to delay a bill's passage — a rule known as the "talking filibuster" — which was the policy when Biden joined the Senate in 1973. 'It's getting to the point where, you know, democracy is having a hard time functioning,' he said in an interview with ABC News' George Stephanopoulos." • So don't repeat Obama's mistake; this time just ram #MedicareForAll through so people see immediate benefits before the midterms. But n-o-o-o-o-o…..

UPDATE "The rocky road to Bidencare" [Politico]. "Any effort to pass a public option would be contentious ahead of midterm elections, and neither leaders on Capitol Hill nor the White House have signaled plans to pursue it so early in this Congress." • Alrighty then.

UPDATE "How just a few days cost some small businesses thousands on their PPP forgivable loans" [MSNBC]. • "a priority application window was announced for businesses with fewer than 20 employees from Feb. 24 through March 9, assuring money would reach those that had difficulty accessing the program, including women and minority-led businesses. However, the timing of that priority window was misaligned with the other changes, which didn't go into effect until the first week of March, just weeks before the program's deadline at the end of this month. Sole proprietors had to wait even longer for the new loan formula."
Democrats en Deshabille
"Liberal Think Tanks Outline Steps to Resuming Student Loan Payments in September" [The Intercept]. • Thanks. I'll remember that. Maybe I can put my $2,000 check toward the payments. Oh, wait….

Sellers is from South Carolina, so I wonder if this is Clyburn throwing Cuomo under the bus:

they realigning lmao https://t.co/DY0DVEv9Iv

— area woman posting Ls 🐝✌🏾 (@Vanessa_ABee) March 17, 2021

UPDATE "Get ready for California recall to break the bank in 2021" [Politico]. "An effort to recall Gov. Gavin Newsom is highly likely to qualify after supporters submit their last signatures this week. The ensuing campaign will be a melee free from the constraints that inhibit other statewide contests in California. Donation caps don't apply. Hundreds of millions of dollars are likely to inundate the state as the full might of California's Democratic establishment vies with a concerted Republican effort to oust a humbled blue state leader…. one 2003 theme is likely to recur: an overabundance of candidates. Unlike in typical elections, there is no primary to winnow the field. A low bar to entry all but ensures that scores of candidates will surge into the race. As in 2003, the allure of being governor is likely to draw in not just politicians but affluent business executives or celebrities — some of whom will bring their considerable resources to bear. That means a self-regarding billionaire can saturate the airwaves." • No, Elon. No! Down, boy!
Republican Funhouse
UPDATE "Trump encourages Americans to get the Covid vaccine" [Politico]. "'I would recommend it,' Trump said during an interview on Fox News with Maria Bartiromo. 'And I would recommend it to a lot of people that don't want to get it and a lot of those people voted for me, frankly. But again, we have our freedoms and we have to live by that and I agree with that also. But it is a great vaccine. It is a safe vaccine and it is something that works.' Trump's direct appeal to Americans comes as some of his own supporters have exhibited skepticism about taking the coronavirus vaccine. Experts say his endorsement of vaccinations could help alleviate some of that skepticism. Since leaving office, Trump has issued a short statement taking credit for the vaccine's fast-tracked development and, in passing, told people to take the shot during his speech at the Conservative Political Action Conference last month."
Realignment and Legitimacy
It occurred to me to use Google trends to track "essential workers." Here we see the first increase:

That, I hypothesize, is when the work-from-home PMC types in the political class realized they were going to have to order out for the forseeable future; I seem to remember a surfeit of articles performing empathy on or about that date:

And here we have the peak:

I'm guessing this peak was driven by the HEROES Act passed by the House on May 15 and thereafter abandoned, its work of "fighting for done." Thereafter, interest in "workers" dwindles and disappears, to be replaced over the summer by Black Lives Matter, since the goldfish brains of our political class can only hold one idea at a time.
Stats Watch
Housing: "February 2021 Residential Building Growth Mixed" [Econintersect]. "Headline residential building permits declined and construction completions improved. The rolling averages improved for permits and construction completions… We seem to be seeing and bad month, followed by a good month, and then another bad month. The backward revisions this month were small. It is always difficult to understand the trends as the backward revisions sometimes reverse trends month-to-month. The nature of this industry normally has large variations from month-to-month (mostly due to weather) so the rolling averages are the best way to view this series. The rolling averages say this sector is growing but rollercoastering."
* * *
Shipping: "February 2021 Sea Container Imports Significantly Improved." [Econintersect]. "The import container counts for the Ports of Los Angeles and Long Beach rate of growth massively jumped month-over-month all due to the fact that the import data one year ago was impacted by the pandemic shutdown. Exports, however, are having the worst year since 2007…. On top of a trade war and the world pandemic, import container counts continue to surge. There is chaos in container movements with containers in the wrong place and shortages of rail cars to move containers – however, the container situation again improved this month – but there continues a shortage of containers and unloading berths…. "
* * *
Today's Fear & Greed Index: 58 Greed (previous close: 60 Greed) [CNN]. One week ago: 50 (Neutral). (0 is Extreme Fear; 100 is Extreme Greed). Last updated Mar 16 at 2:08pm. One year ago: 3 (Extreme Fear).
Health Care
More bad news on B.1.1.7. mortality rates:
Bad news. This is the fifth paper convincingly showing that the UK variant B.1.1.7 is associated with increased mortality as well as being more transmissible. Countries without rapid and sufficient vaccine coverage may experience a rough spring (worse for Southern hemisphere). https://t.co/QEyhYeECpX

— zeynep tufekci (@zeynep) March 15, 2021
One despairs:
I'm losing track of the number of "baffling" transmission events in Australian quarantine hotels. When the facts don't fit your transmission model, perhaps it's time to update it? #COVIDisAirborne #DontShareYourAir #VentilationNotVentilators https://t.co/T5ZN6xpA0J

— Jennifer K McDonald (@JenniferKShea) March 16, 2021
A loogie so big it could climb stairs? Surely not. And the same thing won't happen in schools.
If you attend your school board meetings, make sure they understand this:
1/ I have spoken with dozens and dozens of school districts. My recommendations include universal masks, increased ventilation, and stick with PROVEN technologies. https://t.co/zwmOwPdUCL

— Dr. Richard Corsi (@CorsIAQ) March 17, 2021
Just because they're "Always Be Closing" doesn't mean you have to "Always Be Buying."
Our Famously Free Press
UPDATE This is an excellent follow-up thread from David Wallace Wells on his Atlantic article from yesterday. The theme is blinkered American provincialism:
First, that the policy levers Americans have obsessed over all year (mask-wearing, social distancing, lockdowns) can not be the sole drivers of transmission, given that states taking very different measures (California and Florida, most famously) performed quite similarly…

— David Wallace-Wells (@dwallacewells) March 16, 2021
Department of Feline Felicity
Slightly NSFW. Sometimes the truth hurts:
I can't breathe. @vizcomic pic.twitter.com/LZycJjx89Y

— Iain Lee – www.twitch.tv/TLNA (@iainlee) March 15, 2021
Who cares, as long as they're happy?
Zeitgeist Watch
"In The Future Of Collecting, Is Anyone Having Fun?" [Defector]. "So, if you're a massive corporation whose entire livelihood relies on people believing in and buying into the intrinsic value of your product, how do you counteract this version of widespread consumer nihilism? You create a new market based around what people do have. And what do people in America have? They have a bunch of shit. Piles of it. Old toys, new sneakers, video game consoles, vintage shirts in cardboard boxes in some dead relative's attic. America is a consumer culture and after decades of consumption, all the things that didn't end up in a landfill or choking a turtle to death in the middle of the Pacific are now for sale again. The sports memorabilia market is currently valued at over $5 billion annually. By the middle of 2020, Stockx reported more than $2.5 billion in gross merchandise volume. Funko, maker of the wildly popular Pop! line of vinyl figurines, brings in hundreds of millions in revenue every year. 'For me, it was always about the money and the value,' says Chris Nerat, a consignment director at Heritage Auctions, the largest collectibles auction house in the world." • Hence, NFT?
Class Warfare
"Atlanta Shootings Put Spotlight on Anti-Asian Crimes in U.S." [Bloomberg]. • Well, no, they don't. Opinion makers do that (and not for Anti-Asian crimes like this one, either). I will skip the moral panic over hatred for Asians, which conveniently erases the deaths of two white women, and the injury of a Hispanic man. After a brief perusal of the latest story, where I saw the phrase "youth minister", and remembering the moral panic about the Orlando shootings, which were instantly and universally framed as hatred for gays, and later turned out — after all the candles were lit and the fundraisers were closed — to be no such thing, I commented to Yves (verbally, sadly) that "the dude went to one too many Bible Camps." And in fact, now we have that emerging narrative:
Cherokee County Sheriff's Office Capt. Jay Baker on Atlanta shooting suspect:

"He apparently has an issue, what he considers a sex addiction … it's a temptation for him that he wanted to eliminate."pic.twitter.com/YVezX4Mael

— The Recount (@therecount) March 17, 2021
I'm not a fan of shootings. I'm also not a fan of monocausal explanations, especially instant ones, especially identity-based ones. It's not surprising that a — let me seek a non-sexist synonym for "witches brew" — hell-broth of religion, religion and sex, ethnicity, a pandemic, and ready access to guns should, stochastically, yield a lethal result. (And in each of those factors, there is plenty of "hate" to be found.) I'd also comment on life's little ironies: Watching good liberals tiptoe around what the profession of the murdered Asian women might actually have been — and also, of course, what the families and children they were likely supporting, here or back home, feel — and the anti-China war fever being worked up by many of those same good liberal goodthinkers. Chinese in China are Asian, after all. Or to put it less kindly:
Every slavering foreign policy psycho who has written about how we need to be prepared for war with China or whatever has blood on their hands and the worst part is they always knew it would happen and didn't care https://t.co/SGuz8n8G2B

— imperial guard twitch streamer (@AliceAvizandum) March 17, 2021
And speaking of identity politics–
"The Identity Hoaxers" [The Atlantic]. • Yves ran this link this morning, and if you haven't read it, you should. And for a chaser, read Adolph Reed's 2015 piece — as usual, Reed was ahead of the game — From Jenner to Dolezal: One Trans Good, the Other Not So Much. And speaking of Adolph Reed, Reed and Walter Been Michaels wrote this in 2020:
In fact, if you look at how white and black wealth are distributed in the U.S., you see right away that the very idea of racial wealth is an empty one. The top 10 percent of white people have 75 percent of white wealth; the top 20 percent have virtually all of it. And the same is true for black wealth. The top 10 percent of black households hold 75 percent of black wealth.

That means, as Matt Bruenig of the People's Policy Project recently noted, "the overall racial wealth disparity is driven almost entirely by the disparity between the wealthiest 10 percent of white people and the wealthiest 10 percent of black people."
I have poorly translated this into a bad diagram of "Equity" as I take the writers of the "Black Lives Matter Curriculum" in Evanston to understand it: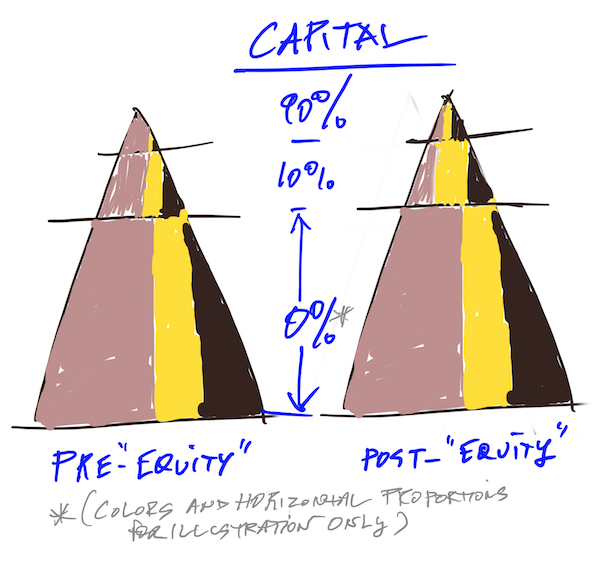 Notice that the "class structure" (as determined by ownership of capital vs. selling your labor power to survive) on the horizontal plane is identity pre- and post-equity; 90% of all capital is held at the tippy-tippy-top. Only the proportion of colors — pink, black, and yellow — changes at each level. Is that equity? I think not, but it may take a generation or two for the experiment to fail. Which is, no doubt, why social movements like Black Lives Matter are so beloved at, for example, Davos. So it goes.
* * *
"Amazon Has Made Rich Cities Richer—and Also More Dystopian" (interview) [Alec MacGillis, Wired]. "I chose [Amazon] because it's also a huge contributor and explanation for regional inequality, because while the internet was supposed to allow us to disperse and be anywhere, it has, in fact, done the opposite. There are well-documented agglomeration effects of the innovation economy—you want proximity to the other engineers and programmers and, not to mention, the venture capitalists—but the bigger reason for Big Tech's role in regional inequality is more about economic policy. So much of our geographic concentration is tied to market concentration. The business, commerce, and wealth that used to be spread all across the country, in various industries, are now increasingly dominated by a few companies that reside in certain places. It happens with media ad revenue, which used to be spread everywhere among newspapers and local TV and radio but is now increasingly hoovered up in the form of digital ad revenues to the two companies [Facebook and Google] that control 60 percent of that market, that both reside in the Bay Area. And retail that used to be spread all around the country, from mom-and-pops up to regional department stores, is now increasingly dominated by a company that resides in Seattle. And so, that was how I arrived at Amazon.
"Report: So You Want to Do an Infrastructure Project" [Niskanen Center]. "Over the last few generations, American infrastructure construction costs have exploded, even as many peer countries spend a fraction of what the U.S. does on the same bridge or tunnel or high-speed rail line. The difference in costs often boils down to domestic state capacity: bureaucracies in East Asia and Continental Europe tend to be better-staffed and more empowered to make professional decisions. The details are naturally more complicated, but the pattern is nonetheless clear: the countries with the lowest infrastructure costs are also the countries where the state acts swiftly, with mechanisms that limit the lag between financing and construction. If infrastructure is truly on the agenda, we must not be afraid to draw lessons from how other countries maximize their bang for their buck, and thus to avoid repeating the mistakes made in our own recent history." • Remember Obama's "shovel ready" projects during his laughably inadequate recovery? "Shovel ready" is another way of saying "not requiring state capacity."
* * *
"Parents' emotional trauma may change their children's biology. Studies in mice show how" [Scien ce]. "[T]oday the hypothesis that an individual's experience might alter the cells and behavior of their children and grandchildren has become widely accepted. In animals, exposure to stress, cold, or high-fat diets has been shown to trigger metabolic changes in later generations. And small studies in humans exposed to traumatic conditions—among them the children of Holocaust survivors—suggest subtle biological and health changes in their children. The implications are profound. If our experiences can have consequences that reverberate to our children or our children's children, that's a powerful argument against everything from smoking to immigration policies that split families. 'This is really scary stuff. If what your grandmother and grandfather were exposed to is going to change your disease risk, the things we're doing today that we thought were erased are affecting our great-great-grandchildren,' says Michael Skinner, a biologist at Washington State University in Pullman. Skinner's own research in animals suggests changes to , a swirl of biological factors that affect how genes are expressed, can be passed down through multiple generations. If trauma can trigger such epigenetic changes in people, the alterations could serve as biomarkers to identify individuals at greater risk for mental illness or other health problems—and as targets for interventions that might reverse that legacy." • I ran this when it appeared in 2019, and perhaps after a pandemic my reaction would be more forceful than it was then. We know that capital can be inherited; that's what estates are for. And we know that inherited capital confers on its owners, all other things being equal, the ability to accumulate more capital. It seems that it is also possible, through epigenetics, to confer an inability to accumulate capital, for example through health problems, mortality, etc., not for individuals, but for classes.
"Philosophical Intuitions Are Surprisingly Stable Across both Demographic Groups and Situations" (PDF) [Joshua Knobe, Filozofia Nauki]. One of the most elusive 56-page philosophical treatises I have ever skimmed. From the abstract: "The evidence now suggests that philosophical intuitions are surprisingly stable. Indeed, the available evidence suggests that philosophical intuitions are surprisingly stable across both demographic groups and situations. To begin with, we face an empirical question as to why people's intuitions are so stable. My only answer is that I have no idea. I will be discussing a whole series of experiments in which researchers manipulate some factor and find that intuitions are remarkably unaffected. In every single one of the experiments reviewed below, I would have mistakenly predicted that the manipulation would have a large effect on intuitions, and even now that I know the actual results, I am completely confused about how to explain them." • If I'm getting at what the author is on about, they're treating the known fact that philosophical problems that have gone unresolved for thousands of years as in itself a philosophical problem. Which is interesting. Surely we have at least one knowledgeable philosopher in the commentariat who can take an informed view?
News of the Wired
Post-modernism:
This book has wrappers made of sandpaper — meant to damage the books shelved next to it.

Mémoires, a collaborative artist's book by Guy Debord and Asger Jorn, 1958. pic.twitter.com/su0uaa5YQK

— typepunchmatrix (@typepunchmatrix) March 16, 2021
Kill it with bananas:
bananas can defeat them pic.twitter.com/Id6PLcwtiW

— i bless the rains down in castamere (@Chinchillazllla) March 17, 2021
Except the video is from Boston Dynamics so that's what they want you to think..
* * *
Readers, feel free to contact me at lambert [UNDERSCORE] strether [DOT] corrente [AT] yahoo [DOT] com, with (a) links, and even better (b) sources I should curate regularly, (c) how to send me a check if you are allergic to PayPal, and (d) to find out how to send me images of plants. Vegetables are fine! Fungi and coral are deemed to be honorary plants! If you want your handle to appear as a credit, please place it at the start of your mail in parentheses: (thus). Otherwise, I will anonymize by using your initials. See the previous Water Cooler (with plant) here. Today's plant (Carla):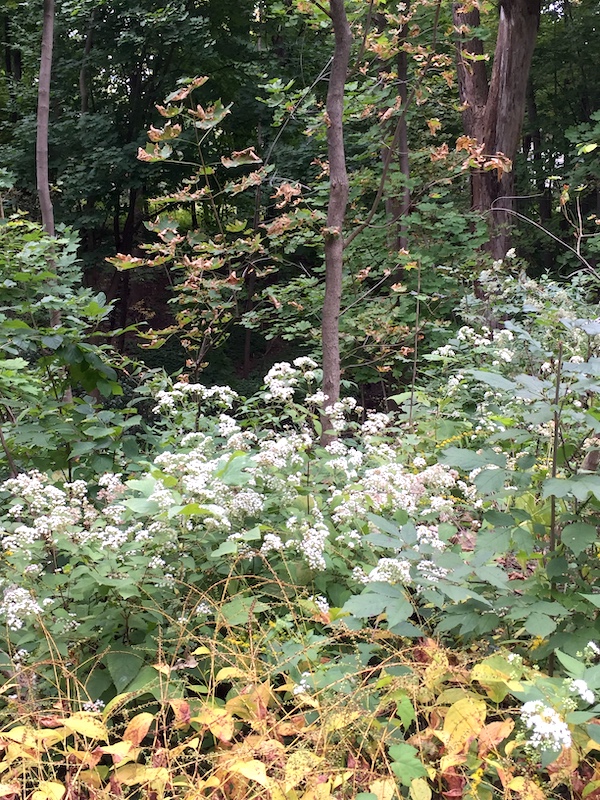 Carla writes: "Cleveland Metroparks, October 7, 2020." Light in a clearing!
* * *
Readers: Water Cooler is a standalone entity not covered by the recently concluded and — thank you! — successful annual NC fundraiser. So if you see a link you especially like, or an item you wouldn't see anywhere else, please do not hesitate to express your appreciation in tangible form. Remember, a tip jar is for tipping! Regular positive feedback both makes me feel good and lets me know I'm on the right track with coverage. When I get no donations for five or ten days I get worried. More tangibly, a constant trickle of donations helps me with expenses, and I factor in that trickle when setting fundraising goals:
Here is the screen that will appear, which I have helpfully annotated.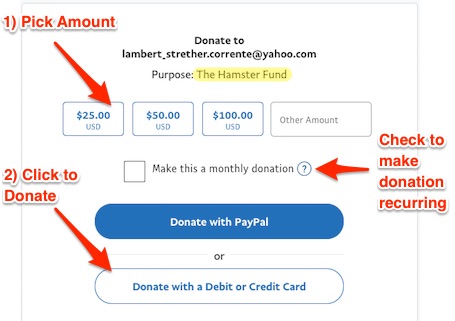 If you hate PayPal, you can email me at lambert [UNDERSCORE] strether [DOT] corrente [AT] yahoo [DOT] com, and I will give you directions on how to send a check. Thank you!